Inside Triple Wide Mobile Homes
Step inside a world where space meets style: the triple-wide mobile home. Think sprawling areas, modern designs, and every comfort you've dreamed of. Gone are the days of cramped mobile living. Today, we're diving into palatial realms on wheels, where every room unfolds a new surprise. Ready for the grand tour? Let's delve into the magic of spacious mobile living!
Spacious with a large bay window, plush carpeting, and space for a sectional sofa. Equipped with a built-in entertainment center.

Features an island in the center, granite countertops, and stainless steel appliances. Ample cabinetry and a walk-in pantry.

Master 15x14 ft
Bedroom 2 &3 12x13 ft

Master : Carpeted room with a walk-in closet. Space for a king-sized bed, two nightstands, and a dresser. Ceiling fan installed. Bedroom 2 &3 : Room for a queen bed, a nightstand, and a dresser. Built-in closet.




Master Bath 10x8 ft
Guest Bath 8x6 ft

Master Bath : Features a soaking tub, separate shower, double vanity, and a private toilet area. Guest Bath: Full bathroom with tub-shower combo, single vanity, and toilet.

Positioned near the entrance. Equipped with built-in shelving and a large desk. Well-lit with a window.

Contains washer and dryer units, shelving above for storage, and a utility sink. Positioned near the kitchen for convenience.
What Is A Triple-Wide Mobile Home?

A triple-wide mobile home is like the superstar of mobile homes. It boldly breaks free from the confines of the typical one or double-wide home. Picture three spacious, seamlessly connected sections, offering a canvas thrice as large for your home designing dreams.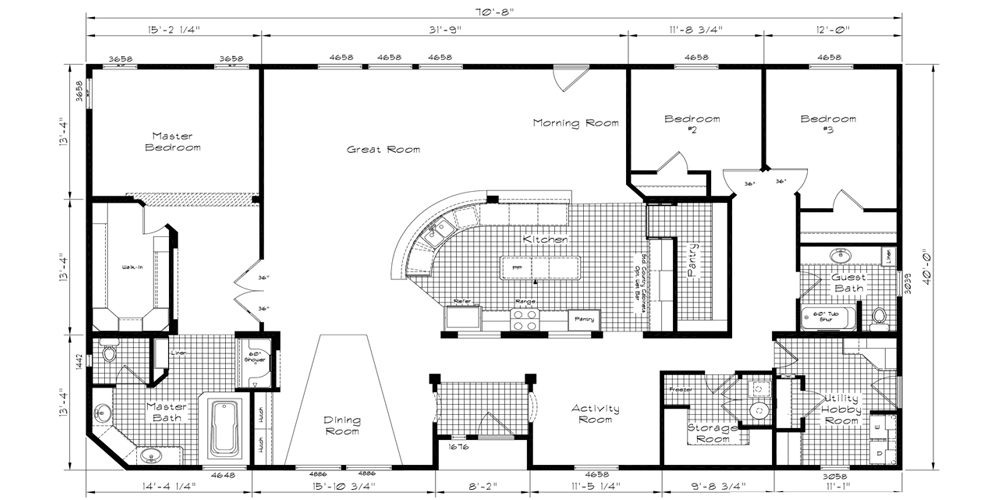 Now, let's talk size. We're looking at an impressive range. On average, these homes stretch out to a generous width of about 26 to 30 feet and can span a length of 56 to over 60 feet. Yes, that means a floor space between a lavish 1500 to over 2500 square feet. Enough to create that open-concept design you've been daydreaming about, with rooms flowing gracefully from one into the other. So, are you ready to dive deep into this world of lavish mobile living? Let's unfold the story, room by room.
Living Room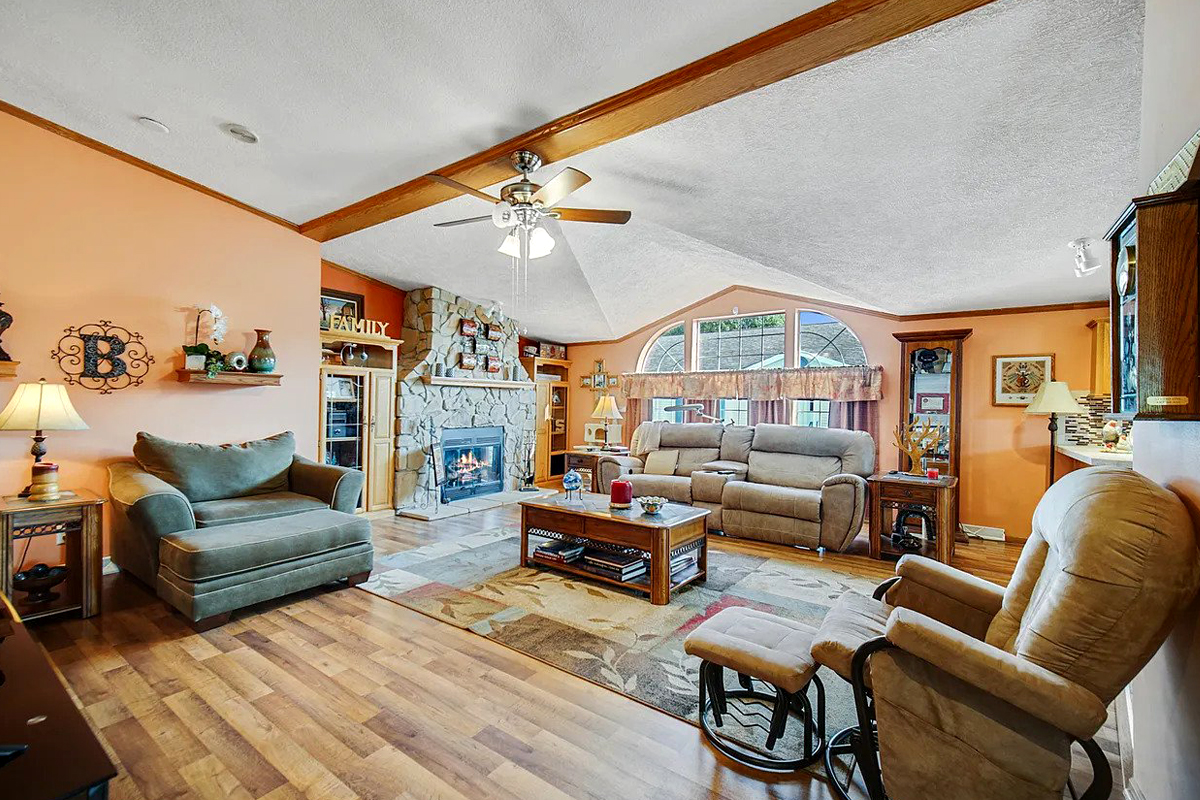 Let's swing that door open and step right into the heart of the home: the living room. Picture a space that measures a generous 20 by 15 feet, allowing you to sprinkle a bit of your personality in every corner.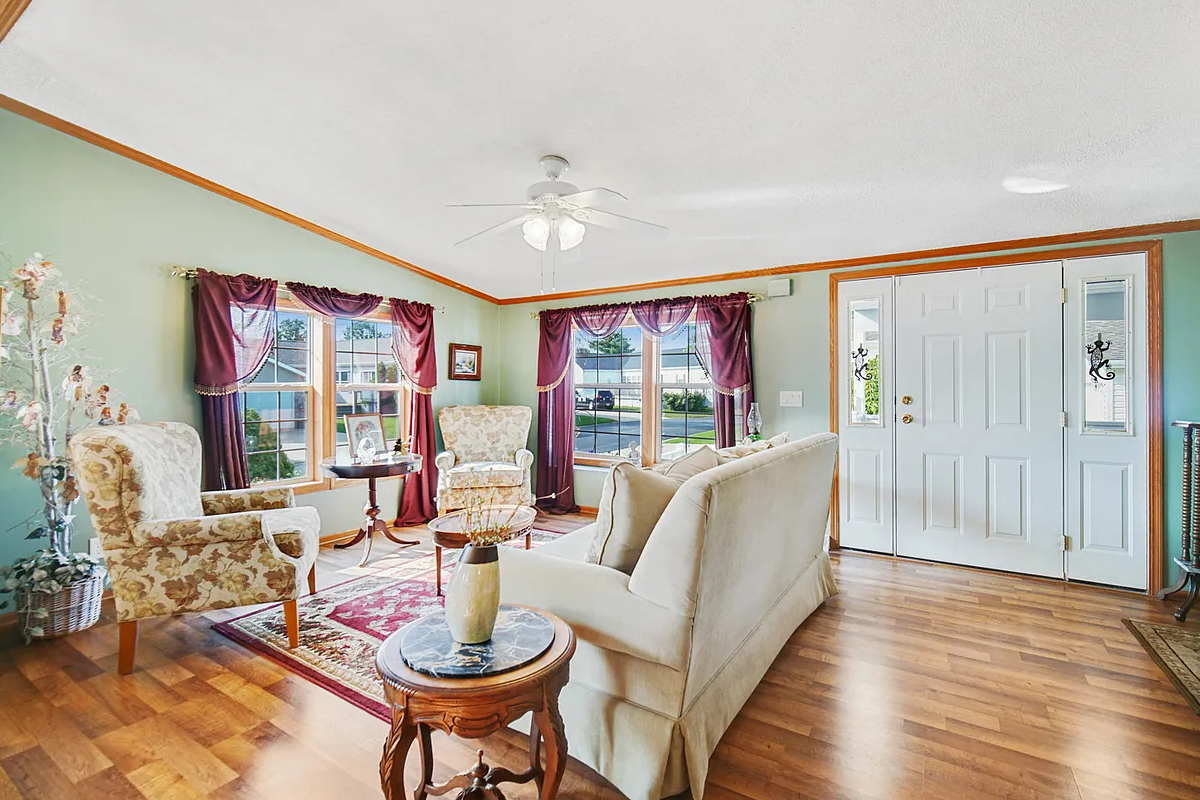 First-stop the flooring. Whether you dream of plush carpeting that cushions every step or a classic hardwood that lends a timeless elegance, the choice is yours.
Next up, windows. And not just any window, but a large bay window that brings the outdoors inside, filling the room with a dance of shadows and lights as the day rolls by. It's like having a canvas that changes from dawn to dusk, offering nature's most beautiful paintings, day in and day out.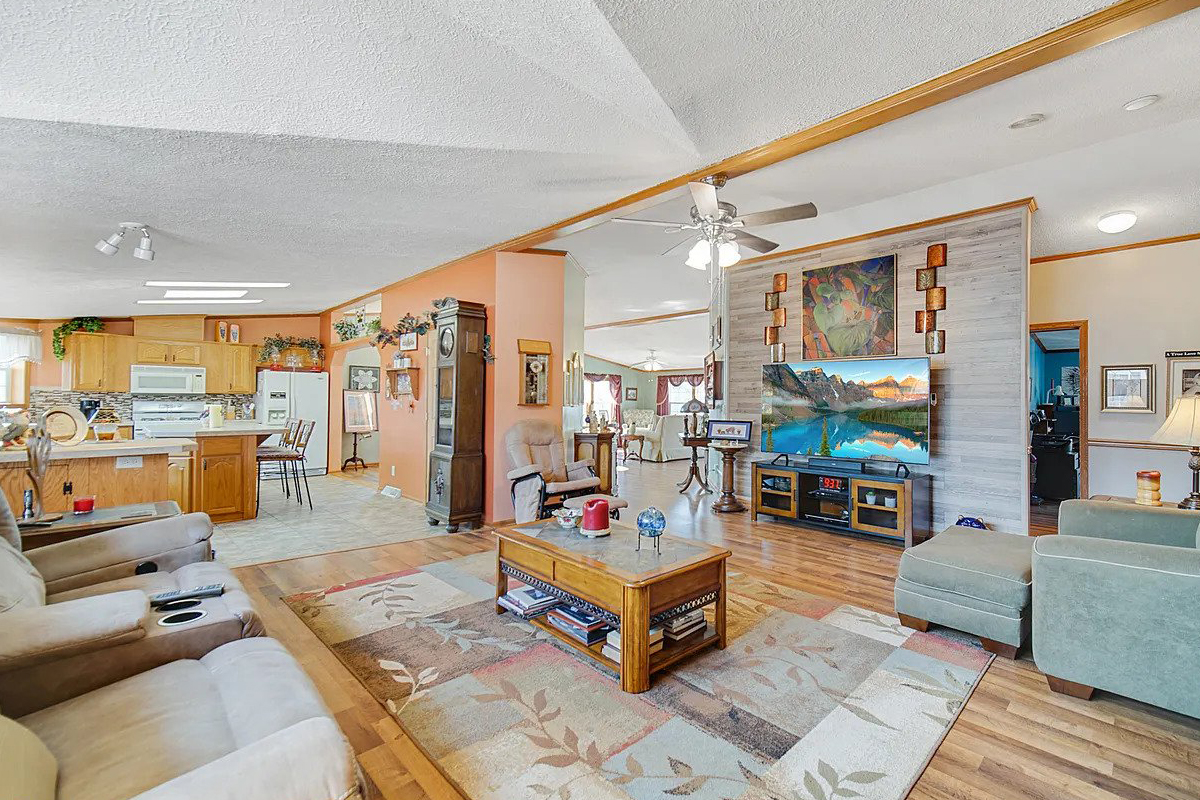 Now, let's talk entertainment center. Built right in, it's the spot where technology meets design, offering a stylish home for your TV, audio systems, and those precious knick-knacks you hold dear. It's more than a piece of furniture; it's a stage for your life's little treasures to shine on.
But a living room isn't just about the big stuff. It's about the cozy corners, the little spots where memories are made. Imagine a sectional sofa, soft, inviting, and just waiting to be the backdrop of movie nights, heart-to-heart chats, and lazy Sunday afternoons.
And we can't forget the lighting. Soft, warm lights can dim to a whisper, creating the perfect ambiance for every mood, from vibrant gatherings to quiet evenings with a book.
Kitchen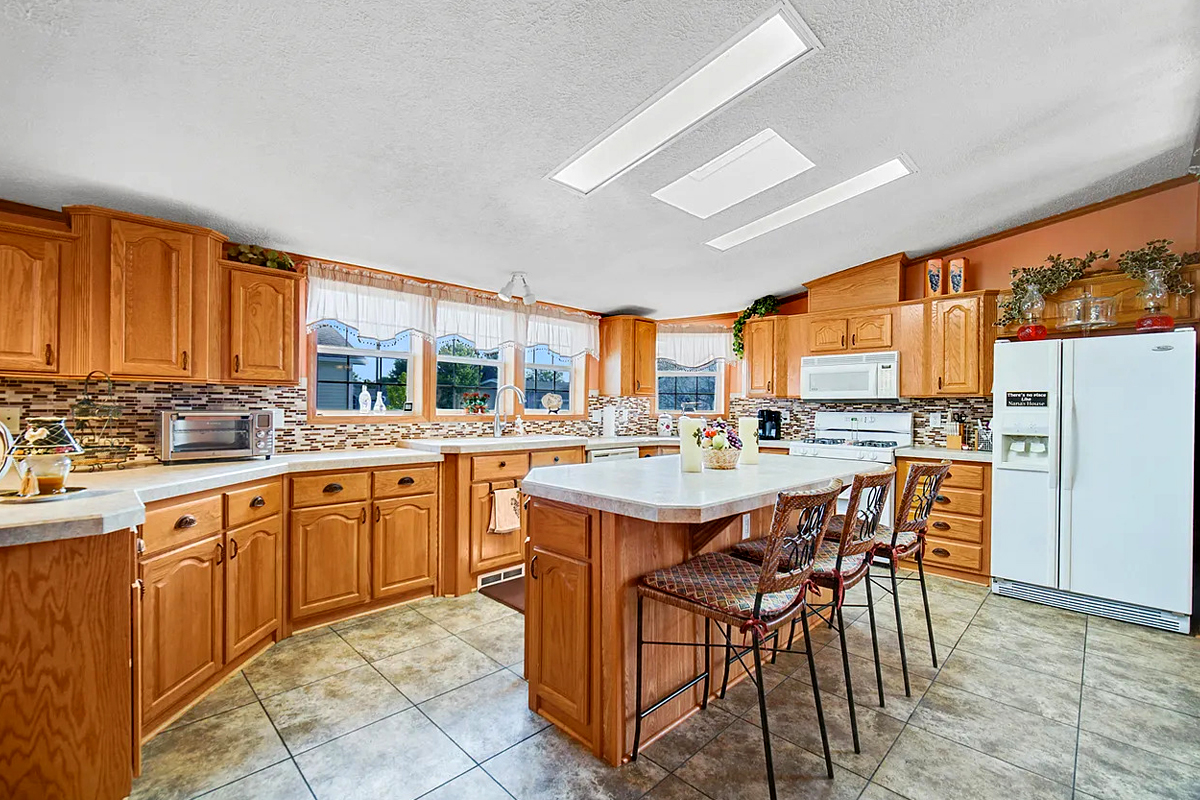 Step right into the heart and soul of the triple-wide mobile home — the kitchen. This is where magic happens, where recipes are born, and family dinners are seasoned with love. Spanning a gracious 15×15 feet, it's a canvas for all your culinary adventures.
Now, let's chat about flooring. The kitchen demands something special, don't you think? The choice is yours, from cool tiles that make summer bearable to hardwood floors that bring warmth and timeless elegance. It's not just a floor. It's the stage for your kitchen ballet, where every step brings something delicious to life.
But the star of the show? The island. It stands tall in the center, a hub of activity, ready to bear the weight of your choicest dishes. Picture chopping veggies, rolling out dough, or simply enjoying coffee here. Plus, you get to decide its dimensions and the kind of storage options it offers. It's not just furniture. It's your kitchen companion.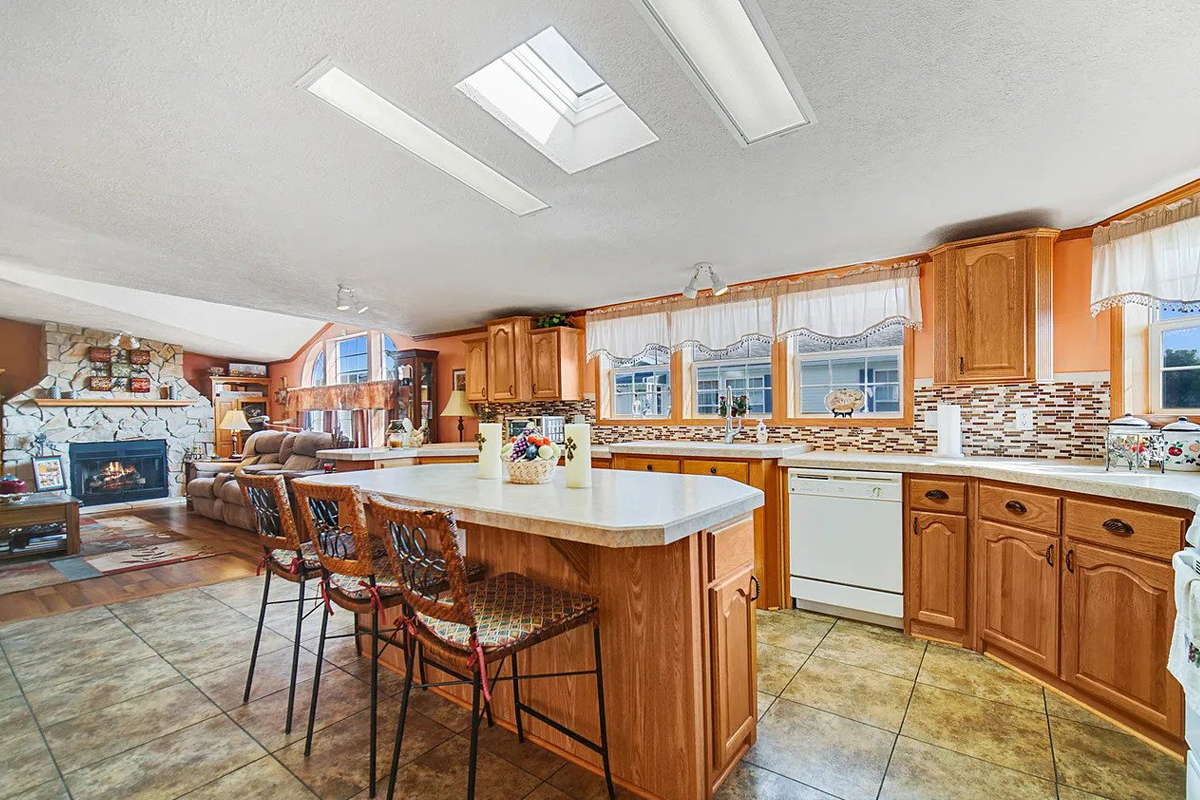 Let's talk countertops. Granite is a classic choice, offering elegance and hardiness. But hey, if you have a different vibe, there's a world of options, each with its benefits. It's where style meets functionality gracefully.
Now, onto the exciting bit — appliances. Stainless steel is the way to go, bringing sleekness and modernity into the space. Refrigerator here, oven there — appliance placement is key. It's about creating a flow, a rhythm to your cooking dance.
Ah, and the secret behind a kitchen that works like a dream? Storage. Imagine walking into your pantry, everything organized just how you like it. It's your little room of wonders, where every jar promises a meal to remember. And don't get me started on the cabinetry — whether you prefer a modern touch or a rustic charm, there's a style just for you.
But it's more than just a room, isn't it? It's the scent of fresh bread wafting through the air, the warmth of a hot meal shared with loved ones, and the heart of your home beating with love, laughter, and life.
Dining Room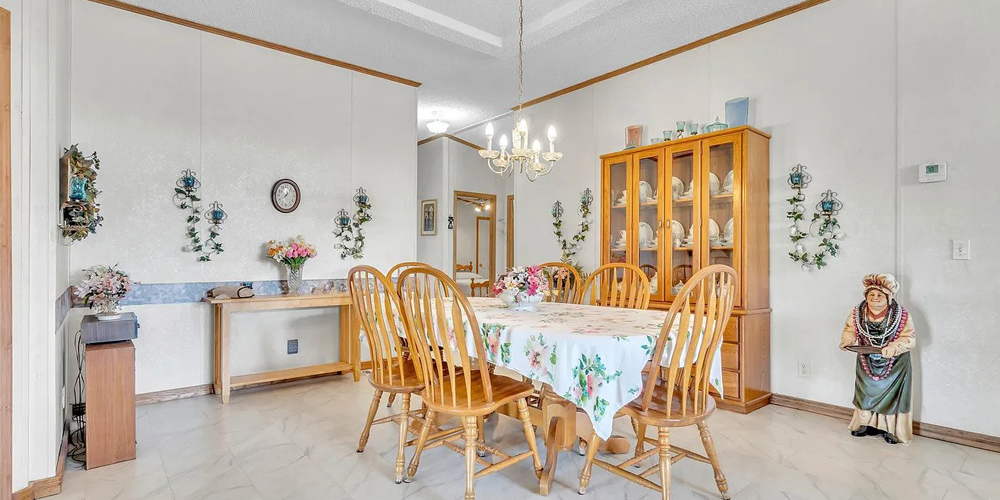 The dining room isn't just any dining area; it's your triple-wide mobile home's crown jewel, where culinary masterpieces take center stage. Imagine gatherings around a sprawling table, laughter echoing, and clinking glasses. Here, it's not just about meals; it's about memories.
This dining space isn't your average mobile home setup. Nope. We're talking room to fit a table for eight—yes, eight! Every detail, from the chic chandelier above to the plush area rug below, shouts luxury. Natural light? Plenty, thanks to expansive windows that frame every meal with a view.
And storage? Say goodbye to clutter. Built-in cabinets and shelves keep your best china and wine glasses at arm's length. So whether you're hosting Sunday brunch, a festive holiday dinner, or a casual wine night with friends, this dining room is set to impress.
Bedrooms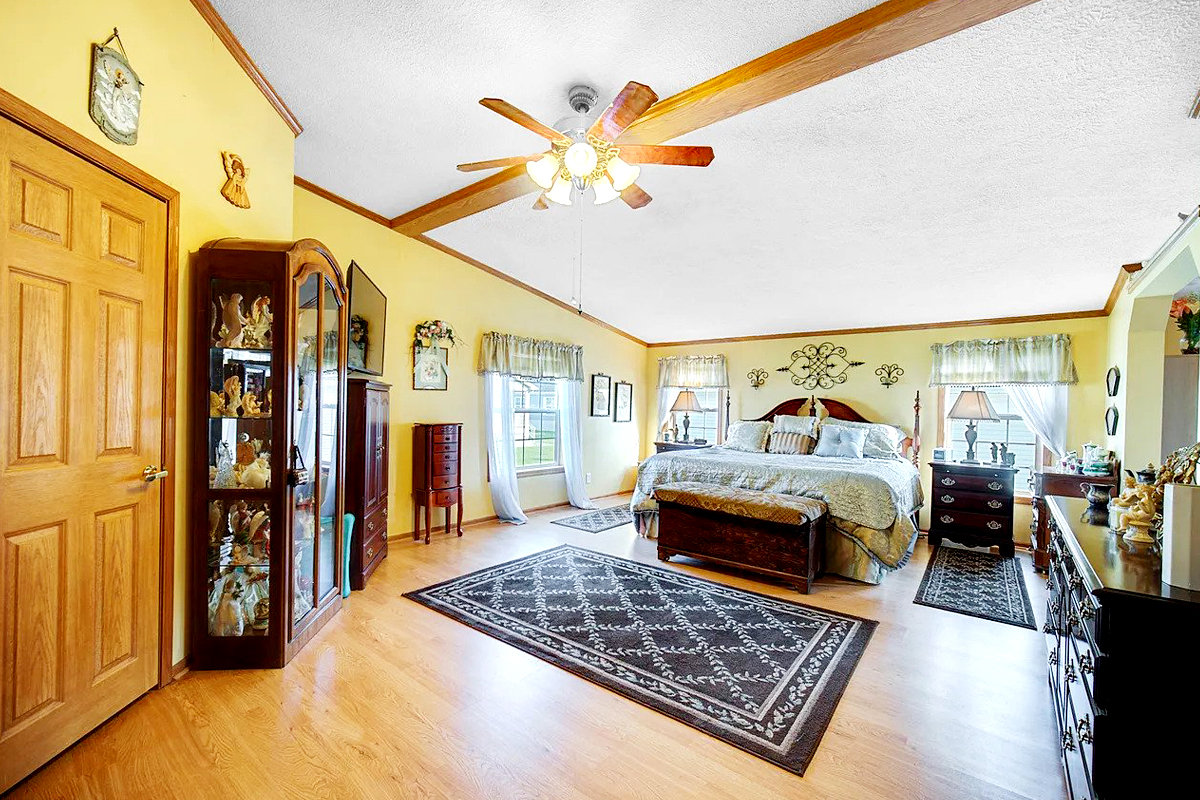 Let's wander into the haven of relaxation, the private nooks of your abode — the bedrooms.
First on our tour is the master bedroom, a spacious retreat stretching a comfortable 15×14 feet. It's a blank canvas, ready to be adorned with a king or queen-size bed that calls out to you each night, promising comfort and sweet dreams. Imagine a dresser there, offering style and functionality, holding your treasures and little pieces of everyday magic.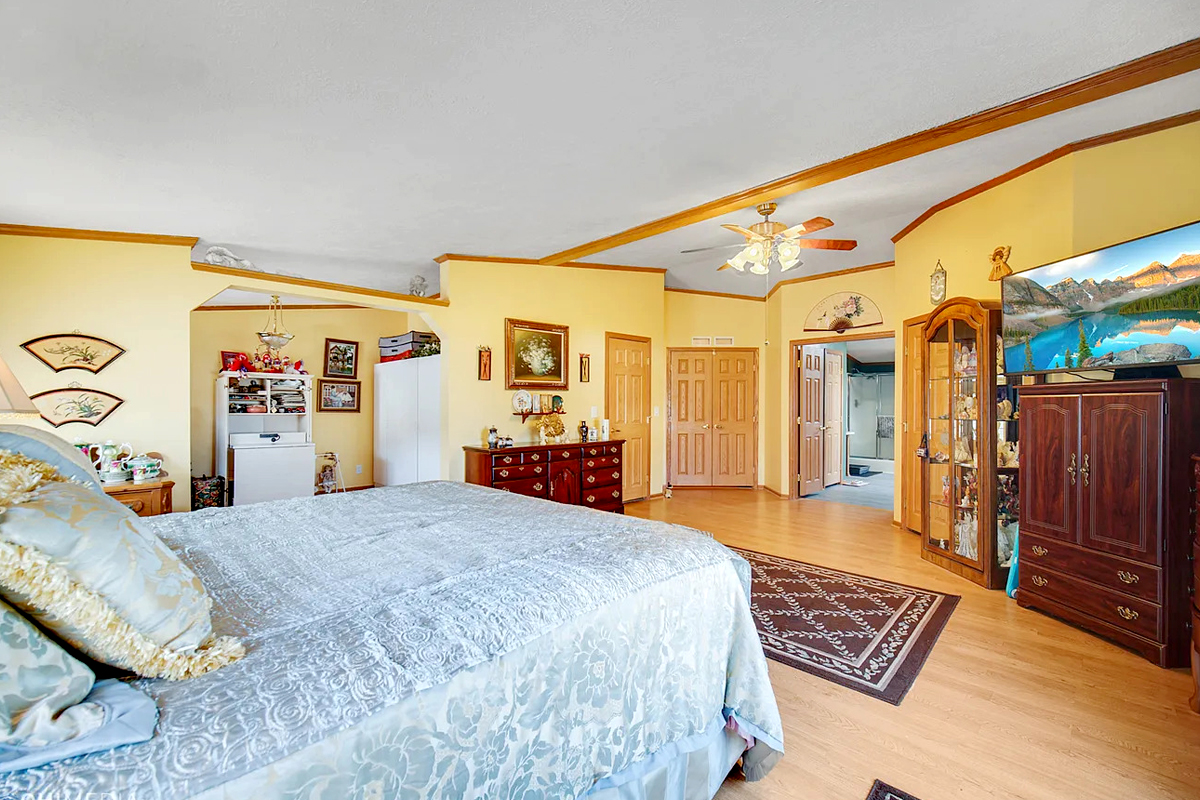 And oh, the walk-in closet! Let's fashion it into a miniature boutique, where each piece of clothing and accessory has its special place. Picture yourself walking in each morning, greeted by organized shelves that make choosing your outfit a delightful experience, not a chore.
Next, we move onto the second bedroom, a cozy space spanning 12×13 feet, waiting to embrace your personality. You decide whether it's a plush bed that takes center stage or a dresser holding stories and memorabilia. It's a room waiting to be filled with whispers of dreams and laughter, a sanctuary of sleep and peace.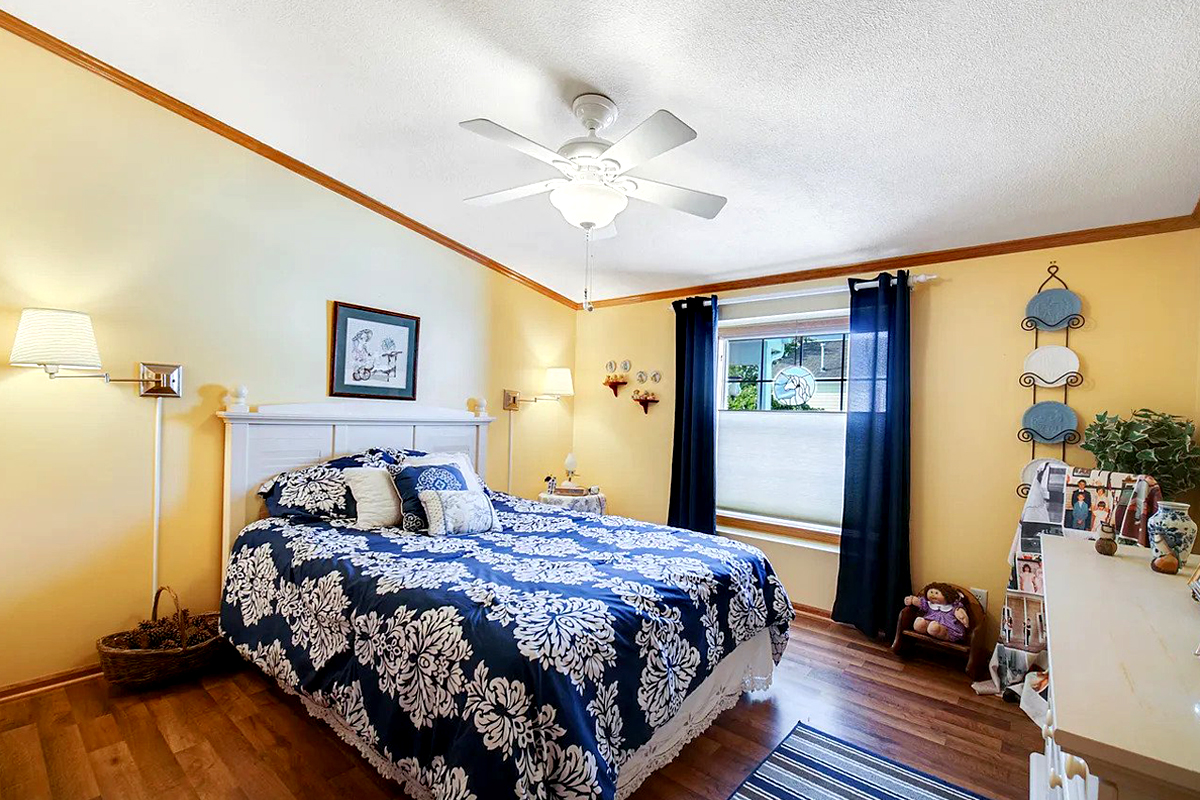 As we stroll to the third bedroom, we find a delightful surprise. Alongside the comfortable dimensions of 12×13 feet, a built-in study desk stands just waiting to be personalized. It could be a powerhouse of productivity or a quiet nook for your little one to dive into books and explorations. The choices are as broad as your imagination.
But what's a room without the proper lighting and a breath of fresh air? Let's play with window options, shall we? From grand windows that let in floods of sunshine to smaller ones that offer a secretive peek into the outside world, it's your canvas to paint with light and shadows.
And a ceiling fan swirling would bring fresh air for those warm days. Picture it, not just a utility but a piece of art, swirling gracefully, marrying style with comfort.
You see, these aren't just bedrooms. They are sanctuaries of dreams, keepers of secrets, and witnesses to the quiet moments of life that truly matter. It's where each day begins and ends, with hopes, dreams, and the promise of a new day. Let's craft spaces that hold you, that whisper tales of comfort and joy, where every day is a good day to be alive.
Bathrooms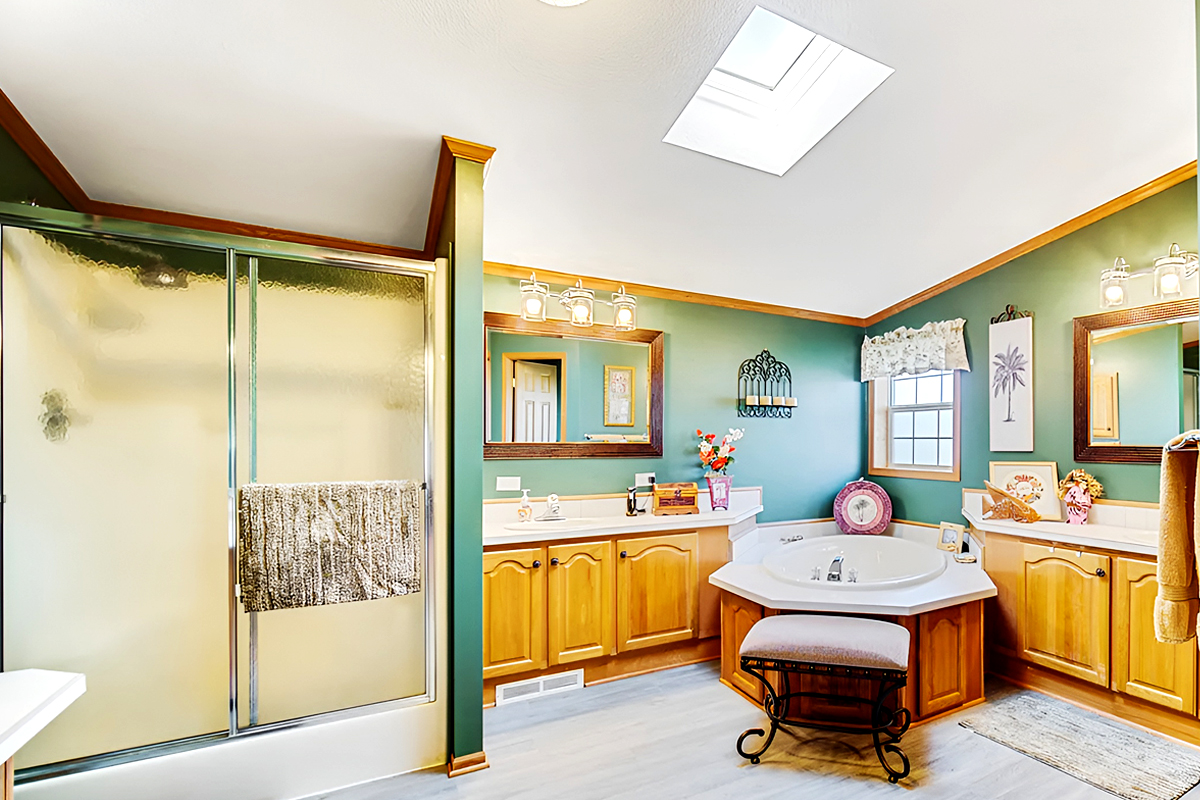 First, the master bathroom. Stretching across 10×8 feet, it's a realm of luxury in your very own home. Picture yourself sinking into the soaking tub after a long day, letting the water wash away the day's worries. But that's not all! A separate shower beckons, its droplets promising a refreshing start or a relaxing end to your day. This bathroom isn't just functional; it's a daily spa retreat.
Swing the door to the guest bathroom, and voila! This 8×6 ft space has its tales to tell. With a practical tub-shower combo, it promises both swift morning showers and languid evening soaks. And then there's the vanity, not just a basin but a spot for reflection, for those moments when you pause and appreciate the simple joys.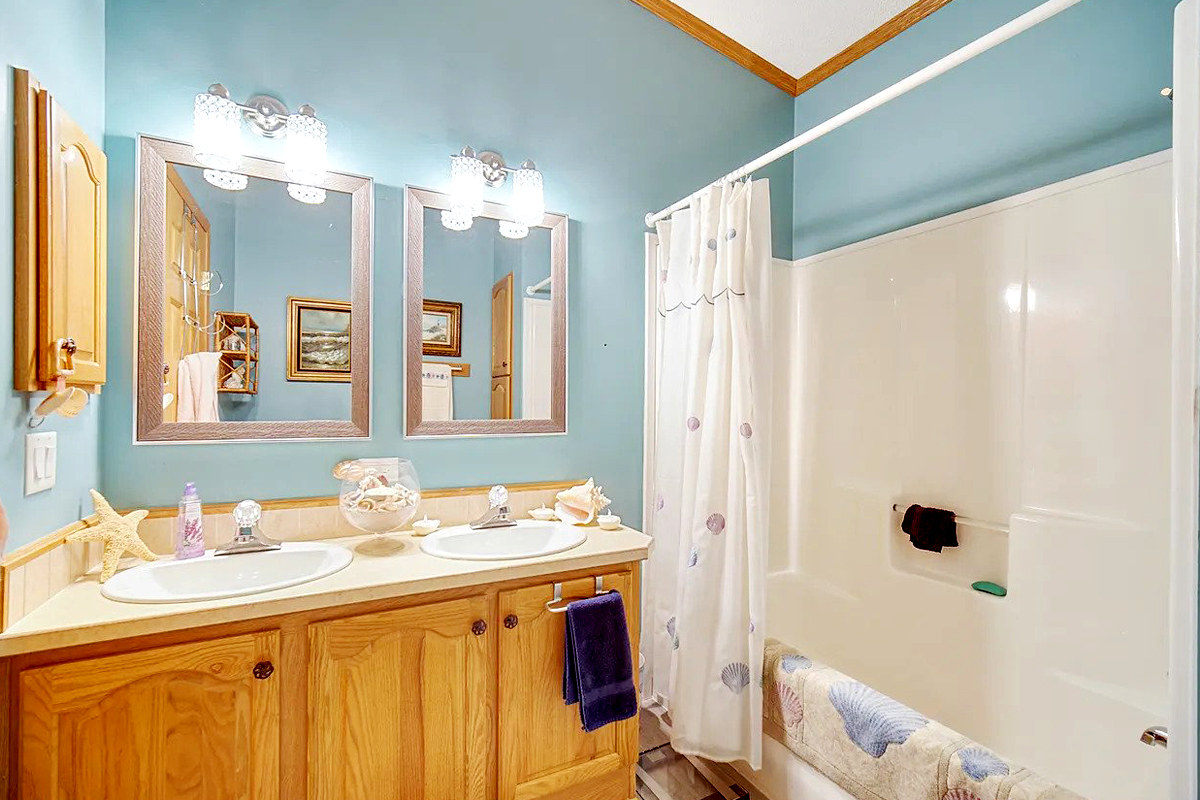 But what's a bathroom without its twinkling stars – the fixtures and fittings? Opt for faucets that aren't just taps but statement pieces, pouring out elegance with every use. Showerheads that recreate the soft touch of rain or the vibrant energy of a waterfall. These tiny details elevate your experience, making every moment unique.
And for the essentials? Cabinetry melds style with functionality, where every bottle, every jar, every piece of linen has its rightful spot. Add clever storage options, and you've got a space that's as organized as it's elegant.
Home Office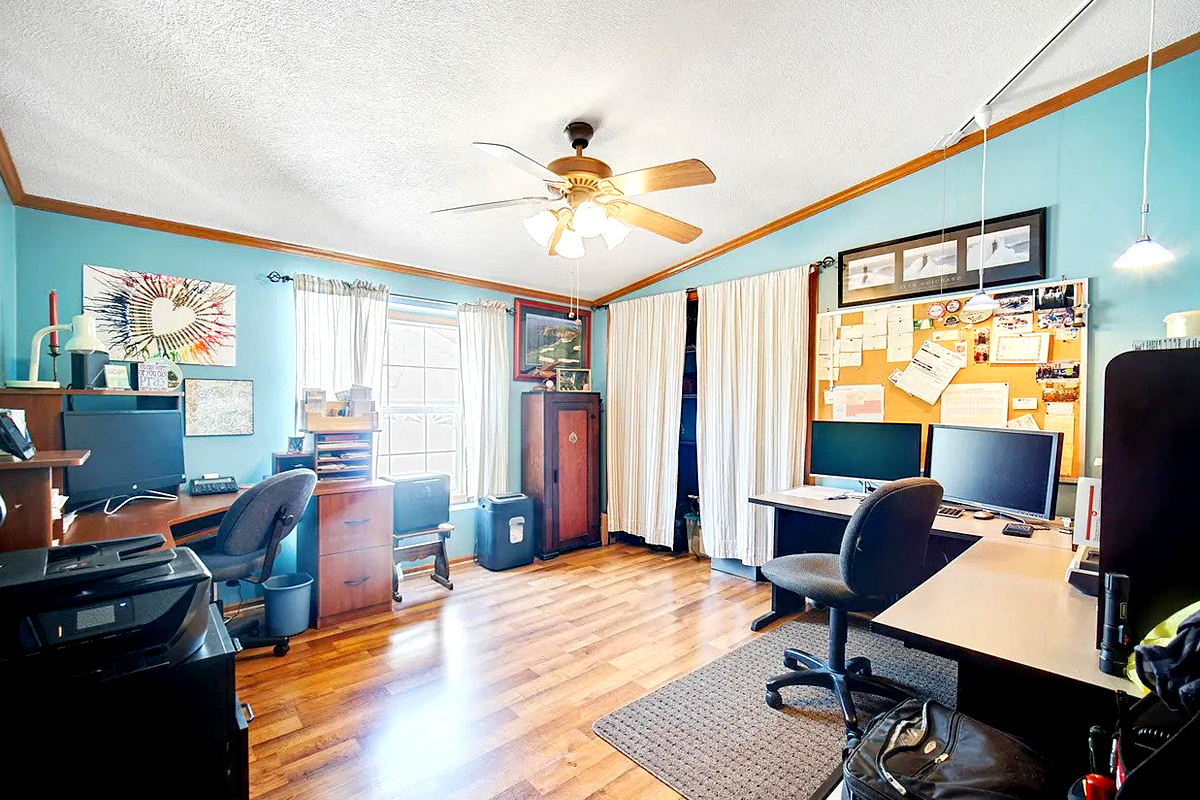 Imagine it: a 10×10-foot square of potential, just waiting to be filled with your dreams, plans, and the occasional daydream. Tucked neatly near the entrance allows you to slip into work mode without wandering far.
Now, the foundation of any great office is, of course, the desk. Picture a substantial piece with style and substance, giving you a spacious canvas for all your endeavors. Or perhaps a compact, sleek one that whispers sophistication. The size, the type, it's a reflection of you, ready to stand steady as you conquer your goals.
An office is more than just a desk, right? Picture shelves gracefully hugging the walls, holding not just files and folders but stories, achievements, and a plant or two, bringing fresh air to your workspace. It's not just storage. It's your gallery, showcasing the journey of your hard work and aspirations.
Lighting? Oh, it plays the hero here, doesn't it? Let's invite nature with windows illuminating and inspiring, creating a tapestry of shadows and light as the day unfolds. It's not just a window. It's your canvas of dreams, changing with the seasons, a silent companion in your journey.
But as the day dims, let's usher in the warm embrace of artificial lighting. Visualize fixtures that offer a golden hug, turning evening hours into a haven of warm hues and soft glows, making working late something to look forward to, not dread.
Laundry Room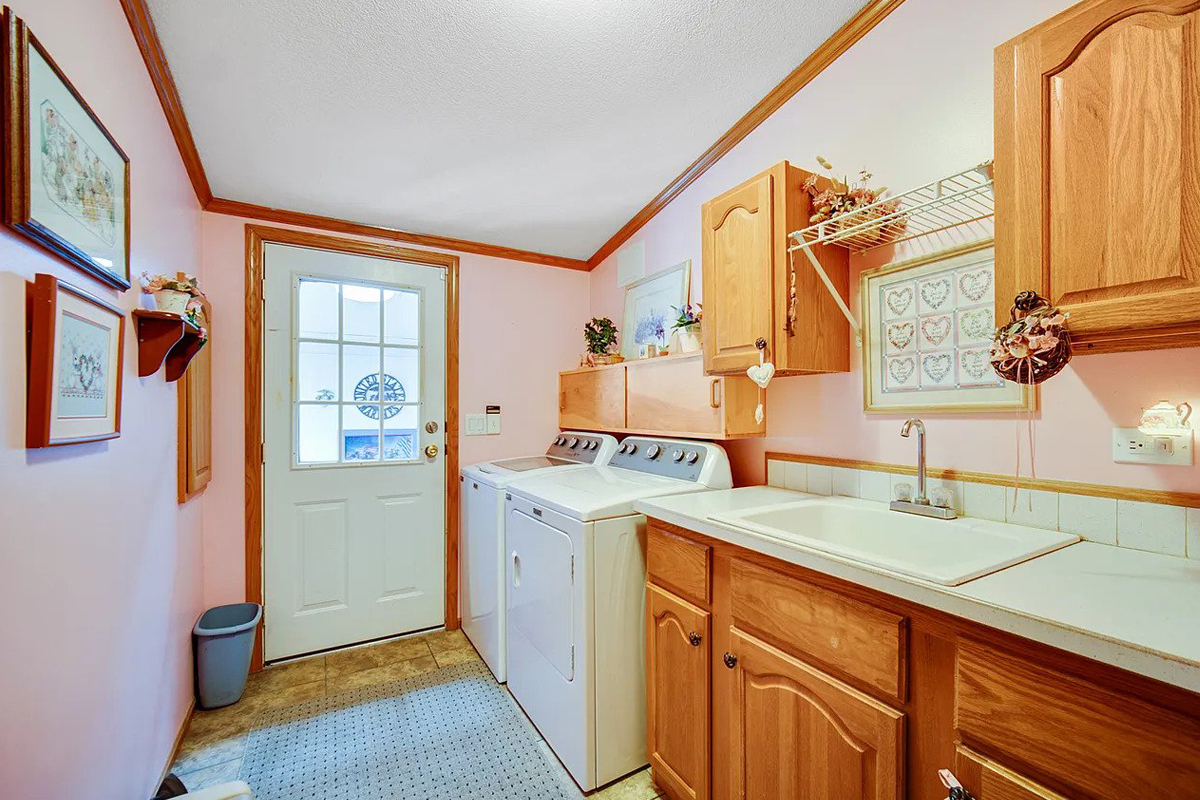 Nestled at a cozy 8×6 feet and conveniently situated near the kitchen, this space can handle all the practicalities with a splash of style. Can't you see it? A room that greets your laundry with open arms, ready to refresh and rejuvenate your beloved garments.
Let's talk appliances. A trusty washer and dryer stand as the heroes in this narrative, ready to take on the mountains of laundry life throws your way. Picture yourself choosing the duo that matches your aesthetic and champions efficiency, giving you fresh, smiling laundry batch after batch. And remember, it's not just about buying the best; it's about setting them up in a way that creates a harmonious flow, turning a chore into a delightful rhythm.
Now, onto the wonder world of storage. Visualize tall shelves, ready-to-house detergents, fabric softeners, and all those magical potions that bring life back to your clothes. It's your mini storefront, where everything you need stands at attention, ready to serve.
But the true unsung hero in this space? The utility sink. Imagine having a dedicated space to treat stains, hand-wash delicates, or even rinse off muddy boots without a second thought. It's not just a sink; it's your trusty sidekick in the battle against grime and stains, offering practicality with a sprinkle of elegance.
Conclusion
Navigating inside a triple-wide mobile home has been quite the adventure, hasn't it? Every room, every corner, tells its own story. The possibilities are as expansive as your imagination, from dreamy bedrooms to functional laundry spaces. Remember, it's not just about square footage or fancy fittings; it's about crafting a space that resonates with your spirit.