10 Mobile Home Bathroom Remodel Ideas
Remodeling a mobile home bathroom is a good investment with many benefits that can make the space more functional, safe, valuable, visually appealing, and energy-efficient. Also, a well-designed and functional bathroom can increase the value of the mobile home, making it more attractive to potential buyers. And it can be a way to personalize the space and make it more comfortable.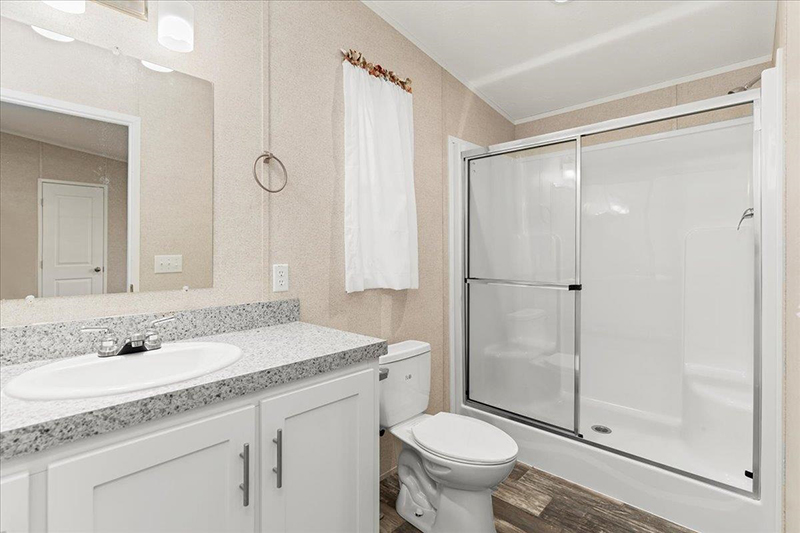 Factor to Consider
Remodeling a mobile home bathroom comes with its own unique set of considerations. From choosing the right fixtures to maximizing space, let's explore the factors you need to consider:
The first thing to consider is the size. Your mobile home bathroom probably isn't the size of a football field, so we've got to plan smart. Think about the layout and how you can use every square inch. Think small tubs, corner sinks, and wall-mounted storage. The goal is to make the most of your space without feeling cramped.
Next up, plumbing. It's not the most glamorous topic, but it's key. Mobile home plumbing is different than that of a traditional house. It often uses plastic pipes and unique layouts. So, getting a professional's help can save you from trouble down the line. Better to be safe than sorry, right?
Let's talk style. Just because it's a mobile home doesn't mean it can't be stylish. You deserve a bathroom you love! Pick a theme that you're drawn to. Beachy vibes, modern minimalism, or even a country look. The choice is yours!
Weight is another factor you might not think about, but it's important. Mobile homes have weight restrictions, so you can't throw in a cast-iron bathtub or marble countertops. Consider lightweight materials that still deliver on style, like acrylic or vinyl.
The budget is next on our list. Remodeling can get pricey, and keeping tabs on your spending is essential. Be realistic about what you can afford. You don't need a gold-plated toilet to have a beautiful bathroom. Look for budget-friendly alternatives that still add that touch of luxury.
What about storage? We all know that mobile home bathrooms can be short on space. It's all about being clever with storage solutions. Think wall-mounted baskets for towels, a medicine cabinet for toiletries, or even over-the-door hooks.
Lastly, consider lighting. Good lighting can take a bathroom from "meh" to "wow" in no time. Consider where natural light comes from and supplement it with artificial light where needed. Dimmer switches can also add a spa-like ambiance for those relaxing bubble bath nights.
So, there you have it. Size, plumbing, style, weight, budget, storage, and lighting. Seven key factors to consider when remodeling your mobile home bathroom. Keep these in mind, and you'll create a space that's not only functional but also a beautiful sanctuary you'll love spending time in.
10 Mobile Home Bathroom Remodeling Ideas
Thinking of freshening up your mobile home bathroom? We've got some bright ideas that'll have you itching to start your remodel!
1. Replace the Shower with a Walk-in Shower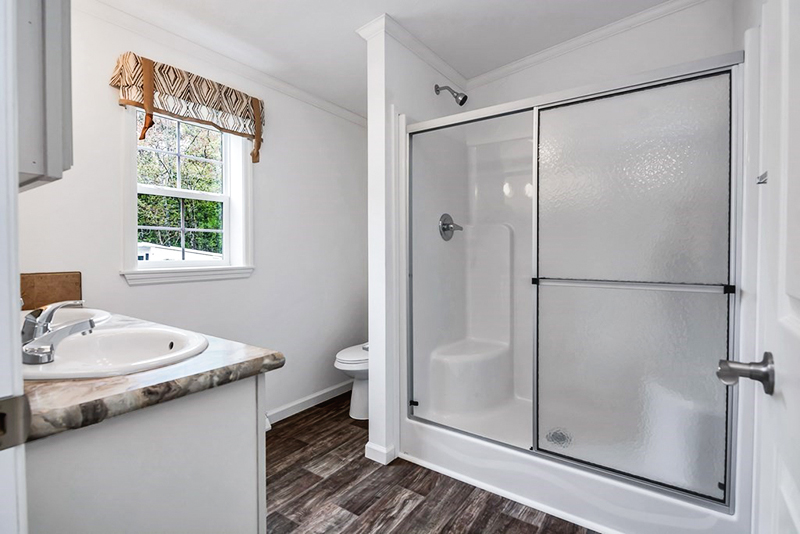 Ready to kick your bathroom up a notch? Let's talk about replacing that old shower with a walk-in one. Picture it: there is no tub ledge to climb over, just a smooth step into your relaxation zone.
Walk-in showers are the epitome of sleek. They're the little black dress of the bathroom world: timeless, versatile, and always in style. With a glass enclosure, they almost seem to disappear, making your bathroom feel more spacious. No more feeling stuck in a tiny box while you rinse off!
Accessibility is another big selling point. There's no high step or slippery tub edge to navigate. It's an excellent option for anyone, particularly if you're considering aging in place or have family members with mobility issues. It's about making your bathroom safer and more comfortable for everyone.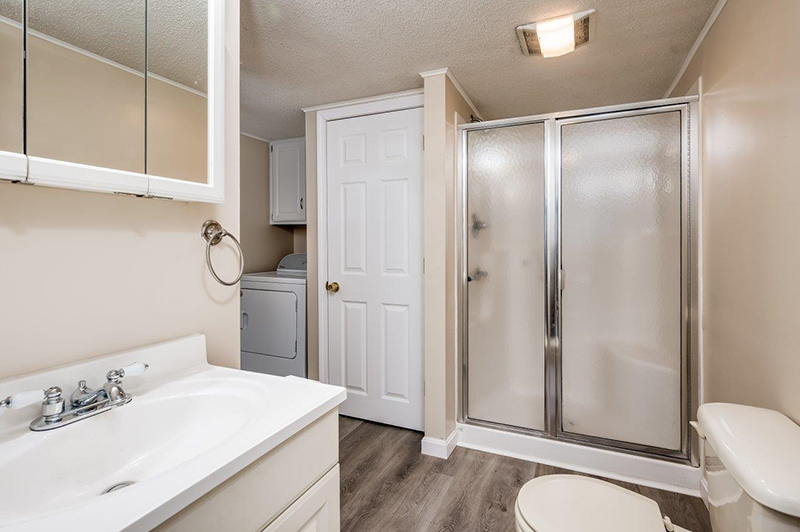 You've got options too. If you're feeling adventurous, a simple glass enclosure, a tile masterpiece, or maybe even a doorless design. And don't forget about the showerhead. Rainfall, handheld, body sprays? You choose!
So, let's recap. A walk-in shower can give your bathroom a modern, clean look. It creates an illusion of more space, offers easier access, and is customizable to your style. That sounds like a pretty good deal, right?
So why not take the plunge? A walk-in shower could be just what you need to bring luxury into your mobile home bathroom.
2. Update the Vanity and Sink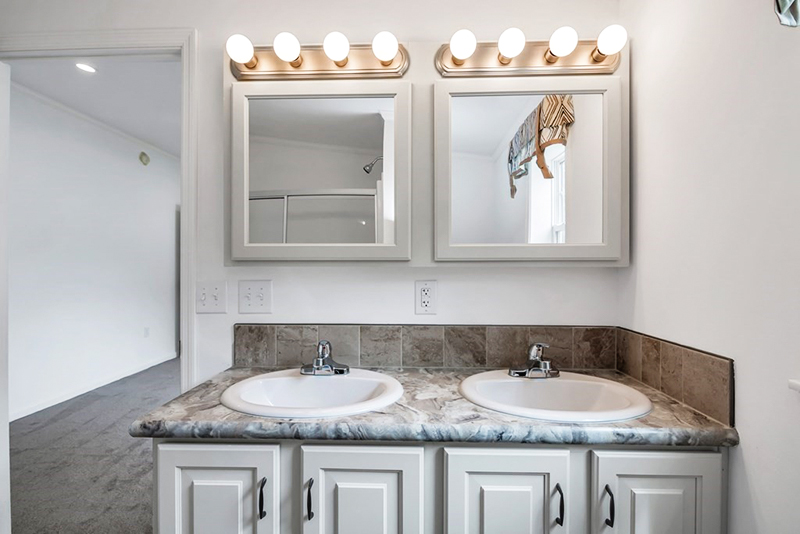 Is your vanity giving off more vintage vibes than you'd like? It might be time for an update. A new vanity and sink could be just the refresh your bathroom needs. It's like a mini makeover within a makeover.
Now, this isn't just about swapping out old for new. It's about finding a vanity that complements your style. Are you going for a modern, sleek look? Try a vanity with clean lines and a glossy finish. If you're into a farmhouse style, look for rustic wood with a sturdy ceramic sink.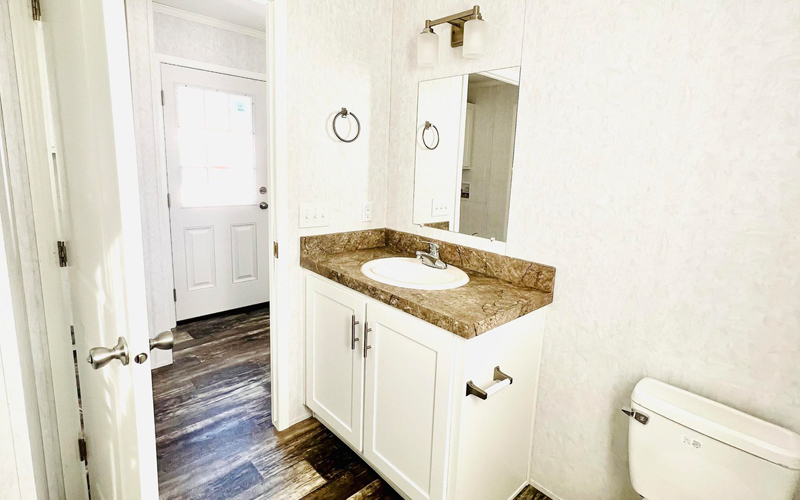 Size is critical too. You want a vanity that fits your space without overpowering it. If your bathroom is smaller, think about a floating vanity. These guys are mounted to the wall, with open space underneath. Not only does this make cleaning easier (hello, no dust bunnies!), but it also creates an illusion of more space. It's like a magic trick for your bathroom!
Then comes the fun part – the sink. Under-mount, top-mount, vessel? There's a world of sink styles out there. Again, think about what works with your overall design. A streamlined under-mount sink is great for a minimalist look, while a vessel sink can add a touch of drama.
Swapping your old vanity for a new one isn't just a change but an upgrade. It's a chance to inject style, streamline storage, and create the illusion of space in your bathroom. Go forth and choose a vanity that speaks to you. Your bathroom will thank you for it!
3. Install New Flooring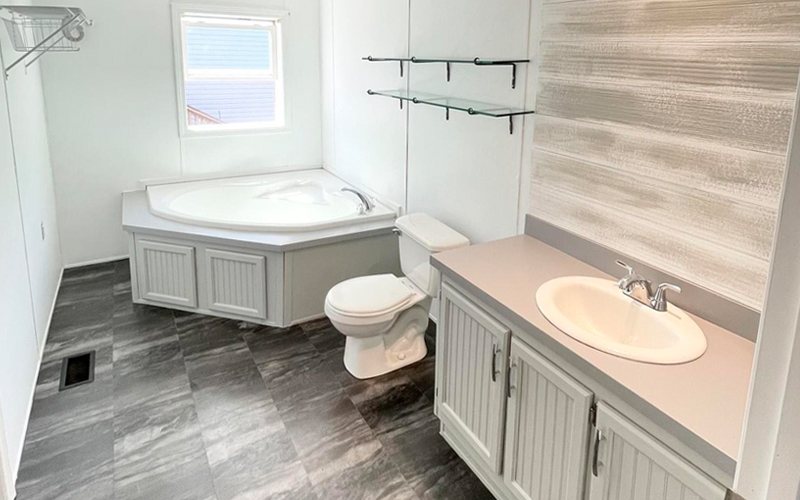 Are you still rocking that linoleum flooring from decades past? If so, it's time to say adios to that old friend. And say hello to today's fabulous flooring options. It is one change that can redefine your bathroom's look.
Enter waterproof vinyl. This stuff is like the superhero of bathroom flooring. Not only can it handle water like a champ, but it's also a breeze to clean. Just sweep up and mop down. Easy peasy! Plus, it comes in so many styles. Want a wood look? No problem. Prefer stone? You got it!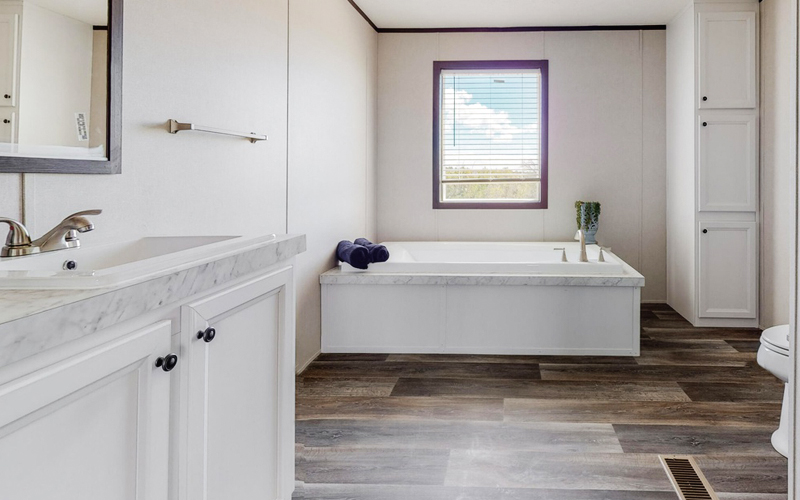 But the magic happens when you consider the visual impact of new flooring. It's like the foundation of your bathroom's style. Go bold, and your floor becomes a statement piece. Opt for something subtle, and it lays the groundwork for your other design elements to shine.
4. Add New Lighting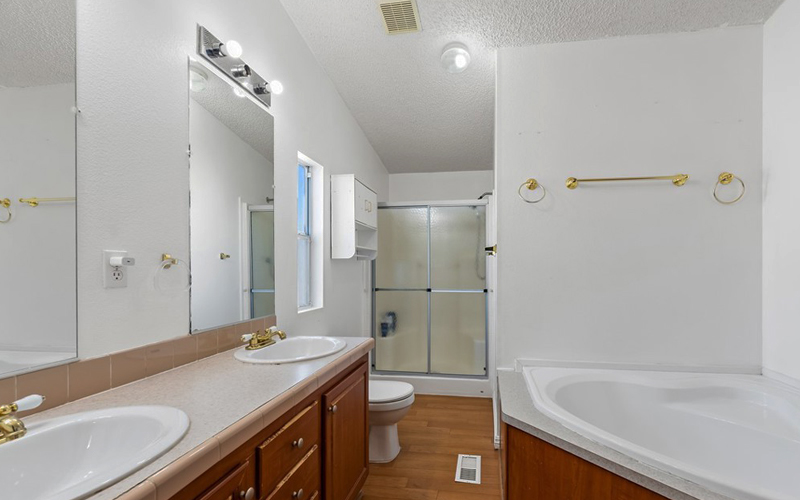 Is your bathroom stuck under harsh, unflattering lighting? Well, let's bring it into the right light, that is. Adding new lighting to your bathroom can be a real game-changer.
Lighting in a bathroom is a lot like a cake. You've got your base layer, your filling, and your frosting. Each layer is delicious on its own, but together? They create a showstopper.
Your base layer is the main ceiling light. This is your go-to, the trusty light that keeps your bathroom bright and functional. It's like the cake itself: necessary and dependable.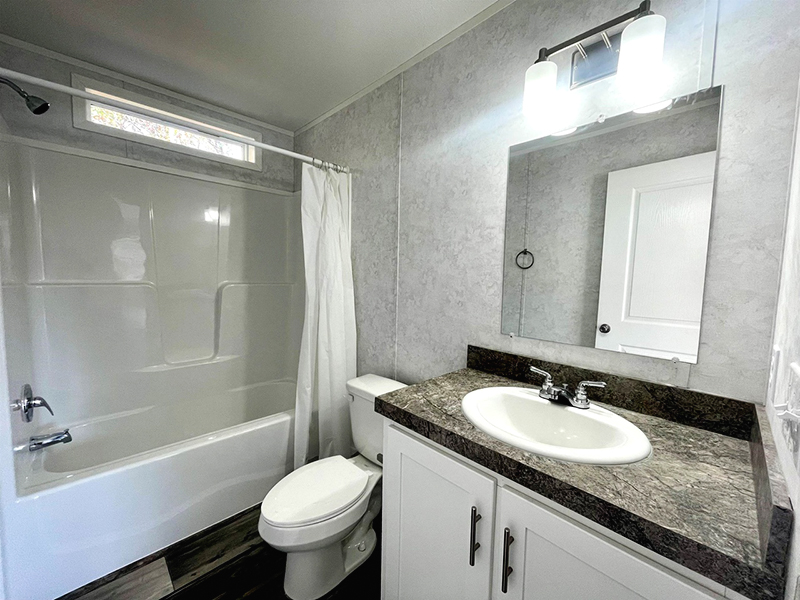 Then comes your filling: focused lighting around the mirror. This is like your flavor punch in the middle of the cake. It makes tasks like shaving or applying makeup so much easier. Goodbye, shadowy face; hello, well-lit reflection!
Now for the frosting: the dimmable light. This is your finishing touch, the cherry on top. Want a relaxing bath? Dim the lights for a softer glow. Need just a bit of light for a late-night bathroom trip? Dimmable lights have you covered.
Adding new lighting isn't just practical. It sets the mood and highlights your style. So, think beyond the bare bulb. Layer your lighting for a functional, versatile, and downright beautiful bathroom.
5. Replace the Old Toilet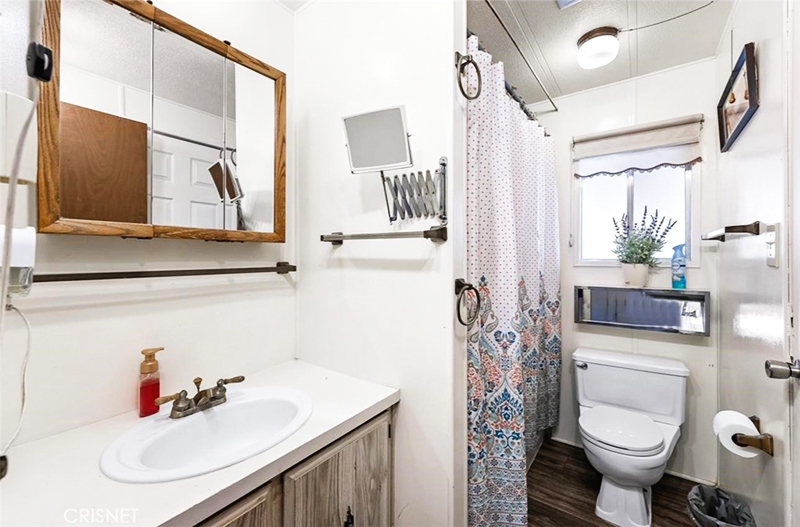 Swapping out your old toilet for a newer one might seem like a minor change, but it has significant benefits. For starters, newer toilets are designed to use less water. They're not just kinder to the environment but also easier on your wallet.
Think about it. Every flush with an older model can use up to six gallons of water. Six gallons! Newer models can do the job with just over one gallon. That's not just a drop in the bucket; it's a serious saving.
And let's not forget about the style points. Newer models come in all sorts of designs., sleek, compact, and even models with hidden tanks. It isn't just a functional swap but also a style upgrade.
So, out with the old and in with the new. You'll save water and cash and simultaneously upping your bathroom game. A toilet swap? Now that's a power move.
6. Install a New Mirror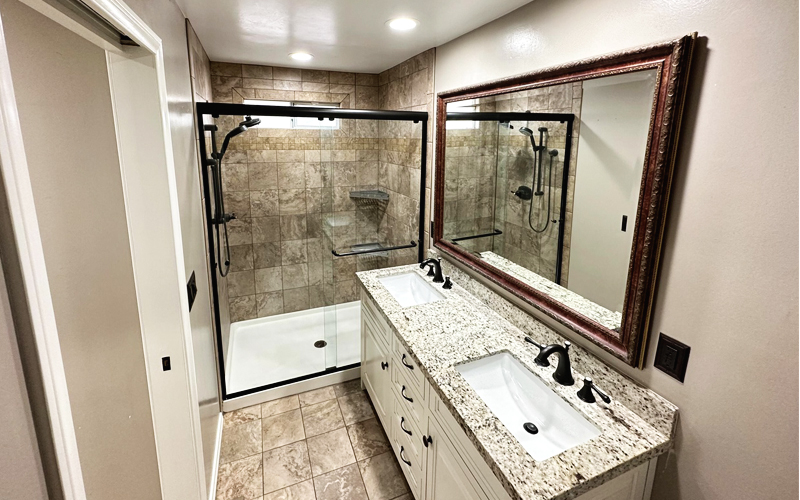 Mirror, mirror on the wall, who's the most stylish of them all? With a new mirror in your bathroom, the answer is you! Now, I know what you're thinking: "It's just a mirror." But hear me out. It's so much more.
A mirror can transform your bathroom. Seriously, it's like a magic trick. A large, wall-mounted mirror can make a small space seem twice as big. It reflects light around the room, making everything brighter and more open. It's a mini-renovation in itself!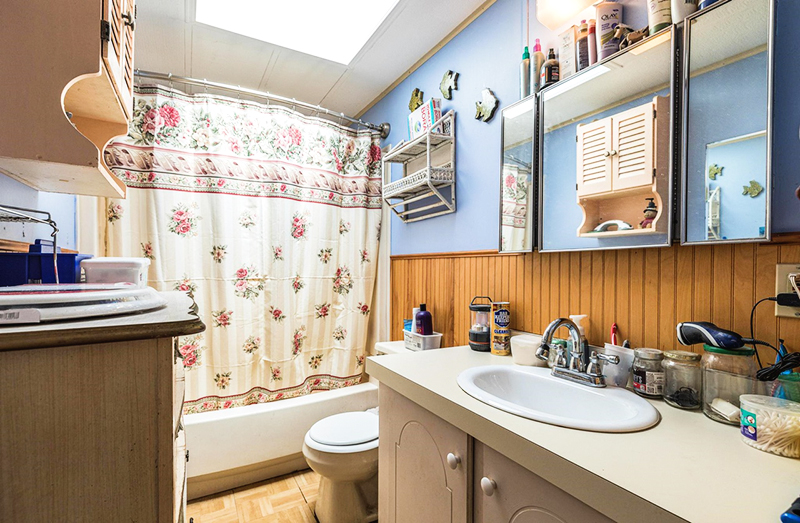 But maybe you're thinking, "I need storage too." Well, have I got news for you. Enter the medicine cabinet with a mirror front. It's the superhero of the bathroom world: stylish and practical. Store your toiletries, and hide your toothbrush, all behind a gleaming mirror.
And let's not forget about style. Your mirror can say a lot about your style, from sleek minimalist designs to ornate vintage frames. It's not just about seeing your reflection; it's about reflecting your taste too.
7. Painting and Adding New Wallpaper
Ready for a change that's fun, affordable, and instantly gratifying? Let's talk paint and wallpaper. This isn't just a change. It's a complete mood-setter for your bathroom.
First up, paint. Think of your walls as a canvas. A fresh coat of paint can change the entire feel of the space. Going for a serene spa vibe? Opt for a soft, neutral tone. Want to energize the space? Try a vibrant hue. It's your bathroom's personality in a paint can.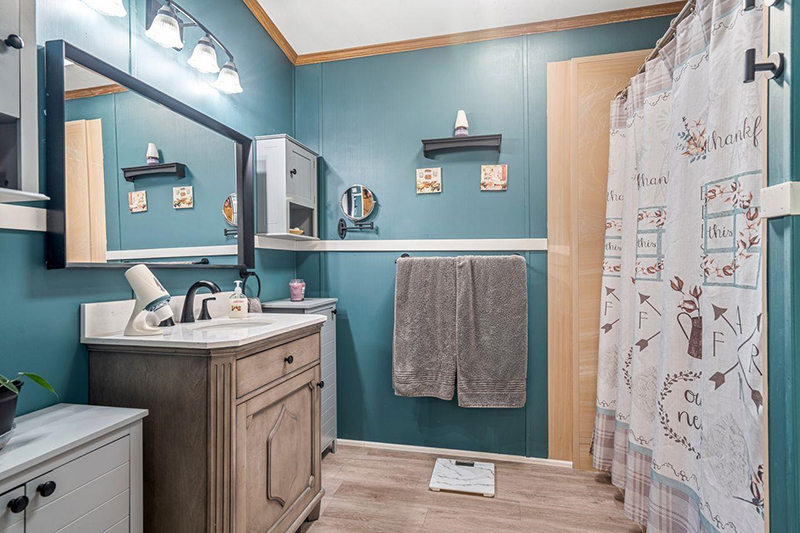 Now, let's chat wallpaper. It's made a major comeback and for a good reason. Patterns, textures, prints, oh my! Wallpaper is like the stylish accessory your bathroom didn't know it needed. From subtle to dramatic, the choices are endless.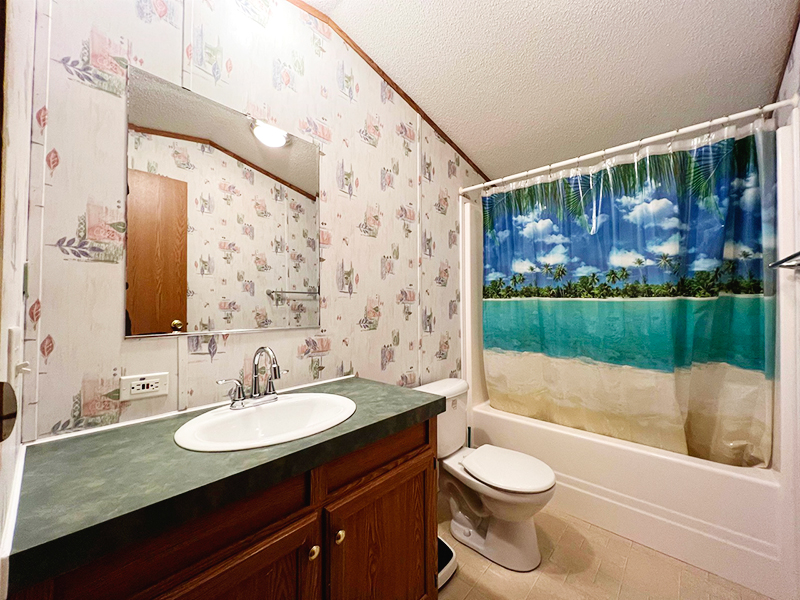 Here's the best part: small spaces love color and pattern too. You've probably heard that small spaces need light and neutral, right? Well, it's time to throw that rule out the window. Small bathrooms can handle color and pattern just as well as big ones. Go bold with a statement wall, or wrap the entire room in your favorite design.
8. Adding Built-In Shelves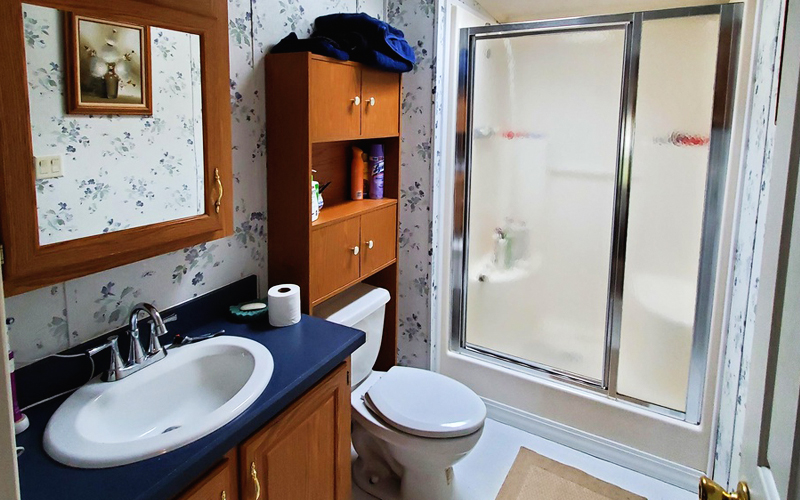 Alright, let's talk storage. I see you there, juggling shampoo bottles and searching for a spot for those fluffy new towels. Well, I've got two words for you: built-in shelves.
Think about it. Your bathroom walls are just standing there, right? Why not put them to work? Adding built-in shelves is like unlocking secret storage space. It's a game-changer.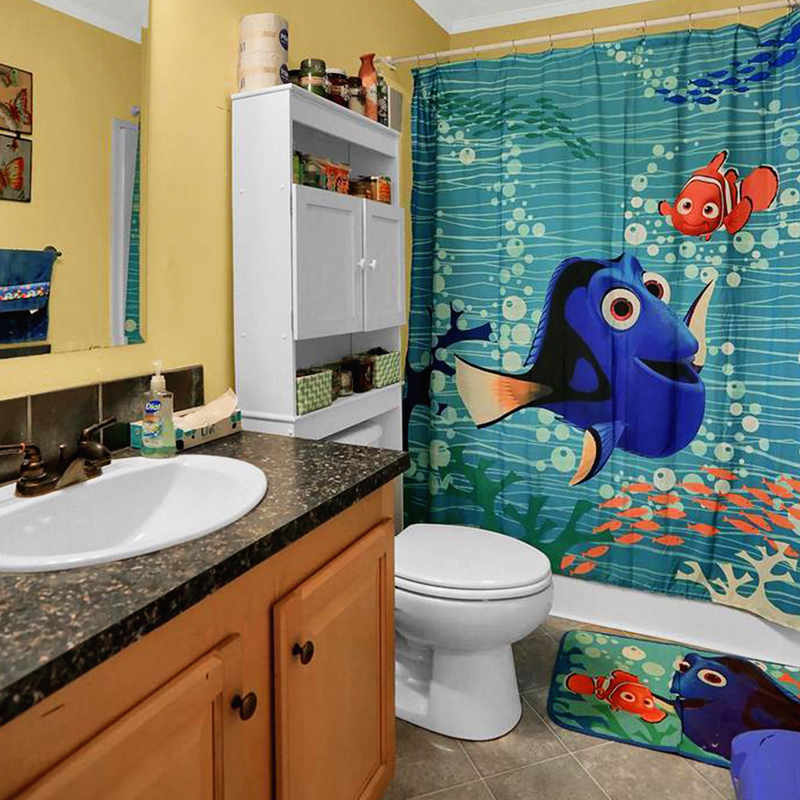 Do you know what's great about shelves? They're not picky. Towels, toiletries, decor items – shelves welcome them all. They're the hardworking heroes of bathroom storage. And they're not just functional but also an opportunity to show off your style. A cute basket here, a fancy soap dish there, and voila, you have a bathroom with personality.
But the best thing about built-in shelves? They make use of vertical space. It's a part of your bathroom that often gets overlooked. It's like discovering an extra room you never knew you had.
9. Replace the Faucet and Hardware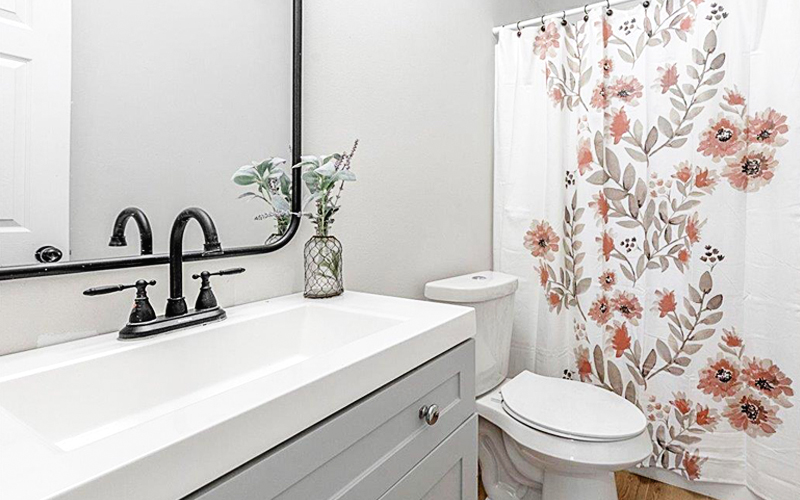 Now, let's get down to the details. You know, the things that might seem small but make a big difference. I'm talking about faucets and hardware. These pieces are like the jewelry of your bathroom. Small? Yes. Impactful? Absolutely.
You see, faucets and hardware might be functional, but they also add a finishing touch. They're the pieces that catch your eye and tie the whole room together.
Is the faucet looking a bit worn? A new one can instantly elevate your sink. Go modern with sleek lines and a chrome finish, or try a vintage style with brushed bronze.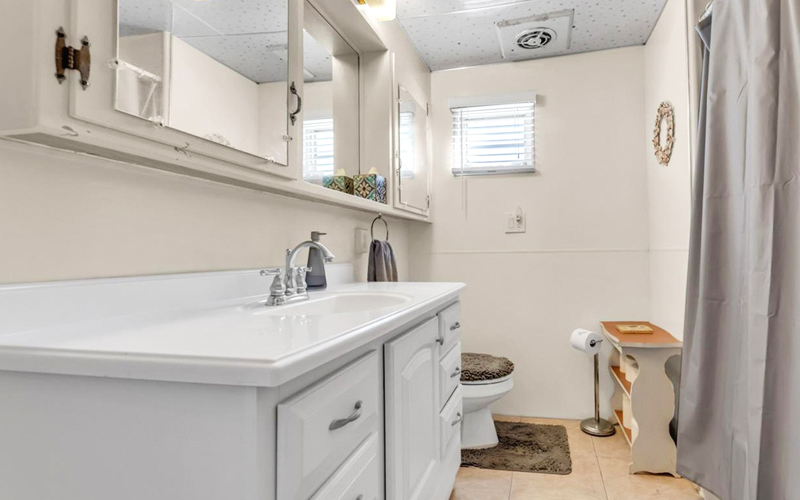 But let's not stop at the faucet. Hardware like drawer pulls and towel bars deserve some love too. These pieces might seem minor, but they make a big statement. They're like the earrings that complete an outfit.
The key here is coordination. You want your finishes to complement each other and the rest of your decor. So if you've gone for a modern look, maybe choose polished chrome or stainless steel. If a rustic is more your thing, aged bronze or brushed nickel could be just the ticket.
10. Updating Bathroom Cabinets and Countertops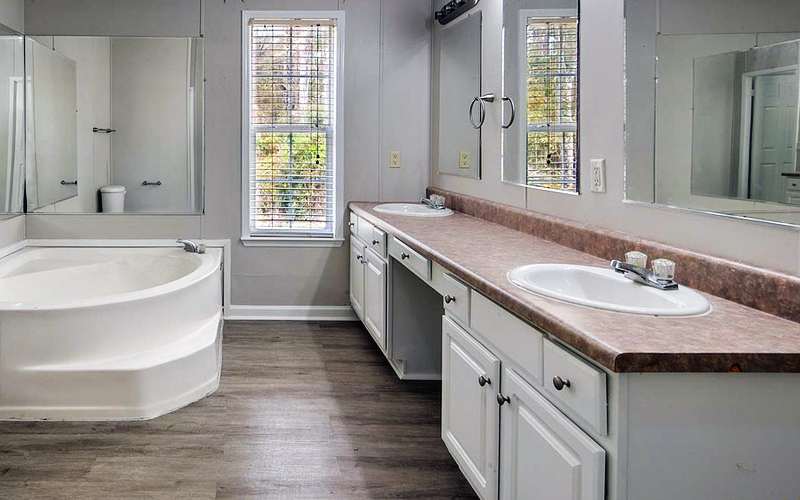 Let's talk about a change that can transform your bathroom: updating cabinets and countertops. It is like a makeover show revealed in your own home.
Cabinets are often the first thing you see when you walk into your bathroom. If they're dated, they can drag down the whole look. But new cabinets? They're like a breath of fresh air. From chic modern designs to charming vintage styles, the options are endless.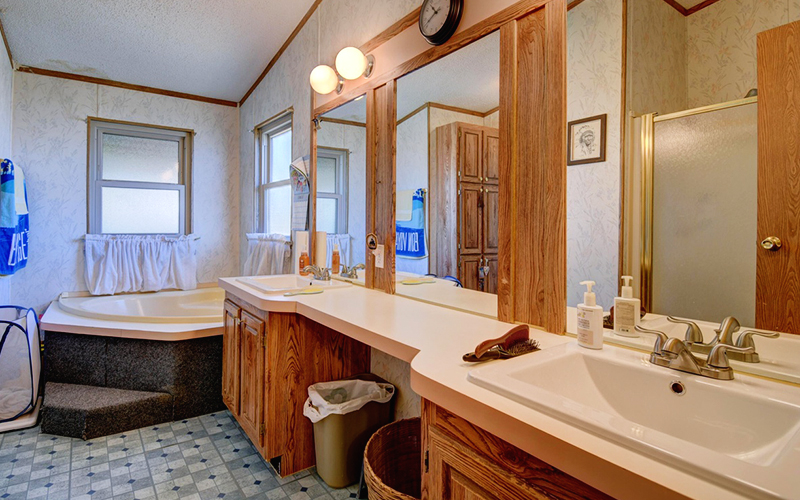 And countertops, well, they're the icing on the cake. Not only do they provide crucial workspace, but they also add to the overall aesthetic of your bathroom. A worn-out countertop can be a downer, but a fresh one? Now, that's a mood-lifter!
Now, let's consider materials. In a mobile home, keeping the weight down is key. Lighter materials, like laminate or solid surface countertops, can offer the look you want without weighing things down. For cabinets, consider options like medium-density fibreboard (MDF), which provides an outstanding balance of weight and durability.
Mobile Home Master Bathroom Ideas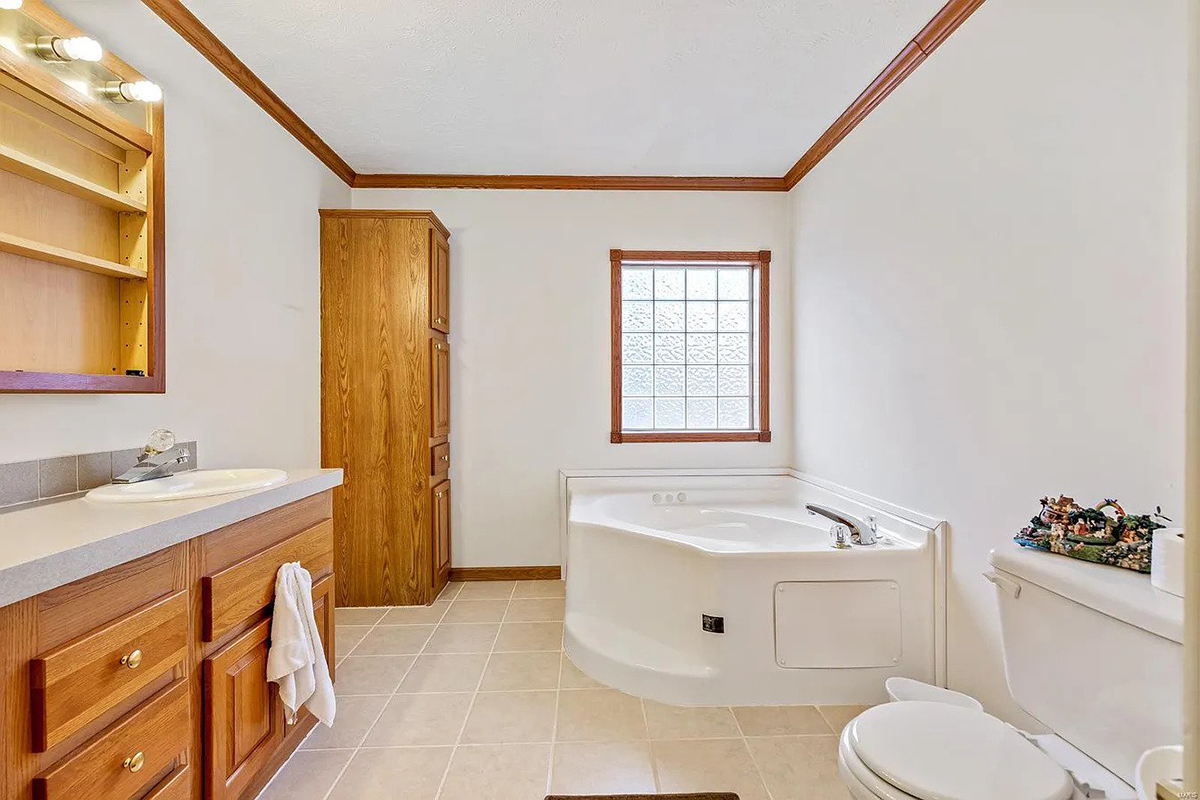 The beauty of designing a mobile home master bathroom, whether single or double-wide, lies in the possibilities. With some imagination, even the most compact space can become a haven of style and function. Here are some design ideas:
1. Modern Design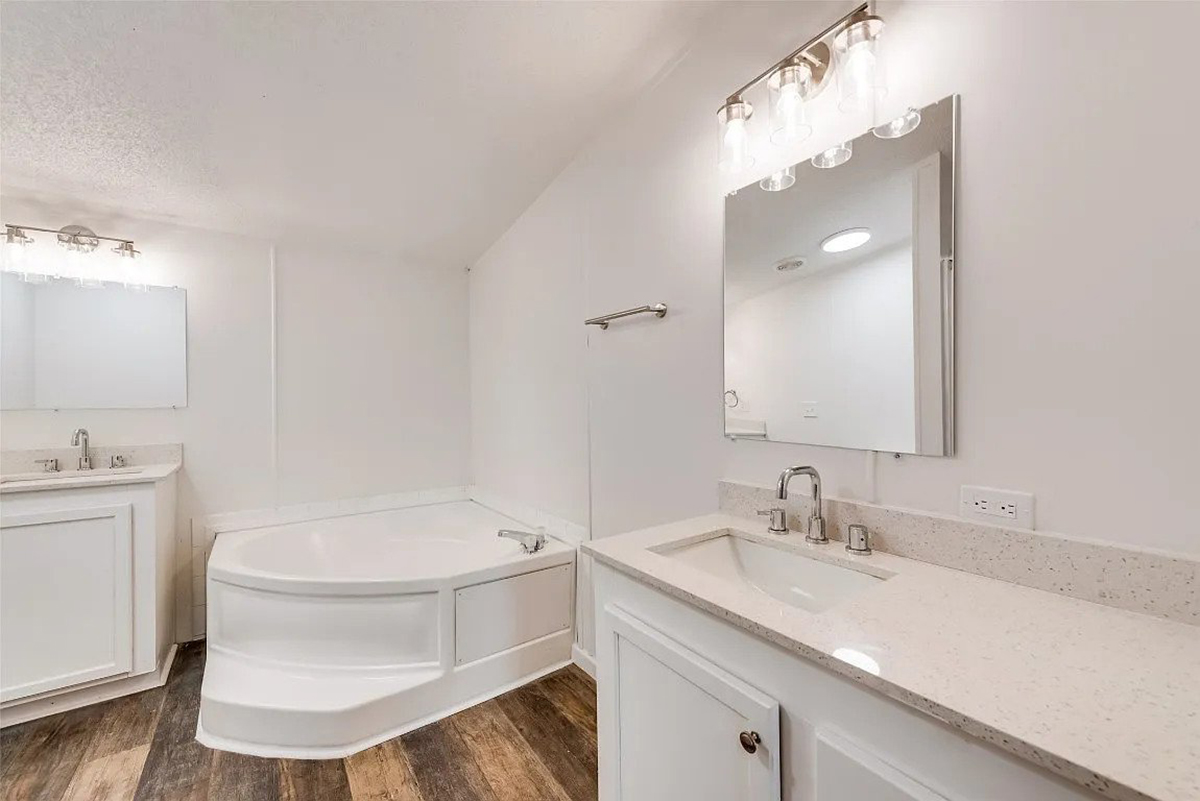 Modern concepts for your master bathroom? Now we're talking! This is where sleek lines meet bold ideas, and your mobile home becomes a canvas for contemporary art.
Let's kick things off with minimalist designs. Think simple and uncluttered. Choose fixtures with clean lines. Less is truly more here. A single elegant mirror, a tastefully chosen faucet, and you're on your way to minimalist magic.
But what about materials? Glass and metals are your new best friends. A glass shower enclosure opens up space, making your bathroom feel bigger. Chrome or brushed nickel fixtures? They add a touch of luxury without being over the top.
Lighting is crucial too. Modern doesn't mean cold. Soft LED lights under cabinets or around mirrors create a warm ambiance. Pendant lights? They're like jewelry for your bathroom, functional yet beautiful.
These modern touches transform a basic bathroom into a cutting-edge space. It's not about going overboard. It's about balance, choosing the right elements that fit your mobile home's master bathroom.
2. Traditional Design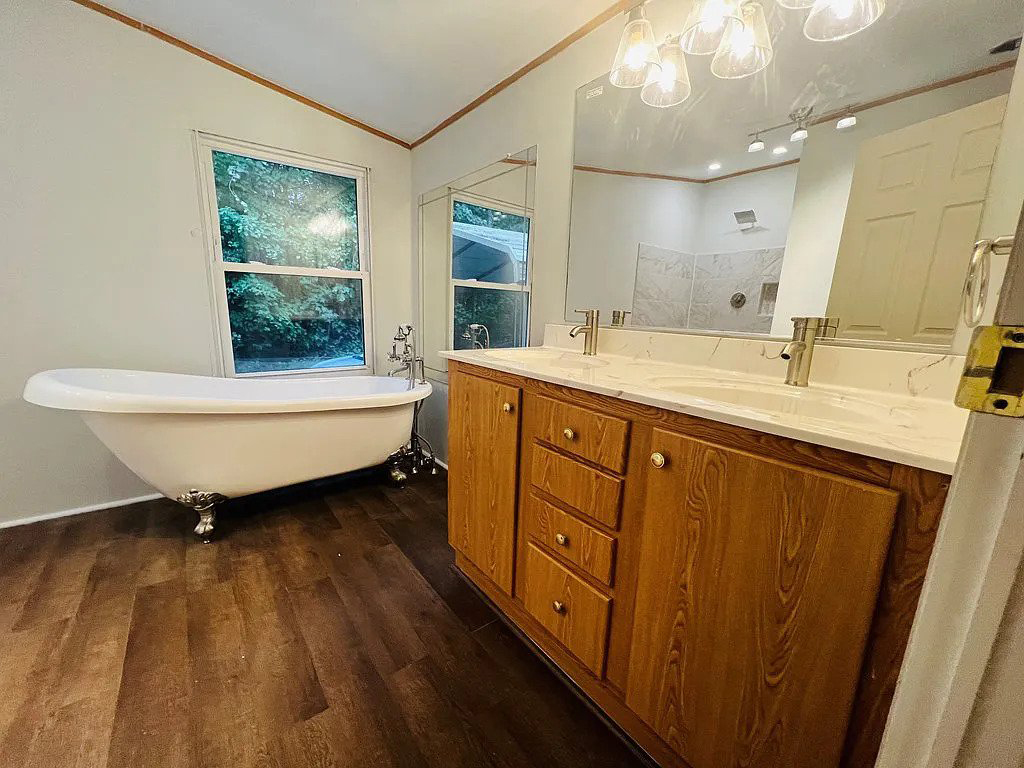 Traditional concepts in the bathroom? Now that's a style that never goes out of fashion. It's all about comfort, warmth, and timeless elegance. Let's stroll down this classic lane together.
First up: wooden accents. Wood brings a homey feel, whether it's a beautiful vanity or some carefully placed shelves. It's like a cozy hug for your bathroom. Choose rich, warm tones, and you'll feel the embrace.
Now, let's talk bathtubs. Imagine a classic clawfoot tub. It's not just a place to soak; it's a statement of style. It's an invitation to relax. Pair it with a quaint, hand-held showerhead, and you've captured the essence of the past.
Don't forget the fixtures. Go for period-appropriate choices like brass or oil-rubbed bronze. A traditional faucet adds character and ornate handles? They're like pieces of art. Every detail counts.
Traditional doesn't mean outdated. It's a nod to the grace and charm of days gone by. It's about creating a space that feels both luxurious and familiar.
So add that vintage mirror, choose that classic tile, and turn your mobile home's primary bathroom into a timeless retreat. It's more than design; it connects to a style that endures. Enjoy the journey!
3. Luxurious Design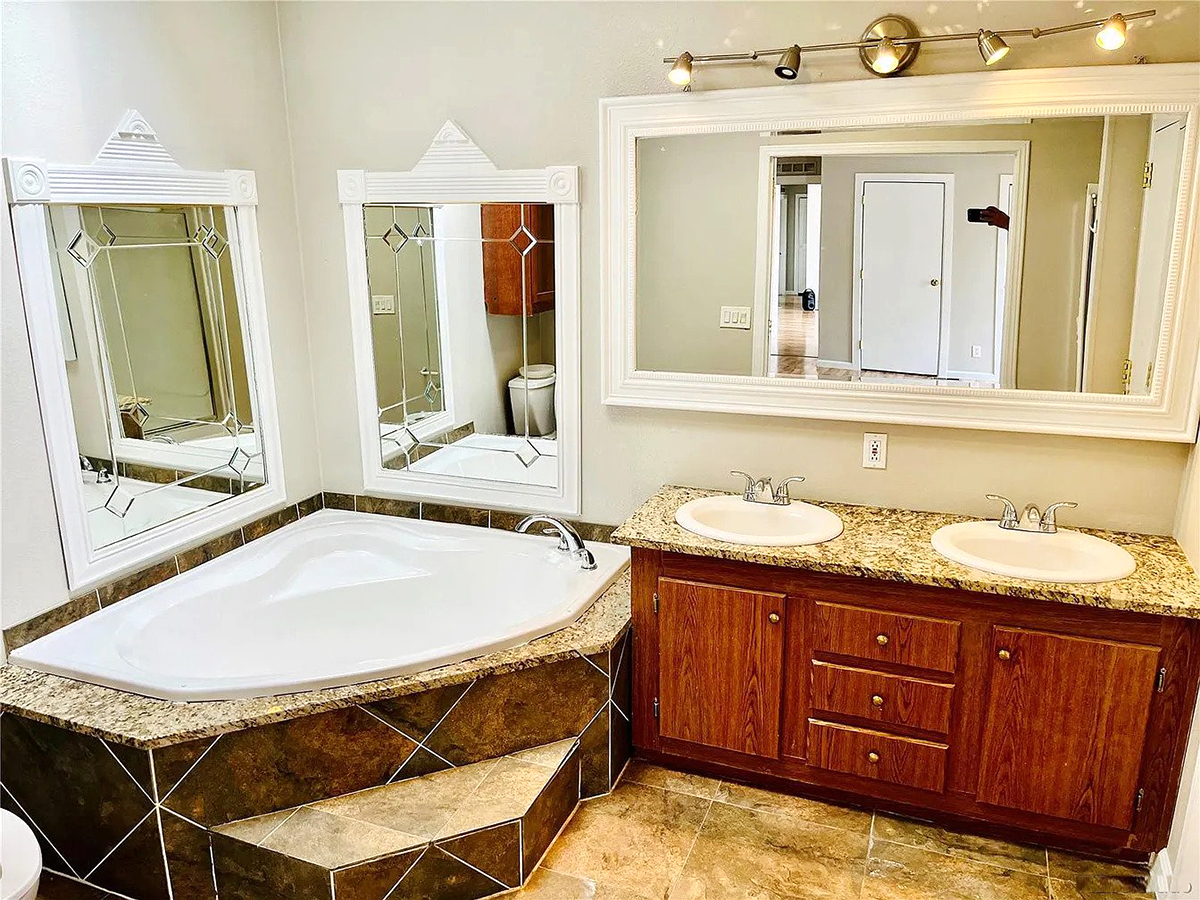 Ready to indulge in luxury? Oh, the master bathroom in a mobile home can indeed be a sanctuary of splendor. Let's explore how to make your bathroom feel like a five-star spa.
First on the list: Jacuzzis and spa features. Imagine stepping into a bubbling tub at the end of a long day. That's not just a bath; that's a mini-vacation. Add some mood lighting, and you've got your oasis.
Now, about those high-end materials. Marble countertops, anyone? How about a touch of gold in the fixtures? These aren't just materials; they're statements of elegance. And they transform a simple bathroom into something extraordinary.
Don't overlook custom cabinetry. Built to fit your space, with every drawer and shelf thought out, it's the pinnacle of functionality meeting style. Think of the elegance of a finely crafted wardrobe in your bathroom.
But wait, there's more. Consider heated floors for those chilly mornings or a rainfall showerhead that envelops you like a tropical downpour. It's these touches that take your bathroom from nice to wow.
Luxury doesn't mean unattainable. With the right choices, your mobile home's master bathroom becomes more than a place to prepare for the day. It's a retreat, a space to pamper yourself.
Conclusion
Overall, there are many ways to remodel your mobile home bathroom, from replacing the shower to updating the bathroom cabinets and countertops. The list goes on, and the options are endless. With proper planning and execution, you can transform your bathroom into a functional, inviting, and modern space that you will love to use.