10 Luxury Double Wide Mobile Homes
Ready to explore luxury like never before? You're in the right place. We're diving into 10 Luxury Double Wide Mobile Homes that redefine opulence and comfort. Think grand spaces and chic design married perfectly with function and flair. These homes are crafted to impress, from cozy corners to expansive living areas.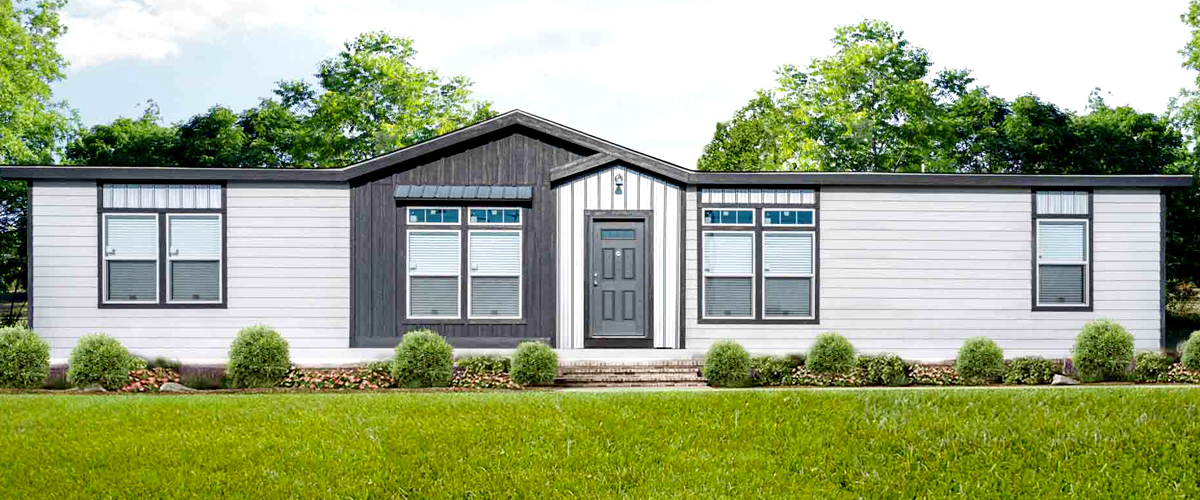 These double-wide havens are not your everyday mobile homes built by industry leaders. Picture modern kitchens, elegant baths, and delightful details at every turn. We're talking style, elegance, and a touch of the extraordinary. This isn't just about living; it's about living with panache. Let's dive in!
1. The Vintage Farmhouse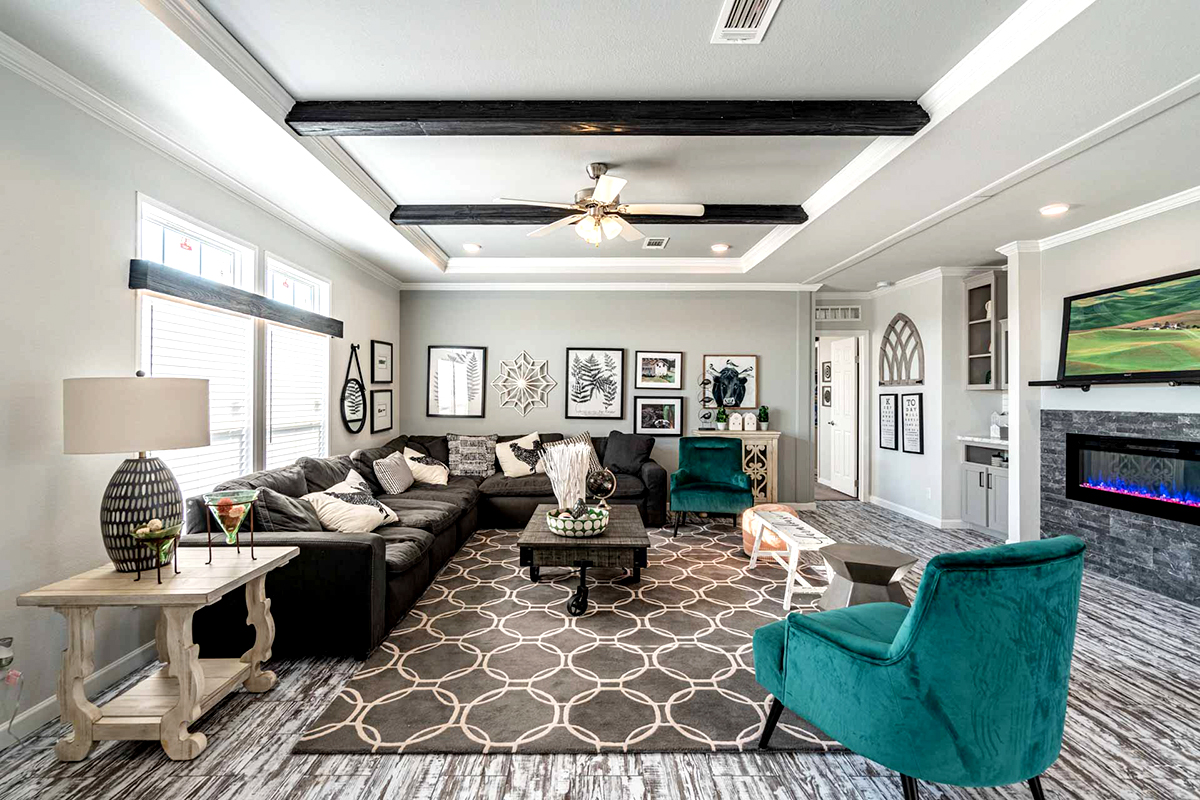 First on our list is the Vintage Farmhouse, a double-wide home that exudes charm and coziness. Built by Palm Harbor Homes, this 1,984-square-foot beauty is generously sized at 64 feet in length and 31 feet in width, and it's laid out with family living in mind.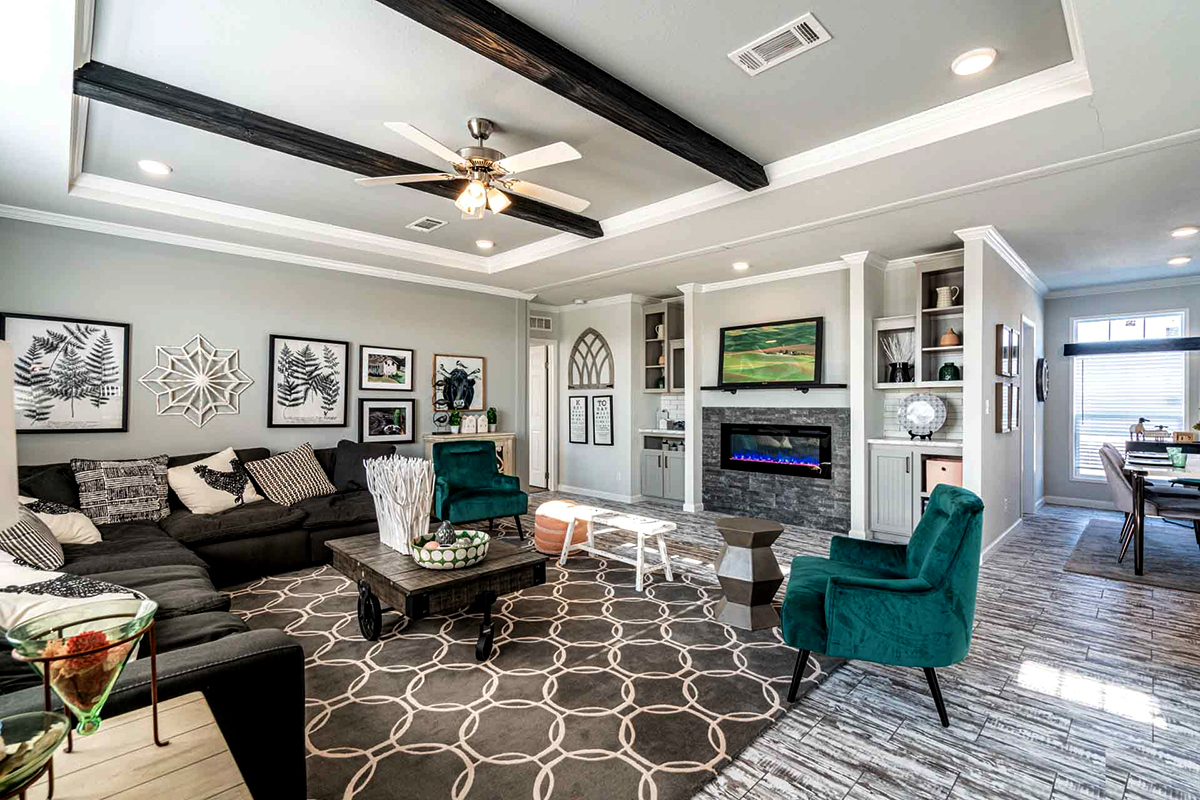 With three spacious bedrooms and two elegant bathrooms, it's clear from the start that comfort reigns supreme here. But it's the extras that will catch your eye. The sprawling living room flows into a formal dining space, open to a modern kitchen with a generous island. Picture family gatherings, laughter filling the air as you enjoy a meal in the bright breakfast morning room.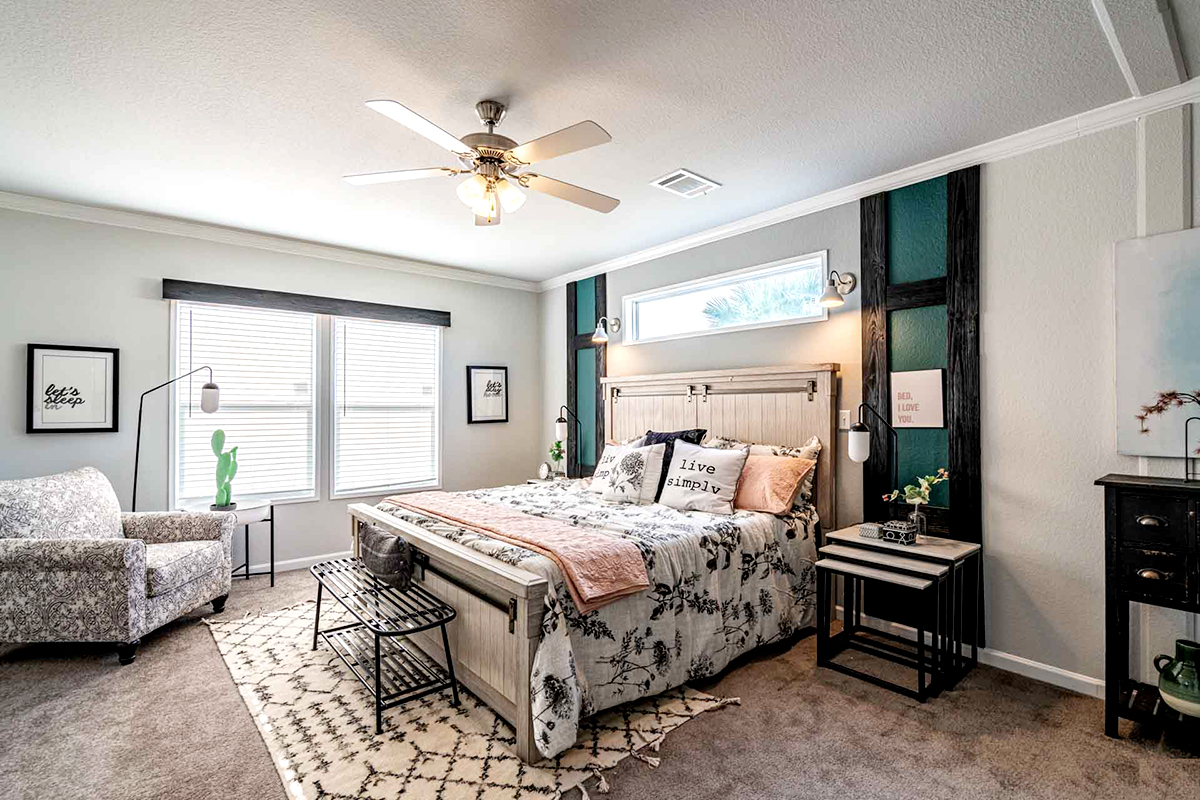 But that's not all. The utility/laundry/mud room is more than just functional; it's designed with flair, complete with benches, cabinets, shelving, and even freezer space. Convenience meets style.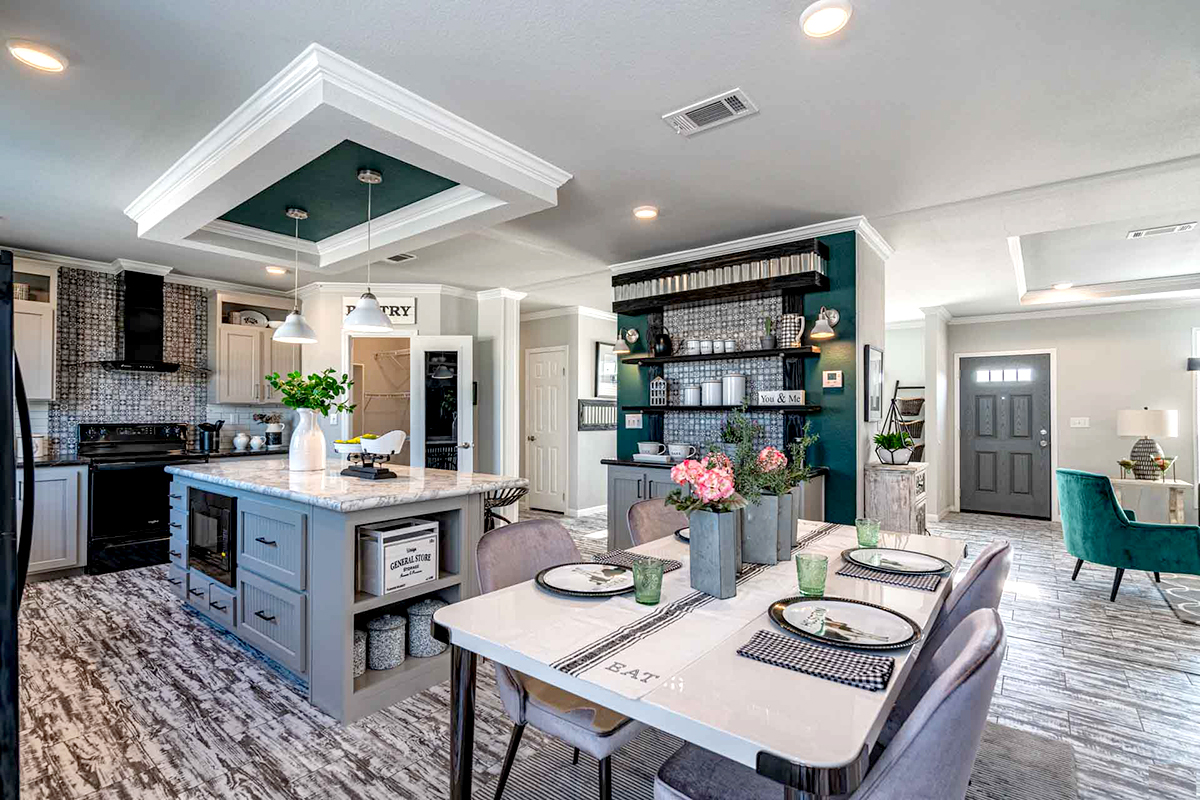 And speaking of style, let's talk construction. From the robust floor joists to the R21 ceiling insulation, this home is built to last. The exterior is adorned with a 20-year shingle roof and smart panel OSB siding. At the same time, inside, vaulted ceilings and deluxe décor valances on the windows add a touch of luxury.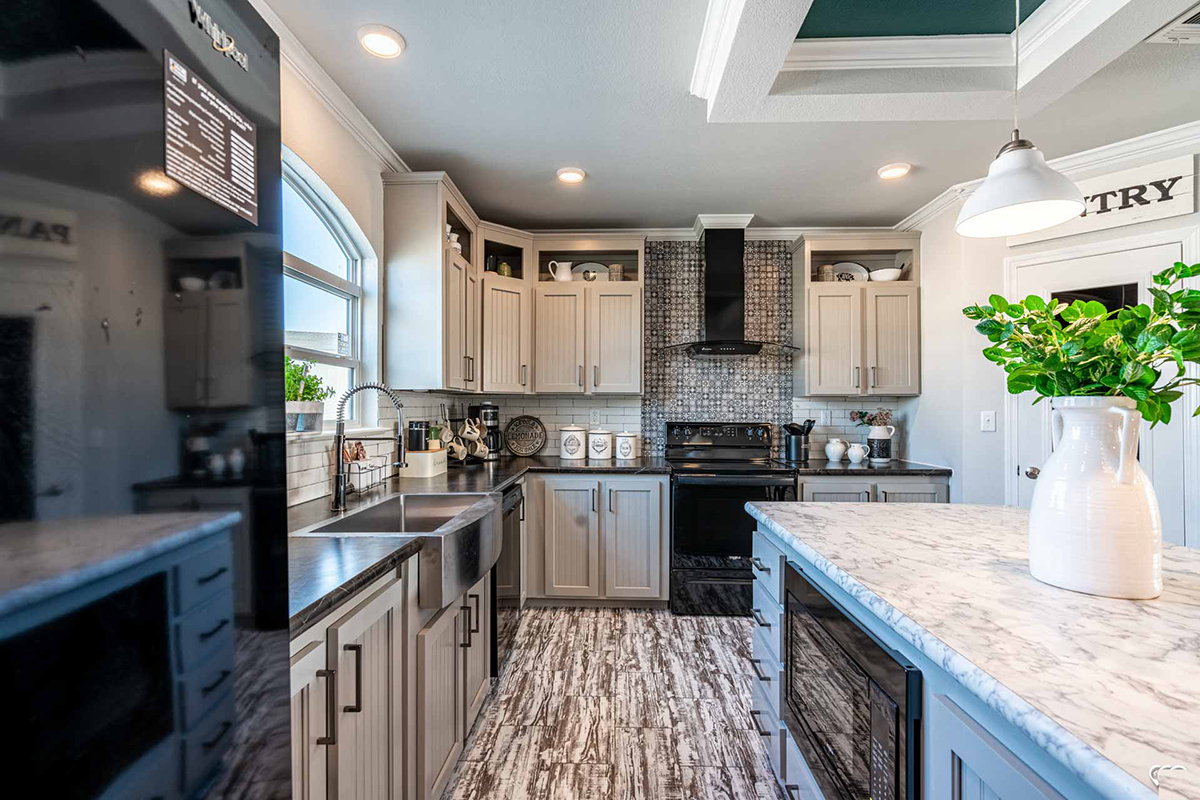 In the Vintage Farmhouse, every room is a blend of form and function, whether it's the elegant kitchen with its black appliances and heavy-duty steel drawers or the luxurious bathrooms with platform tubs and water-saver commodes.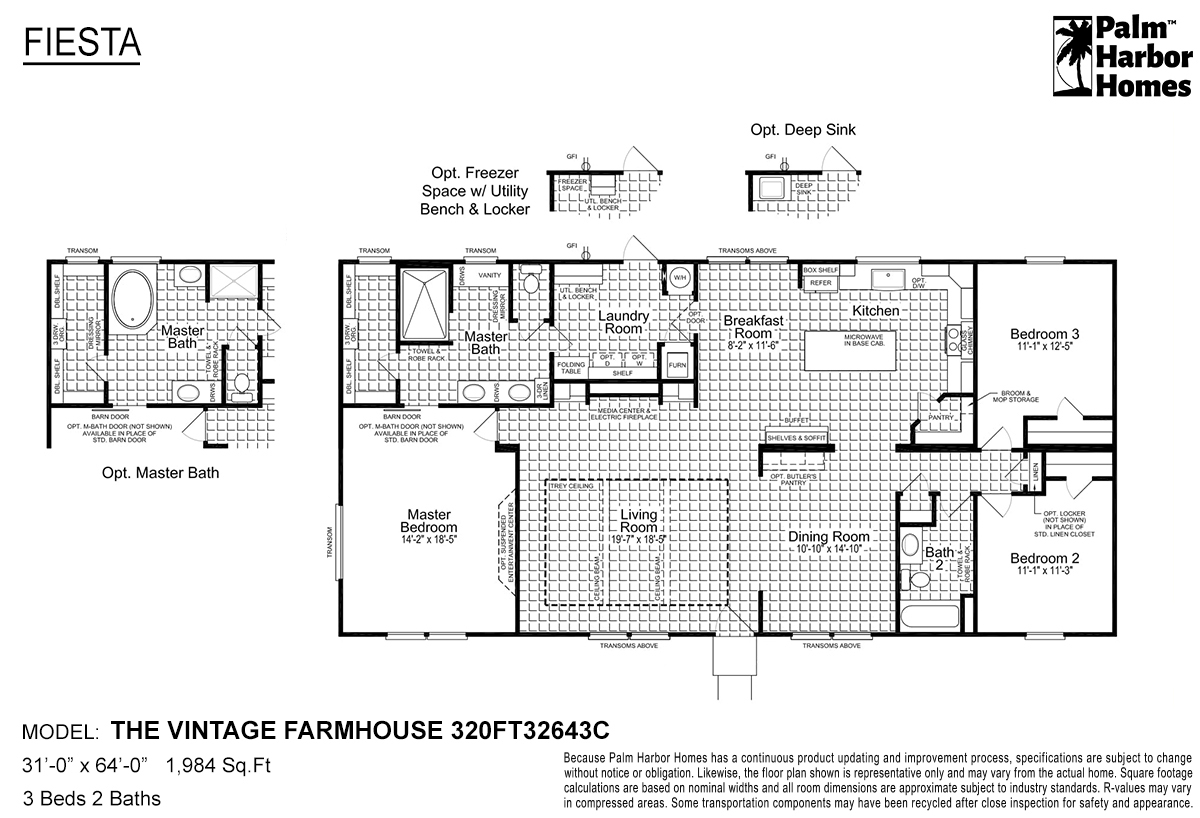 Here, the classic farmhouse style meets modern amenities, making it not just a house but a warm, inviting home. It's easy to see why the Vintage Farmhouse is more than just a dwelling; it's a lifestyle.
2. Waverly Crest Prestige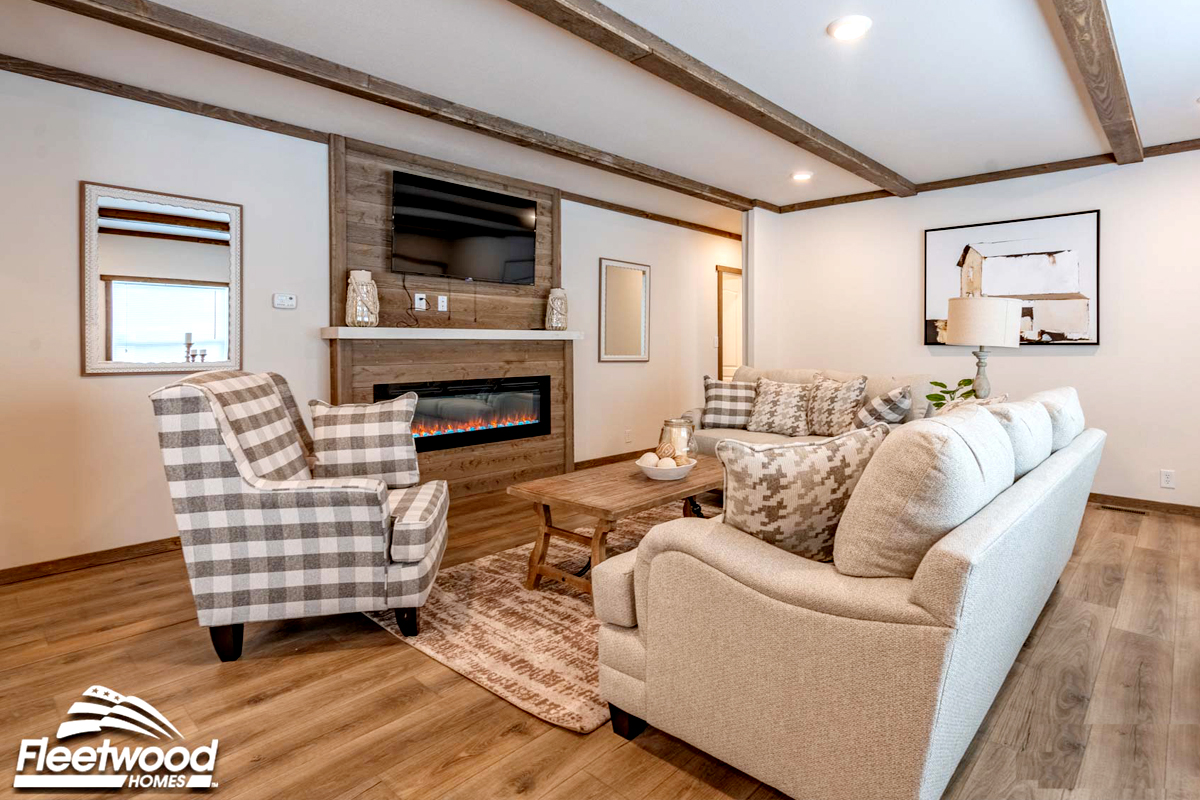 Next up is the Waverly Crest Prestige. A luxury double-wide home thoughtfully designed and masterfully crafted by Fleetwood Homes. Spread over 1,770 square feet, this 60-foot-long and 29-foot-6-inch-wide haven boasts three roomy bedrooms and two luxurious bathrooms.
The heart of the home lies in its extra-large living room, opening up to a bright, modern country-style kitchen. Picture six large windows glowing gently over the large centerpiece island, handcrafted cabinets, and extensive countertop space. There's even a separate desk area, pantry, and laundry space.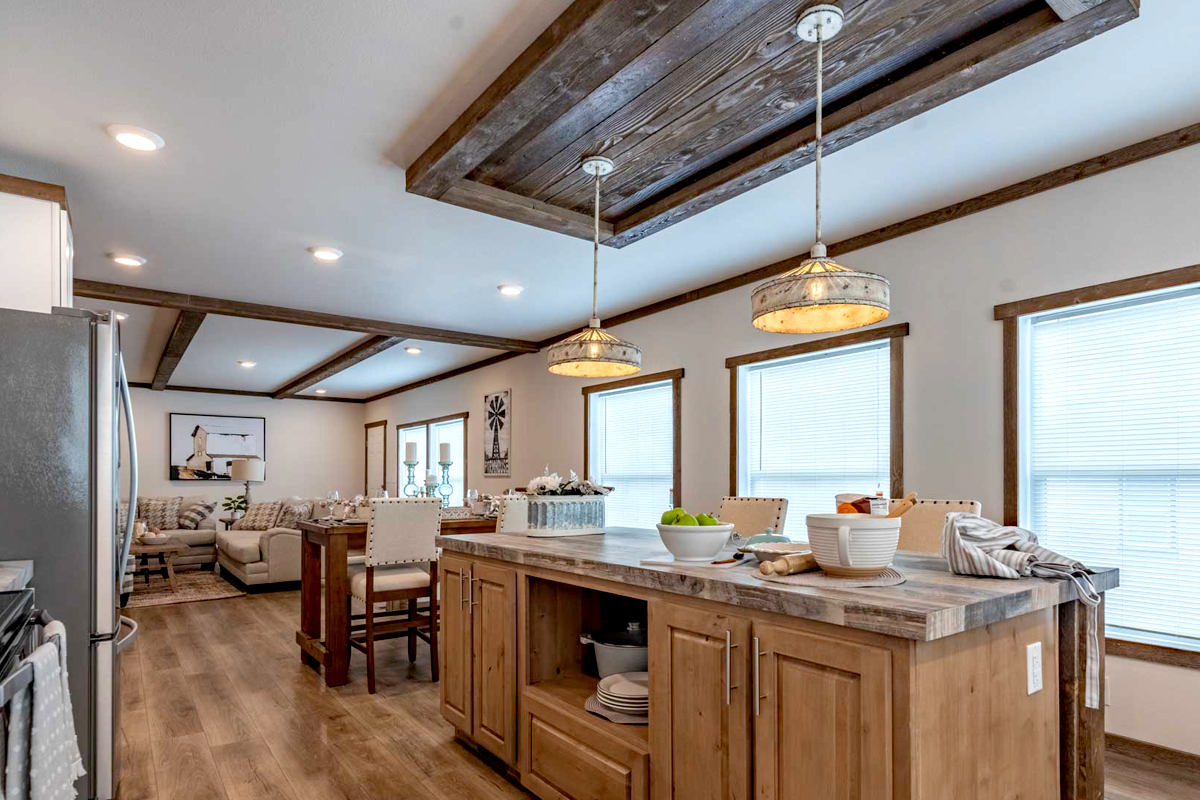 Now, let's talk luxury. The master bedroom is more than just a sleeping area; it's a retreat. The ensuite is a dream with a large freestanding soaking tub, separate stall shower, dual sinks, and a walk-in closet to die for. The guest rooms? Kingsize, with walk-in closets and a roomy guest bath.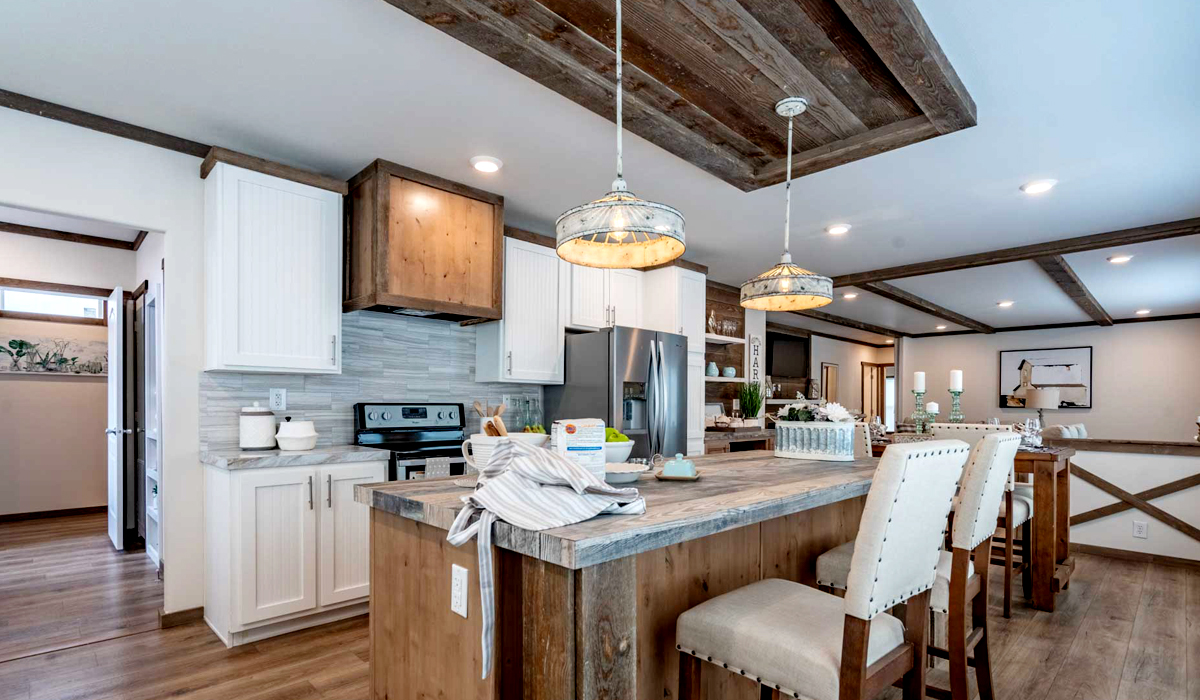 The kitchen shines with features like a double-cell stainless steel sink, Whirlpool appliances, and a charming chandelier in the dining room. And the bathrooms? Think vinyl flooring, acrylic sinks, and LED can lights.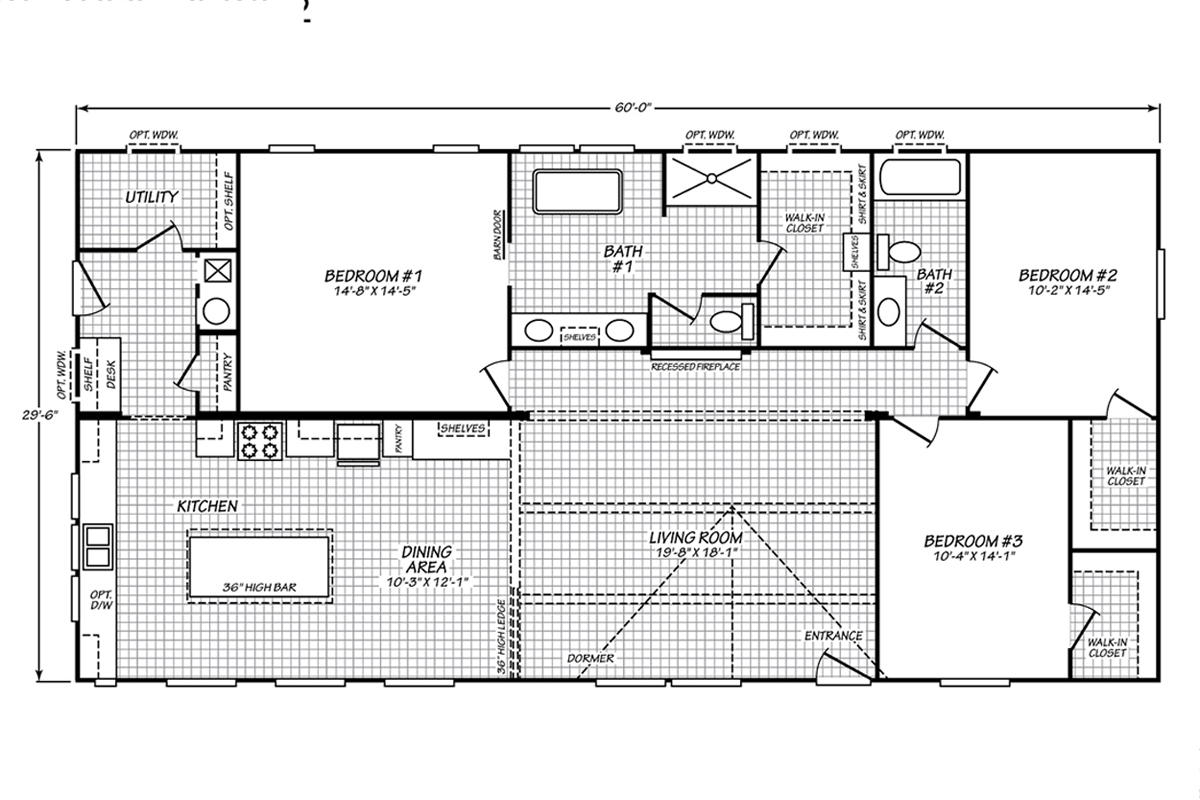 But it's not just the aesthetics that make the Waverly Crest Prestige special. The construction speaks of quality, from the 2″ x 6″ floor joists to the Class A fire-rated architectural shingle roofs. The R21 insulation ensures energy efficiency, and details like the 36″ steel in-swing doors and vinyl-clad thermo-pane windows add a touch of class.
Every detail in the Waverly Crest Prestige is about creating a space that's not just beautiful but functional and lasting. It's not just a house; it's a warm and inviting home where memories are waiting to be made.
3. Silver Springs 5351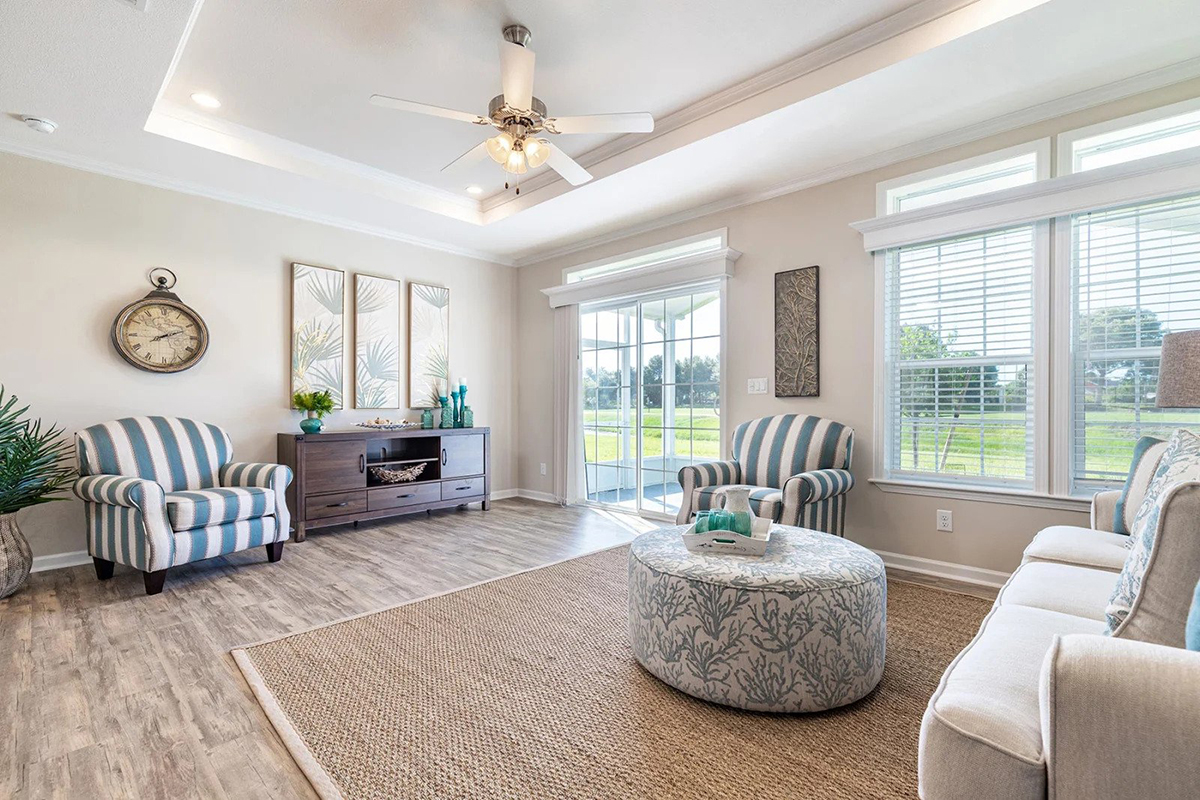 Silver Springs 5351, a double-wide wonder created by Skyline Homes, speaks the language of cozy elegance. It measures 48 feet in length and 32 feet in width. This home snugly fits three inviting bedrooms and two modern bathrooms within 1,455 square feet. Let's walk inside, shall we?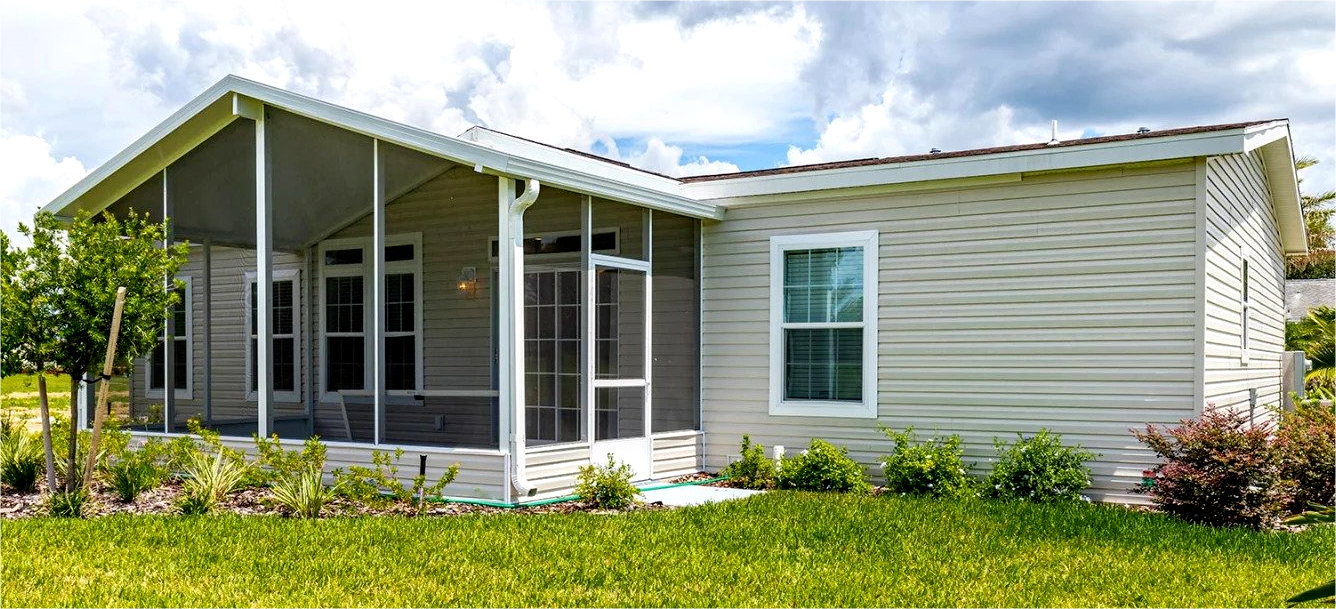 First, you'll notice the construction. Those 2″ x 8″ floor joists, R11 insulation on the floors, and 2″ x 6″ exterior wall studs make this a sturdy home built to last. The 8-foot side walls and R19 insulation ensure that this house is not just a sight to behold but a comfort.
The exterior is a visual treat. From the 25-year A/R shingles to the vinyl lap siding and sunburst fiberglass doors, every detail here pleases the eye. The vinyl-insulated Low-E windows and shutters don't just look good; they're practical too.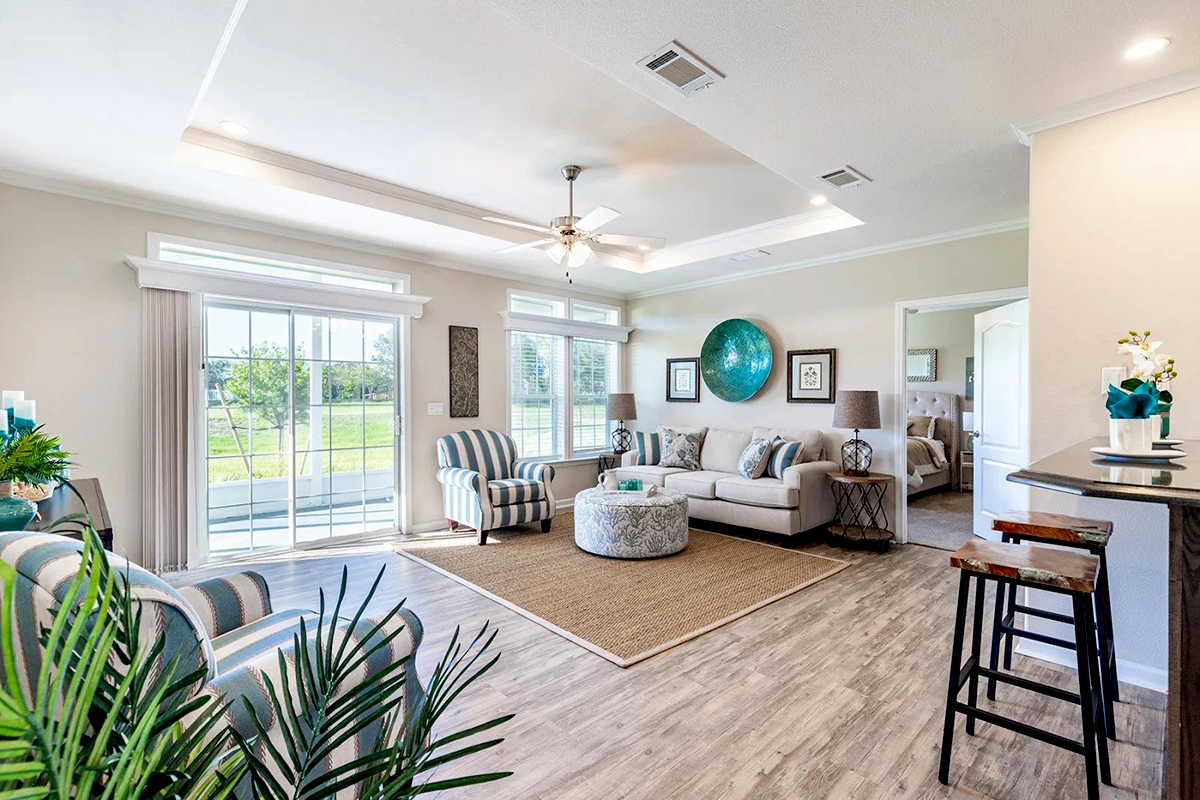 Step inside, and the 8′ vaulted ceilings greet you, leading to rooms adorned with plush nylon carpeting and half-inch finished drywall throughout.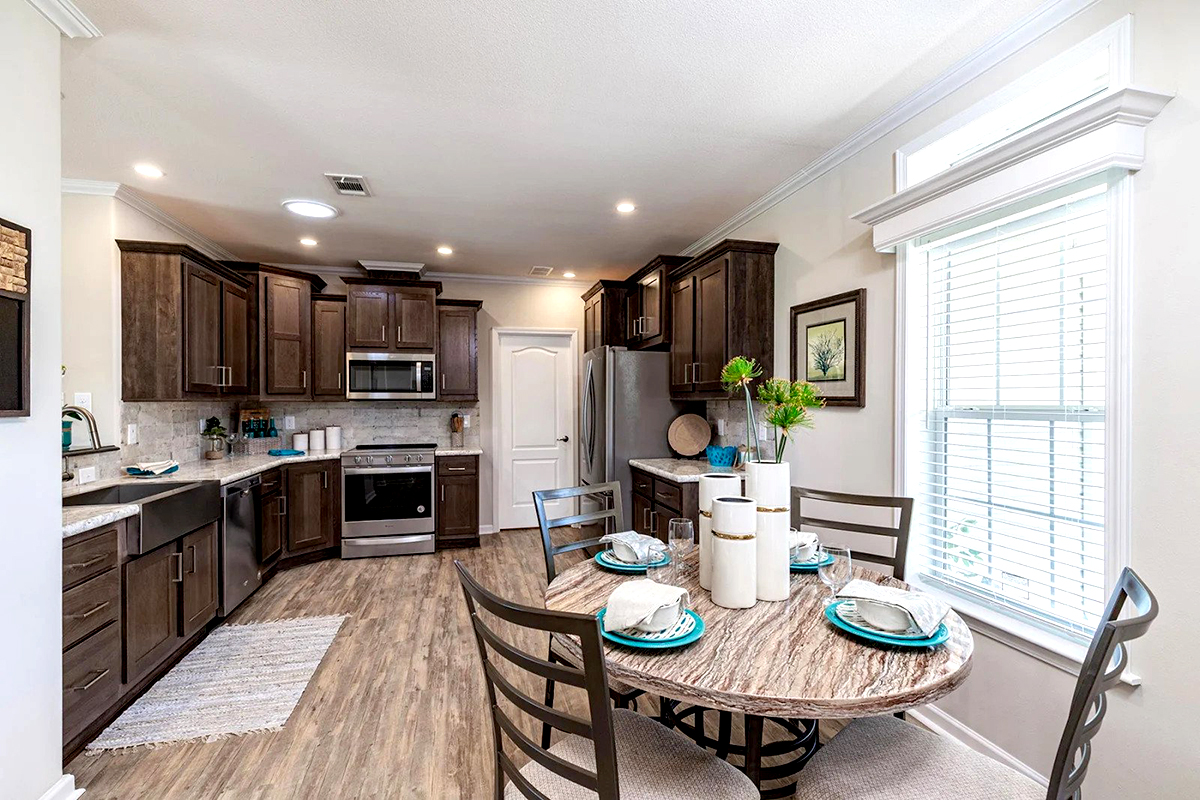 The kitchen is a chef's dream with vinyl flooring, drawer-over-door base cabinets, and stainless steel accents. You can't miss the Formica countertops with a crescent edge or that handy pull-out sprayer faucet.
And the bathrooms? A perfect blend of function and beauty. Think vinyl flooring, 2-light vanity lights over mirrors, China sinks, and dual control lav faucets.
The Silver Springs 5351 doesn't just offer a place to live; it offers a lifestyle. A blend of quality, comfort, and beauty, it's a home waiting to welcome you.
4. The Fusion 32B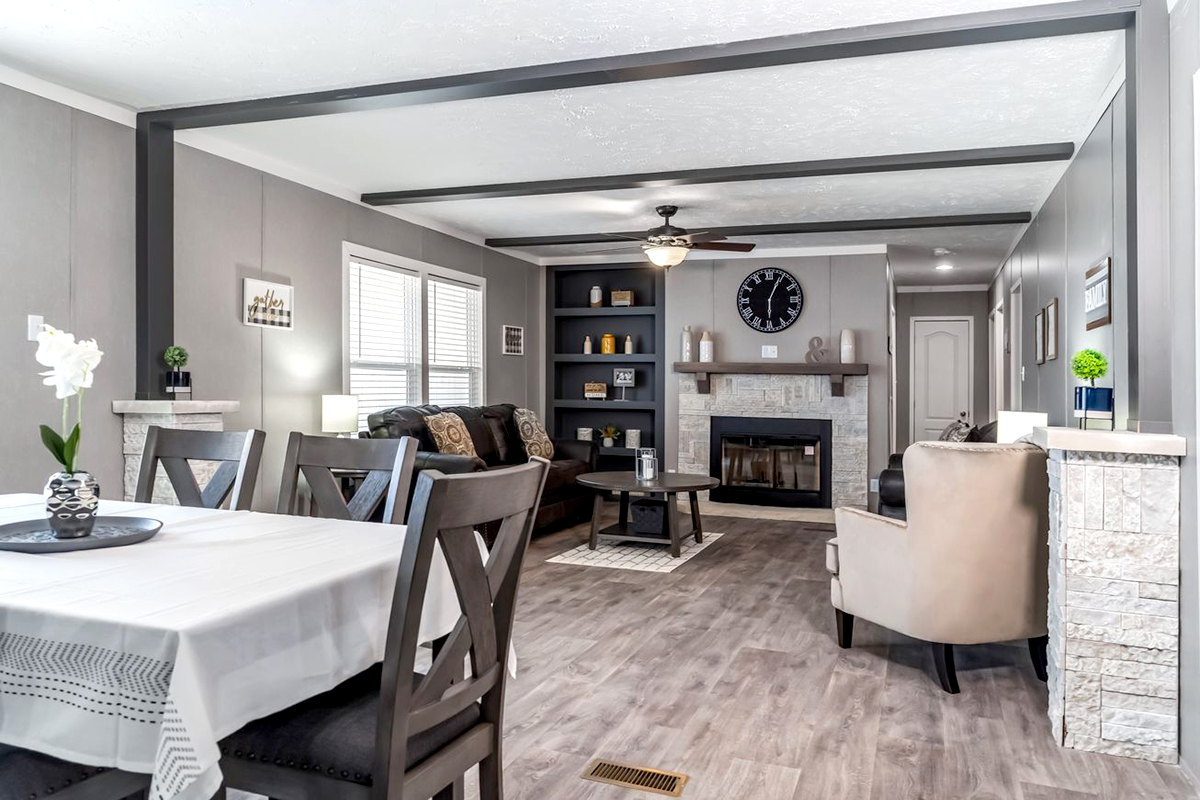 Meet The Fusion 32B by Clayton, a double-wide home that screams comfort and style. With a generous 2,280 square feet of living space, this beauty boasts four spacious bedrooms and two well-appointed bathrooms, stretching over 76 feet in length and 32 feet in width. Let's take a closer look, shall we?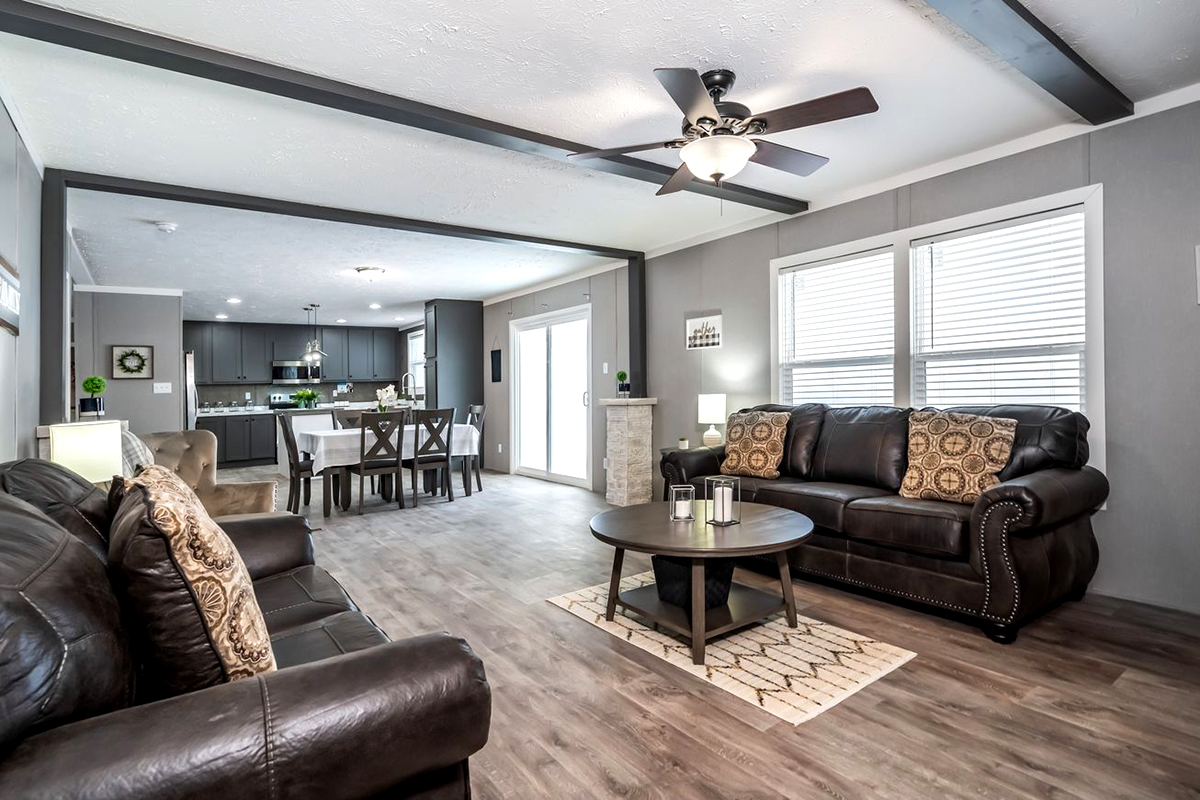 The spacious living room welcomes you upon entry, leading to an extra-large flex/dining room. The state-of-the-art kitchen, complete with a stainless steel apron sink and Pfister faucets, is where culinary dreams come to life. The kitchen's adjacent utility room and walk-in pantry add to the convenience.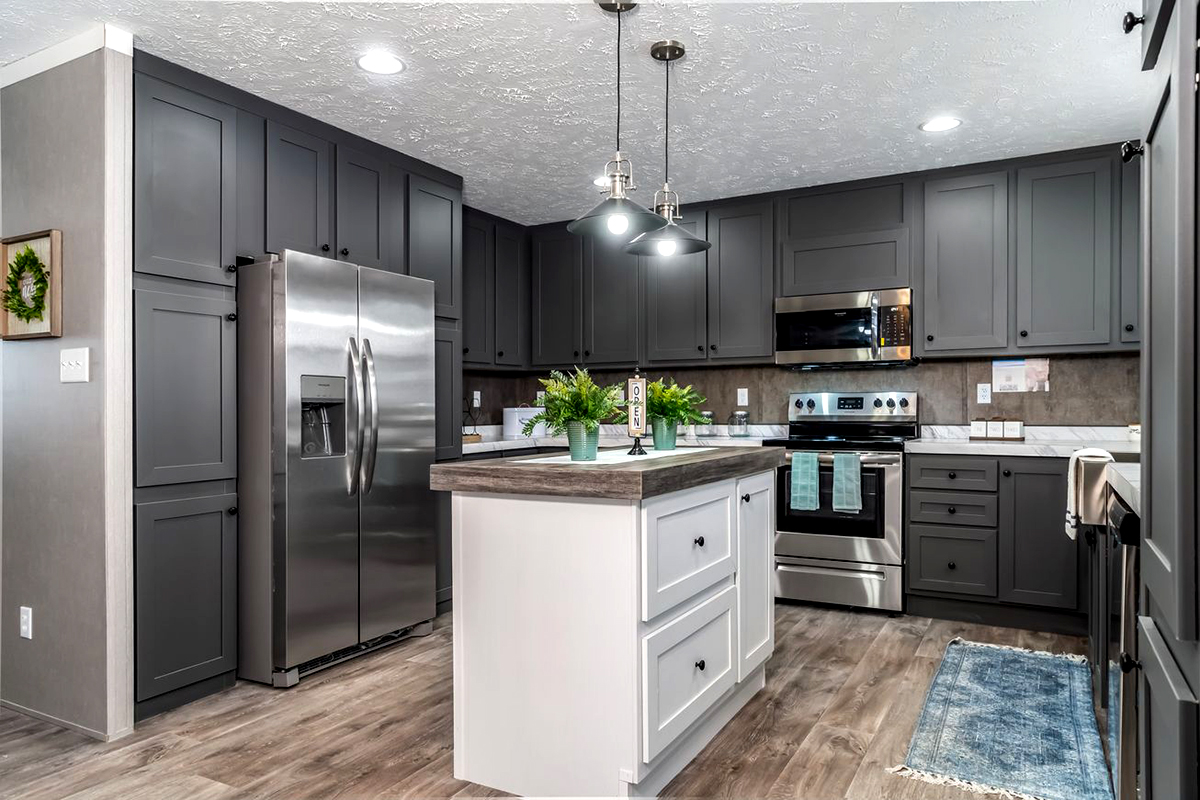 The main bedroom is a private sanctuary with two walk-in closets and an ensuite bath with a glamour bath, a 48″ ABS shower, and a freestanding tub. The three king-size guest bedrooms share access to a large second bathroom, ensuring comfort for all.
The home's construction is robust with 2×6 floor joists, 19/32″ 4×8 OSB T&G Decking, and R11 insulation in floors and walls. The exterior combines practicality with elegance, featuring 25-year shingles, vinyl siding, and Low-E windows.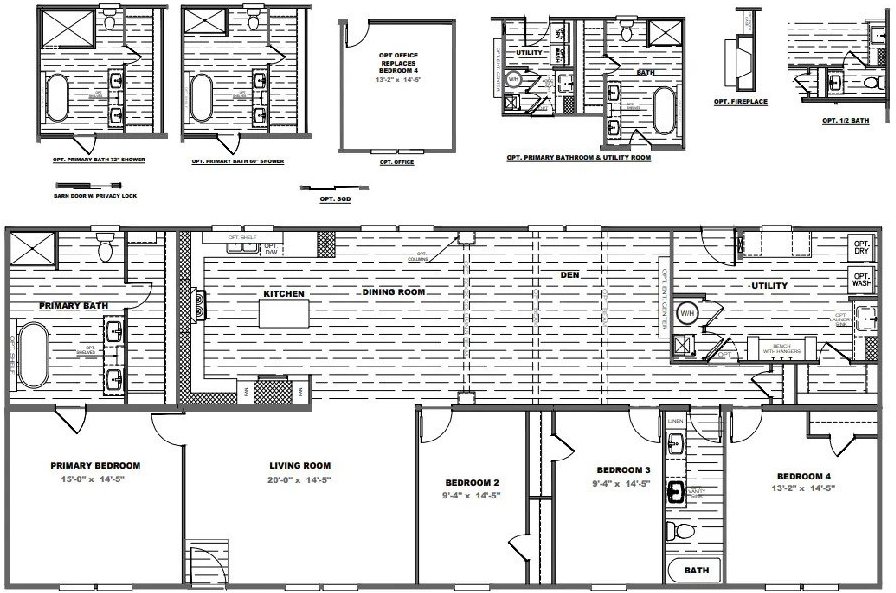 A glance at the interior reveals a textured ceiling, egress windows in all bedrooms, and Shaw carpeting. Even utilities are top-notch, with a 200-amp load center panel box and an ecobee Smart Thermostat.
The Fusion 32B isn't just a house; it's a statement. A blend of modern aesthetics and homey comfort. It's ready for you to move in and make memories. Come on in!
5. Winston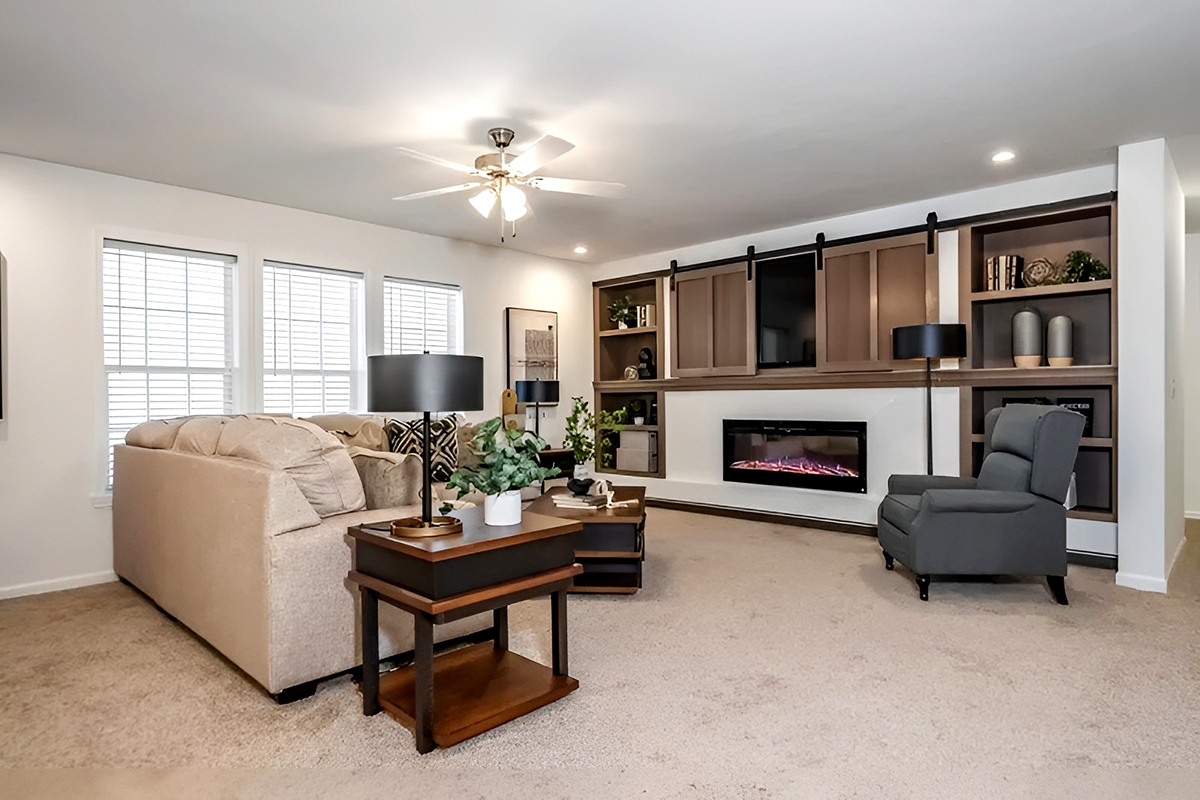 Step into The Winston, and you'll feel right at home. Crafted by Champion Homes, this double-wide model is the epitome of comfort, spreading over 2,183 square feet with a layout 72 feet long and 30 feet 4 inches wide. Let me give you a tour of this delightful space.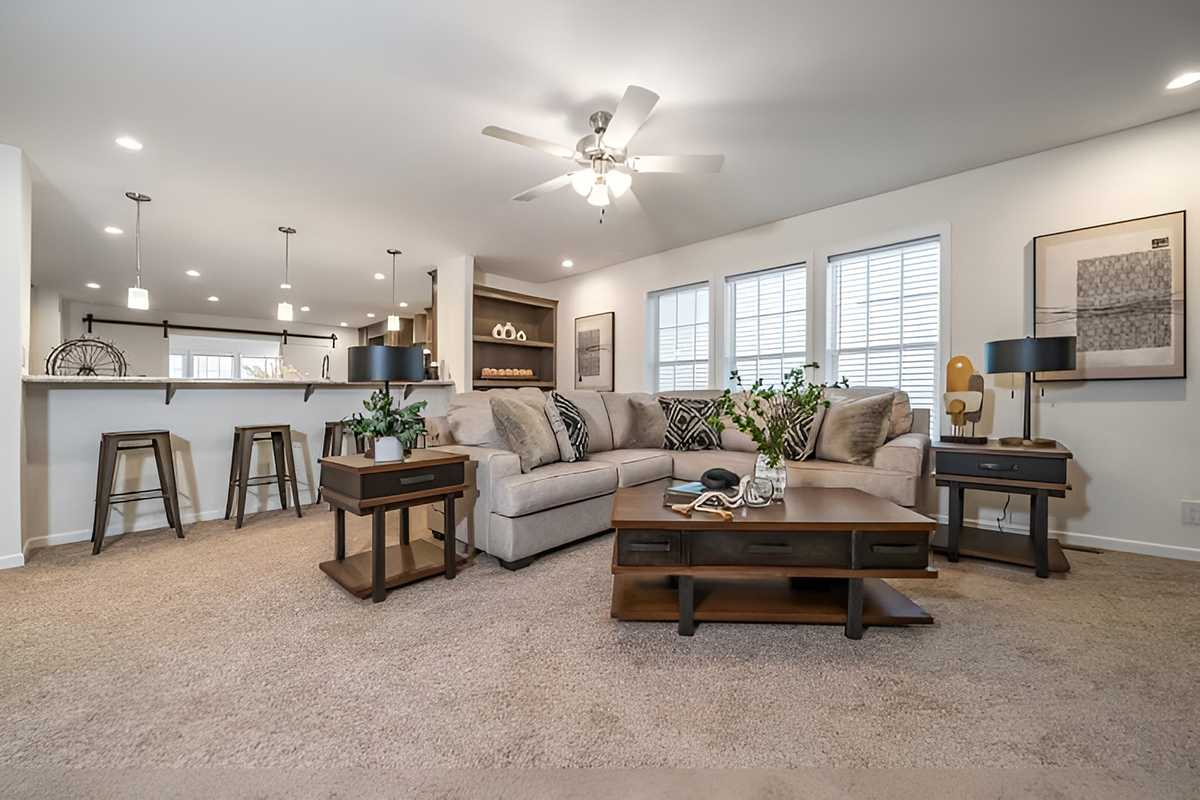 The Winston strikes the perfect balance between relaxation and daily life with three roomy bedrooms and two luxurious bathrooms. Imagine unwinding in those bedrooms, with plush 25oz carpeting beneath your feet, or pampering yourself in a bathroom with a 72″ Dumawall shower and a freestanding tub. Pure bliss!
The heart of the home, however, is the open-concept living area. It weaves the living room, dining space, and kitchen together, creating an inviting hub for family gatherings and entertainment. Picture whipping up a meal in a kitchen adorned with 42″ upper cabinets while chatting with guests lounging in the living room.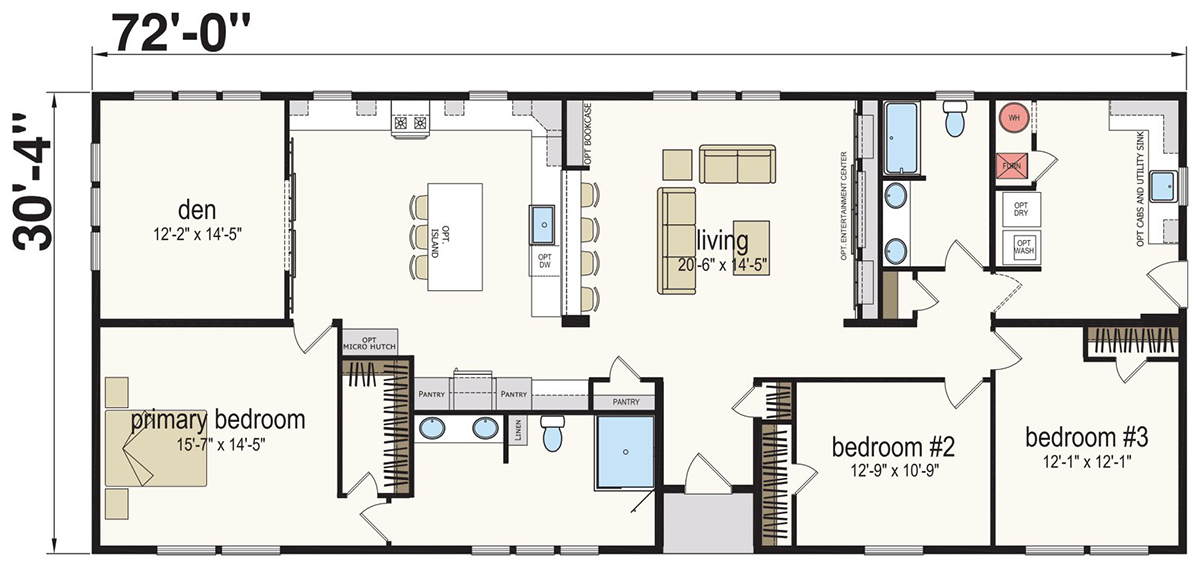 From the exterior's sturdy 2×6 walls to the interior's elegant trey ceiling, every detail in The Winston speaks of quality and style. It's more than a house; it's a space where memories are made, laughter is shared, and life feels just a bit more luxurious.
6. Prime 3284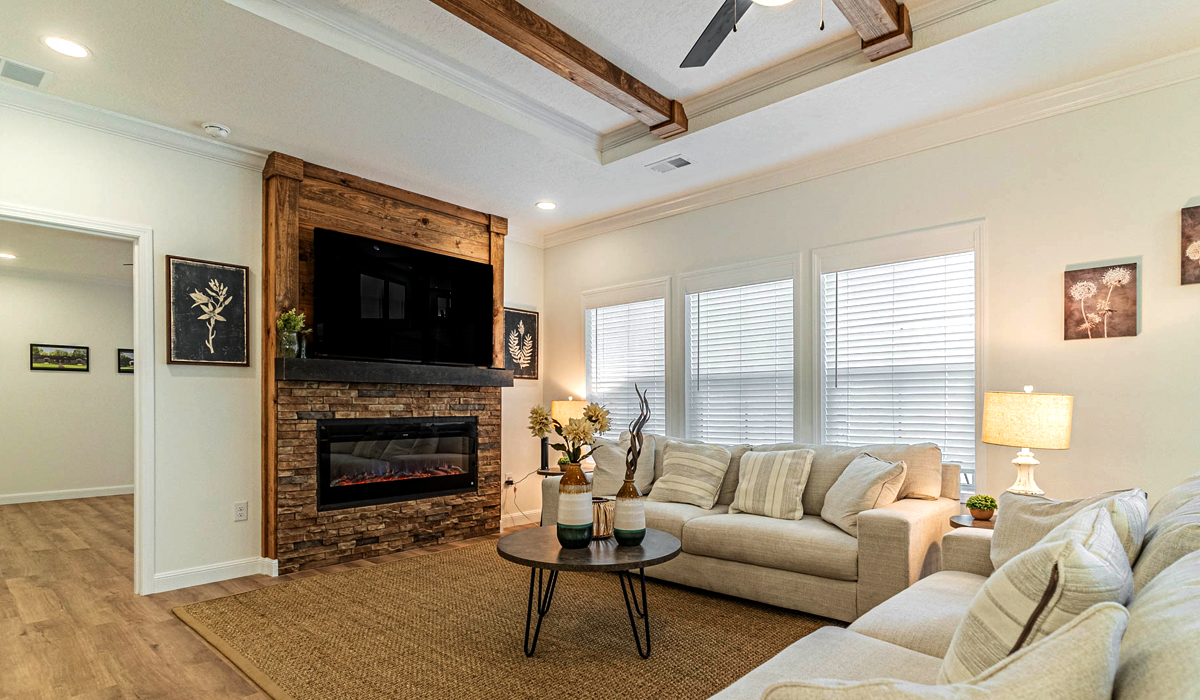 Number six on our list is the Prime 3284. A place that immediately feels like home! Crafted by Sunshine Homes, this double-wide beauty stretches across 2,400 square feet, 84 feet long, and 32 feet wide. With 4 bedrooms and 2 bathrooms, it's ideal for families craving space and style.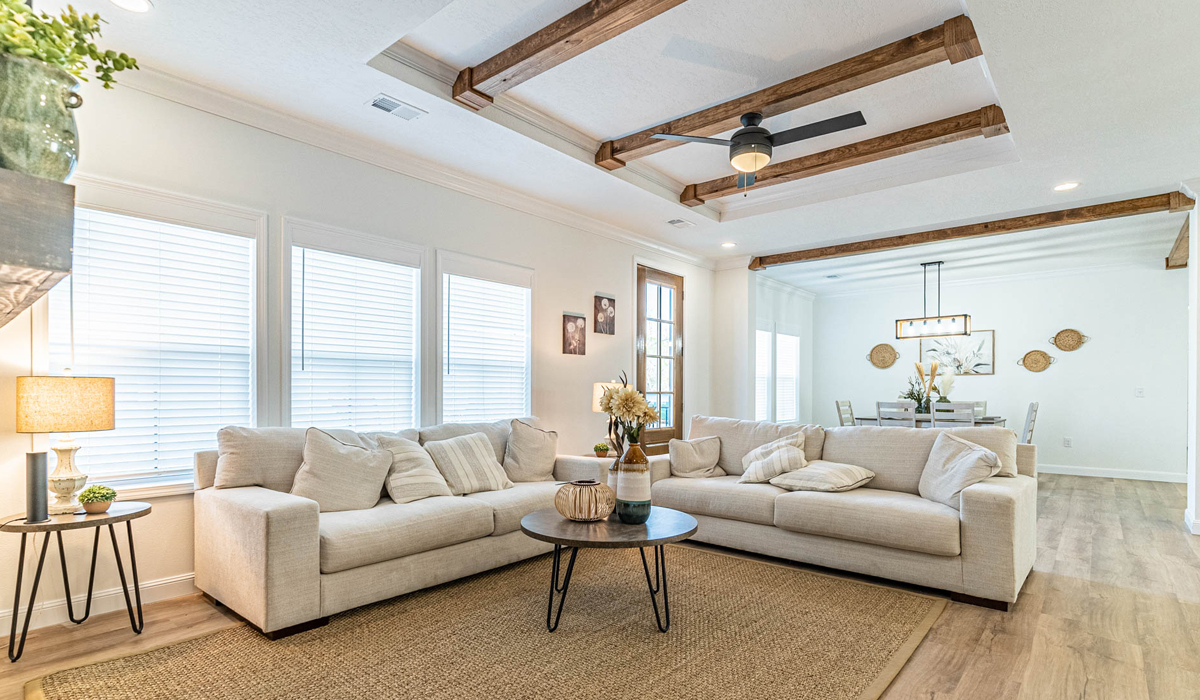 Step inside, and the large living room beckons you to relax. The nearby kitchen? A chef's dream, featuring natural 42″ wood cabinets, a 60/40 stainless steel farm sink, and a modern stainless steel range hood. Picture yourself cooking here, with friends and family gathering around the dining area, or stepping out to the backyard.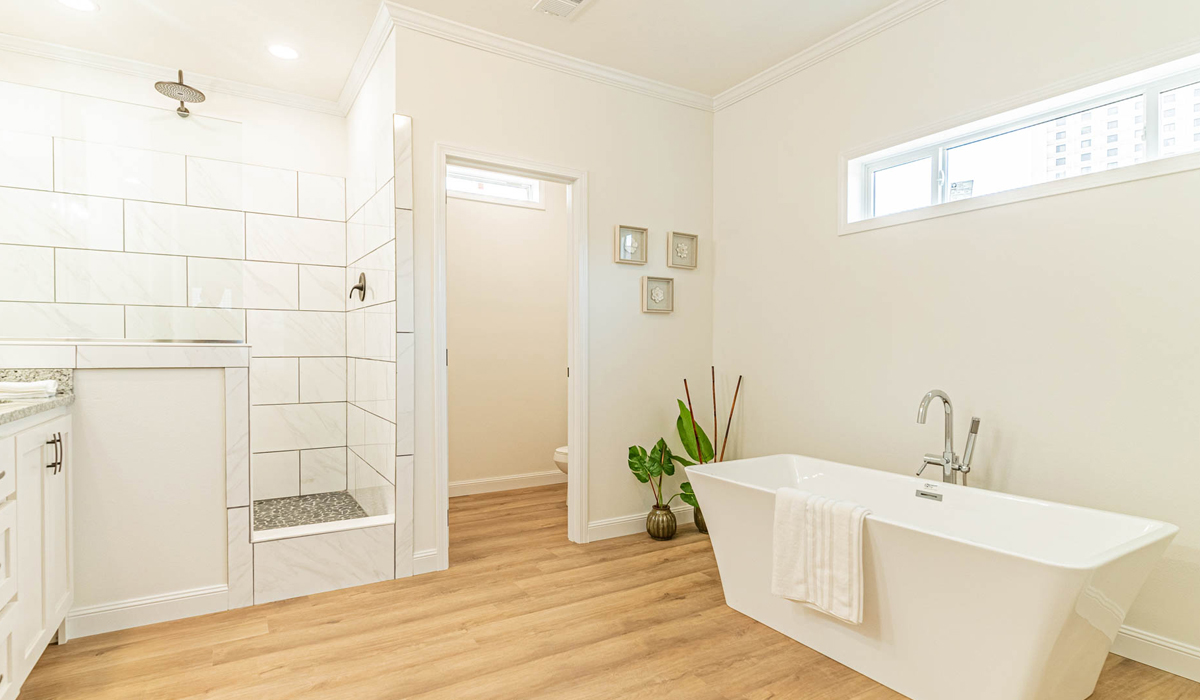 The master suite is your private haven, while the remaining bedrooms offer comfort for the whole family. And don't overlook the thoughtful laundry room with a built-in sink, or the well-appointed bathrooms, boasting elongated commodes and squared porcelain sinks.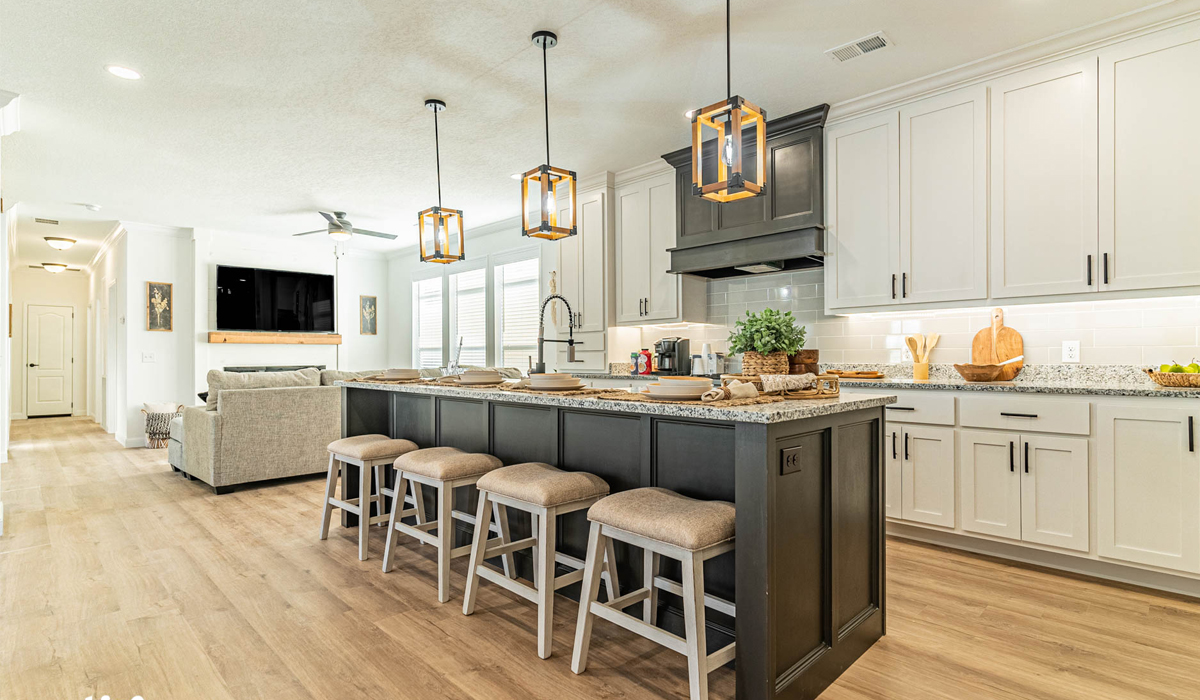 From the 30-year shingles on the roof to the classy raised-panel vinyl shutters, the exterior also impresses. The interior dazzles with its knockdown ceiling, 4″ crown molding, and unique orange peel wall finish.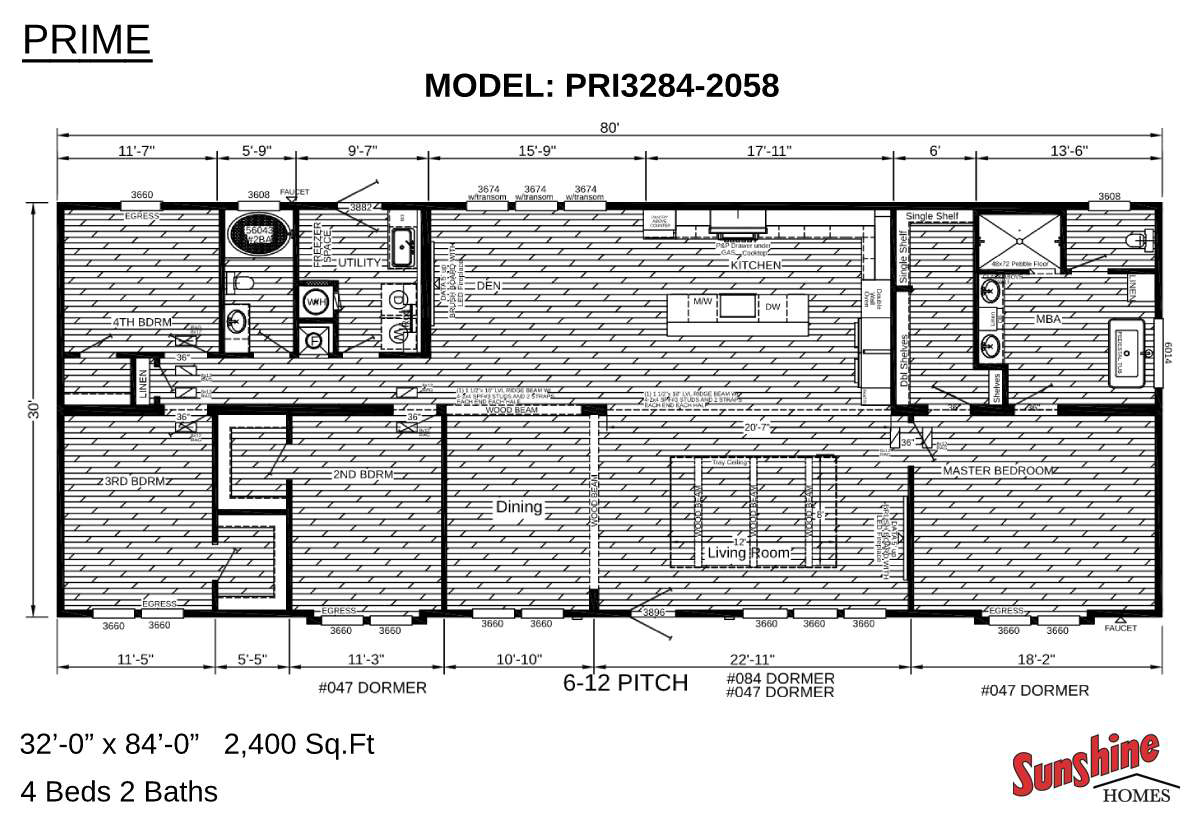 Every detail, from construction to utilities, embodies quality and modernity. Check out the 3D tour and photos, and don't hesitate to ask your local Sunshine retailer about the Prime 3284. It might just be the home you've been dreaming of!
7. Summit 3076A

The Summit 3076A is a space that redefines comfort and elegance. Built by Karsten Homes, this double-wide marvel spans 2,115 square feet with an inviting 76-foot length and a 30-foot width. This luxury home offers four bedrooms and two bathrooms; there's plenty of room for everyone.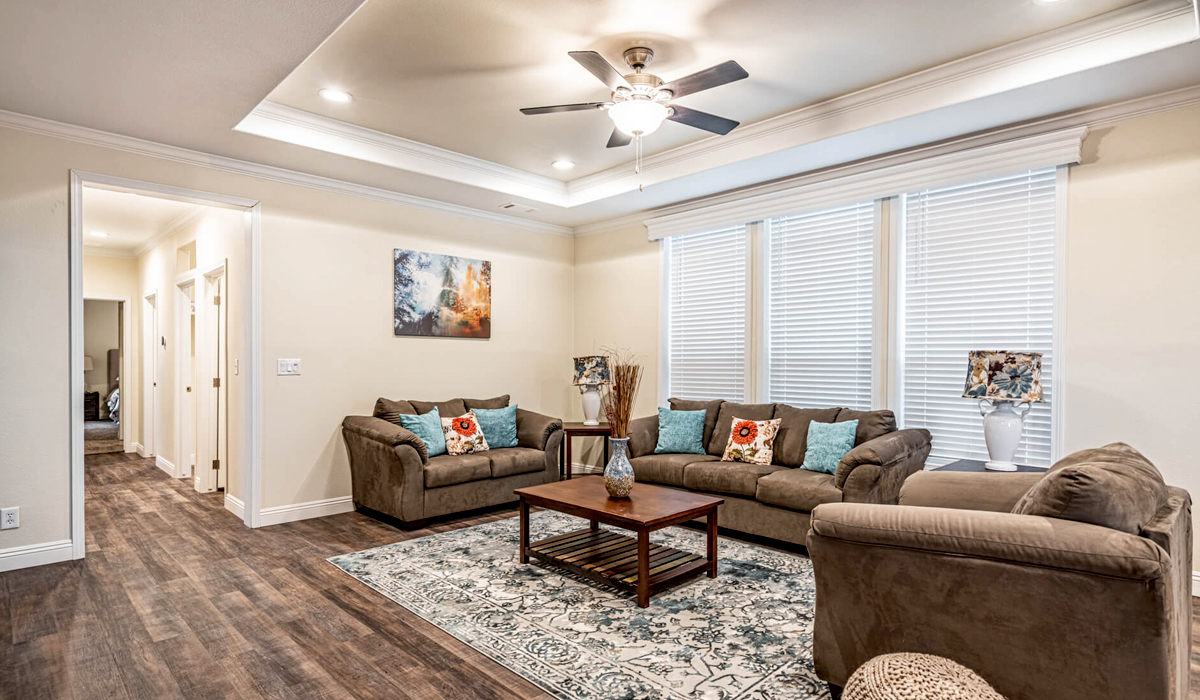 The wrap-around covered porches instantly catch your eye, perfect for dining and relaxation. Step inside, and the brightness of the living room welcomes you. Imagine cozy family gatherings or lively parties in this space!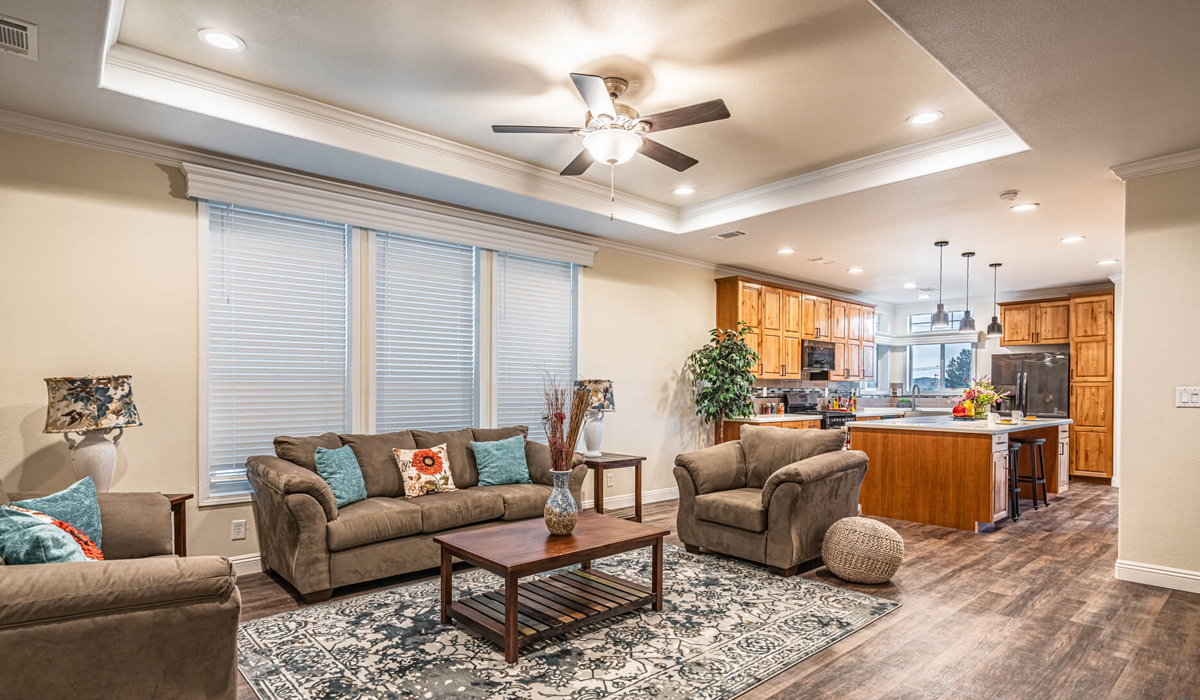 The heart of the home, the kitchen, is an inspiring blend of functionality and style. European frameless cabinets, laminate countertops with a crescent edge, and Frigidaire appliances make cooking a breeze. The dining room nearby is just waiting for shared meals and laughter.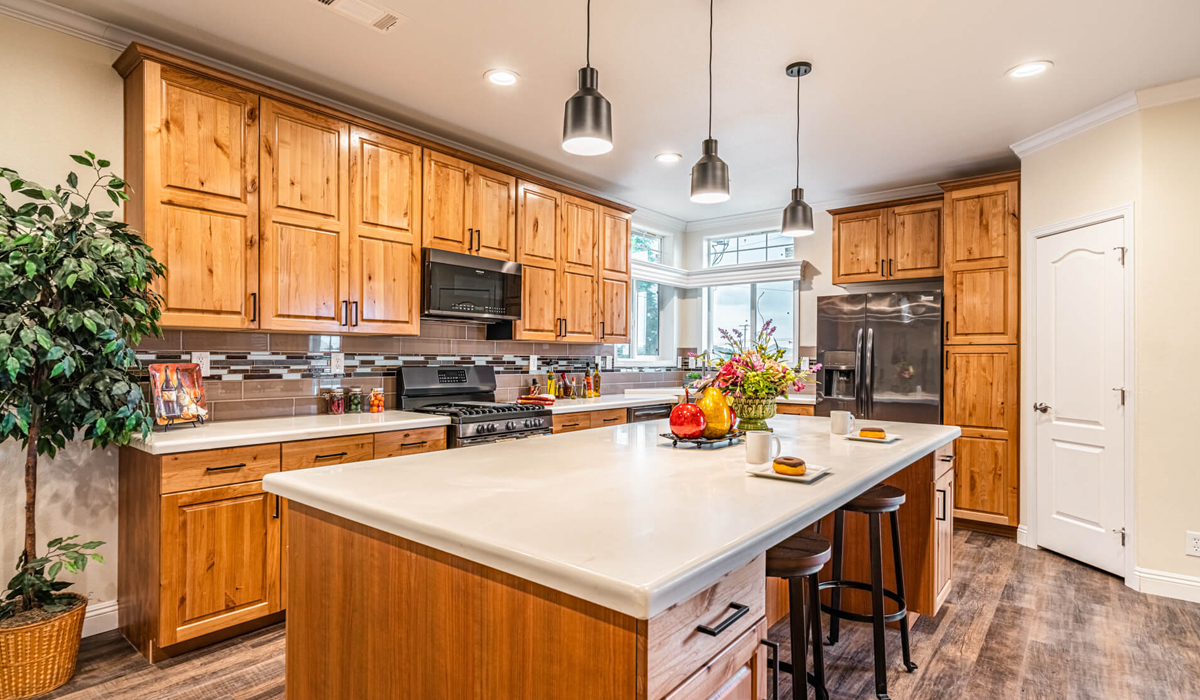 Next, moving on to the master bedroom, the glamour of the ensuite bath is impossible to ignore. With a tile shower that features a glass door and a rainfall showerhead, it's luxury at its best. And don't forget those large guest bedrooms, one of which can become a well-located study.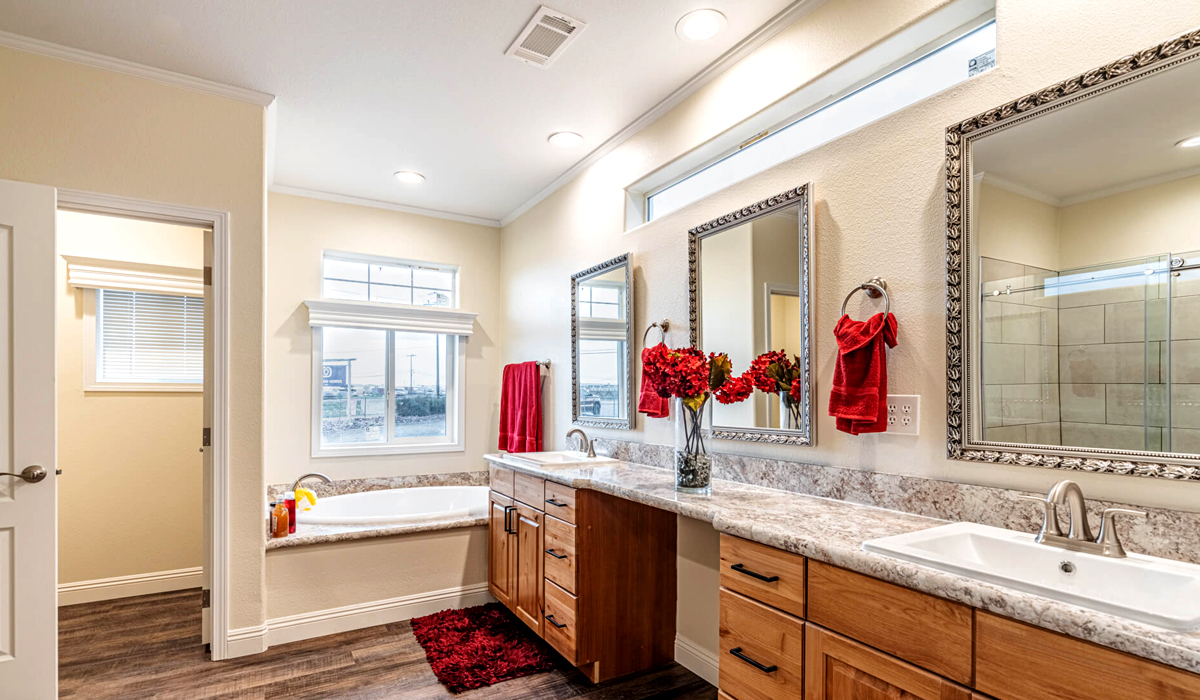 Quality runs through every inch, from the shingles with a Pro-Rated Lifetime Warranty to the interior's trey ceiling with four can lights.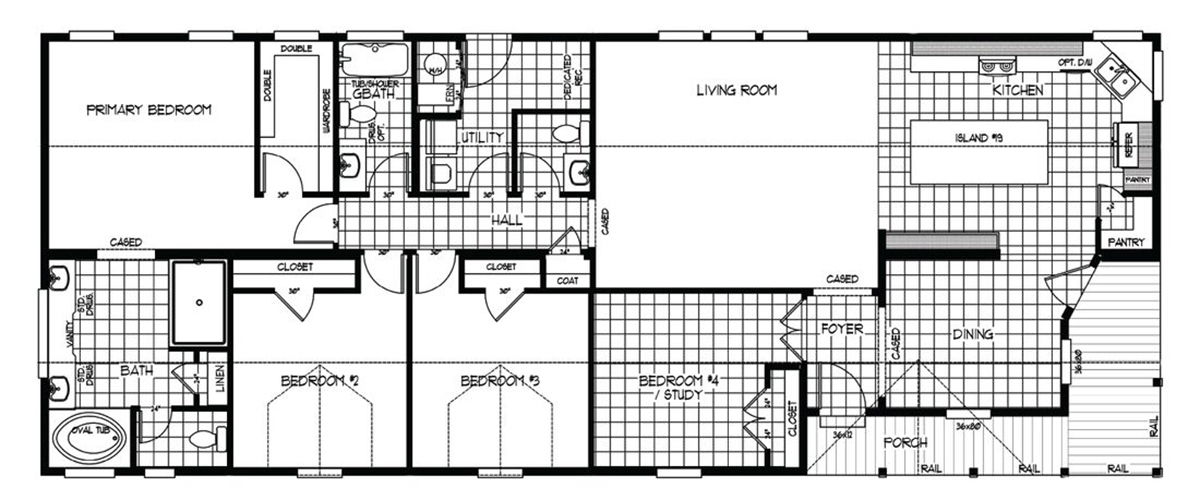 The Summit 3076A is more than just a home. It's an experience of luxurious living and thoughtful design. If space, style, and grace are on your wish list, look no further!
8. Cedar Canyon 2083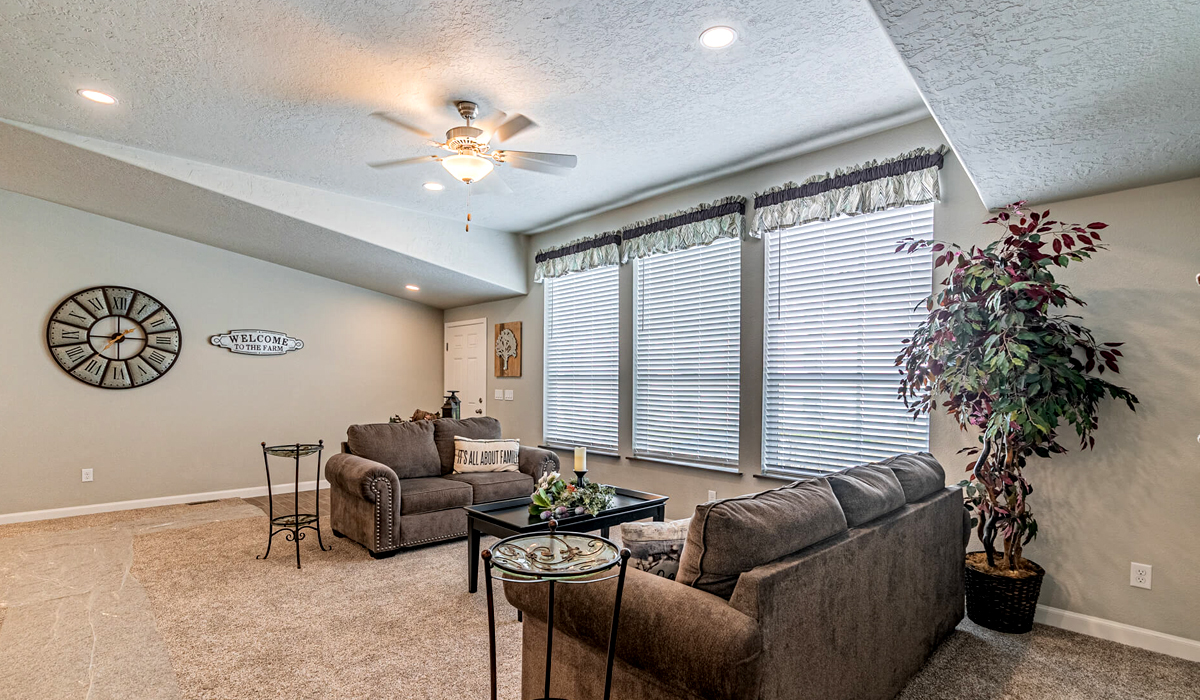 Next, welcome to Cedar Canyon 2083, a luxurious double-wide home where comfort meets elegance. Built by KIT Homebuilders, this house sits at a spacious 1,947 square feet with a length of 66 feet and a width of 29 feet 6 inches.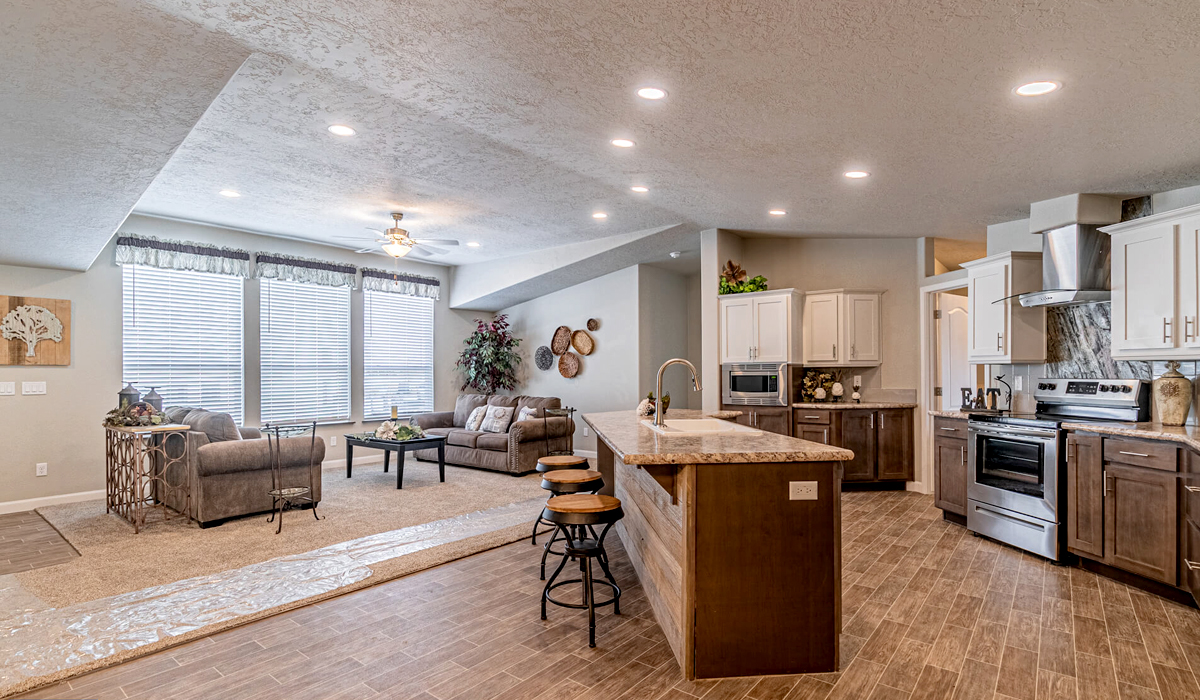 Let's start with the wow factor: those High Vault Ceilings grace every room. They give an air of grandeur as you move from the gourmet kitchen to the formal dining room and the spacious living room. Cathedral windows bathe the area in natural light, creating a warm and inviting atmosphere.
Got three bedrooms and two baths? You bet! And we're not talking ordinary here. The baths are nothing short of luxurious, and the extra-large utility/laundry room adds that touch of convenience.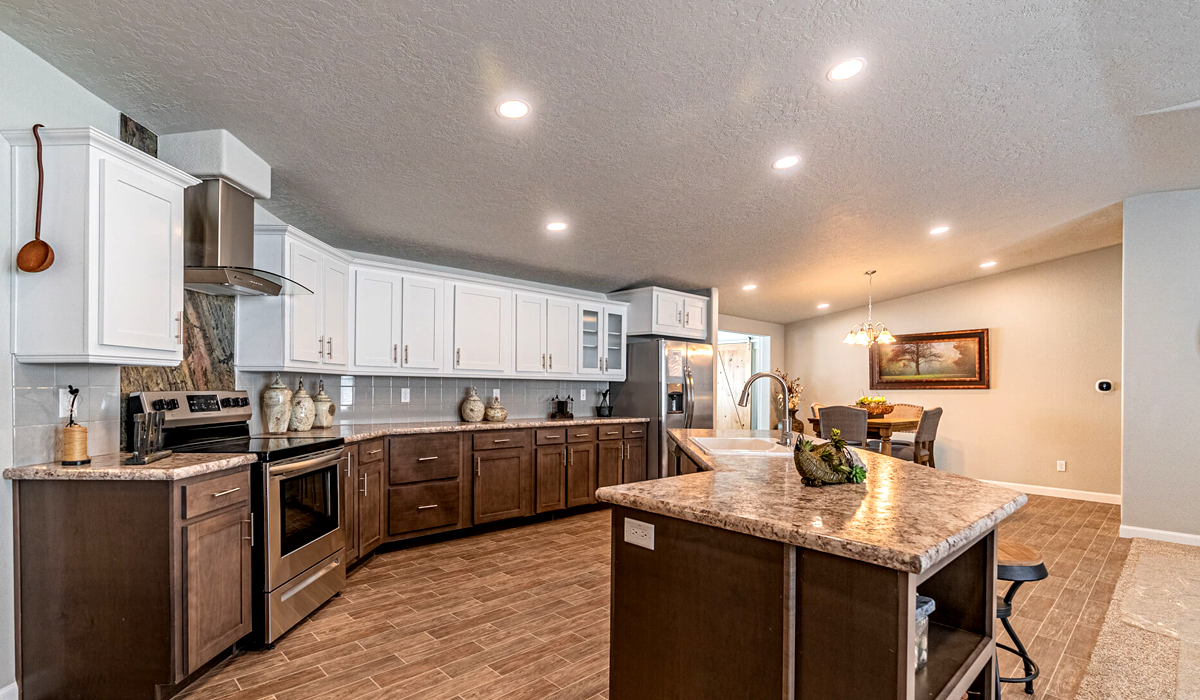 The kitchen's a chef's dream. It has everything you need with vinyl flooring, natural wood cabinets, and a stainless steel sink. And that 21′ frost-free refrigerator with an ice maker? Yes, please!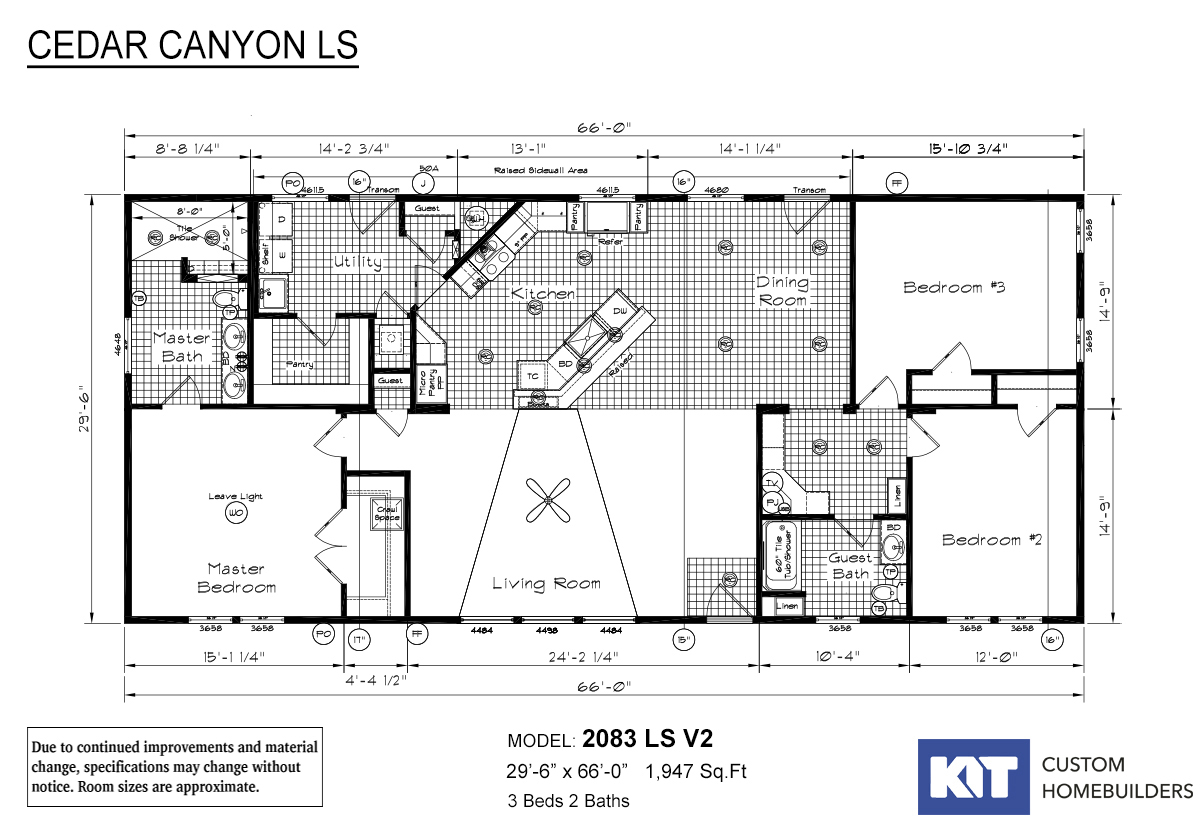 The exterior boasts architectural fiberglass shingles and a 50-year Smart Panel Siding & Trim. And don't overlook the 36″ insulated fiberglass front and rear doors. They're more than just doors; they're an entrance to comfort.
The Cedar Canyon 2083 is not just a house; it's a home that offers a blend of function and finesse. It's where memories are waiting to be made. Come on in and make yourself at home!
9. The Sozo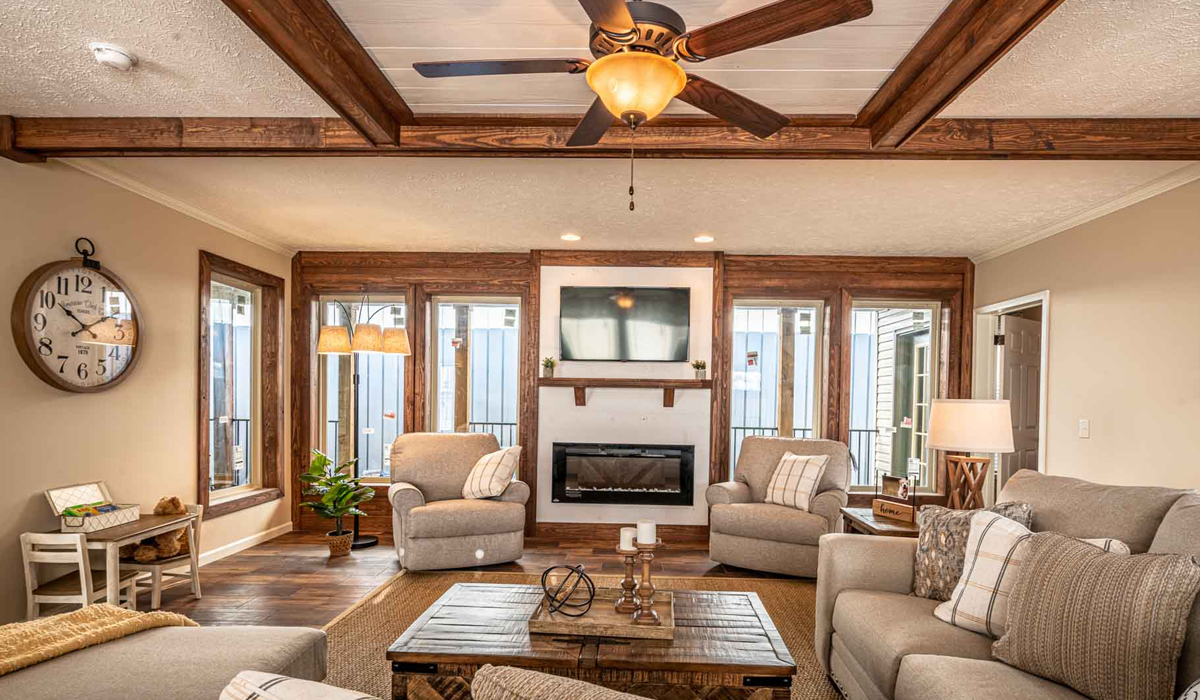 Introducing The Sozo, a double-wide dream come true! Built by Deer Valley, this home is a true family haven, spread over 2,280 square feet, 80 feet long, and 32 feet wide. So, what makes it stand out?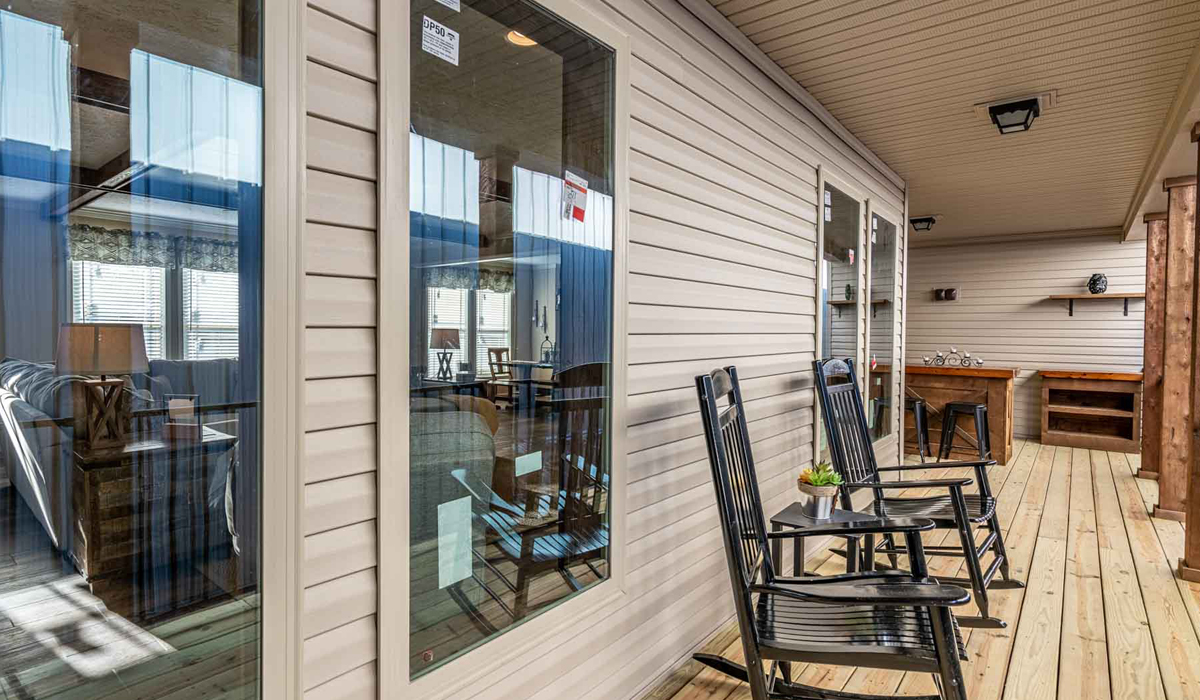 First up, that porch. It's extra-large, fully integrated, and covered. Imagine lazy summer evenings, friends, family, and laughter happening right there.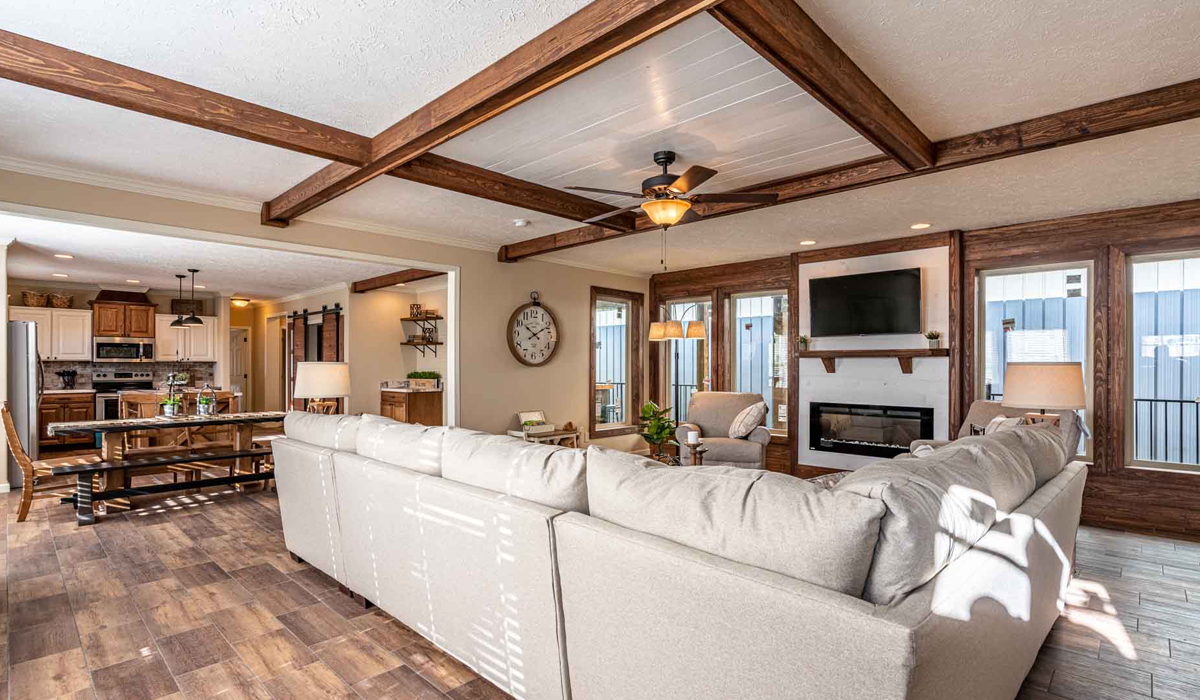 Step inside, and you'll find an expansive living room that leads to a gourmet-style kitchen. Love hosting? The adjoining banquet-size family dining room's got your back. You can cook up a feast and still be part of the conversation.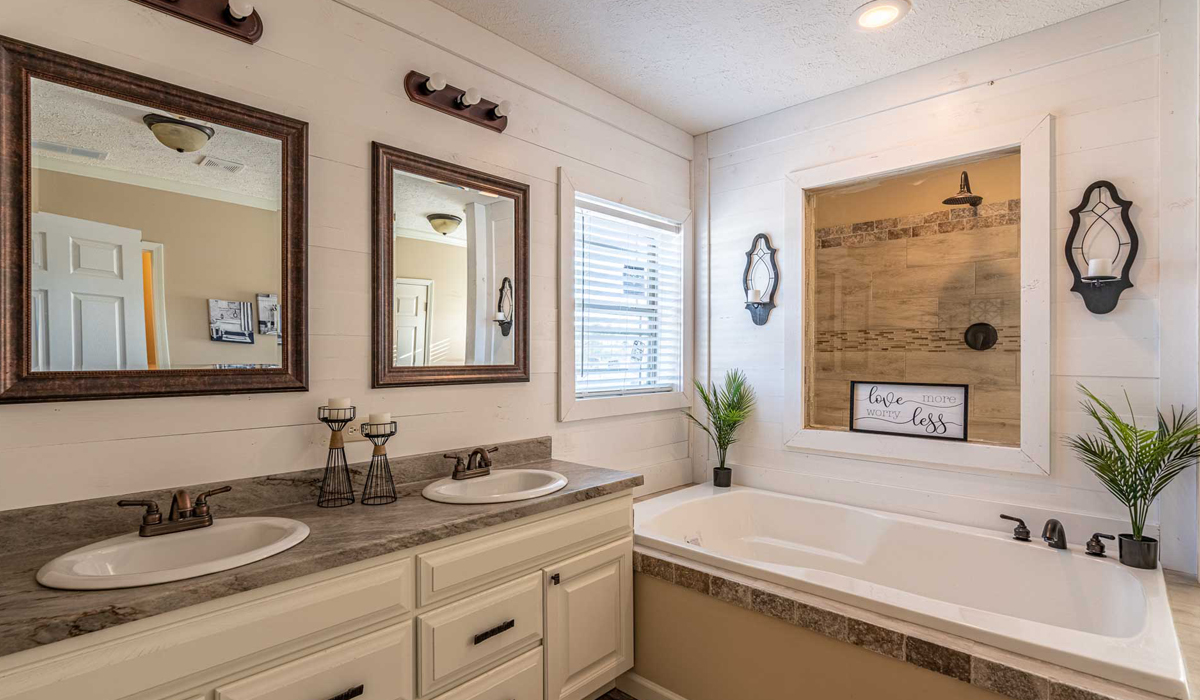 And let's talk bedrooms. Three in total, but not just any bedrooms. The master bedroom is private and luxurious, with an ensuite, oversized fixtures, and a large walk-in closet. The guest bedrooms? King-size, of course!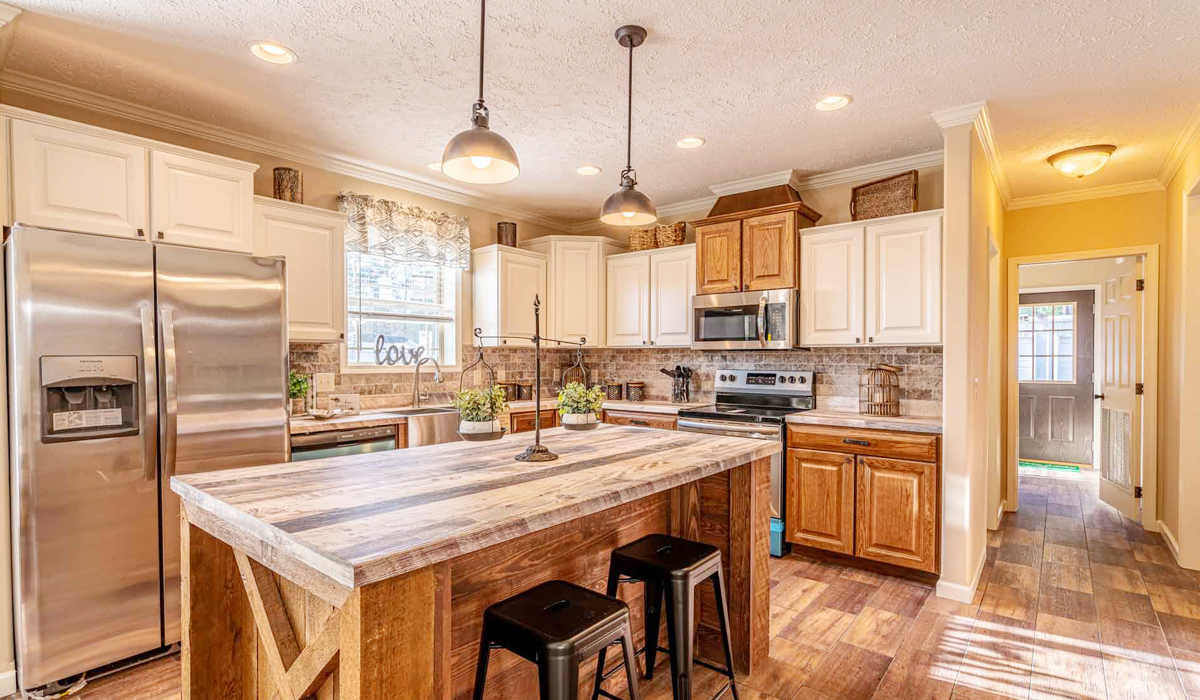 The kitchen sparkles with Elements tile, Shaker Maple Cabinets, all-black appliances, and a deluxe dishwasher. Even the bathrooms boast deluxe features like large ceramic walk-in showers.
This home's built to last with construction like 2×8 floor joists, R30 floor insulation, and sturdy exterior wall studs.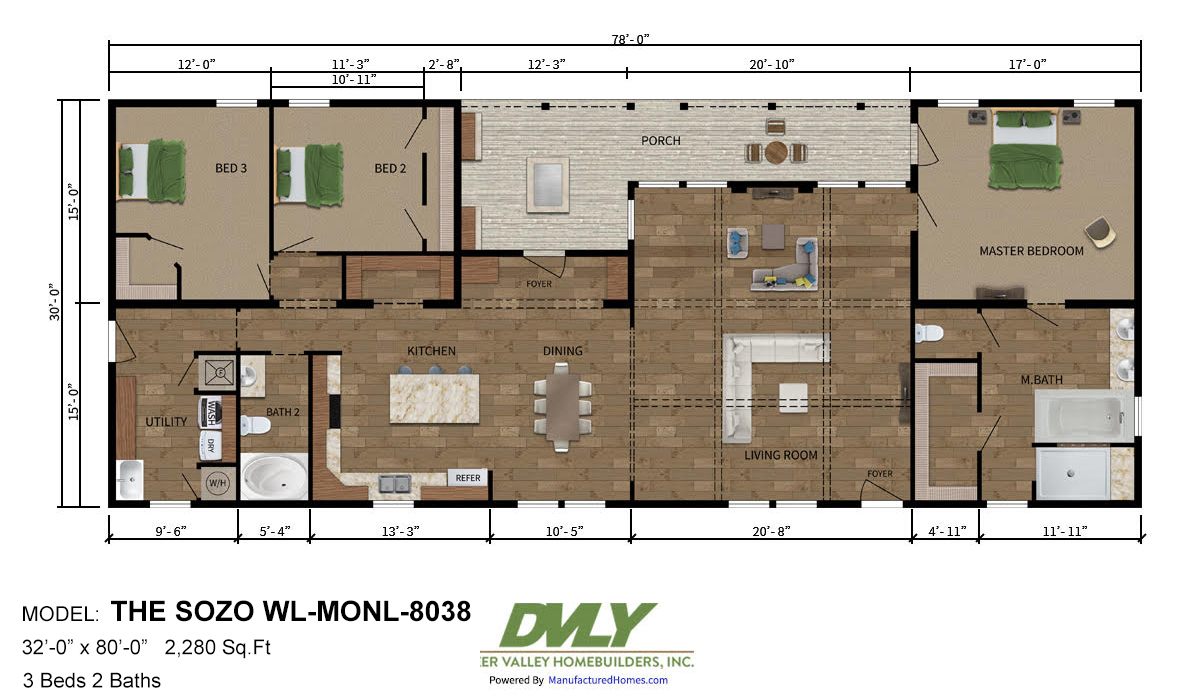 But it's more than a list of features. The Sozo's a place where family and friends come together, where memories are made. Come on, take a peek. You might just find your next home!
10. Timberline Elite 32603C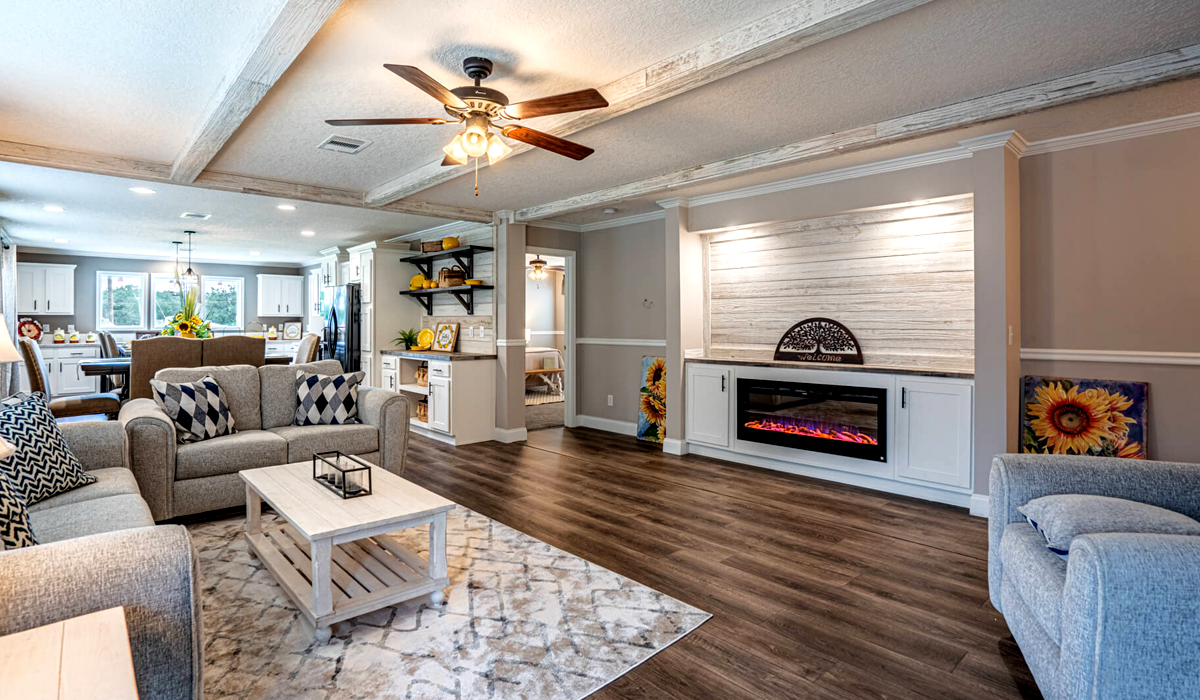 Finally, meet the Timberline Elite 32603C, a double-wide delight by Destiny Homes. Let me take you on a tour of this 1,980-square-foot beauty, spread over 60 feet in length and 32 feet in width. Trust me; you're in for a treat!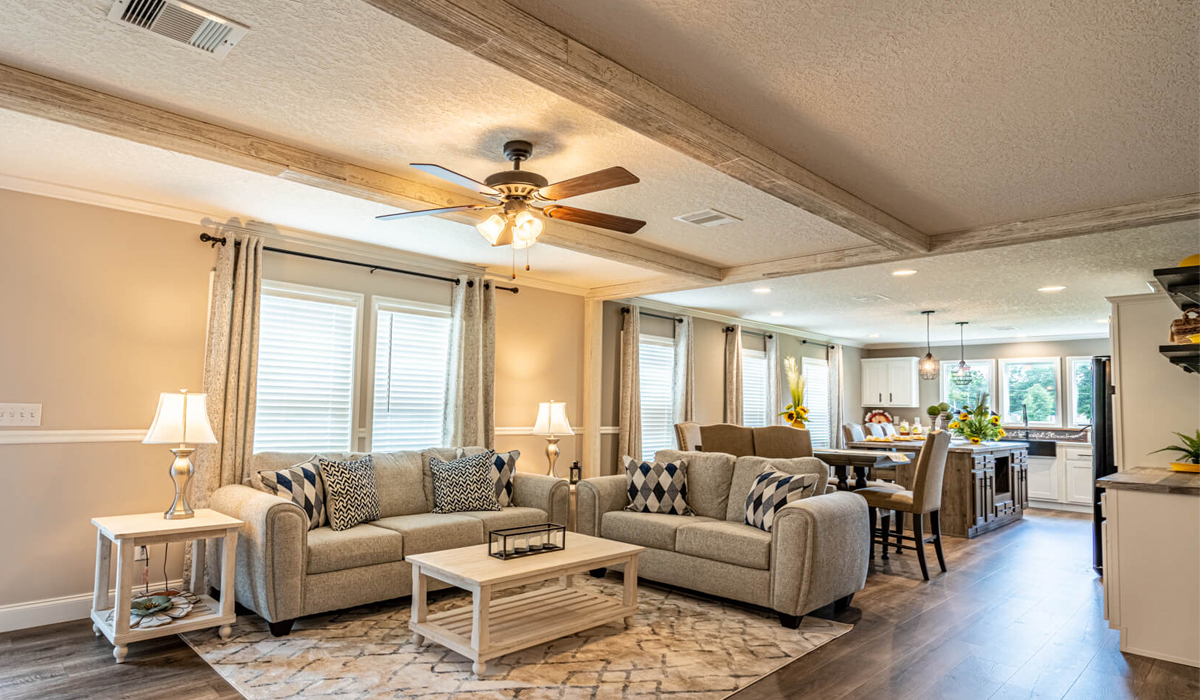 First, let's talk about living space. There's zero wasted hallway space here. Instead, a wide-open living room flows into an extra-large modern kitchen with a center island that's more than just a countertop – multi-purpose magic.
Now, here's a handy detail – direct entry into a large utility/laundry room at the rear exit door. So much convenience!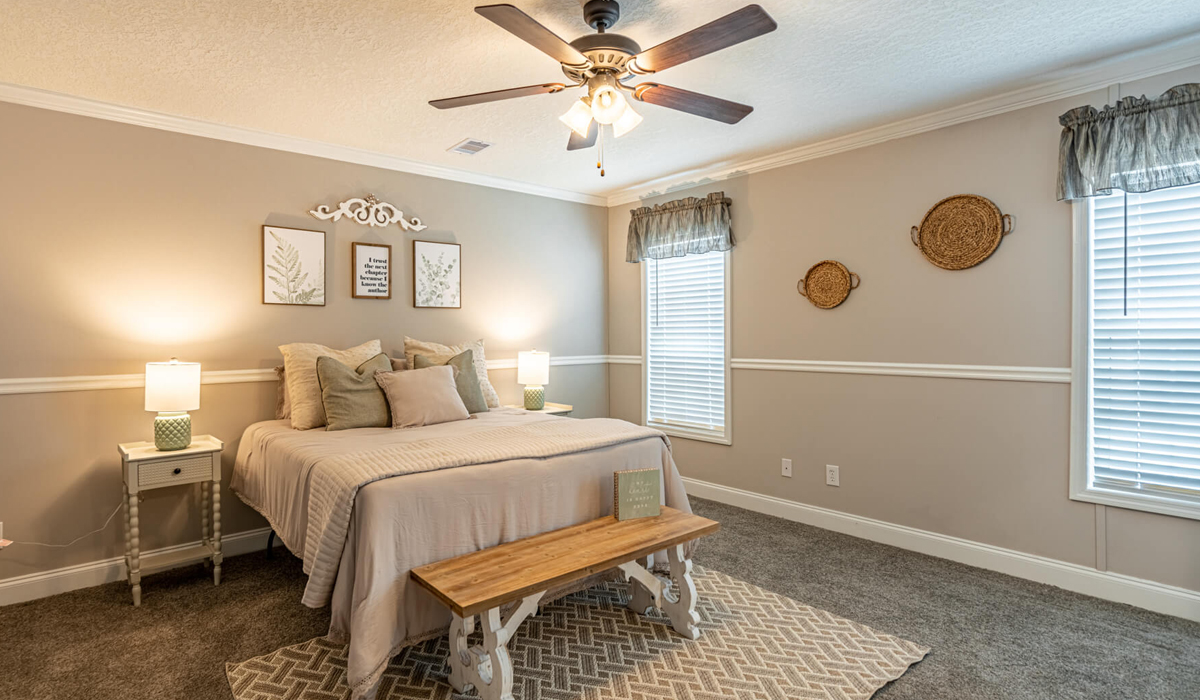 The bedrooms? Three total, but let's focus on the master. Privately located, it comes with a glamorous en-suite bath. The other two? King-size, with walk-in closets and a guest bath nearby.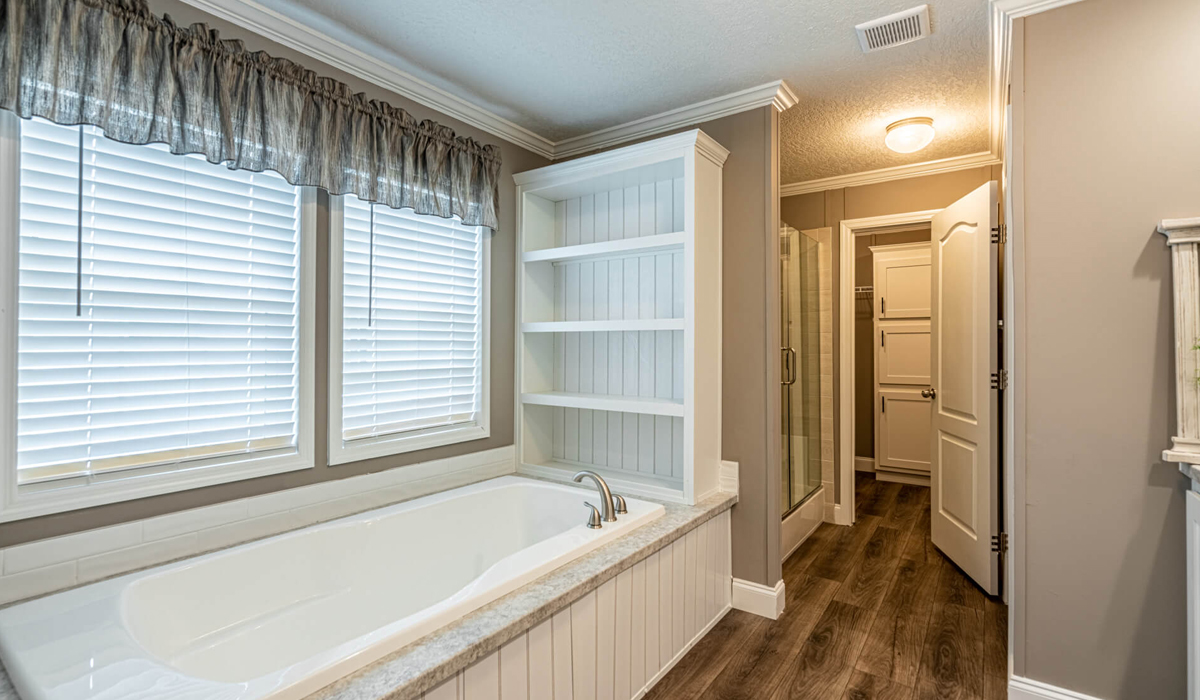 And the bathrooms? Rolled vinyl flooring, one-piece tubs and showers, and elongated commodes for extra comfort.
Construction-wise, you're looking at a sturdy build with 2×8 floor joists and 96″ sidewalls. Plus, 25-year fiberglass shingles overhead.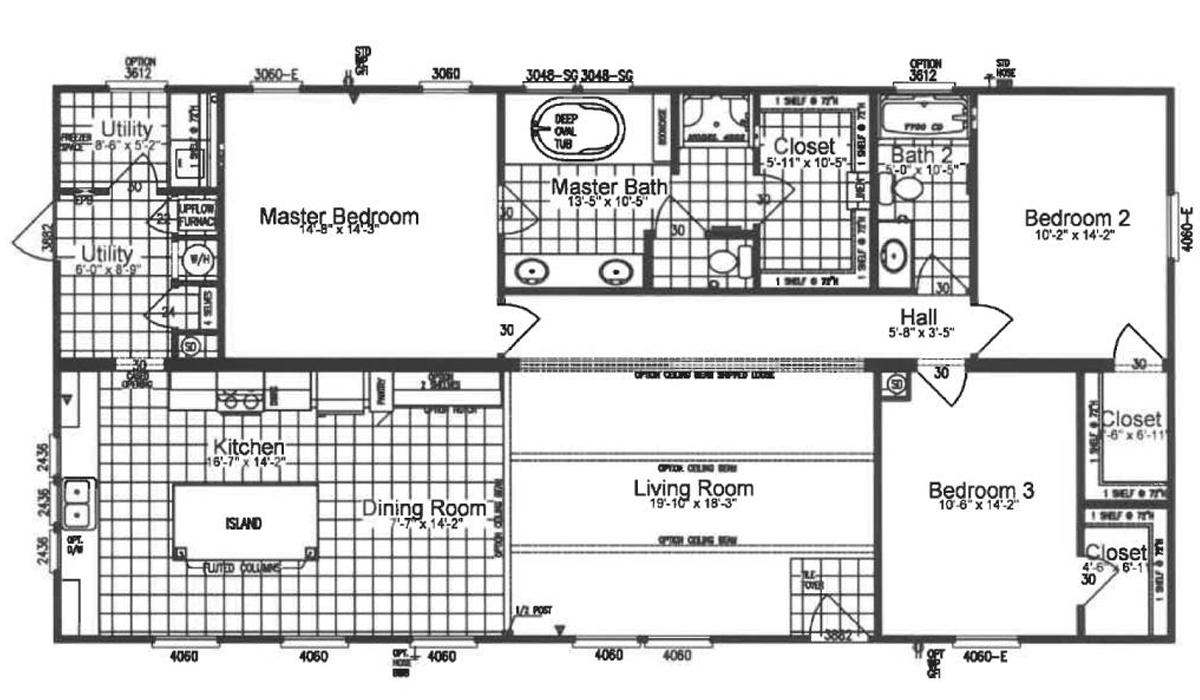 Inside, expect details like knockdown textured ceilings, painted drywall with chair rail throughout, and a kitchen boasting rolled vinyl flooring and stainless steel sink.
The Timberline Elite 32603C isn't just a house; it's a home filled with thoughtful details that make everyday living a joy. Come, explore, and fall in love!
Conclusion
The diversity and elegance in these luxury double wide showcase a range of options for you seeking a touch of grandeur in your next home. From expansive living areas to well-appointed kitchens, luxurious baths, and clever construction techniques, these homes offer a superior living experience tailored to modern desires. Crafted by reputable builders, these homes reflect shelter, a lifestyle, a statement, and a place where luxury meets comfort.