5-Bedroom Triple Wide Mobile Home Interior
Space, style, and comfort all rolled into one. That's the magic of a 5-bedroom triple-wide mobile home. Think about it: a place that offers enough room for a growing family, luxurious touches for the style-savvy, and the unique charm that only a mobile home can provide. But what exactly sets these homes apart? What's behind those doors that makes people's eyes widen with wonder? Let's dive in!
| | |
| --- | --- |
| | |
| | 5 spacious bedrooms, often with walk-in closets and adjoining bathrooms. |
| | Usually 3 or more, equipped with modern fixtures and amenities. |
| | A large and inviting space for family gatherings, typically with options for a fireplace or entertainment center. |
| | State-of-the-art kitchen with a large island, quality appliances, and plenty of cabinetry. |
| | Often adjoining the kitchen, providing a formal or informal dining space. |
| | Usually equipped with washer/dryer hookups and additional storage. |
| | Some models may offer a home office or bonus room that can be customized for various purposes. |
| | The master bedroom often features an ensuite with luxurious options like a garden tub or dual sinks. |
| | Built-in shelving, pantries, and additional closets to maximize storage capacity. |
| | High-quality finishes like crown molding, quality flooring, and designer-selected color schemes are often available to suit personal tastes and styles. |
1. Bedrooms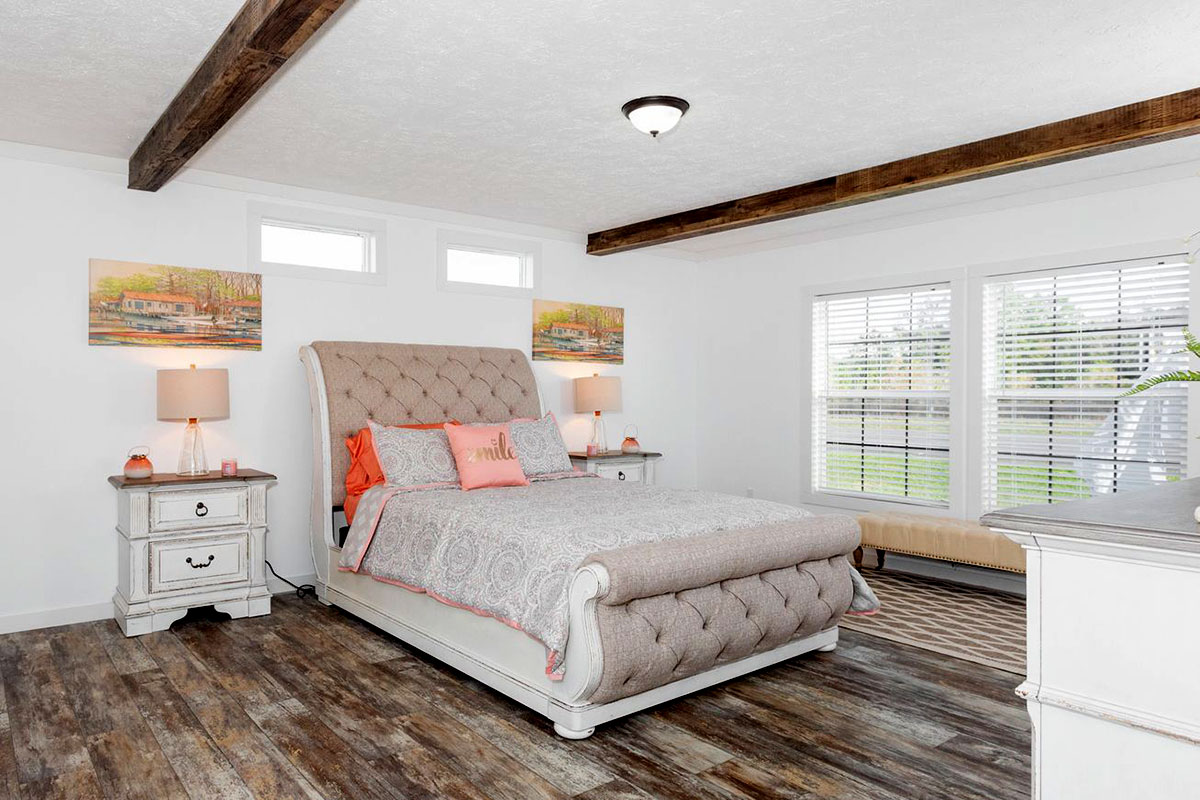 The bedrooms are where a 5-bedroom triple-wide mobile home's magic shines. We're not just talking about a place to lay your head. We're talking about retreats, havens, sanctuaries.
Five bedrooms, you say? Yes, five. Imagine the possibilities: parents, kids, guests, even a home office if you'd like. Let's break it down.
Room for Everyone: Five bedrooms mean choices. Do kids want their own rooms? Done. Need a guest room? No problem. How about a craft room? You've got the space!
Walk-in Closets: Space for clothes, shoes, and accessories. You'll find it here. Some models even offer adjoining bathrooms. Talk about luxury.
Size Matters: These rooms are spacious. They're designed to feel open and airy. You're not just cramming furniture in but creating a living space.
Customization: Want a reading nook in the master bedroom? You can have it. Need built-in desks for the kids? It's a possibility. These bedrooms are like blank canvases.
Picture this: Waking up in a master suite with the morning sun spilling through the windows. Kids laughing in their rooms, each decorated with their unique flair. Guests are relaxing in their private oasis, thanking you for the five-star accommodation.
That's the beauty of a 5-bedroom triple-wide mobile home. It's not just about having rooms; it's about creating spaces that reflect who you are. Whether you're a family of six or a couple with hobbies galore, these bedrooms offer the freedom to live life your way.
2. Bathrooms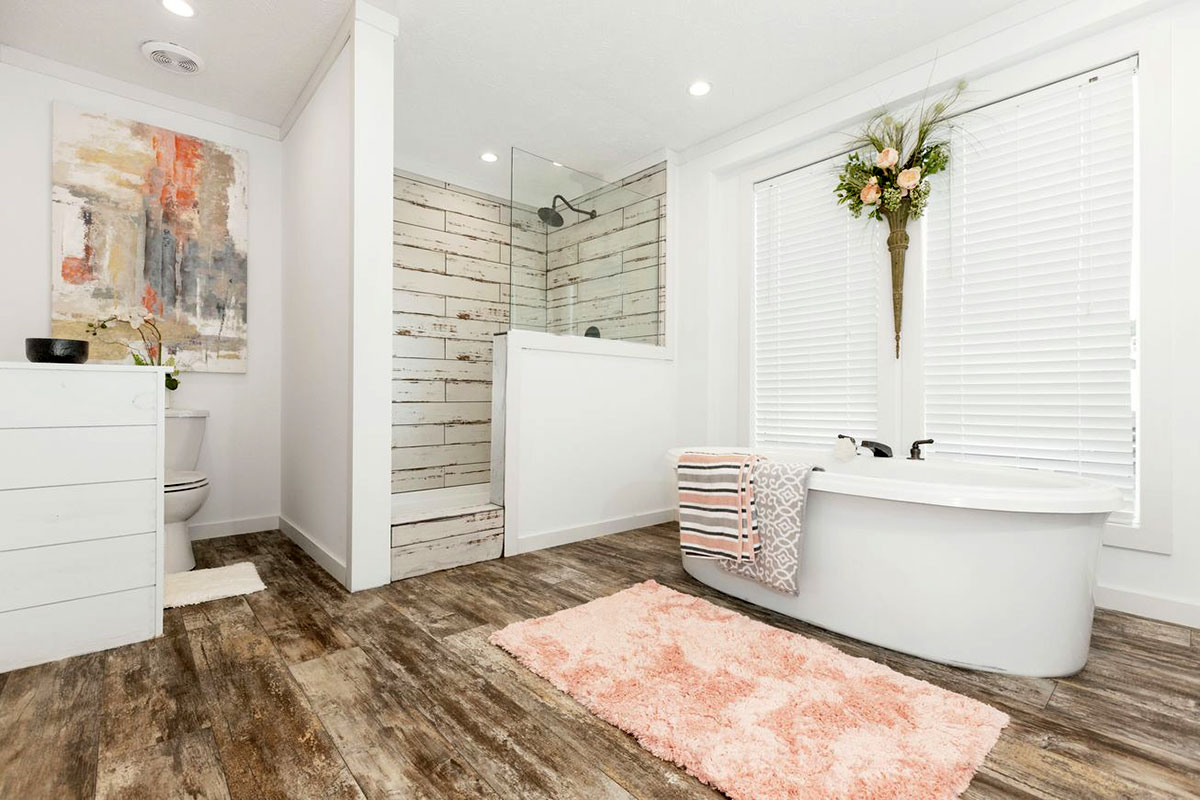 Bathrooms in a triple-wide mobile home are not an afterthought; they're an experience. Ever walked into a bathroom and felt like you've entered a spa? That's what we're talking about here. Let's break down what makes these bathrooms special:
Spacious Showers and Tubs: Room to stretch, soak, and savor. These are not cramped, cornered spaces. They're designed with luxury in mind. Imagine a long soak after a hard day's work. Bliss!
Double Vanities: No more jostling for space in the morning. Double sinks mean everyone has room to brush, prim, and prep. It's harmony in bathroom form.
Storage Galore: Cabinets, shelves, and more. Everything has a place. No more cluttered countertops or overfilled drawers. It's organizational nirvana.
Thoughtful Details: We're talking about tile work, contemporary fixtures, and lighting that sets the mood. These touches add elegance and sophistication.
Guest Bathrooms: Having extra bathrooms means guests feel at home. They have their space, and you have yours. It's hospitality at its finest.
Think about the morning rush, everyone getting ready for the day. Now picture it in one of these bathrooms. There's space, there's order, and there's beauty. It's not chaos; it's a dance, a graceful start to the day.
And at night? It's your retreat. Light some candles, fill that tub, and let the day's worries disappear.
That's what bathrooms in a 5-bedroom triple-wide mobile home offer. They're not just functional; they're fabulous. These spaces pamper, please, and provide, from the main suite to the guest bath. You're not just living; you're luxuriating. How's that for a bathroom experience?
3. Living Room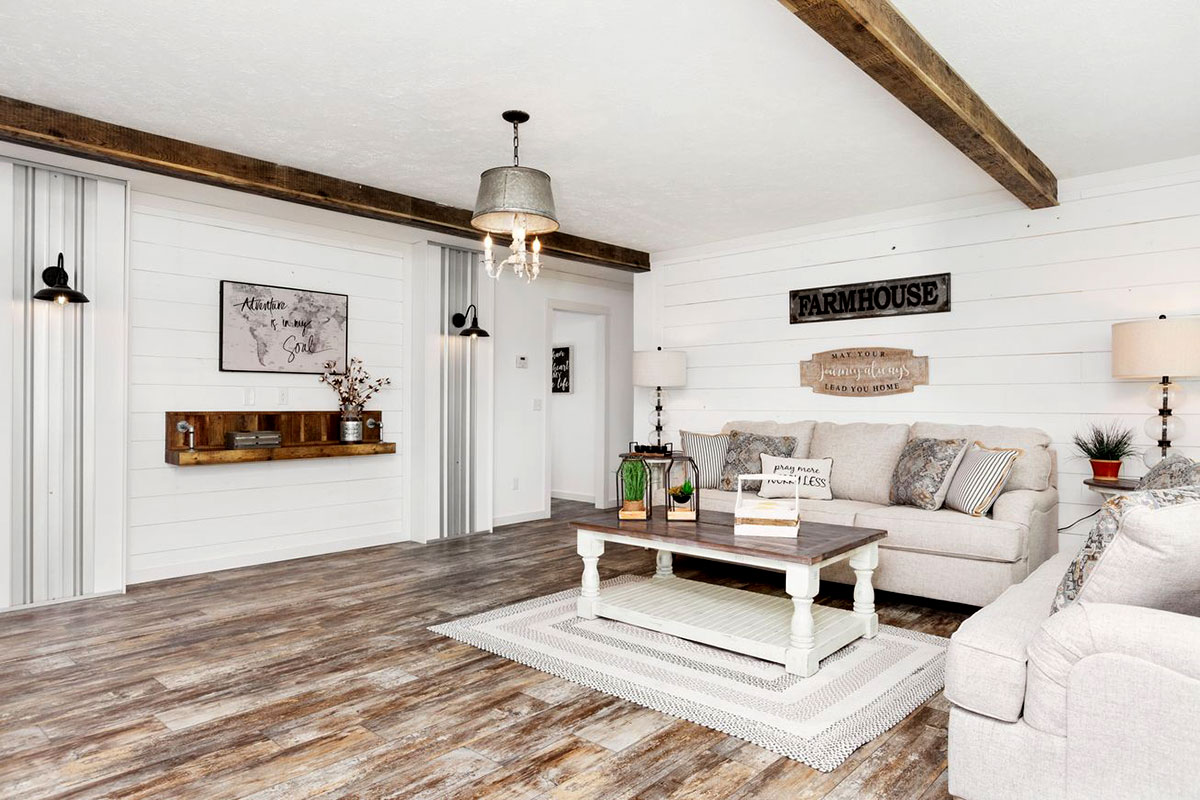 The living room. The heart of the home. It's where you lounge, laugh, and live. In a 5-bedroom triple-wide mobile home, the living room isn't just a space; it's a statement. Let's dive into what sets these living rooms apart:
Space to Breathe: Open, airy, inviting. These living rooms offer room to stretch out. Enough space for a large sectional? Absolutely. Room for a reading chair in that sunny corner? You bet.
Windows Galore: Light makes a room, and these living rooms have it. Big windows, beautiful views. It's like bringing the outdoors in.
Fireplaces: Some models even boast a cozy fireplace. Picture winter nights, warm blankets, hot cocoa, and a flickering fire. Perfection.
Built-ins: Shelves, cabinets, even entertainment centers. Customizable to your taste. They're practical, they're pretty, and they're part of what makes the space unique.
Style Your Way: Modern, rustic, eclectic? Whatever your taste, these living rooms can handle it. They're like a blank canvas waiting for your touch.
Now, close your eyes. Imagine your family gathering for movie night. Popcorn's popping, everyone's settling in, and the living room's warm and comfortable. It's not just a room; it's an experience.
Or picture friends over for the game night. Laughter echoes, drinks clink, and the living room becomes a place of connection and joy.
That's the beauty of these living rooms. They're not just about design and décor (though they've got that in spades). They're about life. Your life.
They're a space that adapts, accommodates, and allows you to be you. Whether it's a quiet night or a lively gathering, these living rooms are ready.
In short? These living rooms don't just look good; they feel good. And that, dear reader, is what home is all about.
4. Kitchen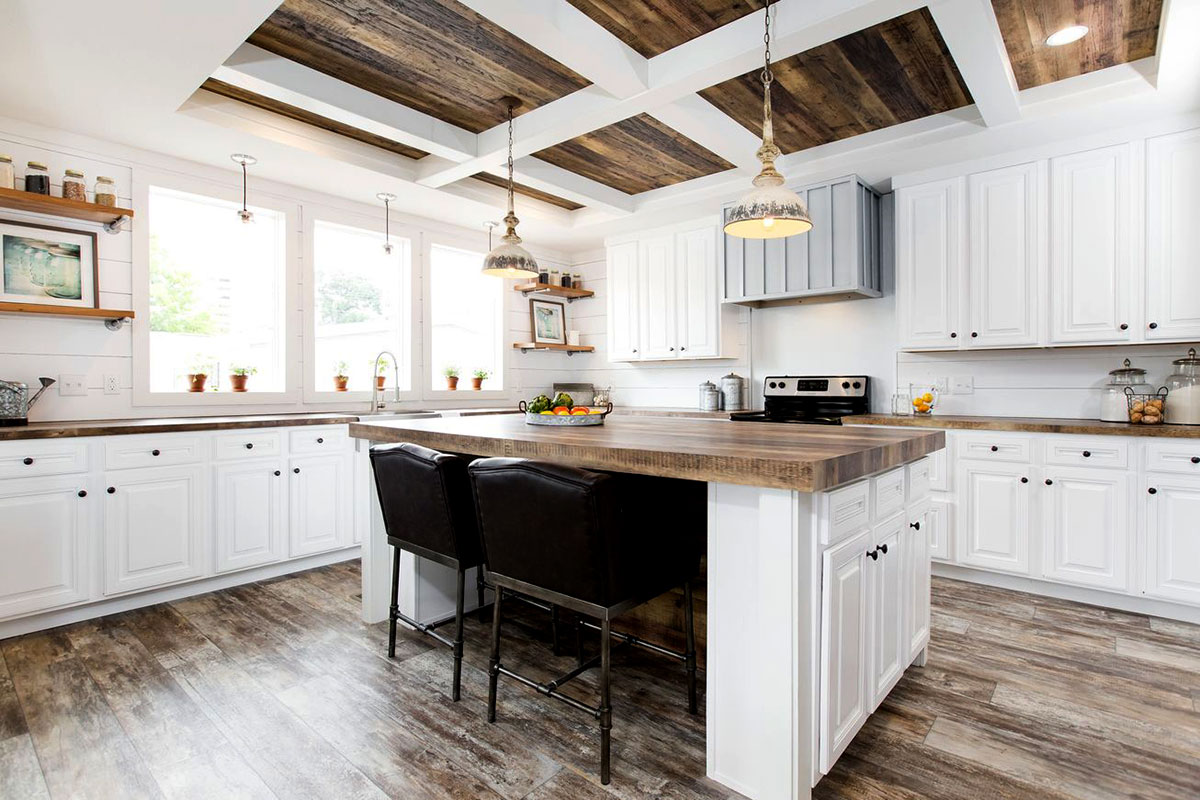 The kitchen. A culinary haven. A family gathering spot. A 5-bedroom triple-wide mobile home is not just a room with appliances – it's where memories are cooked. Now let's get into the flavor of these kitchens:
Room to Roam: Ever felt cramped while cooking? Not here. Spacious countertops, wide aisles. Room for two, three, or even four chefs? It's possible here.
Cabinets for Days: You've got gadgets, and they've got a place. Cabinets, drawers, pantries. Organized and within reach. Cooking just got easier.
Islands or Peninsulas?: Some come with a center island or a stylish peninsula. Prep space, gathering space, eat-at space. It's multifunctional and magnificent.
Appliances that Shine: State-of-the-art but not over-the-top. Quality that you can count on. That fridge? It's ready for your meal prep. The oven? Bring on the holiday feasts.
Light it Up: Think pendant lights, under-cabinet glow. Just enough shimmer to make things special without stealing the show.
Style it Your Way: Farmhouse chic? Modern minimalist? It's your call. These kitchens adapt to you.
Eat-in or Dine Out: Breakfast nooks or room for a dining table? Your choice. Casual or formal? It fits.
Imagine Sunday mornings, pancakes on the griddle, coffee brewing. The kids are at the counter, you're flipping flapjacks, and the kitchen's abuzz with life.
Or picture a dinner party. Friends gather around the island, wine pours, and laughter fills the air. The kitchen's not just for cooking; it's for connecting.
But here's the best part: these kitchens don't require a gourmet chef. They're for you, for every day. Scrambling eggs, packing lunches, late-night snacks – this kitchen's ready for it all.
Sleek but not stuffy. Stylish but not snobbish. It's a kitchen that knows its job but doesn't take itself too seriously.
In a nutshell? It's where good food meets great people, life simmers, sizzles, and satisfies. It's more than a kitchen; it's your kitchen. And it's ready for anything you can cook up.
5. Dining Area
The dining area. Where forks meet flavors, where families meet to feast, let's serve up the details of the dining areas in a 5-bedroom triple-wide mobile home, shall we?
Size Matters Not: These spaces are versatile, whether it's an intimate alcove or a grand dining room. They fit your family, your friends, and your fabulous dinner parties.
Pull Up a Chair: Long tables, round tables, benches, or chairs. The setup suits your style. Elegant dinners or pizza nights, it's all good here.
Lighting Sets the Tone: Chandeliers, pendant lights, sconces. The glow's just right. Cozy dinner or festive gathering? The illumination can handle it.
Windows to the World: Sometimes it's about the view. Picture windows, garden windows. They might just steal the show.
Details that Dazzle: Crown molding? Check. Chair rail? You got it. These touches don't shout; they whisper elegance.
Décor Your Way: From wall art to table runners, the décor is all you. Rustic, modern, or anything in between. It's a canvas, and you're the artist.
The Flow: It's often close to the kitchen, maybe the living room. Easy, breezy, and makes sense.
But It's More Than a Room: It's Thanksgiving with all the trimmings, birthday candles and wishes. It's a Tuesday night and takeout. It's your family, your memories.
Imagine clinking glasses to celebrate or leaning back in laughter. The dining area's not just about what's on the plate; it's about what happens around the table.
So, set the table, invite the guests, and dig in. The dining area in these homes knows how to host a meal, but more importantly, it knows how to host you.
6. Laundry Room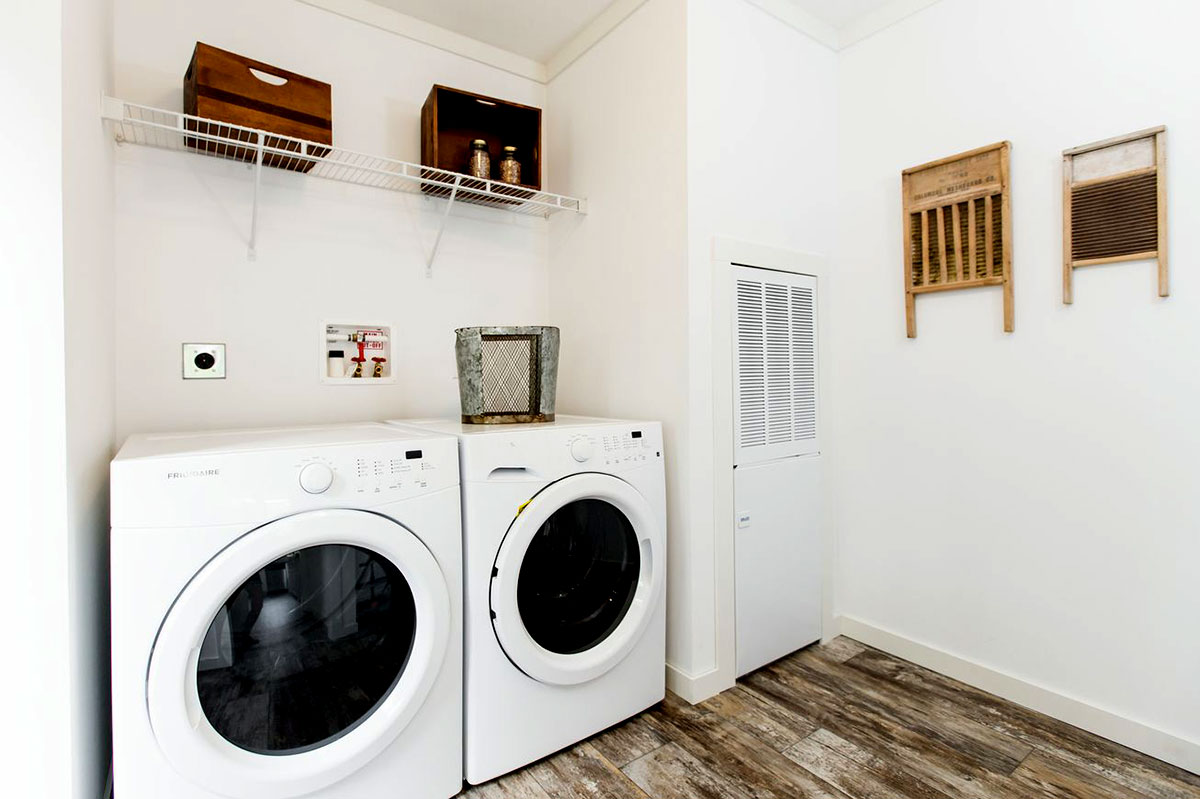 Let's talk laundry. Now, before you groan, let's take a closer look at the laundry room in a 5-bedroom triple-wide mobile home. It's a space that might turn a chore into a cheer.
A Room with a View: Who said laundry has to be dull? With a splash of color or a window with a view, this room might just become your escape.
Space for Days: You've got your washers, dryers, and maybe a sink. Folding tables? Oh yes. Room to breathe, room to do the deed. It's not cramped; it's comfortable.
Smart Storage: Cabinets, shelves, hampers. Everything has a place. No clutter, no fuss.
Tech-Savvy Too: Want the latest appliances? You've got it. Smart washers that ping your phone when they're done. It's laundry, level up.
Decor that Dazzles: Who says a laundry room can't be lovely? A fun backsplash, a striking floor. It can be as chic as you choose.
Ergonomics, Baby: Things are where they should be. No bending backward to get to the dryer. It's a well-thought-out space that thinks of your back.
It's Multi-Functional: Need to wash Spot's bed? Handwash the delicates? It's all good here.
And It's Quiet: Need to do a load while the baby sleeps? This room understands.
Location, Location: Often nestled near the bedrooms or mudroom, it's right where you need it.
The laundry room in a 5-bedroom triple-wide mobile home isn't just a utility room; it's a thoughtful space. It's not an afterthought; it's a feature. It's not a hassle; it's a help.
So next time you have a basket full of dirty socks, don't sigh. Smile. Because your laundry room's got this, and so do you. It's laundry done your way in a space designed for doing. No fuss, no stress. It just loads of satisfaction. Now, that's fresh thinking!
7. Home Office/Bonus Room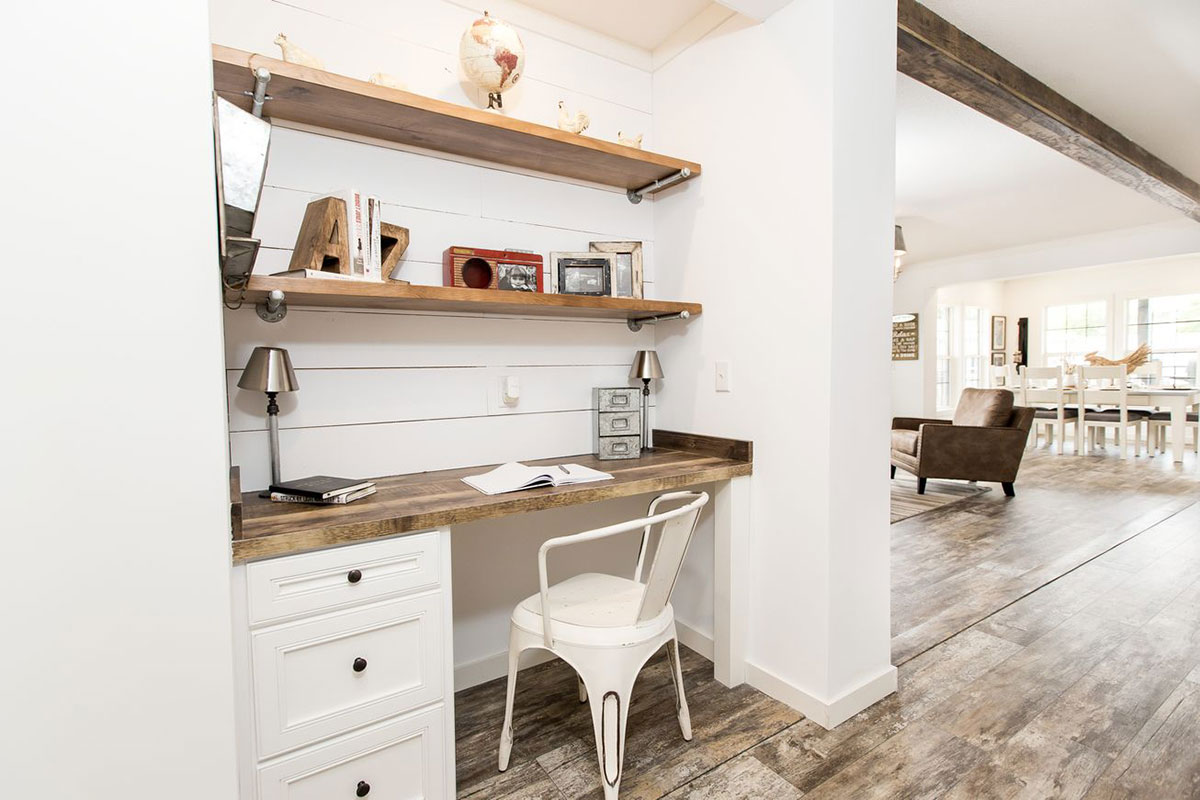 Let's step into the bonus room of a 5-bedroom triple-wide mobile home. Now, don't let the term "bonus" fool you. This isn't just a random extra space; it's a room packed with possibilities.
Business or Pleasure? Why Not Both? One day it's your home office. The next, it's your crafting corner or a reading nook. Versatile? Absolutely.
A Designer's Dream: The space is a blank canvas, ready to be painted with your imagination. Cozy chairs? A sleek desk? Your call.
Tech-Friendly: Need multiple outlets for gadgets? No problem here. The room is ready for your tech needs.
Natural Light Galore: Think windows, lots of them. The daylight pours in to keep things bright and cheerful.
Privacy Plus: Located just so, it's quiet enough for work but still part of the home.
Storage Solutions: Built-ins, shelves, or cupboards, you have options to keep things neat.
Room to Grow: As your needs change, so can this space. Baby on the way? New hobby? The bonus room adapts.
High-Quality Finish: This isn't a throwaway room like the rest of the home. Expect the same great flooring and the same attention to detail.
Location Savvy: It's placed within the home for easy access but without the noise of high-traffic areas.
Eco-Friendly Options: Want to keep it green? You have options for energy-efficient lighting and more.
Think of this room as the Swiss Army knife of your home. It's whatever you need it to be, whenever you need it. And it's not just a bonus; it's a boon. Also, it's not just extra space; it's extraordinary space. It's a room that knows no limits.
So, whether you're penning the next great novel, telecommuting to your nine-to-five, or enjoying your favorite hobby, this bonus room's got your back. It's not an afterthought; it's an essential part of your triple-wide mobile home that offers comfort, convenience, and creativity. It's not just a room; it's your room. Enjoy!
8. Master Suite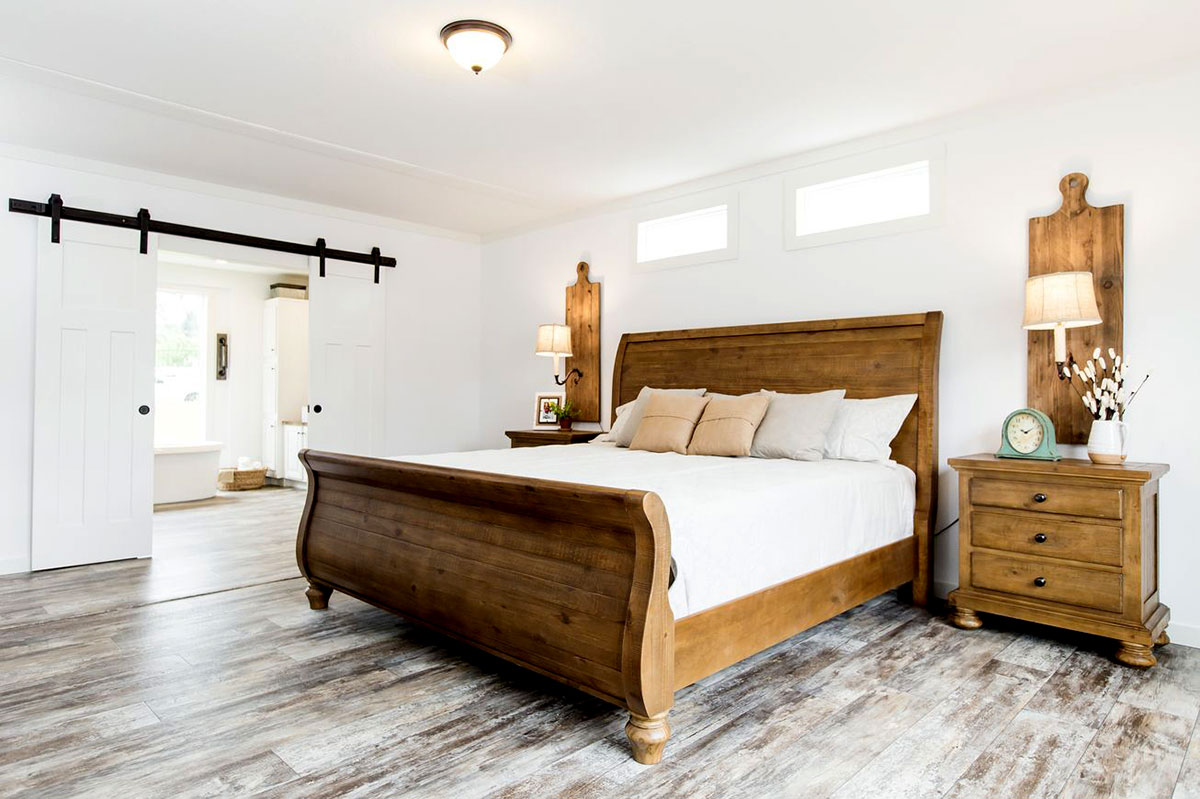 Ah, the master suite! The crown jewel of a 5-bedroom triple-wide mobile home. Let's waltz right into luxury, shall we?
Your Private Haven: The master suite isn't just a bedroom; it's a sanctuary. Close the door, and the world falls away.
A Bed to Dream On: King, queen, or double? You decide. There's room for the bed of your dreams.
Walk-in Closets: Space for clothes, shoes, accessories, and more. You won't be short on storage here.
Soothing Colors: Soft, calming shades invite relaxation. Choose your palette and set the mood.
Ensuite Bathroom: Step from bedroom to bathroom. No hallways, no fuss. It's your private spa.
Double Sinks, Double Bliss: Morning rush hour? Not here. Dual sinks mean no waiting.
Luxurious Bath or Shower: Soak in a tub or invigorate in a shower. Both? You can have that too.
Top-Notch Lighting: Imagine soft, warm lights that flatter and soothe.
Room with a View: Wake up to beauty. Windows that bring the outside in.
Flooring that Feels Right: Carpet? Hardwood? Heated tiles? Your feet, your choice.
Climate Control: Too hot, too cold? Not in here. You set the perfect temperature.
Quiet, Please: Soundproofing makes it a room of serenity.
Flex Space: Want a reading nook? A mini-gym? You've got space to personalize.
Quality in Every Corner: Expect the best materials, from doorknobs to countertops.
In a 5-bedroom triple-wide mobile home, the master suite is not just a place to rest your head. It's a retreat within a retreat, where luxury meets daily life. Come on in and make yourself at home. You've earned it!
9. Storage Solutions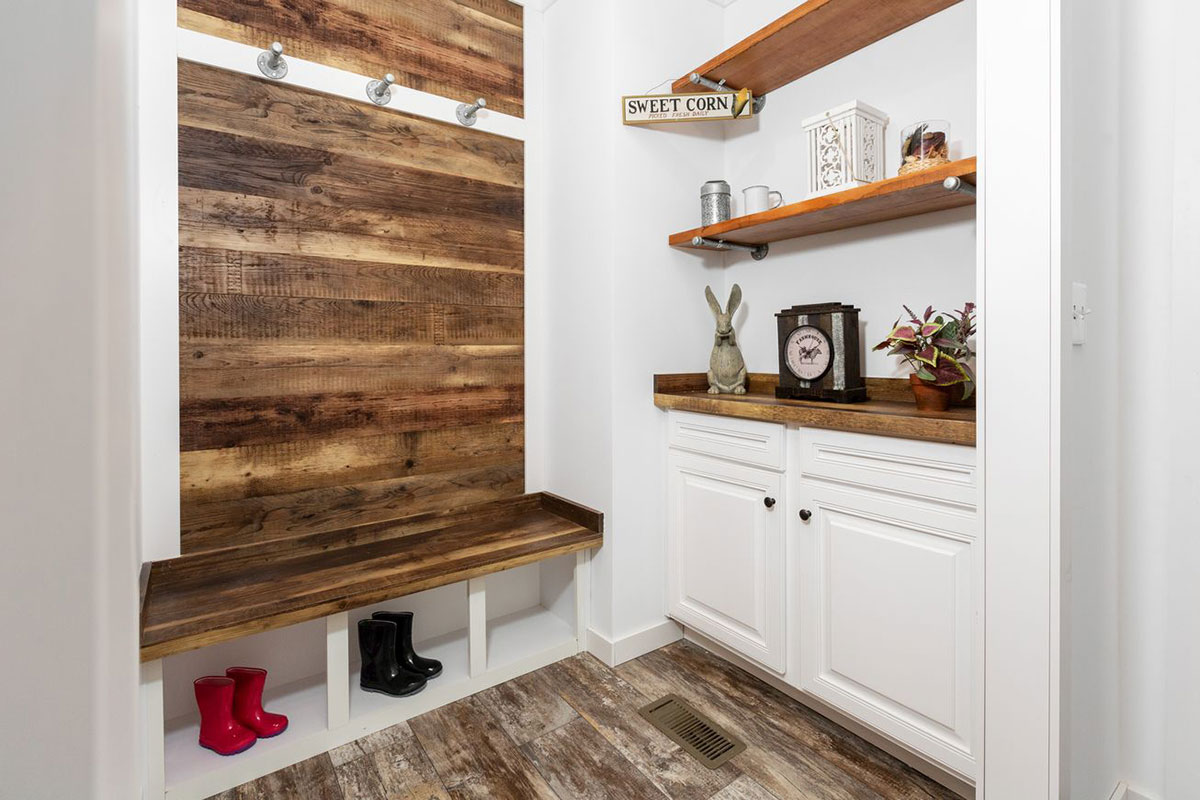 Storage. It's a buzzword that makes us all nod in agreement. But in a 5-bedroom triple-wide mobile home, storage isn't just a buzzword; it's a reality. Let's dive into the nooks and crannies!
Closets: From walk-ins to reach-ins, there's a spot for everything. Winter coats? Check. Summer hats? Got it.
Kitchen Cabinets: Pots, pans, dishes, and more. All within reach, all tucked away. Easy to find, easy to store.
Garage Space: Tools, sports gear, bikes. A place for things that don't belong in the house.
Laundry Room Cabinets: Detergents, softeners, stain removers. They are hidden yet handy.
Bathroom Vanity: No more cluttered counters. Makeup, razors, and toiletries have their own home.
Built-in Shelves: Books, ornaments, memories. Displayed with pride, not dust.
Pantry Shelves: Cans, boxes, jars. Organized and accessible. No more hunting for that lost can of beans.
Under-Bed Drawers: Seasonal clothing, extra linens. And out of sight, not out of mind.
Garden Shed: Lawnmower, gardening tools. Neatly stowed, ready to use.
Kids' Cubbies: Toys, games, crafts. In the room, not on the floor.
Hallway Hooks: Keys, leashes, backpacks. Grab and go, no fuss.
Office Files: Papers, documents, supplies. Work stays in the office, not the dining table.
Attic or Basement: Holiday decorations, keepsakes. Safely stored, waiting for their moment.
Outdoor Storage: Patio cushions, BBQ tools. Sheltered from the weather, ready for the sun.
Custom Options: Want a wine rack? A craft cupboard? You can have it.
Every item has its place. Every place has its purpose. That's the beauty of a well-designed triple-wide mobile home. You live, you enjoy, you don't worry about clutter.
In the end, it's about comfort and convenience. It's about a home that works with you, not against you.
Storage in a triple-wide mobile home? It's not just a feature; it's a lifestyle.
10. Interior Finishes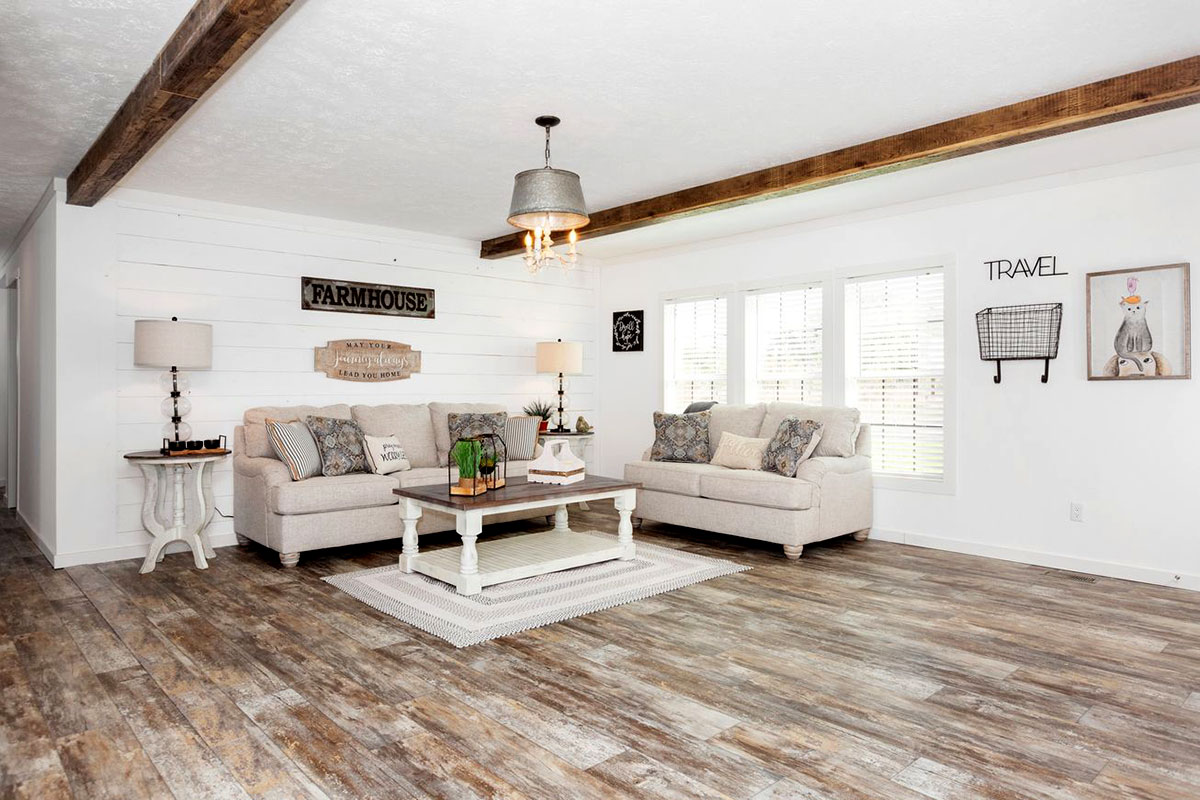 Interior finishes in a triple-wide mobile home. They're not just details; they're the soul of your space. It's the touch, the feel, the color. It's what makes your home, well, home. Let's unwrap the layers!
Walls: Ever touched a wall and felt something more? That's texture. From smooth to grainy, the finish matters. Paint colors? Bold or neutral, they set the mood.
Floors: Carpet, hardwood, tile. Soft, sleek, sturdy. Step on them. Feel them. They guide you from room to room.
Ceilings: Don't just look up; experience up. Crown molding, coffered, tray. They add depth. They add character.
Doors: Solid, paneled, glazed. They welcome, they hide, they accent. Every open and close is a statement.
Windows: Framed views, natural light. Curtains, blinds, shades. They dress outdoors. They invite it in.
Cabinets: Wood, glass, metal. Hold the eye, hold the dishes. Kitchen, bathroom, anywhere.
Countertops: Granite, marble, quartz. Chop, pour, and serve. Style meets function.
Fixtures: Faucets, handles, lights. Silver, gold, bronze. Small touches and big impact.
Appliances: Modern, retro, smart. Cook, wash, chill—technology with taste.
Fireplace: Stone, brick, tile. Warmth, glow, romance. A focal point that warms the heart.
Built-Ins: Bookshelves, benches, desks. Space-savvy, custom-fit. Purposeful elegance.
Outdoor Finishes: Decking, railing, patio. The inside extends out. Comfort doesn't stop at the door.
Energy Efficiency: Insulation, double-glazing, smart tech. Save energy, feel good.
Personal Touches: Art, pillows, plants. Your personality shines.
In a triple-wide mobile home, every finish is a brushstroke. A stroke that paints comfort, style, and joy. Furthermore, a stroke that crafts a space you want to come back to. And an area where you're not just living but thriving.
You touch, you see, you live every finish. And every finish touches your back. That's the art of interior finishes. That's the heart of your triple-wide mobile home.
Conclusion
What a home! From bedrooms to kitchens, every inch tells a story. A story of comfort, style, and you. Those walls, floors, and finishes are not just parts of a house; they're pieces of your life.
A triple-wide mobile home isn't a space; it's a canvas. A canvas that you paint with your dreams, needs, and personality. So here's to your home! May it be everything you've imagined and more. Because you've got the vision, the options, the opportunity. All that's left is to live it, enjoy it, and make it yours.
Image source: Claytonhomes