Inside of A Double Wide Mobile Home: What Does it Look Like?
Double-wide mobile homes have caught your eye, haven't they? You're not alone. They're spacious, they're affordable, and they've got style. But what's going on inside inside double-wide home walls? Is it all function and no flair? Oh, you're in for a surprise. Let's open the door, and stroll through the versatile world of double-wide mobile homes (3 bedroom 2 bath). From the cozy living room to the chef-friendly kitchen, from the soothing bedrooms to the efficient laundry area, we're about to explore what makes these homes so special. Let's dive in!
| | | | |
| --- | --- | --- | --- |
| | | | |
| | | | Spacious with open floor plan; Comfortable seating; Modern or traditional décor |
| | | | Full kitchen with appliances; Counter space; Possible island; Cabinetry |
| | | | Adjacent to kitchen; Dining table and chairs; Possible chandelier |
| | | | Roomy with closet space; Possible ensuite bathroom; Various design themes |
| | | | May vary in size; Closets; Can be designed for children or guests |
| | | 5' x 8' (full), 5' x 5' (half) | Full or half baths; Modern fixtures; Possible bathtub or shower |
| | | | Washer and dryer; Utility sink; Storage space |
| | | | May include built-in storage; Access to all rooms; Possible decorative touches |
Living Room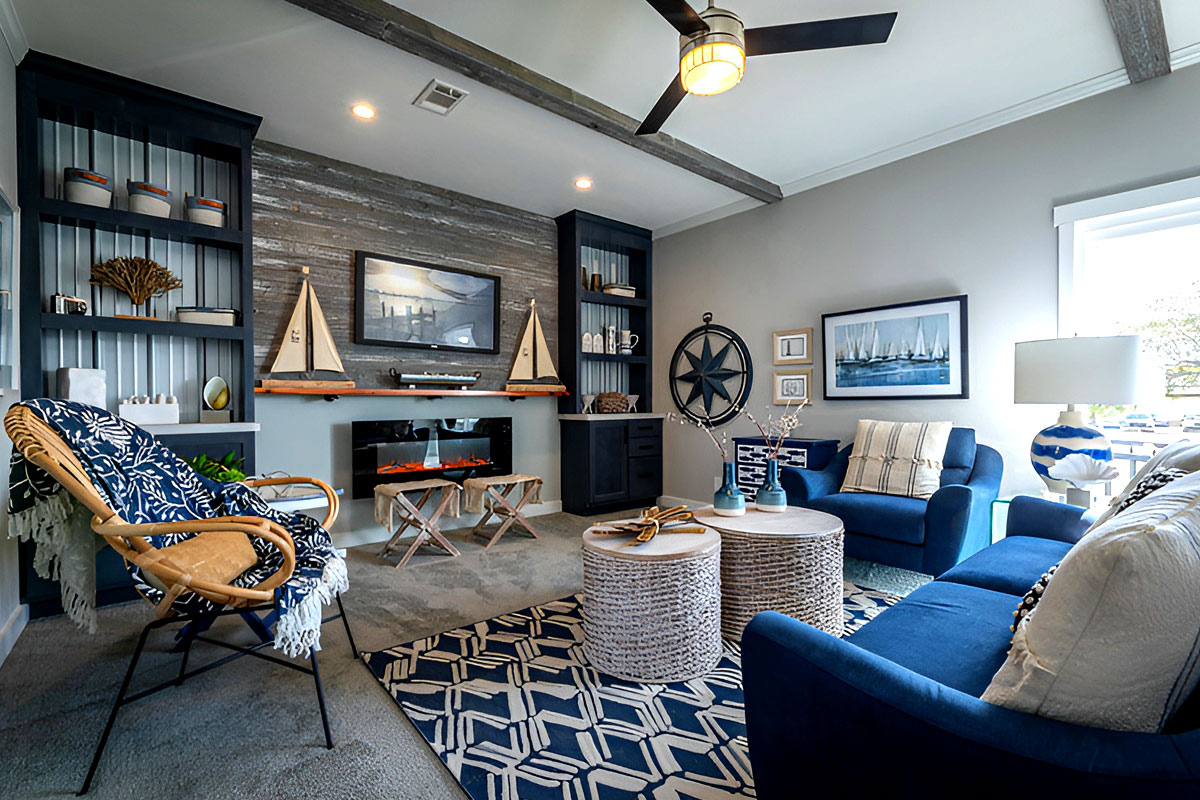 Step inside the living room. Ah, the heart of the home! Picture around 15 x 18 feet of pure comfort. That's room for a large, plush sofa, cozy armchairs, and your favorite coffee table.
But let's talk style. Do you like modern? You've got it. More of a rustic feel? That's possible too. From wood flooring to broad windows, the customization in a double-wide living room is fantastic. And don't worry about space; there's plenty of room for your giant TV or that heirloom cabinet from Grandma.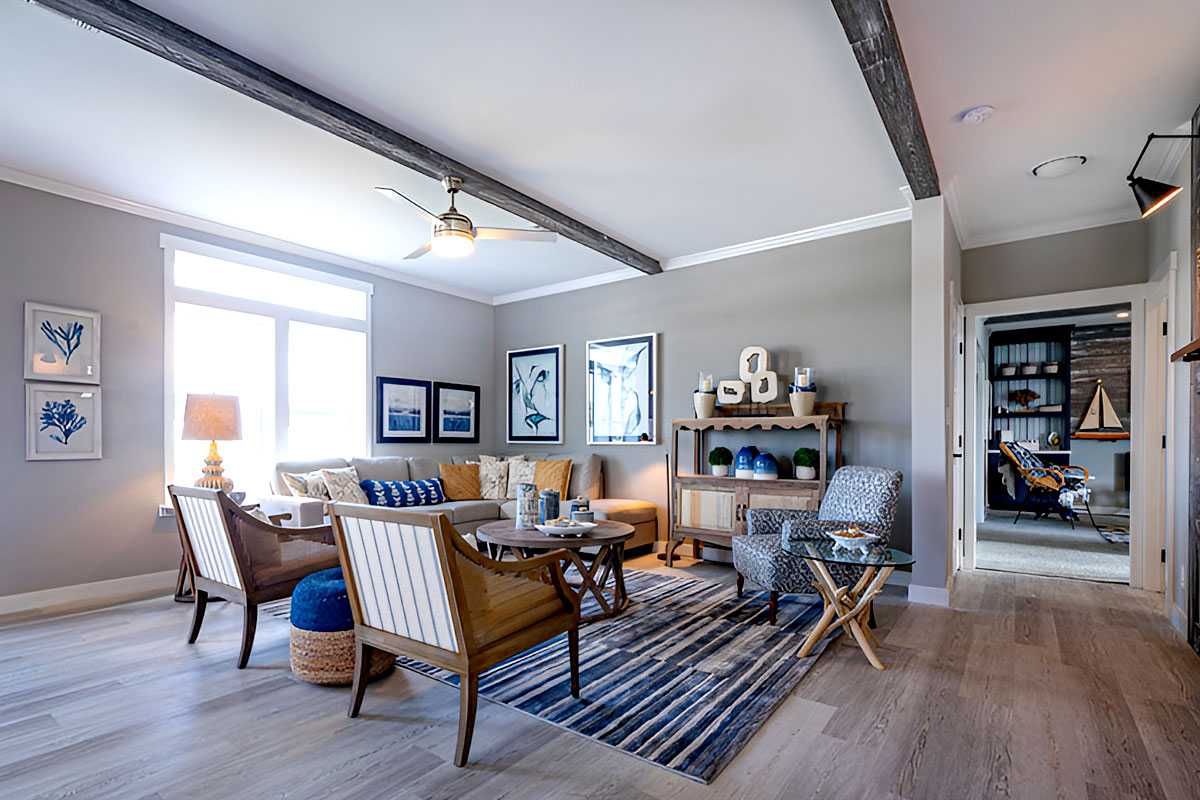 Lighting plays a starring role here too. Think of bright, airy spaces with natural light during the day. For the evening, imagine warm, ambient lighting that makes movie nights just right.
Do you want to entertain? You've got the room. Or do you want to curl up with a book? You can do that too. The living room in a double-wide isn't just a space; it's a place that adapts to your life. It's a room that says, "Come on in, relax, be yourself." And who doesn't want that?
Kitchen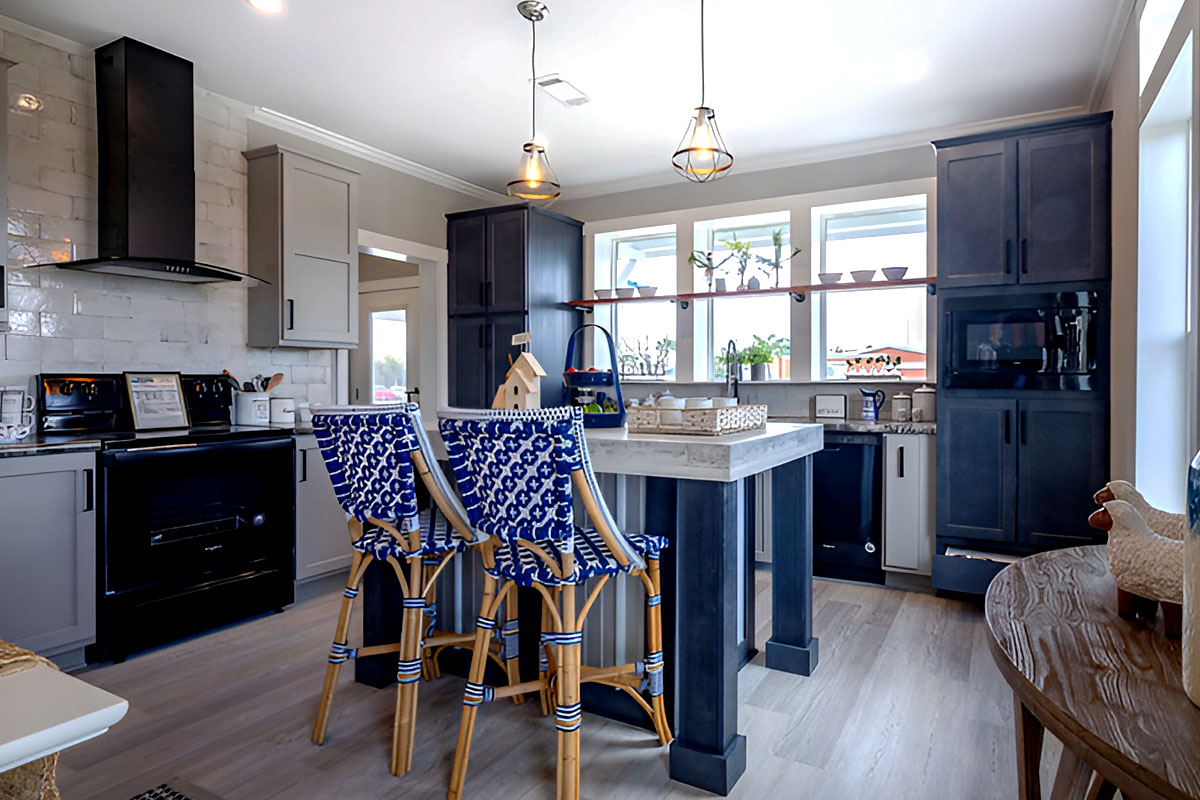 The kitchen! Here's where the magic happens, whether it's a Sunday brunch or a quick Tuesday night dinner. In a typical double-wide mobile home, you're looking at about 10 x 12 feet of culinary creativity space.
Cabinets? Check. Countertops that shine? Check. Room for all your gadgets, from the coffee maker to the stand mixer? Absolutely. It's designed for real life, with practical solutions that pleasure everyday cooking.
And let's not forget the island. If you want one, it's right there, making prep work easy and doubling as a breakfast spot for busy mornings. It's where kids can do homework while you cook, where guests can chat over a glass of wine, and where the day's stresses seem to melt away.
The appliances? Top-notch, if you want them to be. You can choose what works for you, from stainless steel fridges to high-tech stoves.
The best part? It all feels open and connected. No cramped corners or dark spaces. Just a bright, cheerful room that invites you to cook, eat, laugh, and share. Now, who's hungry?
Dining Area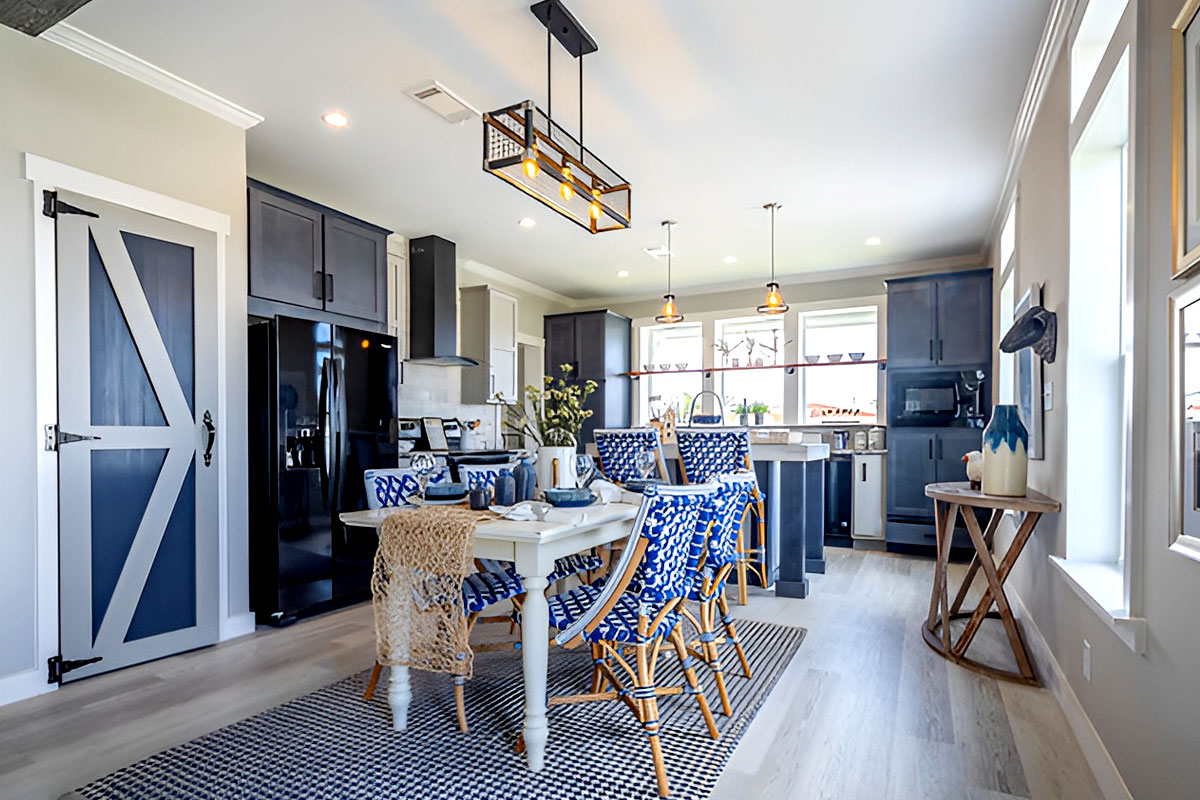 Just a few steps from the kitchen, you'll find the dining area, the heart of every mealtime gathering. Picture a space around 10 x 10 feet, with enough room to spread out for family dinners, celebrations, or a romantic meal for two.
Now, imagine a dining table that fits your style. Maybe it's a rustic farmhouse table or a sleek glass one; it's your choice. There's room for a buffet or a china cabinet if you like. Or keep it minimal with just the basics; it's all about what makes you feel comfortable.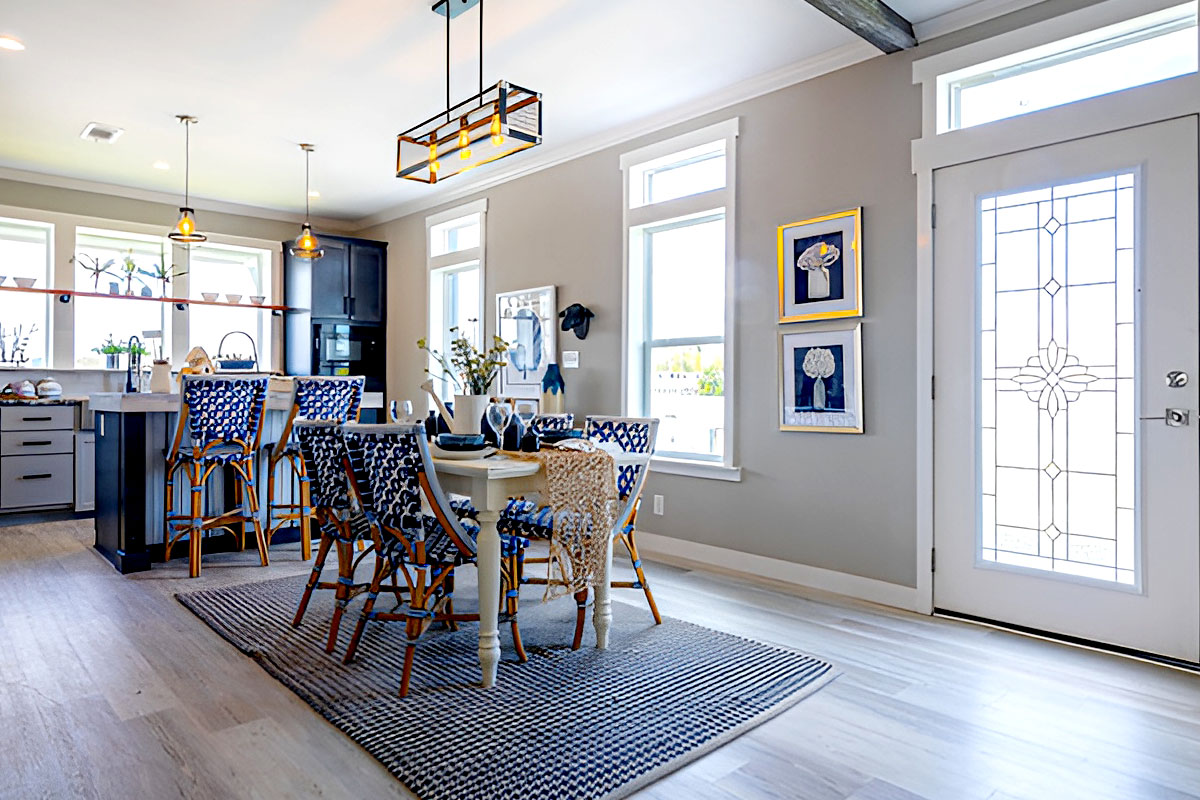 Chairs are pulled up, filled with family and friends, laughter echoing through the room. Soft lighting creates a warm glow, while large windows let in natural light. In a double-wide mobile home, it's all about making the most of space so everything feels cozy but not cramped.
And the decor? That's up to you too. Whether you like modern chic or traditional charm, you can create your desired ambiance. Hang some art, add a rug, or put fresh flowers on the table. Make it yours.
The dining area in a double-wide is more than a place to eat; it's a space to connect, celebrate, and create memories. It's not just about what's on the plate; it's about who's around the table.
Bedrooms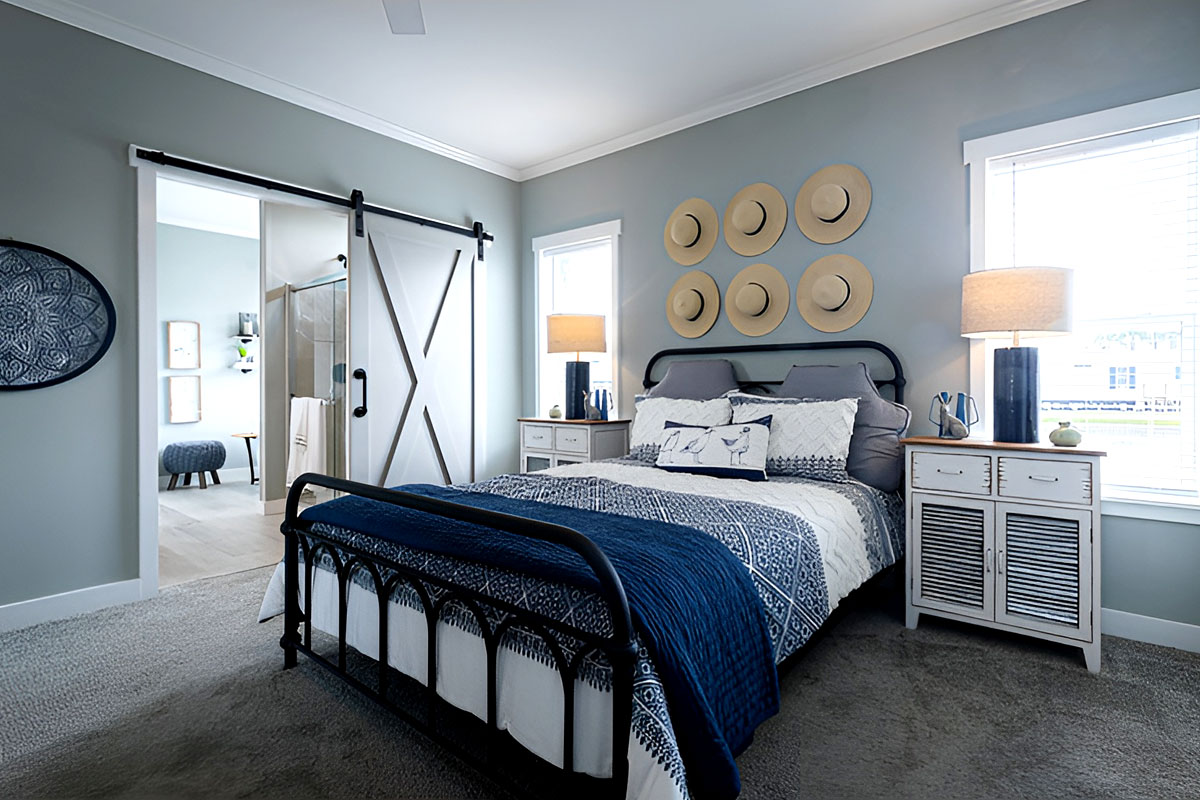 Let's take a peek into the bedrooms. These aren't just rooms to crash in; they're personalized havens of relaxation. In a standard double-wide mobile home, you'll usually find a master bedroom and one or two additional bedrooms.
The master bedroom, around 12 x 15 feet, offers a retreat for the heads of the household. A queen or king-size bed easily fits, with room for nightstands on either side. Maybe a plush chair in the corner or a dresser with a mirror adds a touch of comfort.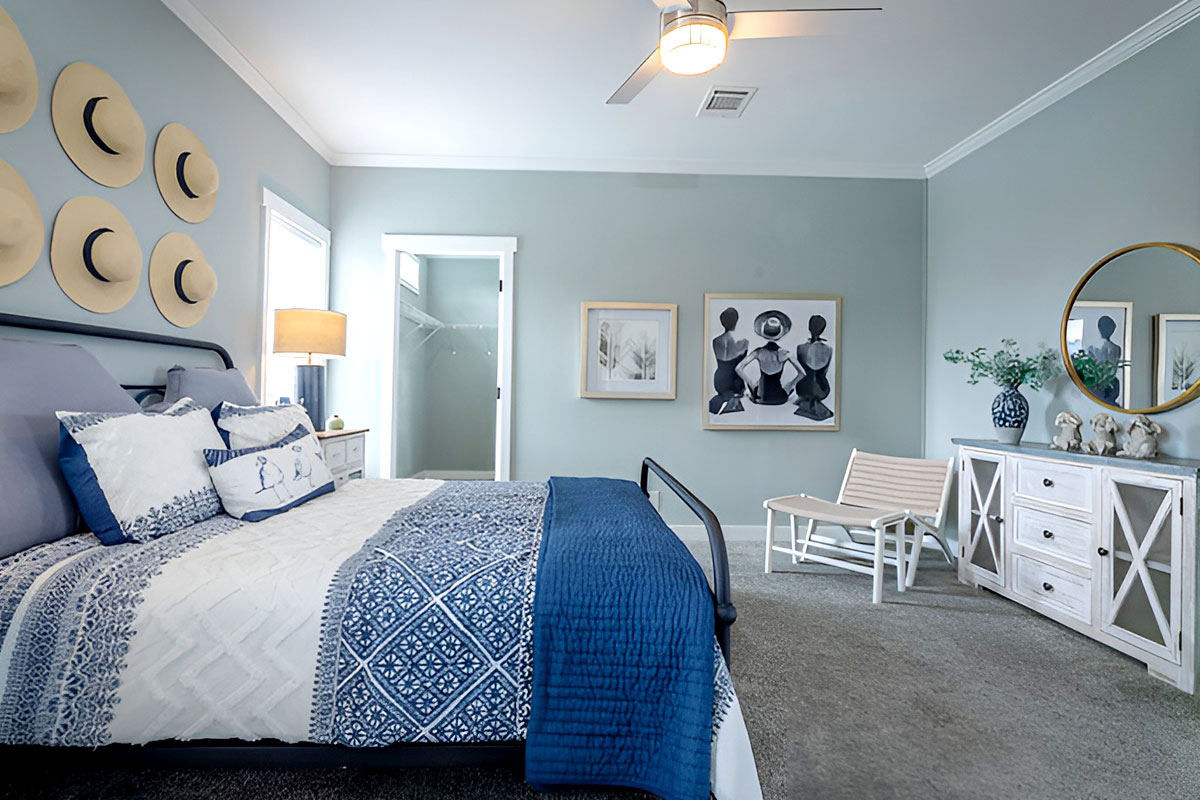 The additional bedrooms? Think 10 x 12 feet, give or take. Cozy and practical. Perfect for kids, guests, or even a home office. A twin or full-size bed fits comfortably, along with essential furnishings.
Windows? Oh yes. Let the morning light in or pull the curtains for a peaceful night's sleep. Wall colors and decor echo the personalities of those who inhabit these rooms.
The closet space is smartly designed for efficiency. There's a spot for everything from your favorite jeans to those shoes you love but hardly wear.
And the best part? You can personalize each room to reflect who you are or want to be. Whether you lean toward minimalism or embrace a more eclectic style, the bedrooms in a double-wide mobile home adapt to you.
Ultimately, it's not just about where you lay your head. It's about creating a space that feels like home. Whether it's a soft pillow, a treasured photo on the wall, or the way the sunlight streams through the window, these bedrooms invite you to rest, reflect, and recharge.
Bathrooms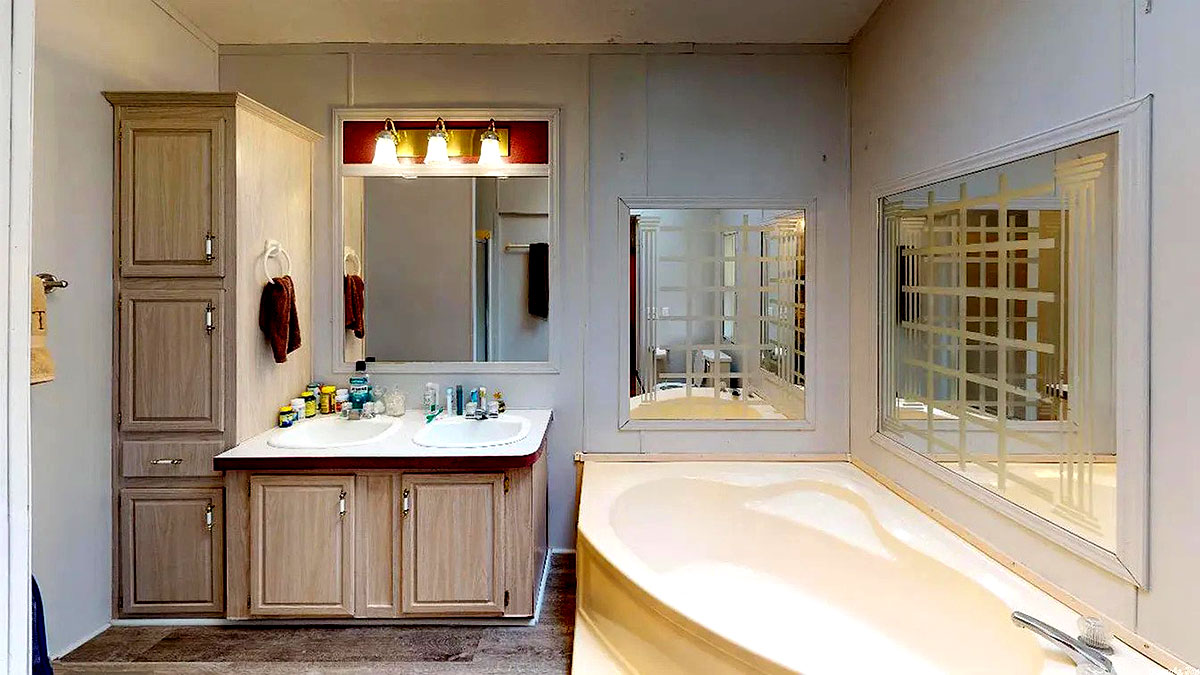 Now, let's talk bathrooms. In a double-wide mobile home, the bathrooms often surprise you with their style and functionality. Let's step inside and explore what makes them unique.
First up, the master bathroom: This space, typically around 8 x 10 feet, is an absolute delight. Expect a shower and bathtub combo or even a separate shower with a garden tub. That's right; even in a mobile home, you can soak your worries away. Add a vanity with a sink, and you have everything you need for rush-hour mornings and lazy Sunday pampering.
Then there's the guest or family bathroom, around 6 x 8 feet. It's compact but smartly laid out. You'll find a standard tub and shower combination, a sink, and a toilet. All the essentials are tucked into a space that's easy to navigate.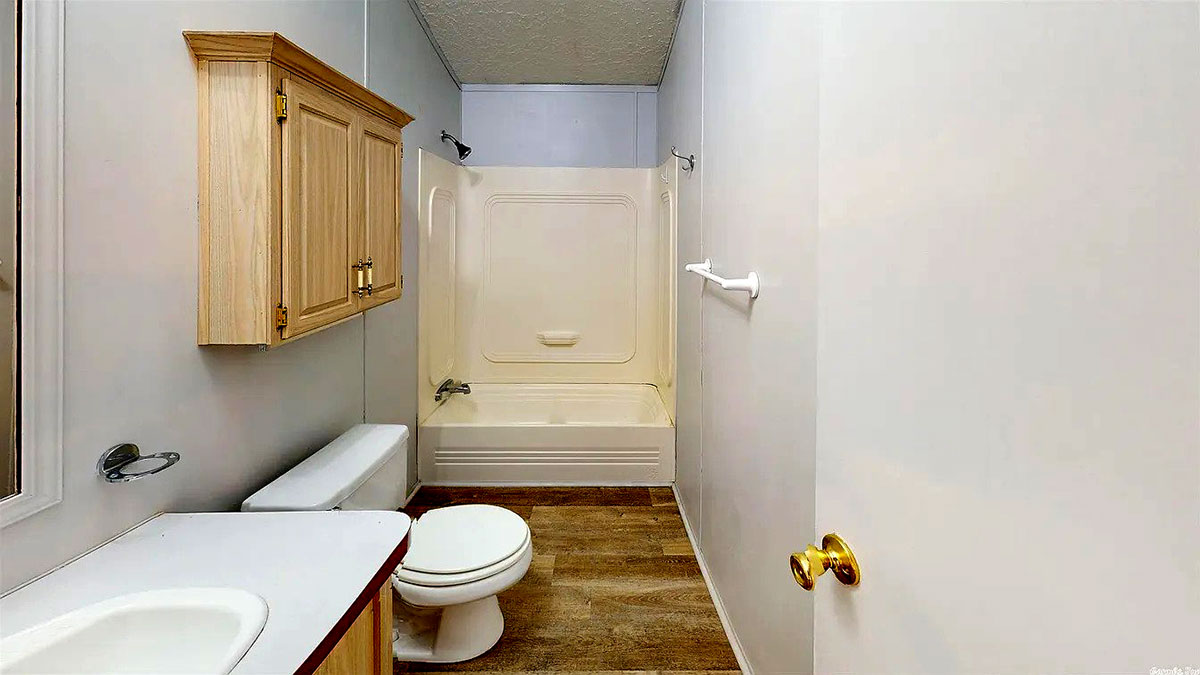 Want storage? You got it. There's room to stash towels, toiletries, and more, from under-the-sink cabinets to over-the-toilet shelves.
The finishes? They range from classic to modern. Think of gleaming faucets, elegant lighting, and maybe a touch of tile. It's all designed to make the space feel welcoming.
Moreover, the bathrooms in a double-wide mobile home are often easier to clean and maintain. The materials used are built to last, and the layout makes it a breeze to wipe down surfaces.
In sum, these bathrooms are all about efficiency and comfort. Whether rushing to get ready for work or indulging in a long, relaxing bath, the space meets your needs with style. Now that's something to smile about right in the mirror!
Laundry Room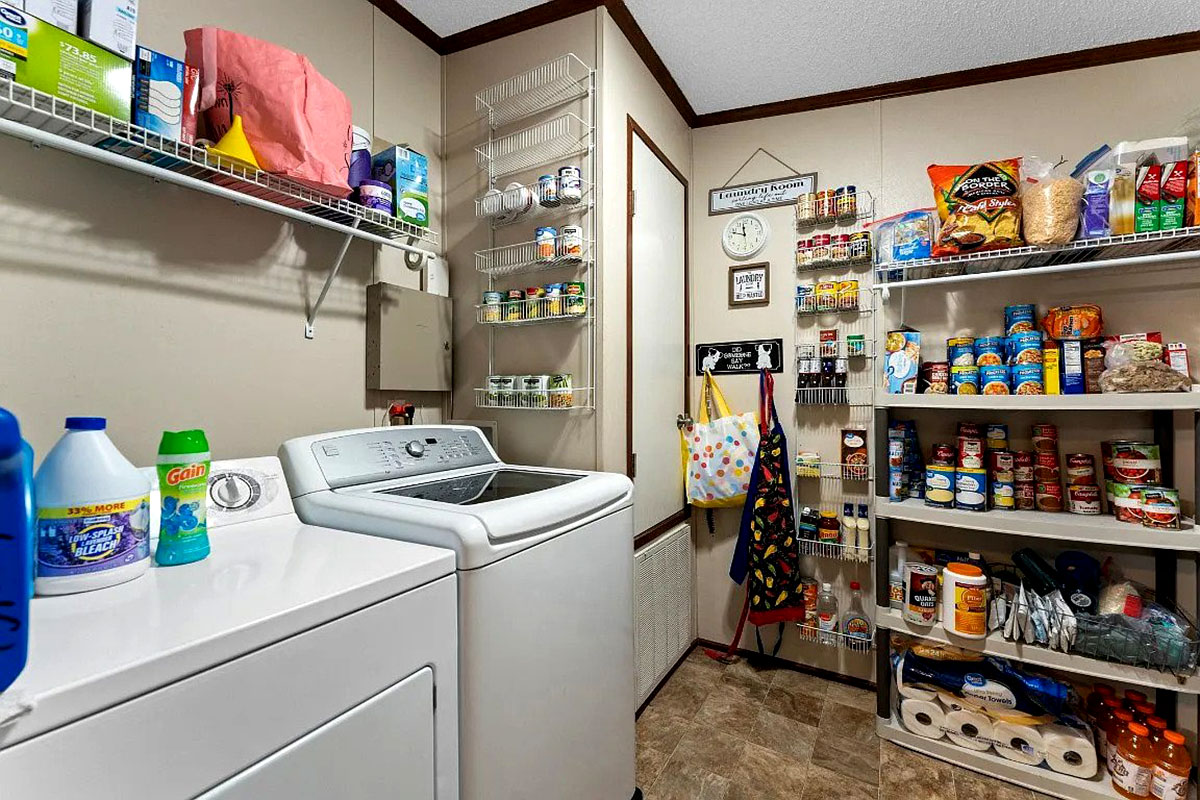 Let's head to the laundry room now, shall we? Now, here's a space that's all about convenience and efficiency.
You might be wondering about the size of a laundry room in a double-wide mobile home. Well, expect something in the ballpark of 5 x 8 feet. It's cozy, sure, but it's designed with you in mind.
First off, you've got the washer and dryer. They're side by side or stacked depending on the home's design. Either way, they fit like a glove. No cramping or squeezing here.
Above the washer and dryer? Shelving. That's where your detergent, fabric softener, and stain remover live. Everything's within reach, right where you need it when you need it.
A folding table? You bet. It's often built right in. Imagine pulling warm clothes from the dryer and having a spot to fold them immediately. No more draping them over chairs or beds. That's organization done right.
Now, don't forget about storage. There's a spot for everything, whether built-in cabinets or a standalone closet. Brooms, mops, ironing boards – there's a home for them all.
The flooring is usually something easy to clean, like vinyl or tile. Spills and splashes are no big deal. A quick mop or wipe, and you're back in business.
Lighting is key, too. You want to see what you're doing, right? Look for bright, energy-efficient fixtures that make every sock and button visible.
In the end, the laundry room in a double-wide mobile home is all about making a chore a little less tedious. It's laid out carefully, packed with thoughtful features, and ready to make washday a breeze. Isn't that something we can all appreciate?
Hallways and Corridors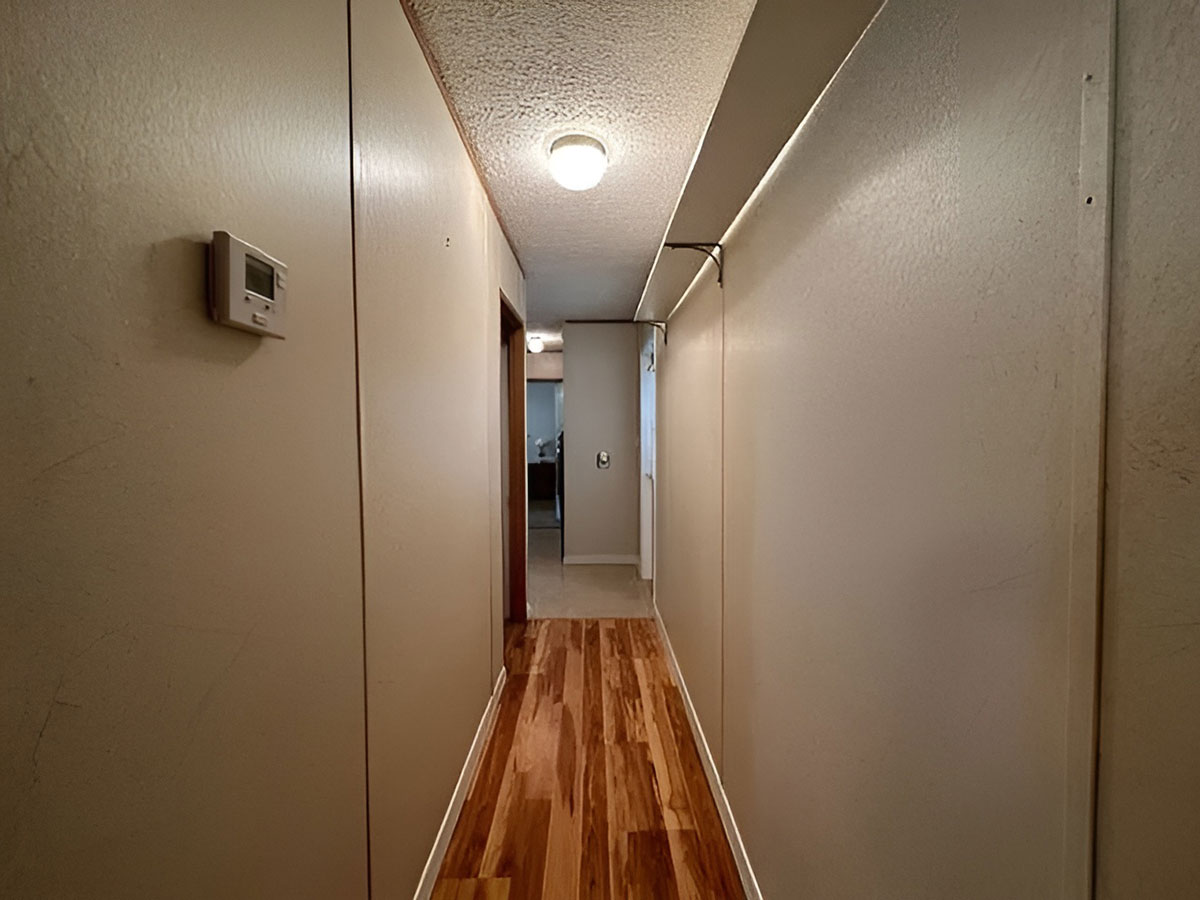 Ready to stroll down the hallways and corridors of a double-wide mobile home? It might not sound glamorous, but these spaces have a charm.
The first thing to note, hallways are typically about 3 feet wide in a double-wide. That's roomy enough to pass someone without a squeeze but snug enough to feel cozy.
Now, the flooring. You'll often find it's consistent with the rest of the home. Whether it's carpet, hardwood, or laminate, the design flows, creating a unified look.
Lighting matters in these spaces, too. You might find ceiling fixtures spaced evenly along the hall or even some sconce lighting on the walls. It's all about creating a warm, welcoming path.
What about decor? Sure, it's a hallway, but that doesn't mean it's ignored. You'll often see family photos or artwork lining the walls. Sometimes there's even a small table or shelf with decorative touches. It's all about personality.
Let's talk storage. You know those closets you stumble upon in the hall? They're not an accident. They're designed for linens, vacuums, or whatever you need to tuck away. Smart, right?
And don't forget the little details. The baseboards, the door trim, and the hardware on the doors. They might seem small, but they add up to create a polished look.
Lastly, consider the flow. Hallways in a double-wide mobile home are laid out with care. They connect rooms seamlessly without wasted space. It's an efficient design at its best.
So there you go, a glimpse into the hallways and corridors of a double-wide. They're more than just a passageway; they're a thoughtfully designed part of the home that balances function and style. The attention to these little things makes a house feel like home, don't you think?
Additional Features and Spaces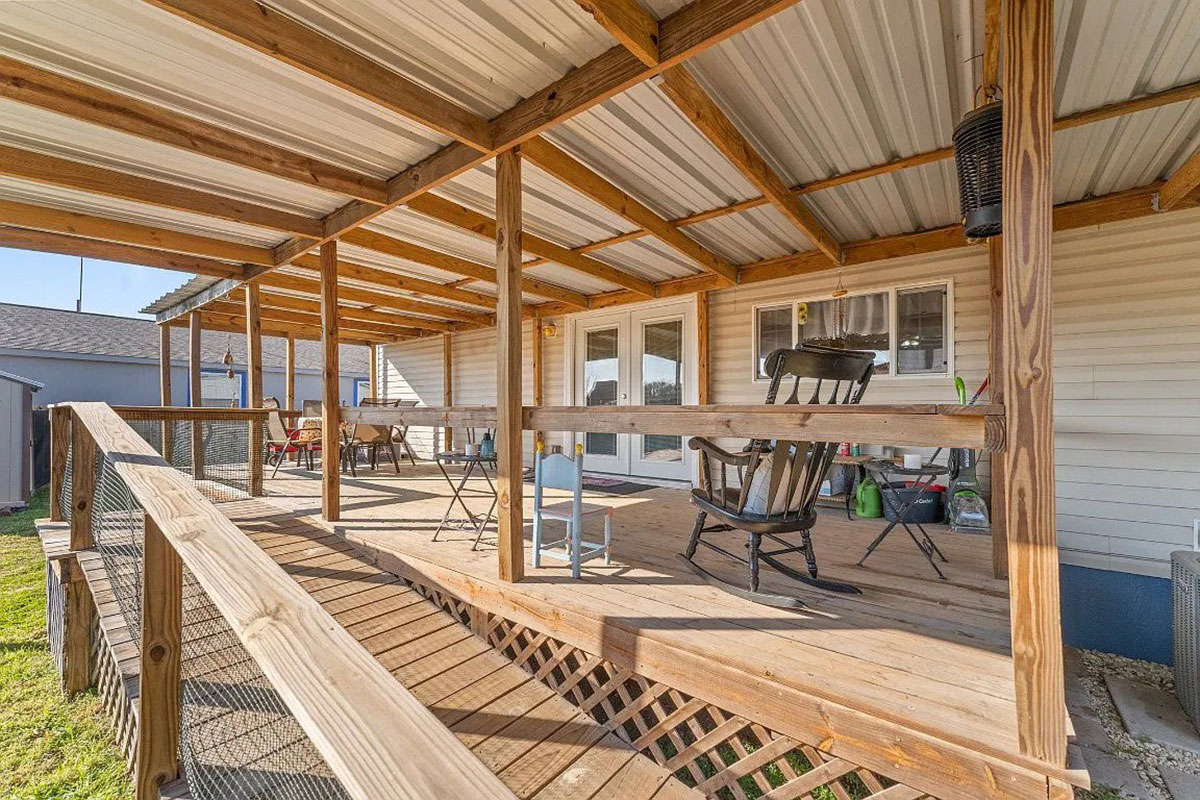 Additional features and spaces in a double-wide mobile home? You bet! We're talking about those extra touches that turn a house into your home. Let's dig into them.
1. Porch or Deck
Many double-wides have outdoor spaces. Imagine sipping your morning coffee on a cozy porch. Or grilling on a deck with friends. It's not just an add-on; it's a lifestyle enhancer.
2. Home Office
Are you working from home? A built-in office space could be your best friend. Some double-wides have them. Desks, shelves, and all. A little nook that's all business.
3. Fireplace
Yep, even in a double-wide. A fireplace adds warmth and character. It's like a hug for your home.
4. Storage Sheds
Need space for tools, bikes, or garden gear? A storage shed in the yard might be part of the deal. It's like a garage's little brother.
5. Mudroom
Have pets or kids? A mudroom could be a lifesaver. It's a spot to kick off dirty shoes and hang wet coats. Keeps the mess at bay.
6. Built-in Bookshelves
Built-in shelves can be a real treat for book lovers. Your collection is on display, adding charm to your home.
7. Skylights
Want more natural light? Skylights in the kitchen or bathroom could be an answer. They open up the space and bring in the sun.
8. Game or Family Room
Some double-wides offer a separate space for fun and relaxation. Room for a pool table? Why not!
9. Energy-Efficient Appliances
They save money and the planet. Some double-wides come equipped with them. Smart thinking.
10. Walk-in Closets
More room for clothes and accessories? Yes, please! Walk-in closets are a delightful addition to many master bedrooms.
See, a double-wide mobile home isn't just about basic living. It's about quality living with extras that cater to your needs and tastes. These additional features aren't just add-ons; they're part of what makes a house uniquely yours. They turn a space into a place where memories are made. That's the real beauty of a home.
Conclusion
Whether you call it a mobile home, trailer, or manufactured home, the inside of a 3 bedroom 2 bath double-wide has much to offer, from cozy living rooms to efficient laundry areas, luxurious baths, and chic bedrooms. Throw in some extra features, and you've got a home that's uniquely tailored to you. Practical, comfortable, and yes, stylish too. That's the modern double-wide. Don't just imagine living here. Come on in. Make it yours!
Image credit: Palmharbor