8 Mobile Home Wrap Around Porch Ideas
Dressed up and wrapped around, your mobile home could sport a charming accessory that elevates its style and extends your living space. Yes, we're talking about the good old wrap-around porch. Don't let the word "porch" trick you into picturing a confined front entrance. Imagine it larger, grander, and well… wrapped around your house! These functional and aesthetically pleasing expansive structures are the ideal spots for your morning coffee ritual, sunset-watching perch, or spontaneous neighborhood gatherings. Ready to give your mobile home a face-lift? Let's go!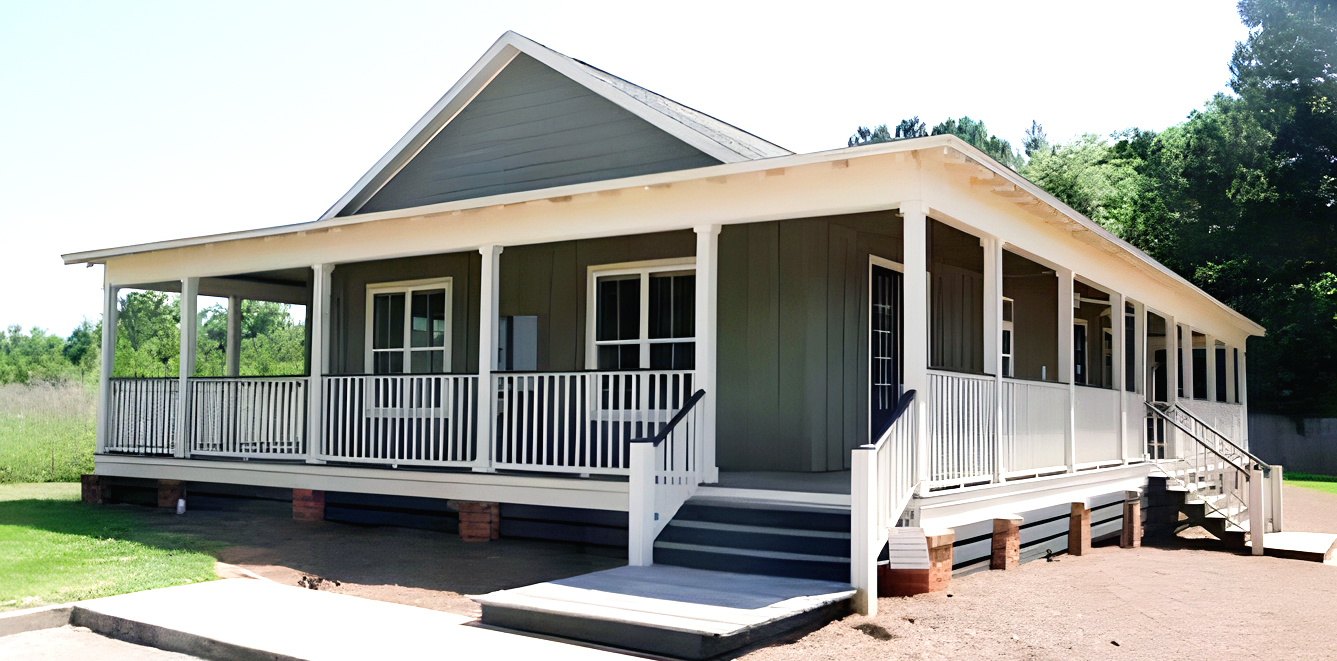 What is a Wrap Around Porch?
A wrap-around porch is a type of porch that extends around one or more sides of your mobile home. It offers expansive outdoor living space and can significantly enhance your mobile home's curb appeal and overall aesthetic.
The "wrap-around" aspect means that instead of just being in front or at the back, the porch 'wraps around' a portion or all of the mobile home's exterior. This versatile design provides multiple vantage points, whether you're looking out onto your garden or wanting to catch the morning or evening sun.
Mobile Home Wrap Around Porch Ideas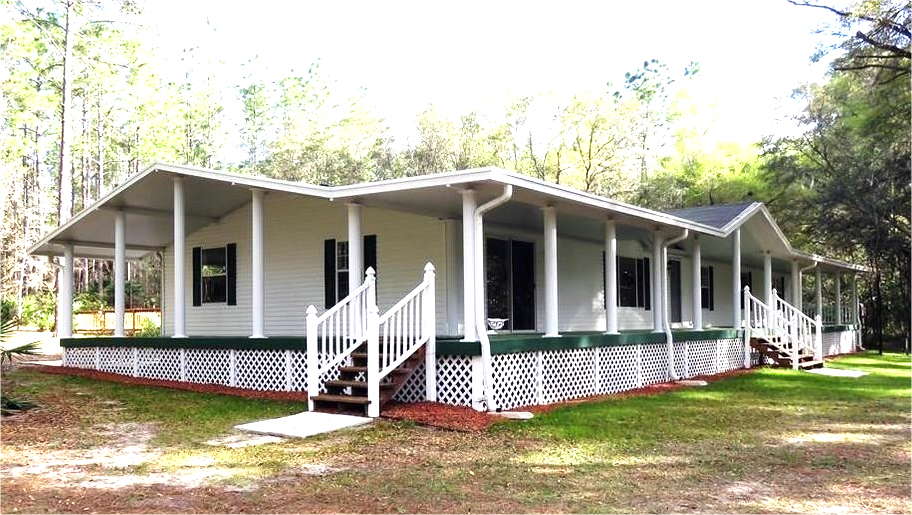 Below we'll tour around eight stunning design ideas to help you create a porch you'll be proud of. Each one with its unique charm, ready to transform your humble abode into a picture-perfect retreat.
1. Farmhouse Style Wrap Around Porch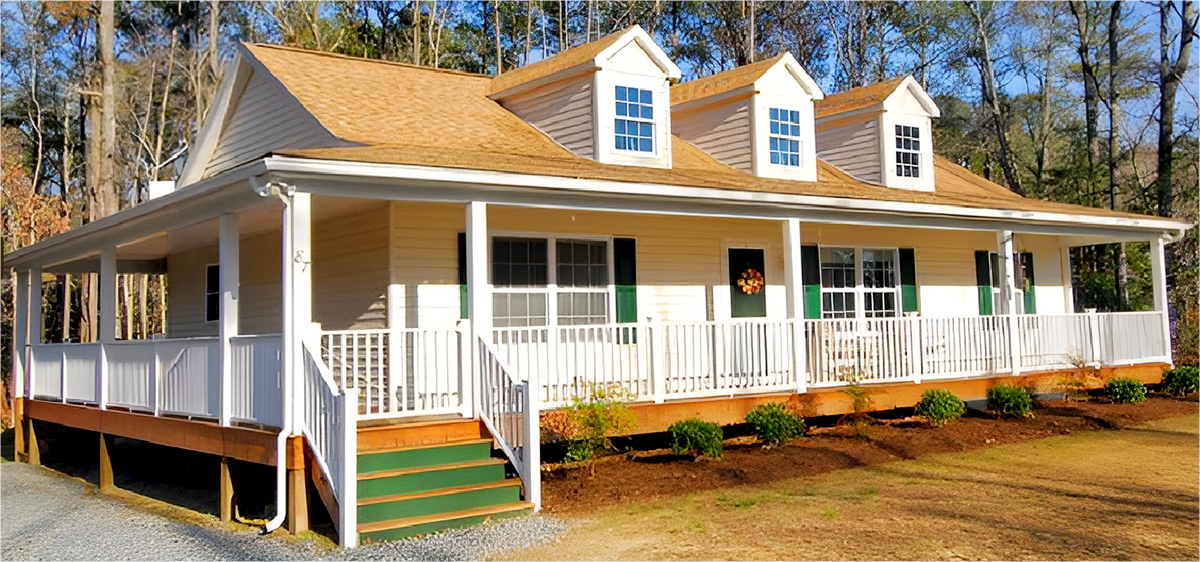 Let's dive into our first stop: the Farmhouse Style Wrap-around Porch. Picture the sun rising over a field, casting long shadows over a quaint country landscape. That's the feeling we aim for with the Farmhouse Style—a perfect blend of rustic charm and homely comfort.
Start with the foundation: the deck. Go for weathered wood here. It has character, depth, and above all, it screams 'farmhouse.' Remember, this porch isn't just for looks. It's a living, breathing part of your home, so make sure the decking is durable and weather-resistant.
Next up, let's talk railings. Wooden balustrades are a must. The more they look like they were hand-carved by a country carpenter, the better. Picture fences on farmland – that's your benchmark for authenticity.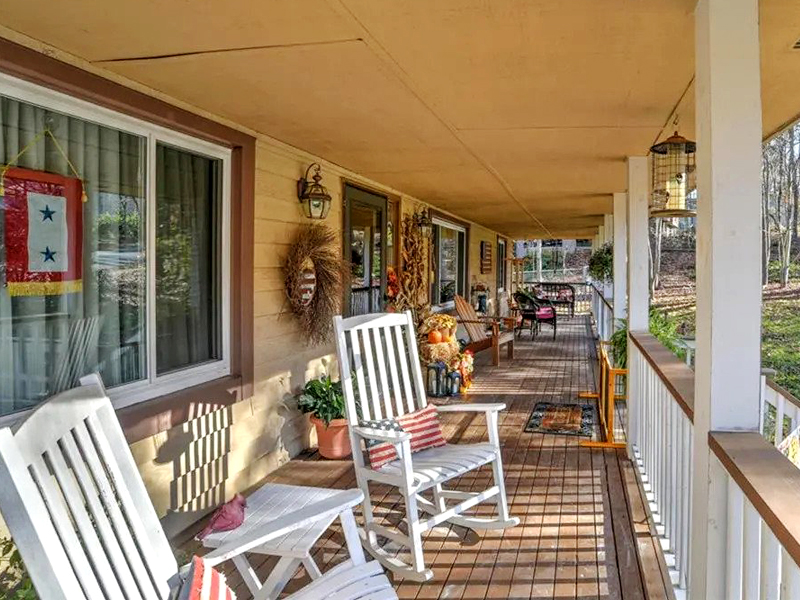 But what's a porch without a place to sit and watch the world go by? Here's where you can drive home the farmhouse feel. Picture a couple of classic rocking chairs, a porch swing, maybe. Imagine sitting there with lemonade in hand, just in peace. Sounds like a dream, right?
And don't forget the finishes. We're talking about potted plants, a welcoming doormat, and maybe a few lantern-style lights. These details will give your porch that extra cozy touch. And, of course, make it feel like a farmhouse – your little country haven.
2. Colonial Elegance Wrap Around Porch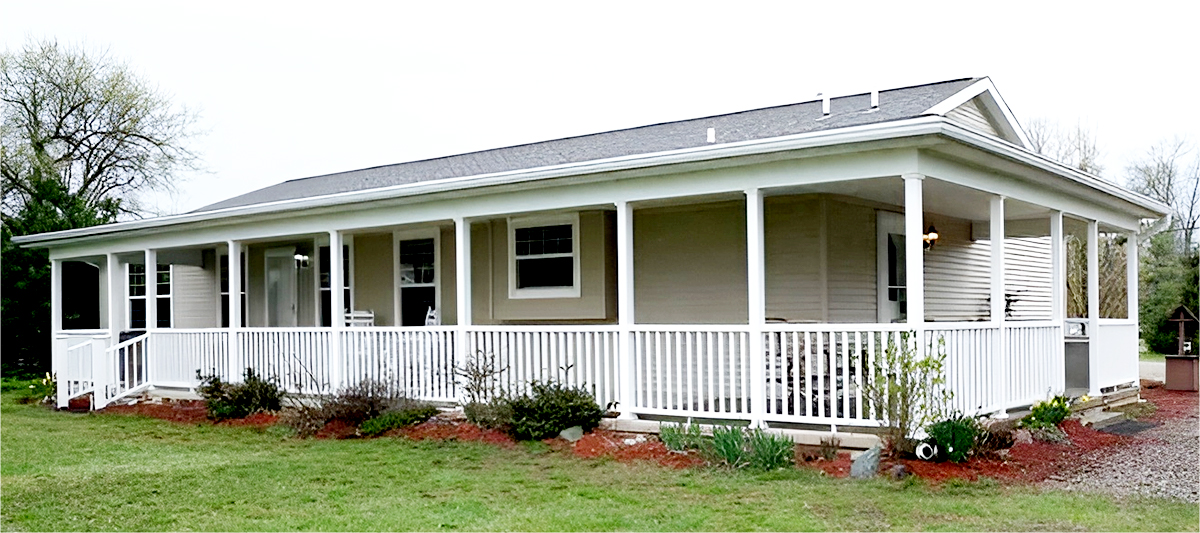 Moving on, let's get to our next design destination – the Colonial Elegance Wrap-around Porch. As we stroll into this space, think of grand estates and gracious living with a dash of historical charm. This style brings tradition and sophistication to your mobile home, and here's how you can achieve it.
First things first, the color palette. We're going to keep it crisp, clean, and classic. Think white, like railings, fences, or even a white porch swing. It's the ultimate colonial calling card, not just about the color. It's also about the feel. When you touch the railings, they should exude a sense of quality and permanence.
When it comes to furniture, think of understated elegance. A pair of stylish chairs, a small table for those outdoor breakfasts, perhaps a porch swing for those relaxing afternoons. Keep it comfortable, but remember, this is about refined living. Your furniture should reflect that.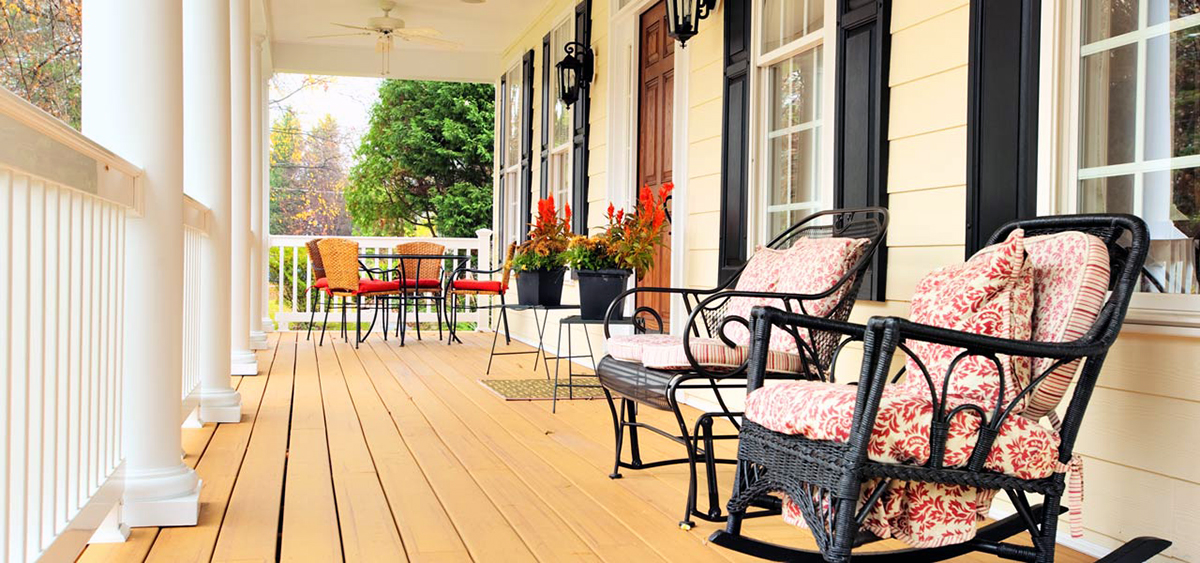 Now, let's talk accents. Colonial style is all about the details. Large flower pots brimming with lush greens and vibrant blooms should line the edge of your porch. Consider adding a few lantern-style lights for an inviting, warm glow as the evening rolls in.
Remember, the aim is to strike a balance between elegance and warmth. It isn't a museum, it's a home, and your porch should feel welcoming to everyone who steps onto it. When done right, a Colonial Elegance Wrap-around Porch will have timeless beauty, a testament to a bygone era on your mobile home.
3. Modern Minimalist Wrap Around Porch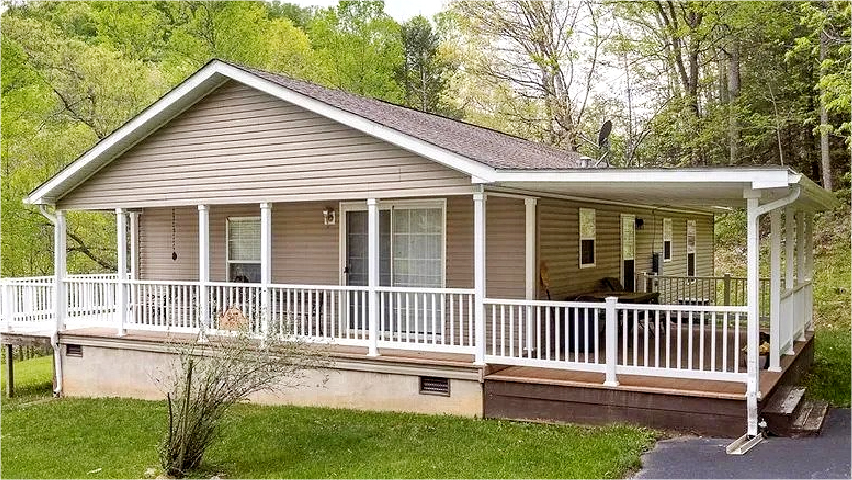 Let's switch gears and hop into our third design: the Modern Minimalist Wrap-around Porch. This one's for all the fans of clean lines, uncluttered spaces, and a 'less is more' philosophy.
Kick off this design with the deck. Here, it's about keeping things sleek and simple. Opt for a durable material that oozes sophistication. Think concrete or maybe even a smooth, pale wood. It's all about creating that blank canvas.
Next up, the railings. It is your chance to be bold and contemporary. How about glass? It'll give your porch an open, airy feel, letting you soak in those panoramic views. And if glass isn't your thing, slim, metal railings can work just as well. The key is to keep the design unobtrusive, ensuring the focus remains on the surroundings, not the porch itself.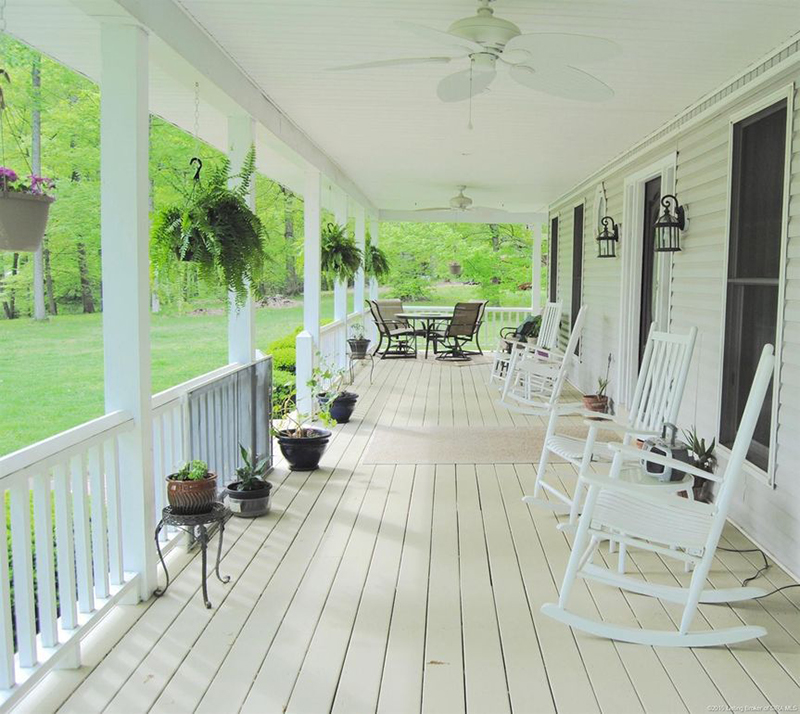 As for furniture, let's go minimalist. Choose pieces that are simple yet stylish. Something that gives you comfort without the bulk. Picture a few streamlined chairs, a sleek table, and perhaps a hammock. Yes, you heard right. A minimalist hammock can provide that perfect spot for a laid-back lounge on a lazy afternoon.
Now, let's talk about decor. In a minimalist setup, each piece should serve a purpose. So, be picky. You can add a couple of potted plants for a touch of green, a few lanterns for a soft glow, and perhaps a statement art piece for a pop of color. Remember, less is more.
4. Cottage Coziness Wrap Around Porch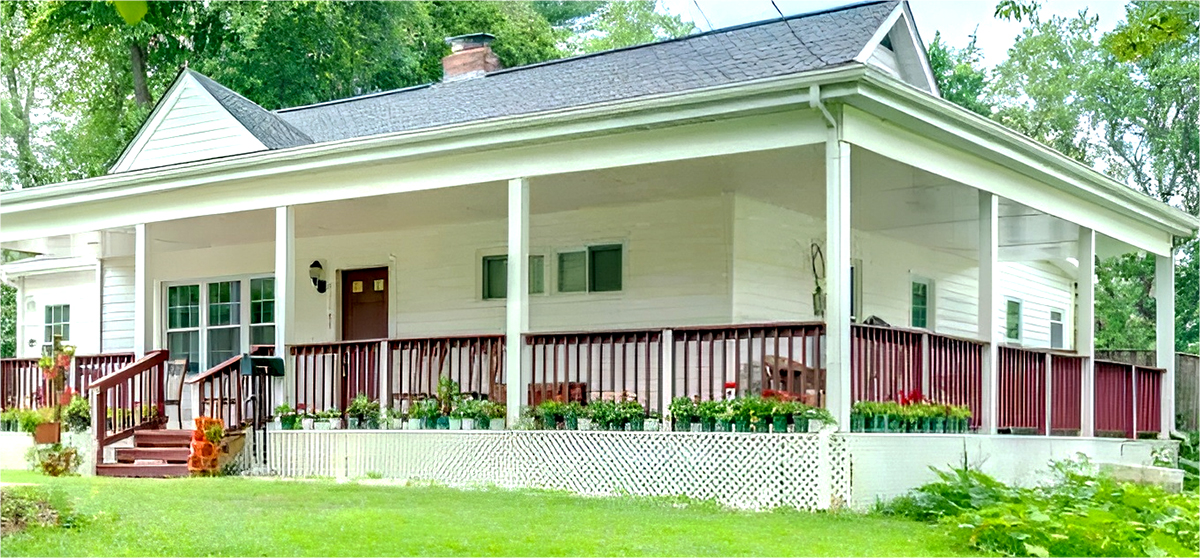 Now, let's leave behind the sharp, sleek lines of modern minimalism and step into the enchanting world of the Cottage Coziness Wrap-around Porch. This style is about creating a snug, welcoming space perfect for lazy afternoons and memorable chats with loved ones.
First off, the railings. We want something that says "quaint cottage," so wood is the way to go. Consider a low railing design that says, "Come on in, make yourself at home." You want guests to feel like they're stepping into a warm embrace when they set foot on your porch.
Next, let's think about color. Soft, neutral tones are perfect for this design. Whites, creams, and pastels will add to the light, airy feel. A beadboard ceiling painted soft white or cream will contribute to the cozy cottage look we aim for.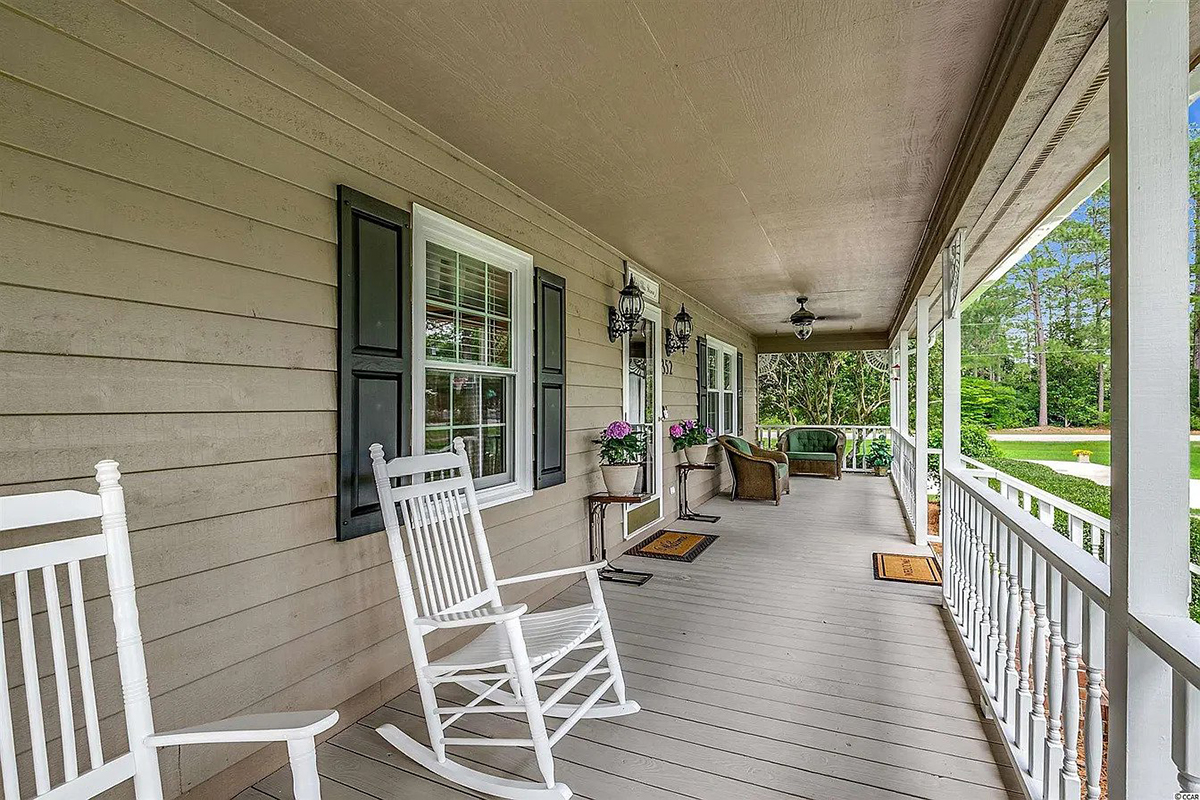 Now, let's talk furniture. Comfy porch furniture is the heart of a cottage-style porch. Such as a swing or a bench, a couple of cozy chairs, and maybe a small table for tea or coffee. Picture yourself with a good book, nestled in a comfortable chair, the world passing by.
As for the details, let's sprinkle in a bit of magic. Hanging planters filled with colorful blooms can add a wonderful touch. An outdoor rug will create a homely feel underfoot. And when the sun goes down, a scattering of soft, warm lights will keep your porch glowing.
5. Rustic Retreat Wrap Around Porch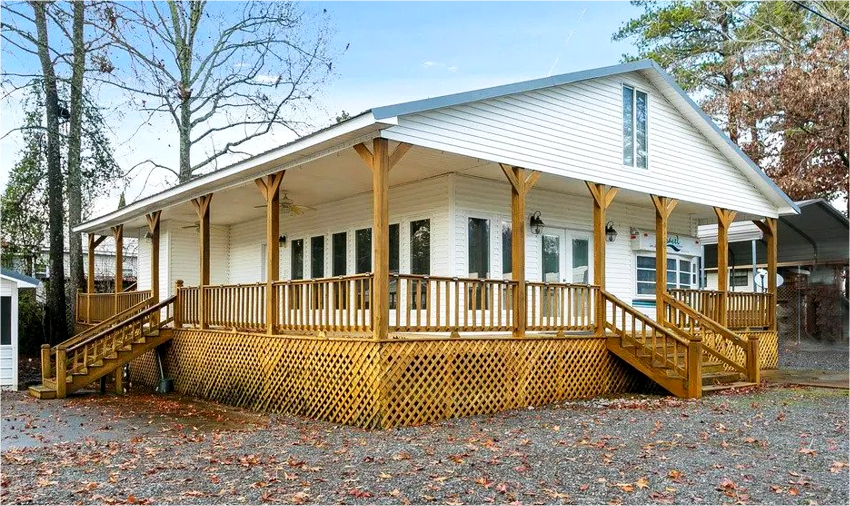 Let's venture away from the cozy cottages and immerse ourselves in nature with our next Rustic Retreat Wrap-around Porch design. This one is for the folks who love the great outdoors, appreciate natural materials' raw beauty, and enjoy the feel of a cabin in the woods.
Wood is the centerpiece of any rustic retreat, and your porch is no exception. Use natural, untreated wood for the decking and railings, letting the unique grain and texture shine. Think logs or wide, rugged planks that seem as if they were just hewn from the forest around you.
Now, let's add some furniture to this rustic haven. Again, we're looking for natural materials and a rugged feel. Adirondack chairs, a log bench, or a wooden swing – the type of seating that invites long, leisurely chats under the stars.
As for the decor, let's stick to our rustic theme. Maybe add a couple of old whiskey barrels to serve as side tables or plant holders. A braided rug could provide a comfy touch underfoot. And for the evenings, how about a fire pit for those s'mores sessions and cozy gatherings?
6. Nautical Theme Wrap Around Porch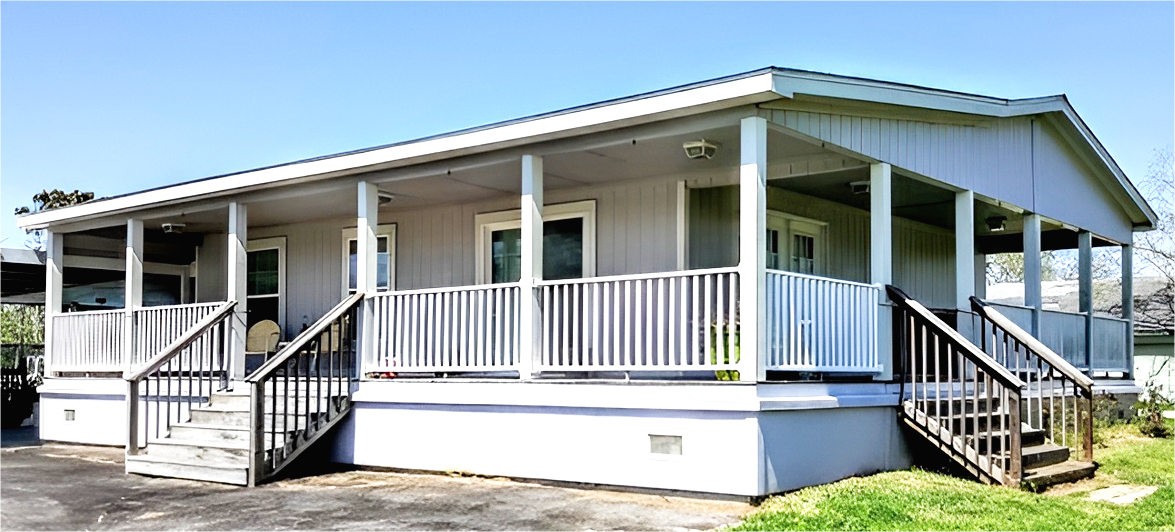 Now, let's sail away from the rustic woods and ride the waves to our next design, the Nautical Theme Wrap-around Porch. Imagine the smell of the sea, the feel of the salty air, and the sound of seagulls in the distance. This porch design brings the charm of the seaside right to your doorstep.
Start with a palette of cool blues, crisp whites, and sandy neutrals. These colors reflect the seaside and create a serene, peaceful atmosphere. Your railings and deck could be a combination of white and natural wood, reflecting the colors of a dock or a sailing ship.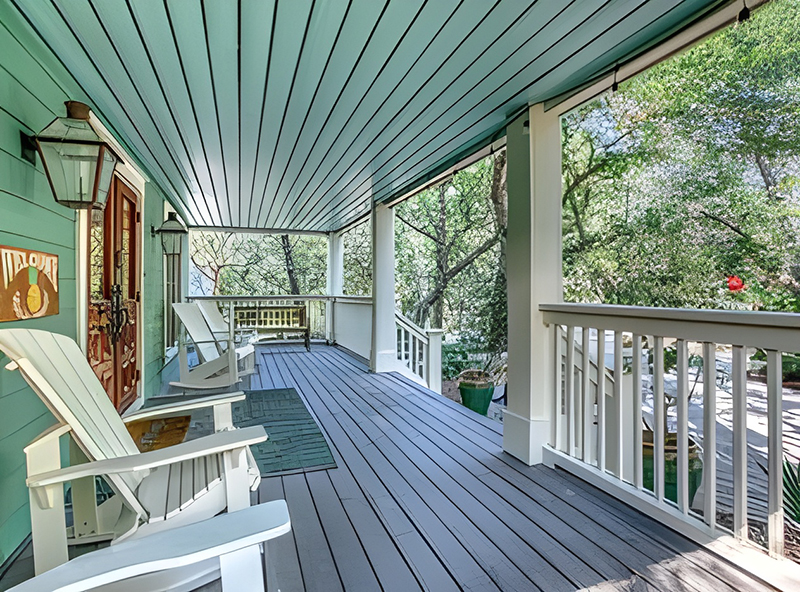 When it comes to furniture, think marine chic. Wicker or rattan chairs paired with striped cushions can create a cozy spot to enjoy your morning coffee or evening book. Don't forget the hammock, a symbol of relaxation and seaside living.
The decor is where your nautical theme truly comes to life. Consider marine-themed accents like lanterns, ropes, and even ship wheels. And don't forget the greenery – large ferns or grasses in pots can evoke the feel of coastal dunes.
7. Tropical Paradise Wrap Around Porch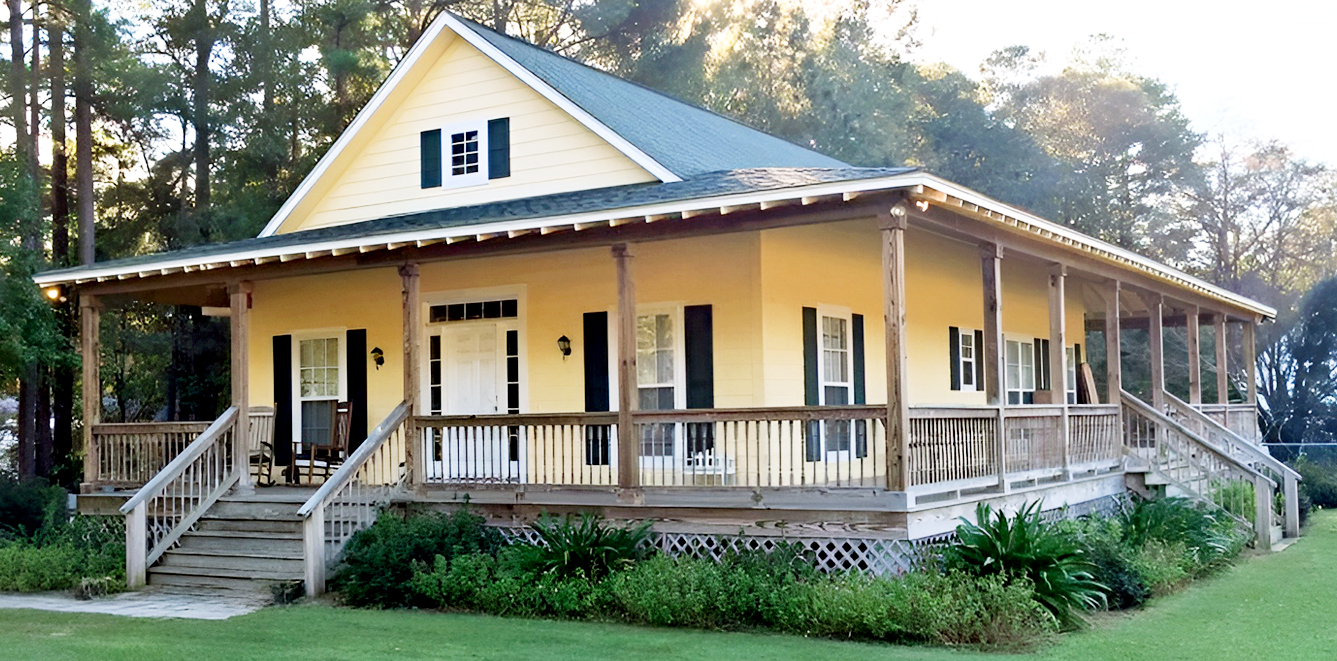 Let's move away from the cool seaside vibe and enter a lush, warm escape with our next design, the Tropical Paradise Wrap-around Porch. This design whisks you to a beachfront getaway, where the sun always shines, and the palm trees sway in the breeze.
Start by embracing bold, vibrant colors. Think teals, corals, and yellows. These colors reflect the vivacity of tropical climates and can make your porch feel like a permanent vacation spot. Consider these colors for your outdoor furniture cushions, rugs, or painted accents.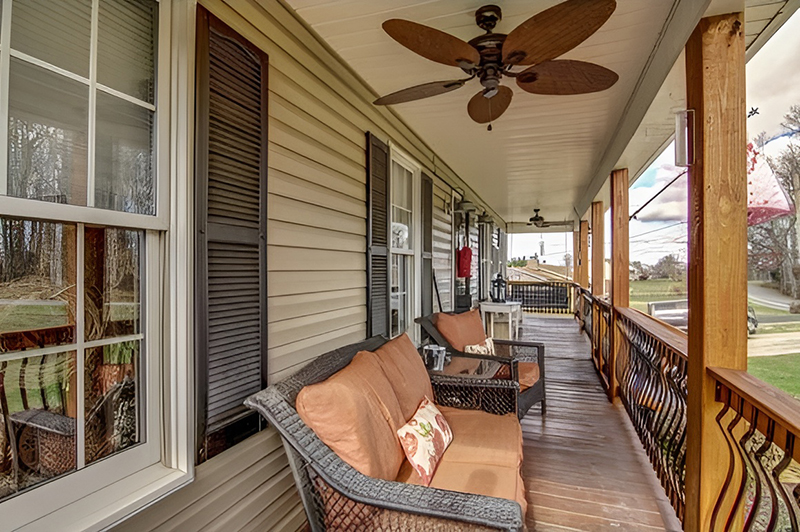 Speaking of furniture, go for materials that evoke the tropics. Bamboo, rattan, or teak are perfect choices. Imagine lounging on a daybed, a cocktail in hand, or sharing stories on comfortable, cushioned chairs.
For your railings and deck, choose a wood that withstands the elements and adds a touch of elegance. Teak is a great option, with its rich, warm tones and durable properties.
When it comes to decor, think lush and leafy. Large, exotic plants in colorful pots can make your porch feel like a rainforest retreat. And let's not forget the lighting. String up some tropical-inspired lanterns or fairy lights to create a magical ambiance for those warm, tropical nights.
8. Desert Chic Wrap Around Porch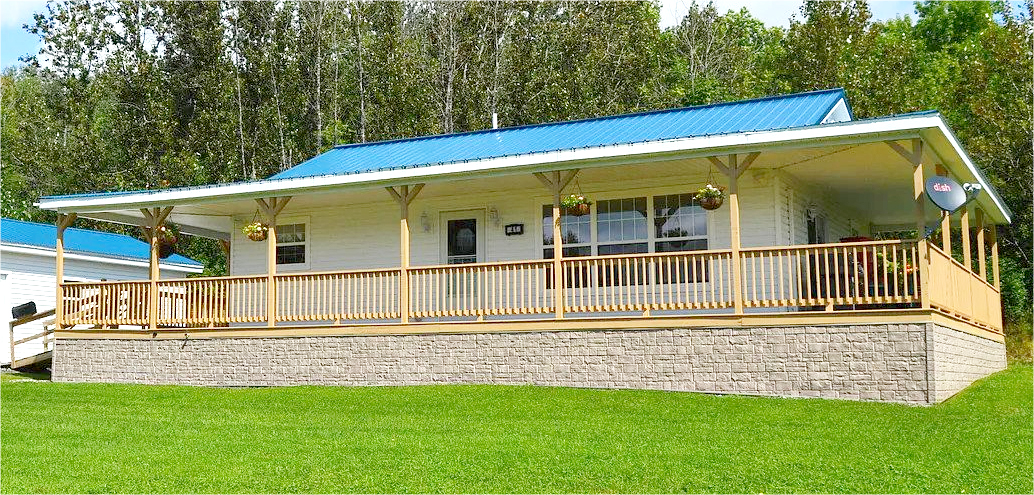 Finally, we're leaving behind the lush tropics and heading for a more subdued yet equally captivating landscape. Welcome to the Desert Chic Wrap-around Porch. Think warm hues, sun-soaked days, and cool, starlit nights. It is for those who appreciate the simple beauty of desert landscapes.
For the color scheme, you'll want to lean towards earthy tones. Soft beiges, terracotta reds, and muted oranges reflect the colors of the desert and give your porch a warm, welcoming feel. You can incorporate these into your deck, railings, and outdoor furniture cushions.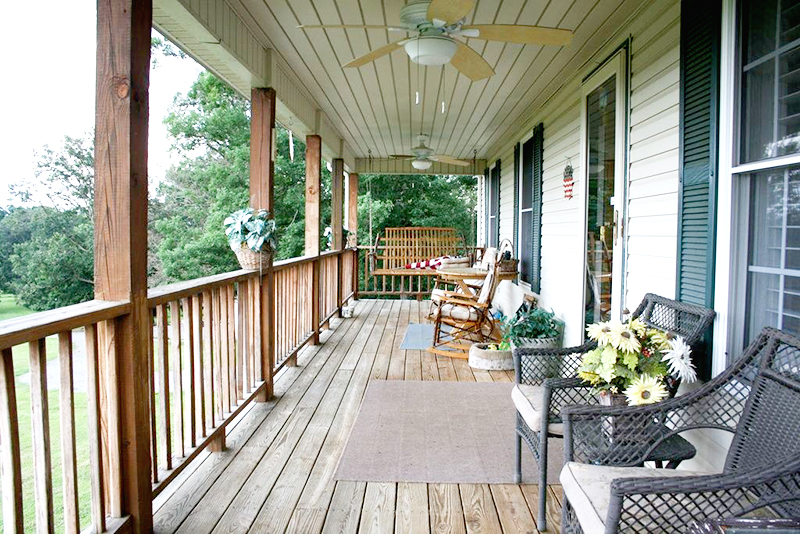 Speaking of furniture, opt for pieces that are rustic yet comfortable. Think wooden or metal pieces with clean lines and durable fabrics. Picture a couple of Adirondack chairs, a rustic table, and maybe a hanging hammock for those lazy afternoon naps.
As for the decor, it's all about embracing the natural beauty of the desert. Potted succulents and cacti can add a touch of greenery without feeling out of place. A few geometric patterned throw pillows or rugs can add some visual interest. And for lighting, consider lanterns or string lights that cast a warm, soft glow, similar to a desert sunset.
How to Build a Mobile Home Wrap Around Porch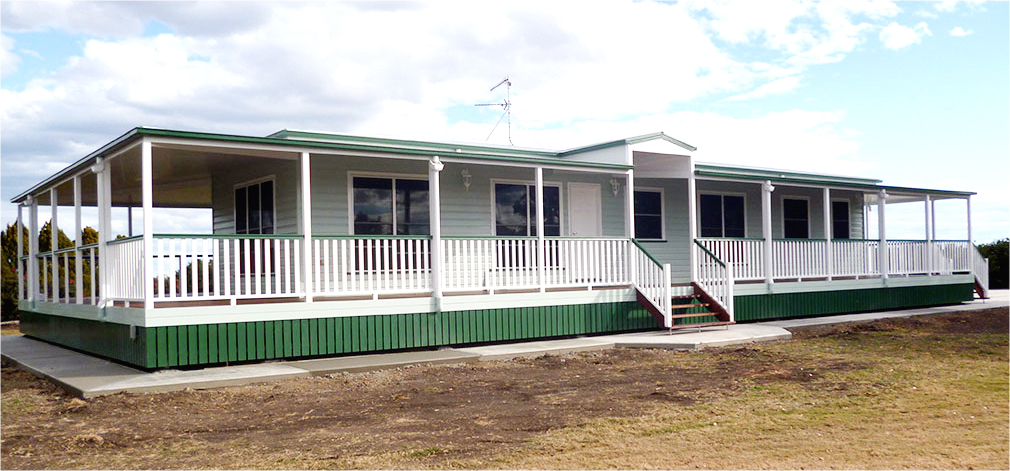 Now, let's dive into the exciting part – turning your mobile home wrap-around porch dreams into reality. Here is a general step-by-step to build a wrap-around porch:
Step 1: Planning and Designing
You know what they say, right? The best-laid plans… well, they prevent a load of headaches later on. Take a good look at your mobile home and the surrounding space. Measure it out, sketch a rough layout, and pick the style that sings to your heart. Farmhouse, tropical, desert chic? You choose.
Step 2: Building the Foundation
It is where we get down and dirty. Your wrap-around porch needs a solid foundation. Depending on your chosen design, it could be concrete piers or a full concrete slab. Keep it level and firm, folks.
Step 3: Building the Frame
With your foundation ready, it's time to build the deck frame. This skeleton of your porch will set the stage for everything else. So make sure it's sturdy. Use good quality lumber, and don't forget to weatherproof it.
Step 4: Laying the Deck
Once your frame is ready, start attaching your deck boards. Depending on your style and maintenance preference, these can be wood or composite. Keep it neat, keep it even.
Step 5: Adding Railings
No porch is complete without railings. It is where your chosen style really comes into play. You can select white picket for a farmhouse feel, glass for a modern vibe, or nautical ropes for that beachy look. Safety and style rolled into one.
Step 6: Choosing the Roof
Your porch can have a whole roof or pergola, depending on your preferences. It can provide shade and protection from the elements. Pick a style that complements your mobile home and your porch design.
Step 7: Styling and Furniture
Now for the fun part! Bring in the furniture that fits your chosen theme—rattan for tropical, minimalist chairs for modern, and a swing bench for that cozy cottage feel. And don't forget those touches of decor!
Step 8: Adding Lights
The sun's set, but the fun's not over. Add string lights, lanterns, or even install some outdoor sconces. Let your porch glow with warmth and welcome.
FAQs
Do I need a permit to build a wrap-around porch for my mobile home?
It varies depending on your location and the regulations there. Before you start construction, it's always best to check with your local zoning board or building department. It ensures you're meeting all necessary requirements and regulations.
Can all mobile homes support a wrap-around porch?
In most cases, yes. However, it's important to note that the porch is usually freestanding and not actually attached to the mobile home. It is due to how mobile homes and porches shift and settle over time.
What materials are best for a mobile home wrap-around porch?
It depends on your desired aesthetic, climate, and maintenance preference. Treated lumber is commonly used due to its durability and affordability. Composite decking is another great option that requires less maintenance but tends to be pricier.
Can I build a wrap-around porch myself, or should I hire a professional?
It depends on your level of comfort with DIY projects and the complexity of the design. While building a porch yourself is possible, hiring a professional can ensure it's done safely and correctly, especially if your design is complex.
How much does building a wrap-around porch on a mobile home cost?
The cost can vary greatly depending on the size of the porch, the materials used, whether you're DIYing or hiring professionals, and other factors. A ballpark range might be anywhere from a few thousand dollars to over ten thousand. Planning your budget and getting estimates before starting the project is best.
Conclusion
These wrap-around porch designs can bring magic to your mobile home. Whether you like the elegant colonial style or prefer the minimalist modern approach, a wrap-around porch is waiting to transform your mobile home. Thank you for reading!