A Beautiful Single Wide Mobile Home Log Cabin Style
Imagine a cozy escape tucked away in the serenity of nature but with all the modern comforts of home. That's the charm of a single-wide mobile home with a log cabin style. We're talking about 408 square feet of rustic elegance thoughtfully designed to make the most of every inch. From wood siding to beamed ceilings, this space whispers warmth and simplicity. Ready to explore? Let's dive into this delightful dwelling, where the warmth of wood meets the efficiency of design.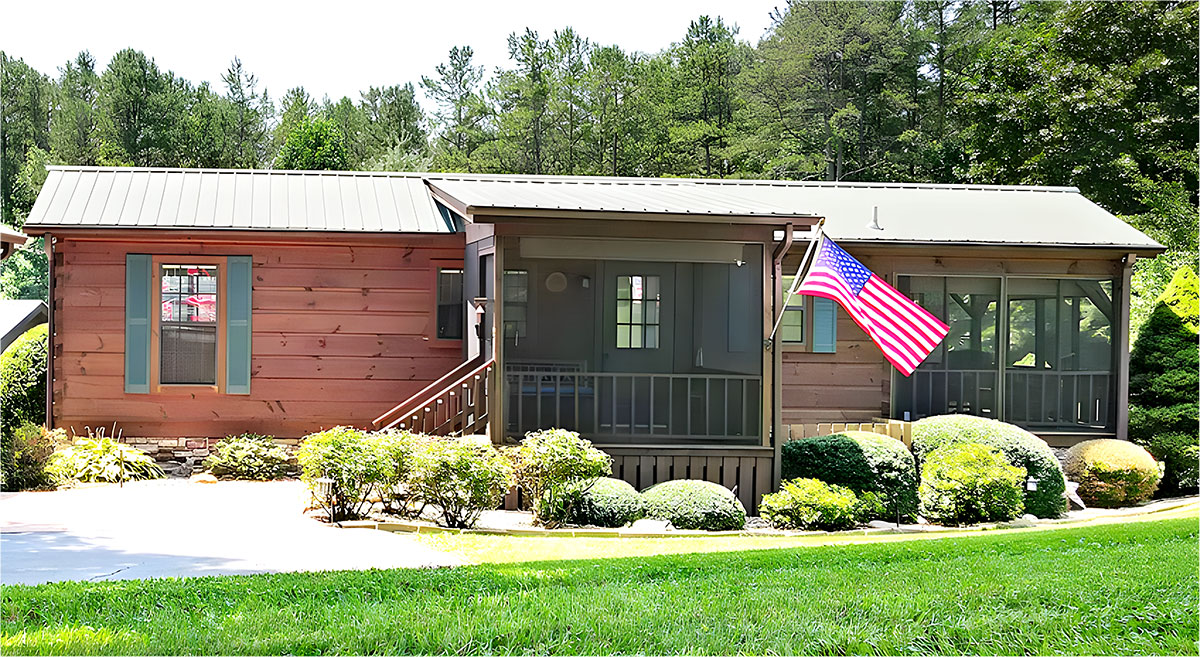 Exterior
Stepping up into this single-wide mobile home, you're greeted by the welcoming embrace of wood siding. The rich, natural texture feels like it's reaching out to give you a hearty hello.
Look up, and there's the metal roof. It's not just about protection; it's about character. The sparkle and sturdiness speak of shelter and style, a winning combo.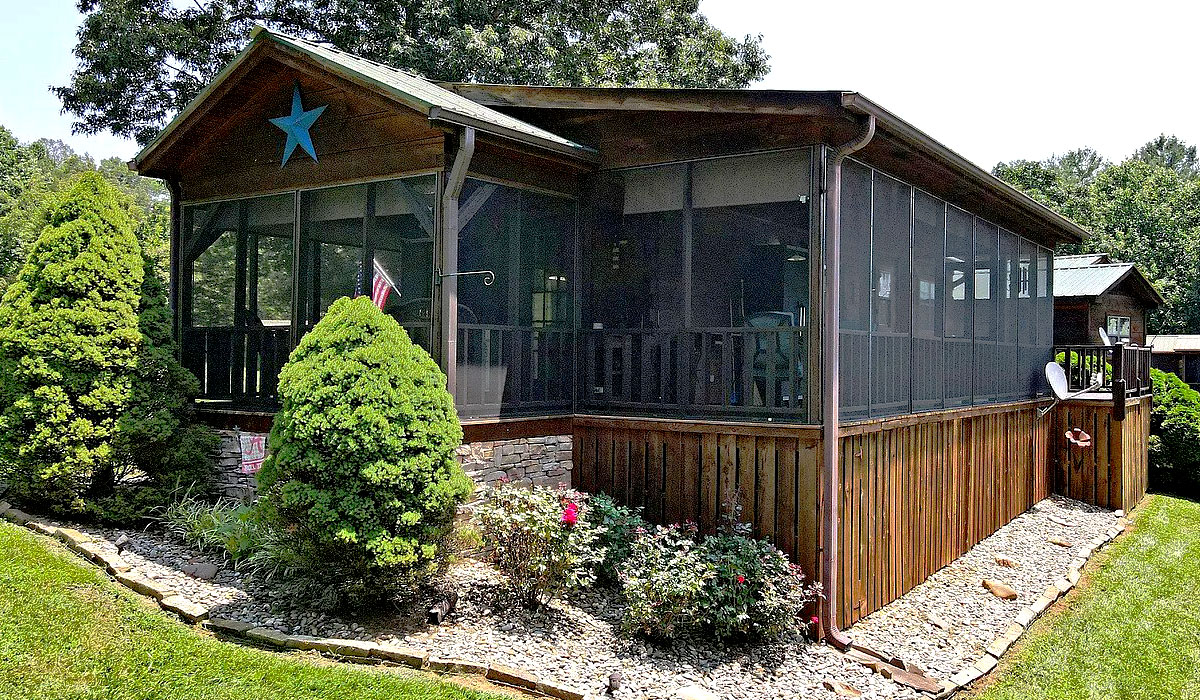 Now, picture yourself on the screened porch. A soft breeze, the rustle of leaves, and maybe a gentle rain tap dancing on the metal. It's outdoor living without the bugs. Comfortable chairs, a small table for your morning coffee, and you've got a perfect spot to start or end your day.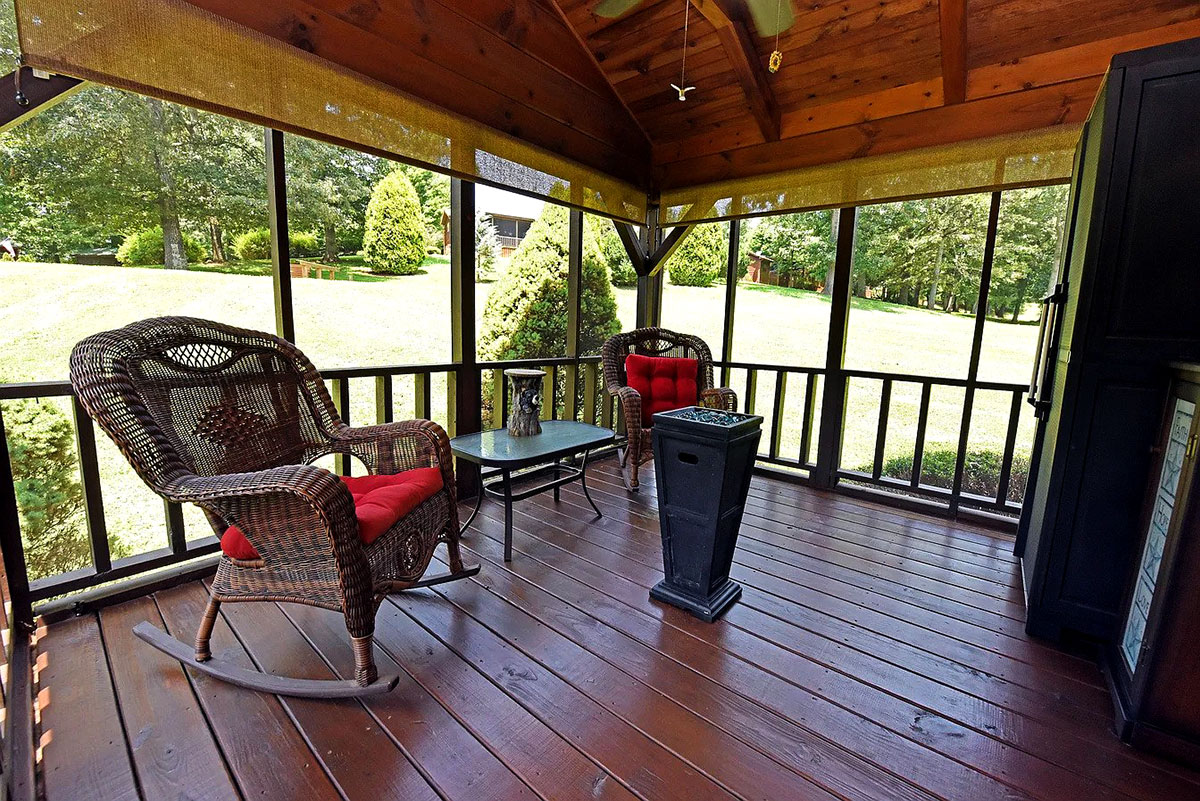 That exterior is more than just walls and a roof; it's a first impression, a hug from the house. And this one tells you immediately that you're in for something unique. It's rustic charm without the fuss, inviting you to come in and make yourself at home. How can you resist?
Interior
Swing open the front door, and wow! The wood, the wood, and more wood. You can't escape it, and why would you want to? It's like a cozy log cabin hug.
The ceiling isn't just a ceiling; it's a statement. Wood panels draw the eyes up, creating an illusion of space. There's a sense of loftiness, even in a compact 408 sqft.
Now, let's talk about the floors. Wood again, but not too matchy-matchy with the ceiling. This floor tells a story; each plank has its texture, color, and soul.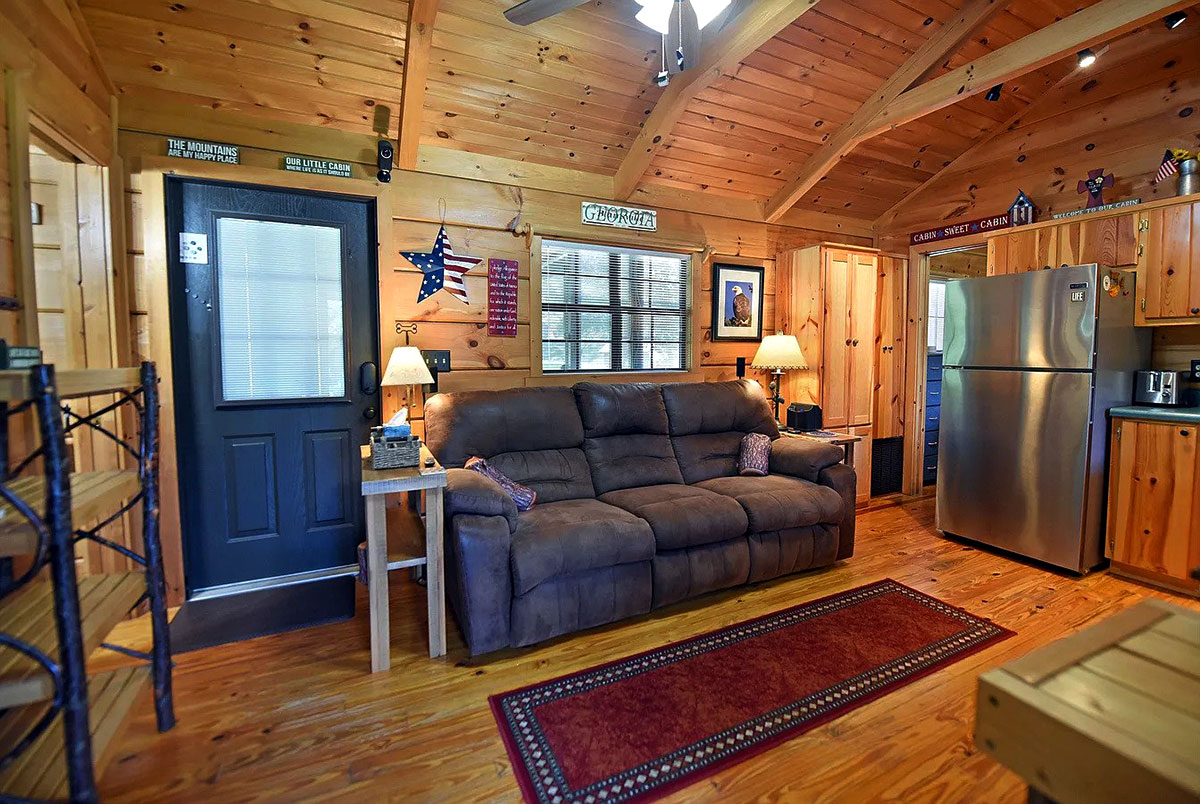 The walls? Yup, wood. It surrounds you in warmth and nature. It's about being one with the outdoors without leaving your cozy abode.
And beamed ceilings? It's like the jewelry of the room. They bring in that rustic style, turning a simple ceiling into a feature, a piece of art.
You see, it's not just about walls, floors, and a ceiling. This interior is a dance between design and comfort. It's the charm of a log cabin packed into a mobile home. It's efficient, yet doesn't skim on the hominess. It invites you to curl up with a good book or laugh over a shared meal. It's your space, waiting for you to fill it with life. Feel it calling your name?
Living Room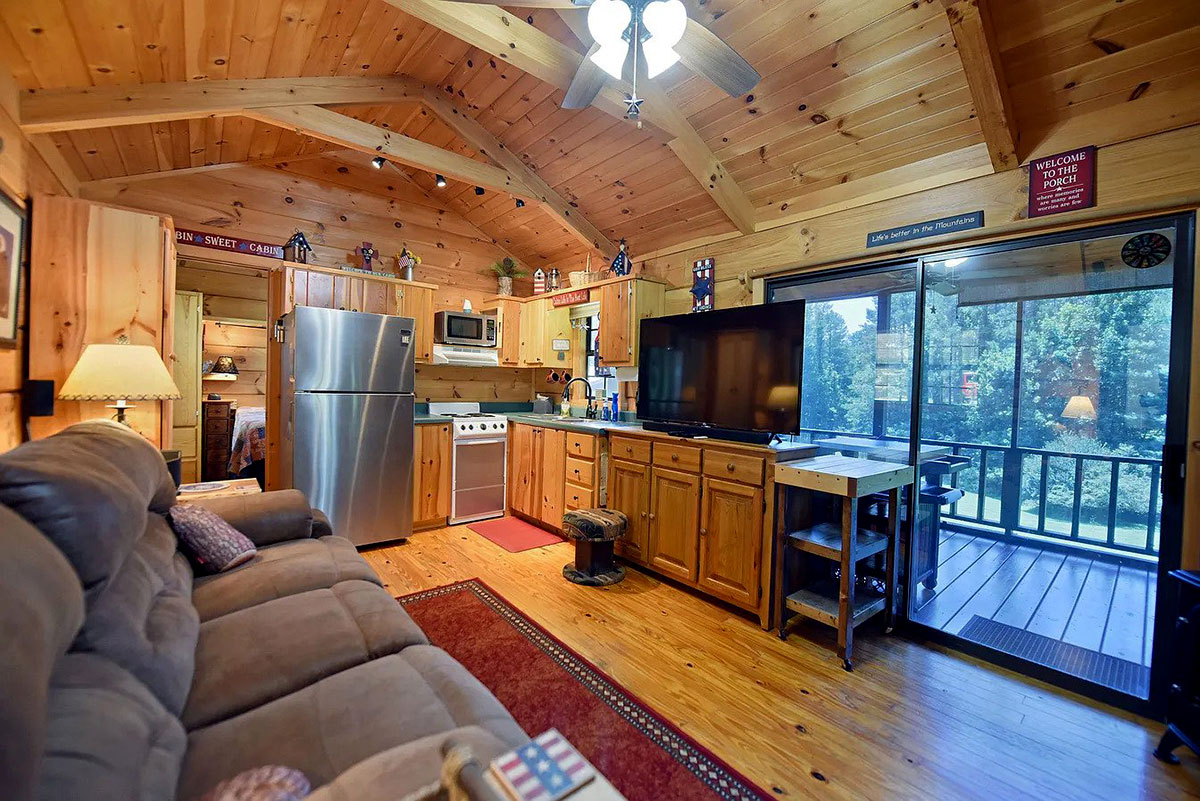 Step into the living room. You're home. There's that 55″ smart TV. It's not just for binge-watching your favorite shows. And it's for sharing movies with friends, laughing at old family videos, or even getting lost in a cooking tutorial. Also, it's entertainment, learning, and connection all rolled into one.
Look at that couch. See how it invites you into its cozy embrace? It's not just furniture; it's a nest. It's where you curl up after a long day, sip your morning coffee, or enjoy that thrilling novel.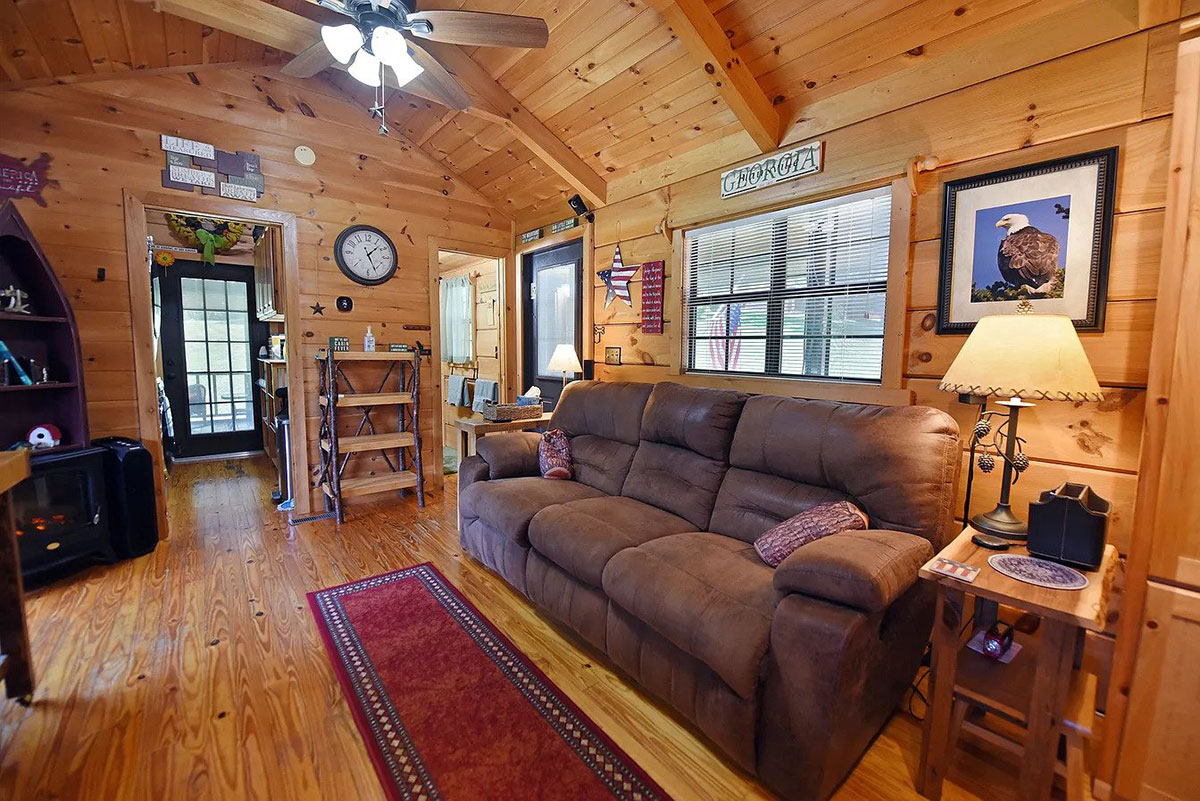 The side tables, table lamps, a ceiling fan light. These aren't just objects. They're your allies in comfort. That side table holds your tea, the lamp casts a golden glow on your evening, and the ceiling fan stirs the air just right.
And let's not overlook the style. Everything matches, but not too much. It's a harmony. The colors, the shapes, the way each piece talks to the other. It's like a well-orchestrated symphony.
This living room isn't about show-off. It's about living, not about impressing guests. But, it's about welcoming them. It's simple, elegant, and all about you.
Kitchen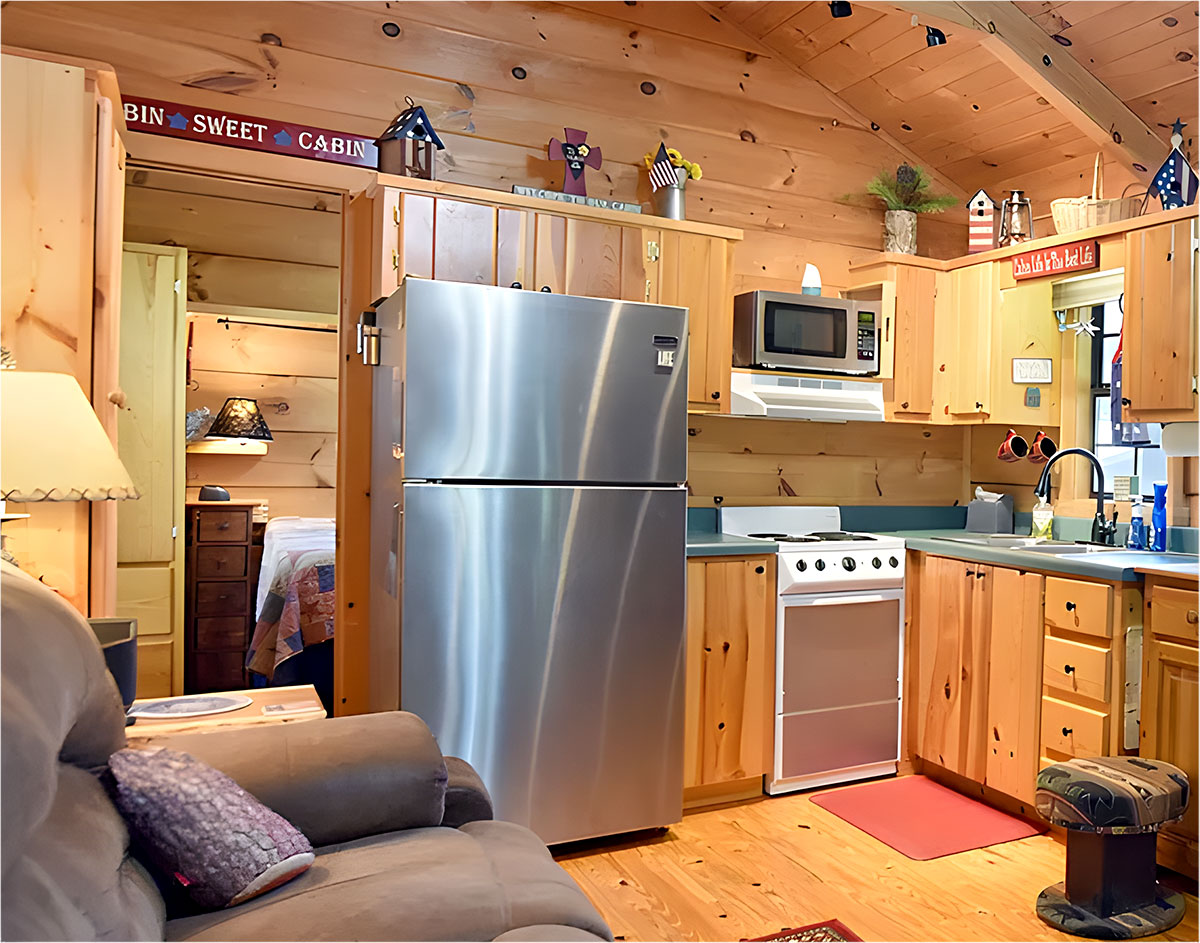 Now, feast your eyes on this kitchen! Notice the wood cabinets. They're more than just storage. They're a promise of warm, home-cooked meals.
It's a treasure trove—spices, flavors, and all your culinary secrets, waiting to be unveiled.
An oven and range combo? That's where the magic happens—baking, roasting, simmering. Your kitchen, your rules.
And the microwave, ever trusty, ever ready. Quick breakfast? Reheat dinner? It's there, never judging, always helping.
Don't overlook the refrigerator. It's a guardian. It keeps fresh what you love, preserving flavors and memories.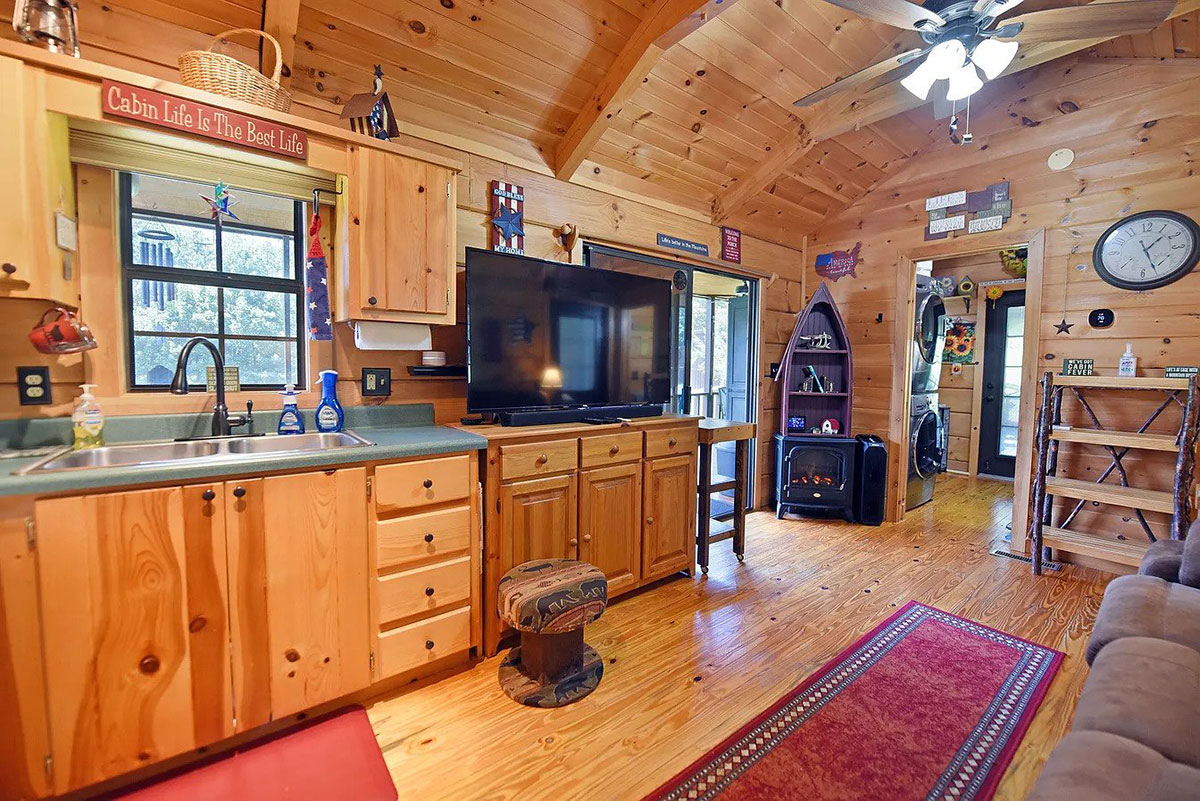 But it's not all about function. The design talks to you, too. It's wood, warm, and rustic. Yet modern. It's comfortable with a touch of luxury. Its style meets daily life.
You might even say the kitchen is the soul of this log cabin-style mobile home. Why? Because it's where life happens. It's where you create, share, enjoy, repeat.
Bedroom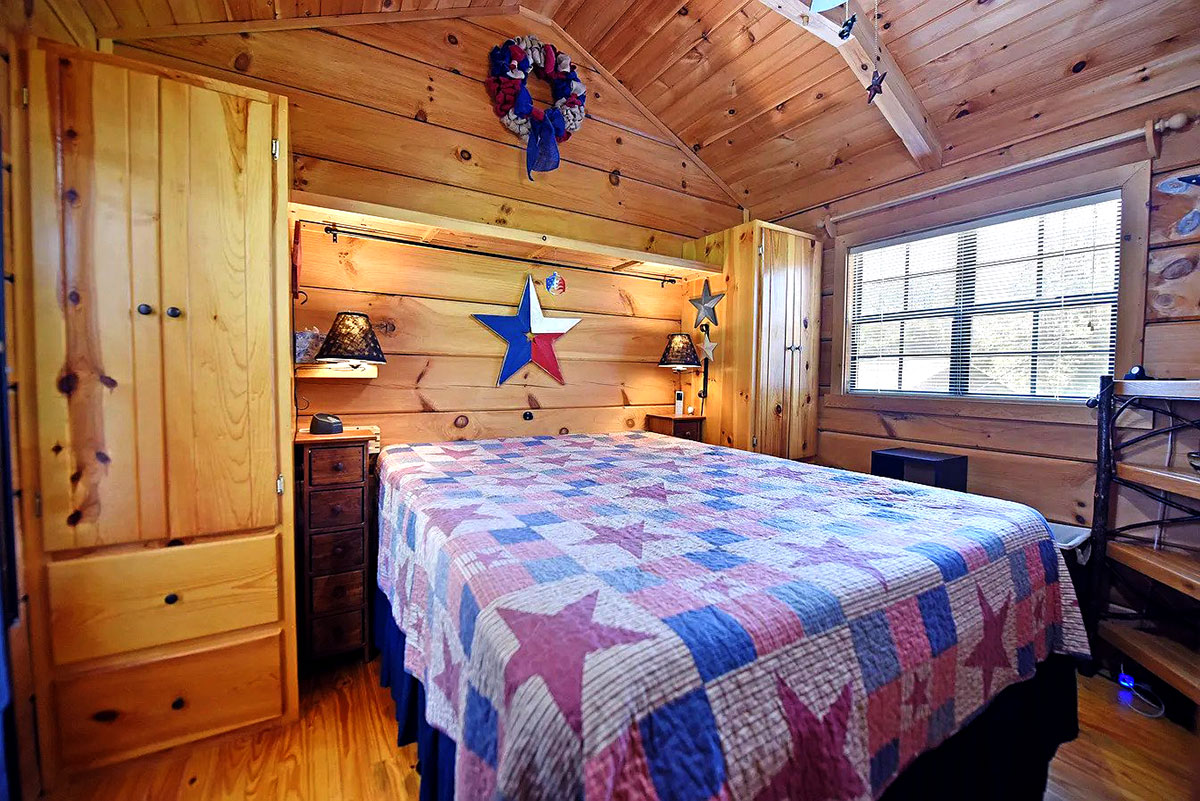 Welcome to the sanctuary: the bedroom. Imagine walking in after a long day. The warm wooden ambiance greets you. What's that? A hint of rustic charm? You bet.
Check out the bedside tables. They're not just tables; they're the keepers of dreams. Your book, your glasses, that last sip of water before bed. They hold them all.
The lamps? Your guiding stars. Soft glow for reading or a gentle nudge on those early mornings. They've got your back.
Ah, the wooden cabinet. Not just a piece of furniture; it's a part of you. Clothes, accessories, those tiny keepsakes you treasure – it keeps them all safe and sound.
This is a room that speaks to you. It's the small touches that make it more than just a bedroom. It's where you rest, reflect, and rejuvenate.
Can you feel it? The room's inviting you in. It's saying, "Relax, you're home."
Bathroom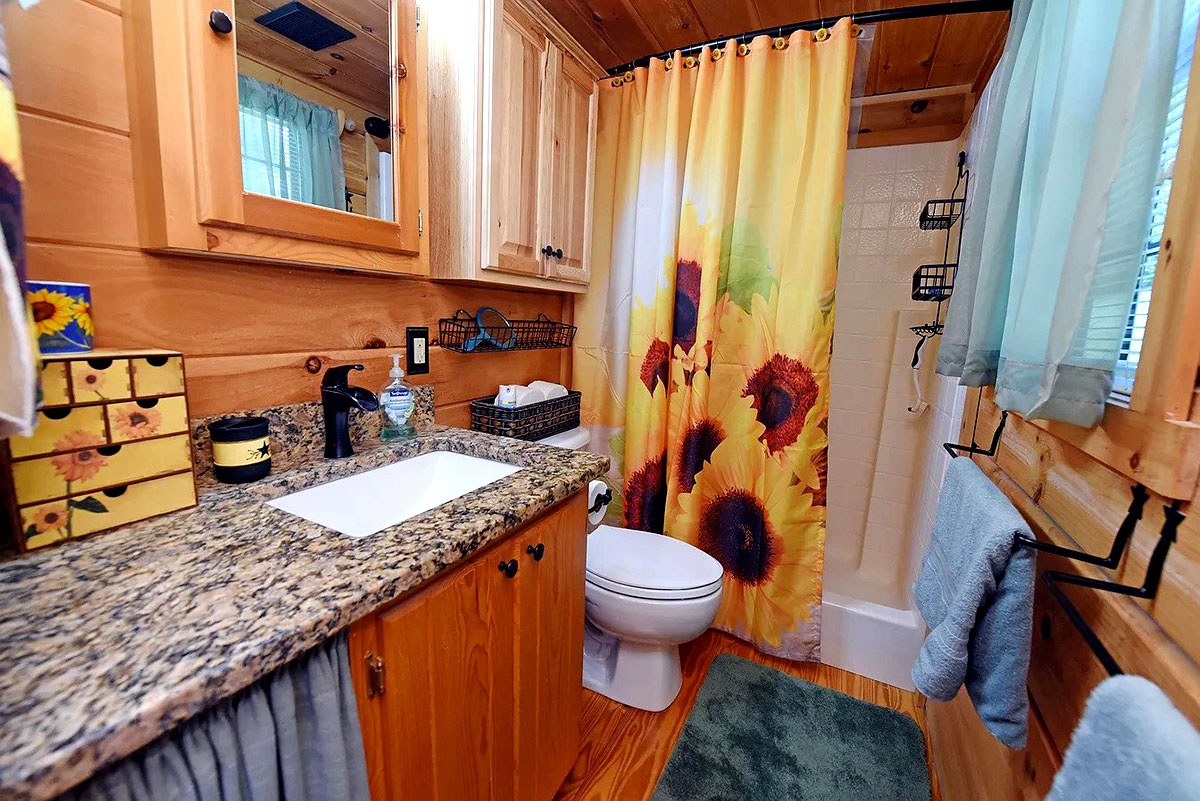 The bathroom: where your day starts and ends. It's more than just a space; it's a daily retreat.
First, the shower. It's not just about getting clean. It's your wake-up call or a place to wind down. And it's personal time, and in this cabin-style home, it's luxurious.
Now, the vanity. Ever thought about how much happens here? Brushing, shaving, pondering life's big questions. It's your prep station for the world out there.
Don't overlook that wall cabinet storage. It's a lifesaver. Literally. Where else would all those toiletries go? Organized, out of sight, but right there when you need them.
The rustic charm continues here too. Wood, simple lines, calming colors. It's coordinated. and thoughtful. It's all you.

Even in this functional space, there's room for personality. Cabin-themed wall decor or a scented candle, perhaps?
The bathroom in this single-wide mobile home is saying something. It's saying, "Take your time. Enjoy this moment."
It's not just about form and function. It's about how it makes you feel.
Conclusion
The single-wide log cabin style is compact but packed with charm and character. The cozy warmth of the wood-themed interior and the carefully planned spaces make life comfortable and attractive. That's the beauty of it. It invites you to live, to love, to be yourself. Isn't that what a home should do?
Source: Zillow