Single Wide Mobile Home Interiors
Looking for a home that's cozy, affordable, and stylish? Let's talk about single-wide mobile home interiors. It's not just about space but about using it well. We will explore the unique features of these homes, where every inch counts. From clever kitchens to serene bedrooms, it's all about smart design. Let's discover what makes single-wide mobile home interiors so appealing. 
| | | | |
| --- | --- | --- | --- |
| | | | |
| | | Open space, large windows | Furniture arrangement, paint |
| | | | |
| | | Closet space, adjoining bathroom | Flooring, wall treatments |
| | | | |
| | | | |
| | | | |
1. Living Room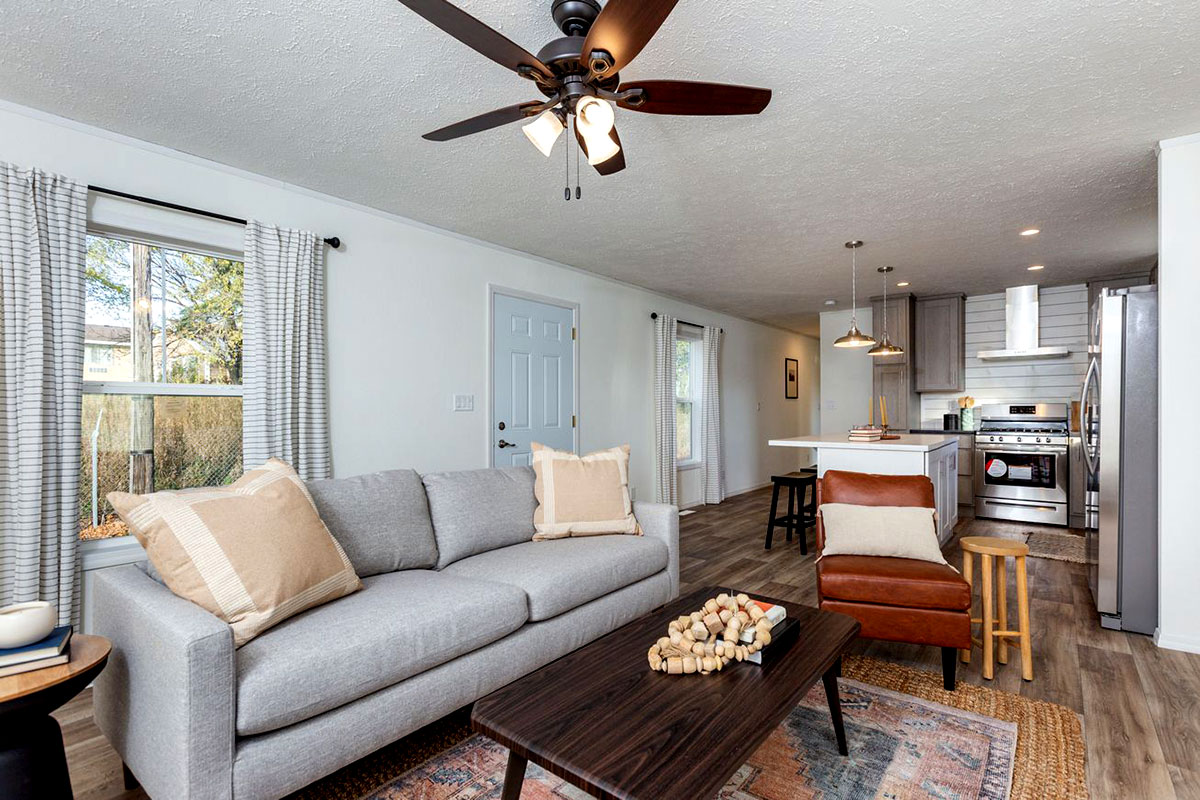 The living room is the heart of the home, where family and friends gather. In a single-wide mobile home, it's all about maximizing comfort without crowding the space. Let's break it down.
Furniture Layout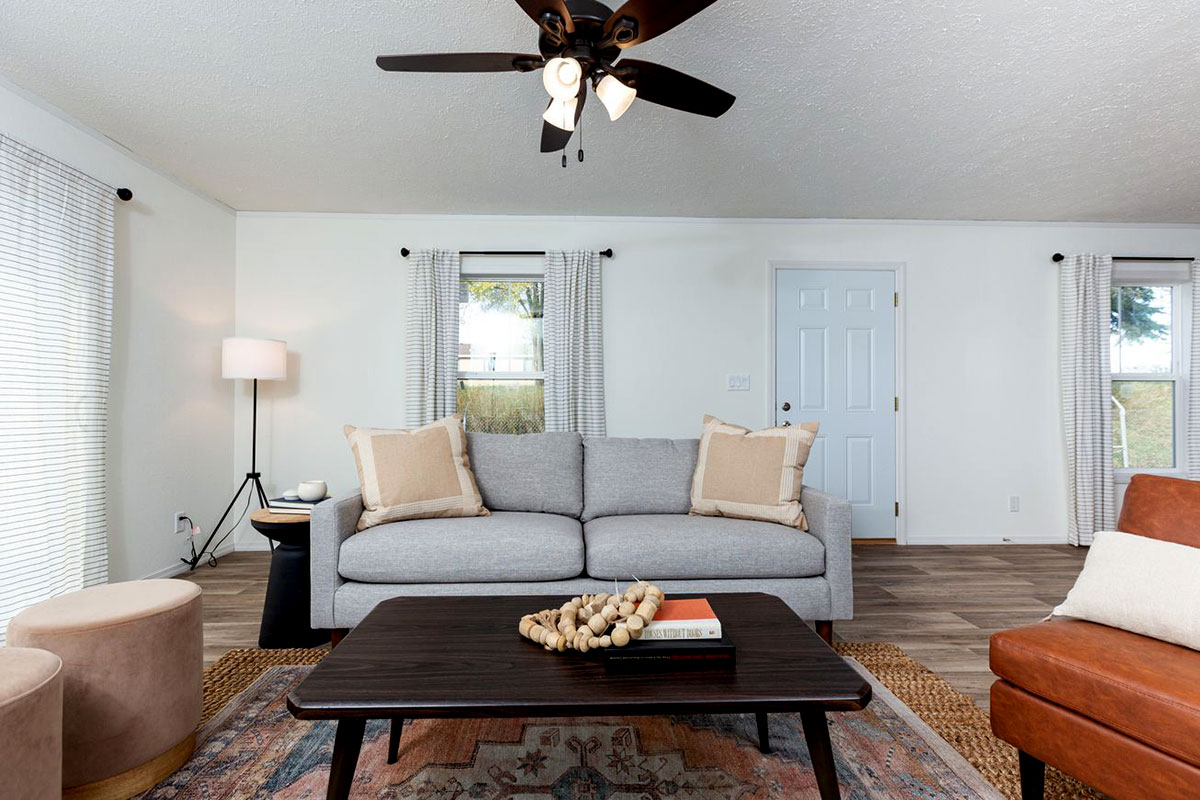 You want to choose pieces that fit but don't overstuff. Think sleek sofas, armchairs with clean lines, and maybe a compact coffee table. It's about creating flow.
Lighting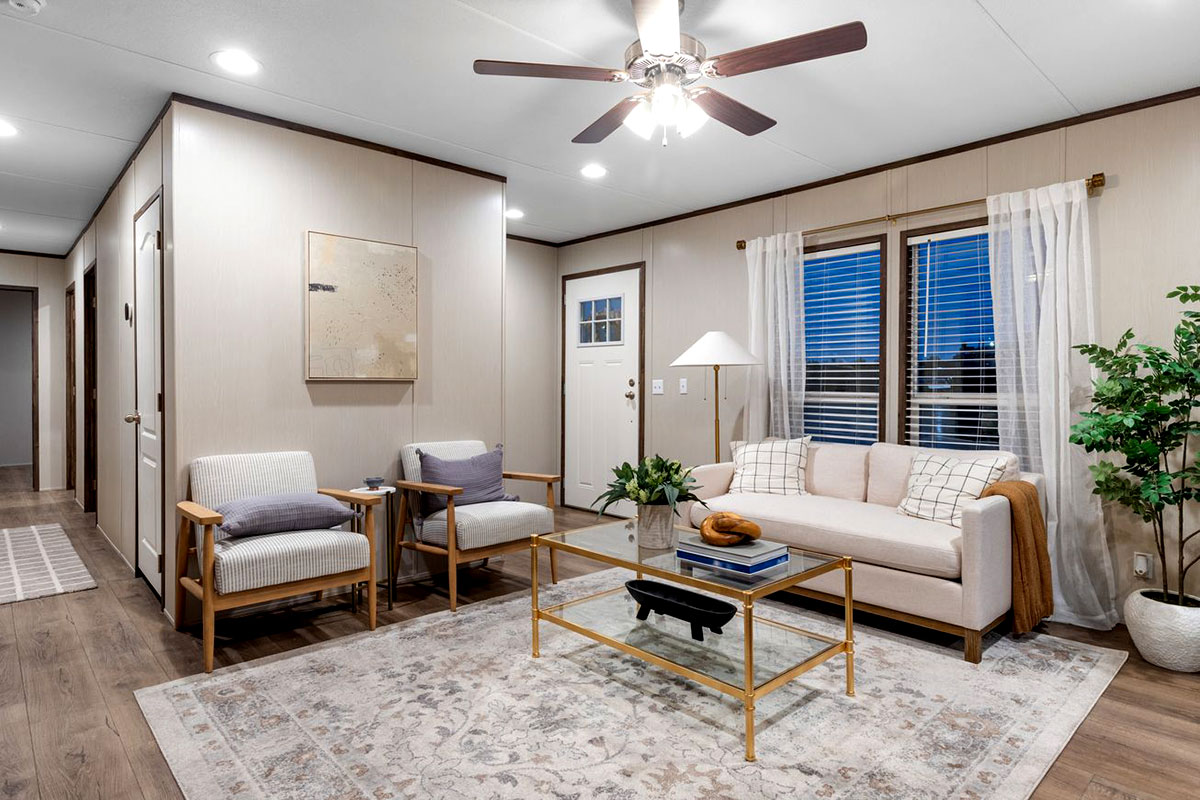 Let's not overlook the natural light. Big windows can open up the space. Pair them with soft, ambient lighting for cozy evenings. It's the little things that make a difference.
Color Scheme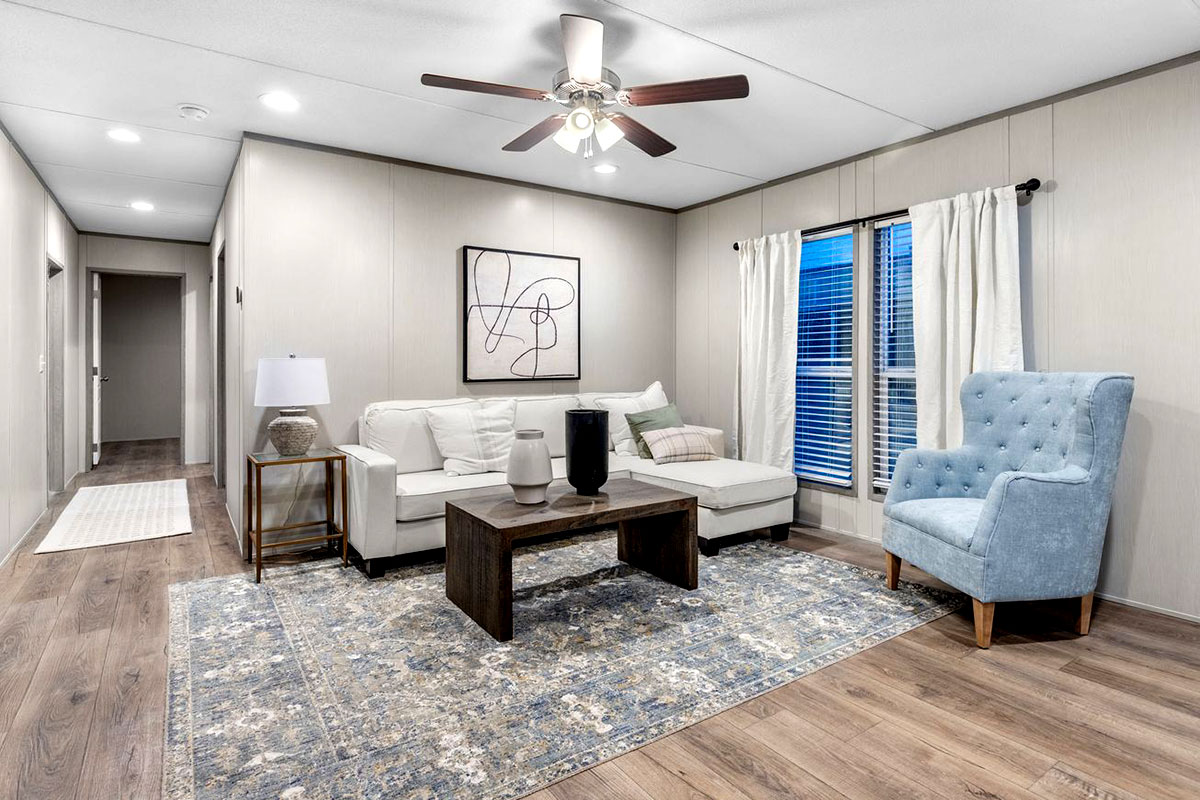 Soft, neutral colors can make the room feel more spacious. You might want to add a splash of color with pillows or artwork. It's all about balance.
Storage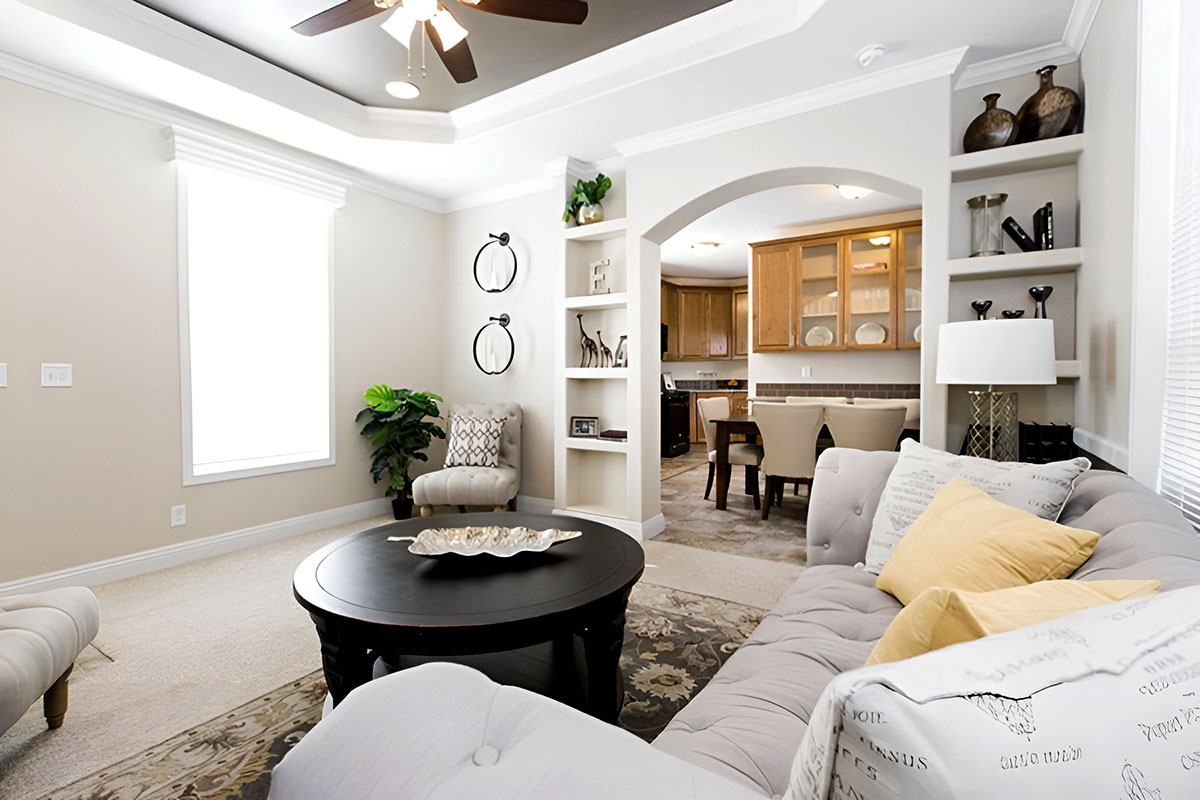 Shelves, cabinets, or multifunctional furniture? Smart storage keeps clutter at bay and maintains an open, airy feel.
Personal Touch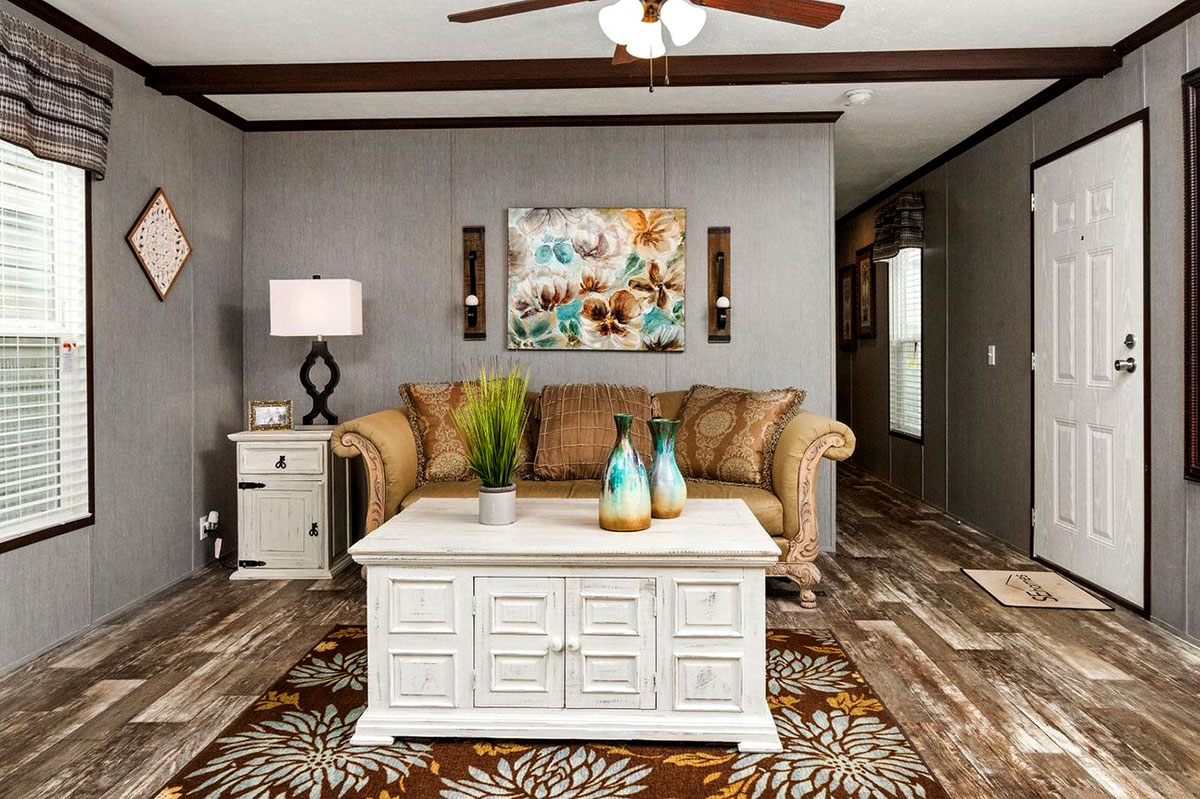 Don't forget your personality. Family photos, favorite books, or unique decorations can add warmth.
And remember, it's not about the size; it's how you use it. The living room in a single-wide mobile home can be just as inviting and functional as any other. It's about design choices that work for you. How exciting is that?
2. Kitchen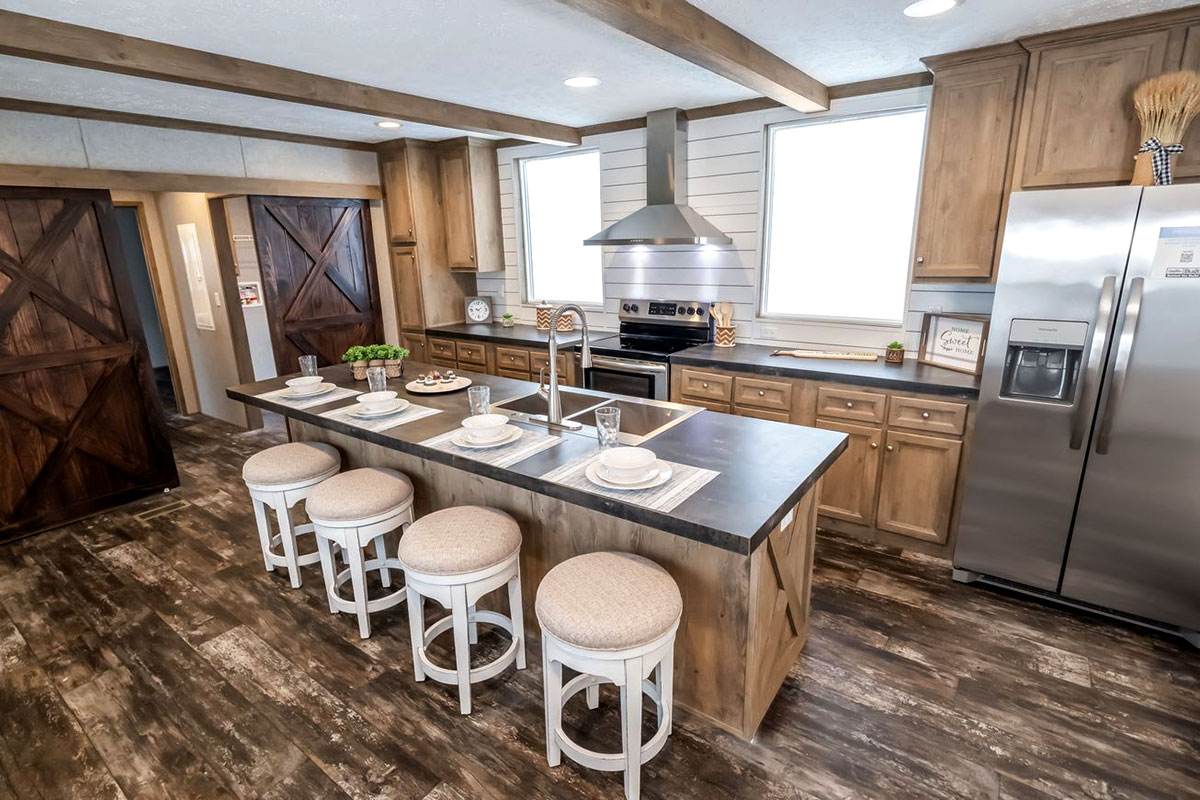 The kitchen, they say, is where the magic happens. And even in a single-wide mobile home, you can cook up a storm with a well-thought-out kitchen design. Here's what you need to know:
Layout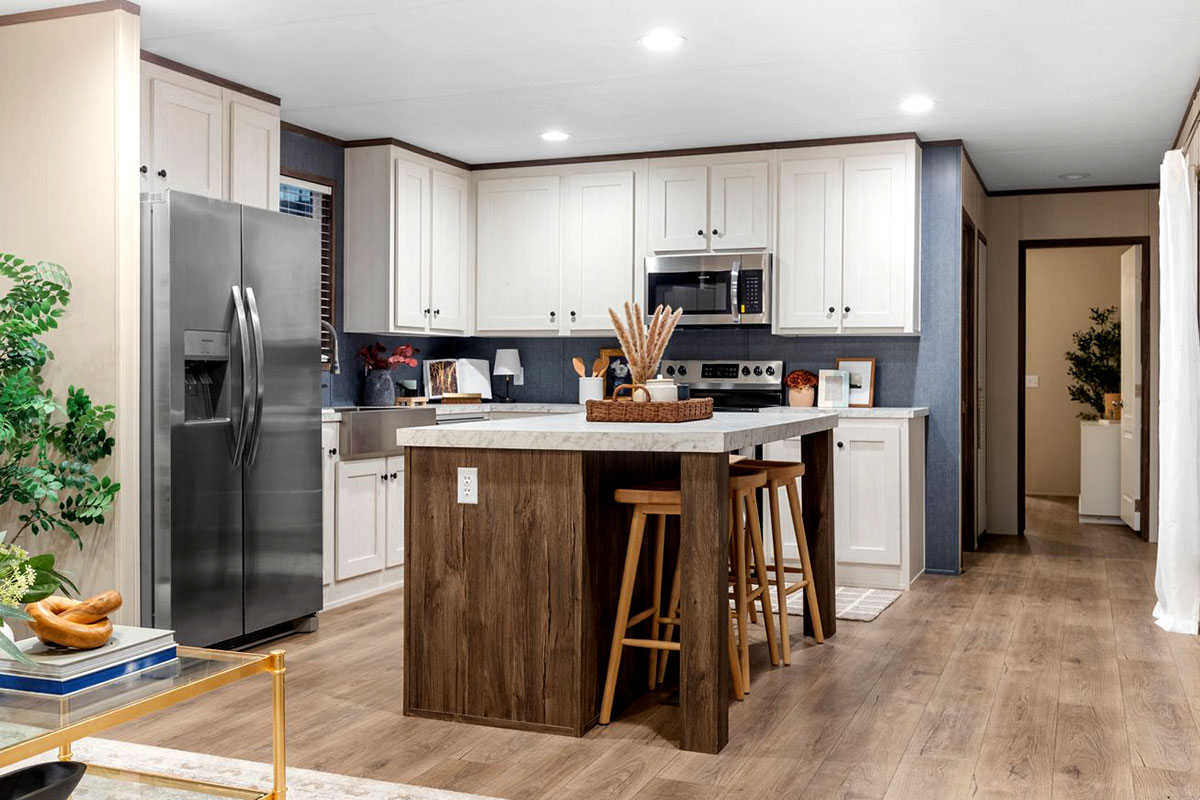 Think functional. An L-shaped or galley design might be your best bet here. It's all about easy movement.
Cabinets and Countertops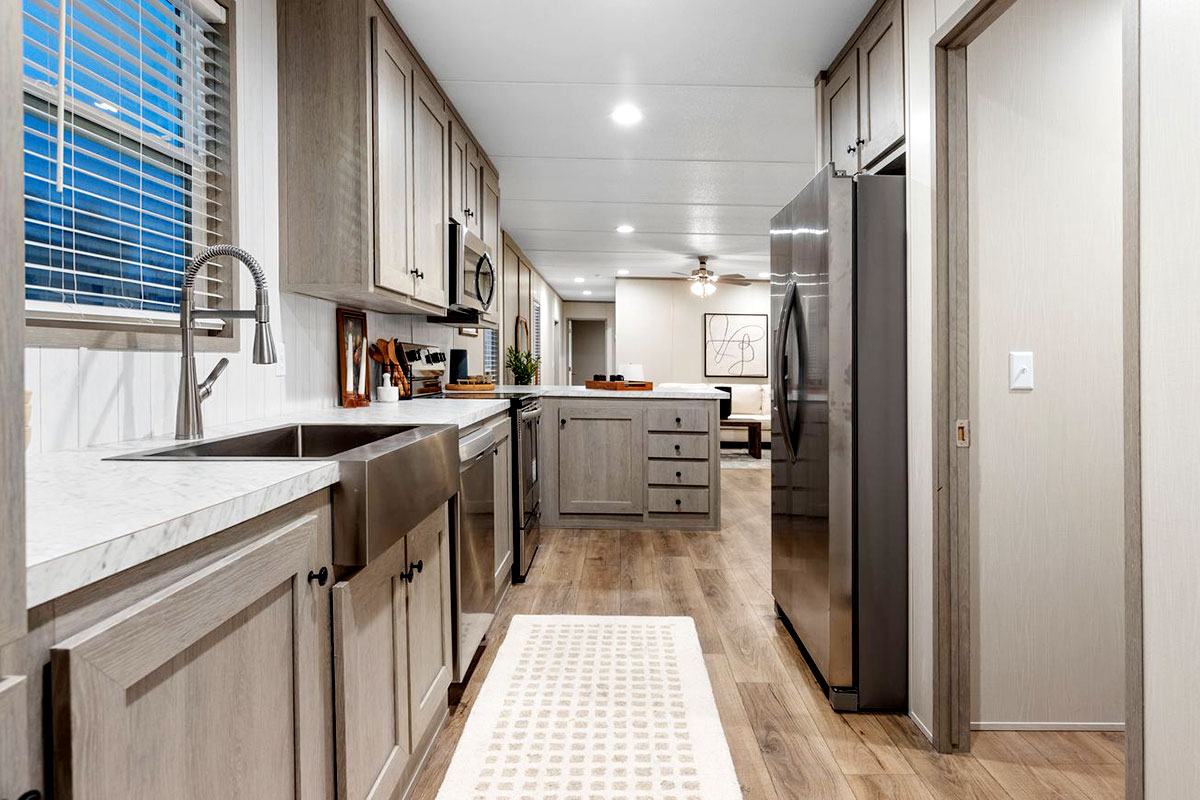 Opt for lighter colors to brighten the space. Want a high-end look? A marble-like laminate does the trick.
Appliances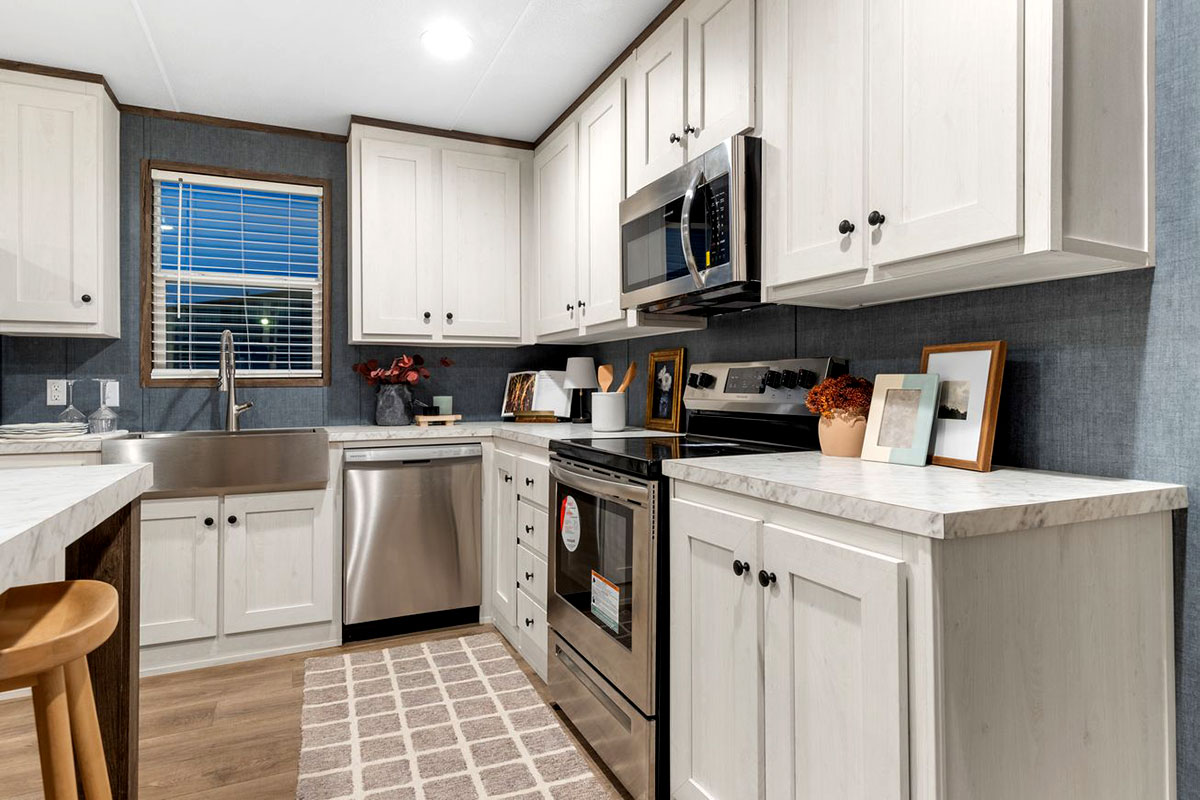 Size matters. Go for compact but efficient appliances that don't eat up space. Quality is key here.
Storage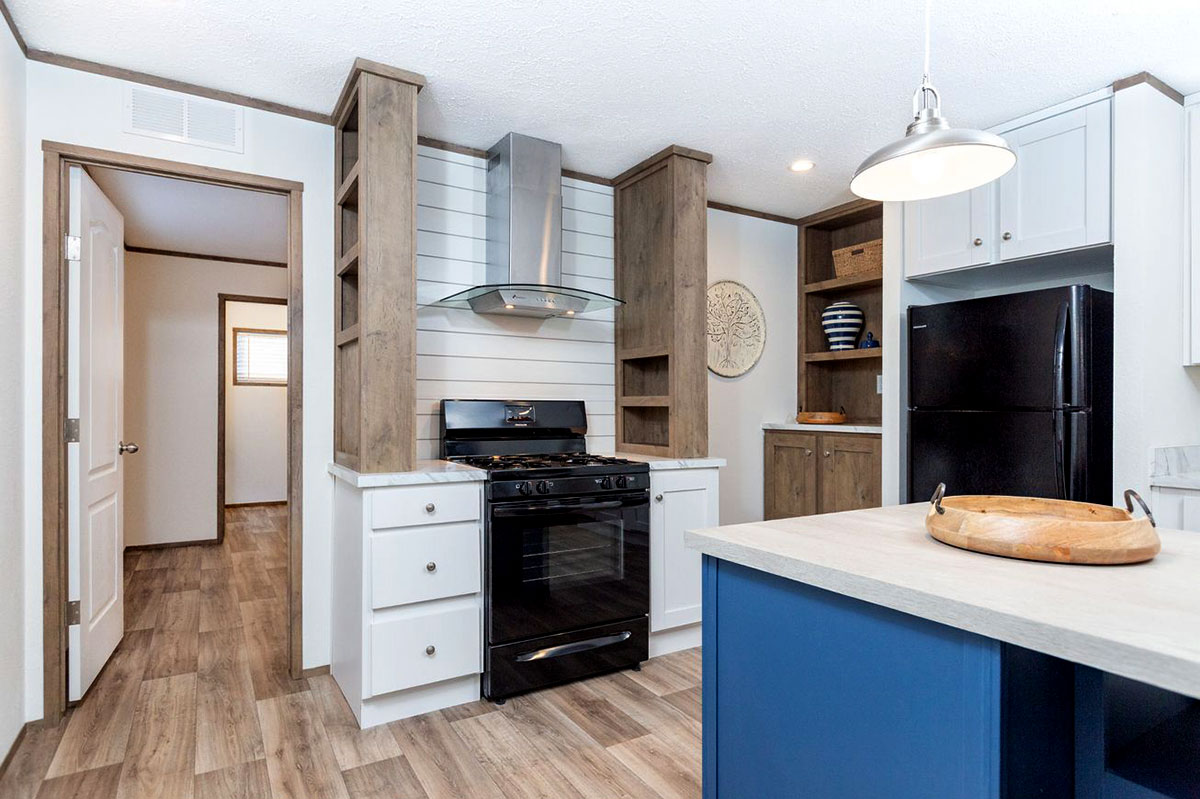 Pull-out pantries, wall-mounted spice racks, clever drawers? Yes, please. Maximize every inch without feeling cramped.
Dining Area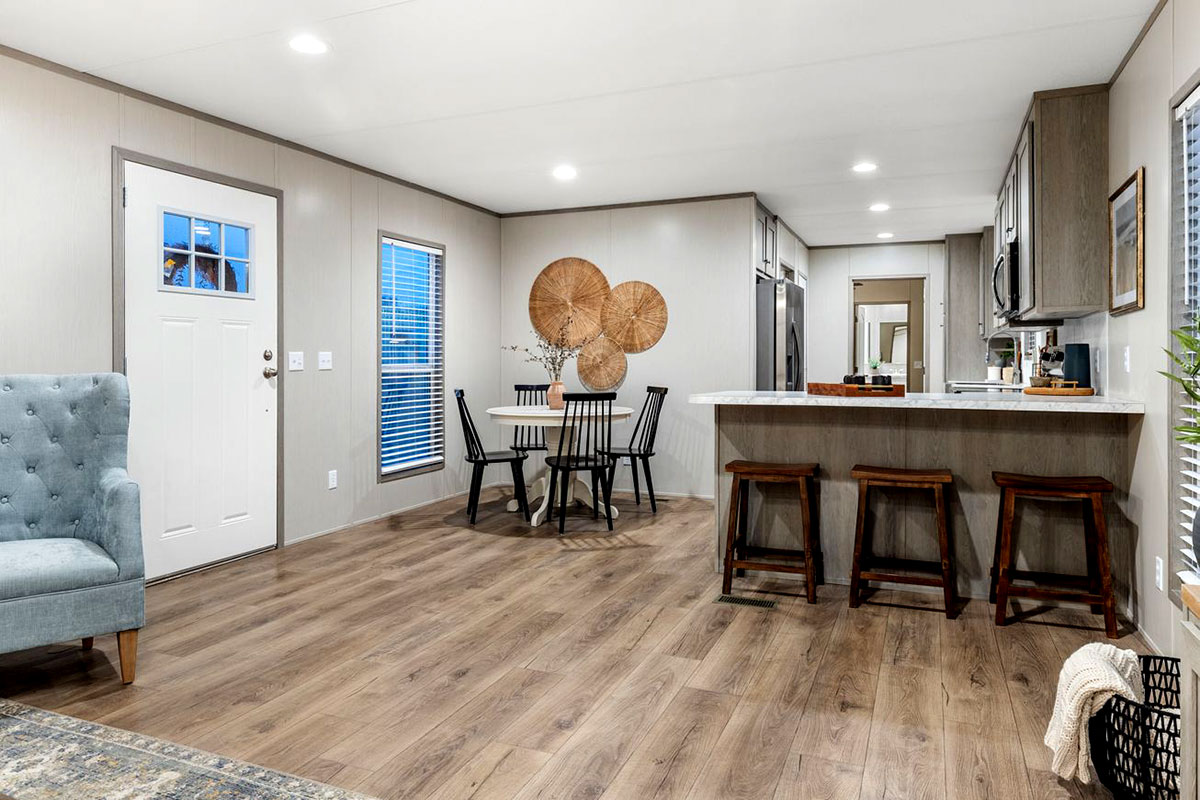 A small, foldable dining table or a breakfast bar can save space and add charm. Think outside the box.
Lighting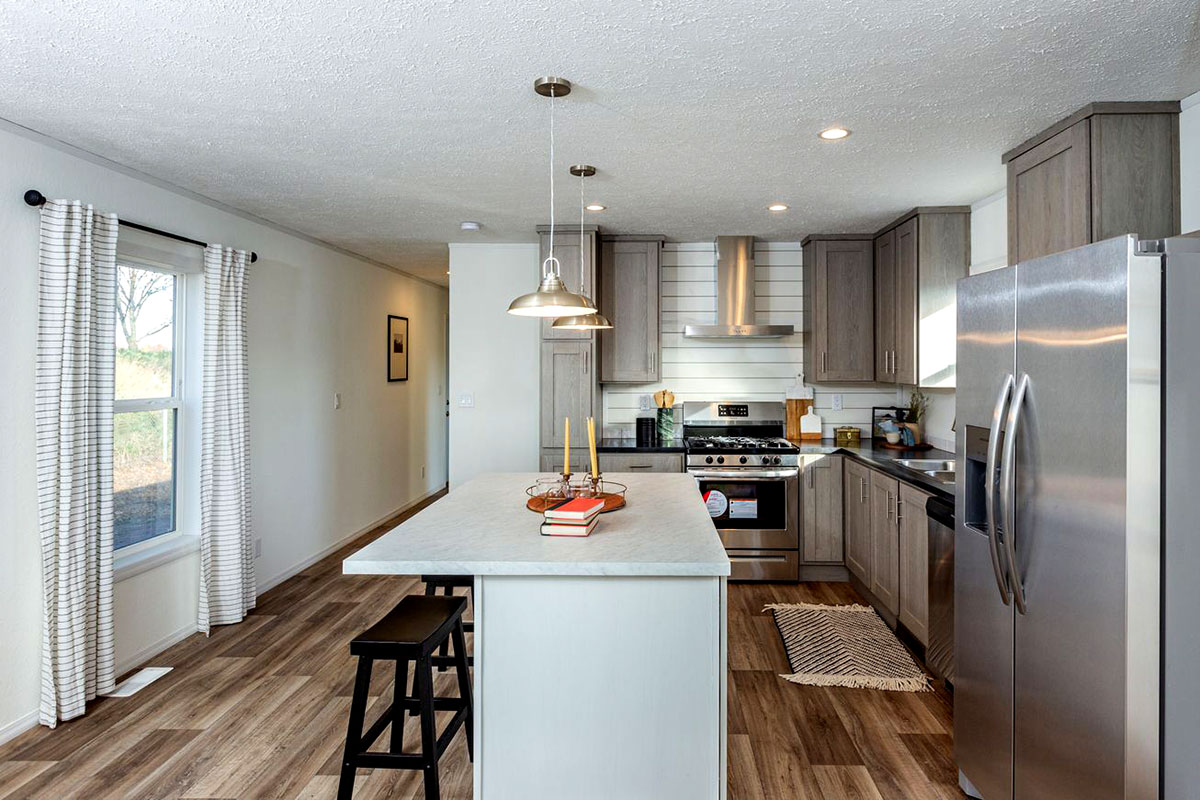 Under-cabinet lighting can make a huge difference. It adds depth and makes cooking easier.
Flooring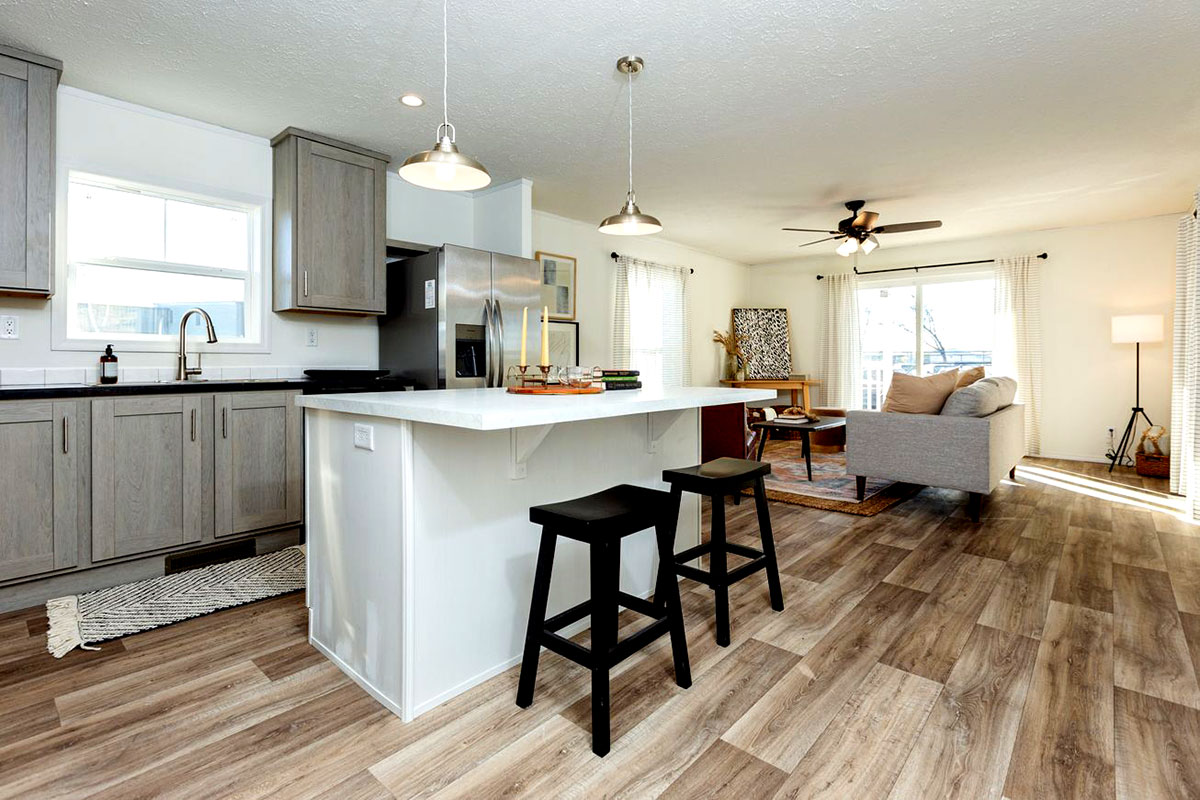 Durable and easy to clean is the way to go. Consider vinyl or tile that looks great but isn't fussy.
Imagine whipping up a meal surrounded by a kitchen that's not just functional but also welcoming. That's your single-wide mobile home kitchen. It's compact but full of possibilities. Now, what's on the menu tonight?
3. Master Bedroom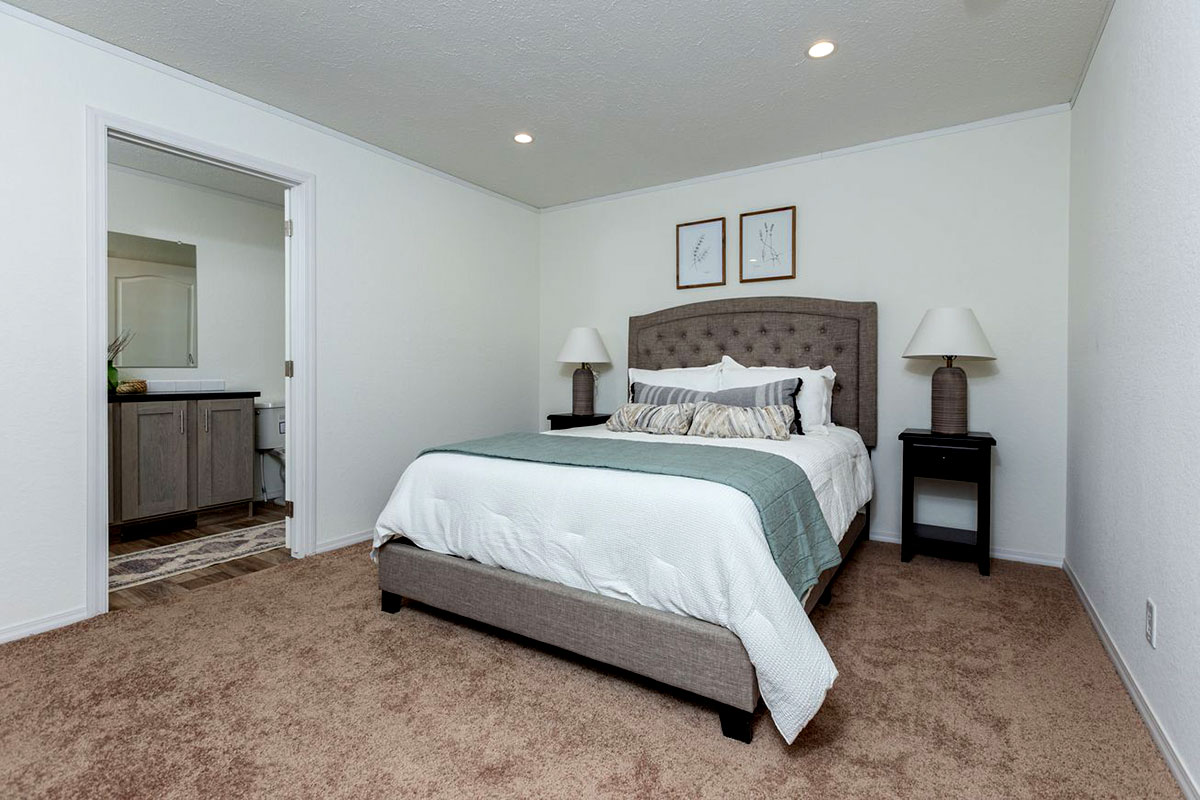 The master bedroom is more than just a place to sleep; it's a personal retreat, especially in a single-wide mobile home. Let's delve into how to make this 11′ x 13′ space your very own oasis:
Space Planning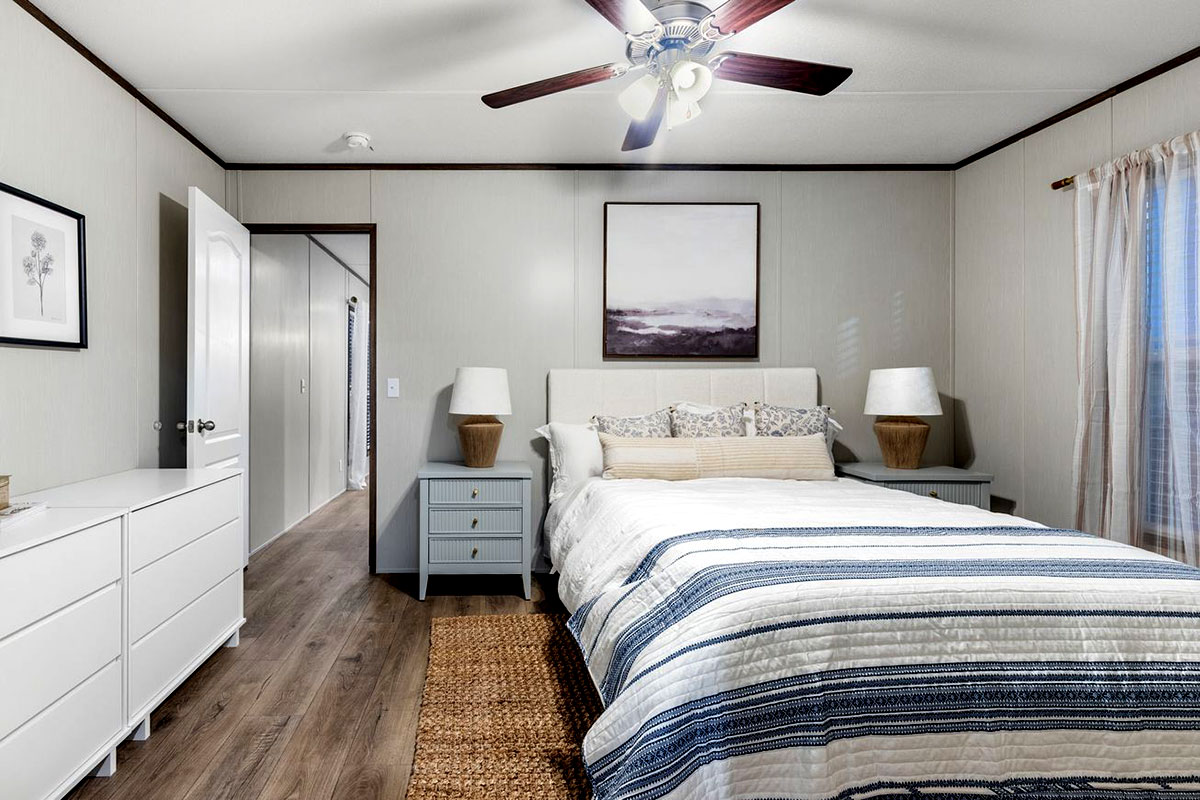 With 143 square feet, you've got room to breathe. Position your bed as the focal point and arrange furniture to enhance flow.
Closet Space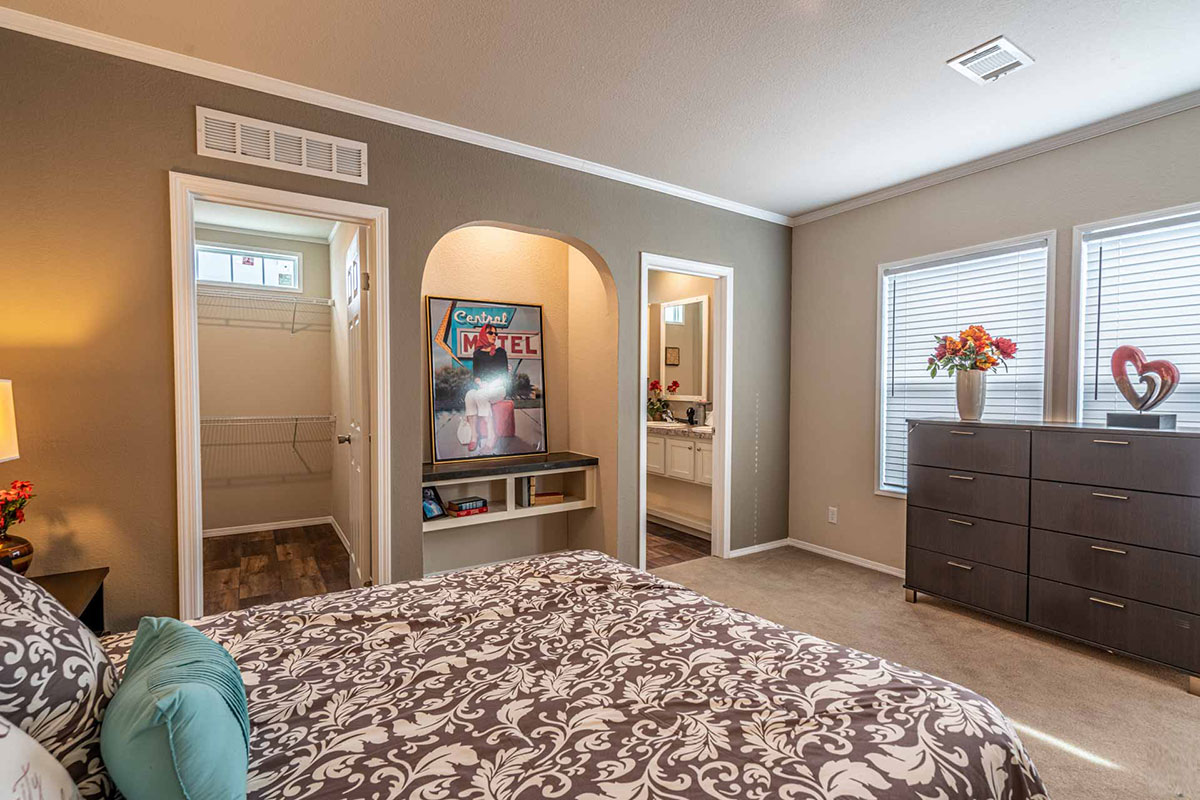 Yes, you can have a walk-in feel! Utilize organizers and shelves to keep everything in place. Don't let an inch go to waste.
Adjoining Bathroom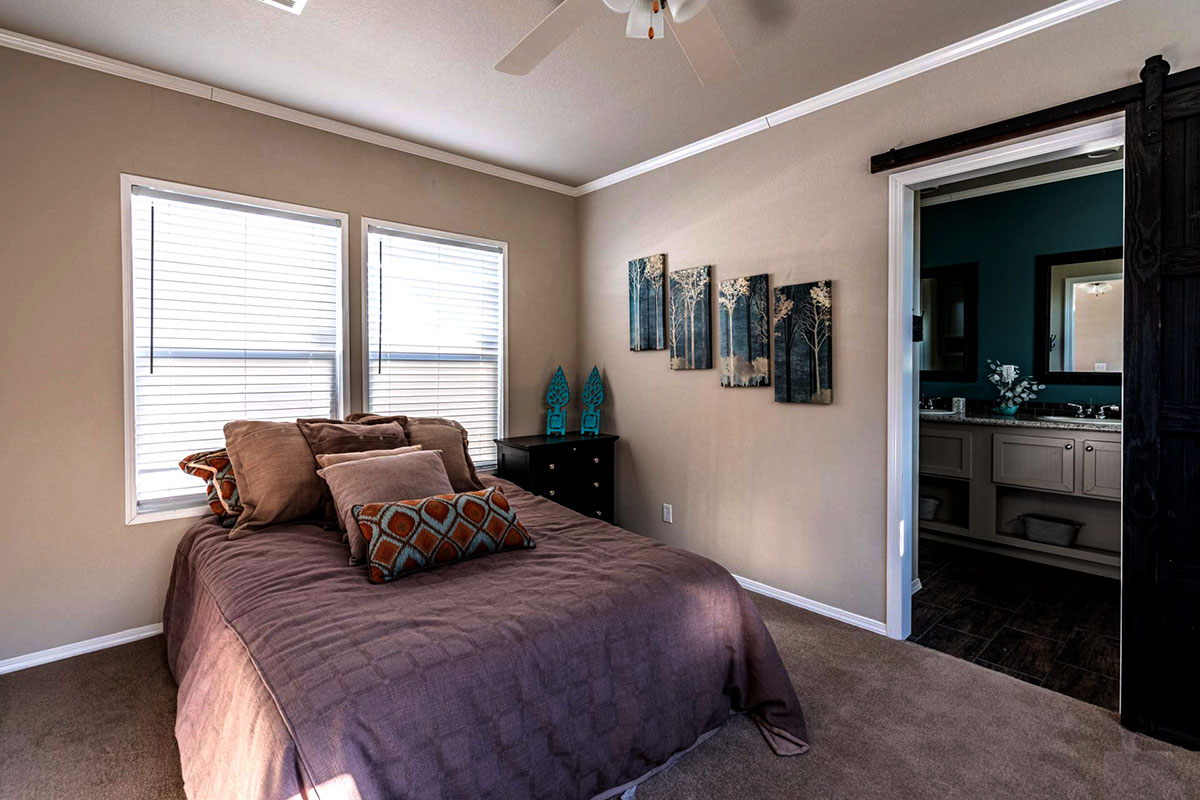 A real luxury. Opt for a sliding door to save space and ensure the bathroom's style flows with the bedroom.
Flooring Options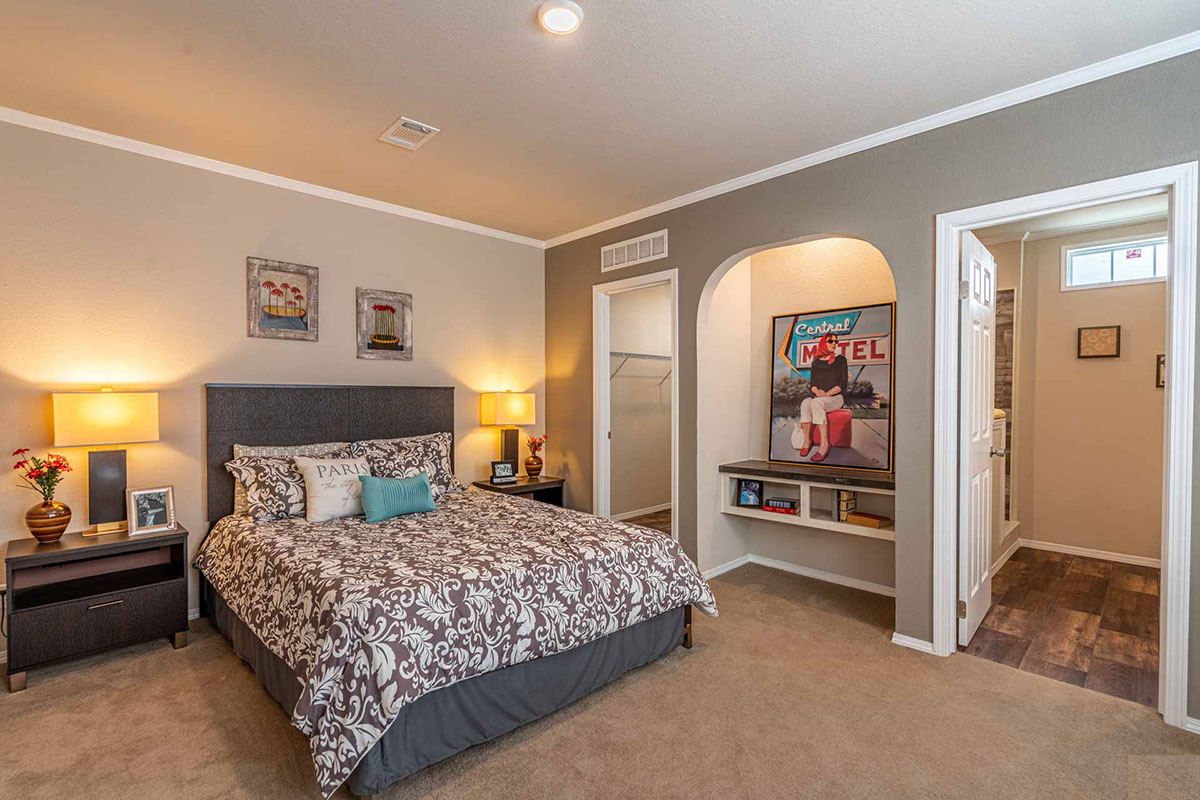 Carpet for comfort? Hardwood for elegance? Your call. Think about what feels good underfoot first thing in the morning.
Wall Treatments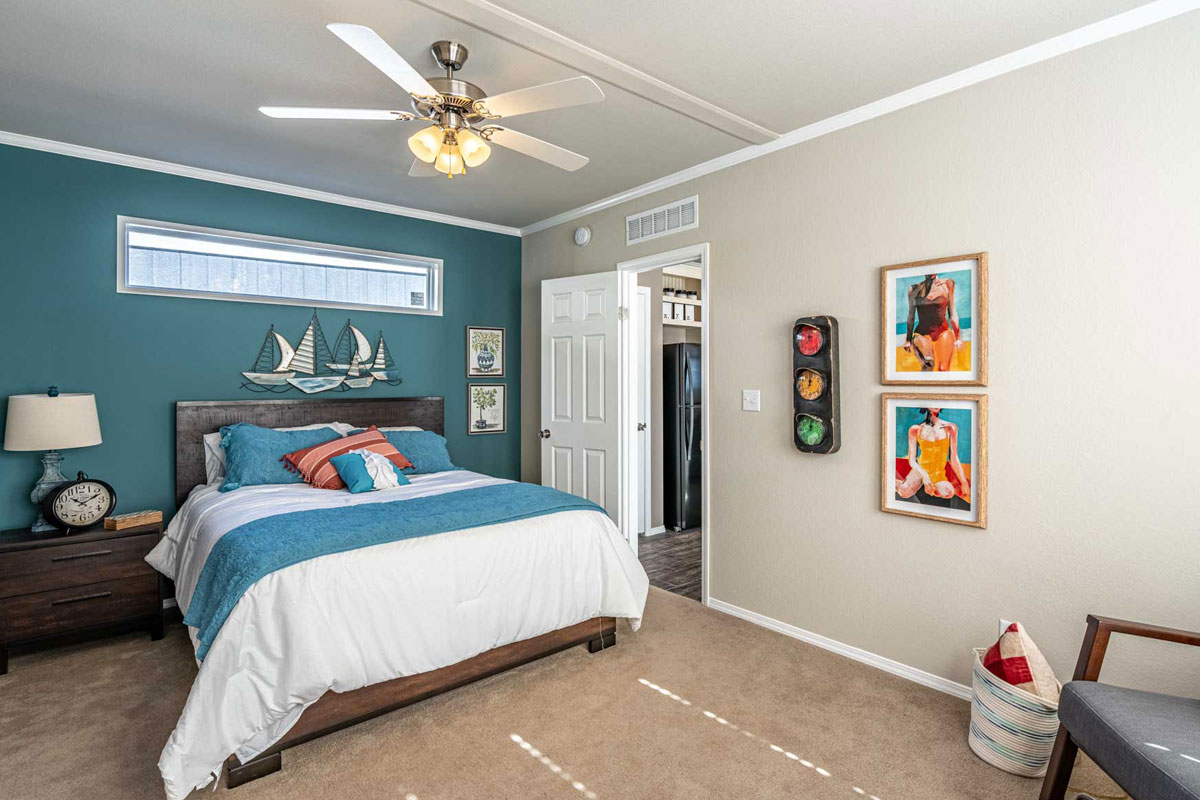 Wallpapers with gentle patterns can enlarge the space visually. Prefer paint? A soothing palette creates a serene atmosphere.
Lighting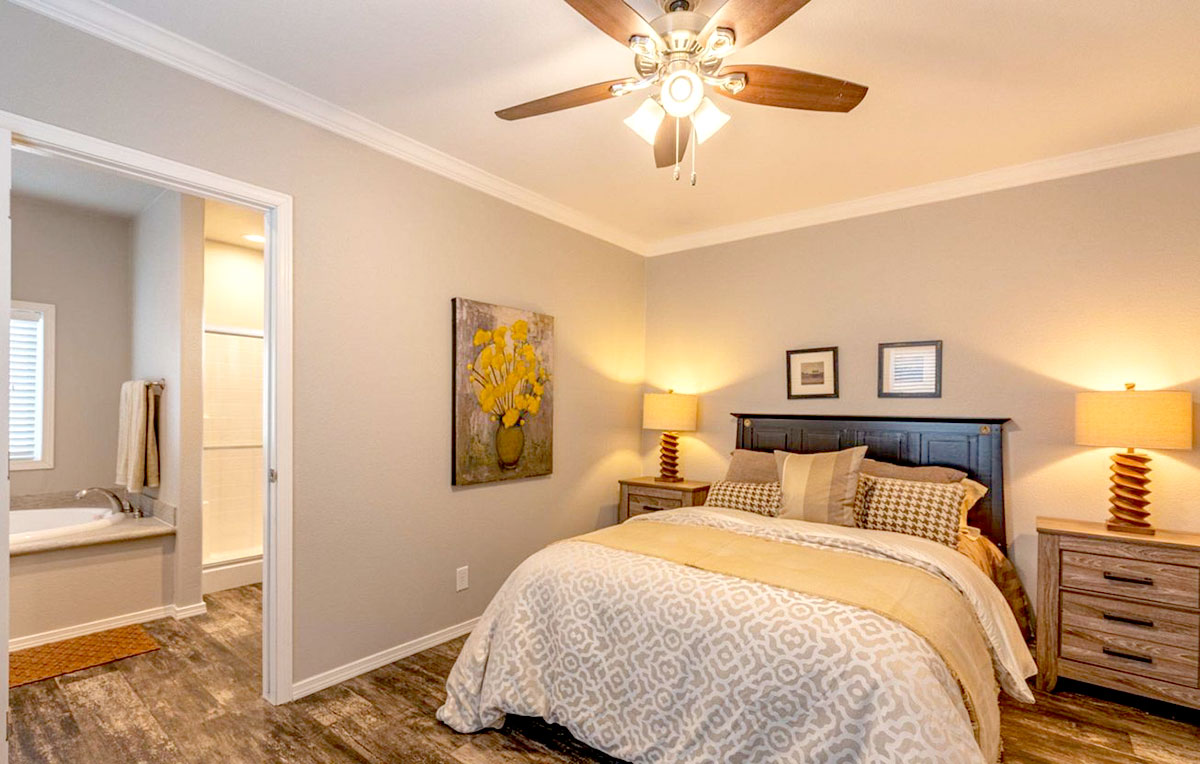 Lamps on the bedside tables or wall sconces add warmth. You can read, relax, and wind down just the way you want.
Windows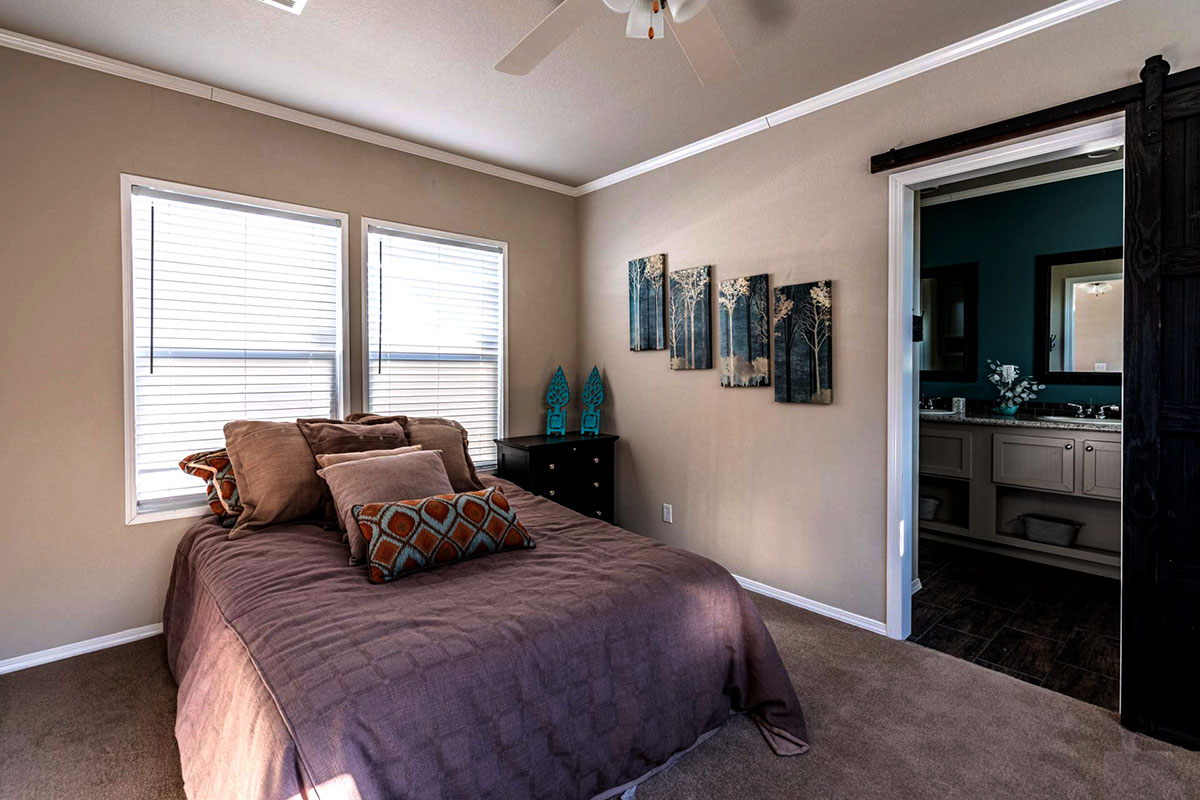 Consider light and privacy. Beautiful shades or curtains can enhance the room's feel and keep it cozy.
Furniture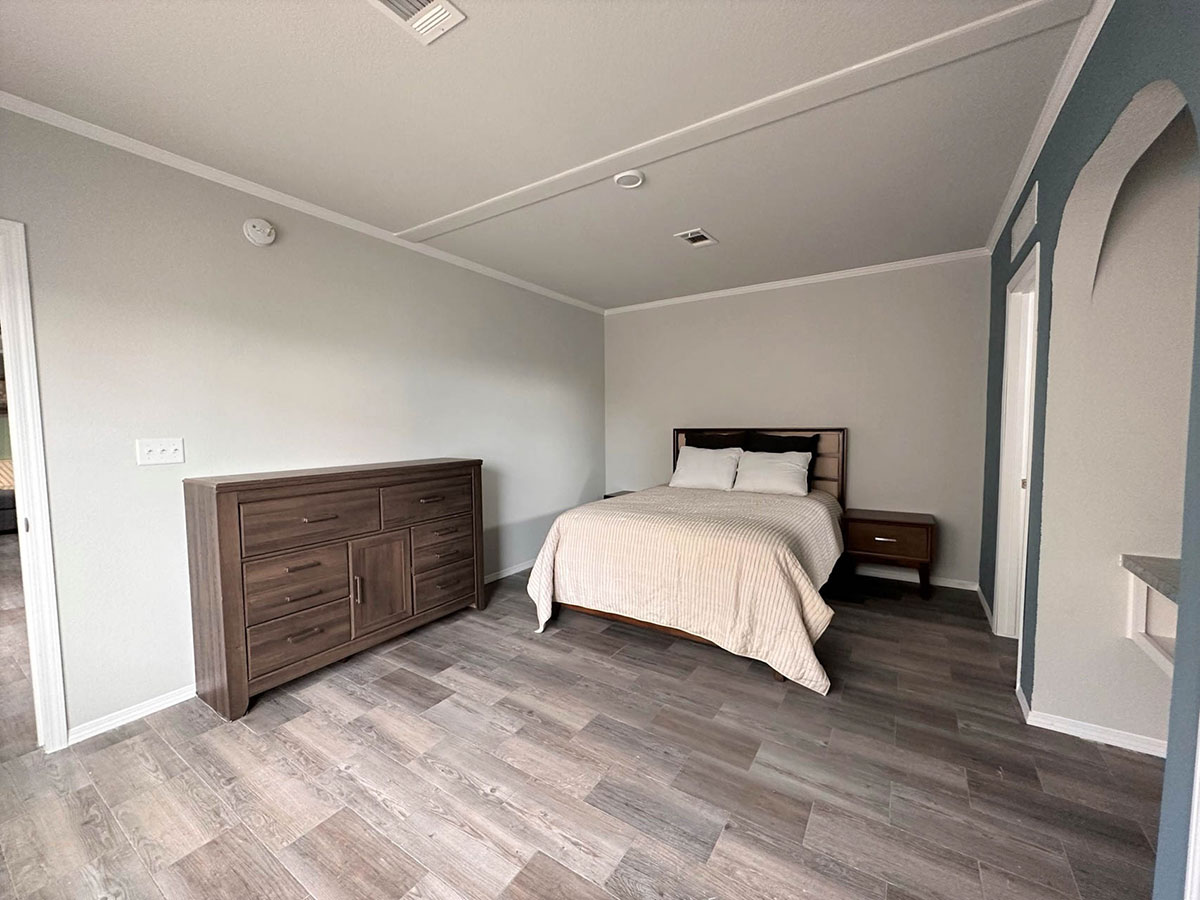 A smart choice in the bed frame and nightstands can save space and add function. Think drawers and shelves.
Imagine sinking into a bed surrounded by colors and textures you love. That's your primary bedroom. It's tailored to you in a space that's uniquely yours. Now, who's ready to hit snooze?
4. Bathroom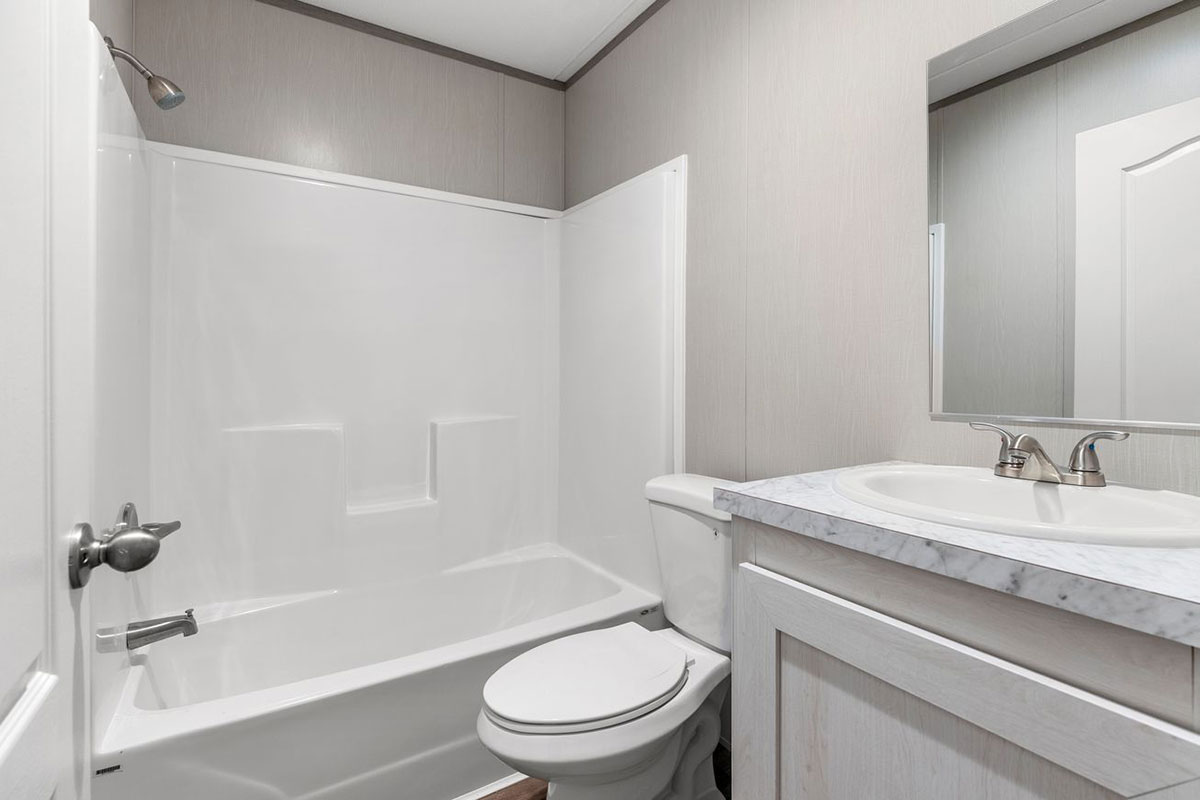 A bathroom in a single-wide mobile home is more than just a necessity; it's a space for relaxation and daily rituals. Let's uncover the ingredients for turning this intimate space into a spa-like haven:
Layout & Size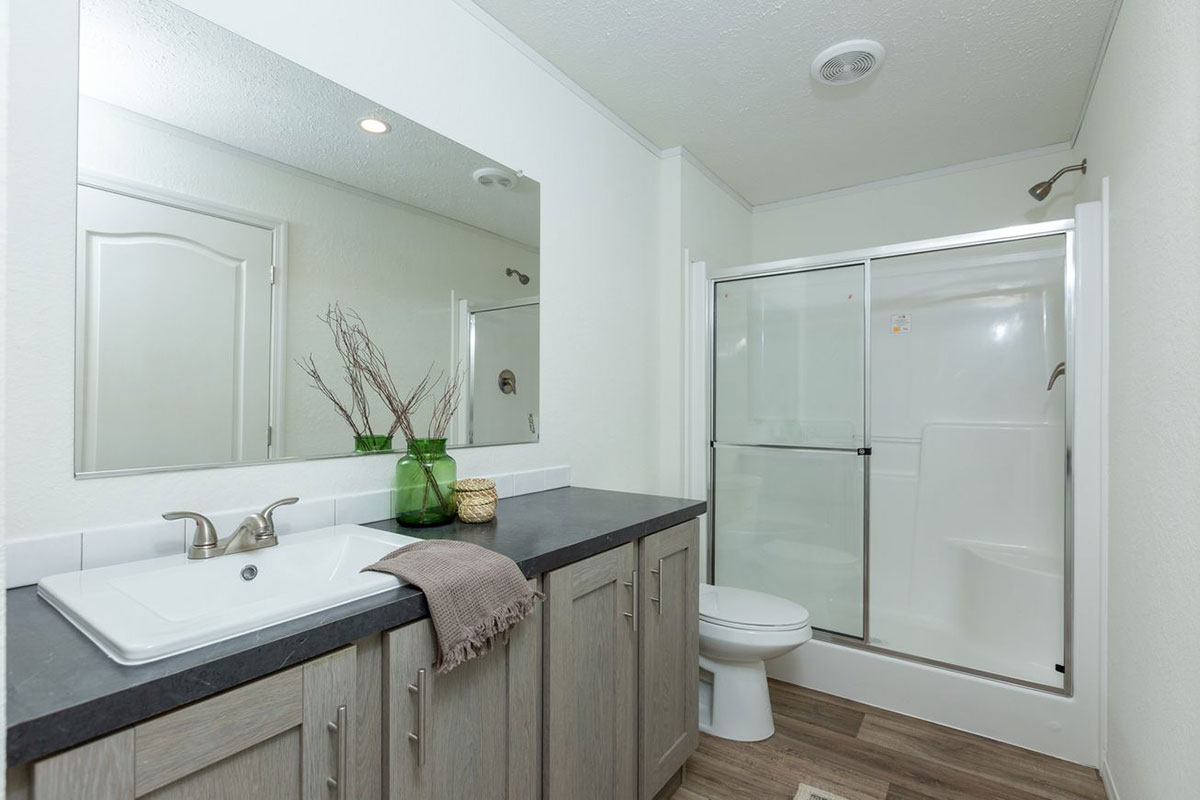 Small but mighty, your bathroom can pack a punch. Think smart storage and clean lines to keep things uncluttered.
Shower & Tub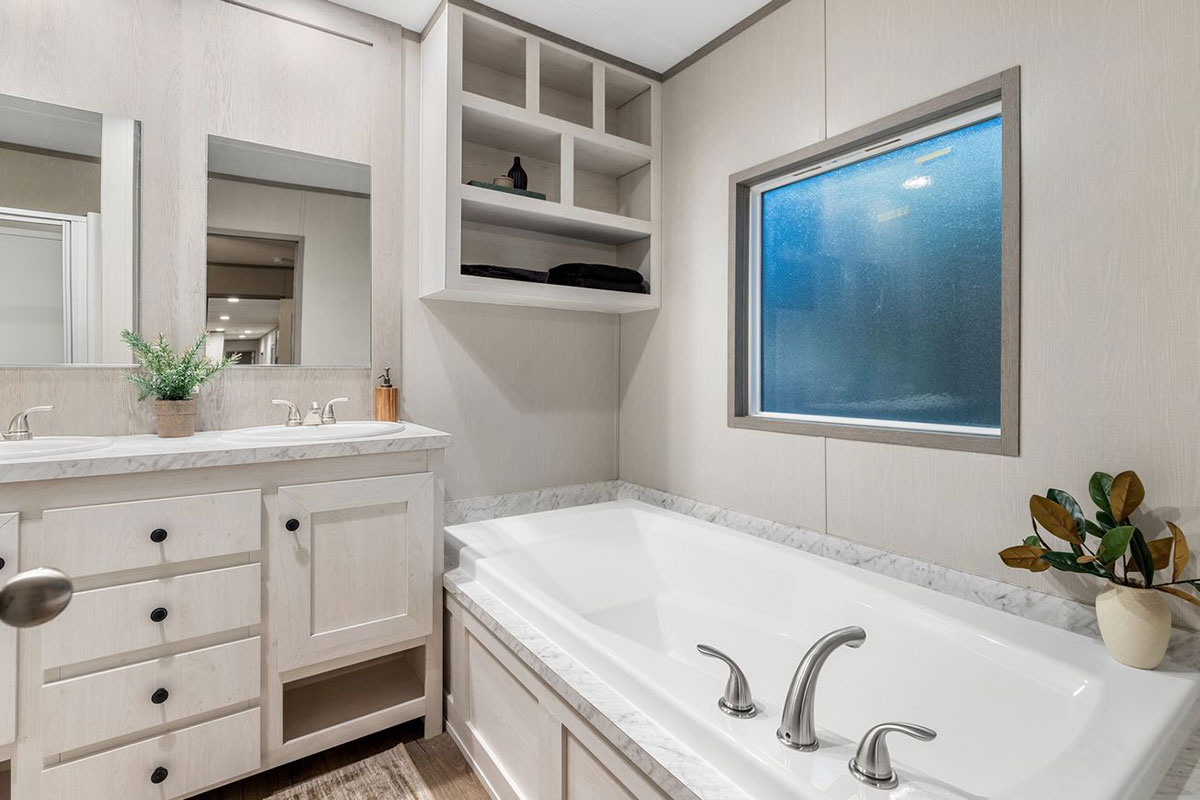 Maybe a shower with glass doors to make the space feel larger? Or perhaps a bathtub for those luxurious soaks? It's all about what you prefer.
Vanity Area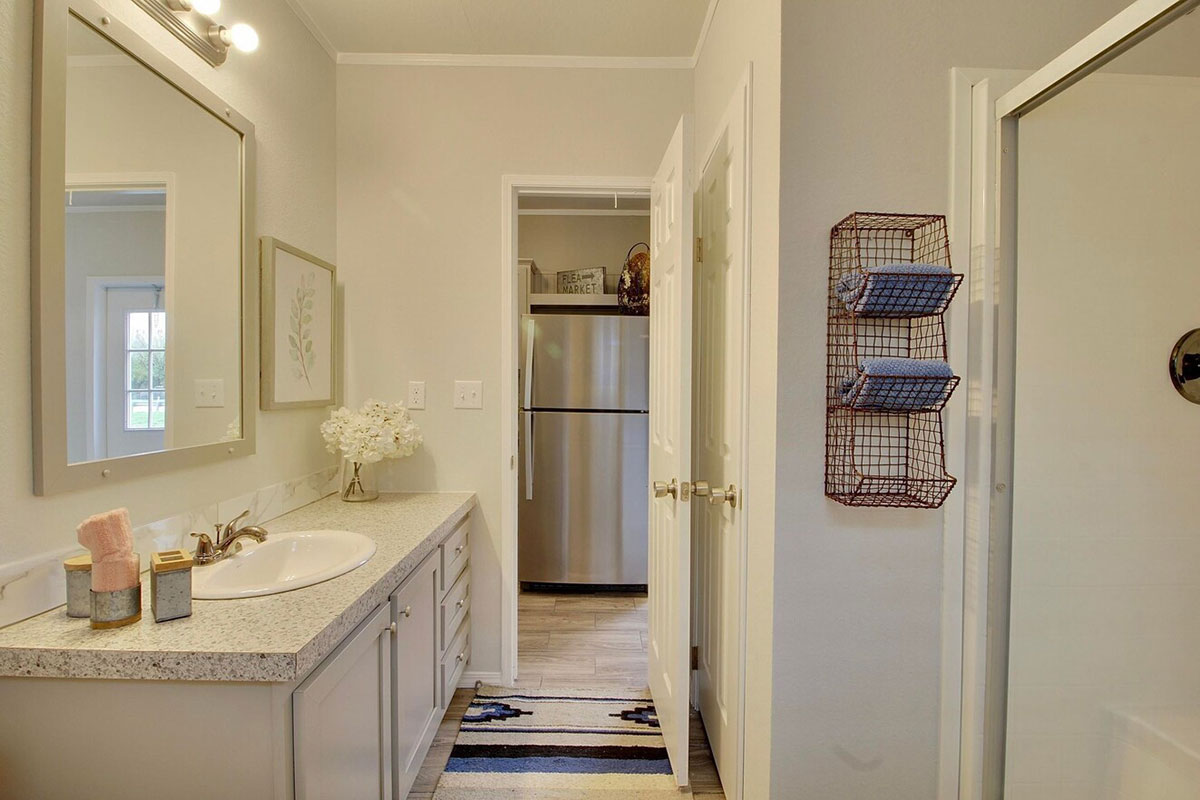 A well-designed sink and counter area can become your morning pit stop. Think about storage underneath and good lighting above.
Tile Work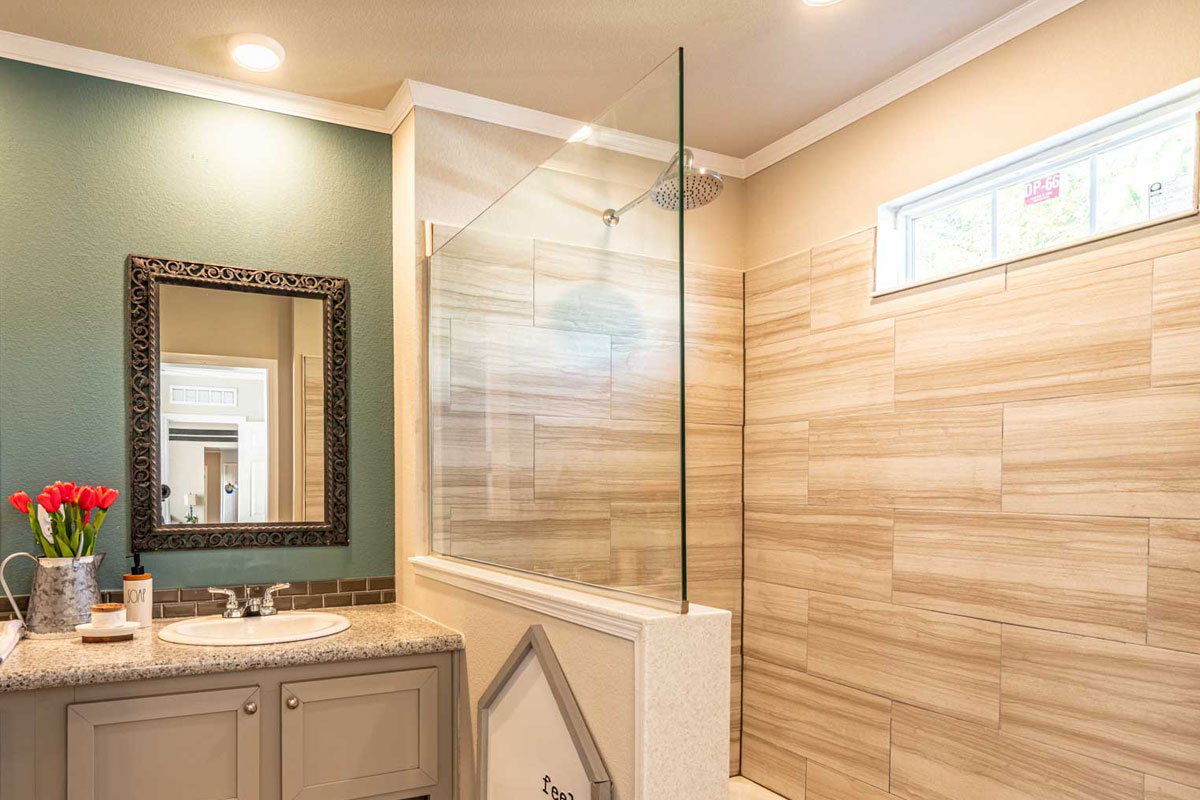 Your tile choices set the tone from floors to shower walls. Love classic? Go subway tile. Feeling adventurous? Mosaic tiles might call you.
Color Palette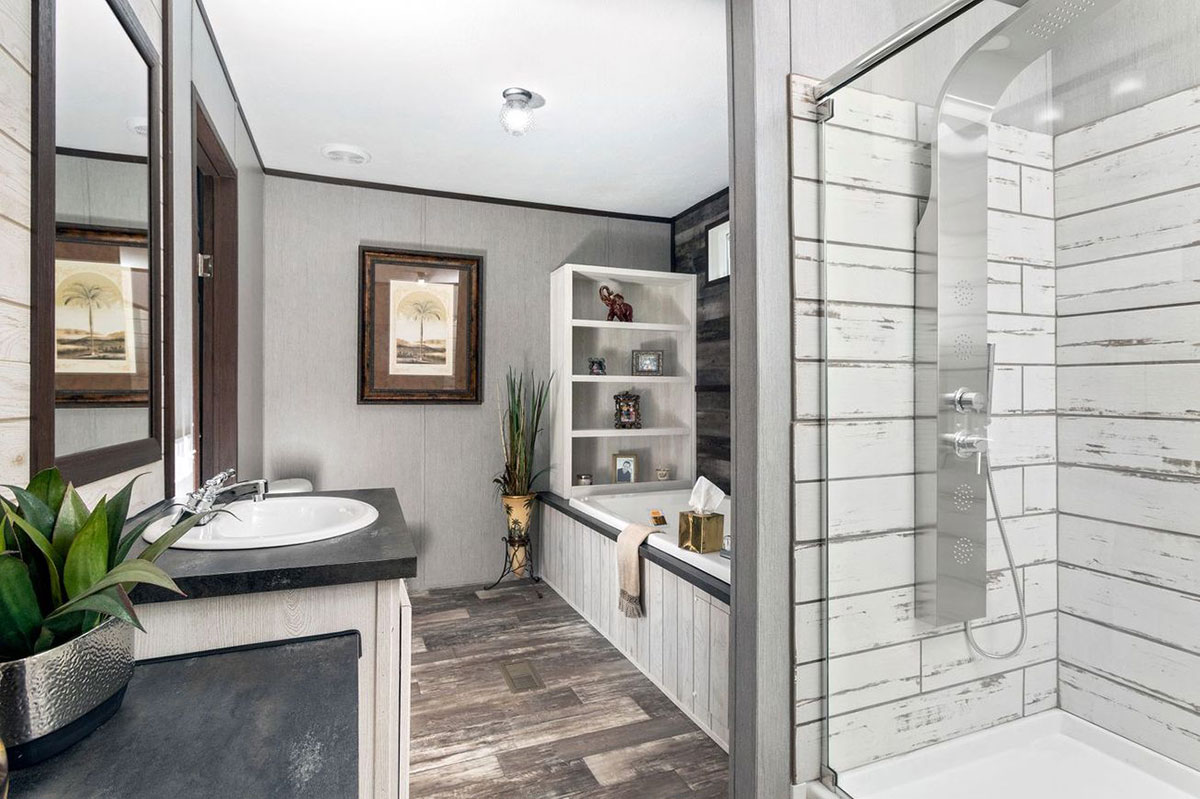 Soft neutrals bring calm, while bold colors energize. What mood are you aiming for? Choose accordingly.
Lighting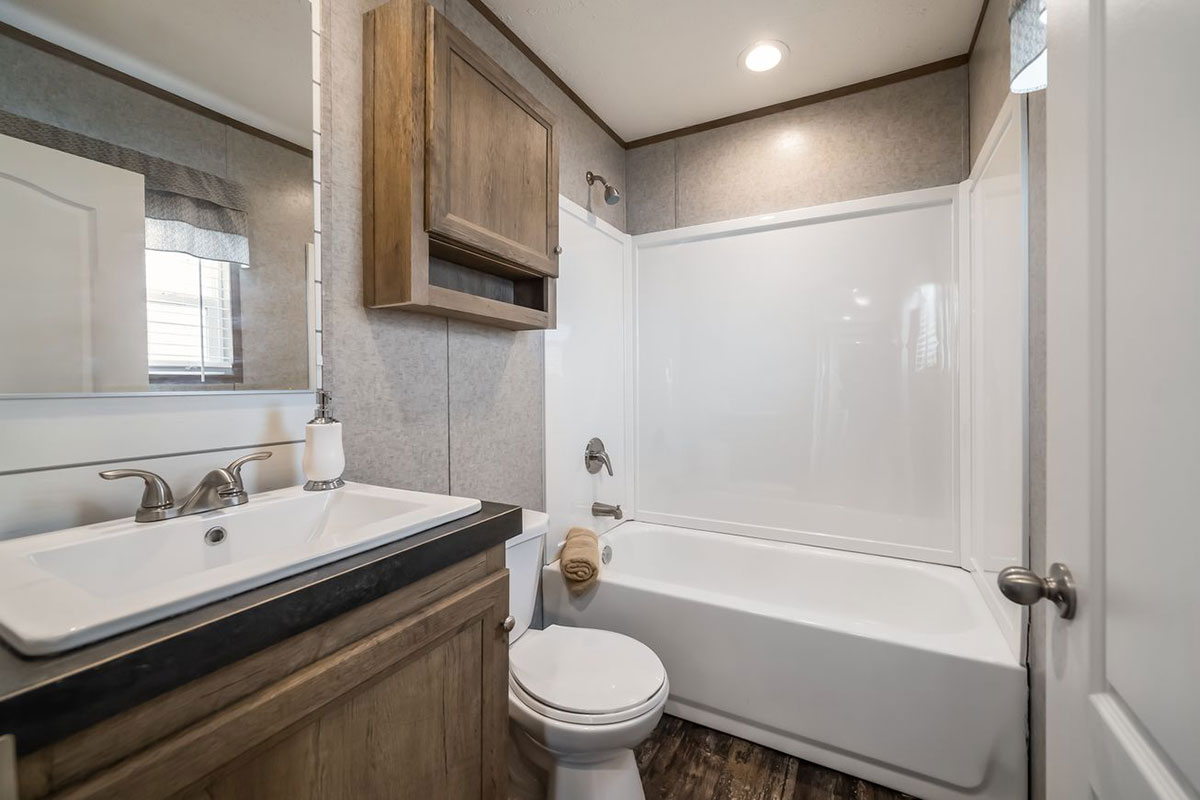 A well-lit mirror area, soft bath lighting, and perhaps a dimmer switch? Layering lights adds both function and ambiance.
Storage Solutions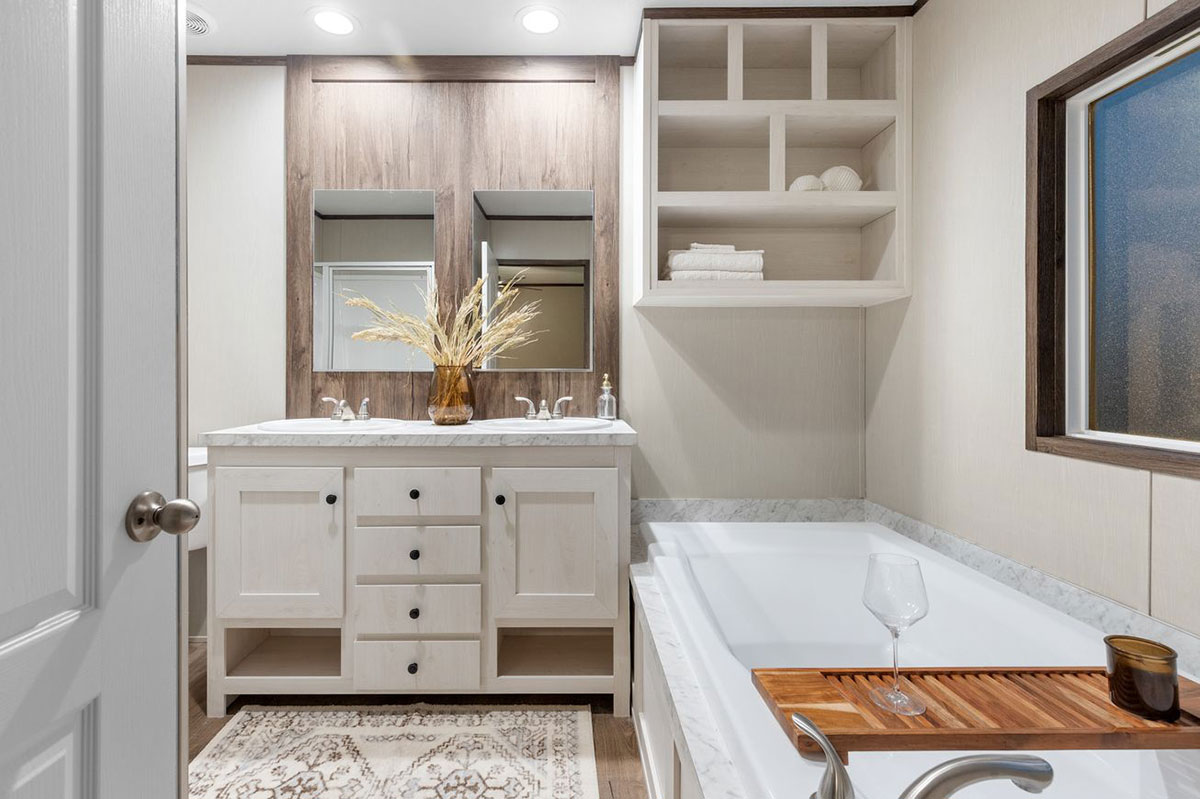 Shelves, cabinets, baskets – get creative. Every towel and toiletry needs a home.
Fixtures & Finishes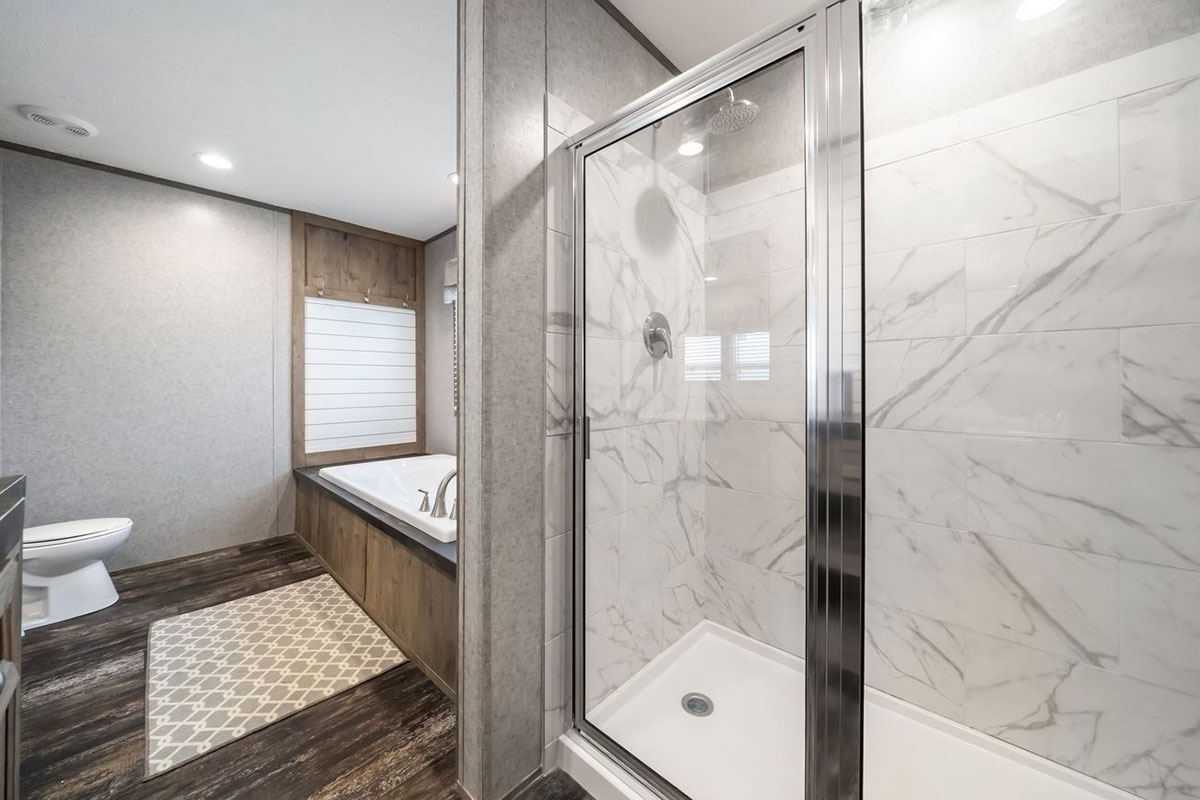 Chrome for modern, brass for vintage; your taps and showerheads make a statement.
Accessories & Decor
This is where you bring in the YOU. Artwork, plants, unique soap dishes, your favorite scents. These small touches lift the space from a mere bathroom to a personal sanctuary.
Eco-Friendly Options
Low-flow faucets, energy-efficient lights, eco-friendly products – yes, you can be green in your bathroom, too!
Cleanliness
Easy-to-clean surfaces save time and keep your bathroom looking great. It's a practical point that makes a difference.
Your bathroom is an essential start and end to your day. Let's make it feel that way. From the first splash of water in the morning to the final skincare routine at night, let it be a space that says, "This is me, and I've got this."
5. Additional Bedroom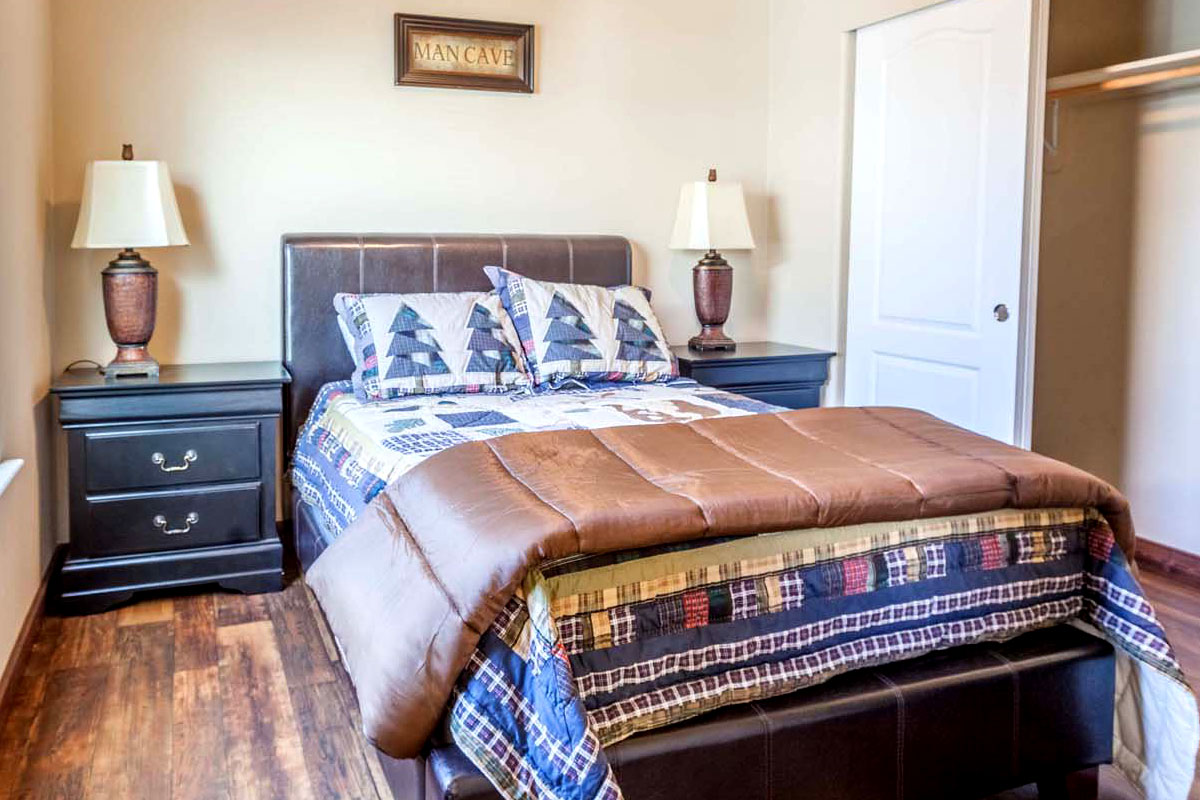 That additional bedroom in a single-wide mobile home might seem small, but the potential it holds! Whether it's a guest room, a child's bedroom, or a space for hobbies, let's dive into how to make the most of it.
Dimensions & Layout
Usually, these rooms are more compact, but don't worry. Clever planning turns small into cozy and functional.
Furniture Choices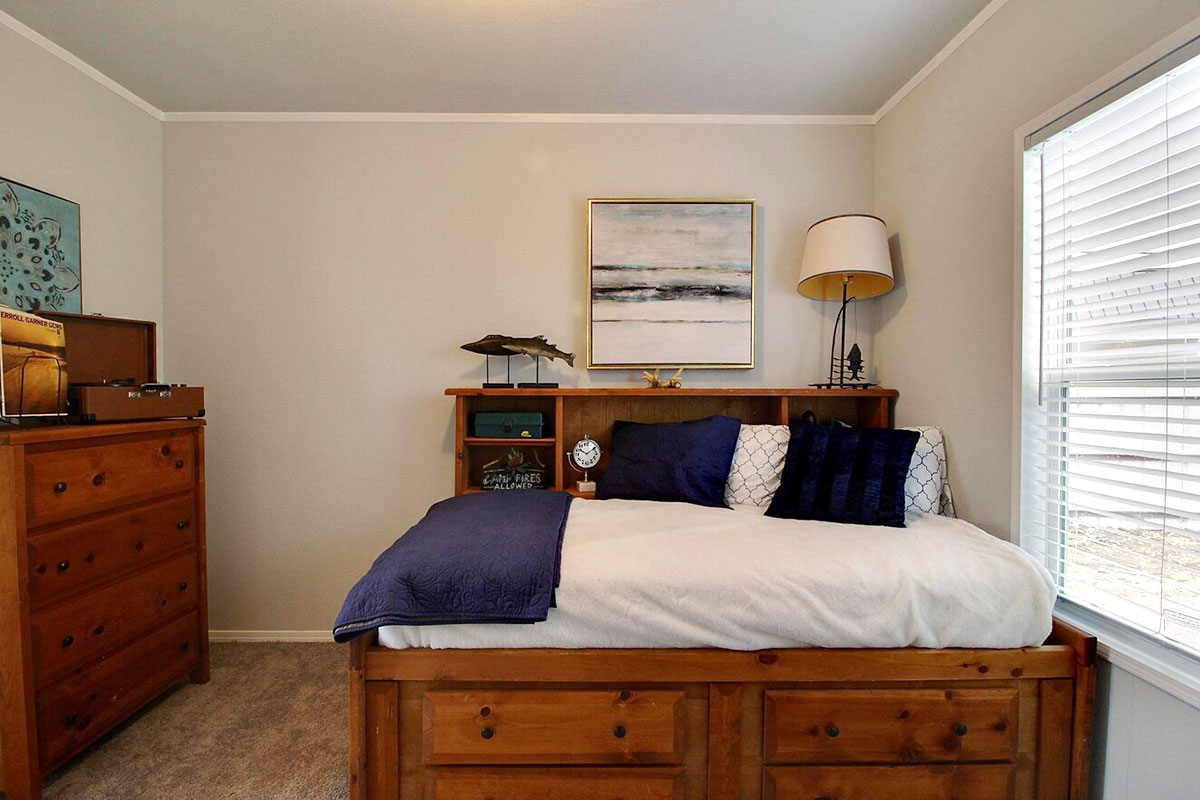 Go for dual-purpose items. Think of a bed with drawers underneath or a wall-mounted desk that saves floor space.
Color Choices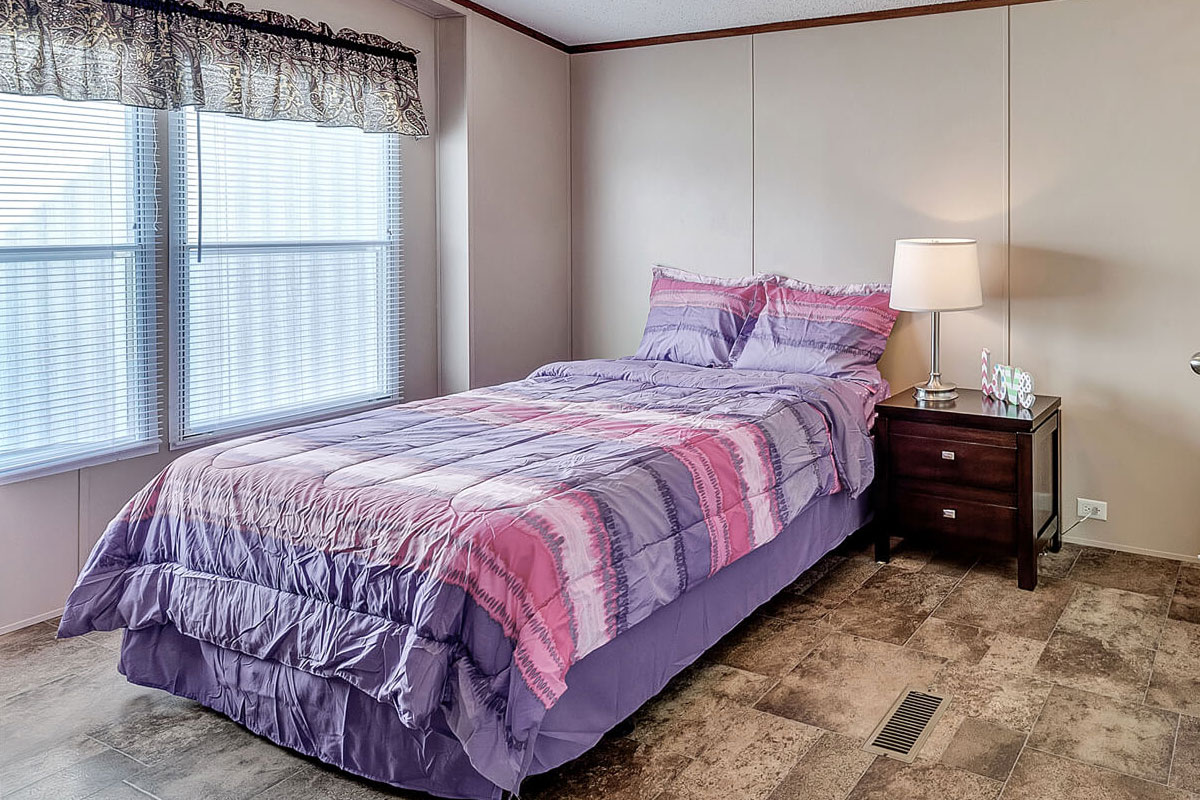 Lighter shades can open space, while bolder colors add character. It's your room, your rules.
Lighting Options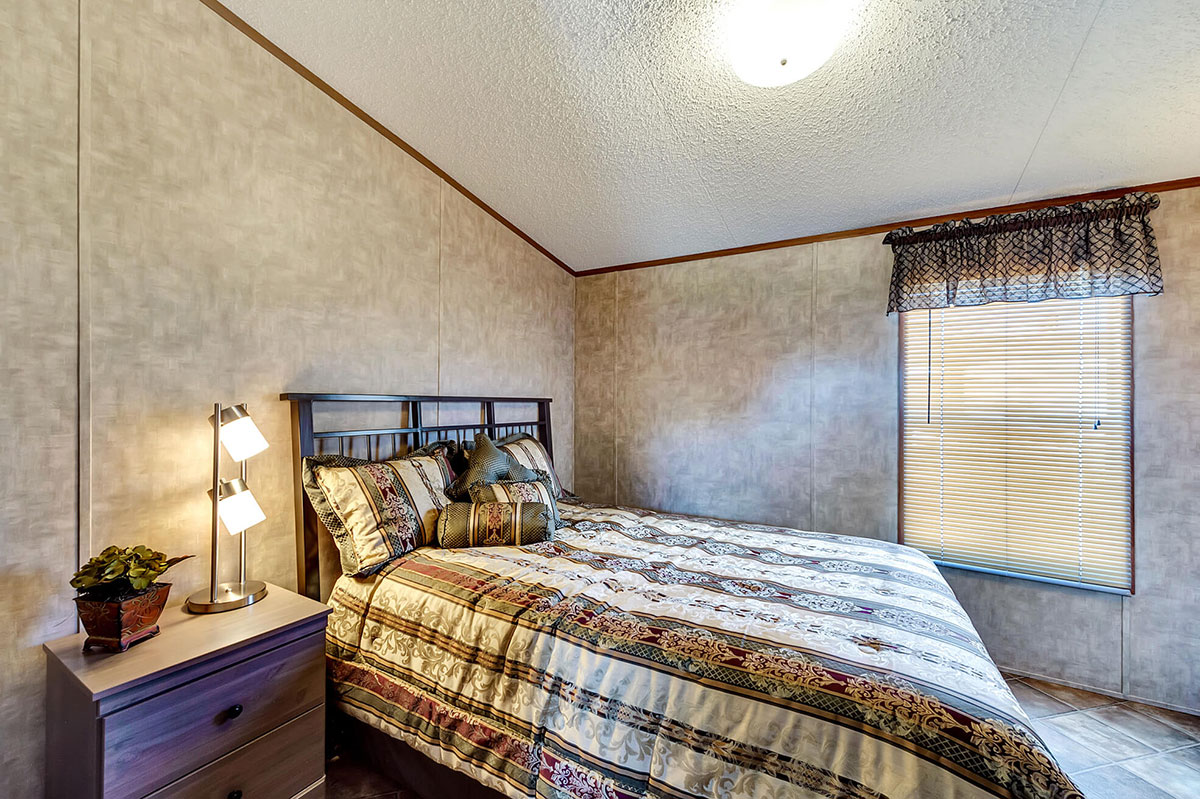 A mix of natural light, overhead lighting, and lamps create an inviting atmosphere. Consider adjustable blinds and dimmer switches.
Storage Solutions
Shelves on the walls, under-bed storage, or a chic wardrobe. Make every inch count.
Decor Style
The theme is essential. Coastal? Modern? Vintage? Make it cohesive and inject your personality into it.
Personal Touches
Your favorite photos, artwork, or maybe a creative DIY project. These touches make the room uniquely yours.
Child's Room Considerations
Consider a room to play and grow for a kiddo. Safety and creativity are critical.
Guest Room Additions
Hosting guests? Fresh linens, a reading lamp, and homey touches welcome visitors.
Hobby Space Ideas
Maybe it's your craft room or home office. Think ergonomic furniture and organized crafting stations.
Green Additions
Plants can add life and fresh air. And if you don't have a green thumb, some quality faux plants do the trick too.
Special Needs Considerations
If you need to cater to specific accessibility or safety requirements, plan for railings or other necessary modifications.
Your additional bedroom is a versatile space waiting to be defined by you. You can make it extraordinary, whether it's a restful oasis for guests, a whimsical child's playroom, or a creative hub for your hobbies. It's not about the size but the soul you pour into it. Let it reflect what you love, what you need, and who you are. Make it yours. Make it unforgettable.
6. Laundry Area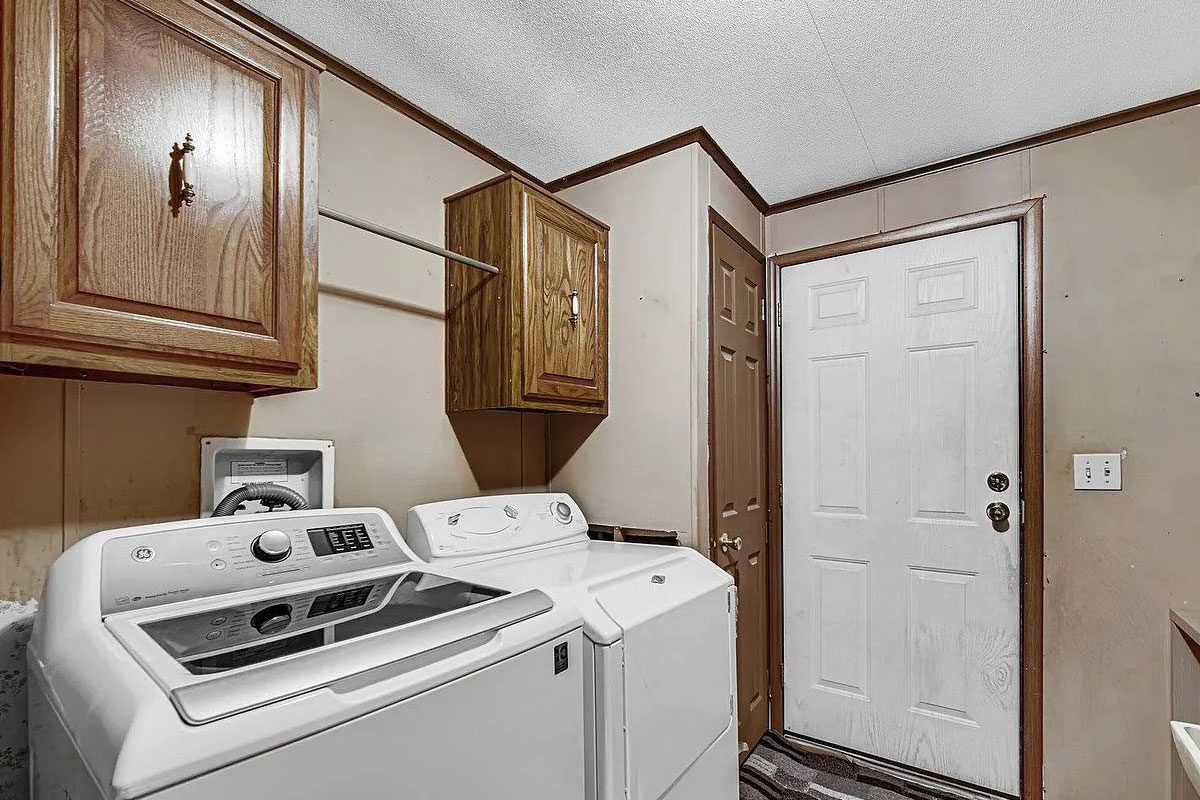 The laundry area might not be the star of the home, but it's a stage where a big part of life's daily drama unfolds. This space might be smaller in a single-wide mobile home, but it's mighty. Here's how to make it work for you.
Location Matters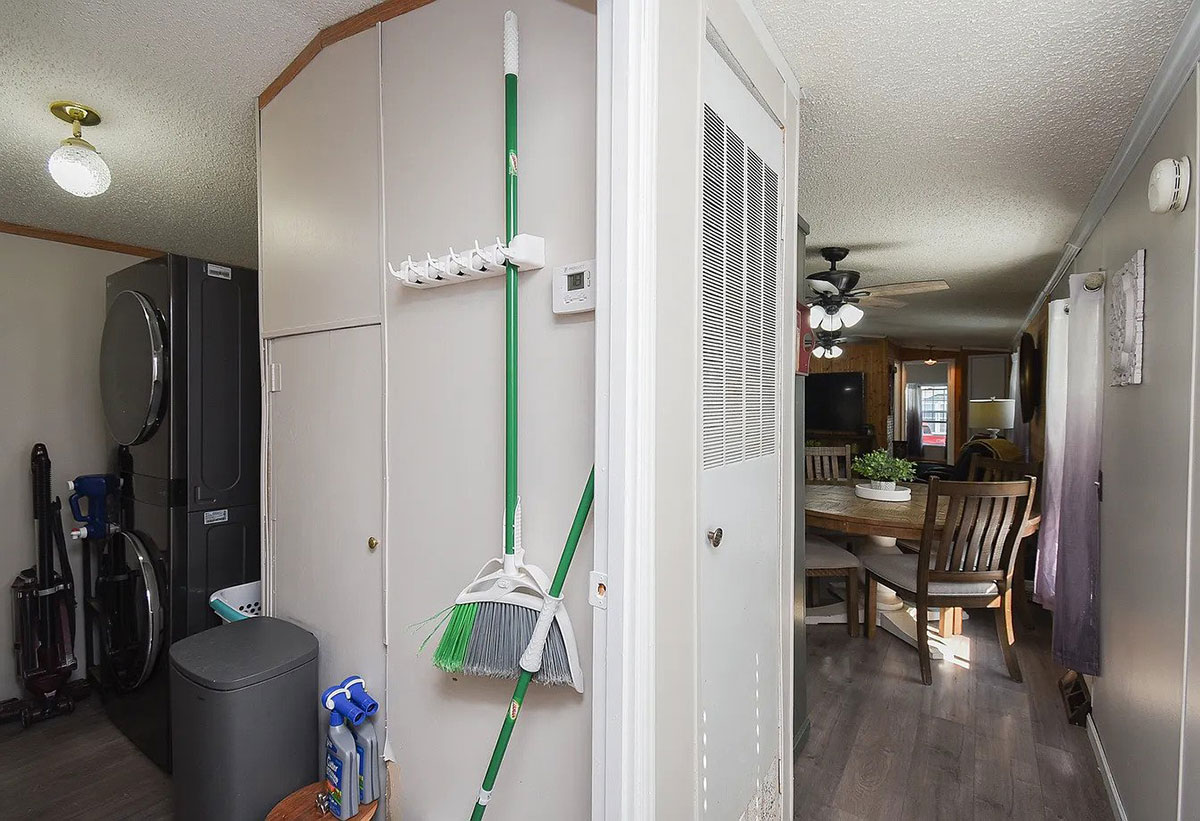 Often tucked away but close to where you need it. Maybe it's near the kitchen or the back entrance. Think about what's handy for you.
Washer and Dryer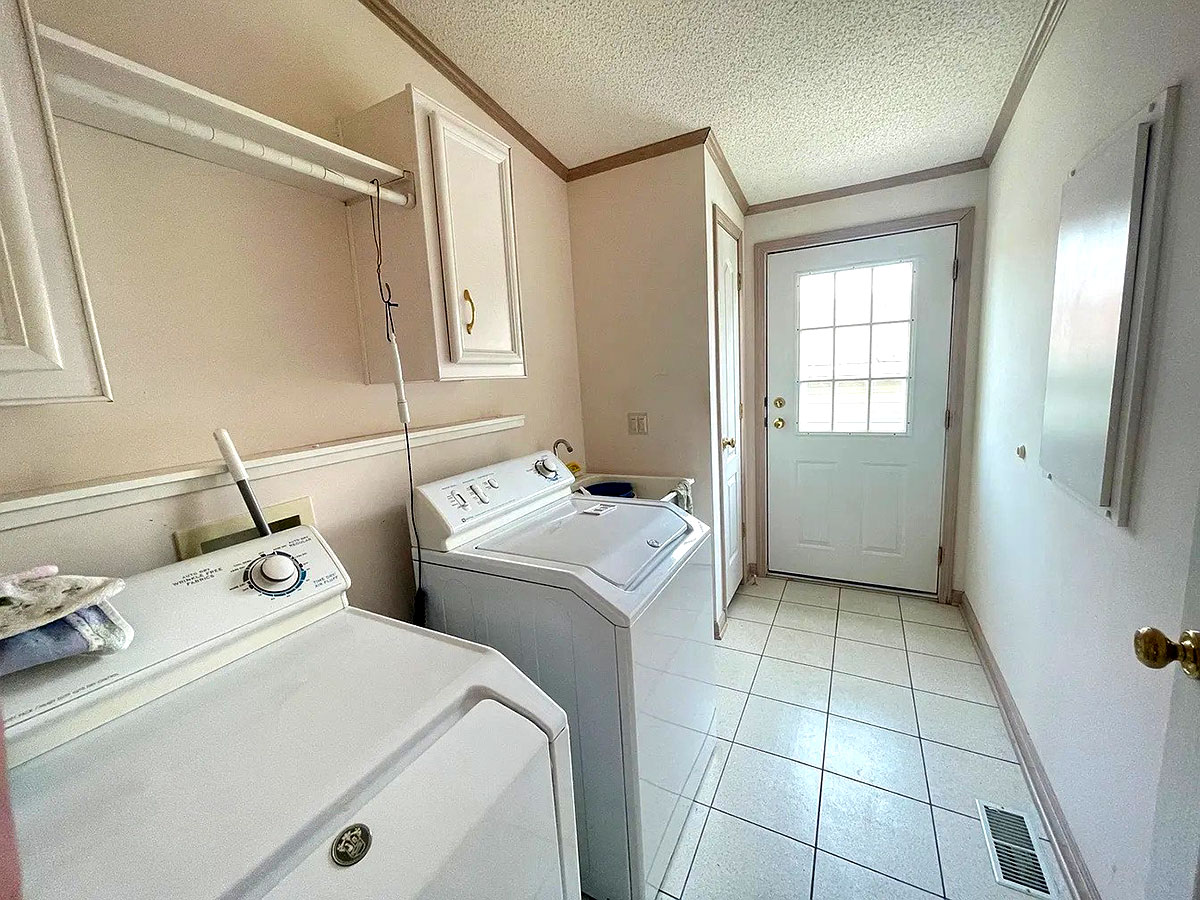 Stackable units are gold here. They save space and still get the job done. Front-loading machines? Even better for ergonomics.
Storage Solutions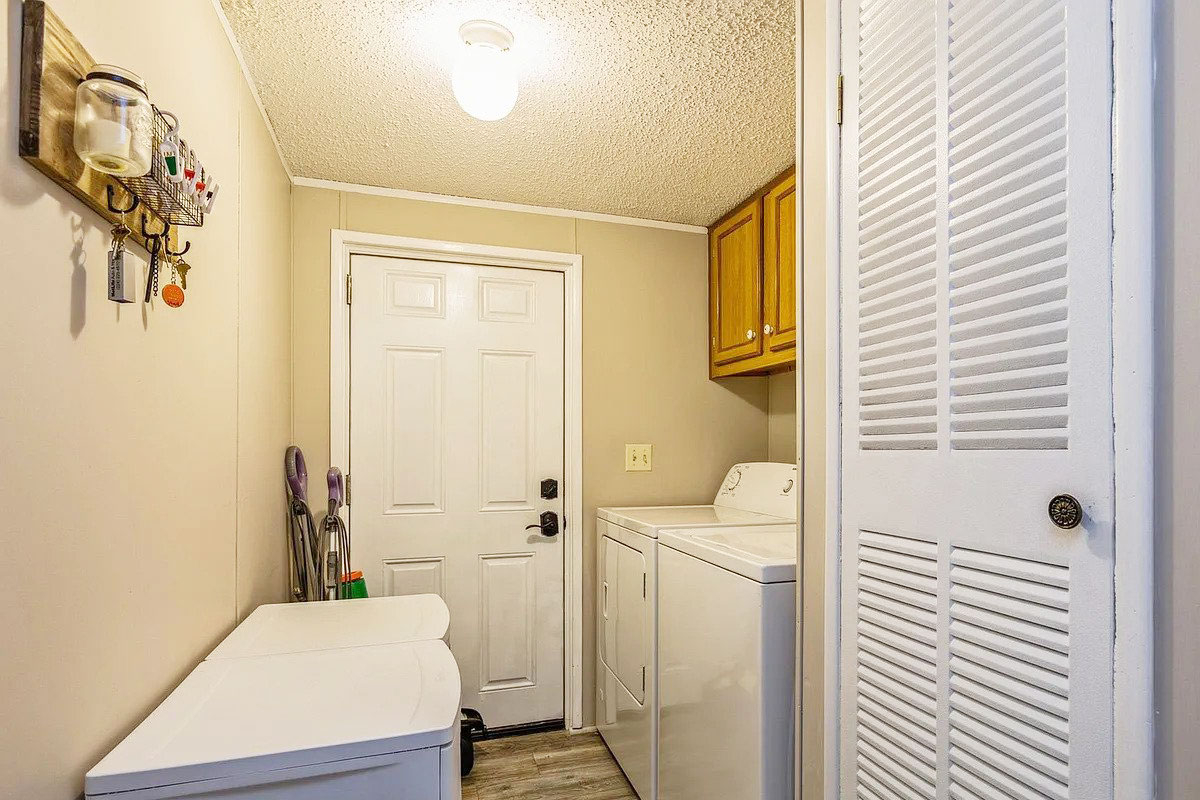 Shelves, cabinets, or even rolling carts. You need places for detergent, softener, and those odds and ends.
Folding Space
No room for a table? No problem. A fold-down shelf or even the top of the dryer can work. You've got options.
Hanging Area
Install a rod or retractable line. Some things just don't tumble dry.
Lighting
Bright but not glaring. You need to spot that pesky stain but don't want to feel like you're in the spotlight.
Flooring
Something easy to clean makes sense here. Accidental spills happen.
A Touch of You
Why not a fun rug or wall art? A laundry area doesn't have to be dull.
Ventilation
You'll want it. Trust me. A small fan or vent can make a big difference.
Accessibility
Everything in reach, nothing in the way. Simple and efficient.
Eco-Friendly Options
Energy-efficient appliances, reusable dryer balls, and biodegradable detergents. Saving the planet, one load at a time.
Pet Zone
If Fido needs a place for his food dishes or litter box, think about how that fits here too.
Ironing Station
If you iron, consider a wall-mounted foldable board. It's there when you need it, hidden when you don't.
Trash and Recycling
Small bins can be tucked away but are handy for lint and those empty detergent bottles.
Your laundry area might be small, but it can be a place where form meets function. A place for everything and everything in its place. Tailor it to suit your life and style, and you'll not just be washing clothes but breezing through chores with flair. Happy laundering!
Conclusion
Single-wide mobile homes offer a canvas ready to be painted with your personality and style. From the lively buzz of the living room to the culinary creativity of the kitchen, from the tranquil escape of the master bedroom to the practicality of the laundry area – each space tells a part of your story.
Image credit: Claytonhomes