16 x 80 Mobile Homes: 10 Cozy Single-Wide Models
Looking for a cozy nest that blends comfort, style, and practicality? It's time to turn your dreams into reality! Get ready for a roller coaster ride through our ten amazingly cozy 16 x 80 mobile home floor plans. We'll give you an up-close of some fabulous options that give you the freedom to live comfortably without breaking the bank. Let's dive in!
1. The ARC1680-8000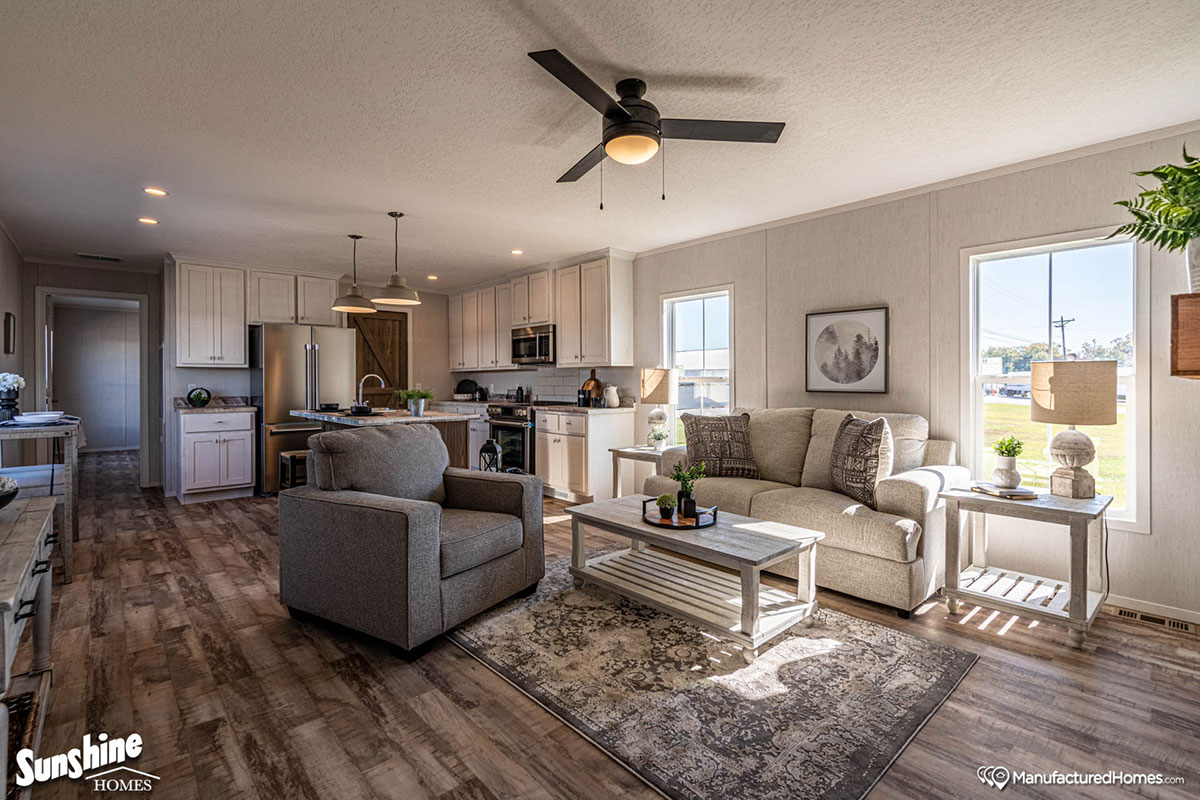 First on the list is the ARC1680-8000. It is a creation by Sunshine Homes, boasting an impressive 1185 square feet of affordable, quality-crafted living space. Think of it as your retreat. Three bedrooms, two bathrooms, all designed to maximize every square foot. No extra hallway space here!
This gem has impressive features, like R-30 ceiling insulation, 2 x 4 exterior walls, 23/32″ OSB floor decking, and R-11 floor insulation. You're guaranteed a sturdy and well-insulated home.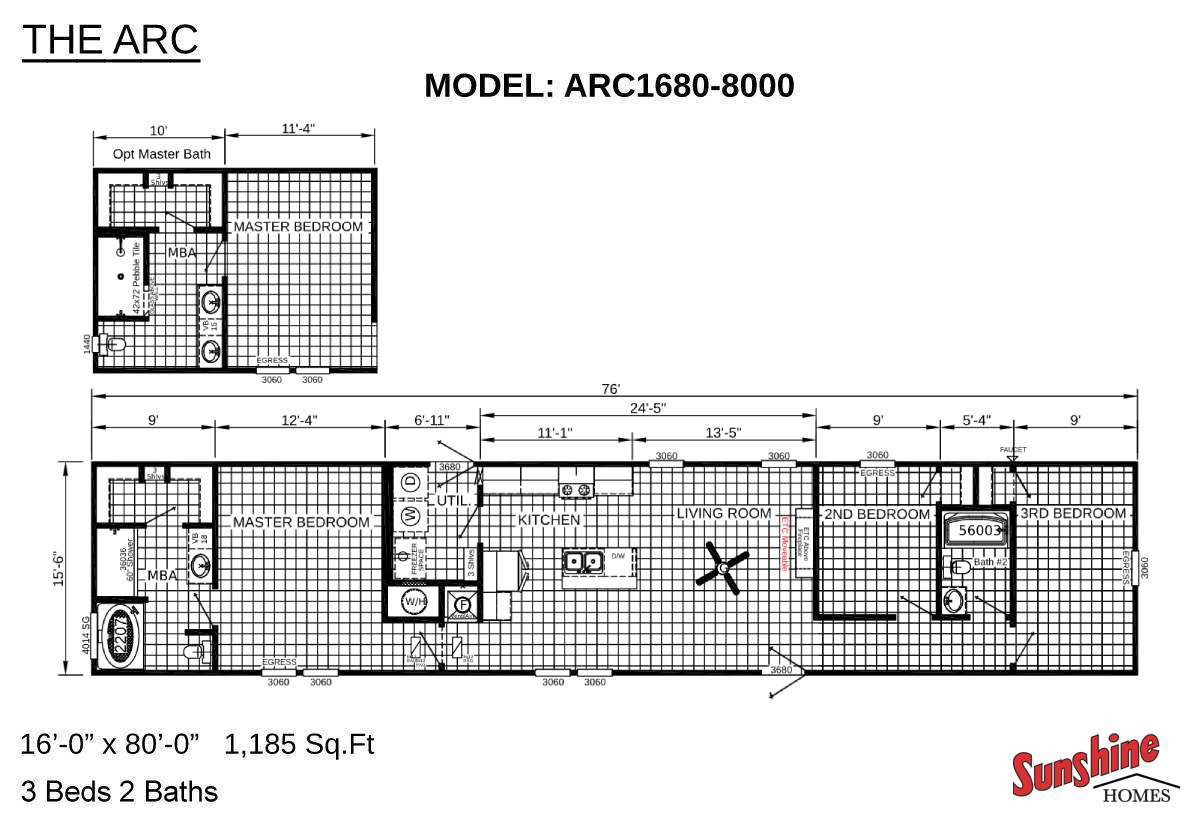 Step outside, and you'll see thoughtful details like raised panel shutters and exterior outlets at the front and rear doors. You'll appreciate the low E Vinyl Thermopane windows that provide excellent thermal efficiency.
Step back inside and take note of the flooring. Beau Flor rolls goods throughout the house, a perfect balance of style and durability. Notice the drywall ceilings with a knockdown finish and the 2-panel interior doors. The walls are finished with laminated designer 5/16″ Sheetrock, giving a fresh, clean look.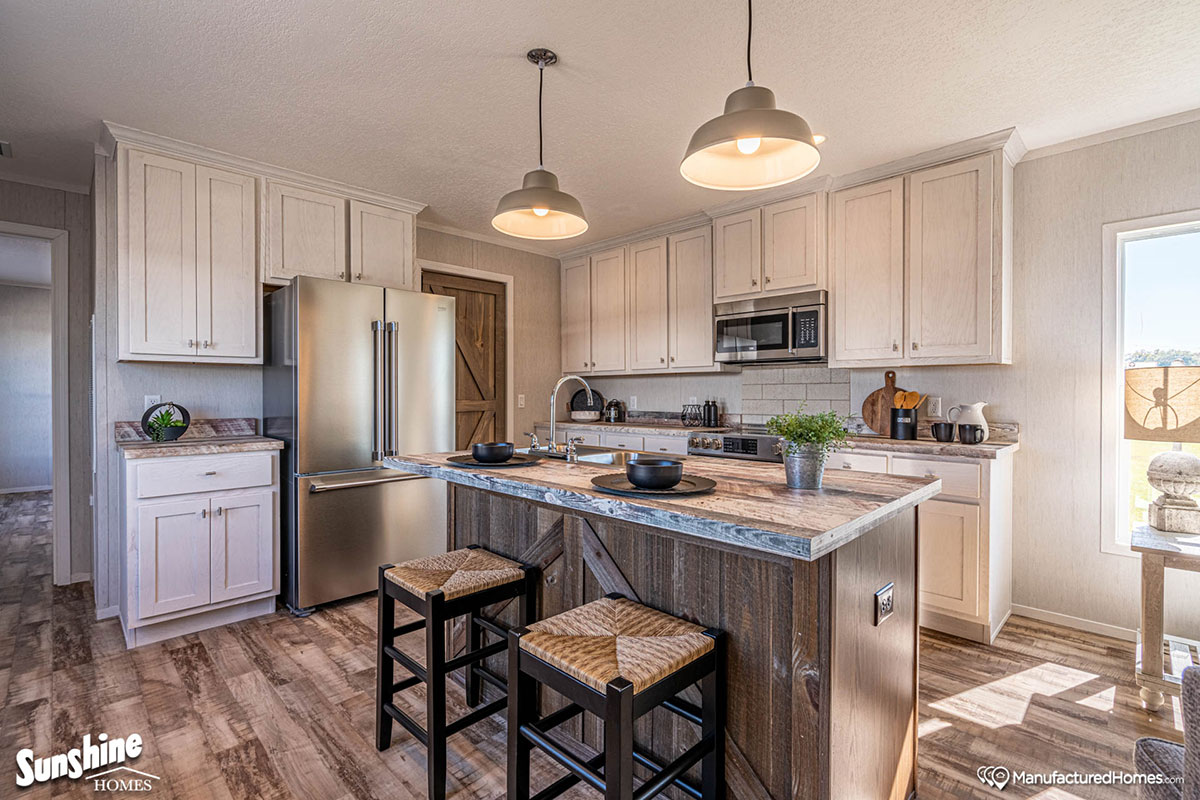 The kitchen has wood cabinets, Soft Close doors, drawers, and a sleek Solido Edge countertop. Get ready for top-notch appliances like a Whirlpool Stainless Steel dishwasher and side-by-side refrigerator. The kitchen range? Also, Whirlpool, with a smooth top. Cooking is going to be a breeze!
The bathrooms? Oh, they're something else! A 60″ fiberglass shower, a 2207 fiberglass soaker tub in the master bath, and an upgraded fiberglass tub/shower in the second bathroom. Plus, oval porcelain sinks and elongated commodes for that extra touch of luxury.
And that, my friend, is the ARC1680-8000. Quite a beauty, isn't she? A blend of thoughtful design, high-end finishes, and practical features that make it more than just a house. It's a home ready for you to make it your own.
2. 16763Y The Spire

Next up, let's dive into the 16763Y The Spire! This beauty from Fleetwood Homes Nampa is something to talk about. The specs? Three bedrooms, two bathrooms, and a comfortable 1,140 square feet of living space. It's got the length and width to match: 76'0″ long and 16'0″ wide.
Let's start with the nitty-gritty – the construction. Insulation? Check! With R-28 in the ceiling, R-22 in the floors, and R-11 in the walls, you're looking at a home built to be snug and efficient. Plus, it comes with a 30 lb. roof load, 8′ flat ceilings, 2″ x 4″ exterior walls, and 19/32″ T&G OSB floor decking.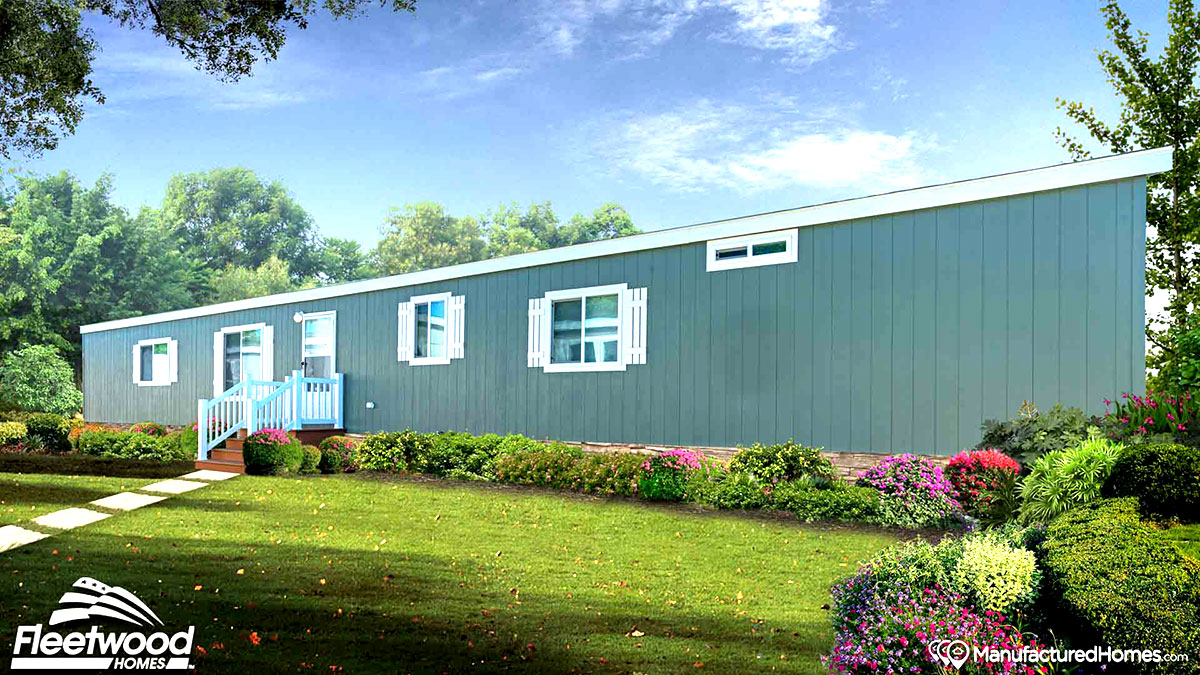 Heading outside, we've got a 36″ in-swing front door and a 34″ outswing rear door, both featuring a trusty deadbolt. The exterior isn't just about function – it's got style, too, with porch lights at all exterior doors, LP Smart Panel siding, and a 3:12 roof pitch. The windows are something else: vinyl-clad thermo-pane with Low "E" trimmed beautifully, plus painted shutters on the hitch end.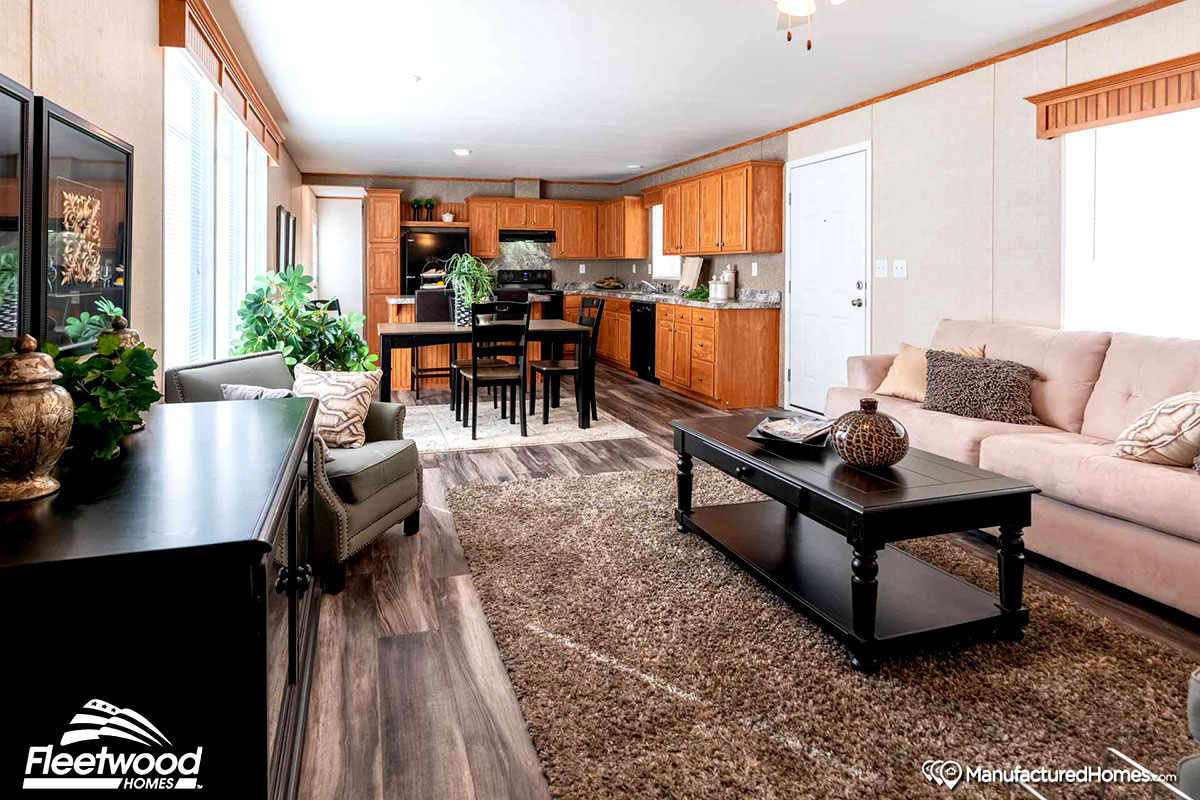 Step back inside, and you're welcomed by Livewire carpeting, textured ceilings, and factory-select vinyl-covered wall panels throughout. You'll love the 2-panel white interior doors and LED can lights. Windows got a special treatment too: white waterfall window & door trim and 2″ wood faux blinds. Isn't that neat?
Now, get ready for your favorite part – the kitchen. MDF face frame cabinets and an overhead shelf above the refrigerator give you plenty of storage. You'll appreciate the convenience of a bank of drawers and a 7″ double cell stainless steel sink. All that, plus a 30″ power range hood, a stainless steel Whirlpool electric range, and an 18 cu. ft. Whirlpool refrigerator! Plus, the laminate backsplash and vinyl flooring are perfect for easy cleaning.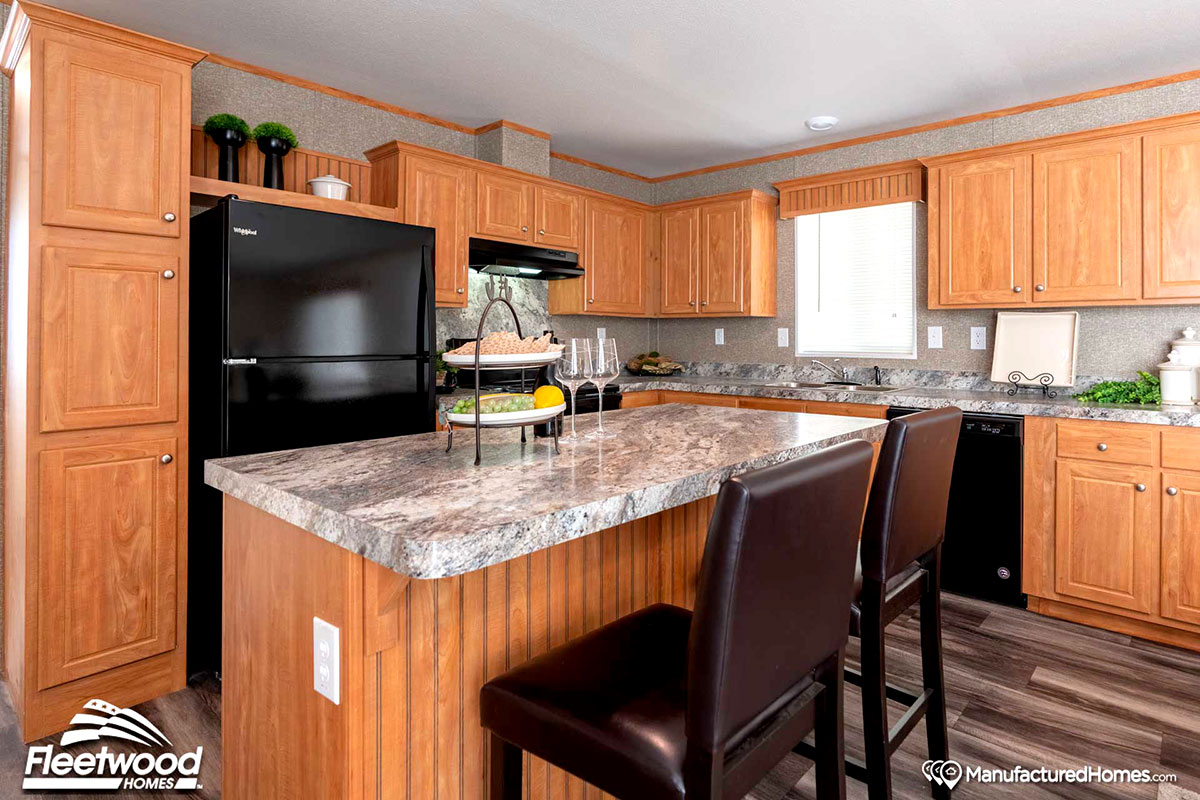 Moving on to the bathrooms, we find matching laminate backsplashes and vinyl flooring. The 36″ height lavy cabinets, like the acrylic sinks and dual handle faucets, stand out. Plus, both the master and guest baths feature a 60″ 3 pc. ABS tub/shower.
Regarding utilities, we're talking 200 Amp all electric service, an electric furnace, and a 30-gallon water heater. There are shut-off valves on toilets, a master water shut-off valve, and a GFI patio plug near the rear door.
3. Karsten K1676H
Get ready because we're about to unwrap the gift that is the Karsten K1676H, a spectacular offering from Clayton. Three bedrooms, two bathrooms, and a cozy 1,178 square feet of living space are just the start. And it's sized just right with a 76'0″ length and 16'0″ width.
But here's where it gets exciting. Under the hood, the K1676H has impressive construction. This home packs a punch with R33 insulation in the ceiling, R22 in the floors, and R19 in the walls. It boasts x6 exterior walls, 5/8″ interlocking tongue and groove OSB floor decking, and a 20# roof load. Plus, the 7/16″ OSB roof decking and engineered trusses make this a sturdy beauty.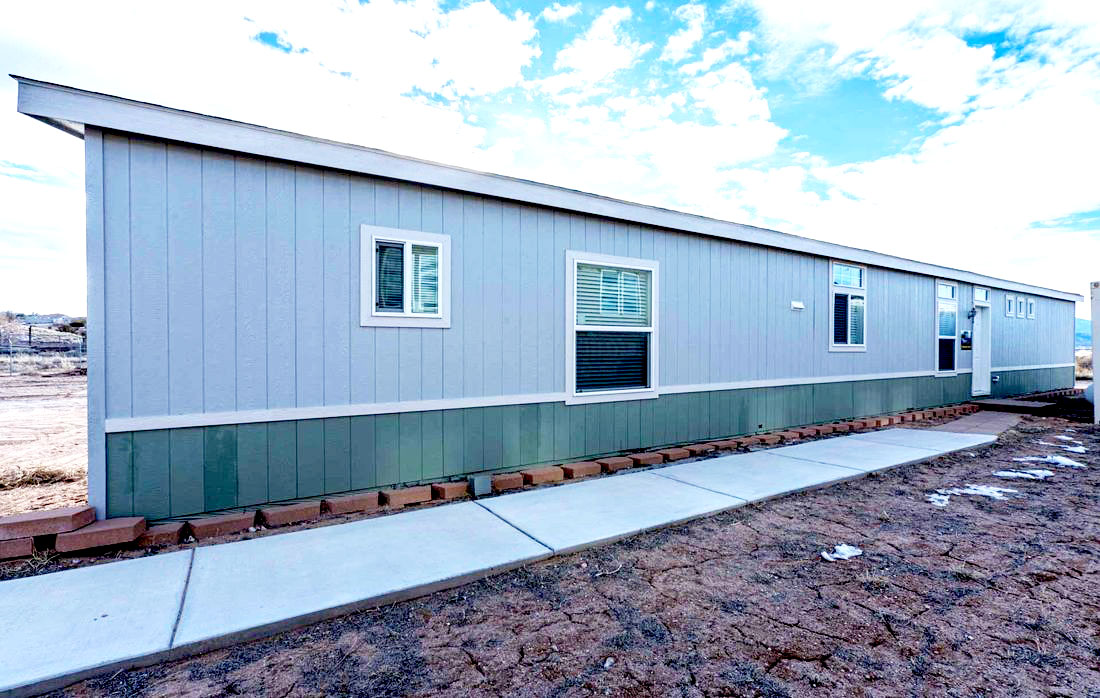 Take a step exterior; you'll find six-inch residential eaves and a charming dormer. The front and rear doors are 36″ 6-panel in-swing fiberglass, each with a deadbolt, knocker, and viewer. Top it off with coach lights at the exterior doors, CertainTeed® Landmark® Series Designer Architectural Shingles, and LP® SmartSide® Panel Siding – you've got curb appeal in spades!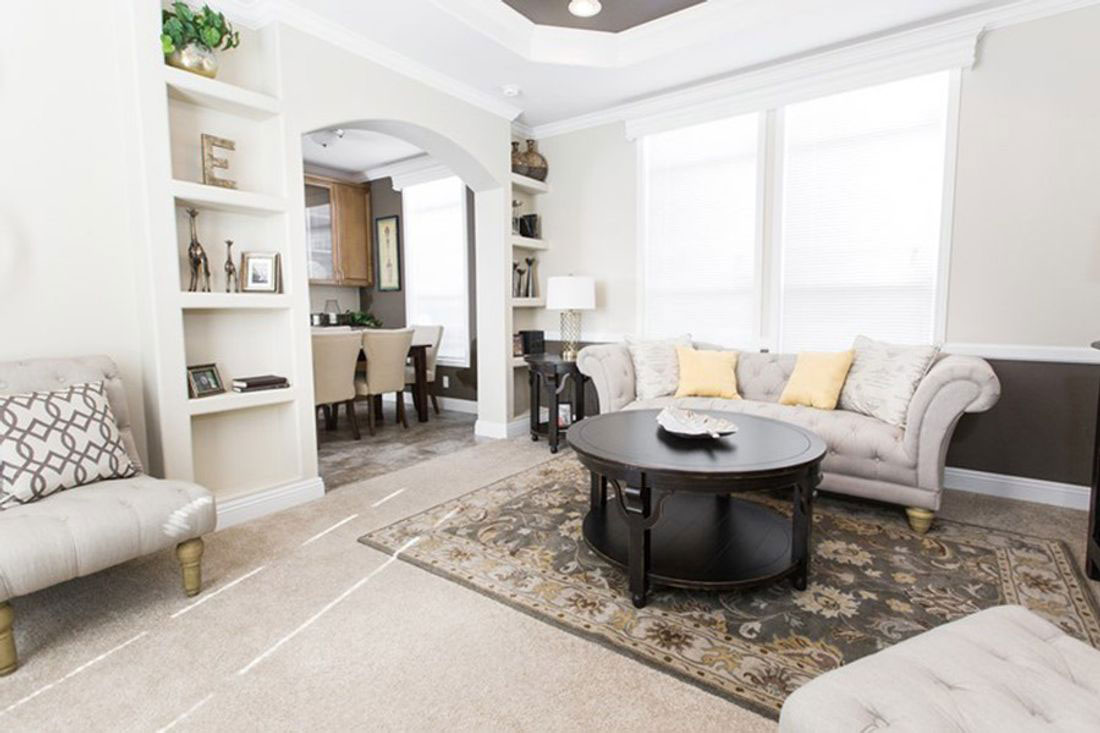 Back inside, we're talking about raised panel interior passage doors, LED lighting throughout, and 1/2″ American drywall with orange peel texture. Plus, the Kinro dual-pane low-E vinyl thermopane windows are trimmed throughout, giving a seamless look to your space.
Now, let's talk about everyone's favorite room – the kitchen! The European frameless component cabinet system is stunning, and the 4″ laminate backsplash is a functional and stylish addition. The solid wood cab doors, drawer fronts, and the Pfister® brushed nickel metal faucets add a touch of elegance. You also have a Frigidaire range, refrigerator, and deep white acrylic sink.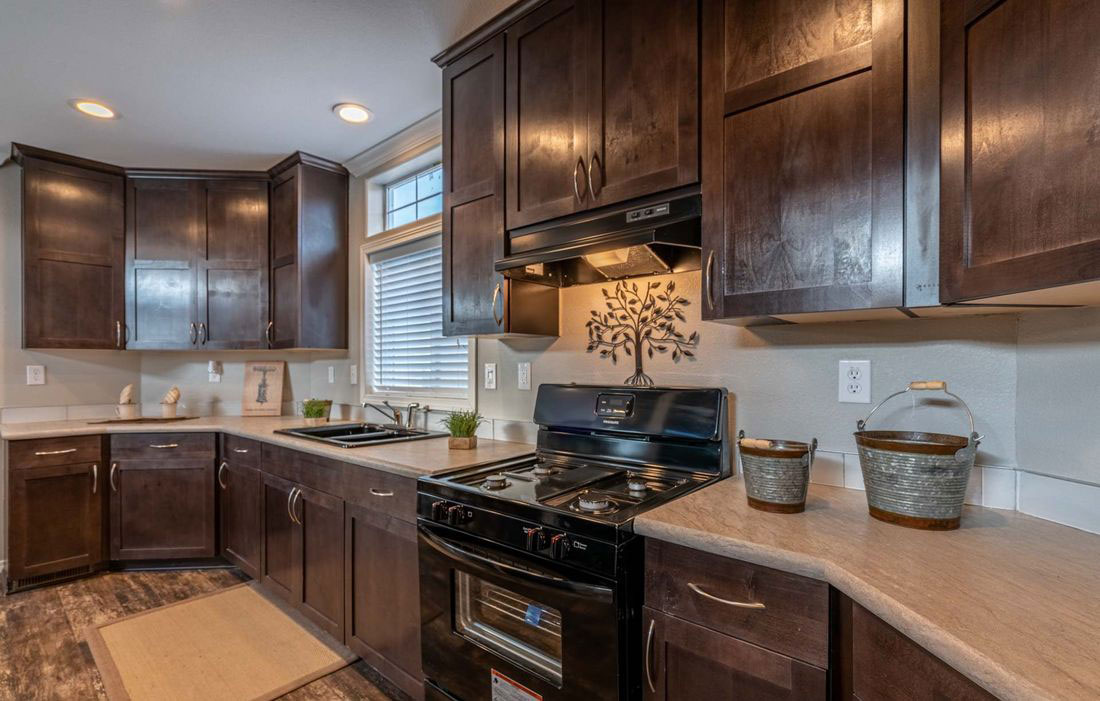 Moving to the bathrooms, you'll find recessed LED can lights above sinks and showers, one-piece fiberglass showers in the master bath, and tub/shower combos in the guest baths. Rectangular porcelain bath sinks and elongated toilets complete the refined look.
Last but not least, let's talk utilities. The K1676H features a Carrier® SmartComfort™ high-efficiency furnace, Ecobee 3 Pro Smart Thermostat, and Rheem® 40 Gallon electric water heater. You've got prep for an electric dryer and washer and handy water shut-off valves throughout.
4. Kabco MD-111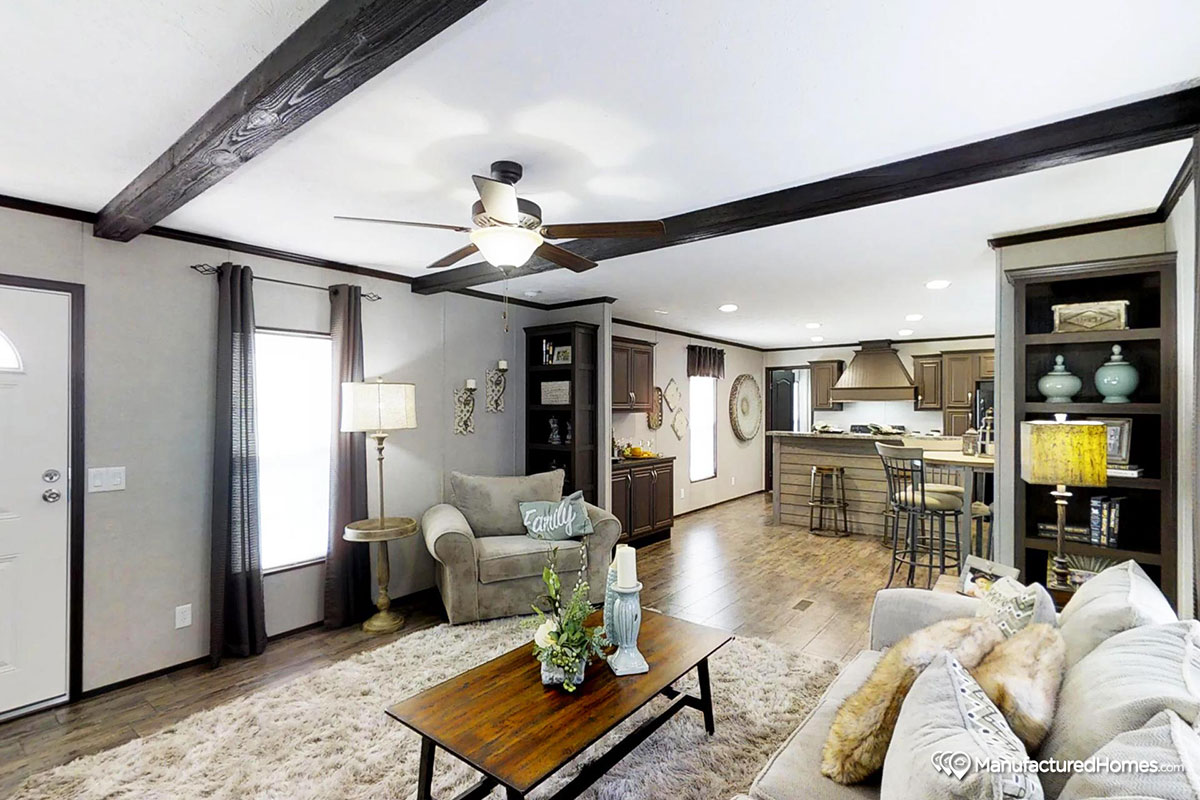 Meet the Kabco MD-111, a fantastic creation by Kabco! This gem offers three bedrooms, two bathrooms, and a comfortable 936 square feet living space. All stretched out in an 80'0″ by 16'0″ package. Sounds great, doesn't it?
Now, let's dive into the details. With R19 insulation in the ceiling, R11 in the floors and walls, and 2×4 wall studs inside and out, this home is a fortress. The 5/8 inch OSB tongue and groove floor decking pairs perfectly with sturdy 2×6 floor joists, giving you a home that's robust from the ground up. And with a sidewall height of 8 feet, there's plenty of room to breathe.
Step outside, and you'll be greeted by a house-type front door with a storm door and a cottage-style rear door. The MD-111 wears a chic coat of vinyl siding, and the paneled shutters perfectly frame the mill-finished windows. It's a sight to behold!

Inside, the MD-111 impresses with three-inch crown baseboards and trackless carpet. The brown interior doors give a rustic touch, and the window treatments are stylishly covered with drapes and mini blinds.
The kitchen? You'll love it! The five-piece raised panel cabinetry oozes style and an 18 cu. ft. refrigerator with an ice maker ensures you're always ready to entertain. Plus, with the 16-inch tile flooring that matches the bathroom, and a dishwasher for easy clean-ups, the kitchen is both beautiful and functional.
And let's not forget about the utilities. The MD-111 comes with a 200 AMP electrical service, is air-ready, and includes a 30-gallon electric water heater. With shut-off valves throughout and plumbing and wiring ready for a washer and dryer, you're all set for easy living.
So, what's the verdict? The Kabco MD-111 doesn't just check all the boxes. It creates new ones and ticks those too. It's a home that truly has it all!
5. Galaxy 801
Number five on our list is the Galaxy 801. Another showstopper from Skyline! This home is an absolute catch, boasting three bedrooms, two bathrooms, and a roomy 1,178 square feet of living space neatly spread over a 76'0″ by 16'0″ blueprint.
Let's get a little nerdy and talk construction. This home features R-19 ceiling insulation, R-11 insulation in both the walls and floors, and 2″ x 4″ exterior wall studs, providing a well-insulated haven no matter the season. The 2″ x 6″ floor joists and an impressive 20lb roof load combine strength with stability. The cherry on top? An 8′ flat ceiling that gives you the perfect overhead canvas.
Moving on to the exterior, you're greeted with a six-panel fiberglass residential front door and a lovely 9-light fiberglass rear door. The house shines with durable vinyl lap siding and a 25-year shingle roof. The finishing touch is the vinyl single-hung windows that blend form and function.

Inside, the Galaxy 801 is all about attention to detail. A textured ceiling with a stipple finish adds character, while the 3-panel hollow core interior doors bring subtle elegance. The 4″ LED can lights sprinkle the entire home with a warm, inviting glow. And the 1″ white vinyl mini blinds? They're the perfect blend of privacy and style.
The kitchen is a chef's dream! Flat-panel expresso shaker wood cabinet doors team up with a formica backsplash to create a practical and stylish space. You also get the convenience of a 30″ Whirlpool electric range, an 18 Cu. Ft. double door frost-free refrigerator, and a 6 1⁄2″ double bowl stainless steel sink. The icing on the cake? The kitchen boasts durable Armor linoleum flooring that can handle anything you throw at it.
Rounding out the Galaxy 801's features are top-notch utilities. It has a 200 Amp service, an electric Nortek furnace, and an analog thermostat for optimum temperature control. Plumbing and wiring are ready for your washer and dryer; there's even a metal shelf for extra storage. With a 30-gallon Rheem electric water heater and a whole-house shut-off valve, your comfort is always at the forefront.
In short, the Galaxy 801 is more than a house. It's a place where quality, comfort, and style intersect to create the perfect place for you to call home!
6. Legend 1676205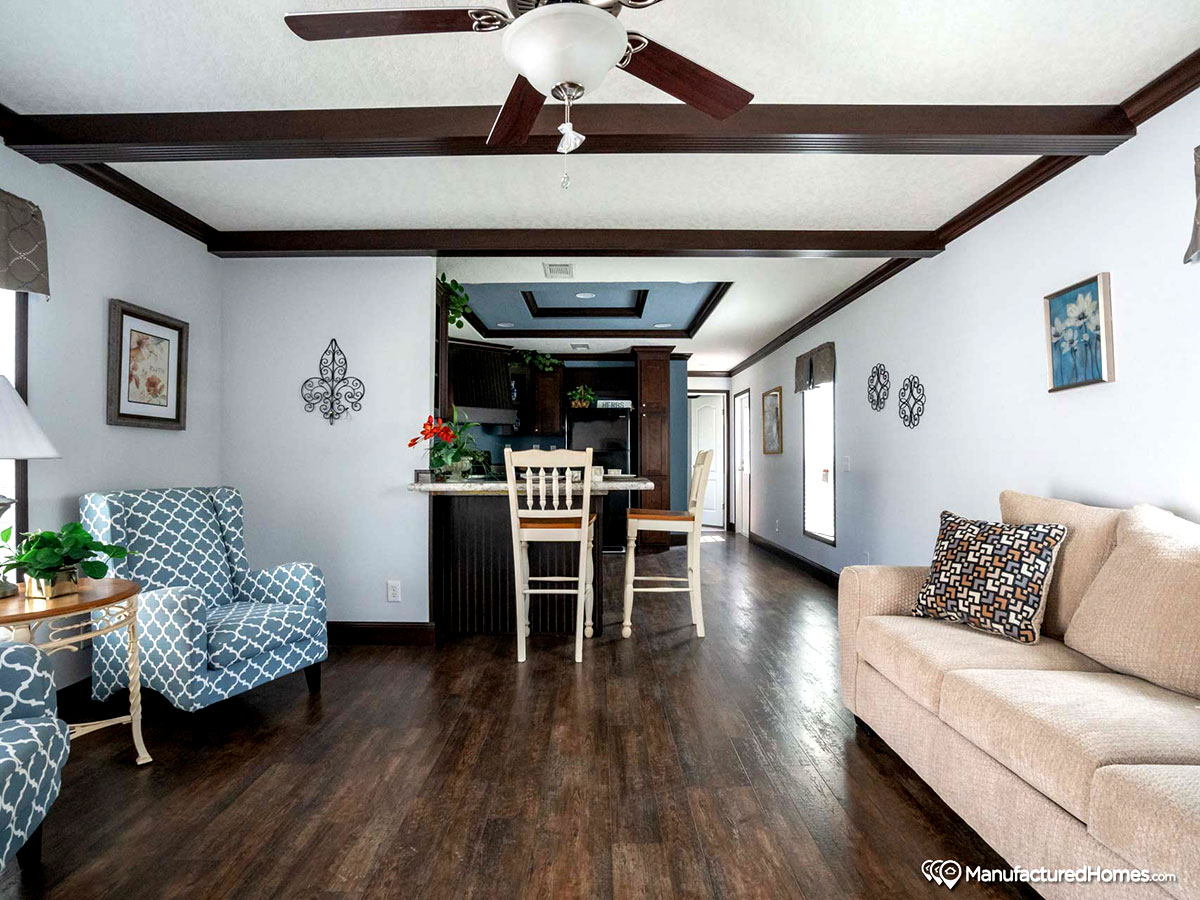 The Legend 1676205 is an architectural masterpiece from ScotBilt Homes Homes! Imagine living in a space with three bedrooms, two bathrooms, and a generous 1,127 square feet spread over an 80'0″ by 16'0″ layout. Sounds dreamy, right?
Diving right into construction details, the Legend 1676205 is built to last and built for comfort. With R-14 roof insulation, R-11 floor and wall insulation, and 2×4 exterior walls, you can be sure your home will be cozy year-round. The side wall height is a roomy 8′, and the floors are sturdy tongue & groove OSB with 2×6 and 2×8 joists, depending on the width of the house.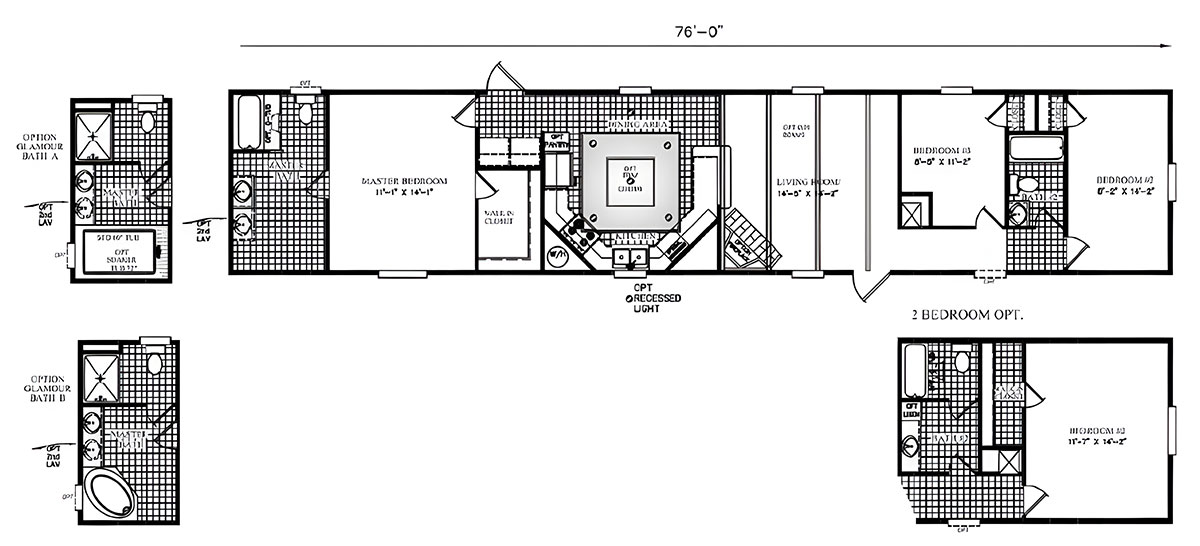 Taking a step outside: the home shines with slit front and rear doors, 25-year 3-tab shingles, and vinyl lap siding. All entrances have exterior lights, ensuring you always come home to a well-lit space. The 1/1 white windows add a classic touch to the home's exterior.
Step into the interior and the warmth of residential knockdown ceilings and two-panel colonial doors greet you. One-bulb light fixtures ensure that every corner is perfectly lit. The AC smoke detectors with battery back-ups are fitted throughout the home for your safety. The 1/1 white windows continue the sleek design aesthetic on the inside.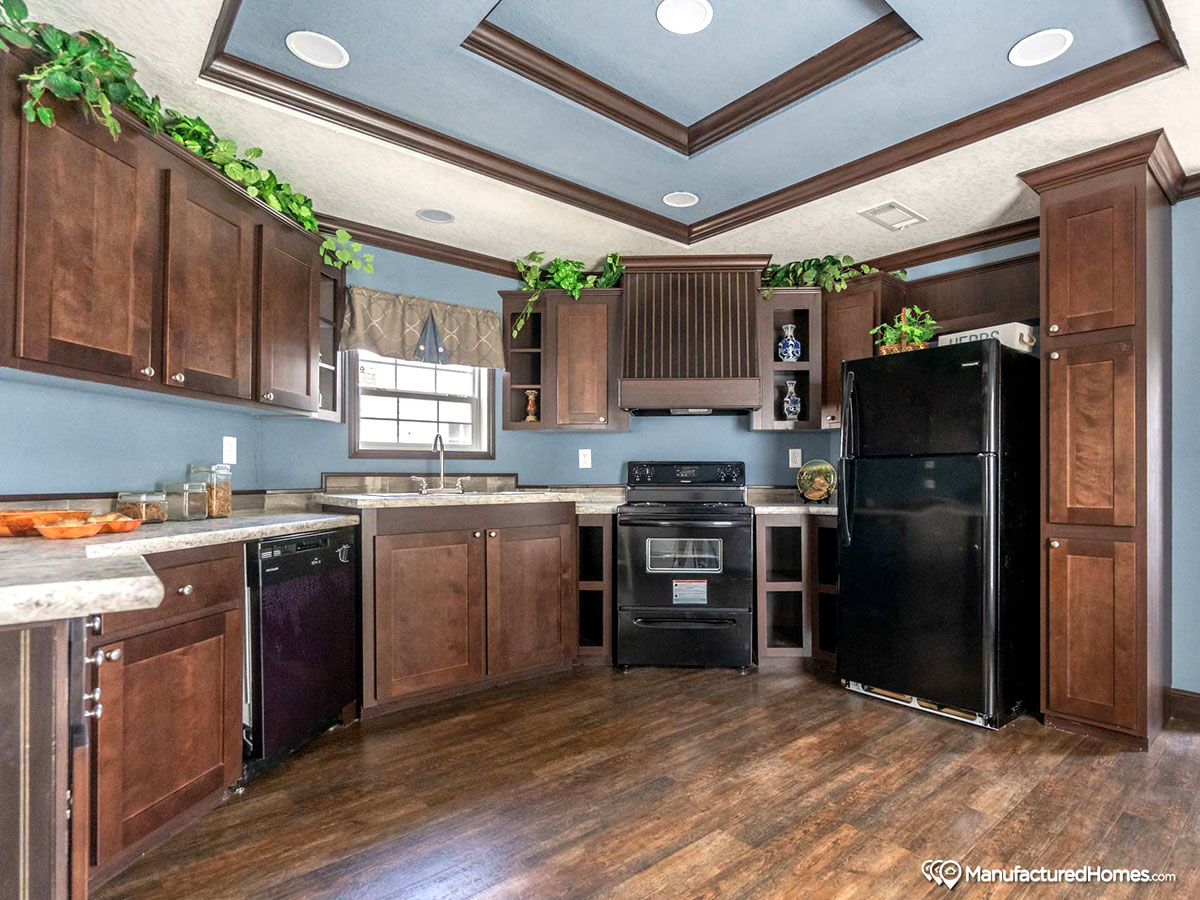 Now, let's talk about the heart of the home: the kitchen. With formica backsplash, PW cabinets, formica edge countertops, and an 8″ stainless steel sink, the kitchen is ready for all your culinary adventures. The 30″ electric range and 18 C.F. refrigerator assist you in whipping up your favorite meals. All this on linoleum flooring that's both durable and easy to clean.
The bathrooms are equally impressive. Faux faucets, linoleum flooring, and round ceramic commodes give the bathrooms a modern and chic feel. The master bathroom has a fiberglass tub/shower combo, while the second bath has a roomy 54″ fiberglass tub/shower. The single ABS lavatory in the master adds a touch of class.
Let's not forget the utilities. The Legend 1676205 has a 200 Amp service, pre-plumbed, and wired for a washer/dryer. The cherry on top is a 30-gallon electric water heater, ensuring a hot shower is always ready.
7. The Spectacular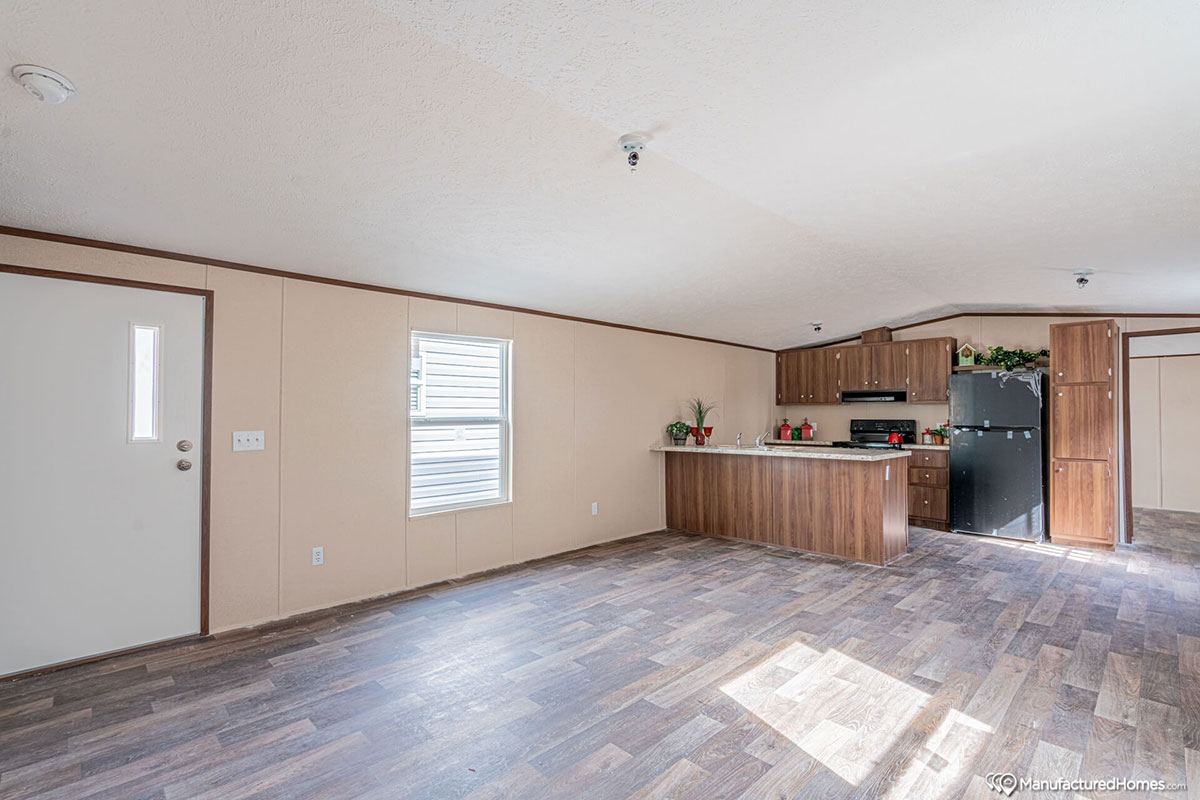 Welcome to "The Spectacular," a well-named gem crafted by TRU. Three bedrooms and two bathrooms spread across a spacious 1,216 square feet, with a length of 76'0″ and a width of 16'0″. It's not just a house. It's an experience.
Construction-wise, The Spectacular is built to impress and endure. The solid 2×4 sidewalls on a 16″ O.C spacing and 2×6 floor joists ensure a sturdy structure. The insulation values are equally strong: R-28 in the ceiling, R-22 on the floors, and R-11 in the walls. Combine this with the 7'0″ side wall height, and you have a home that's all about comfort and efficiency.

Step outside and see the 34 "x76" outswing blank front and rear doors without storms. It's dressed in standard vinyl siding and 20-year shingles, ensuring your home looks fresh for years to come. The thermal pane low E vinyl windows add a touch of modernity.
Inside, you're greeted with a blend of style and comfort. The carpeting, with a 3.5 lb. rebond pad, provides a plush feel underfoot. The textured ceiling adds character to every room, while the vaulted ceilings give a feeling of expansiveness. You'll find factory-select interior doors throughout, and the living room features a beautiful window valance.
The kitchen? It's a culinary artist's dream. MDF cabinetry, formica countertops, and vinyl flooring provide a stylish and practical workspace. The stainless steel double bowl sink is just the start. The kitchen also has an electric range and a range hood that vents through the sidewall. There's also an 18 cubic foot refrigerator, with the option to add a dishwasher if desired.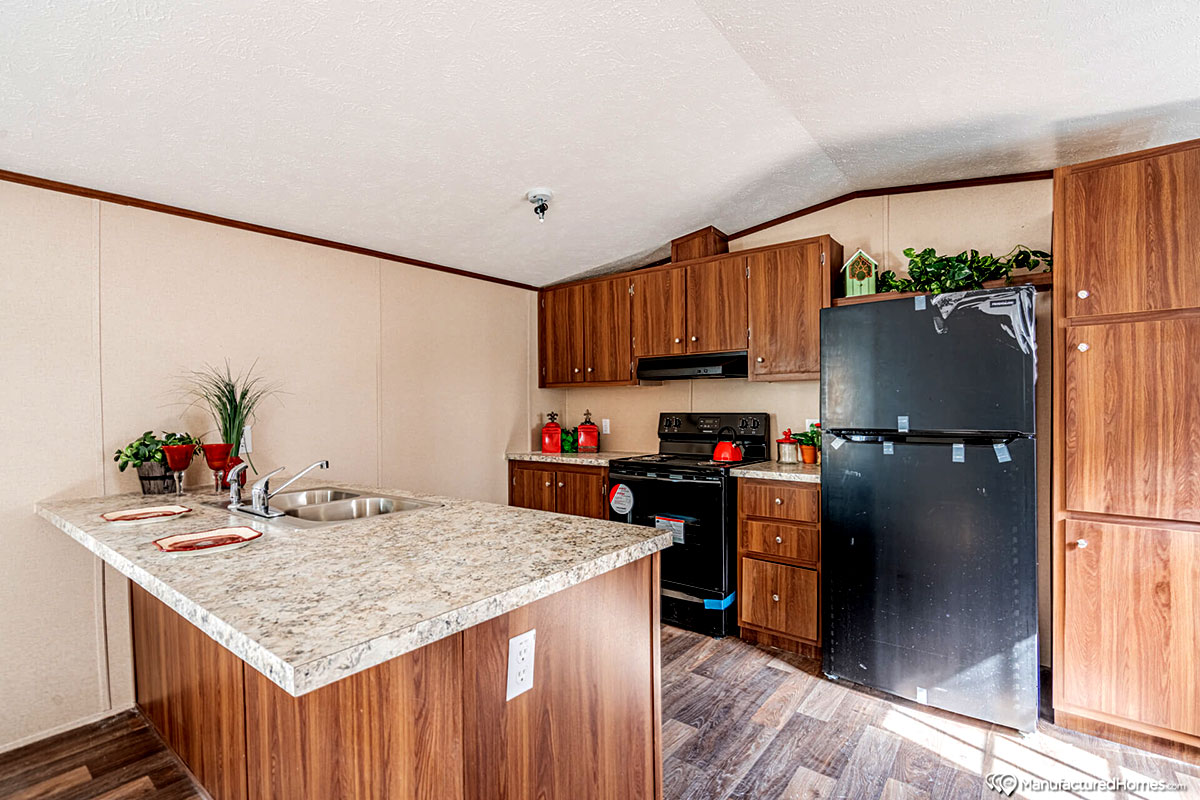 The bathrooms don't disappoint, either. They feature 54″ ABS plastic tubs for a relaxing soak and vinyl flooring for easy cleaning. The sinks are practical plastic, ready for daily use.
Utility-wise, The Spectacular has you covered. It has a 200 amp electrical service, an electric furnace with a gas option, an eight-wire thermostat, and a 30-gallon electric water heater. There's also a main water shut-off for peace of mind.
Overall, The Spectacular lives up to its name, offering comfort, efficiency, and luxury. It's not just a house; it's a lifestyle. And it's waiting for you.
8. The Walsh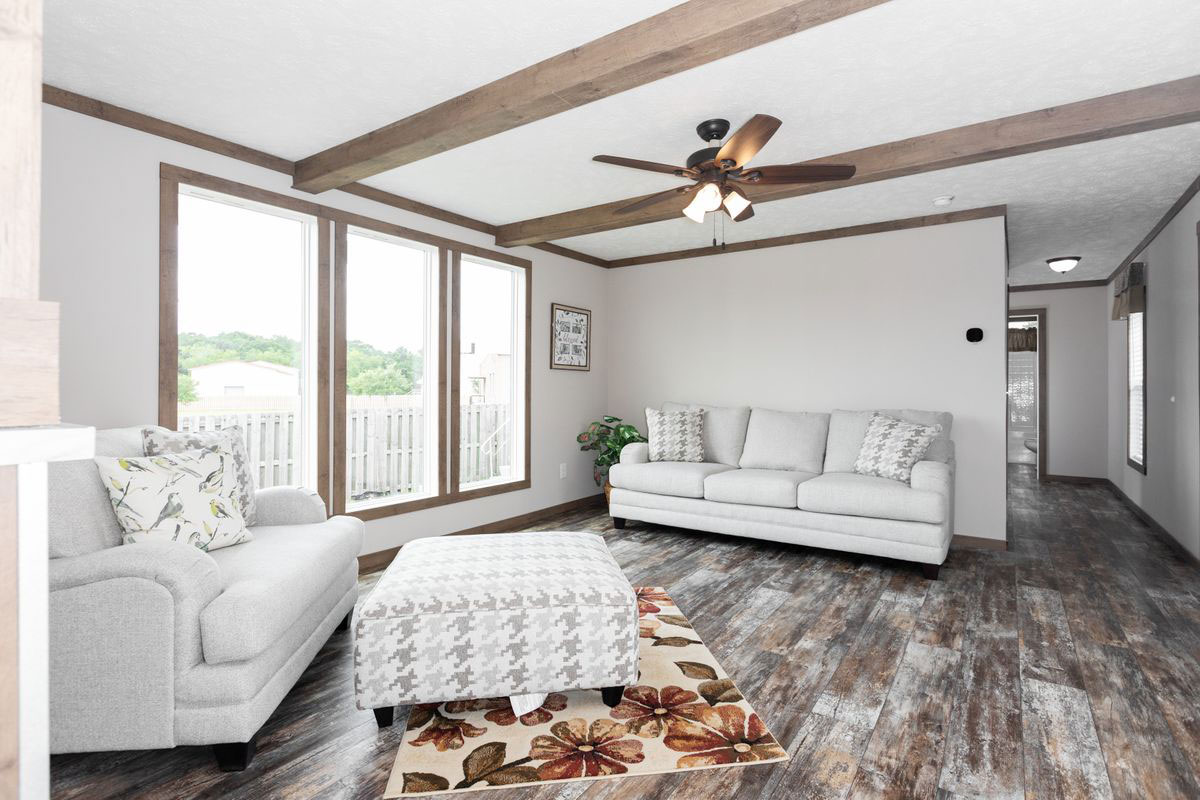 Meet "The Walsh"! Built by the highly reputable Buccaneer Homes, this beauty boasts three bedrooms and two bathrooms within its comfortable 1,140 square feet. The dimensions are impressive, too, stretching out 80'0″ in length and 16'0" in width.
Delving into the construction, The Walsh demonstrates superb attention to detail. The 2×4 exterior walls set at 16″ O.C. along with the 2×6 floor joists provide a solid structure. Meanwhile, the insulation keeps the home cozy year-round with R11 in the ceiling and floors and R16 in the walls. The 8'0″ wall height adds to the spacious feel.

The exterior of The Walsh is clad in durable vinyl siding. It is topped off with a nominal 3/12 roof pitch with 3-tab fiberglass shingles. The front and rear doors are 32×74 with a deadbolt for that extra security. The windows? They're vinyl insulated 6/6 windows that are both functional and chic. And let's not forget the black exterior lights at the entry doors, casting a welcoming glow.
Step inside to the heart of The Walsh: the kitchen. Adorned with 30″ overhead cabinets, it offers plenty of storage. The laminate countertops are durable and easy to clean. At the same time, the designer arch dual knob faucet adds a touch of elegance.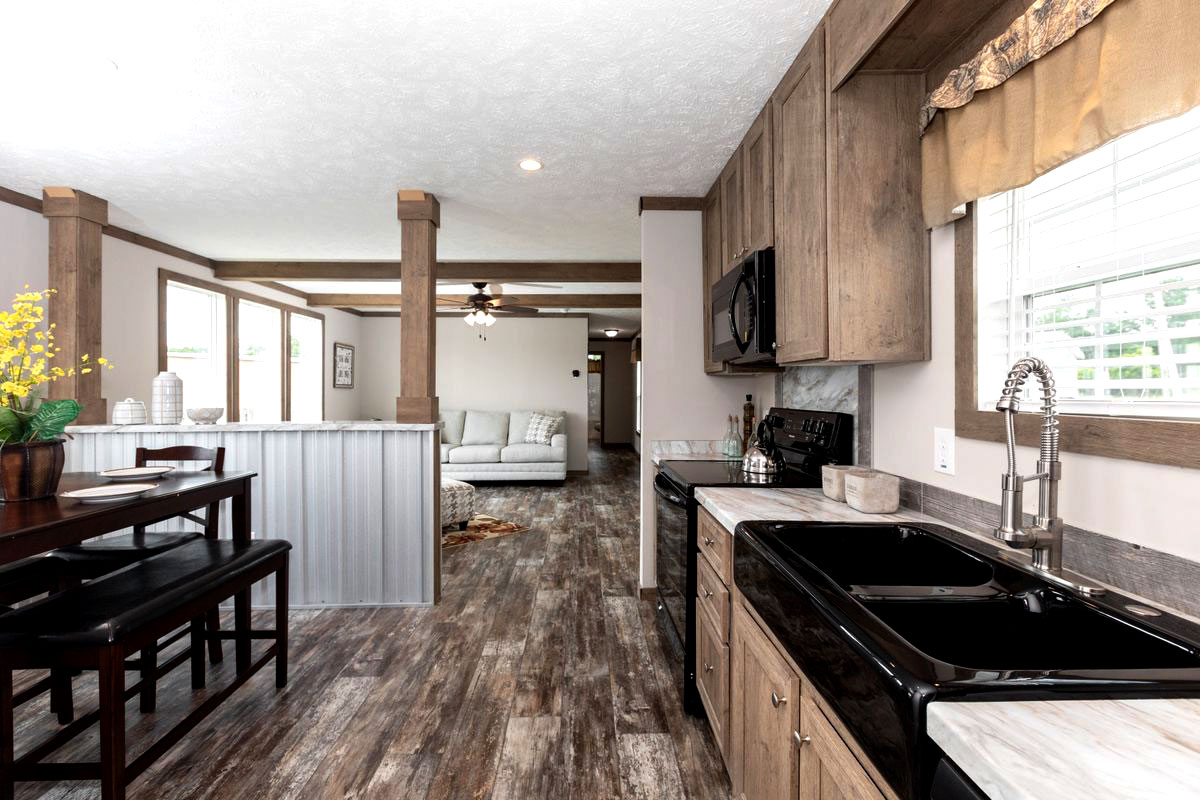 The vinyl sheet flooring is both practical and stylish, pairing perfectly with the kitchen appliances, which include a coil top electric range with a glass door and a 30″ black metal range hood with light. And yes, the 18 cubic foot refrigerator does comes with an ice maker! The 6″ deep stainless steel sink is the cherry on top.
The equally impressive bathrooms feature a fiberglass tub and a 48″ one-piece fiberglass shower. Like the kitchen, the countertops are laminate, and the flooring is a fuss-free vinyl sheet. The sinks are practical plastic lavs, ideally suited for daily use.
Simply put, The Walsh offers a perfect blend of comfort, style, and practicality. With its thoughtful design and meticulous craftsmanship, it's more than just a house – it's a place to call home.
9. Advantage Single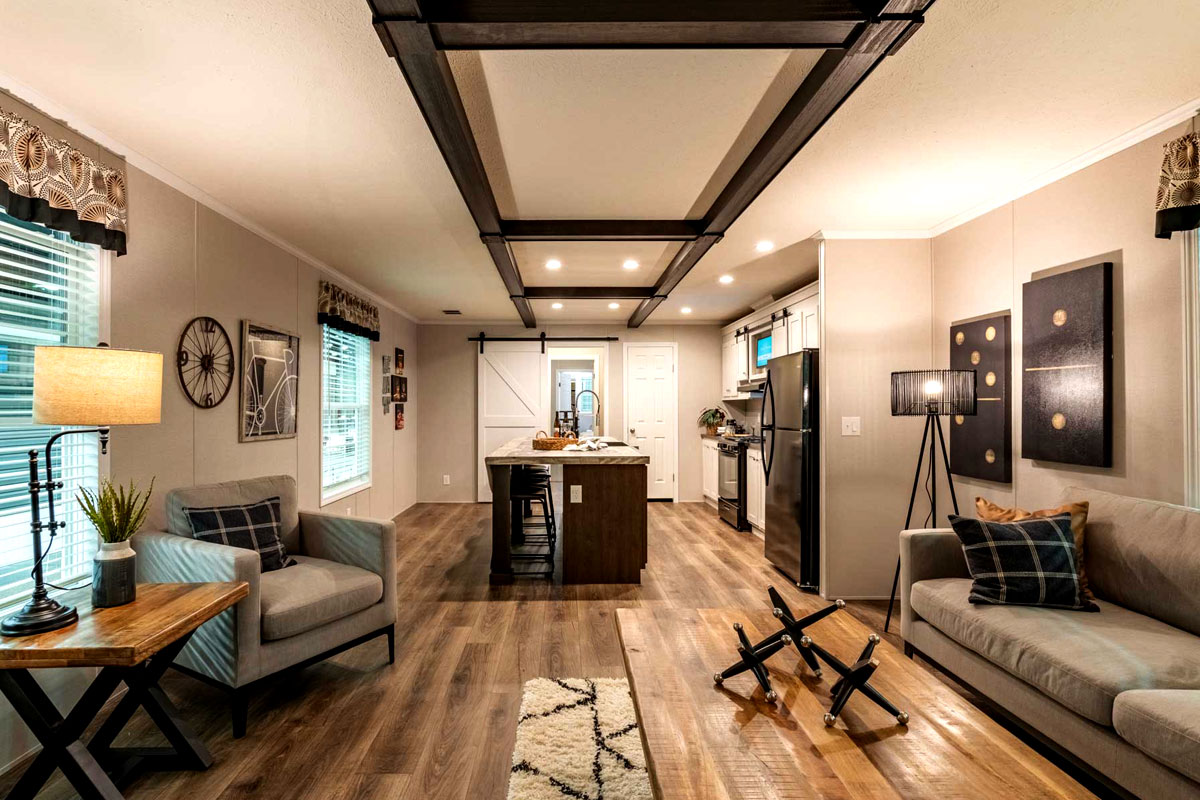 Next, let's turn our attention to the Advantage Single, a magnificent creation by Redman Homes. This beauty sporting three bedrooms and two bathrooms covers 1,153 square feet, framed within a length of 80'0″ and a width of 16'0″.
Right off the bat, the construction details of the Advantage Single shout 'quality.' The 2×4 exterior sidewalls spaced at 16″ OC and 2×8 floor joists, also at 16″ OC, form the solid skeleton of the home. To keep you comfortable in every season, the R-28 roof insulation, R-11 floor insulation, additional R-11 outside the beams, and R-11 sidewall insulation do an excellent job. A height of 8′ for the sidewalls gives the home an airy feel.

The exterior of this home exudes charm, thanks to the double 4″ vinyl siding. The 6-panel front door, complete with a storm door and nickel round knobs, adds a touch of elegance. The blank fiberglass rear door ensures practicality. The 25-year shingles cover a roof with a nominal 3/12 pitch. The icing on the cake? The low E single hung vinyl 6/6 gridded windows.
Once inside, you'll be greeted by 6-panel white interior doors underfoot and a carpet with a 5lb rebond pad. Safety is prioritized, too, with smoke alarms equipped with a battery backup.
The kitchen is a dream come true for the home cook. The two-handle faucet comes with a sprayer, and the 7″ stainless steel kitchen sink is both functional and stylish. Appliances include a standard electric range with a 30″ range hood and an 18″ CF over/under the refrigerator. To complete the look, 2″ mini blinds are installed throughout.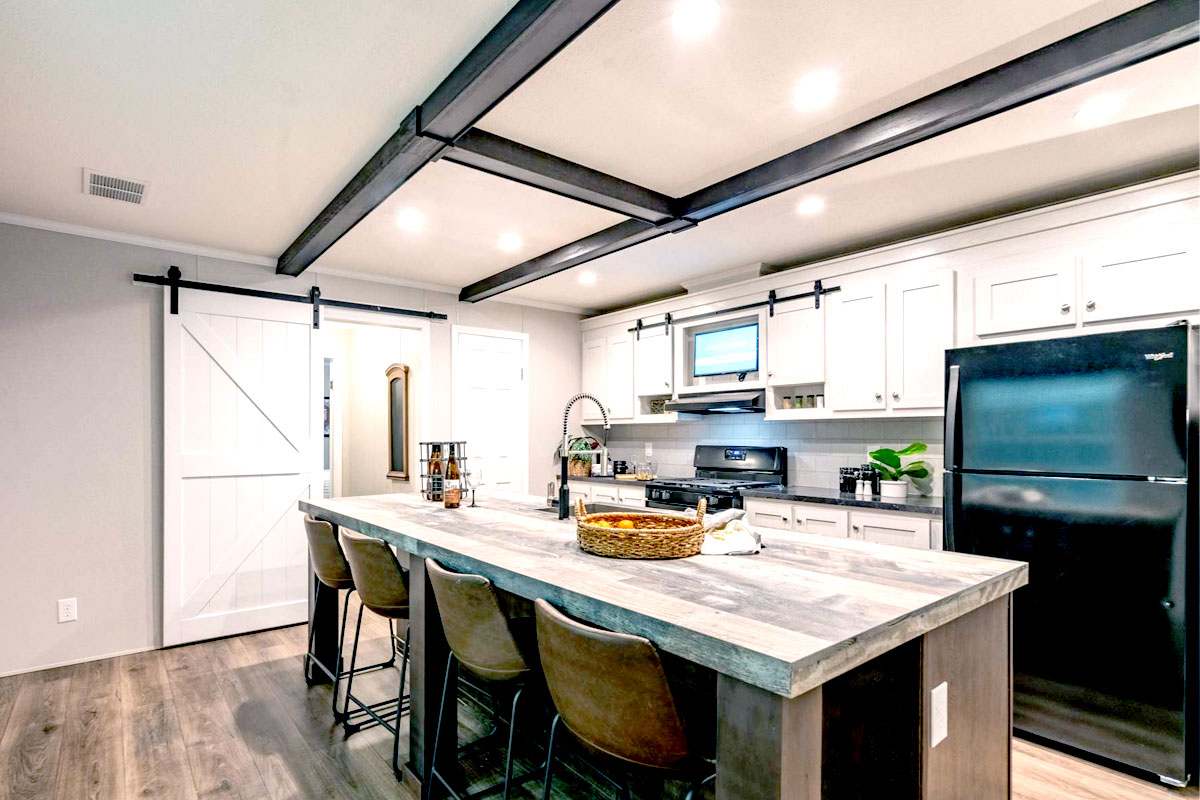 The bathrooms in this home are designed for comfort and functionality. The fiberglass tub/shower combo, lighted bath fan, single-handle tub/shower faucets, pivot shower door for 60″ or 48″ showers, and round commode blend comfort and practicality. The China lav bowls at the baths elevate the sense of luxury.
Regarding utilities, you have covered the 100 AMP electrical service, the electric furnace with a wood furnace door, and the 30-gallon electric water heater. Plumbing for a washer and wiring for an electric dryer is also provided. The main water shut-off valve offers an extra layer of safety.
In sum, the Advantage Single encapsulates the best of what a home should be. It's a perfect example of style, meeting function, comfort, and quality.
10. The Lodge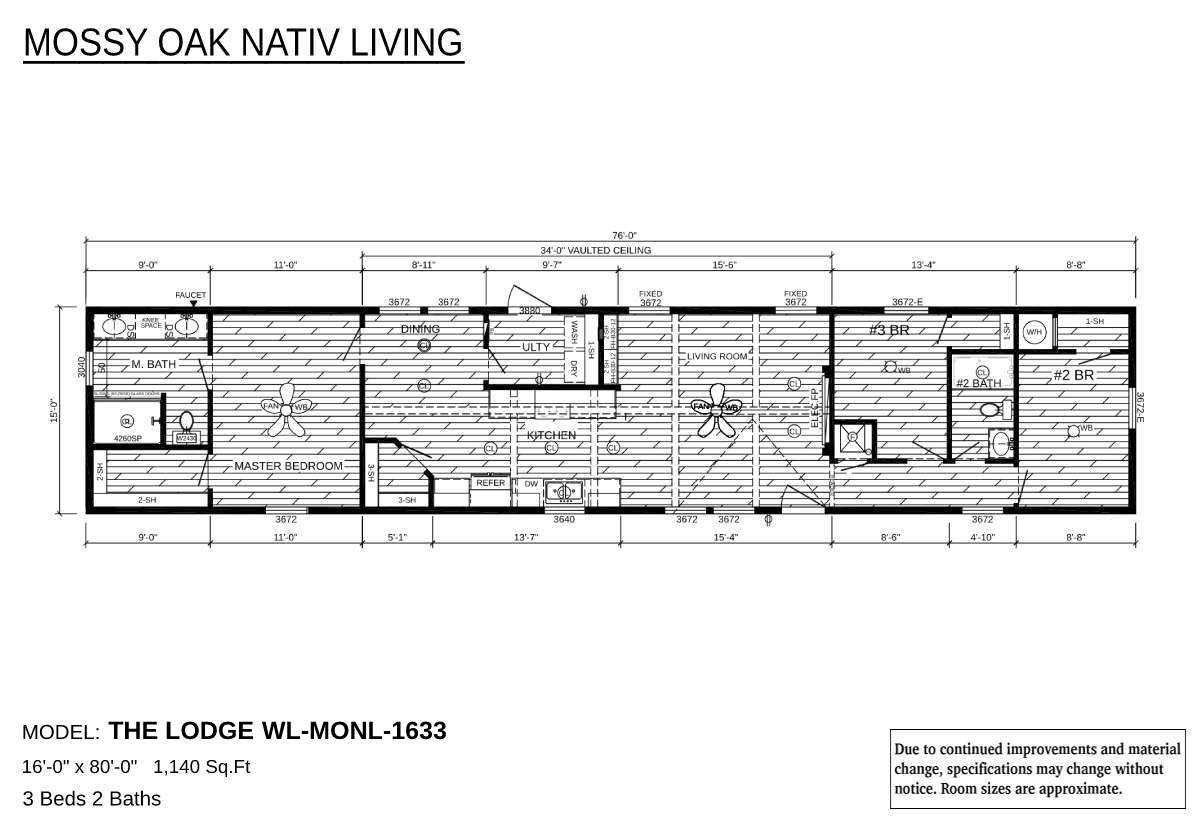 Last on our list is the stunning "The Lodge," a masterpiece from Deer Valley that is as charming as its name. This cozy nest boasts three bedrooms and two bathrooms, spreading over 1,140 square feet, with dimensions of 80'0″ in length and 16'0″ in width.
Delving into the construction details, "The Lodge" is a splendid blend of durability and comfort. It's ac ready and equipped with 2×6 exterior wall studs at 16″ on the center, which house R-19 insulation. The OSB tongue and groove floors, 23/32″ thick, are supported by robust 2×8 floor joists built at 16″ o.c. The ceiling insulation hits an R-30 rating, with an option for R-40, while the floor insulation is R-11, with an optional R-22.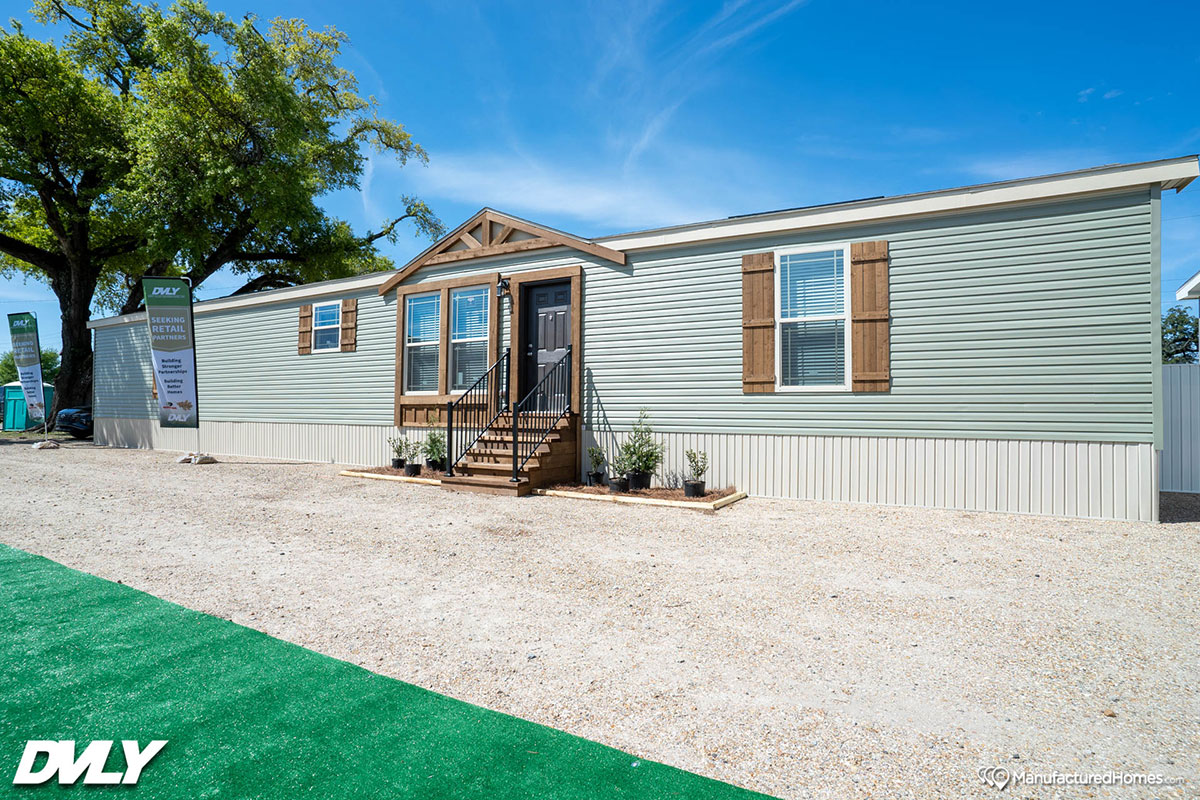 On the exterior, "The Lodge" enchants with vinyl lap siding, offering options for fiber cement and Crane Board vinyl. The 12″ end wall eaves, 10″ front and rear eaves, and per floor plan dormer on a nominal 3/12 roof pitch lend a unique charm. The back door measures 36×80, fitted with a deadbolt for added security. The house features thermo pane 36×72 Low E windows framed by white trim, and the deluxe exterior coach lamps enhance the warm, inviting look.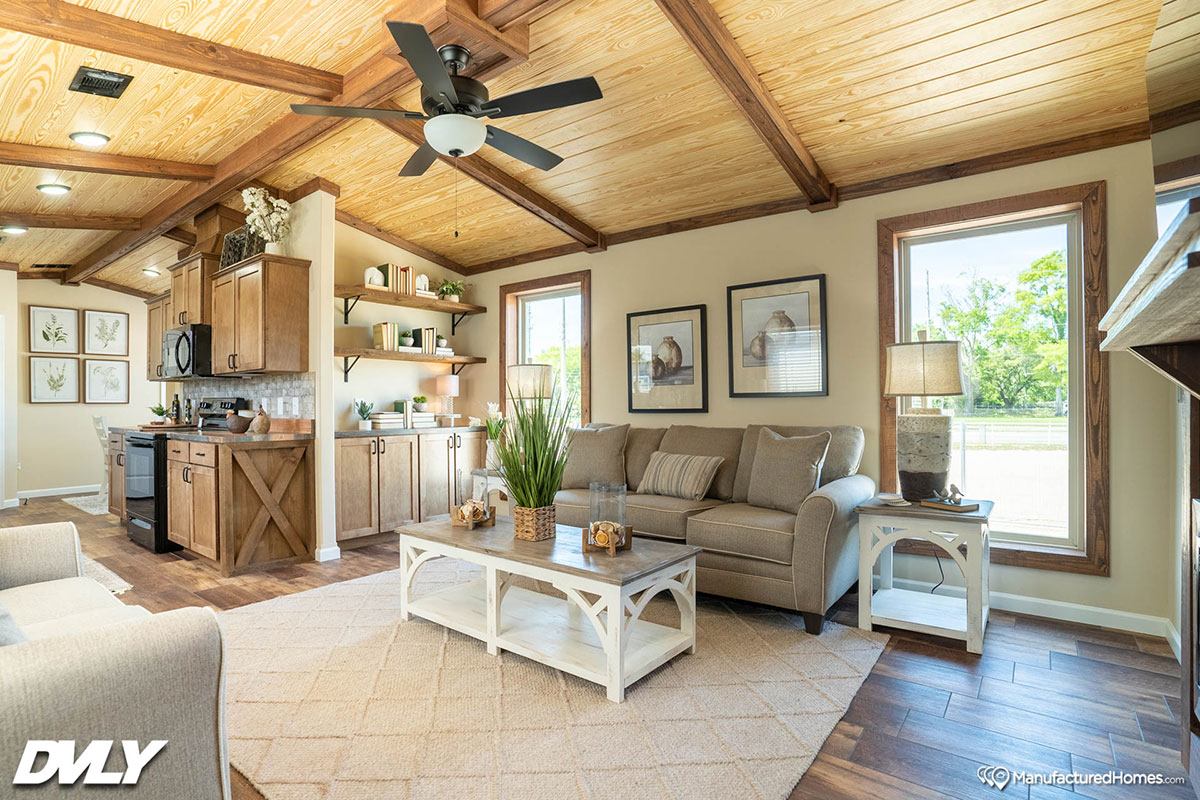 Step inside, and you'll find 1/2″ tape and textured interior walls lined with 3 1/2″ painted linen baseboards. The 2-panel white interior doors with black lever knobs exude elegance. The rooms are comfortably decked with 4 lbs of standard carpeting, and the optional ceiling fans add an extra touch of luxury. A standard feature of "The Lodge" is its 8′ flat vaulted ceilings, and stylish valances complement all windows.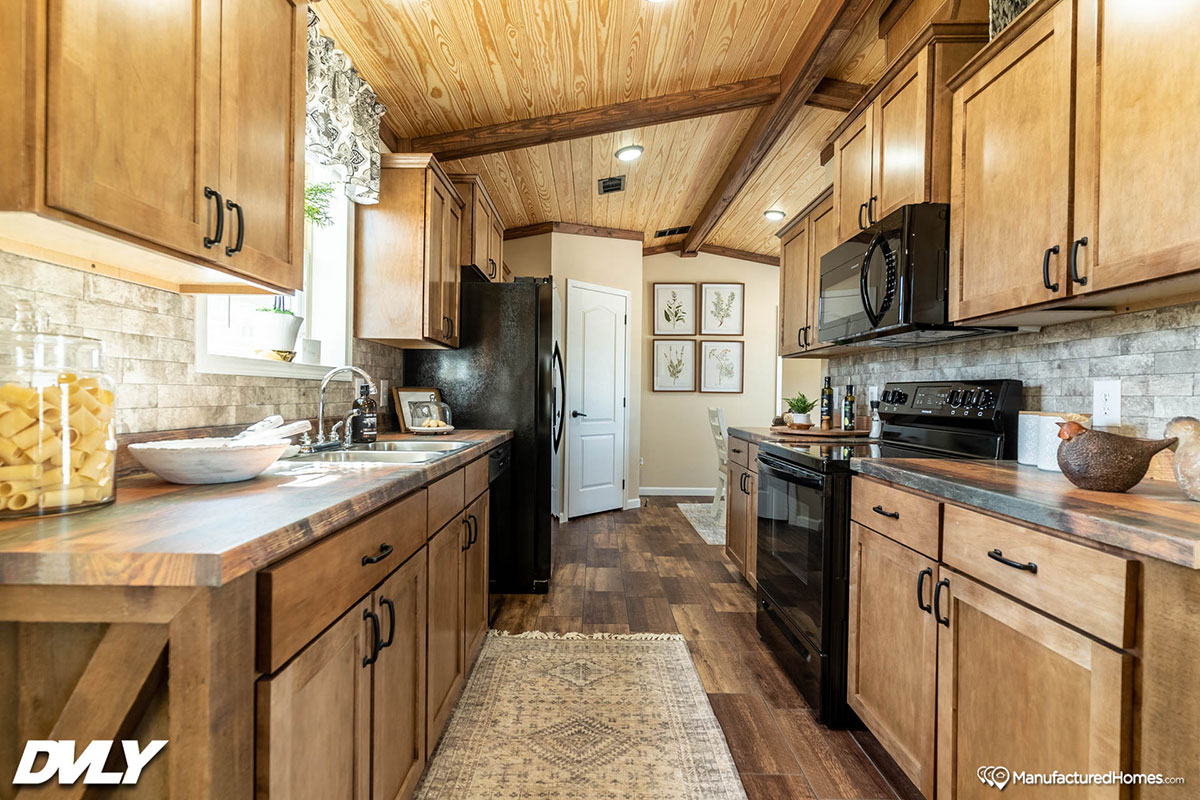 Moving onto the kitchen, prepare to be amazed by the KITH shaker maple cabinets, solid edge, and backsplash countertops. The kitchen comes with an optional travertine backsplash and a custom appliance package. A deluxe black dishwasher and a space saver black microwave are included for convenience. Cooking is a breeze with the designer 30″ coil eye black electric range. A 33×22 residential stainless sink with a faucet makes cleanup easy. The Elements 9″ x18″ tile flooring gives a sleek finish to the space.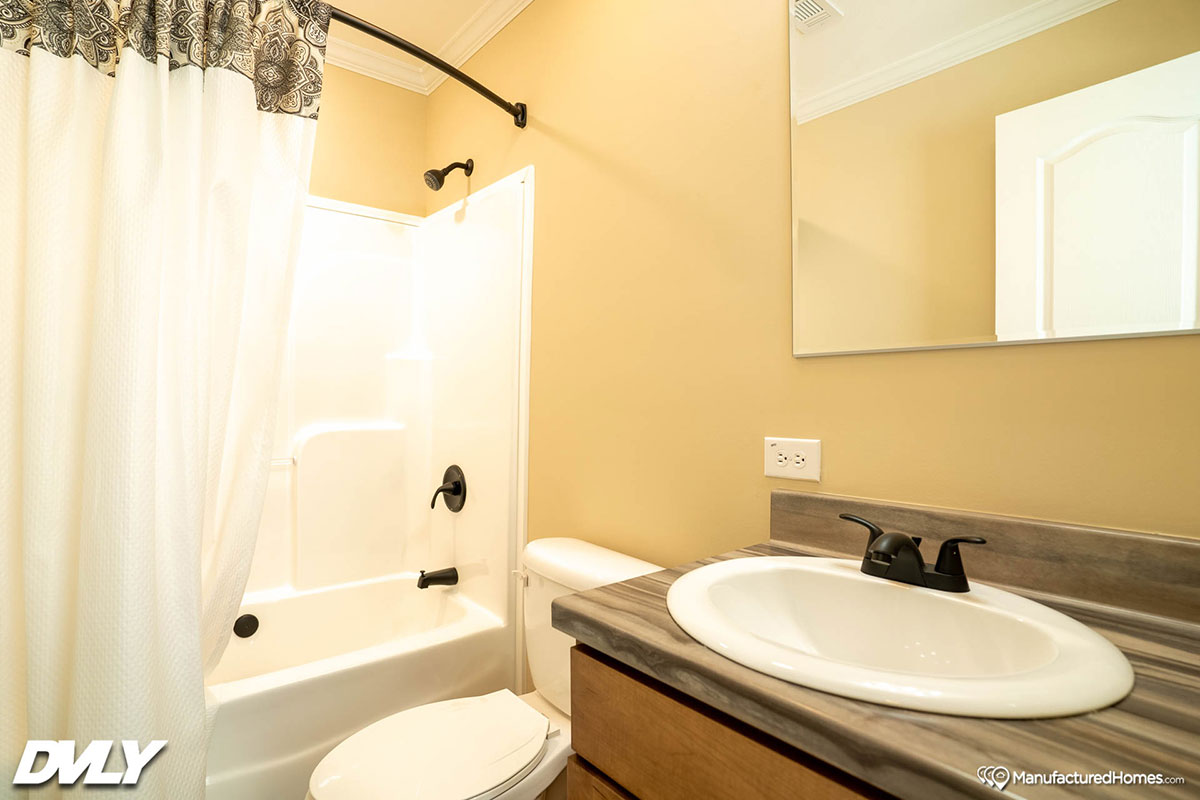 The bathrooms in "The Lodge" promise relaxation with solid edge and backsplash countertops, a standard fan in each bath, and Elements 9″ x18″ tile flooring. The dual-handle metal black arch faucets and designer black strip lights at the vanity add a touch of sophistication. An optional large ceramic walk-in shower is available for a spa-like experience.
Regarding utilities, "The Lodge" is powered by a 200 AMP electrical service and a 40-gallon electric dual-element water heater. The electric furnace, with an optional high-efficiency gas model, will keep you warm in the colder months. For convenience, the house comes with perimeter floor registers and water shut-off valves throughout, and there's also an option for utility cabinets.
Conclusion
As we wrap up our exploration of these cozy 16 x 80 mobile home floor plans, it's clear to see their beauty and practicality. Each showcases clever design, space utilization, and modern amenities, making them ideal for various lifestyles. These homes cater to all, from the small family starting out to the retiree seeking a cozy nest. Remember, a house is more than a structure; it's the backdrop for countless life stories. So, pick the plan that speaks to your story, and watch as it unfolds in the comfort of your new mobile home.