4-Bedroom Mobile Homes Under $100K
Are you searching for a stylish, budget-friendly home that provides comfort and convenience? Look no further! We're about to take you on a tour of fantastic 4-bedroom mobile homes for under $100K. These aren't your grandparents' trailers; these gems deliver on space, style, and affordability. You'll be amazed at the modern designs and standard features that make these mobile homes a real bang for your buck. Let's get started.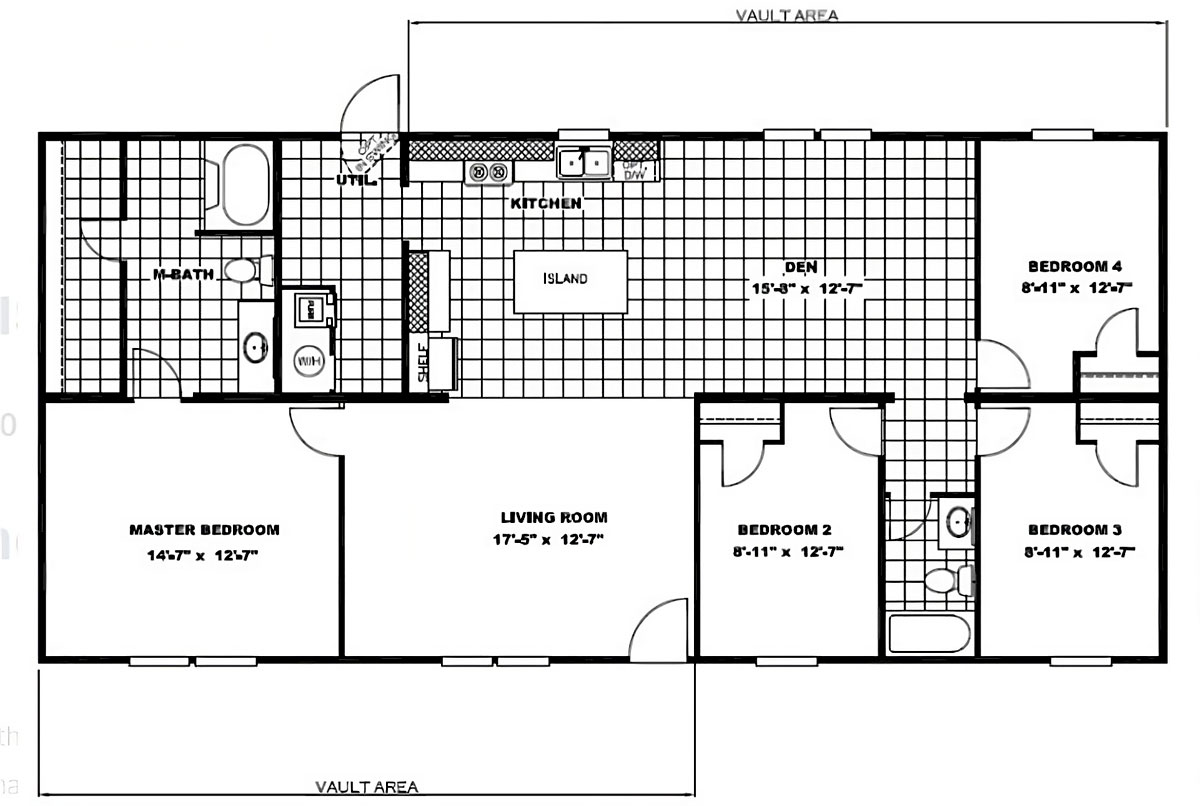 4-Bedroom Mobile Homes Under $100K
Let's dive into the great selection of 4-bedroom mobile homes under $100K. We're about to uncover what makes these homes truly remarkable.

First on our list is the Grand, a 1,038 sqft single-wide with four beds priced at just $61,619. This is not just a house. It's a home waiting to be filled with life and laughter. With four spacious bedrooms and two full bathrooms, there's plenty of room for everyone. Can't you just see the kids running around, having the time of their lives?

Next, the Marvelous. It is a 1,475 sqft double-wide with four beds at $85,205. Double wide means double the fun and space. And with the same four bedrooms and two bathrooms, there's plenty of room to stretch out. It's perfect for a growing family or those who love hosting friends for the weekend.

But we're not done yet! The Pride 1,791 sqft double-wide model, available at $90,390, is truly a marvel. It's expansive, it's comfortable, and it's ready to be called home. Picture lazy Sunday mornings in those four bedrooms, pancake breakfasts, and evenings filled with laughter in the open living space.

Last but certainly not least is the Wonder 1,869 sqft double-wide model. This one is the cream of the crop, priced at $92,905. It's the most spacious of them all, giving you ample room for family time, hobbies, or simply to kick back and relax.
The Features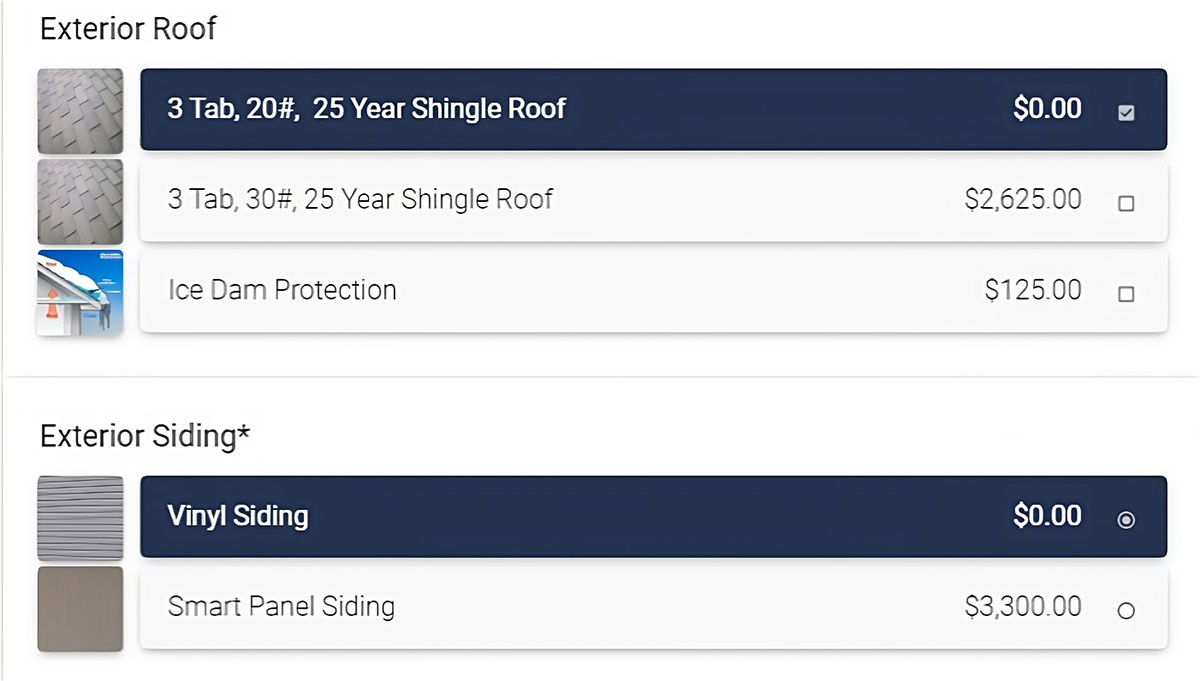 Let's talk about the fantastic standard features you can expect in these mobile homes, all under $100K. Let's unpack the details.
First the exterior. From top to bottom, these homes are built to last. The roof? We're talking 3-tab, 20#, 25-year shingles. Longevity is the name of the game here. Complementing this is R-33 blown roof insulation – a home that's cozy in winter and cool in summer. The vinyl siding is stylish yet practical, and they've got a steel front door with a storm door and an outswing rear door for easy access.
But it is not just about utility; they've got charm too. Black plastic shutters add a touch of elegance to the front door, giving the home an inviting look. But remember, there's no dormer here.
Once inside, you'll immediately notice the flooring. Durable, stylish linoleum by Shaw extends throughout the home, a breeze to clean and maintain. And beneath, R-11 floor insulation works its magic, keeping the chill at bay.
The interiors are a feast for the eyes. High, textured 8′ flat ceilings give a feeling of spaciousness, while the paper over gypsum wall panels provides a modern aesthetic. They have 6-panel interior doors and low E thermal pane windows that allow natural light to flood in while keeping the harsh weather out. Plus, LED light bulbs and a smart thermostat add that touch of tech-savvy efficiency.
In the kitchen, functionality meets style. DuraCraft 30″ cabinets in Omaha Oak offer ample storage. At the same time, the Wilsonart laminate countertop in Typhoon Ice provides a durable and attractive workspace. A double-bowl stainless steel sink is paired with an 18cf refrigerator, an electric range, and a dishwasher – everything you need for effortless cooking and cleaning.
Both bathrooms sport a modern look with a 54″ ABS plastic tub/shower and a plastic sink with metal faucets. The master bathroom includes a stainless steel showerhead, and both bathrooms come with a round commode.
Finally, as for heating, the home comes equipped with floor vents and electric heating ducting, ensuring an even distribution of warmth during colder months. And you won't run out of hot water, thanks to the 40-gallon Rheem electric water heater. These are your comfort zones, designed to give you the lifestyle you've always dreamt of without breaking the bank. Isn't it awesome?
Things to Consider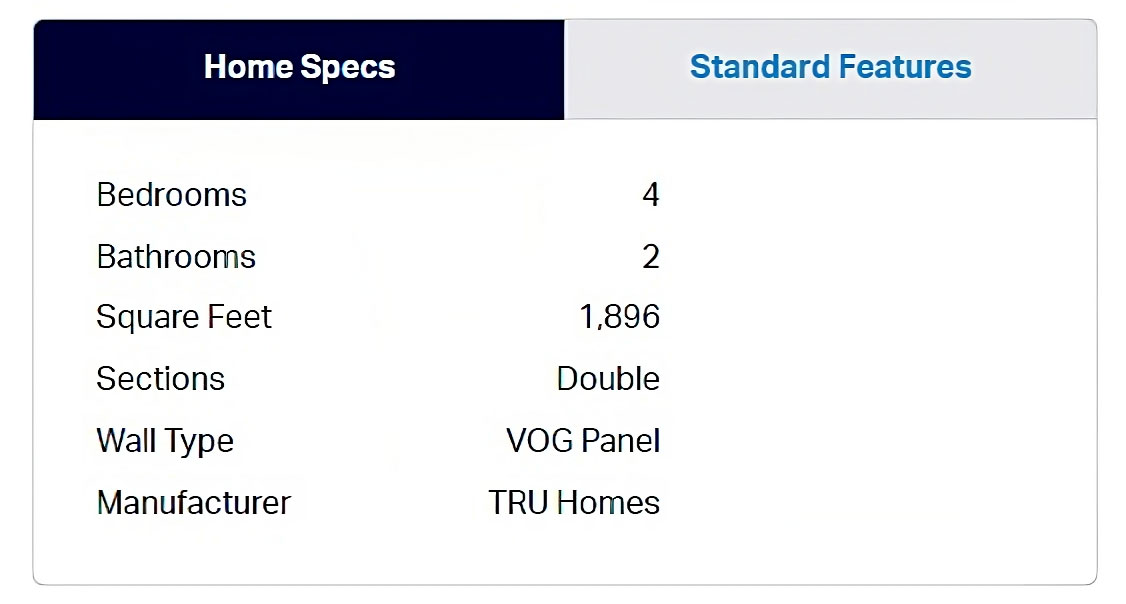 Before we wrap up our tour of these gorgeous mobile homes, let's chat about additional costs and key factors to remember when you're ready to purchase.
The first thing to think about is upgrade options. The prices we've been raving about are the base prices. These cover the cost of the home with the standard features we've described. But what if you have a yen for smart panel siding or dream of a garden tub in the master bath? Just remember, those extra touches will add to the base price.
Next, it's all about location and the site preparation cost that goes with it. You'll need to prep your land for your new home, which can come with a price tag. Think grading, foundation, utilities – the works. And, yep, you've guessed it, these costs aren't included in the base price.
But hold up, let's not forget the delivery cost. It can vary depending on the distance from the manufacturer to your lot. Again, this isn't part of the base price. So be sure to factor in the cost of transporting your new abode from the factory to your property.
And once it's delivered, there's the set-up cost. This involves everything from positioning your home on its new foundation to connecting all the utilities. This job is for professionals; their services will also add to your total cost.
Oh, and one more thing, installation cost. We're talking about skirting, steps, and maybe even a deck or a patio. Remember, your new mobile home is just the beginning – you can make it as lavish or low-key as you want.
Finally, you'll want to know when the dealer will lock your home's price. Prices can fluctuate based on things like material costs and market demand. Getting that price locked in can protect your budget from any surprises.
With these points in mind, you're on your way to making a savvy decision about your new mobile home. Here's to making your dream home a reality without busting your budget!
Conclusion
We've unfolded the map to the world of budget-friendly, 4-bedroom mobile homes under $100K. We hope this guide has been helpful in your quest for the perfect home. Remember, the right home is out there, waiting for you to fill it with laughter, love, and endless memories.