18 Mobile Homes for Sale Under $50,000
Ready to go bargain hunting? Let's dive into a world where style, comfort, and affordability come together seamlessly! This article will walk you through 18 fantastic mobile homes, each listed for under $50,000. Yes, you read that right! From the tranquil outskirts of Pennsylvania to the sun-soaked landscape of Arizona, these homes pack a punch without breaking the bank. So grab a coffee, sit back, and explore these hidden gems that might become your next perfect home!
1. 1995 Mobile Home in Greensburg, Pennsylvania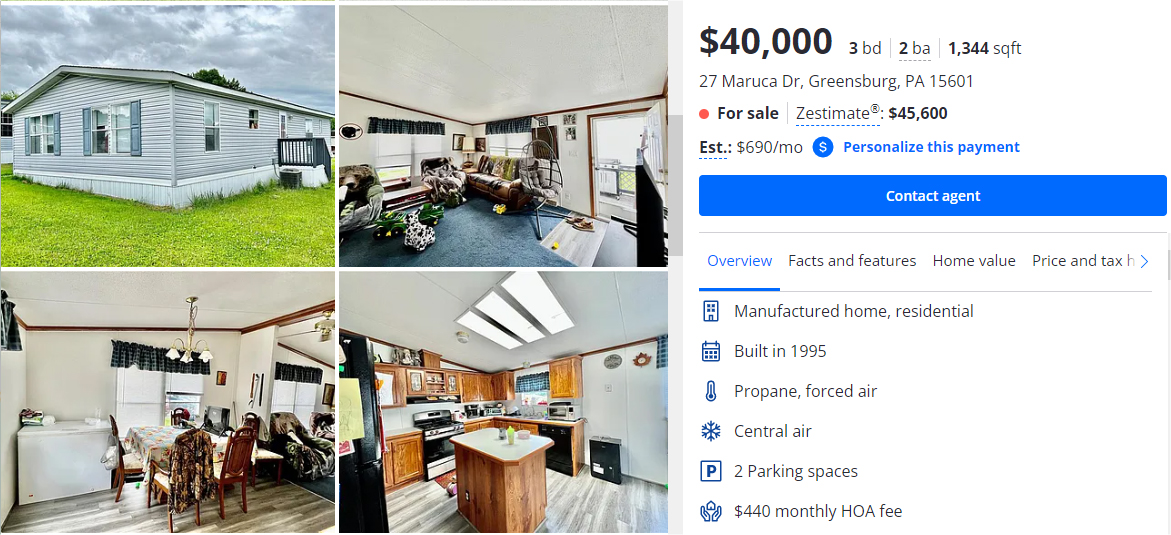 Just imagine it – calling this charming 1995 mobile home in Greensburg, Pennsylvania, your own! Nestled at 27 Maruca Dr, this 1,344 sqft home beckons with an inviting semi-open floor plan. So it's easy to stay connected, even while whipping up dinner in the roomy kitchen. Did I mention the kitchen has a center island for all your meal prep needs?
Talk about space! Three bedrooms offer plenty of room to stretch out, and the owner's suite? It's a dream, complete with its bathroom. You'll even find skylights scattered throughout the home, flooding each room with beautiful natural light.
And, the cherry on top? The home is equipped with central air, perfect for those hot Pennsylvania summers, and a cozy propane-forced air heating for winter. Oh, and don't forget the handy appliances – a dishwasher, a gas range, and a refrigerator are all included! And all this for just $40,000. Isn't it a steal?
2. 1975 Single Wide in Junction, Arizona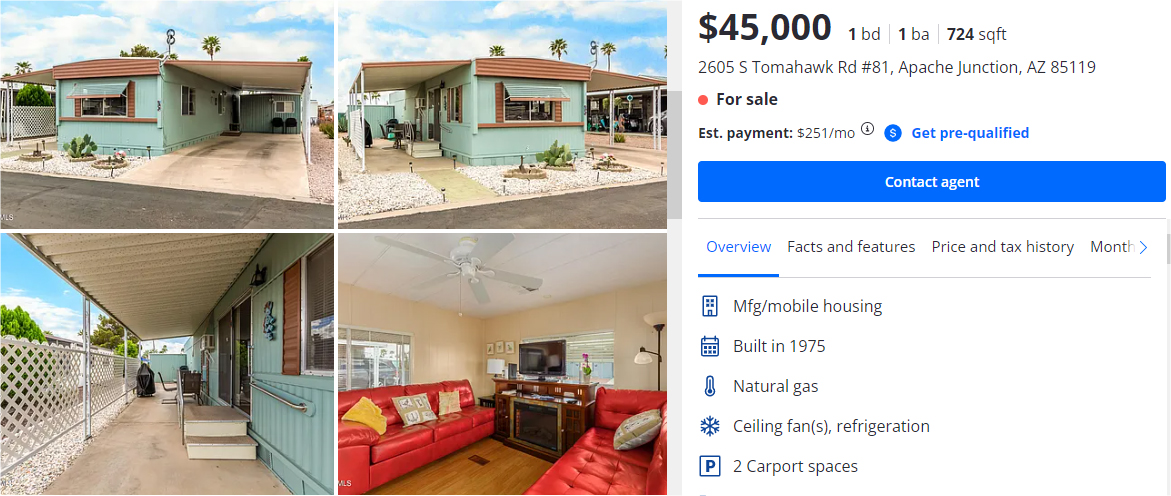 Get ready for some southwestern charm with this delightful 1975 single-wide in Junction, Arizona. Picture a cozy space, just 724 sqft, lovingly maintained and offering that quaint, nostalgic feel. It's just the perfect place to call home, tucked away at 2605 S Tomahawk Rd #81, in the vibrant 55+ community of Raindance Mobile Home Park.
As you walk through the front door, you'll be enchanted by the kitchen's breakfast bar and cute cabinetry. Think of plenty of counter space to indulge your culinary experiments. But that's not all – the main bedroom houses a cleverly placed desk and custom closets. Neat, right?
Step outside and discover the sizable shed. It hides a laundry room and even a workshop! Bonus points for the covered patio – the perfect spot for enjoying those balmy Arizona evenings. Freshly painted exteriors and a brand-new roof, all for just $45,000? You might have just found your dream home!
3. Mobile Home in Mountain Home, Arkansas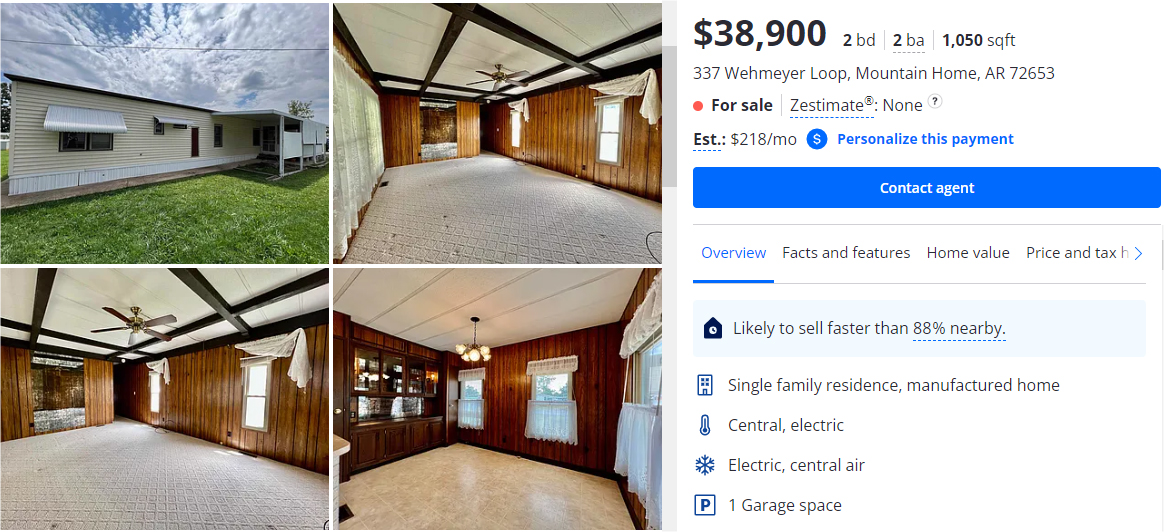 Talk about a serene retreat in the heart of Arkansas! This mobile home in Mountain Home is nothing short of a charmer. It sports 1,050 sqft of well-planned space, with the comfort of two bedrooms and two baths.
Step into the home and be greeted by the brightness of new windows. Imagine sipping your morning coffee on the screened front porch, serenaded by the chirping of the local birds. Moving to the kitchen, the practical island, complete with an electric stovetop and wall oven, adds modern functionality.
Don't overlook the little details that make a house a home. You'll always have room for your extras, like the additional storage shed. Nestled in the desirable 55+ Rolling Meadows Mobile Home Park, this $38,900 property is an affordable slice of the idyllic Arkansas life.
4. 1974 Single Wide in Rochester, Washington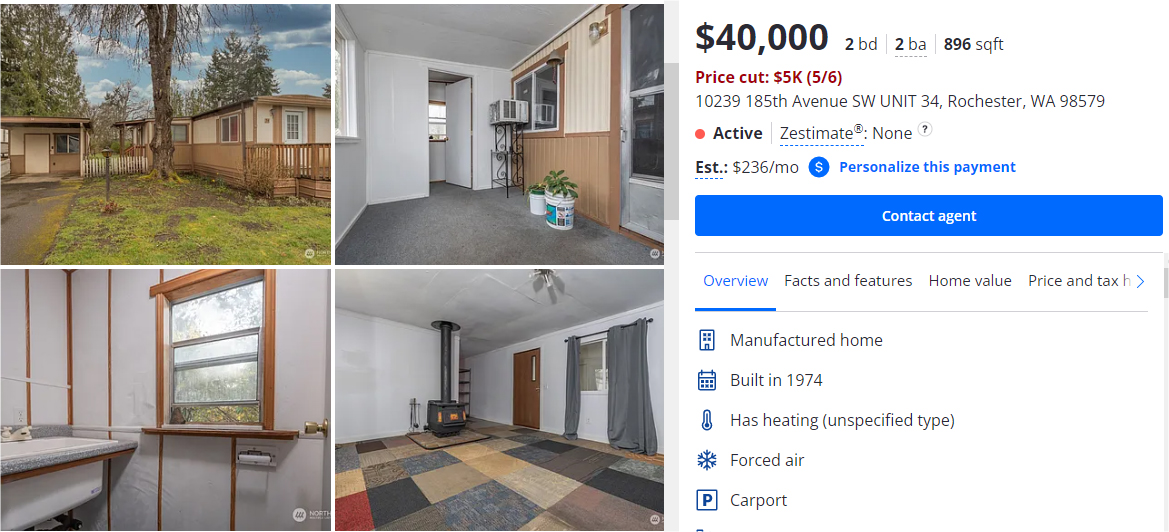 This mobile home exudes character, packing two bedrooms and two baths into its 896 sqft layout. From the moment you park in the dedicated off-street parking and step under the shelter of your carport, you'll feel a sense of home.
Picture this: warm evenings spent in your indoor sunroom, guests stepping in to be greeted by a thoughtfully designed guest bath. Your spacious kitchen, right off the living room, is where heartwarming meals come to life. Imagine chilly nights by the wood fireplace, filling the house with a cozy ambiance.
And don't forget about outdoor living. A raised garden bed awaits your green thumb, with room to expand your gardening dreams. What's more, it's pet-friendly with no age restrictions. This home at Tanglewood MHC, Rochester, brings convenience, comfort, and charm at just $40,000.
5. 1979 Mobile Home in Custer, South Dakota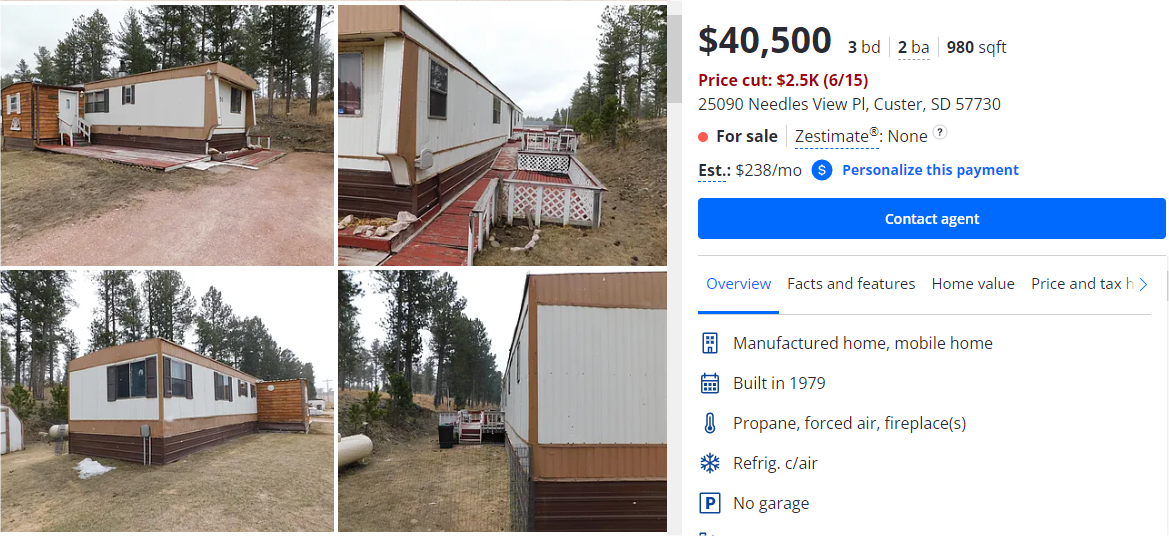 Next, peek at this 1979 mobile home tucked away in Custer, South Dakota—a cozy, move-in-ready haven with a winning mix of charm and practicality. Clocking in at 980 sqft, it sports three bedrooms and two baths, so space is never a concern. It is priced at a delightful $40,500 with a lot of rent of just $325 a month and a clear title.
You'll be captivated by the warmth of the living room, complete with a working fireplace and new flooring. Notice that knotty pine tongue-and-groove? It's rustic and inviting. Plus, there's an eight-year-old furnace and a year-old water heater, reducing maintenance worries.
But it's not just about the indoors. Check out the open deck and an enclosed porch – it's where you'll spend summer evenings sipping sweet tea. Don't forget the fenced metal storage shed to house your gear.
6. 1974 Double Wide in Hemet, California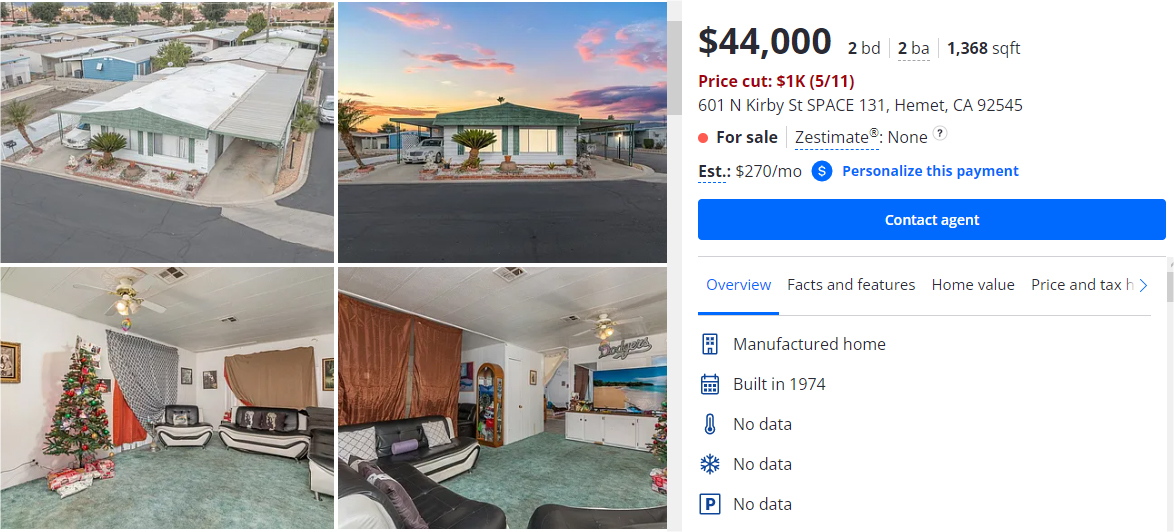 Ready to be swept off your feet? Welcome to this charming 1974 double-wide home in sunny Hemet, California! Nestled within the highly desirable 55+ Colonial Golf and Country Club community, this home is much more than meets the eye.
Sprawling across 1,368 sqft, it boasts two large living spaces and a central kitchen island, perfect for whipping up culinary delights or entertaining guests. The home has two bedrooms, each with an attached bathroom and shower – a rare feature!
But the delights don't end here. The home also features a dedicated laundry room leading right out to the carport area. For added comfort, the home is equipped with air conditioning and a furnace, alongside a bonus swamp cooler for those scorching summer days.
7. 1974 Mobile Home in Lakeland, Florida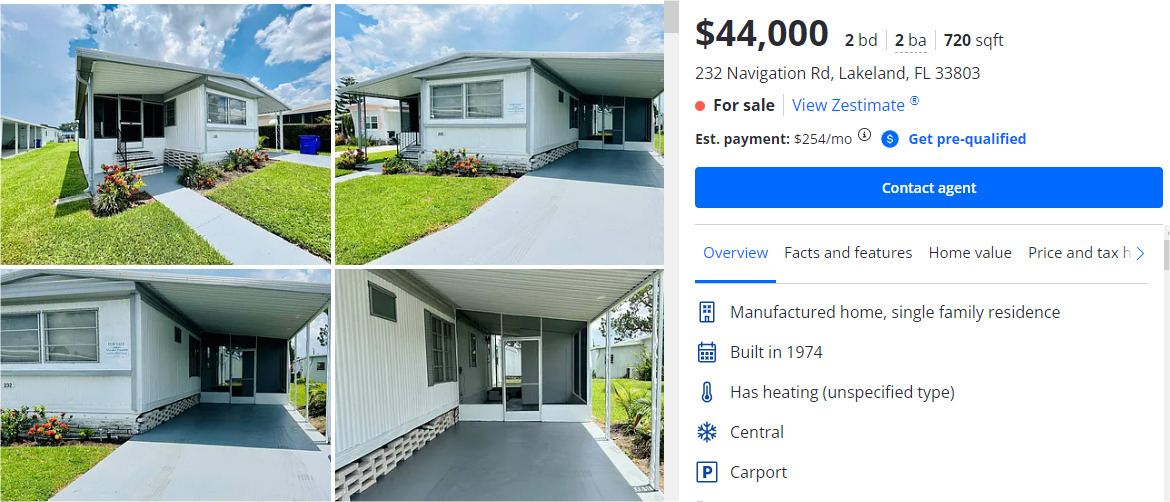 Next, we're taking you to the Sunshine State, where a 1974 mobile home in Lakeland, Florida, is bursting with charm and modern touches. This 2-bedroom, 2-bath haven, priced at a friendly $44,000, spreads across 720 sqft of updated living space.
Step into the revamped kitchen, where your culinary creations await a double-door fridge with an ice maker and an upgraded range. The primary bedroom? It's been freshened up with new flooring, sub-flooring, and double-pane tilt windows. The guest bathroom got the same stylish upgrade, ensuring visitors feel pampered.
And it's not just the interior that's received love. Recently painted inside and out, this home also flaunts beautifully updated landscaping and an operational sprinkler system. Love the outdoors? The screen room's new screens are perfect for bug-free Florida evenings. Nestled in Beacon Hill Colony, a 55+ community on Navigation Rd, this gem offers a slice of Floridian paradise. Don't let it slip away.
8. 1989 Single Wide in Vandalia, Illinois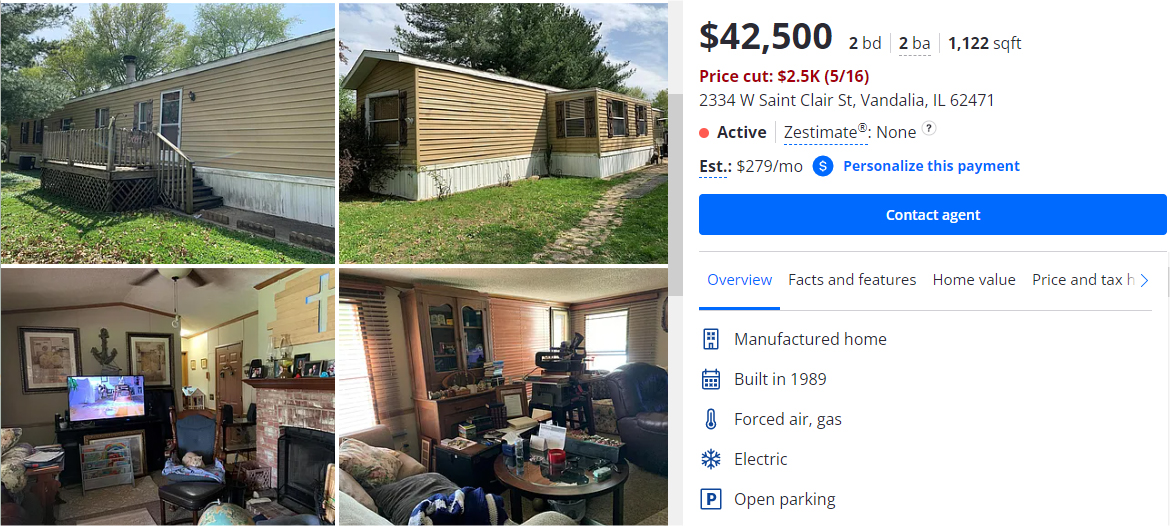 Let's head to Vandalia, Illinois, where a 1989 single-wide home is putting a new spin on the term 'Midwest charm.' For just $42,500, you can call this 1,122 sqft, 2-bedroom, 2-bath beauty your own.
One walk through the primary suite, and you're sold: dual sinks, a separate tub, and a shower create a retreat within your retreat. The open-concept living, kitchen, and dining area boasts a cozy wood-burning fireplace – the heart of the home in those colder months.
But that's not all! Step outside to a welcoming yard with a shed for all your storage needs and plenty of room to nurture a thriving garden. Rest assured; recent updates include a new water heater in 2022 and a new HVAC system in 2021.
9. 2002 Single Wide in Newfane, New York
Next is a lovely 2002 single wide in Newfane, New York, on the lineup, priced at $42,900. With a comfortable 1,064 sqft of space, this home boasts three bedrooms and two baths, offering plenty of room to create your perfect haven.
Step in to find all-new flooring underfoot, set against freshly painted walls. It's like walking into a brand-new home! But the good news doesn't stop at surface-level updates. This gem also got a new roof in 2017, not to mention a new furnace, water heater, and central air in 2018.
Outside, a large shed provides the storage you've always wanted, and most appliances and furnishings stay with the home. Yes, you read that right! Situated in Countryside Estates at 6286 Bayview Sta, this Newfane treasure is more than a house – it promises a cozy, comfortable future.
10. 2019 Single Wide in Knollwood, Texas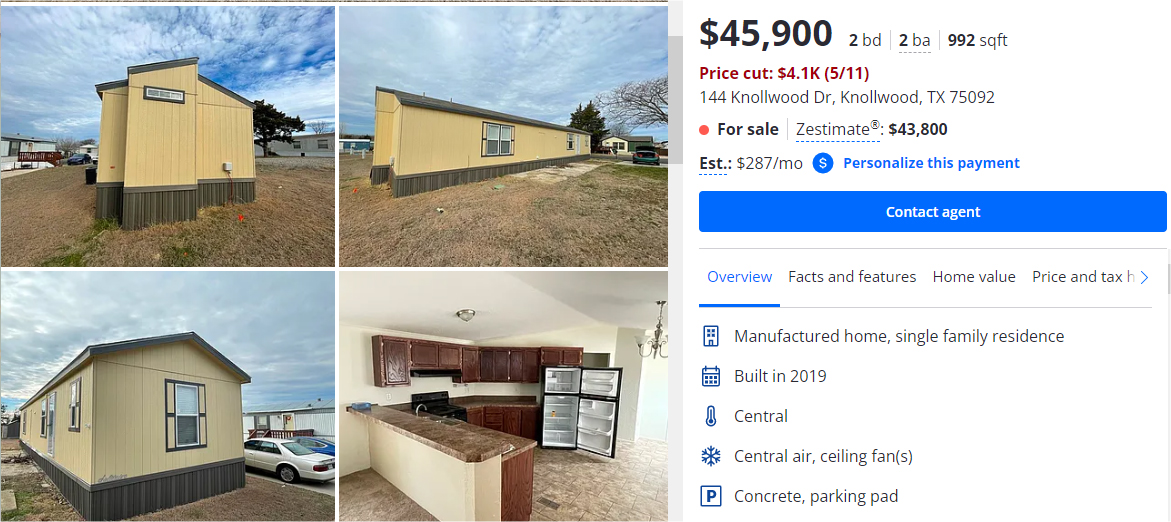 Coming up next, we're touring the Lone Star State, landing at a charming 2019 single-wide in Knollwood, Texas. This home is a sweet Southern steal priced attractively at $42,900,
Sitting pretty at 992 sqft, it features two bedrooms and two baths. Picture this: the primary bathroom, complete with a roomy walk-in closet and a separate shower accompanying a garden tub. Time to indulge in some self-care, don't you think?
The second bedroom, conveniently located on the opposite end of the master, boasts a decent-sized closet. It offers privacy and a restful space. The home shines with an open living area, promising cozy nights or lively gatherings. A separate utility room lies just off the kitchen, outfitted with handy cabinetry.
Cooking will be a joy in a kitchen with a cozy bar-top seating area and black appliances. The sturdy construction features wood siding, a block foundation, and a shingle roof.
11. 1996 Single Wide in La Belle, Missouri
Next on our list, we're jetting off to the Show-Me State, where we discover 1996 single-wide in lovely La Belle, Missouri. The price tag? A cool $45,000.
This home boasts two bedrooms and two bathrooms with a generous living space of 1,100 sqft. The property is in great shape, offering central air – a godsend in Missouri summers – and all the essential appliances. So you can move right in without a hassle.
Take a peek outside and find the newly built carport. It's ready for a spruce-up for the sides and a garage door. Transform it into the car shelter of your dreams or nifty outdoor storage.
What sets this property apart is its sizable lot. Spanning 95"x180" or 0.39 acres, it's a blank canvas teeming with potential. Imagine a sprawling garden, a play area, or an outdoor entertaining space. This is private ownership at its best, situated at 305 Liberty in La Belle, MO.
12. 2015 Single Wide in Grand Forks, North Dakota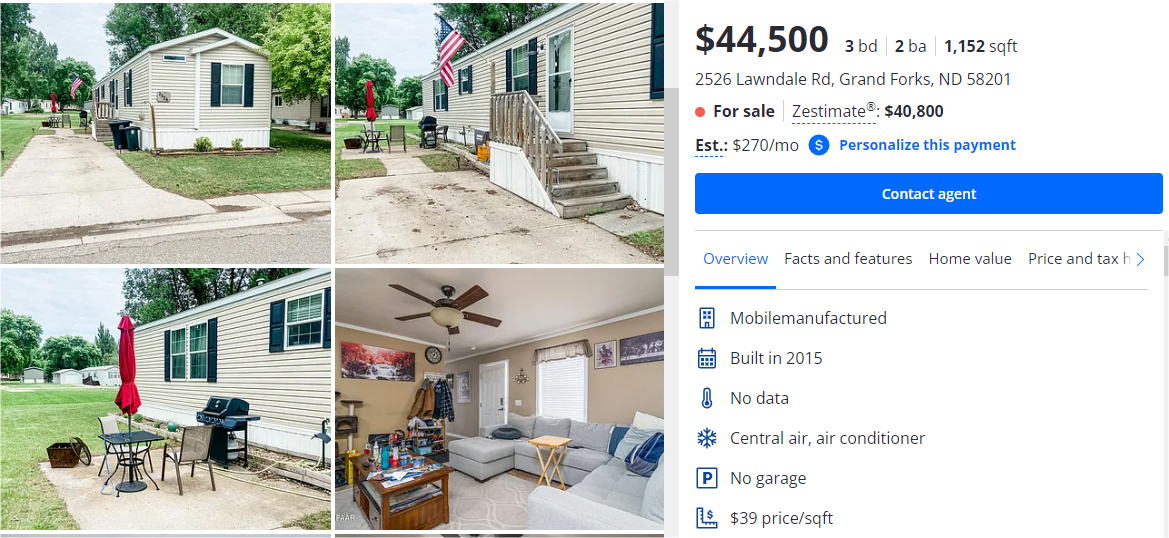 Let's keep this rolling. We're heading up north to Grand Forks, North Dakota. Right there, we find a charming 2015 single wide, priced right at $44,500.
The home stretches over 1,152 sqft, featuring three spacious bedrooms and two baths. Here's where you'll find comfort and style, living in harmony. An open-concept design brings all the living areas together, creating a seamless flow perfect for hosting.
Your inner chef will fall in love with the generous kitchen with a gas range. Think of all the culinary adventures you could embark on! Moreover, this house comes fully stocked with all the essential appliances – a dishwasher, dryer, refrigerator, range, and washer.
For those who live for the outdoors, a concrete pad is waiting, primed for a cozy fire pit. Just imagine those delightful summer evenings under the North Dakota sky. This beauty sits in the Columbia Heights Park community at 2526 Lawndale Rd, Grand Forks, ND.
13. Mobile Home in Clearwater, Florida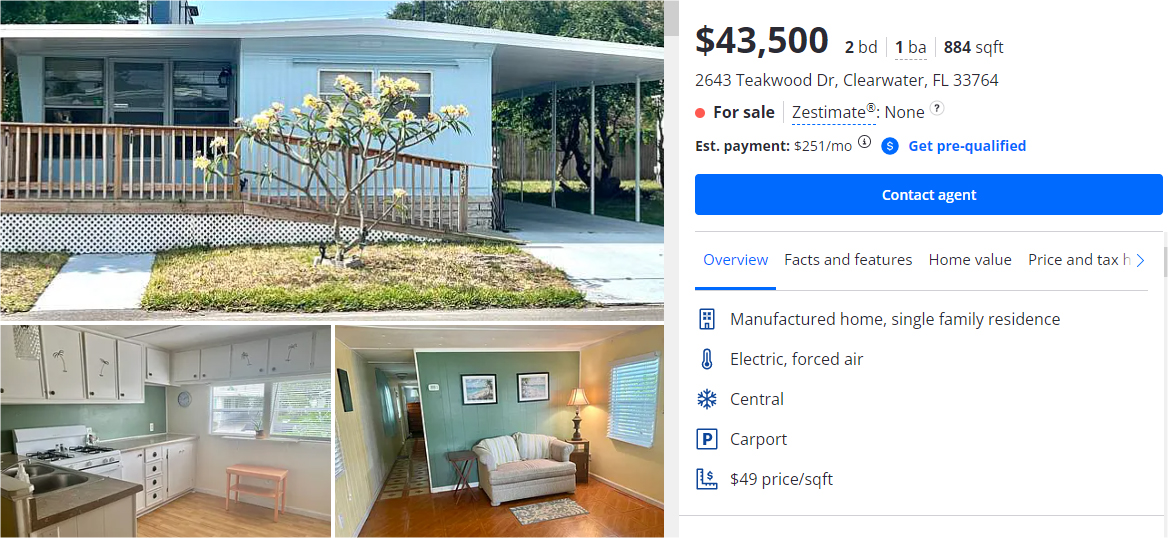 Onward to the sun-soaked shores of Clearwater, Florida! Our next gem is a darling mobile home waiting for its new owner at $43,500. Nestled in the vibrant 55+ community at 2643 Teakwood Dr, this home boasts 884 sqft of charming comfort. With two bedrooms and one bath, it's the perfect size for easy, breezy Florida living.
This home has been showered with plenty of love over the past year. A fresh coat of paint now adorns the exterior, and a new ramp leads you straight to the front door.
Step inside, and you'll find a stackable washer/dryer combo, just two years young, ready to tackle your laundry needs. The kitchen also sports a 1-year-old propane stove, perfect for cooking escapades.
14. 1973 Double-Wide in Lakeland, Florida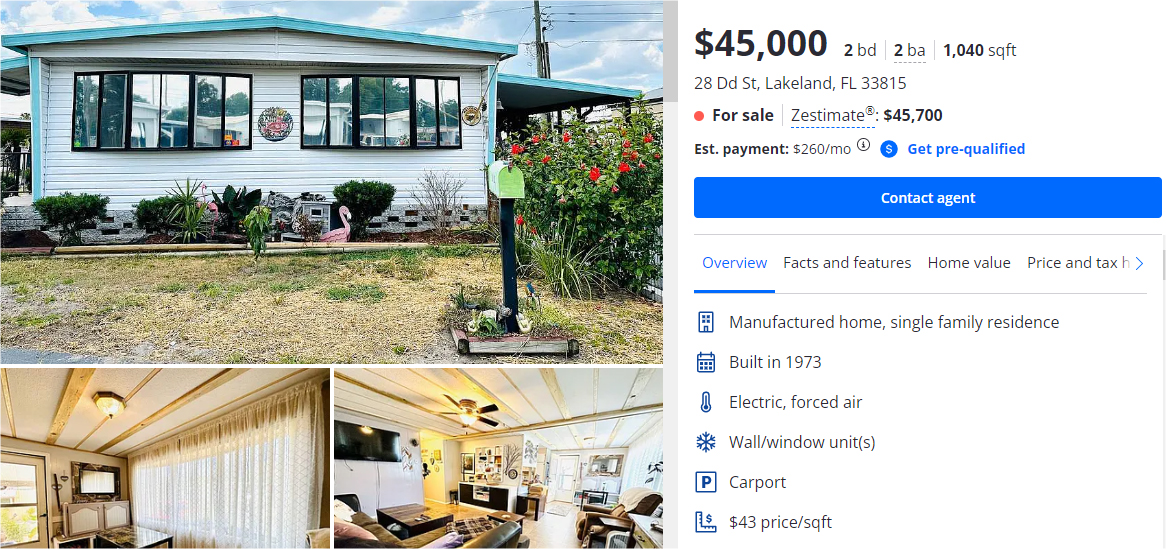 For $45,000, you can claim a 1973 double-wide packed with appealing features. Stretch out and enjoy 1,040 sqft of well-designed space in this 2-bedroom, 2-bathroom home in Georgetowne Mobile Manor, a vibrant 55+ community.
With abundant storage and spacious bedrooms featuring large closets, this home makes organizing a breeze. Most of the flooring, updated recently in pleasing neutral tones, ties together the open-concept living room, dining room, and kitchen – a dream for any entertainer. Three ceiling fans keep the air moving, keeping you cool in the Florida sun.
The kitchen flaunts a flat surface stove with an oven, replaced just four months ago. Both bathrooms boast fresh updates, from new shower surrounds and toilets to shiny new faucets. Also, the roof was professionally redone recently, and three wall AC units were installed.
15. 1981 Mobile Home in Woodruff, Wisconsin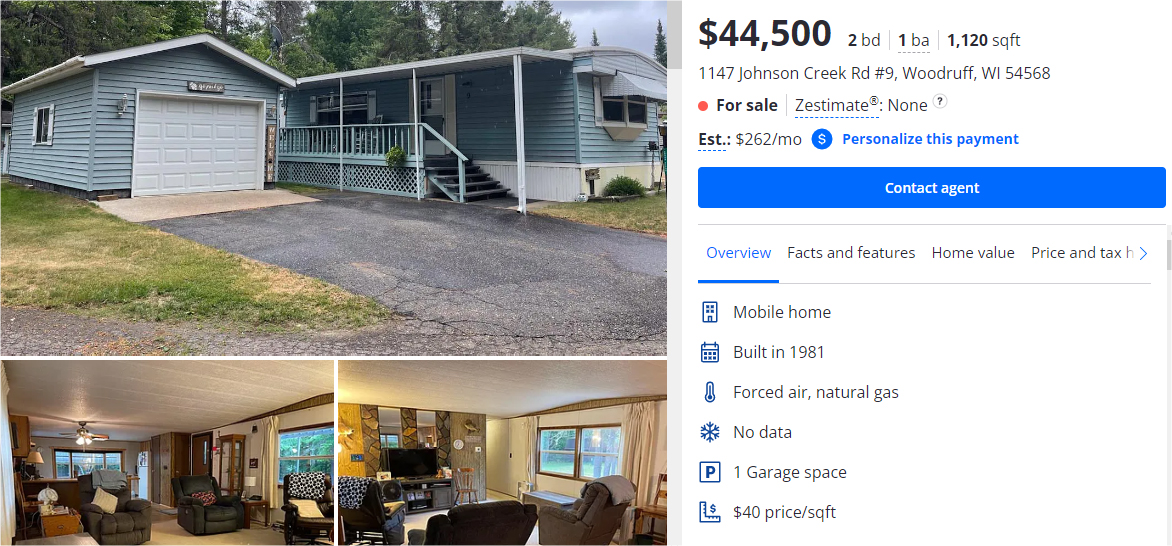 Next, we're taking you to tranquil Woodruff, Wisconsin, where an inviting 1981 mobile home is ready and waiting for a new owner. This home is a steal, for sale at an appealing $45,000.
This 2-bedroom, 1-bathroom home spreads out over a comfortable 1,120 sqft. Imagine yourself in the open-concept living room and kitchen area, perfect for hosting those memorable gatherings with friends and family.
The bathroom is a sanctuary featuring a garden tub/shower combo where you can unwind after a long day. But that's not all! This gem also includes a 1-car detached garage and storage shed, making it the ideal pick for those needing extra storage or workspace.
Did we mention it comes with a complete set of appliances, too? Dryer, gas water heater, microwave, range, refrigerator, washer – you name it, it's included. And all of this is nestled in Evergreen Estates, a serene 55 and older adult community.
16. 1977 Mobile Home in Mesa, Arizona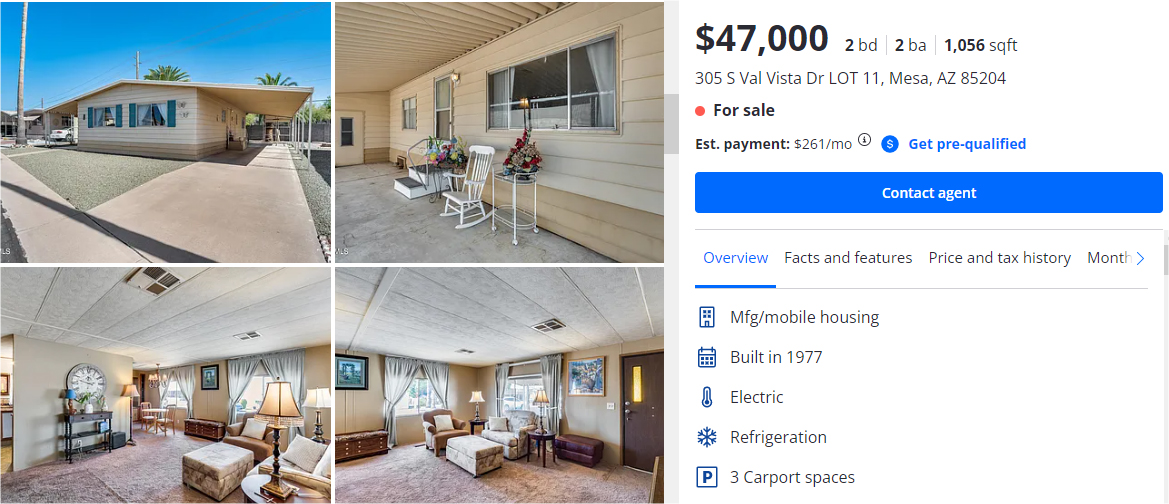 Let's escape to the sunny skies of Mesa, Arizona, where a charming 1977 mobile home beckons. Listed at $47,000, it defines affordable comfort and style. Covering 1,056 sqft, this 2-bedroom, 2-bath home is designed for comfort. Ready to move in, this gem flaunts a spacious floor plan, ideal for hosting lively dinner parties or relaxing with a good book on a quiet evening.
The primary bedroom is your private oasis. It's armed with an en-suite bathroom, the perfect spot to soak away the day's stress. Plus, with a walk-in closet, you'll never be short of storage space.
And yes, this home comes with various appliances — from a gas cooktop to a refrigerator, a washer, and a dryer. A gas water heater completes the package. This home is tucked in a friendly 55+ community.
17. 1976 Mobile Home in Arcata, California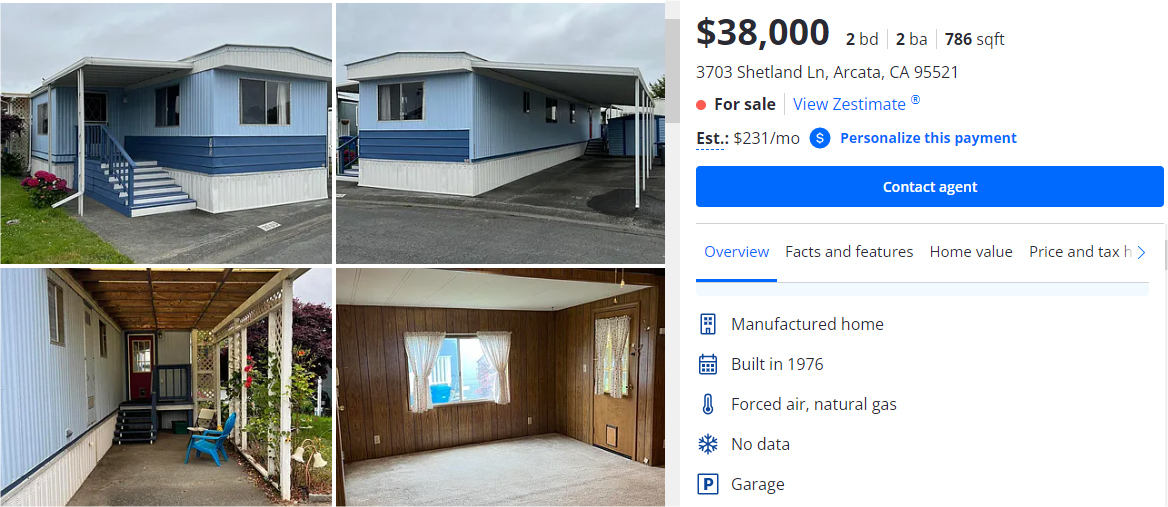 Our next stop takes us to Arcata, California, where a 1976 mobile home is charming. Up for grabs at $38,000, it's a perfect blend of comfort, convenience, and style.
Clocking in at 786 sqft, this 2-bedroom, 2-bath abode is move-in ready. The living room comes with a pop-out feature, providing that extra space you crave. It's perfect for hosting or simply stretching out on a lazy afternoon. Plus, the bedrooms are thoughtfully positioned at opposite ends of the home, offering privacy when you need it most.
The primary bedroom even comes with its own half-bath, and we can't forget about the roof – it was freshly resealed in October 2022. Additionally, a new gas water heater, washer, and dryer were installed in 2020. Let's not overlook the updated refrigerator, stovetop, and oven. Fresh exterior paint from 2018 still shines, and with a location in a peaceful senior park, it's the perfect place to call home.
18. 1979 Mobile Home in Brooksville, Florida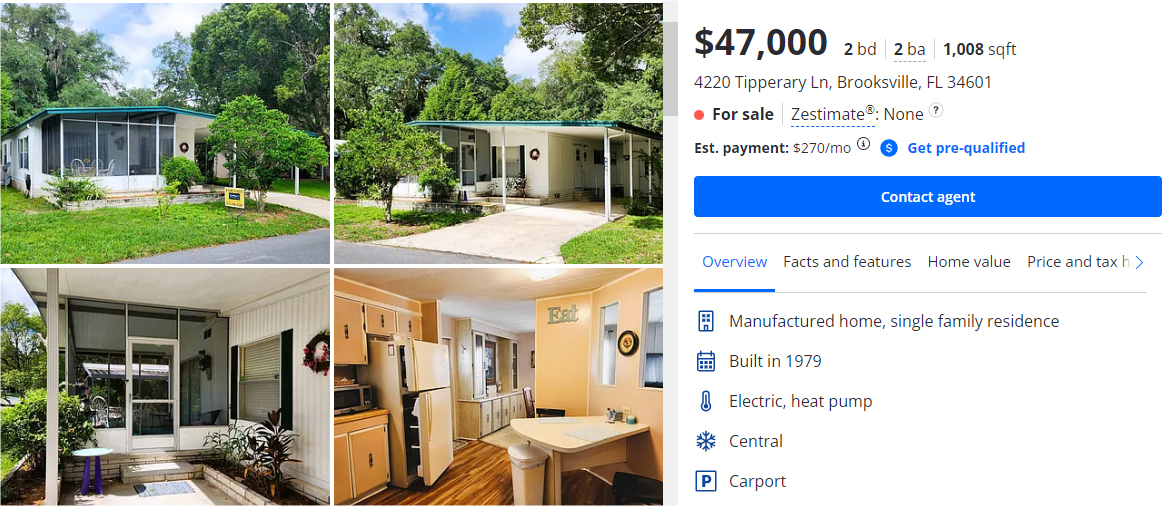 Lastly, say hello to this darling 1979 mobile home in Brooksville, Florida! It's more than just a home – a vibrant lifestyle full of charm and convenience. With a spacious layout of 1,008 sqft, this 2-bedroom, 2-bath home offers plenty of room to make your own. It greets you with great curb appeal, showcasing a cheerful, front-screened porch where you can enjoy the Florida sunshine.
The home is beautifully appointed with laminate floors and a delightful color scheme. An attached shed conveniently houses your laundry, bringing functionality to your daily routines.
The best part? This home received a new metal roof in 2021 and a new vapor barrier in 2020. It's in excellent condition, ready for you to move in and start your next chapter. Tucked away in Clover Leaf Farms, an age-qualified community, it's an inviting place to call home sweet home.
Conclusion
That's a wrap, folks! From coast to coast, we've opened doors to some of the most charming and affordable mobile homes under $50,000. Each one has whispered a unique story of comfort, convenience, and community, all without breaking the bank. Thank you for reading!