Exterior Stairs for Mobile Homes
Finding exterior stairs for mobile homes is essential for some people. It can be a smooth entrance for your family and guest. Picking the righteous one is necessary. No doubt, you want to get exterior stairs which are matching with your mobile homes.
Either to make your own or buy the steps in furniture shops, you should consider about the materials of your exterior stairs. The first you need to do is searching for the best equipment.
Exterior stairs are included as outdoor furniture that should sustain against extreme weather transition. Materials that are vulnerable to unpredictable moisture cannot be used as your exterior stairs. For mobile homes, exterior steps or stairs are essential elements for the entrance purposes.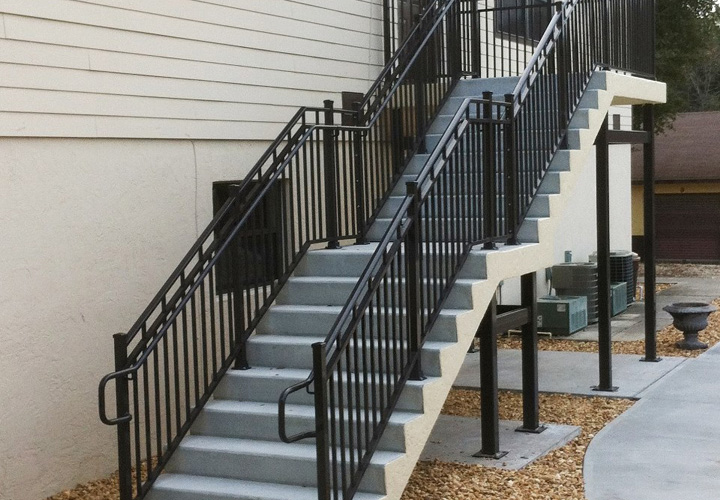 There are at least three standard materials that have been used for mobile homes for decades. We have wooden, concrete and fiberglass materials. You can easily find those goods in conventional furniture stores.
Hiring a pro to install such materials is also advisable. It can give perfect attachment between your steps and homes. Wooden material is the cheapest material that you can get. Of course, it is less reliable from the other materials.
However, if you had wooden materials which dominate your house building structure, this can be the best pick. The composition between your house and steps may give a neutral environment for your surroundings.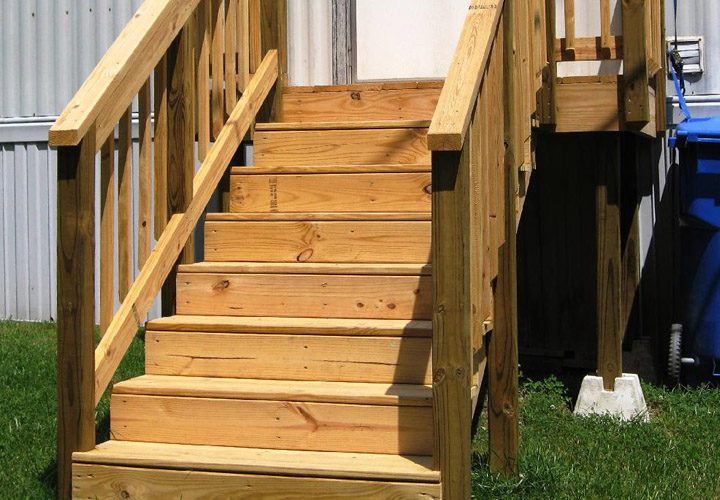 Wooden steps are also much lighter for those who like minimalist design. Hence, concrete steps have a heavy structure as exterior steps. Its heavy-weight keeps it from the threat of being blown away by strong wind. Due to its construction, concrete steps are proven to be long-lasting comparing to the other materials.
Further, fiberglass has been an intermediate solution among mentioned step materials. It has more durability from wooden elements, yet it is less strong and firm than concrete materials. Thus, this can be your solution for bold yet minimalist design. For your information, those materials are also a common use for outdoor furniture. Wooden chairs or fiberglass tables, for instance, has been used many times as outdoor furniture. Thus, you don't need to worry about your mobile home design for sure, especially if you spend much time in outdoor activities.
The prices of those materials are wide-ranging, depending on the number of steps. Nevertheless, most of the exterior stairs consist of at least three numbers of steps. It costs relatively above USD 100.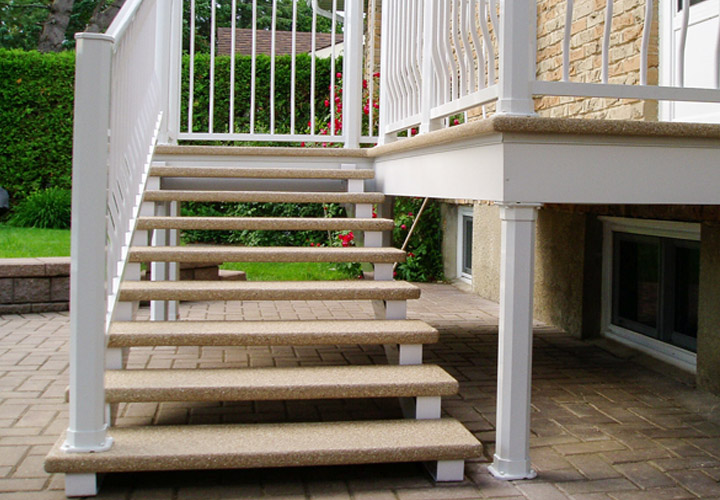 You can get some ideas about the best exterior stairs in some trusted online shops. You can also buy it from such online stores for your records. Nevertheless, you need to consider the shipping cost.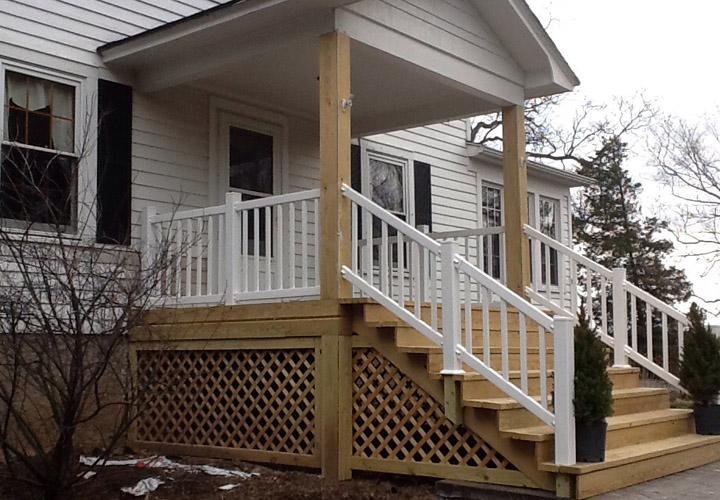 Notwithstanding the wide-ranging materials, it takes a lot of space which is a determining factor to calculate the shipping cost. Hence, it is almost impossible to find wooden stapes in the form of assembly. For conventional stores, you can search from window-shopping first. If you are lucky enough, you can see exterior stairs for sale. You can also wait for the special event, such as Christmas and Thanksgiving Day to get second exterior stairs for mobile homes.