24 Resident Owned Mobile Home Parks in Florida
Resident-owned mobile home parks or communities in Florida, also known as resident-owned community (ROC) and manufactured home co-op shares, represent a unique type of real estate ownership. Here, the ownership isn't traditional, where you own the land directly under your home. Instead, it's more like owning a piece of a company. Your "stock" in the community gives you the right to live in your unit. While the whole community, including the land and amenities, is collectively owned by all residents.
A comparison of the shareholder and homeowner/tenant fees
This co-op model of ownership can offer advantages. For instance, monthly maintenance and communal services fees are generally more affordable than the typical lot rent in leased communities. Like traditional real estate, as a co-op owner, you're responsible for real estate taxes. However, because the initial purchase prices are relatively low, your tax obligation is typically not excessively high. Additionally, if you're a Florida resident, you may qualify for a homestead exemption, which can significantly reduce your real estate taxes. Additional tax reductions may apply for qualifying individuals, such as those with disabilities.
The following list is the names of resident-owned mobile home parks in Florida. You can check their site for the latest listing of resale homes.
1. Palm Hill Country Club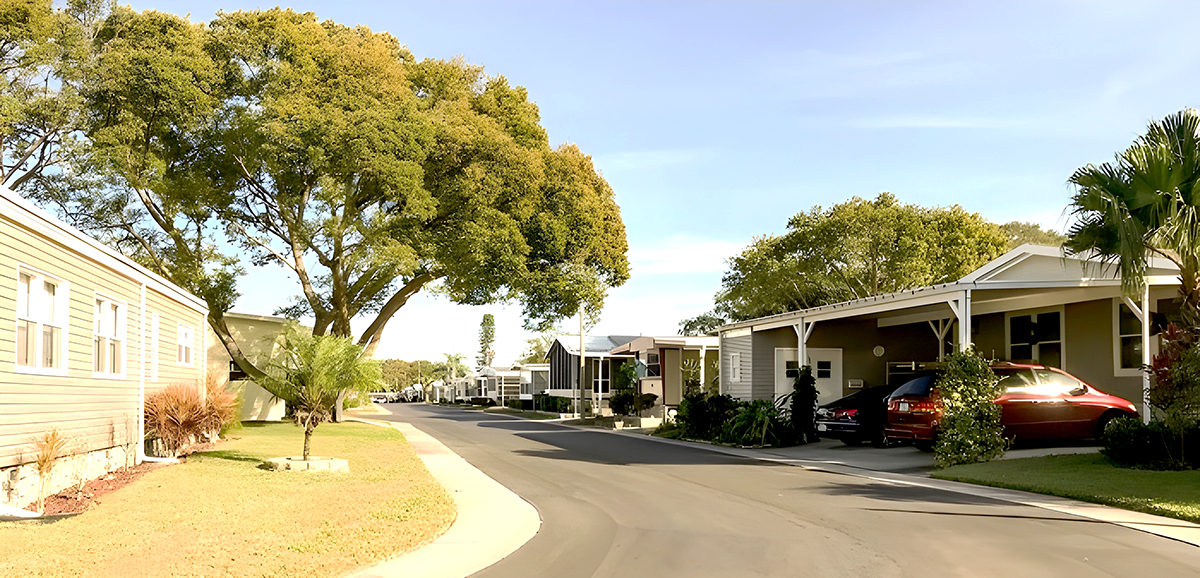 Palm Hill Country Club, 1800 Seminole Blvd Largo, FL 33778
Get ready to tee off at Palm Hill Country Club! Tucked away in charming Largo, Florida, this resident-owned 55+ community is the dream destination for your golden years. Here, life is less about age and all about attitude.
Palm Hill Country Club isn't just a country club. It's a collective dream come true of 1096 owners! Everyone here owns an equal share in the Home Owners of Palm Hill, Inc. Corporation. What does that mean? Well, together, they hold the keys to all 1096 manufactured homes, streets, and essential water and sewer lines. But it doesn't stop there.
Their shared ownership extends to all the fantastic amenities Palm Hill offers. That golf course where you can perfect your swing, the tennis courts where friendly matches occur, and the swimming pools where you can dip and relax are all shared. The same goes for the clubhouses, the perfect spot for community gatherings.
And here's the best part: This community is set for the long run. Their 99-year ground lease doesn't expire until June 30, 2094. So, whether you're a golfer, a swimmer, a tennis player, or simply a lover of Florida's sunny charm, there's plenty of time to make Palm Hill Country Club your home sweet home!
2. Blue Jay Mobile Home Park
Blu Jay MHP, 2755 Curlew Rd, Palm Harbor, FL 34684
Immerse yourself in Blue Jay Estates, a resident-owned community designed specifically for active adults over 55. Set in the heart of Palm Harbor, Florida, this place truly embodies the relaxed, sun-drenched spirit of the Sunshine State.
At Blue Jay Estates, you're not just buying a home. It is a mobile home park where you own the land. The freedom and stability that it brings are hard to find elsewhere! The community boasts 235 double-wide units, most equipped with two bedrooms and two baths.
The fun doesn't stop at your front door, though. Blue Jay Estates offers residents an array of engaging social and outdoor activities. The social club is always buzzing with everything from dances and dinners to bingo and card games.
And let's not forget the outdoors. A large, heated swimming pool, bocce, and shuffleboard courts are ready to enjoy. Plus, adventure is never far, with golfing, bowling, and other exciting activities nearby.
Its location is another jewel in its crown. Perched 66 feet above sea level, the community is conveniently close to beaches, tennis courts, parks, hospitals, churches, shopping centers, and airports. Blue Jay Estates, it's more than a community – it's a lifestyle.
3. Tarpon Shores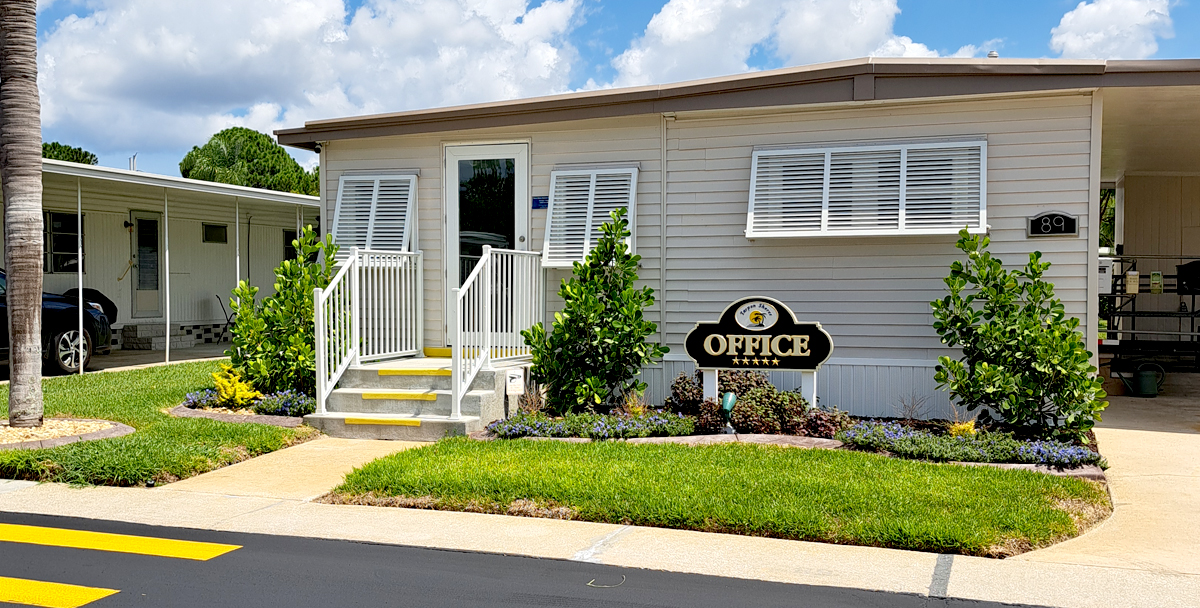 Tarpon Shores, 89 Rachel Drive Tarpon Springs, FL. 34689
Tarpon Shores is an inviting resident-owned community for those aged 55 and up. Situated in the charming coastal city of Tarpon Springs, Florida, it's a slice of paradise on the Gulf Coast.
At Tarpon Shores, you're not just a resident but a part-owner. That's right – you have a say in how things are run. With 234 units available, the possibilities are endless. A variety of homes to suit every lifestyle, budget, and preference await you here.
Breathe in the fresh sea breeze as you stroll the park's well-kept, verdant walkways. Socialize with neighbors in the clubhouse, which serves as the community's beating heart. Engage in exciting activities that get your heart racing, or enjoy tranquil moments by the water.
Here, convenience is the norm. The park is conveniently located within walking distance of supermarkets, local shops, restaurants, and healthcare facilities. And guess what? The famous Sponge Docks and beautiful local beaches are just a short drive away!
4. Tropic Isles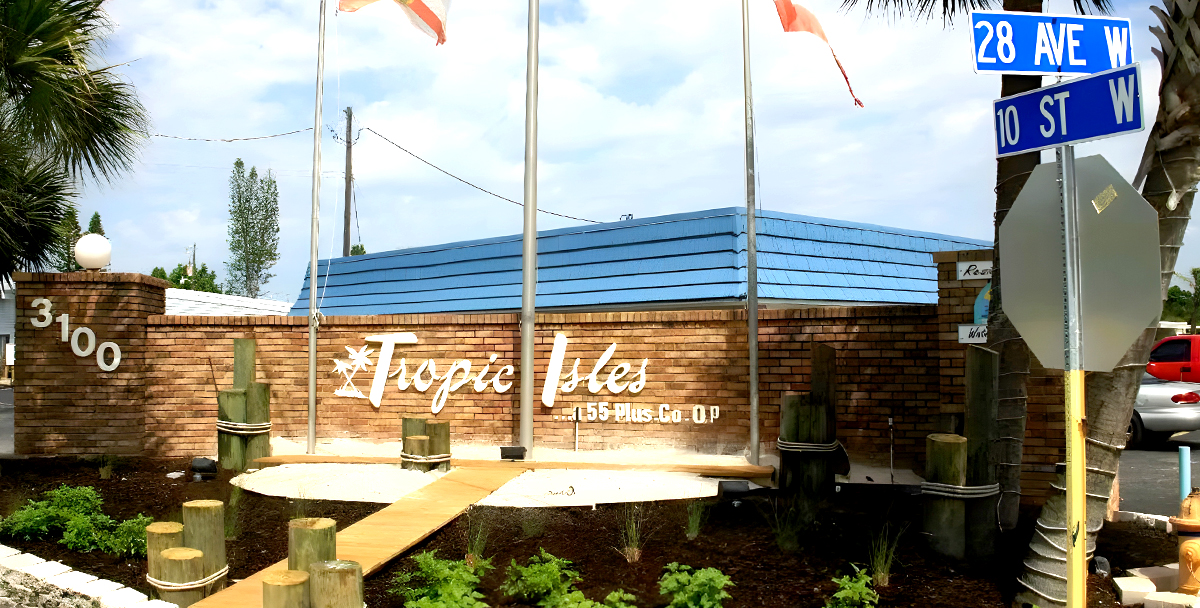 The Tropic Isles, 28th Ave, West Palmetto, Florida 34221
Tropic Isles is a 55+ resident-owned mobile home park that's more than just a place to live—it's a coastal paradise. The park doesn't just have waterfront homes—it has over 2.5 miles of them. Here, residents don't just enjoy their morning coffee—they savor it, with the calming backdrop of the bay, right from their backyards. With three enclosed harbors, the whispering waves of the ocean are always at your doorstep. Fancy a boating adventure? The community's direct access to Tampa Bay and the Gulf of Mexico makes spontaneous sea voyages enjoyable.
5. Sunset Palms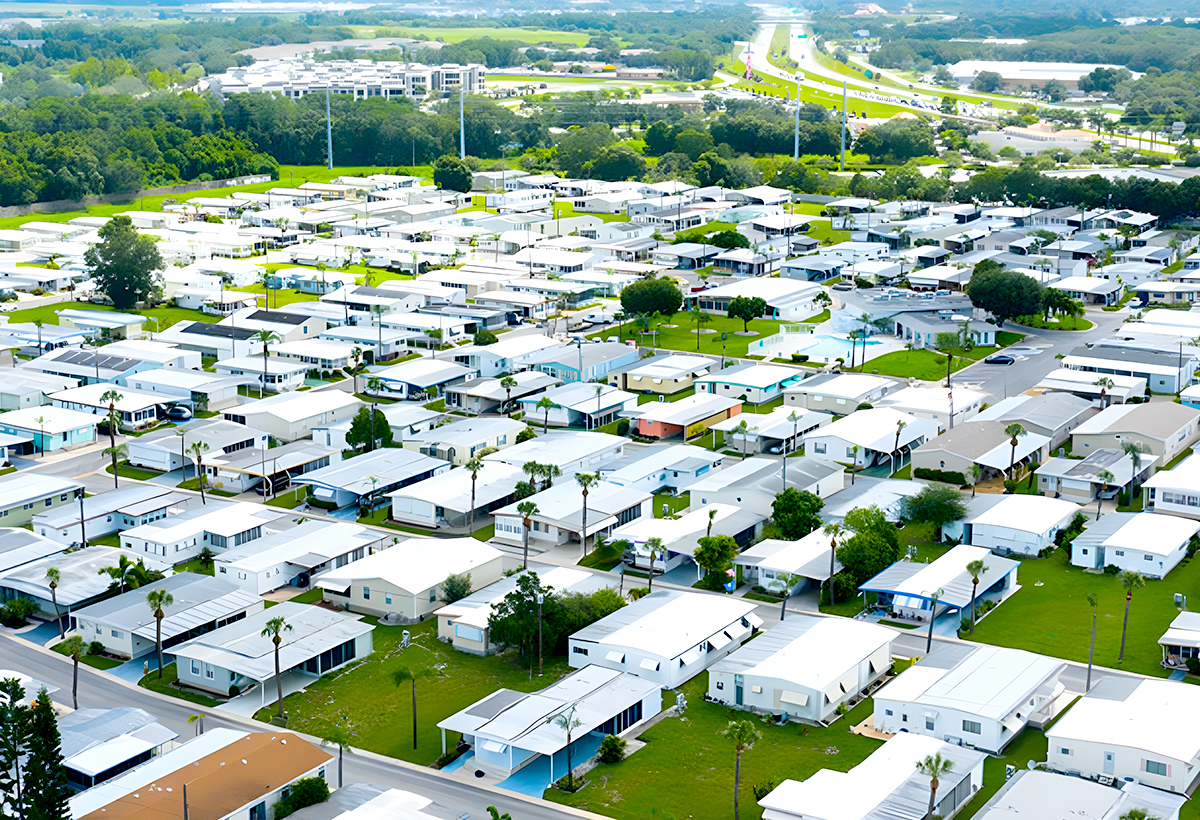 Sunset Palms, 3401 Gandy Blvd, Pinellas Park, FL 33781
The Sunset Palms is a 55+ resident-owned community that brings your dream to life. This vibrant community sprawls over 500 home sites, each one unique and inviting. Whether you're an avid golfer, a theater buff, or a beach lover, you'll find your heart's desire just minutes away.
At Sunset Palms, becoming a resident is more than just buying a home—it's joining a family. Here, there are two ways to belong. First, you can be a shareholder, owning not just your home but also the share of land it sits on. You can even serve on the Board of Directors as part of the park's ownership. You're not just a resident—you're a decision-maker.
But the sense of belonging doesn't stop there. If you'd prefer to own your mobile home and lease your lot, that's an option too! You'll have full access to the park's amenities and all the social activities that make Sunset Palms a vibrant community.
6. Fairway Village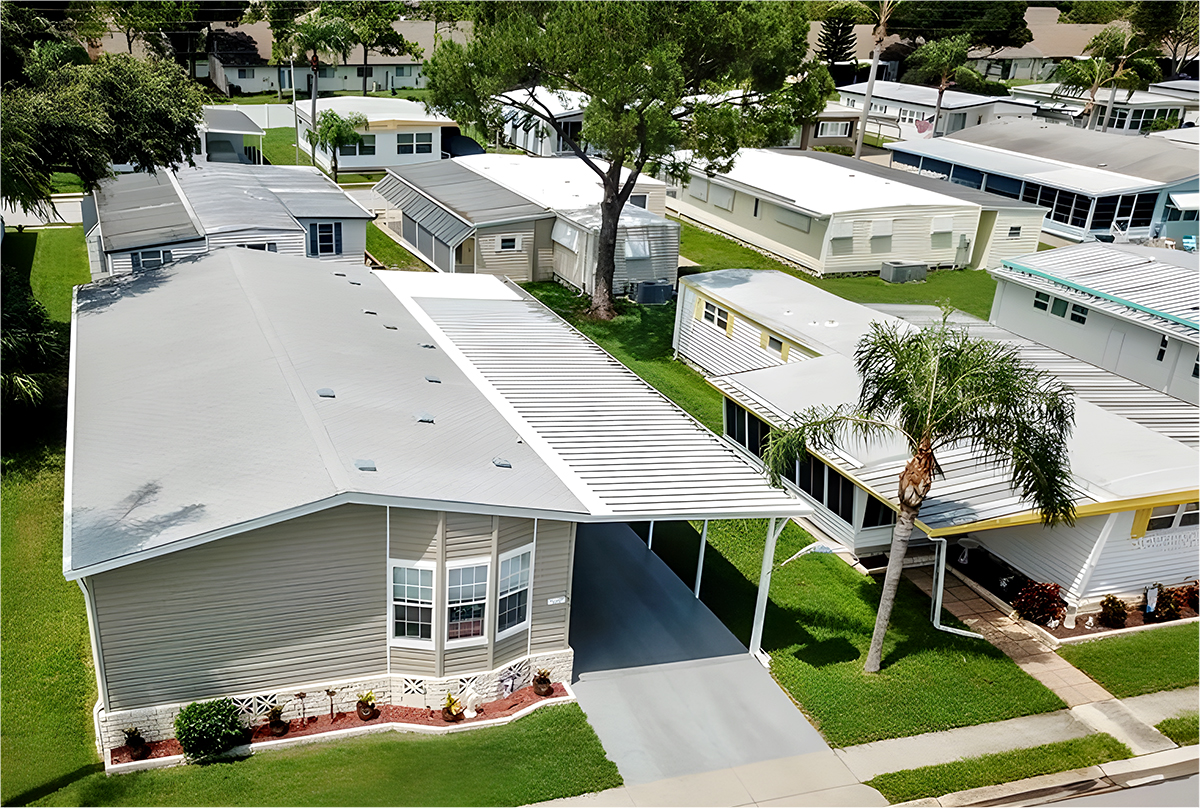 Fairway Village, 1100 Belcher Road South Largo, FL 33771
Think of a sunny haven where the streets curve gently, inviting strolls. Picture your golden years spent in a community that's as vibrant as it is serene. That's Fairway Village for you—a 100% resident-owned, 55+ manufactured home community in charming Largo, Florida.
With 751 homes, each set back from the broad, well-lit streets, this Gulf Coast jewel provides a sense of expansiveness and a comforting sense of home. Fairway Village understands that your pet is family, too. That's why they offer a restricted pet section so that you can enjoy your retirement with your four-legged companion.
It's not just a community—a lifestyle where neighbors become lifelong friends, and your backyard stretches out to some of Florida's most breathtaking attractions. Fairway Village, where you're not just buying a home, you're investing in a way of life.
7. Cortez Park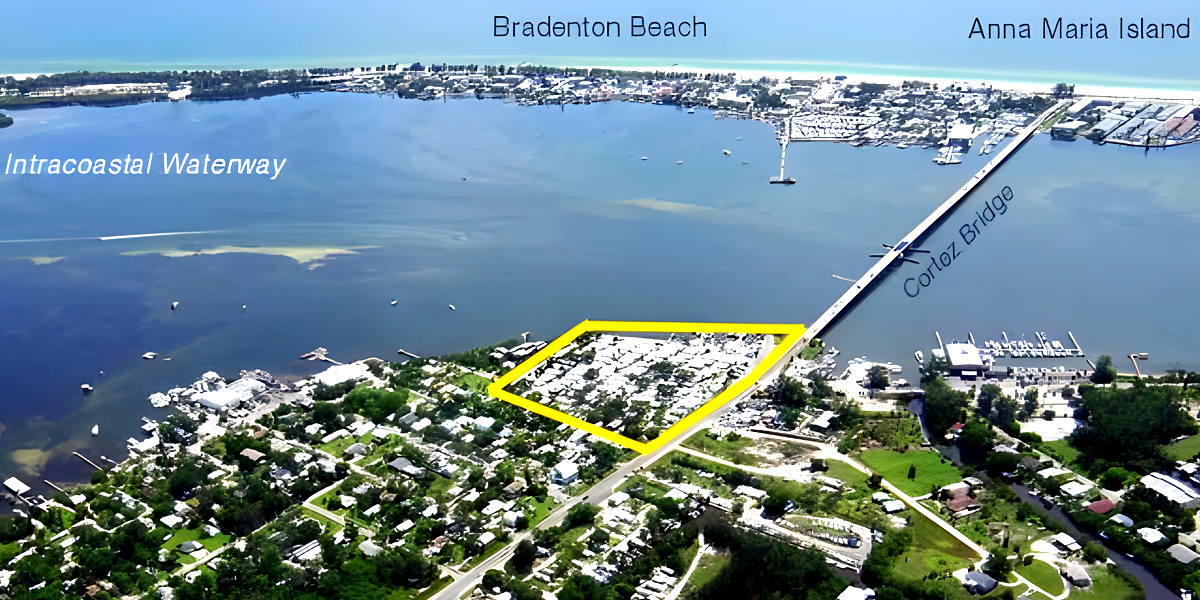 Cortez Park, 12507 Cortez Road, West Cortez, Florida 34215
You'll find Cortez Park tucked into Florida's Gulf Coast, cradled by the Intercoastal Waterway's azure expanse. This 55+ waterfront community values lifestyle as much as location. Cortez Park is a real find—a cozy, 86-unit resident-owned cooperative that delivers on the promise of Florida living.
The stunning white sand beaches of Anna Maria Island are just a short jaunt over the Cortez Bridge. If you're a foodie or shopaholic, you'll love the Island's many delightful restaurants and unique boutiques. Back home in Cortez Park, each residence is privately owned and rented directly by the homeowners, ensuring personal attention to every detail.
8. Doral Village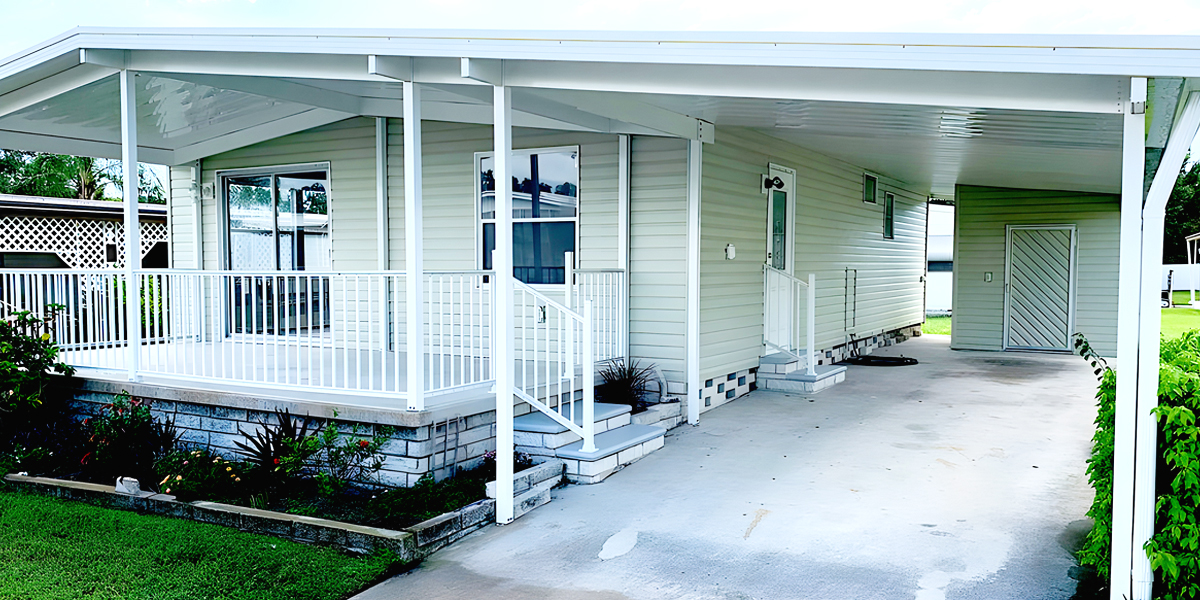 Doral Village 29250 US Highway 19 N, Clearwater, FL 33761-2127
Imagine your perfect retirement sanctuary—a sunny spot where the balmy Florida breeze greets you daily. Welcome to Doral Village, an affordable 55+ resident-owned community in the heart of Pinellas County on Florida's captivating West Coast.
Now, here's what makes Doral Village special. It operates as a 'cooperative,' a popular form of ownership in Florida's resident-owned mobile home parks. It means the homeowners, or 'members,' hold a membership certificate in the corporation. Currently, about 57% of Doral's residents are members.
But that's not the only way to live here. You also have the 'homeowner/tenant' option. These folks own their homes but rent the lots from the cooperative. They enjoy the same sunsets, the same lifestyle, and the same sense of community. So whether you want to buy or rent, the Florida dream is within reach at Doral Village.
9. Lake Highlander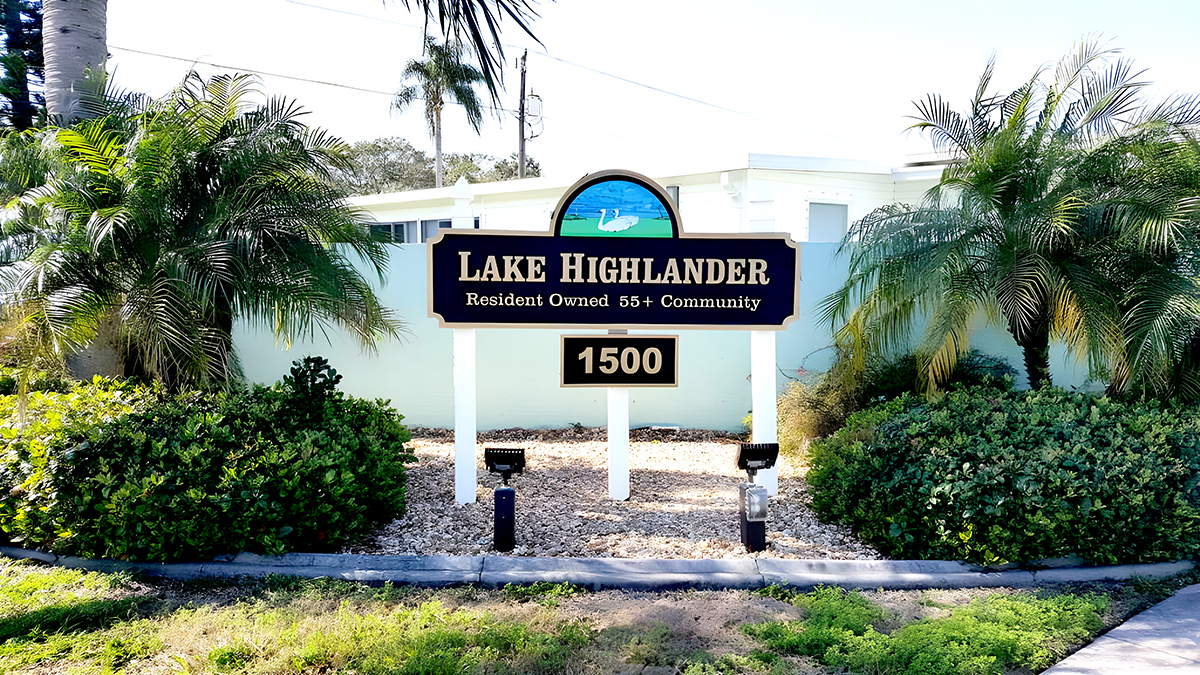 Lake Highlander 1500 County Road 1 Dunedin, Florida 34698
Think about a place where the scent of oranges still lingers, a reminder of Florida's bountiful groves. That's Lake Highlander Resident Owned Community for you—a slice of Floridian history with a modern twist. This mobile home park was established in 1990 and had 293 homes.
Lake Highlander is home to permanent and seasonal residents across the US and Canada. And to keep the community tight-knit, they do have some rules: one resident in the home must be at least 55, with any other occupant being a minimum of 50. Also, a credit score of 680 or above is necessary. A cat-lover's paradise, you can have a neutered or spayed feline friend indoors. Sorry, dog lovers, but your canine pals must sit this out.
10. Hacienda Village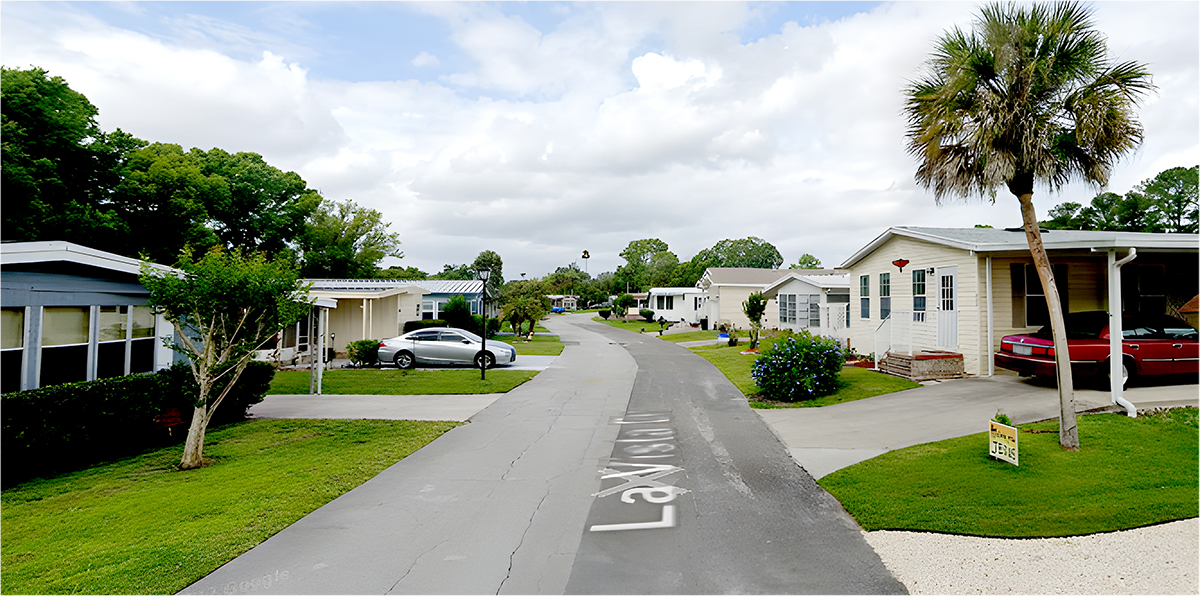 Hacienda Village 280 La Vista Dr. Winter Springs, FL 32708
Meet Hacienda Village—your slice of Floridian paradise in a resident-owned 55+ manufactured home community. A visionary group of residents moved to repurchase Hacienda Village in '94 and haven't looked back. With shares in the corporation, you're not just a resident but a part-owner with a 99-year lease to your little corner of this community.
In the heart of Winter Springs, northeast of Orlando, Hacienda Village enjoys the best of Florida. From the sandy shores on both coasts to golf courses, fishing spots, shopping havens, and even the glitter of Disney—it's all within easy reach.
But what about home, you ask? Hacienda Village spans 83 lush acres and houses 447 home sites. And the cherry on top? There are about 40 prime sites ready for your dream manufactured home. Add two swimming pools—one heated for your comfort—RV storage and other amenities, and you'll wonder why you haven't moved in sooner!
11. Sleepy Hollow Mobile Estates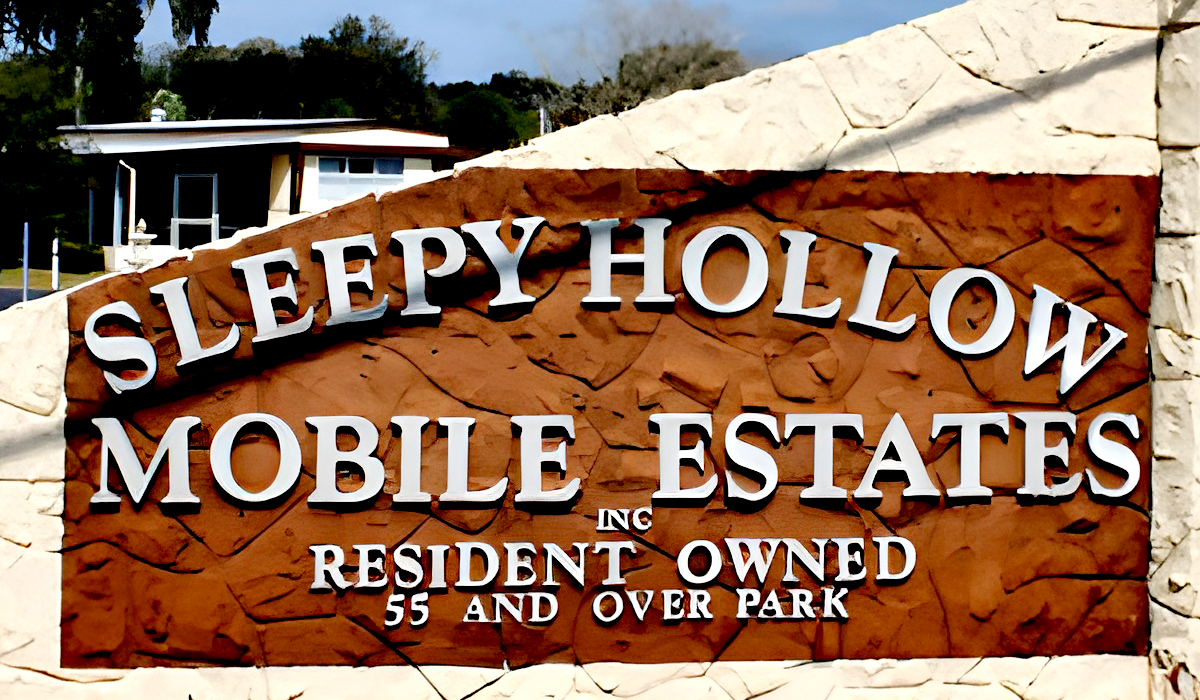 Sleepy Hollow Mobile Home 38615 Lansing Avenue, Zephyrhills, FL 33542
Step into Sleepy Hollow Mobile Estates and experience the tranquility of a resident-owned 55+ community. Here's a secret: The park came alive when residents decided to co-own it in 2000. Today, it's home to 155 residences, with a majority being shareholders.
But that's not all. Sleepy Hollow has several ace cards—two RV parks called Park 1 and Park 2. These parks host around 80 RV lots each, offering temporary and permanent rental options.
And let's talk about location. Nestled in Zephyrhills, a city celebrated for its cool breezes and moderate temperatures, Sleepy Hollow makes the Florida winter a joy. The neighborhood is a golfer's paradise, with wide-open parks and activities.
12. Arbors Mobile Home Park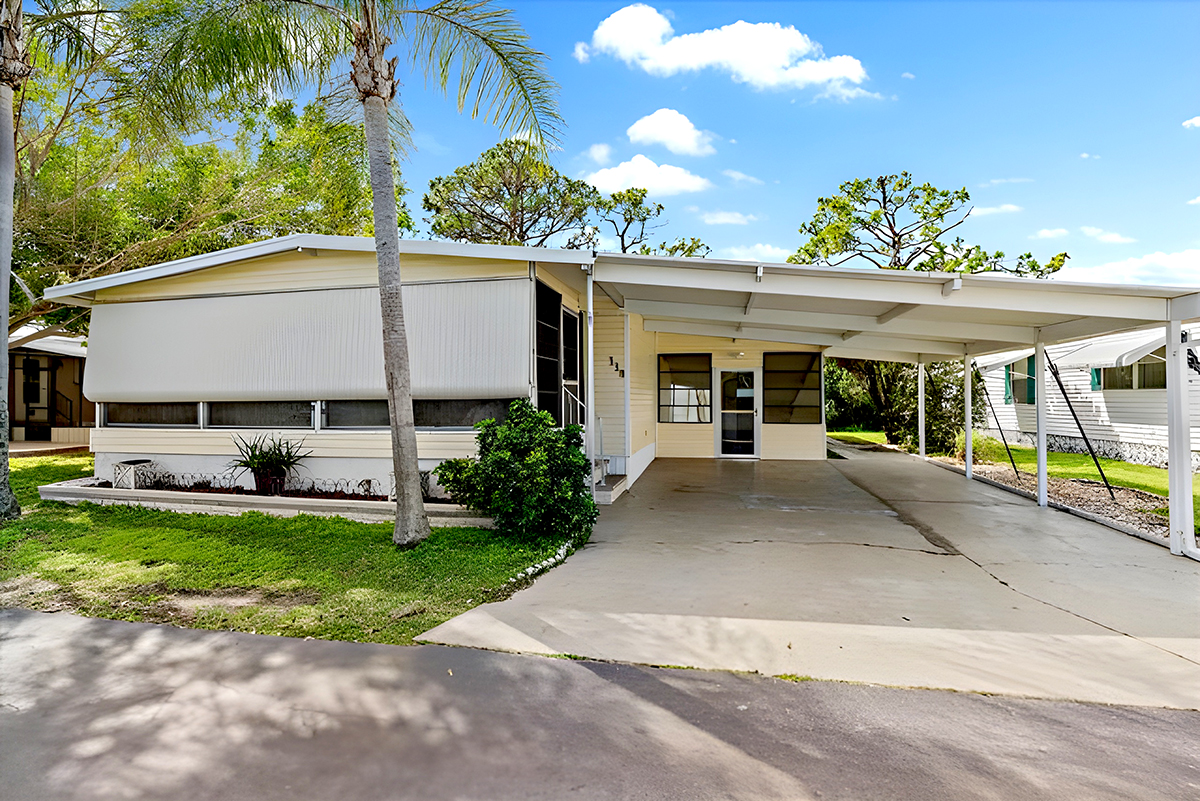 Arbors Mobile Home Park 515 South Tamiami Trail, Osprey, FL 34229
Meet Arbors Mobile Home Park, a gem nestled in the charming village of Osprey, Florida. It's a resident-owned, 55+ community that perfectly balances coastal beauty with urban convenience. Here's why it's special: you're right in the heart of Florida's west coast, with Sarasota a quick drive to the north and Venice to the south. Love the beach? You're sandwiched between some of Florida's most stunning coastlines.
But there's more. Imagine walking out your door to your local Catholic Church, Post Office, or supercenter Walmart. All the essentials are at your fingertips.
Let's talk about governance. A dedicated six-member Board of Directors takes care of all park matters. Their efforts shine through in the amenities—a modest monthly fee covers cable vision, water, sewage, and landscaping. You'll appreciate the peace of a no-rental policy. It's your haven in Florida's paradise.
13. Tropical Mobile Home Park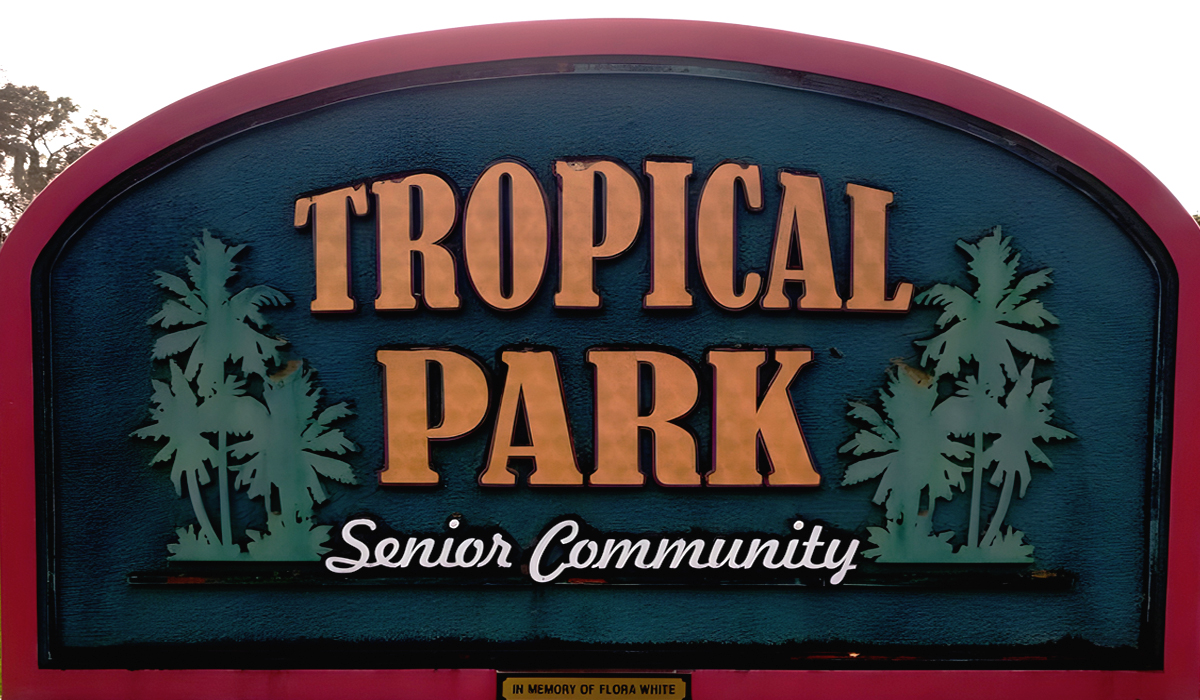 Tropical Mobile Home Park 37407 Ray Dr, Zephyrhills, FL 33541
The Tropical Mobile Home Park is a vibrant spot that buzzes with a distinctive kind of Florida magic. Here in Zephyrhills, the park hums with the friendly chatter of its 114-unit community, where private roads wind their way through a landscape that is as much yours as your own living room.
What's the neighborhood like? Imagine it, a quiet haven tucked away from the hustle and bustle, with the convenience of nearby shopping and attractions. An afternoon jaunt can take you to your favorite shops or some of Florida's best sights.
Getting around is a breeze. Many homeowners cruise through the park in their golf carts, giving the community a unique, laid-back charm. But the best part? Your home, your land—it's all yours. No renting, no animals, just a peaceful community to call your own. Ownership is individual, not a shared endeavor, making it your slice of Florida sunshine.
14. Bonfire Village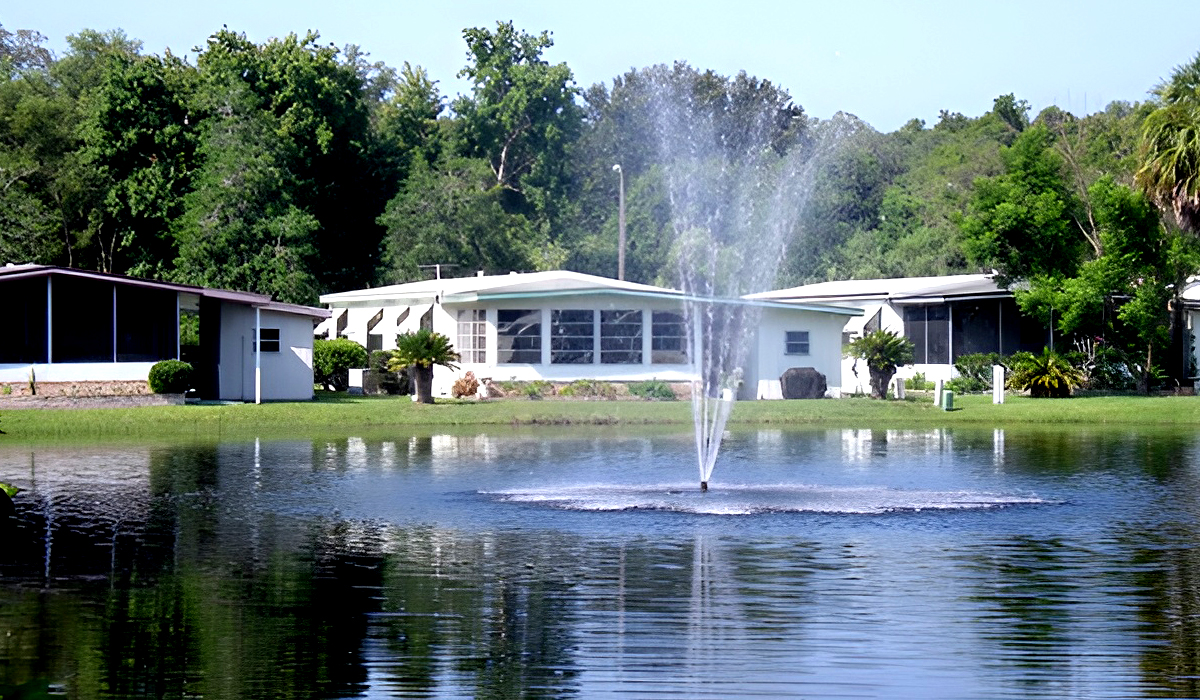 Bonfire Village 620 Misti Dr Leesburg, FL 34788
You'll stumble upon the Bonfire Village gem just around the bend from historic Leesburg. This 55+ community, resident-owned and radiating charm, is the perfect stage for the next act in your life story. And what a story it's poised to be, with its affordable manufactured homes nestled amid a scene as inviting as a warm Florida sunrise.
Bonfire Village isn't just a place to live—it's a lifestyle. Here, activities abound, and neighbors greet each other with a familiarity that speaks of lifelong friendships. These are the world's friendliest folks, and they're eager to welcome you into their fold.
But the cherry on top? Its prime location is on Haynes Creek. The beautifully landscaped grounds blend seamlessly with the waterway, granting access to the Chain of Lakes and the St. Johns River. At Bonfire Village, it's not just about living—it's about thriving in natural beauty and genuine community.
15. Melody Gardens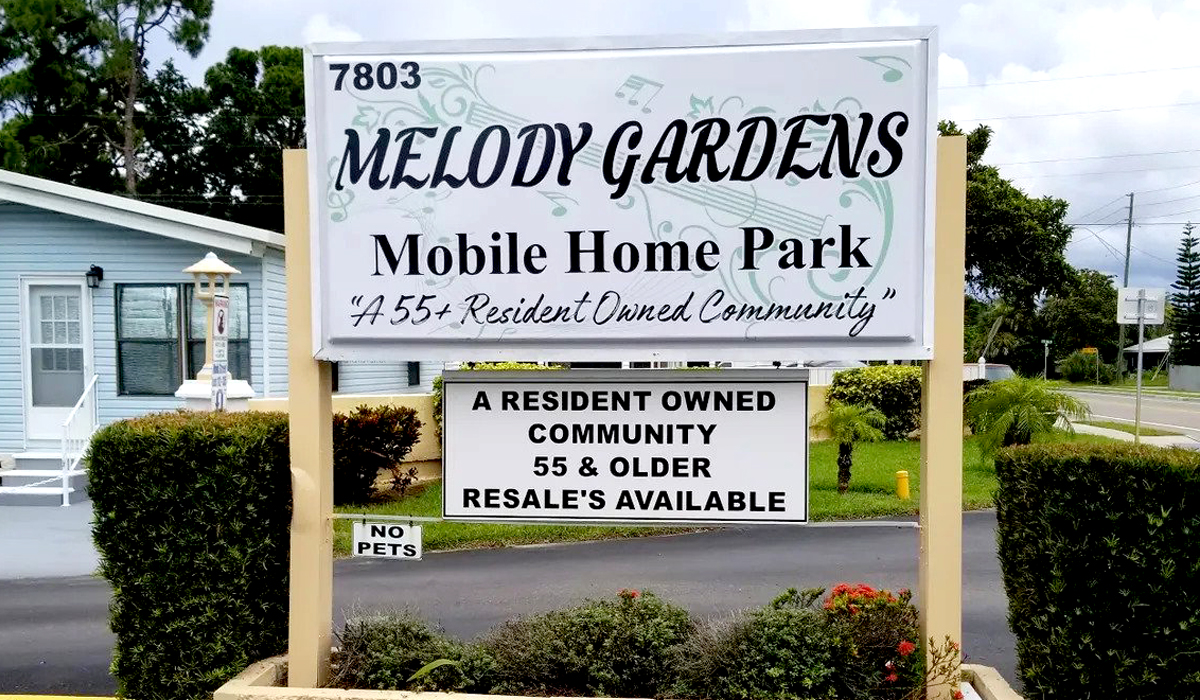 Melody Gardens 7803 46th Ave. N, St. Petersburg, Florida, 33709
Imagine a place where a sense of community thrives, where every day unfolds like a well-composed symphony. That's Melody Gardens for you, a 55+ resident-owned mobile home park humming with life in St. Petersburg, Florida.
This lively community offers a front-row seat to the best of Florida living. Set off Park Street, its 137 mobile homes are a stone's throw from excellent shopping venues. Not to mention, the coveted Madeira Beach is just a ten-minute drive away.
Life here strikes the perfect chord with a tapestry of activities to suit every mood. Fancy a workout? Take a dive in the pool or indulge in some bingo and shuffleboard. Feel like socializing? Card games will get your heart racing. And if you seek tranquility, simply bask in the sweet serenity of Melody Gardens.
Just remember, pet owners and short-term renters might need to look elsewhere, as this community celebrates human connections and long-term residency.
16. Caribbean Isles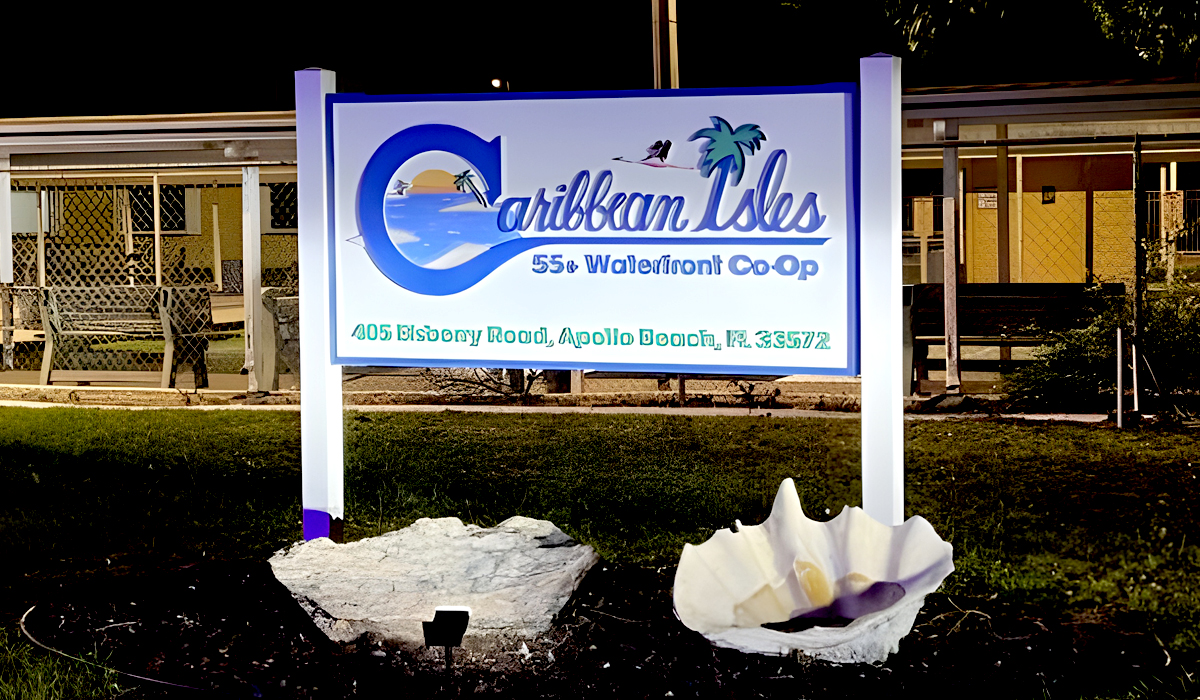 55+ Community Caribbean Isles 405 Elsberry Road Apollo Beach, FL 33572
The Caribbean Isles is a resident-owned 55+ community featuring over 500 manufactured homes. The charm of this place lies on the east side of Tampa Bay, offering both serenity and stunning vistas.
Whether you're a seafarer at heart or someone who appreciates nature's tranquility, Caribbean Isles delivers. Here, private docks grant canal access to the bay and the gulf, and community launches are a bonus for kayaking enthusiasts. Imagine evenings beside the serene lagoon, basking in the glow of breathtaking sunsets. At the same time, dolphins, manatees, and cranes provide a captivating spectacle.
What sets this park apart is its location and community spirit. When you buy a resale home with share ownership, you're not only getting a home with a reasonable monthly maintenance fee. You're also gaining a voice in the community. It's more than a home; it's a way of life!
17. Clearwater Cascade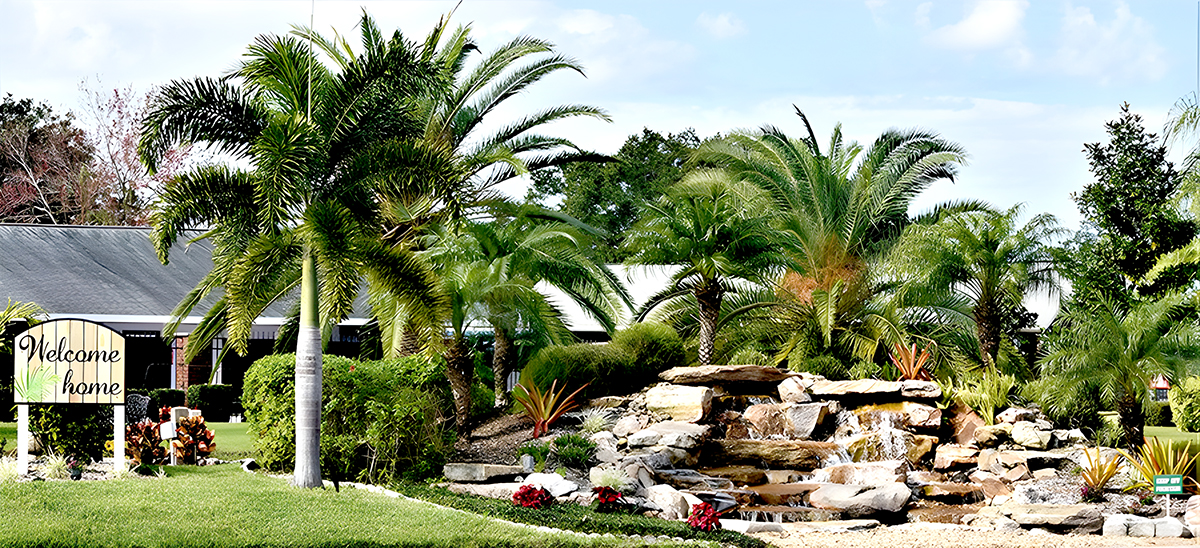 Clearwater Cascade 9790 66th Street North, Pinellas Park FL 33782
Next up is the Clearwater Cascade. It is a resident-owned 55+ mobile home community that puts you right in the middle of all the action! Sandwiched between St. Petersburg and Clearwater and just a stone's throw from Tampa, it's the perfect home base.
How about soaking up some sun? The stunning Suncoast beaches are only a few minutes away. Fancy a spot of shopping or a nice dinner? Malls, banks, churches, restaurants, and medical facilities are all within easy reach. And talk about travel convenience – Tampa International Airport, a top-rated hub, is a quick 20-minute drive. Plus, you've got St. Petersburg-Clearwater Airport even closer, just 10 minutes away.
Clearwater Cascade is not just a place to live. It's a lifestyle. The park offers a range of homes for sale, from cozy 1-bedroom units to spacious 2-bedroom homes, ready for you to make your own. Want a pet? No problem. One pet (up to 13 inches at the shoulder) is welcome to join you in your new home!
18. River Haven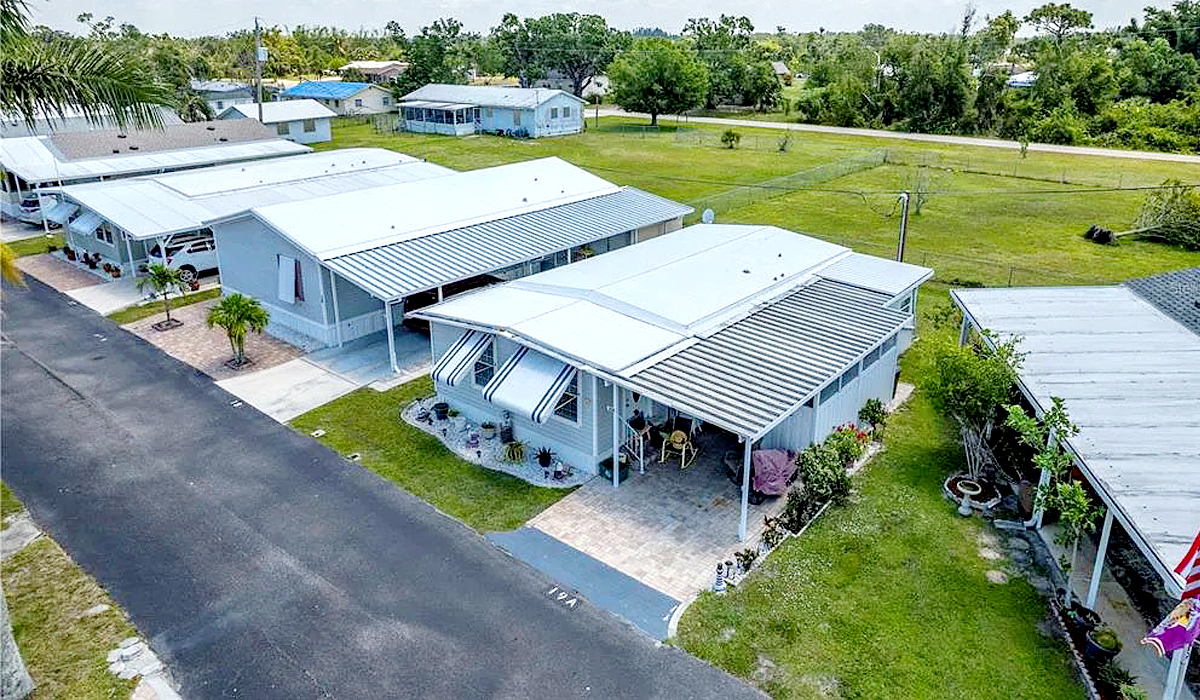 River Haven 10100 Burnt Store Rd, Unit # 1, Punta Gorda, FL 33950
The River Haven is a vibrant, resident-owned 55+ community in beautiful Punta Gorda, Florida. Home to 127 units, this retirement haven has everything you need to live your dream lifestyle. Ownership in the park is a one-time purchase of ten shares in a non-dividend-paying corporation. This fee is fully refundable upon departure, and monthly maintenance fees are affordable.
Feel like being active? Hit the shuffleboard courts or horseshoe pits. Need a quick cool-down? Take a dip in the caged swimming pool. Fancy a bit of the outdoors? Enjoy a picnic by the fishing area or get out on the water from our quaint marina on Alligator Creek with access to Charlotte Harbor. But River Haven isn't just about the activities – it's about the community. There's a place for everyone here with dances, weekly Bingo, picnics, and art classes.
19. Paradise Island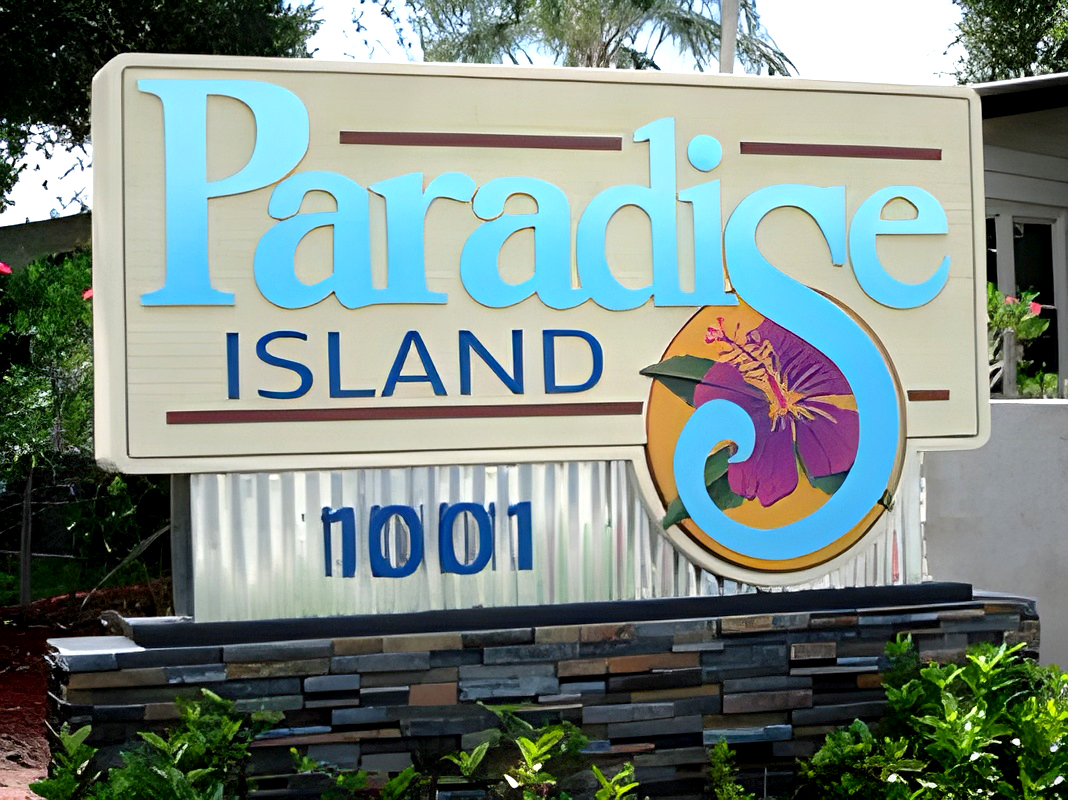 Paradise Island 1001 Starkey Road, #110, Largo, Florida 33771
The Paradise Island Co-Op is a vibrant 55+ community that hosts 825 resident-owned manufactured homes. Nestled conveniently in Largo, FL, they are just a hop, skip, and jump away from the stunning gulf beaches, top-notch golf courses, and shopping centers.
But you don't need to venture far to find the fun – Paradise Island is brimming with recreational opportunities. Dive into the swimming pool, soak in the hot tub, or enjoy a leisurely picnic under the covered area. More of a sporty type? The park covered you with shuffleboard, bocce ball, and horseshoe courts.
The clubhouse, which comfortably seats 400, is a community hub. Enjoy a game of pool in the billiard room or cook up a feast in the commercial kitchen.
20. Alligator Park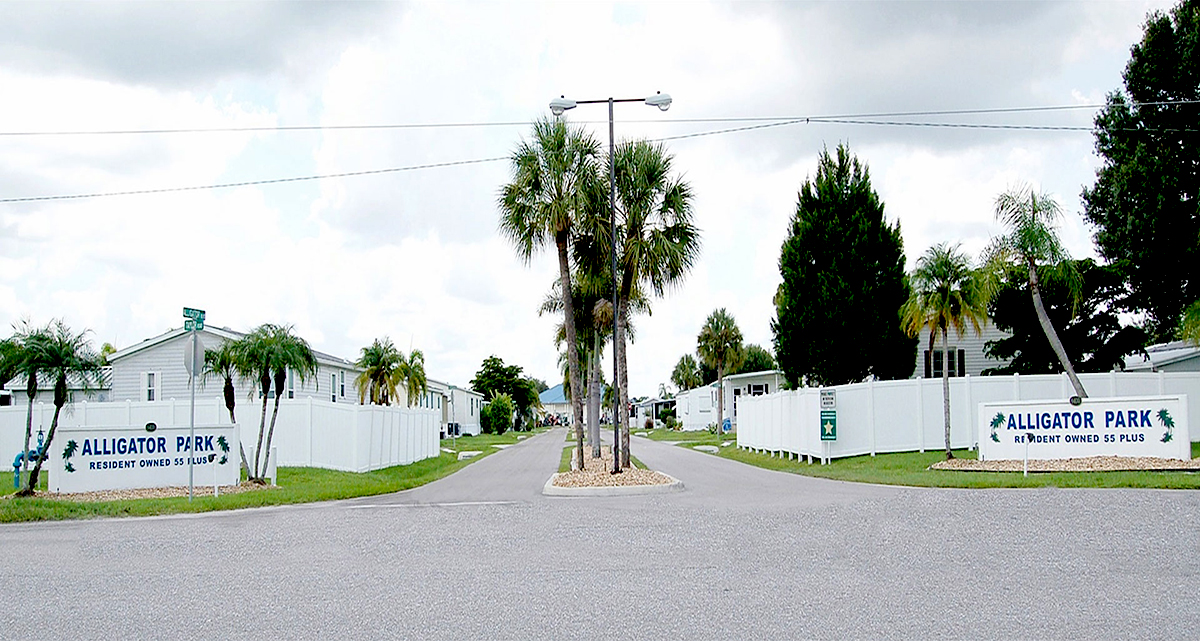 Alligator Park 6400 Taylor Rd #112Punta Gorda, FL 33950
Meet Alligator Park, where your golden years are transformed into a vibrant, carefree adventure. Nestled in Punta Gorda, Florida, this 55+ resident-owned cooperative blends the best of mobile home and RV living.
In Alligator Park, ownership pride is contagious. It's a community where everyone plays a part in maintaining its charm. You'll find homes that harmoniously blend space, comfort, and style, with ample room for a double-wide, a carport and even a utility room. And with several lots ready for new homes, the possibilities are truly endless.
The unique '1 lot = one share = 1 vote' concept ensures everyone has a say. And, while one resident must be at least 55, companions can be as young as 45. It's a place that welcomes visitors, allowing guests for up to 30 days per year.
In Alligator Park, there's no skimping on pet-friendliness, either. Two pets per site are allowed, with some size restrictions to keep everyone comfortable.
21. Oakwood Estates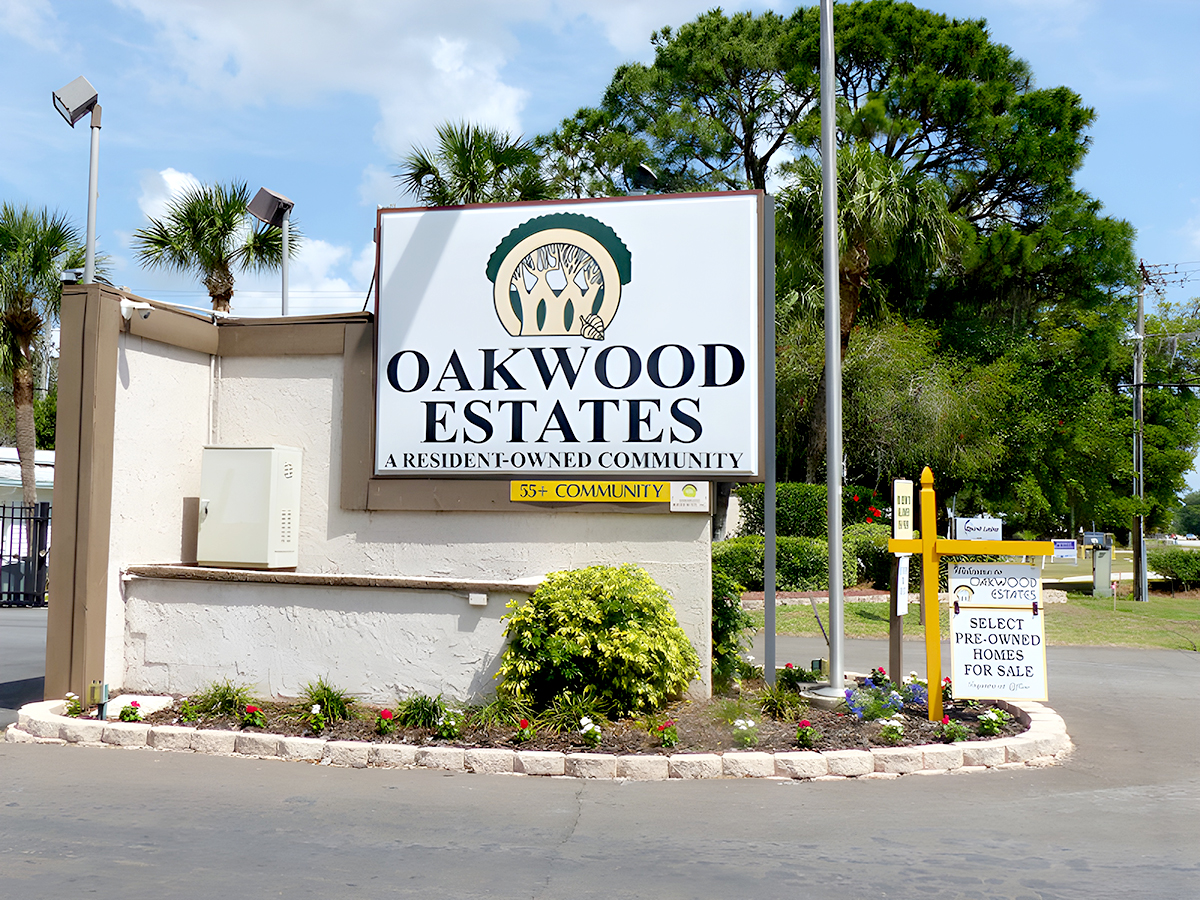 Oakwood Estates 4028 Rolling Oaks Drive Winter Haven, FL 33880-1621
The Oakwood Estates is your gateway to relaxed living in the heart of Florida. The resident-owned community is a hub of beautifully maintained pre-owned manufactured homes. It's more than just a place to live. It's a place to belong. If you're 55 or older, you can join and become a shareholder in the gated community.
Think of Oakwood Estates as your private slice of sunshine. It's the affordable paradise you've been dreaming of, with cooperative ownership starting from the $30,000's and a lifetime lease with no monthly rent. And the best part? You're in the center of everything. Tampa, Orlando, Disney, Universal Studios, Legoland, the Gulf of Mexico, and the Atlantic Ocean are all just a short drive away.
22. Colony Cove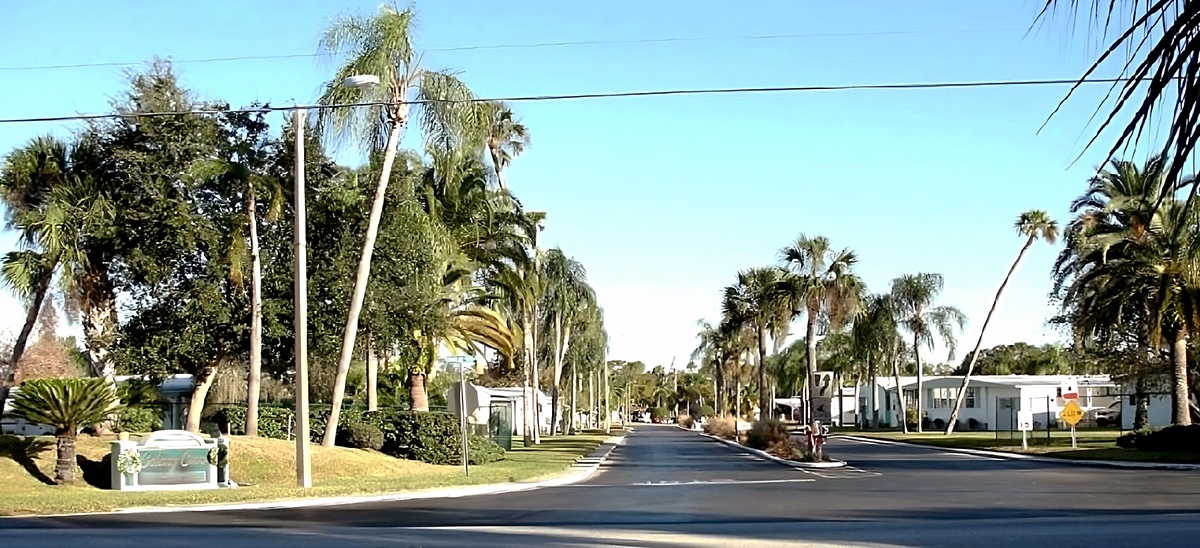 Colony Cove 5112 Travelers Tree Drive New Port Richey, Fl 34653
The Colony Cove resident-owned, 55+ community is not just a place to live – it's an active, friendly neighborhood where everyone looks out for each other. They're proud to be self-governed and financially sound, with residents fully involved in running the park. Nestled near the Gulf on Florida's Cotee River, it is a paradise just a few miles from the coast.
Want to get involved? As a homeowner, you can become a shareholder in the Co-op and have your say at board meetings. Here, your voice matters. And let's talk about amenities! The park boasts two stunning pools and a clubhouse complete with Wi-Fi. It's the heart of our community, hosting everything from breakfasts, dinners, dances, and art classes to pool table games. You'll love the spring concerts, boat ramp, marina, and storage compound outside. With access to the Gulf Coast via the river, adventure is just around the corner at Colony Cove.
23. Town and Country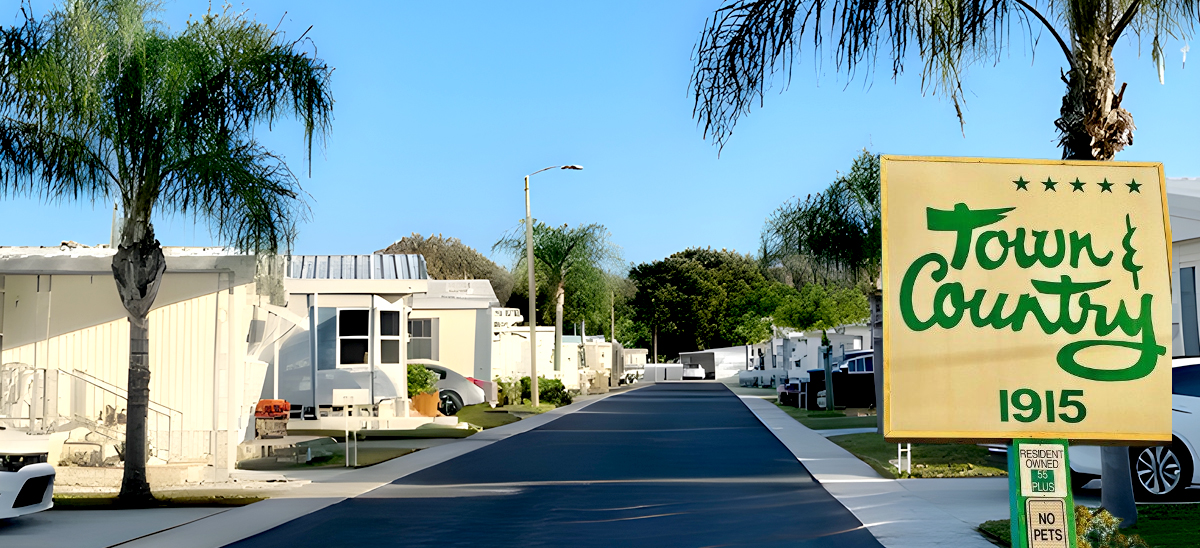 Town and Country 1915 Seminole Blvd Largo, FL 33778
The Town and Country MHP is a resident-owned haven tucked between the vibrant cities of St. Petersburg and Clearwater. Living here means you're not just buying a home; you're becoming part of a thriving 55+ community in the heart of Pinellas County.
Getting here is a breeze. The park is a 40-minute drive from Tampa International Airport and only 20 minutes from Clearwater/St. Petersburg Airport. But once you're here, you might not want to leave!
As a resident, you're also a shareholder in the community. It isn't just a place to live—it's a place to belong, to have a say. And don't forget, this sunny Florida lifestyle is all yours when you purchase a share of the corporation at its current level.
24. Venetian Park Estates

The Venetian Park Estates 8885 S Tamiami Trail, Sarasota, FL 34238
Venetian Park Estates – the name alone evokes images of idyllic streets, lovely homes, and serene waterways. This resident-owned community is nestled on the beautiful west coast of Florida, promising a laid-back, peaceful lifestyle.
At Venetian Park Estates, the world slows down. With its warm and friendly residents, this community feels like a small town where everyone knows your name. It's an ideal place to unwind and enjoy life at your own pace.
No need to worry about monotony, though. This vibrant community offers a bounty of recreational activities. Residents enjoy daily walks, bike rides, or a leisurely afternoon of shuffleboard. There's even a clubhouse where neighbors gather to share laughs, games, and potluck dinners.
Remember, Venetian Park Estates isn't just a place to live. It's a place to belong. As a resident owner, you become a part of the community, helping shape its future. It's more than a home; it's your piece of the Florida sun.
Conclusion
Resident-owned mobile home parks in Florida are about more than just a roof over your head. They're about cultivating a lifestyle that marries comfort, community, and control. They're about securing a slice of paradise you can call your own. You're not just buying into a property – investing in a vibrant, engaging, and secure way of life. That's the beauty of resident-owned communities in the Sunshine State – a place you can truly call home.