You've got to love the charm and affordability of a mobile home. But when it comes to a 1997 model, things get a bit more interesting. You see, a mobile home of this vintage has a unique appeal, with all its thoughtful details that bring you back to the late '90s. But how much would you expect to pay for one of these gems today? You might be surprised!
Let's dive into the intriguing world of 1997 mobile homes. We will explore what affects their value from location to condition and even market trends. Stick around whether you want to buy, sell, or simply indulge your curiosity.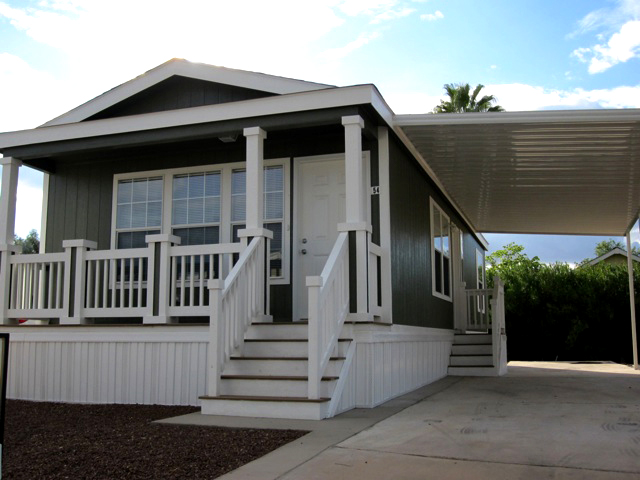 How to Determine the 1997 Mobile Home Value
Imagine you're walking through a 1997 mobile home. As you step inside, the condition first catches your eye. You notice things like the state of the flooring. Are we talking about pristine carpets or scuffed linoleum? The condition of the appliances, the quality of the finishes, even the paint job—these are your first clues about the home's value.
But it's not just about the interior. We need to consider the home's "curb appeal." The exterior of the mobile home speaks volumes about its upkeep. A fresh coat of paint, well-maintained siding, and a sturdy roof add to the property's value.
Next, think about the location. The old real estate saying "location, location, location" holds even for mobile homes. Is it nestled in a popular community with all the amenities, or is it sitting on its own plot of land in a remote area? Usually, a mobile home with the land it's located on has a higher value than one on leased land. Also, a mobile home in a sought-after area or a park with amenities like a pool or a clubhouse will typically fetch a higher price.
Now, let's talk about size and amenities. In the world of real estate, size does matter! The number of bedrooms, the floor space, and the presence of extras like an enclosed porch or even a carport can swing the value. And let's not forget about any additional structures on the property, like sheds or outbuildings, which can also add value.
Last but not least, the market trends. Just like with traditional homes, the mobile home market has its ups and downs. To gauge the value of a 1997 mobile home, you need to understand the current market. Are prices generally rising, or has there been a downturn?
1997 Mobile Home for Sale
Alright! Now that we've unraveled how to determine the value of a 1997 mobile home let's dive right into some real-life examples. These homes, spread across different corners of the country, will give us an up-close look at what kind of value you can expect in today's market. We'll walk through five homes – each with charm and a unique value proposition.
1. 1997 Mobile Home with Land in Irma, Wisconsin, for $119,900

Source: Zillow
Now, let's set foot in Irma, Wisconsin. Picture a 1997 mobile home, neatly tucked away on four acres of land, up for grabs at a tempting $119,900. But it's not just about the price tag, is it? Let's see what this mobile home has to offer!
As you step inside, two bedrooms and one bathroom greet you. The kitchen is a treat – with a pass-through design, laminate counters, and a full suite of appliances. What's not to love about that? And, can we take a moment to appreciate the convenience of having a washer and dryer right at home? The carpeted floors add a cozy feel, and the central cooling is a lifesaver during those hot summer months.
But that's not all! Let's talk about the exterior – the vinyl siding gives the home a polished look, and the metal roof adds durability. Now, imagine parking your car in your detached carport. Feels great, doesn't it? Don't miss the enclosed porch – the perfect spot for morning coffees or late-night chats. There's also an additional shed for your storage needs.
And the cherry on top? This home comes with a whole 4 acres of land. There's plenty of room for gardening, playtime, or even enjoying the great outdoors.
All in all, this 1997 mobile home in Irma, Wisconsin, has a lot to offer. It's a classic charm, with all the conveniences of modern living nested in the heart of nature.
2. 1997 Mobile Home on Park, Palmetto, Florida, for $129,900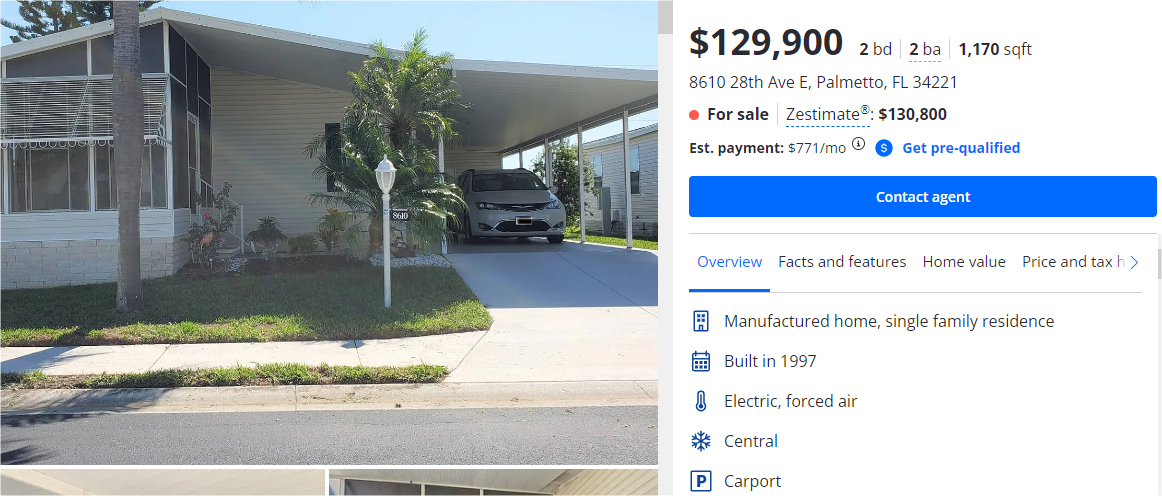 Source: Zillow
Our next stop is sunny Palmetto, Florida. The 1997 mobile home here isn't just a home. It's a lifestyle. Nestled in a lively senior community, this 2-bedroom, 2-bathroom home is listed for $129,900. But the price is only the beginning. Let's step inside!
You'll first notice the light bouncing off the vinyl floors, lending a bright and airy feel. The kitchen has every appliance you need – from a dishwasher to an oven to a washer and dryer. Handy, right?
You'll appreciate the central cooling system when the Florida heat kicks in. And for those who like their homes dressed to the nines, this one comes furnished. How's that for convenience?
The exterior of the home also has its charms. There's a carport for your vehicle, a lovely enclosed porch for relaxing, and even a shed for storage.
But it's not just about the house. This mobile home sits on leased land in a senior community that offers much more than a place to live. Think of it: a dip in the community pool, a workout in the gym, a friendly game on the tennis court, or a gathering at the clubhouse. This isn't just a home; it's a community.
This 1997 mobile home in Palmetto, Florida, is about more than just living; it's about enjoying life to the fullest in your golden years. So, whether you're sipping your morning coffee on the porch or taking a stroll around the community, this home has something for everyone.
3. 1997 Mobile Home 3 Bed 2 Bath in Mountain Home Idaho for $165,000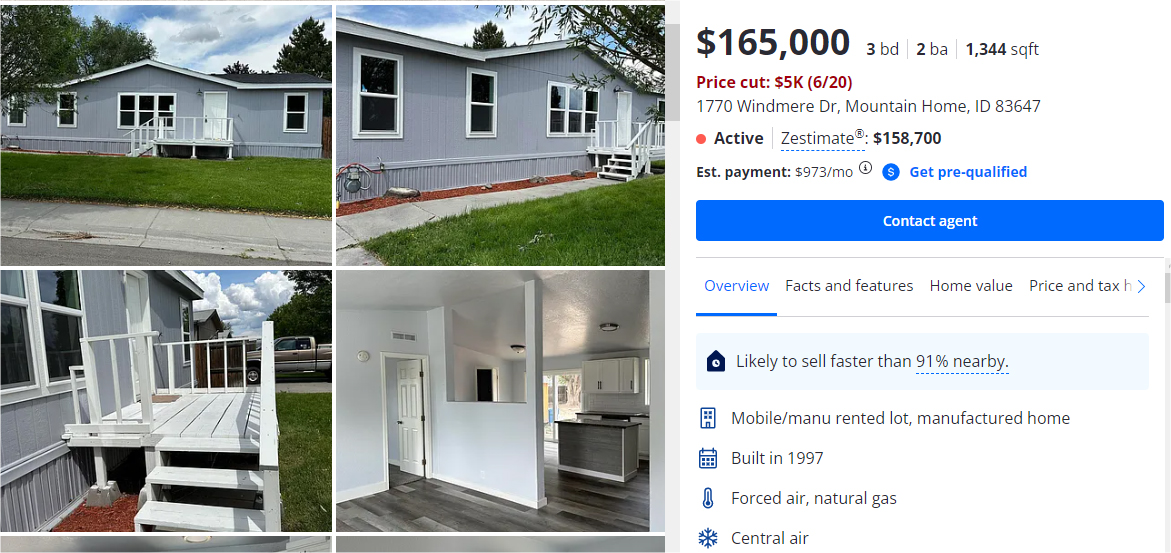 Source: Zillow
Our next destination is the lovely Mountain Home, Idaho. Here, you'll find a charming 3-bedroom, 2-bathroom 1997 mobile home listed for $165,000. Now let's uncover what makes this home special!
You walk through the front door and are greeted by carpet, laminate, and vinyl flooring. The kitchen beckons, boasting a pass-through design, laminate counters, and an array of appliances. How's that for whipping up your favorite meals?
The home keeps you comfortable all year round with its forced air heating and central air cooling. You'll also have plenty of room to stretch out, with a spacious 1,344 sqft living area.
Walking around, you notice the sturdy vinyl siding and the composed roof, signs of a well-built home. But what catches your eye the most is the simplicity: no over-the-top exterior additions, just the mobile home sitting comfortably in its place.
4. 1997 Double Wide Mobile Home in Jennings, Florida, for $290,000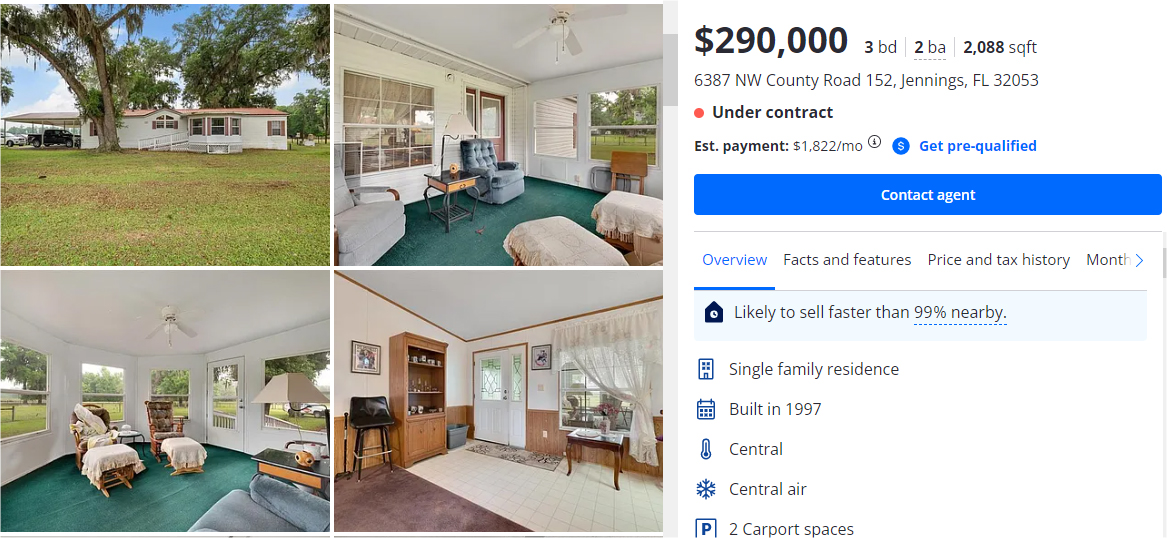 Source: Zillow
Alright, adventurers, let's jet off to our next destination – Jennings, Florida! Here, a 1997 double-wide mobile home is on offer for $290,000. A bit of a higher price tag, but trust me, there's plenty to love here. Let's delve into the details!
This mobile home boasts three bedrooms and two bathrooms, making it the perfect size for a family. The kitchen is a real standout, with a cooktop, dishwasher, microwave, oven, and refrigerator – what more could a home chef ask for?
The floors alternate between cozy carpets and practical vinyl, offering comfort and ease of cleaning. And whether it's summer or winter, you'll always be comfortable with the central heating and cooling system.
The exterior of this mobile home is just as impressive. The vinyl siding is durable and aesthetically pleasing, while the composition roof ensures long-lasting protection. This mobile home offers not one but two parking spaces in the carport and a delightful patio and screened porch – imagine the lovely evenings spent out there!
What truly sets this mobile home apart is the sprawling 32.72 acres of land it sits on. Now, that's a lot of room to enjoy, isn't it? You could set up a garden, create a playground, or enjoy the sense of space and freedom it offers.
5. 1997 Double Wide Mobile Home in Menomonie, Wisconsin, for $309,900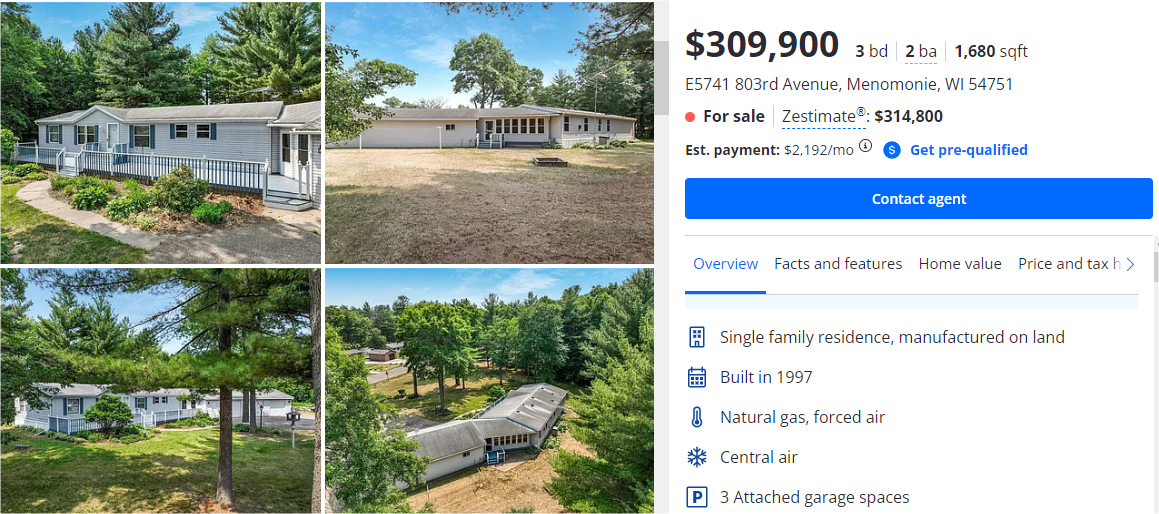 Source: Zillow
And for our final stop, we're heading back to Wisconsin. But this time, we're exploring Menomonie, where a delightful 1997 double-wide mobile home awaits at $309,900. Now let's discover why this home is worth every penny!
First, you'll be pleasantly surprised by the spaciousness of three bedrooms and two bathrooms. The kitchen offers a range oven, refrigerator, microwave, and a washer and dryer. How about having all your appliances right at your fingertips?
Walking on the mix of carpet and vinyl flooring, you'll appreciate the natural gas heating during chilly winters and the central air during the warm summers. It's all about comfort, right?
When you step outside, you're greeted by a vinyl siding exterior and a composition roof – all signs of durability and low maintenance. Moreover, you have a 3-car garage with a garage door opener. Sounds convenient, doesn't it?
But we can't forget the sprawling 1.24 acres of land with the home. Oh, and did I mention the additional garden shed? Perfect for storing all your gardening tools or creating your little workshop.
Vintage Mobile Home Value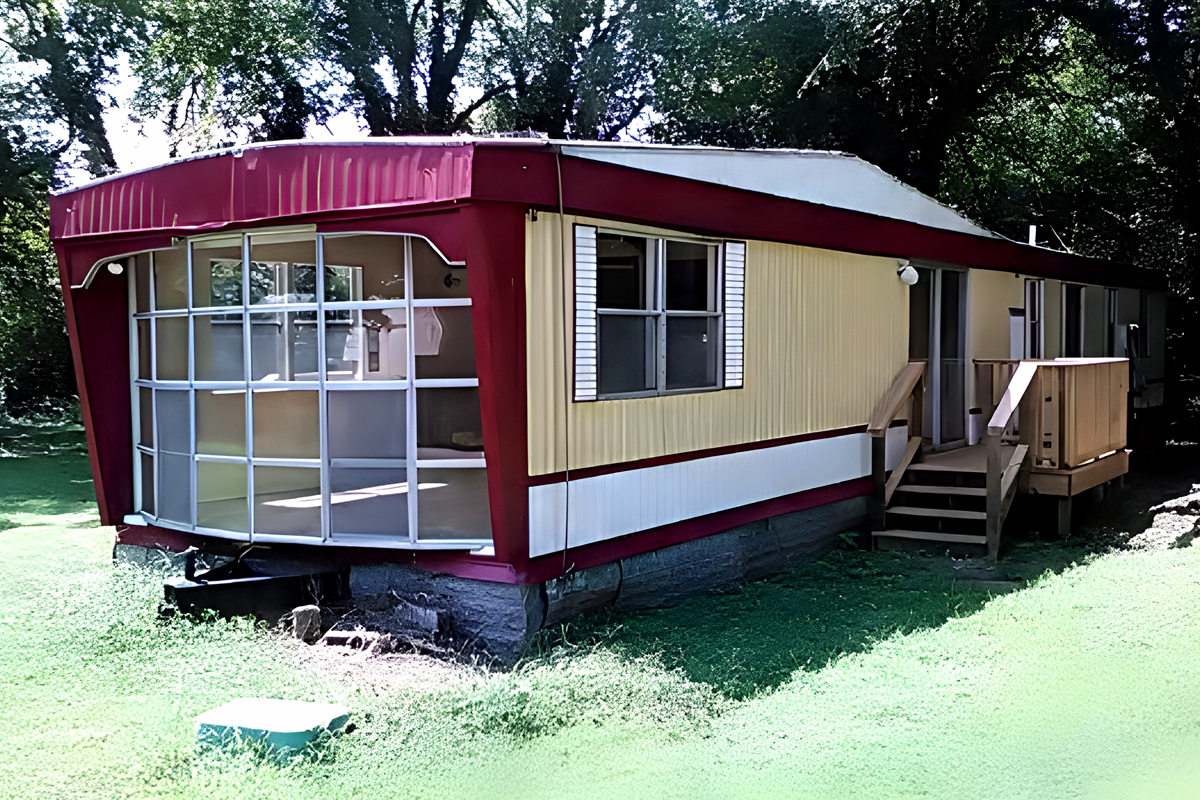 Picture the mobile home value factors as a well-stocked tool kit. Just like a hammer or a screwdriver can be used on many projects, the value factors we discussed for 1997 mobile homes can be applied to any year – from the swinging 50s models to the millennial mobile homes of the 2000s and everything in between.
Let's break it down: the condition of the home, the land it sits on (or if it's tucked away in a cozy park), the size, how many bathrooms and bedrooms it has, and any added features or amenities – all these factors form the essence of any mobile home's value, irrespective of the year it was built.
But here's something to remember: older mobile homes, like those classic numbers from the 50s, 60s, 70s, and 80s, may have unique quirks. They might need more love and care due to wear and tear or some sprucing up if some features are outdated. But don't be put off; these homes might need a dash of TLC to bring them back to life!
Conversely, some folks are just over heels for these older mobile homes' vintage vibe. So, it's like selling a pair of vintage jeans – there's a market for everything. While the make and model might be older, the style and charm can add a whole lot of value.
It doesn't matter if you're looking at a mobile home from 1973 to 1998; the toolkit to determine their value remains the same. Sure, the year can sway the price slightly, but the factors defining the value remain consistent.
Lastly, you can use book value service to determine the value of your home. It can provide a helpful benchmark when determining the value of a mobile home. The book value is essentially an industry term reflecting the home's depreciated value. It takes into account the original price of the mobile home, its age, its size, and its condition and then provides an estimated value based on those factors. But there may be a fee to receive a detailed valuation.
Conclusion
Wrapping it all up, the world of 1997 and other vintage mobile homes is varied and dynamic. The value of these homes isn't just in their price tag but in the lifestyle they offer. In short, the value of these mobile homes is all about the overall package. Location, land, amenities, and extras all come into play. It's like a puzzle, and each piece contributes to the overall picture and value.