17 Single Wide Mobile Homes Under $35,000
The world of mobile homes is incredibly diverse, teeming with options that can meet every budget, including budgets under $35,000! Now imagine that – a place to hang your hat, build memories, and escape the outside world, all for less than the price of most new cars, intrigued? Let's dive in!

Single Wide Mobile Homes Under $35,000
From the sunshine state of Florida to the golden landscapes of California, we've got homes that can fit many lifestyles and budgets. You might be eyeing a minimalist lifestyle, a downsizing decision, or an economical first home. Well, these single-wide mobile homes could be the answer to your dreams.
1. 1995 Single Wide in Bradenville, Pennsylvania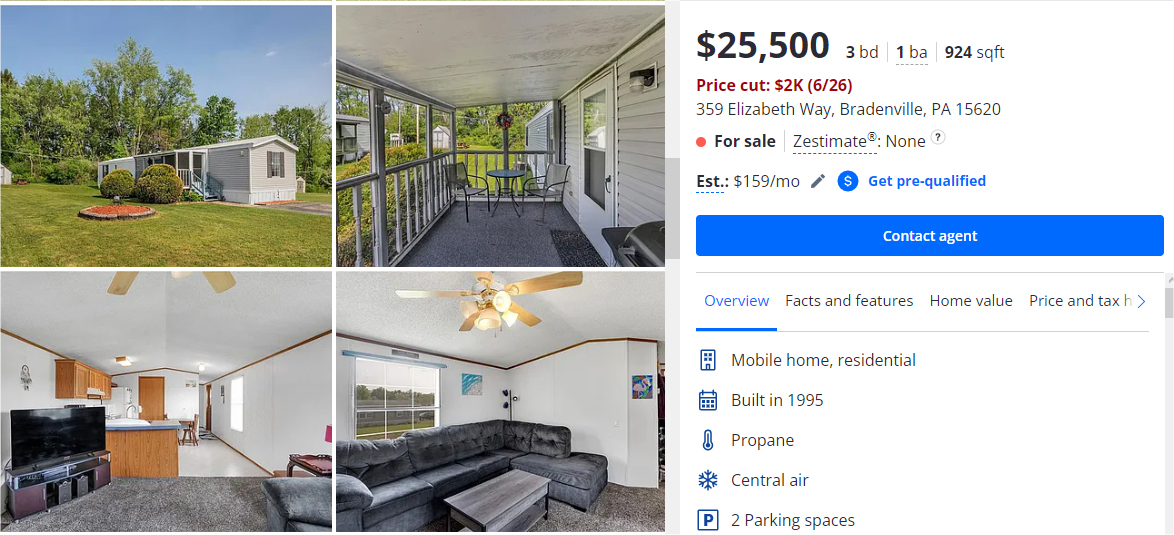 Imagine owning a cozy haven nestled in the quiet landscape of Bradenville, Pennsylvania. A haven that's under your name for just $25,500! The year 1995 might feel like a while back, but this single-wide mobile home breathes life. And charm like it's just stepped out of a showroom.
Picture 924 square feet of inviting living space surrounded by the quiet rustling of trees. The open-concept living room flows effortlessly into the kitchen, where the pitched ceiling opens up the space. It is perfect for hosting gatherings or enjoying quiet, intimate dinners. As summer rolls in, step onto your cute screened-in porch and savor the peaceful outdoors.
A functional trio of bedrooms, a bath, and new carpet and paint all work together to make this gem move-in ready. Top it off with a storage shed, all-inclusive appliances, and a well-sealed roof. Click here to contact the agent.
2. 1989 Single Wide in Fruitland Park, Florida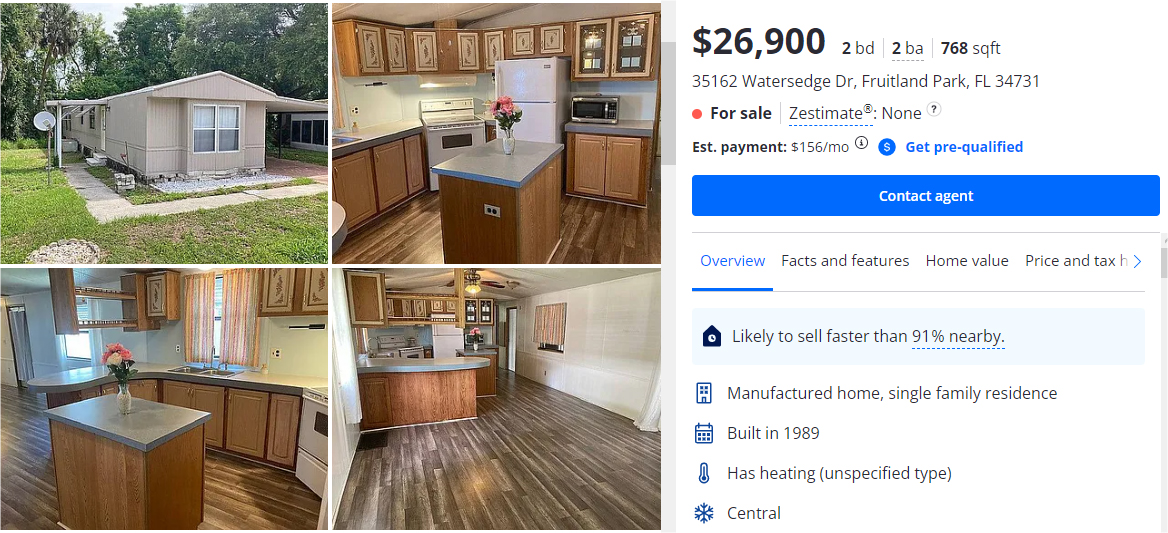 It is a charming 1989 single-wide priced at just $26,900. This cutie doesn't scrimp on space. With 768 sqft of livable area, it showcases a classic two-bedroom, two-bath setup, perfect for your sanctuary or even a buddy setup.
Modern laminate flooring spans the living area, creating a seamless, contemporary appeal. Carpets in the bedrooms offer that plush underfoot comfort we all crave at day's end. But wait, there's more. A large screened patio beckons you outdoors to soak up the Florida sunshine, and ample storage space makes organization a breeze. Plus, the walk-in closet is a dream come true for fashion enthusiasts!
And let's not forget those all-inclusive appliances – just bring your suitcase, and you're all set. It's all about making your life easy and breezy, just like a true Floridian. This Fruitland Park gem is a steal that's ready for you! Click here to contact the agent.
3. 1973 Single Wide in Zephyrhills, Florida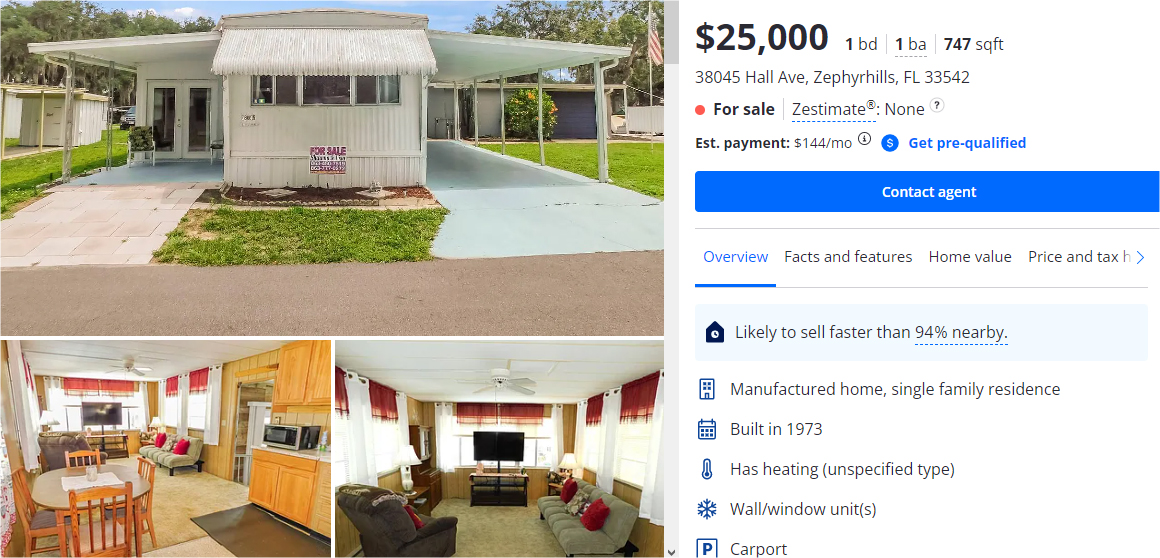 Step into the sunshine state with a budget-friendly abode big on charm and low cost. For only $25,000, this 1973 single-wide in Zephyrhills, Florida, offers you a ticket to a vibrant 55+ community.
With approximately 740 square feet of living space, this compact mobile home embodies easy, breezy Floridian living. Picture yourself in the airy, open layout with a single bedroom and bathroom – the perfect size for uncomplicated living or an inviting guest retreat.
From the practical laundry hook-ups in the handy storage shed to the fully stocked kitchen appliances, this home is designed to make your life as comfortable and hassle-free as possible. And let's not forget that monthly lot rent of $479 – an affordable way to enjoy all the amenities and activities the community offers. Click here to contact the agent.
4. 1989 Single Wide in Spring Hill, Florida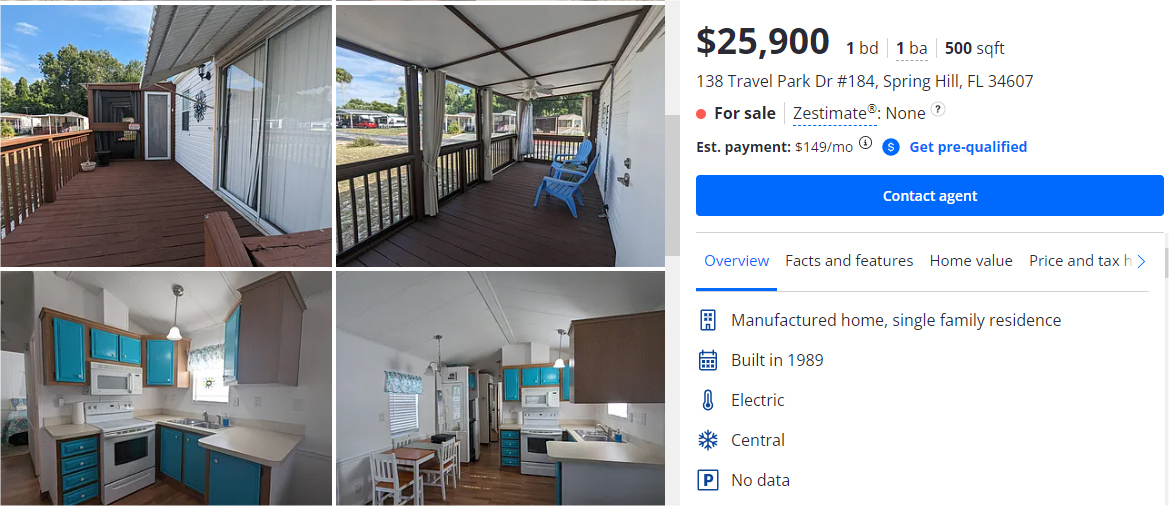 Say hello to your dream of Florida living with this sweet 1989 single wide in Spring Hill, offered at a steal for just $25,900. Nestled in the heart of Nature Coast, this gem is more than a home. It's your passport to an active 55+ community full of life and charm.
Now, let's talk specifics. This home may be petite, with 500 square feet of interior living space, but it's mighty in design. An open floor plan with one bedroom and one bathroom perfectly embodies the essence of compact, hassle-free living. Plus, the included appliances make settling in a breeze.
The natural beauty is stepping outside for a wooden deck with a screened porch – your private retreat for morning coffee or evening relaxation. And let's not overlook the vinyl siding that lends a crisp, clean aesthetic. Click here to contact the agent.
5. 1972 Single Wide in San Jacinto, California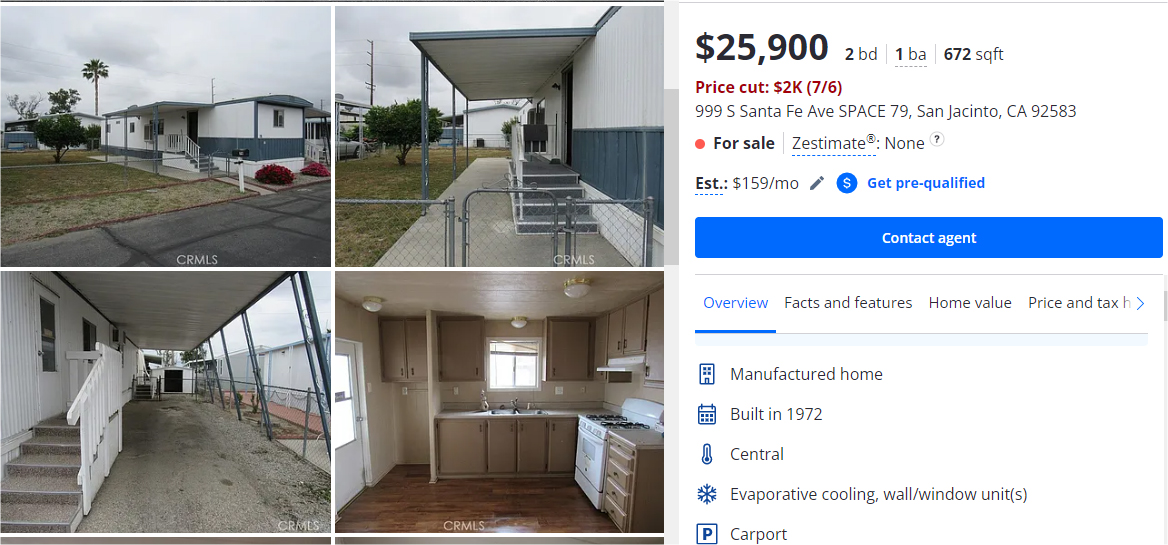 This 1972 single-wide is nestled in the serene 55+ community of San Jacinto, California. At $25,900, this home presents a unique blend of charm, convenience, and California living without a hefty price tag.
Let's walk through this cozy home together. It has a thoughtfully designed 672 square feet of living space, two bedrooms, and one bathroom. The metal roof and fenced yard whisper durability and privacy. While an evaporative cooler and air conditioner promise comfort throughout those warm California days.
Step inside to a welcoming interior with laminate kitchen flooring and carpeted living spaces, evoking a feeling of warmth and home. A tub/shower combo in the bathroom adds a practical touch. And a free-standing range in the kitchen is ready for culinary adventures. And let's not forget the convenience of an attached carport for your vehicle. This San Jacinto home is a precious opportunity to seize your California sunshine. Click here to contact the agent.
6. 1979 Single Wide in North Fort Myers, Florida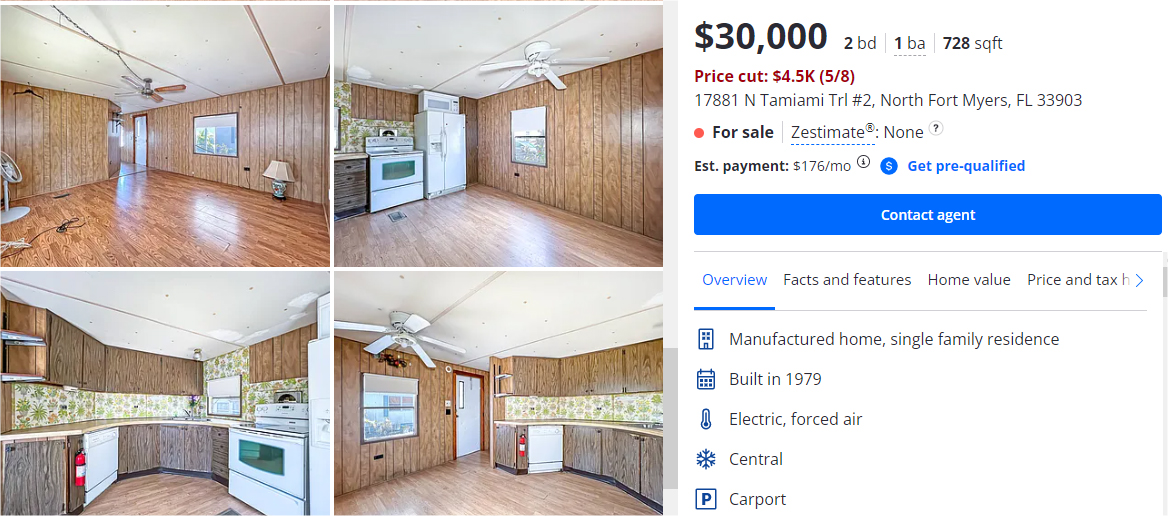 This mobile home is priced at $30,000 in North Fort Myers, Florida. It is your gateway to the Sunshine State without breaking the bank. Let's explore what makes this home a standout.
Two bedrooms and one bathroom sit within 728 square feet of living space. But this home is about more than just numbers. A complete 2015 remodel brought modernity to this mobile gem, with slate wood floors running from the entry to the bedrooms.
The kitchen features an island and a suite of appliances ready to serve your culinary creativity. Light floods through abundant windows, protected by hurricane shutters for peace of mind. The exterior, with its cute patio and an enclosed porch, offers ample space for outdoor relaxation. Plus, a shed provides extra storage. Click here to contact the agent.
7. 1995 Single Wide in Brookfield, Ohio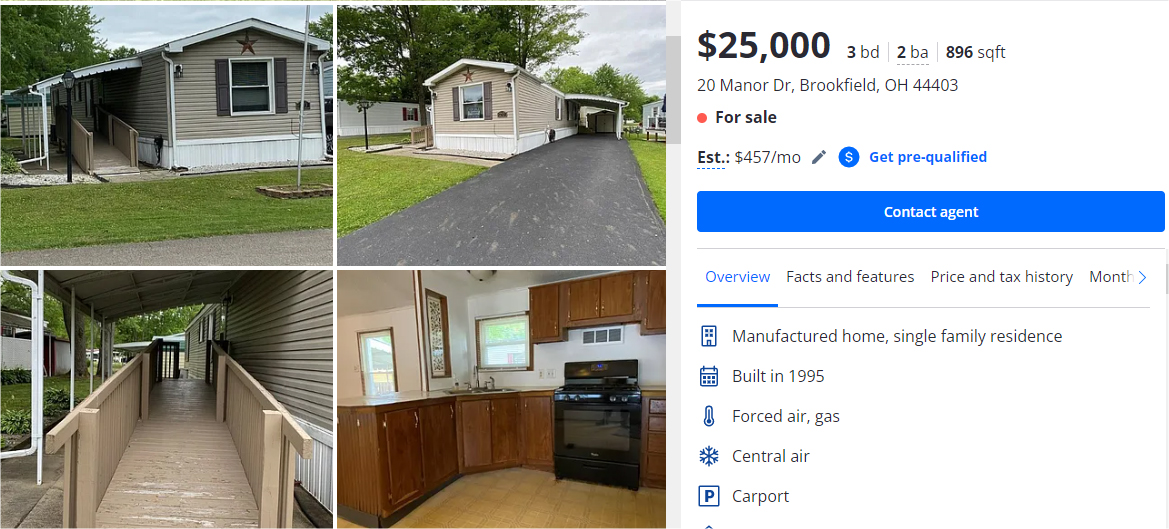 This 1995 single-wide is nestled in a beautifully maintained, quiet park for those 55 and older. And listed at just $25,000, this home embodies affordable comfort.
This gem offers a well-designed layout of 896 square feet, with three bedrooms and two full baths. Imagine entering the carport entrance into an inviting open kitchen and living area, perfect for warm gatherings. The primary bedroom, tucked at the back of the home, provides a private retreat with its full bath.
But let's not forget the two additional bedrooms at the front, sharing a full bath with a walk-in shower. An attached carport leads to a shed with electricity and a freezer. At the same time, a covered wooden deck graces the opposite side of the home. Updates? The roof is from 2016, and the water heater is from 2012. Click here to contact the agent.
8. 1996 Single Wide in Laurens, South Carolina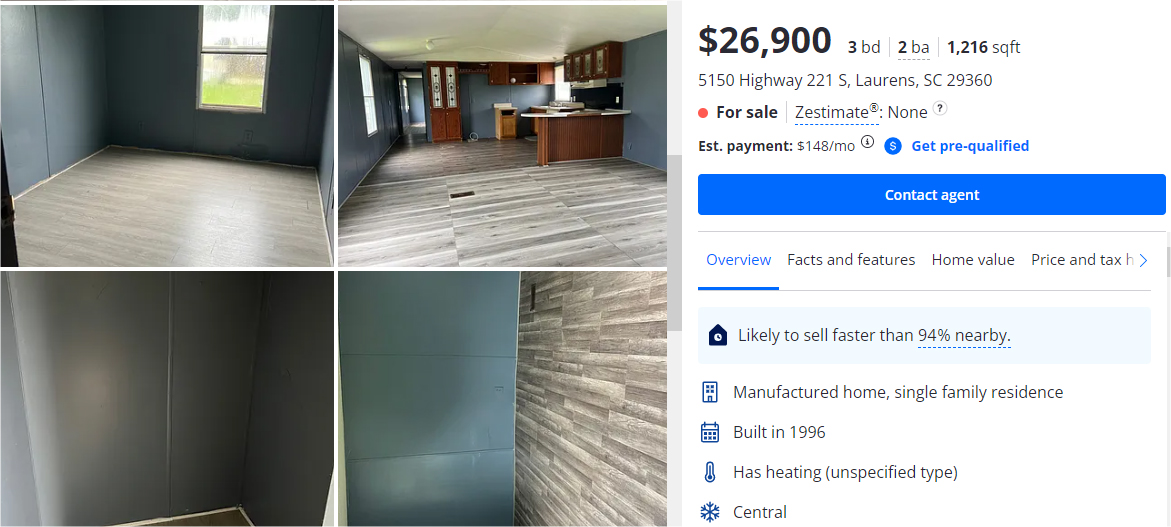 Next up is a 1996 single-wide situated in the bustling town of Laurens, South Carolina. For just $26,900, this mobile home brings you close to major employers and exciting weekend family activities.
Fresh off a remodel, this home is ready to welcome you with spacious interiors. With two bedrooms and two bathrooms spread over 1,216 square feet, you have all the room you need to breathe easy and unwind. The central air and heating ensure comfort all year round.
Not only does this home offer great living space, but it's also a practical choice. The deal includes an essential home appliance – the water heater- giving you one less thing to worry about.
This Laurens mobile home offers the ideal mix of space, location, and affordability. It's not just about having a place to stay. It's about making the most of life. With this home, you can live big without breaking the bank. Click here to contact the agent.
9. 1981 Single Wide in Ormond Beach, Florida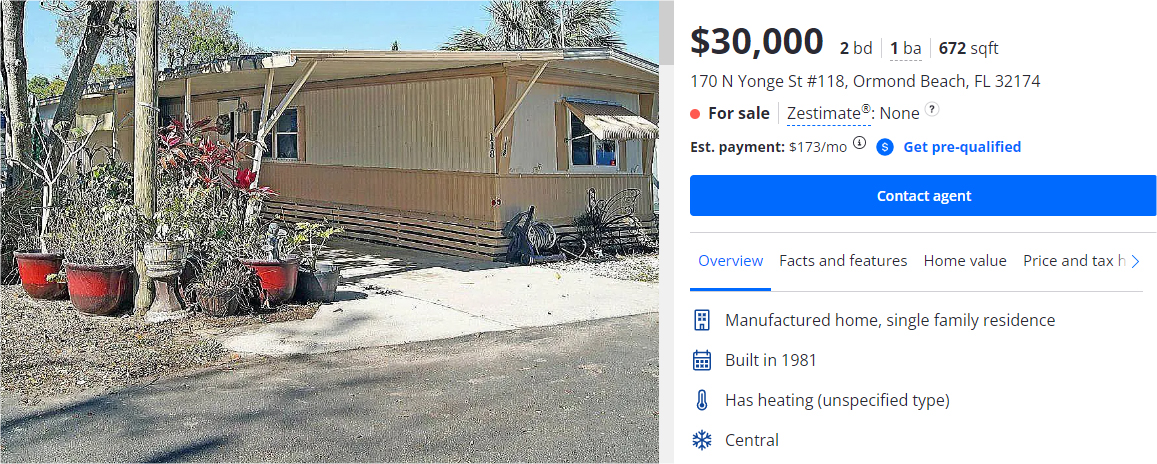 Next on the list, we're headed to sunny Ormond Beach, Florida. This 1981 single-wide mobile home, priced at a cool $30,000, will have you reaching for your checkbook.
This home is a classic yet spunky model that's held up beautifully over the years. The exterior invites you in with its charming pastel palette – it's a bit like stepping back into a simpler time. But don't let the age fool you. This single-wide has seen upgrades where it counts.
Inside, natural light is the star of the show. Imagine waking up to the Florida sun streaming through the windows or cooking dinner in the open kitchen with a sky-lit backdrop. The 2-bedroom layout is a perfect fit whether you're a party of one, two, or a small family.
Let's talk location. Ormond Beach is a haven for those who love the water. Ocean, river, parks – it's all just a stone's throw away. Plus, the community spirit here is strong, making it a great place to put down roots. Click here to contact the agent.
10. 1969 Single Wide in Daytona Beach, Florida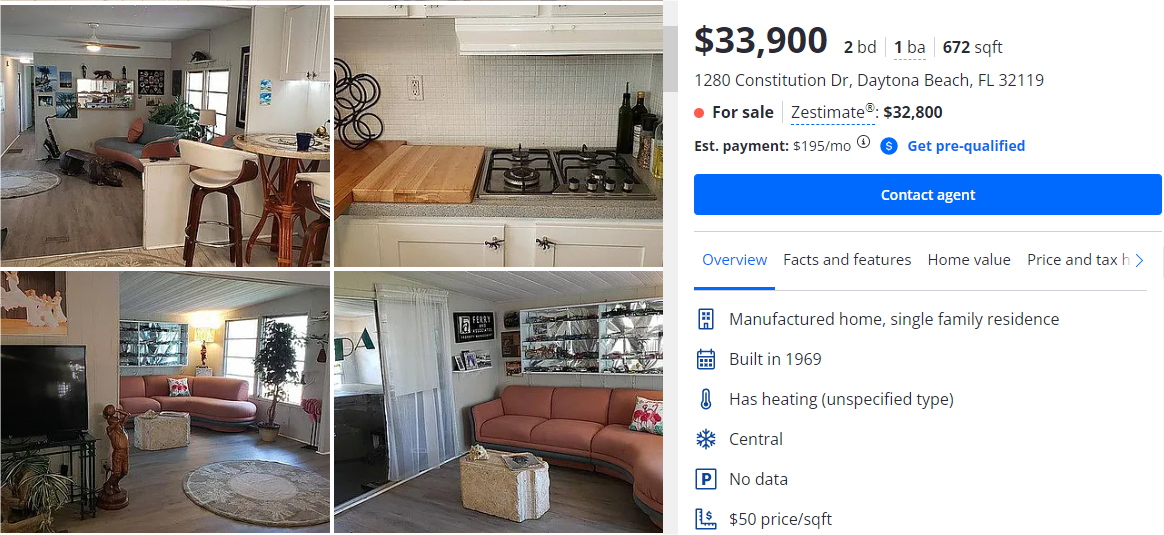 Rolling right along, let's check out this gem tucked away in Daytona Beach, Florida. For just $33,900, you could own a charming 1969 single-wide mobile home. Isn't it incredible to think about this home's history?
This mobile home isn't just any old property. With 960 square feet of living space, it includes two cozy bedrooms and one and a half baths. You'll be amazed by how spacious and well-designed it is. On top of that, you'll find an open kitchen ready for your culinary adventures and a dining area perfect for sharing meals and making memories.
But that's not all! Step outside, and you'll find yourself in a vibrant community with lots to offer. Daytona Beach provides a unique lifestyle that's hard to resist, from warm beaches to buzzing local eateries. Click here to contact the agent.
11. 1976 Single Wide in Oroville, California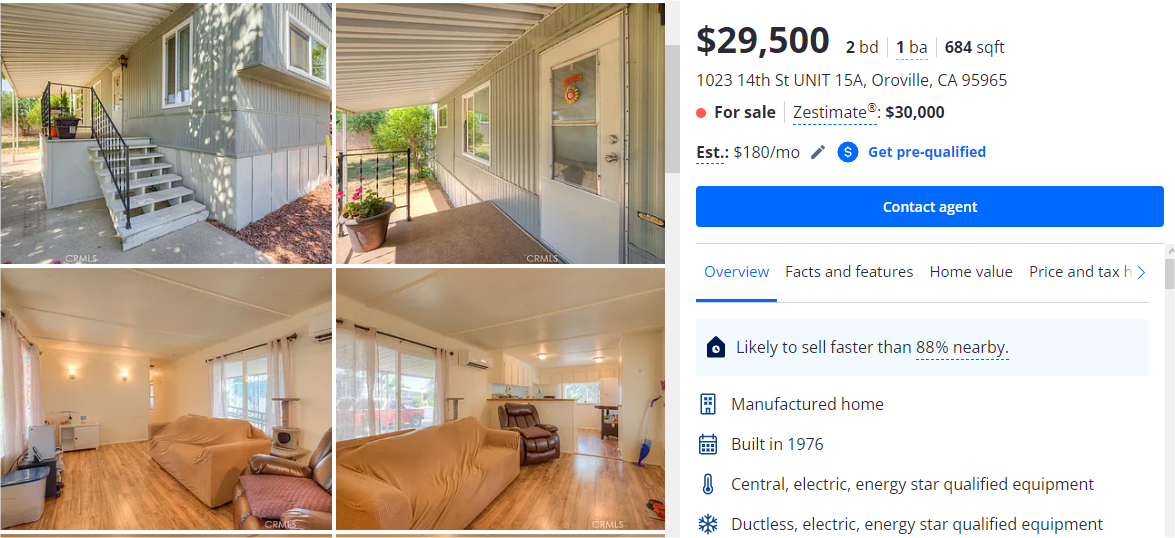 Cruising onward, let's shift our gaze to Oroville, California. Ever dreamt of owning a piece of the Golden State? For a mere $29,500, a delightful 1976 single-wide mobile home can be all yours!
This cute and cozy abode delivers more than just a place to hang your hat. We're talking about a 600-square-foot haven comprising two bedrooms and one full bathroom. It's got charm in spades, and you'll feel it from the moment you step inside.
The kitchen is a real treat. Compact yet functional, it's just waiting for you to whip up your favorite meals. And let's not forget the living room – the perfect spot to unwind after a long day.
But this isn't just about the home. Oroville is rich's beauty, with the Feather River and Lake Oroville at your doorstep. Imagine weekend fishing trips, hiking, or simply enjoying the views! Click here to contact the agent.
12. 1976 Single Wide in Zephyrhills, Florida
Next on the list, we're back to Zephyrhills, Florida. Ready to nab a cozy 1976 single wide for an irresistible $29,900? Let's uncover the magic within!
Two comfortable bedrooms and one bathroom are packed into its tidy footprint, making for a perfect retreat. The interiors strike that ideal balance of vintage charm and modern convenience.
Its practical kitchen is a delight, promising countless mornings of sizzling bacon and brewing coffee. The living area, meanwhile, sings a song of relaxation, ready to host movie nights or quiet afternoons with a book.
The real win here, though, is its location. Zephyrhills is a haven for the outdoors, boasting year-round sunshine, golf courses, and parks aplenty. The town's laid-back vibe makes every day feel like a mini-vacation! Click here to contact the agent.
13. 1992 Single Wide in Hamilton, Illinois
Next in line, we're taking a detour to Hamilton, Illinois! Get excited for 1992 single wide that's ready and waiting at a cool $29,400. This charming home is a hidden gem, offering two bedrooms and one bathroom in a compact yet roomy layout. It's all about efficient living here, but don't mistake efficiency for dullness. Far from it!
The cozy kitchen is waiting to play host to your culinary adventures. Whip a quick meal or enjoy your morning coffee in this inviting space. Moving on to the living room, it's a haven of relaxation. This is the spot where you'll unwind after a long day, surrounded by your favorite things.
But let's talk location. Nestled in a friendly neighborhood in Hamilton, this home puts you smack dab in the middle of Midwest charm. Small-town atmosphere, picturesque landscapes, and a true sense of community – that's what Hamilton's all about! Click here to contact the agent.
14. 1975 Single Wide in Redding, California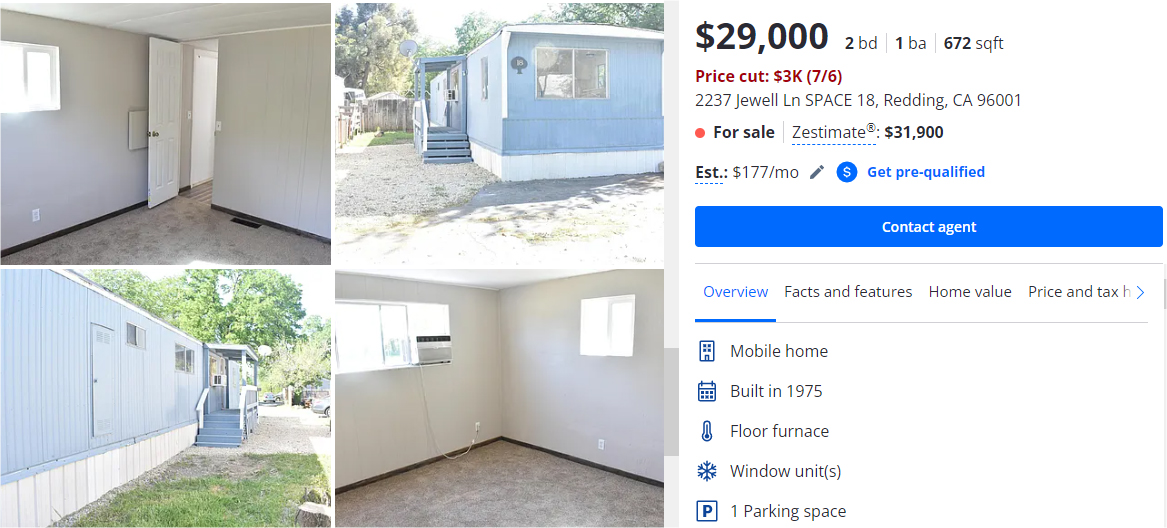 Here we go, folks! We're headed to the Golden State, Redding, California, to visit a 1975 single-wide listed at an affordable $29,400. This gem has a cozy one-bedroom, one-bathroom layout perfect for singles or couples. It's a compact sanctuary that oozes charm and uses its space excellently.
This lovely kitchen is the heart of the home, where you'll cook, chat, and maybe dance a little. Move to the living room, and you'll find your comfort zone. It's begging for a cozy sofa, a good book, and some downtime.
Now let's chat location. This home is nestled within a welcoming neighborhood, giving you the best of Redding's vibrant lifestyle. Picture lush parks, inviting cafes, local shops, and an art scene that's simply buzzing. Click here to contact the agent.
15. 1991 Single Wide in Kearney, Nebraska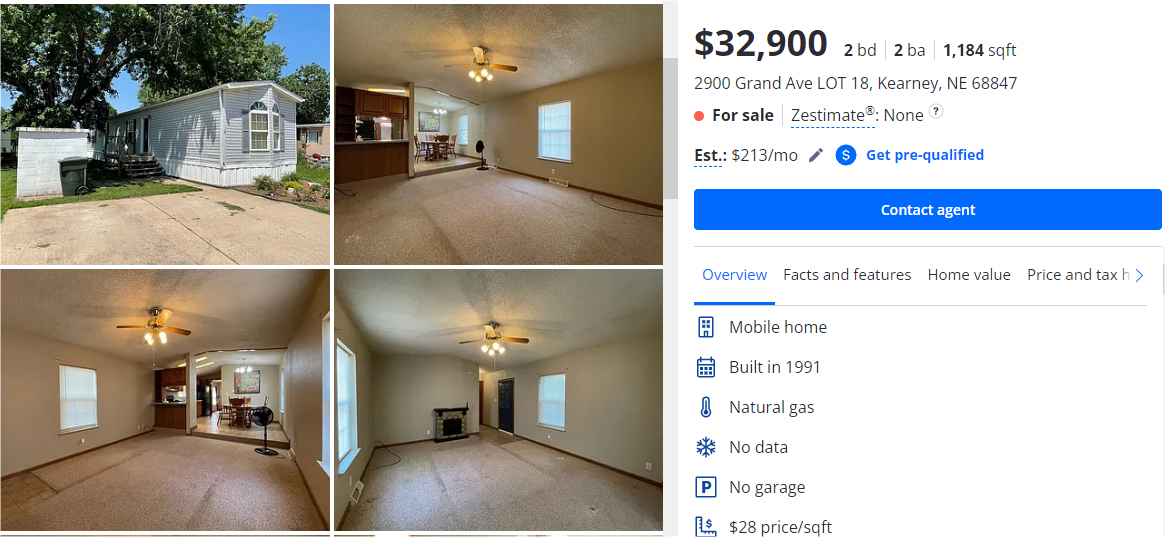 Next on our list is a real heartland gem: a 1991 single wide in Kearney, Nebraska. Priced at just $32,900, this one's a steal! It's a two-bedroom, two-bathroom beauty that spells comfort, convenience, and charm. The layout is as practical as it gets, with plenty of space for all your needs and then some.
This single wide's kitchen calls out to all the home chefs. With enough counter space for your culinary experiments, it's practically begging for a pasta night or a cookie bake-off. Adjacent to it, the living area is a hub for relaxation and leisure.
Now, let's talk about the locale. The neighborhood it's in is the epitome of Midwestern friendliness. Think community events, green spaces, and everything you need just a short drive away. Click here to contact the agent.
16. 1980 Single Wide in Waskom, Texas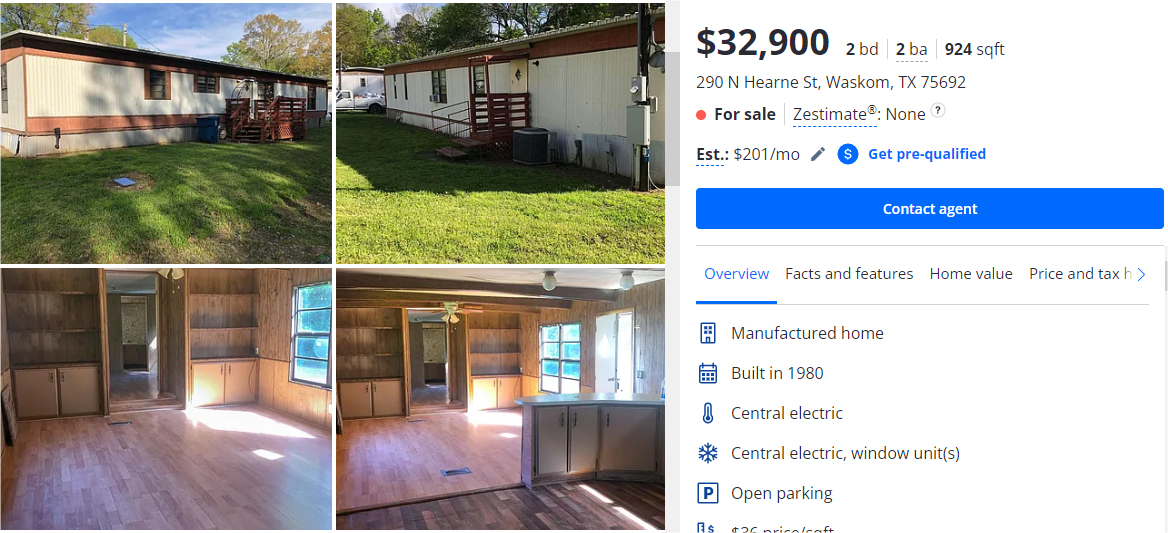 Get ready to meet our next find: a 1980 single-wide tucked away in Waskom, Texas. This home is listed for a cool $32,900 and delivers big on Southern charm and comfort.
This home boasts a bright and roomy interior that feels immediately welcoming. With two bedrooms and two bathrooms, it promises ample space for everyone to carve out their little sanctuary. The home layout, well-thought-out and pragmatic, makes everyday living a breeze.
The kitchen is a dream, a testament to function and style, with plenty of cabinets for all your cookware. And the living room? It's the perfect spot for cozy family nights or hosting friends for a game night.
Now, let's talk about the location. Waskom is a delightful town brimming with Texan hospitality. Imagine tree-lined streets, local shops, and friendly neighbors. Click here to contact the agent.
17. 2021 Single Wide in Columbus, Ohio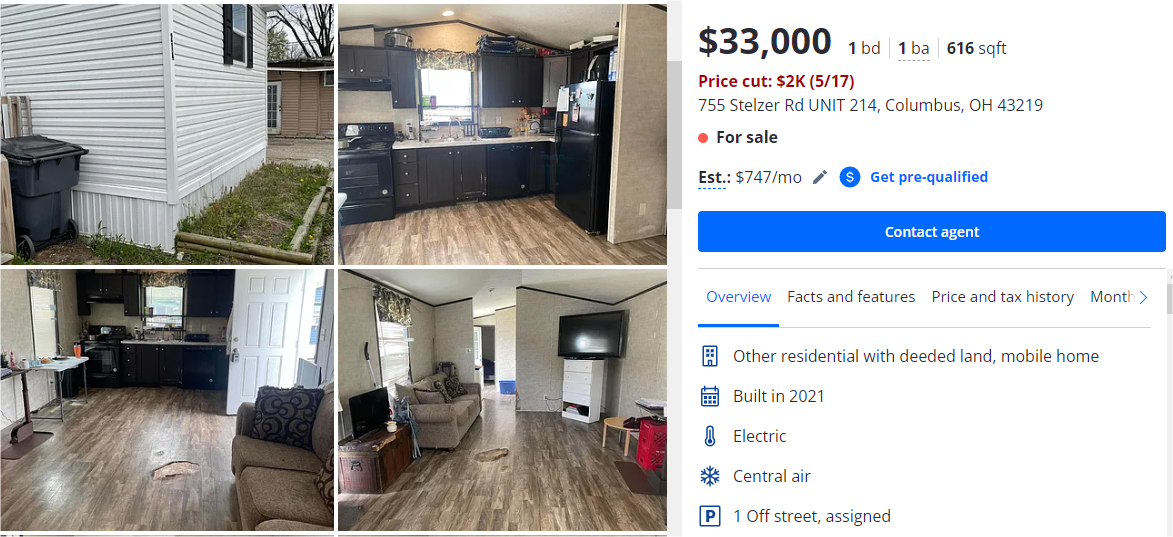 Last on our list is a 2021 single-wide in Columbus, Ohio. Priced at a steal for $33,000, this one's quite the showstopper. This home embodies modern living, a perfect blend of efficiency and elegance. The one-bedroom, one-bath layout is a masterclass in maximizing space without compromising comfort. You'll love the open-concept kitchen, perfect for whipping up your favorite meals while keeping up with the living room banter.
Sleek, energy-efficient appliances? Check. Contemporary finishes? Absolutely. This home ticks all the boxes for a stylish, convenient living experience. The bedroom is a cozy retreat, and the bathroom shines with new fixtures and finishes.
And let's not forget about the Columbus charm. From friendly neighbors to bustling local markets and restaurants, there's never a dull moment in this lively city. Click here to contact the agent.
Factors to Consider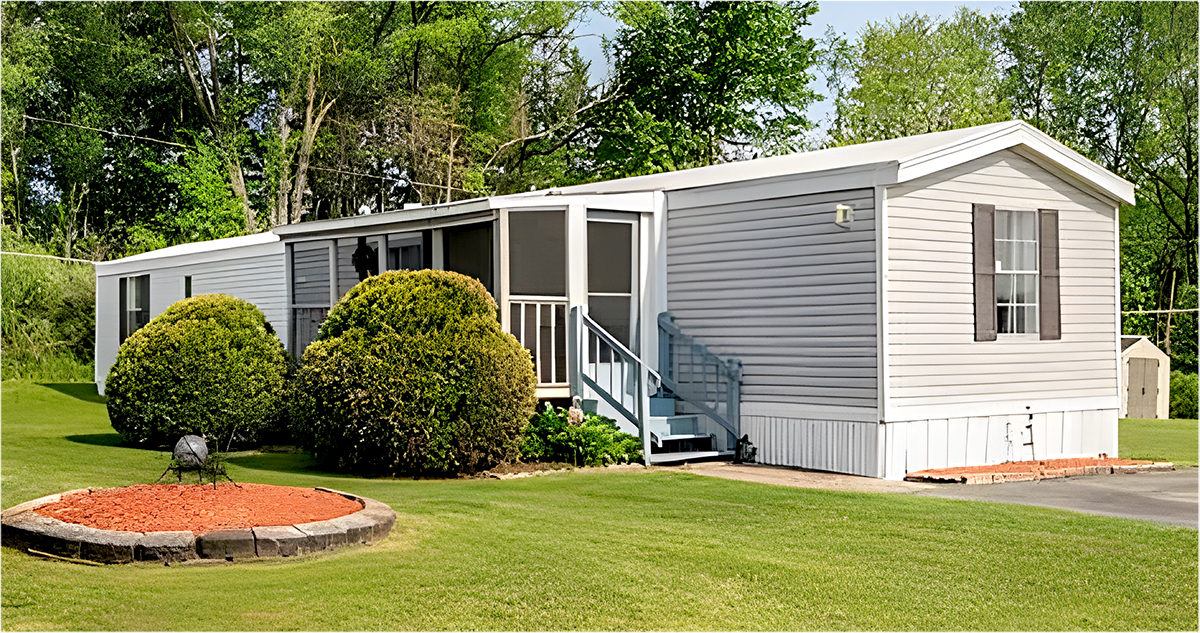 Buying a mobile home isn't just a spur-of-the-moment decision. It needs careful planning and consideration, especially for a single-wide mobile home under $35,000. So, let's talk about some considerations that might help you make an informed choice.
Oldie but goldie or fresh off the press? Older homes may have character but can also come with additional maintenance needs. On the flip side, newer models are likely to be more energy-efficient.
Location, Location, Location
Heard this one before? It's just as crucial with mobile homes. Is it a quiet neighborhood? How close is it to town? Check these details before you sign on the dotted line.
Look for signs of wear and tear. A few cosmetic fixes are no big deal, but large-scale repairs can eat into your budget.
Single-wides can be cozy, but ensure enough space for you. Think about your lifestyle, your belongings, and your future plans.
If your mobile home is in a park, remember to account for lot fees in your budget. These fees cover things like trash collection and the use of communal areas.
Understand the park rules
If your dream home is in a mobile home park, get to know the rules. Some parks have restrictions on ages, pets, or even exterior decorations.
Get a professional to inspect the home. They'll catch any potential issues that might not be visible to the untrained eye.
Mobile homes often require a different type of loan than traditional homes. Do your homework on the best financing options.
Consider how easy it will be to sell the home down the line. Location, condition, and age all play into this.
So, with these considerations in mind, you're on the right path to finding your dream single-wide.
Conclusion
You've just toured 17 stellar single-wide mobile homes – each with its charm and priced under $35,000! From the lush landscapes of Florida to the dynamic energy of Ohio, these homes represent opportunities across the US for cozy, comfortable, and budget-friendly living. Whether you're drawn to the traditional charisma of older models or the sleek aesthetics of modern ones, there's no denying that these mobile homes offer a bang for your buck. Yes, home sweet home is achievable without breaking the bank!