Top 6 Mobile Home Manufacturers in Florida
In Sunshine State, Florida, the mobile home industry is thriving like a palm tree in full bloom. Manufacturers continuously push boundaries, crafting homes that rival their conventional counterparts in every way. So, buckle up, and let's take a whirlwind tour of the top mobile home manufacturers making waves in Florida. From coastal-inspired homes to sleek modern designs, we have an exciting ride ahead!
| | | |
| --- | --- | --- |
| | | |
| | 1915 SE, FL-100, Lake City, FL 32025 | |
| | 605 S Frontage Road, Plant City, FL 33563 | |
| | 1230 SW 10th Street, Ocala, FL 34478 | |
| | 931 NW 37th Avenue, Ocala, FL 34475 | |
| | 600 Packard Court, Safety Harbor, FL 34695 | |
| | 133 SE Newell Drive, Lake City, FL 32056 | |
Mobile Home Manufacturers in Florida
Alright, let's get down to brass tacks. So, you've got mobile home dealers/retailers, and then you've got manufacturers. They sound similar, but the two have a world of differences. It's like the difference between a fashion boutique and a designer's atelier.
Retailers? They're your go-to for buying a mobile home. They showcase a variety of brands, models, and styles, like a boutique showing off the season's hottest trends. You'll find many options, and they help with things like financing, insurance, and sometimes even plot placements.
But when it comes to the nitty-gritty of designing and building mobile homes, that's where manufacturers step in. Picture a designer's workshop buzzing with creativity. Each mobile home is their brainchild, meticulously crafted from floor plan to final fixtures. They're the masterminds behind the magic, the visionaries turning ideas into homes.
List of Mobile Home Manufacturers in Florida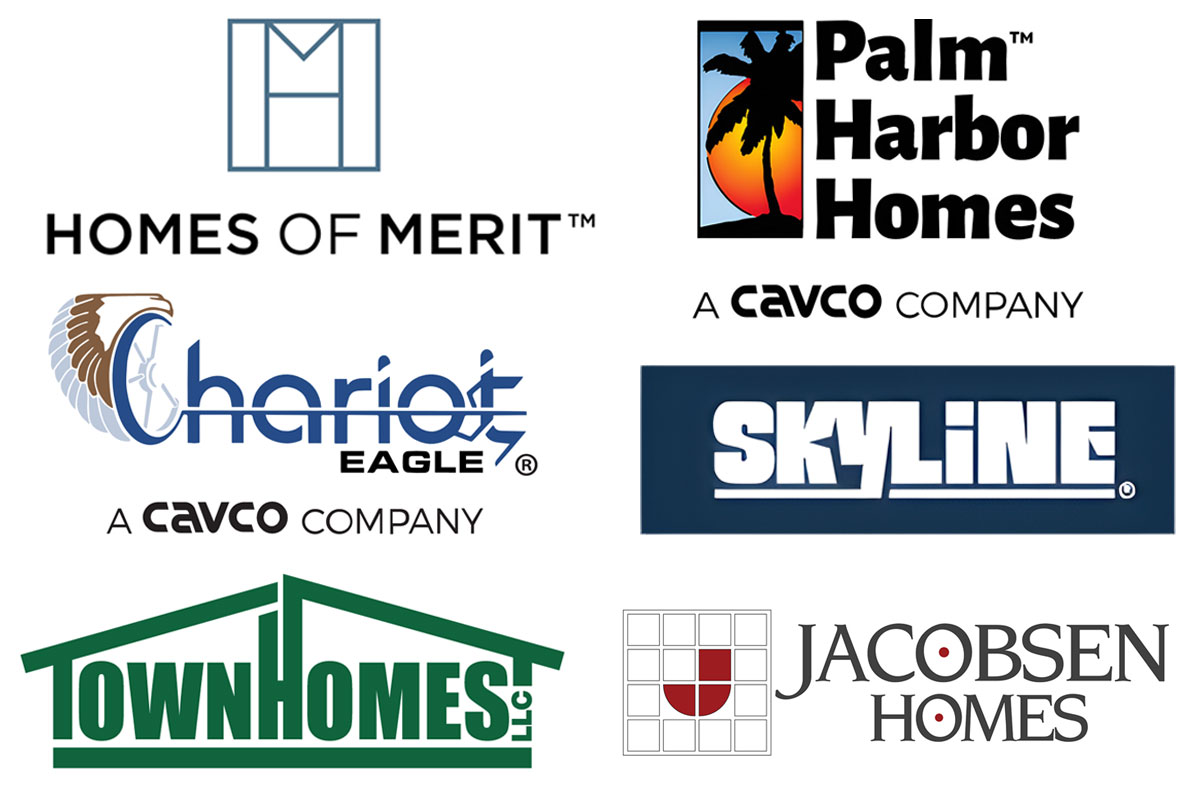 The Florida mobile home factories we will explore below are not your run-of-the-mill companies. They're the fashion-forward designers of the mobile home world. They're setting trends, innovating, and turning heads with their designs. So let's dive right in and meet these trailblazers.
1. Homes of Merit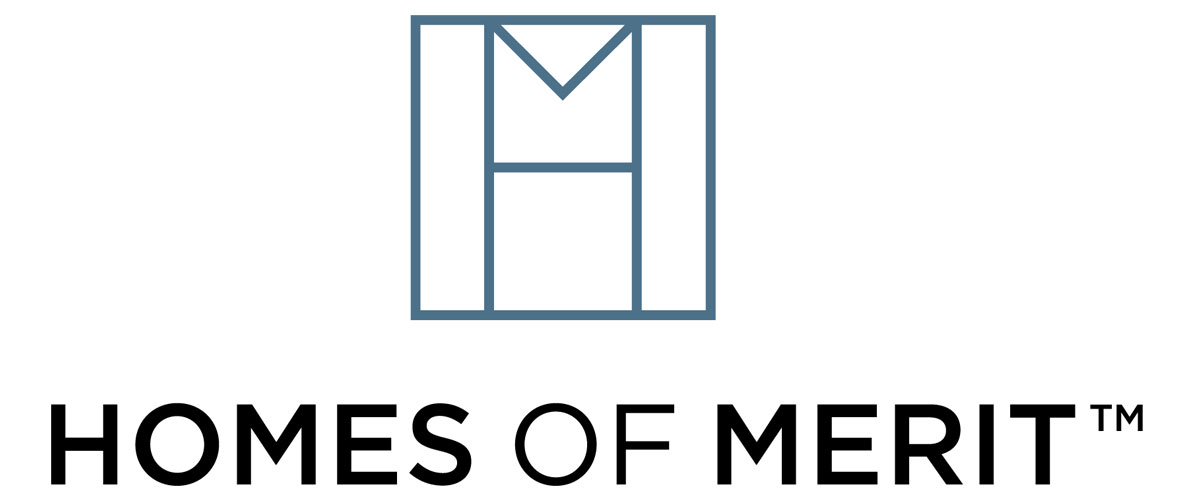 First up on our exclusive tour are Homes of Merit, a company that has been leaving its mark on the mobile home scene since way back when. Founded in 1973, this dynamic company quickly made a name for itself. Then, in 1999, Homes of Merit joined the Champion family of homebuilders. This marriage of minds, so to speak, boosted their innovative capabilities and quality, creating a powerful synergy.
Let's talk styles, shall we? Homes of Merit brings an impressive array of mobile home types. Whether you're eyeing a single-section cozy cottage or a sprawling multi-section family abode, they've got you covered. Picture this: elegant interiors, efficient designs, and personalization freedom. You're not just buying a house; you're creating a home that's distinctly yours.
Now, what sets Homes of Merit apart? Well, it's all in the details. Their homes are not just built but engineered for durability, quality, and energy efficiency. Think hurricane-resistant construction, Energy Star ratings, and luxury finishes. And the best part? You'll be living in style without breaking the bank.
Let's dive deeply into some of the floor plans offered by Homes of Merit. Picture flipping through a catalog of dream homes, each page revealing a new wonder.
Crest 261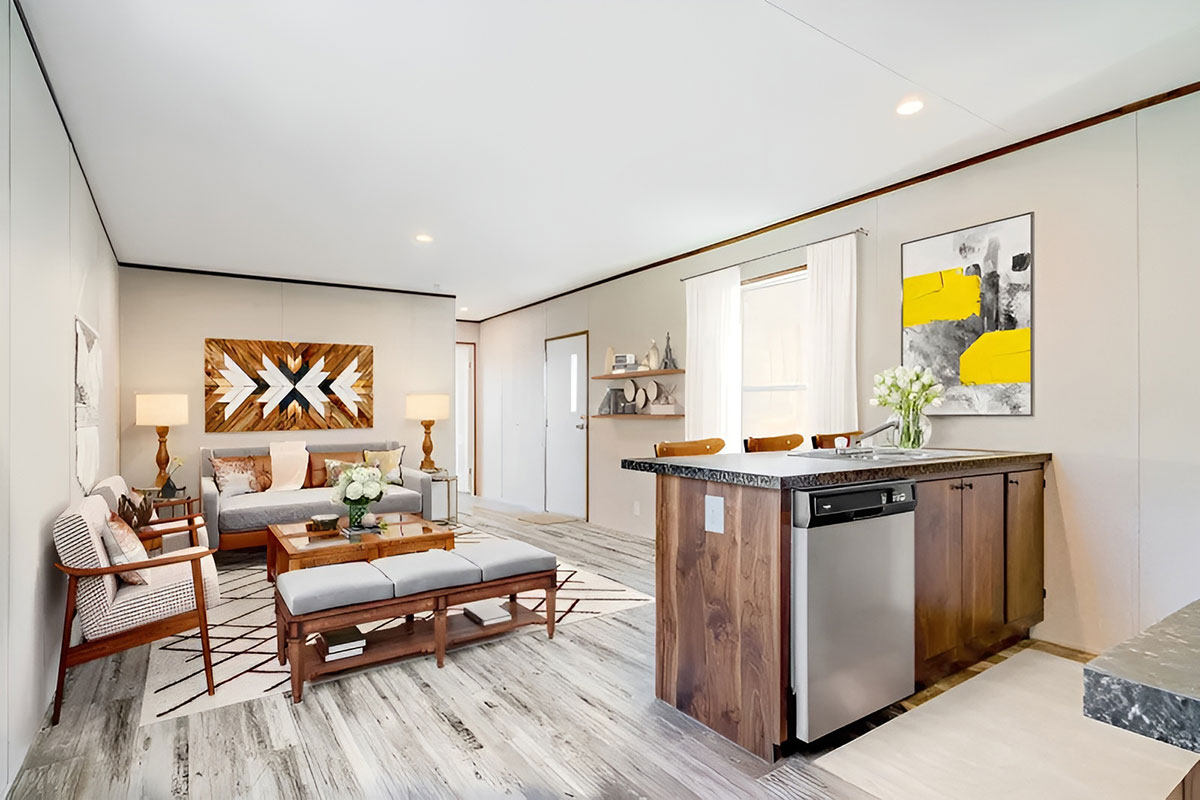 First up, we have the Crest 261. It's a darling single-wide home, wrapping 800 square feet of charm into a compact package. With two bedrooms and two bathrooms, it's the perfect fit for a small family or a couple starting their journey together.
Pursuit 261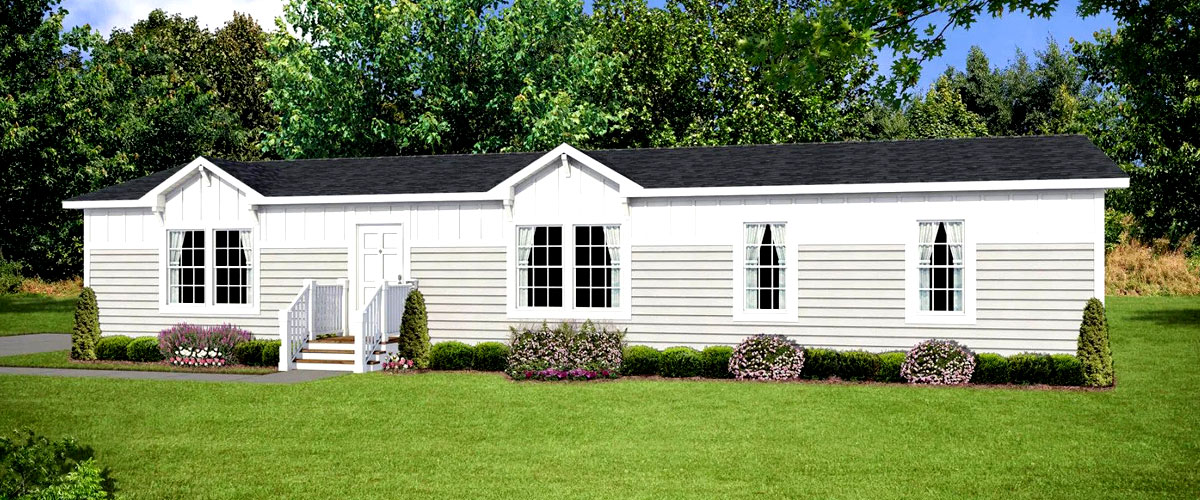 Next in line is Pursuit 261, a double-wide home spreading across a generous 1493 square feet. This one has three bedrooms and two bathrooms, offering more wiggle room. It's like your favorite sweater – roomy, comfy, and perfect for cozy family nights.
Riverview 4684A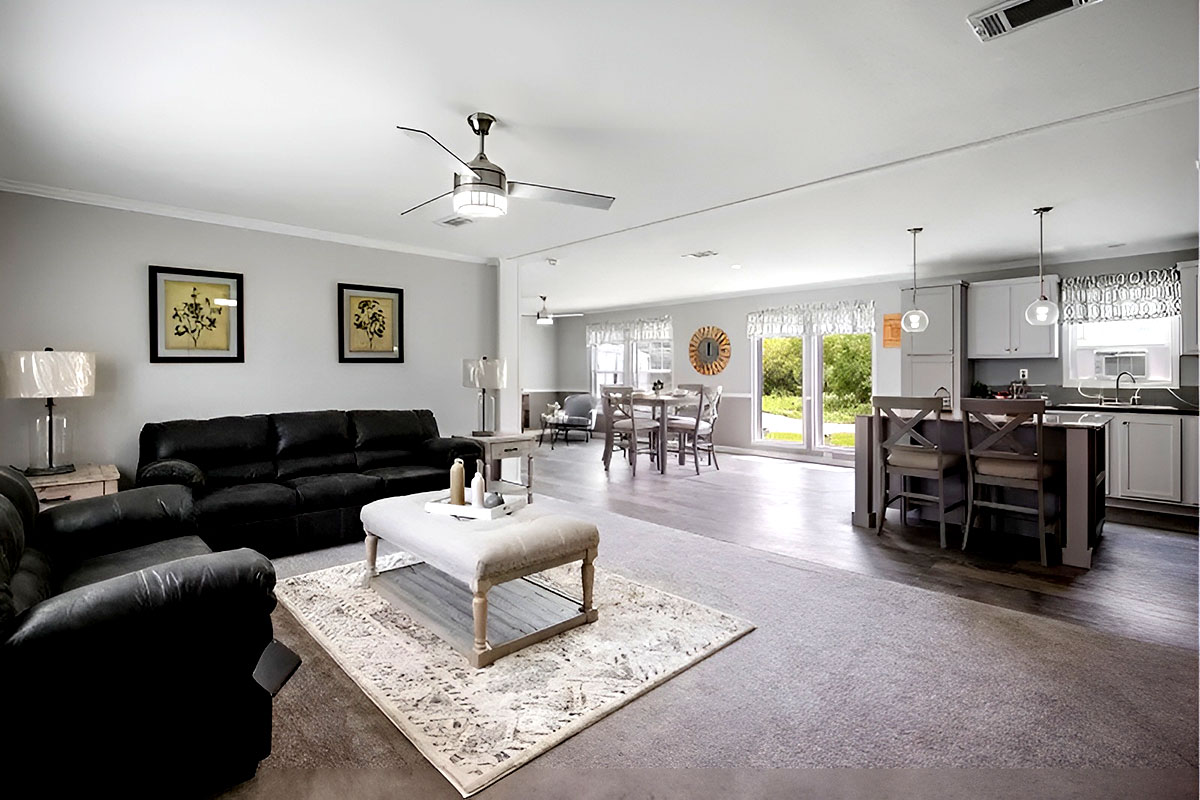 We then move on to the Riverview 4684A. With a sprawling 1813 square feet, this double-wide home offers four bedrooms and two bathrooms. It's like hosting a dinner party with room for everyone and no one's elbowing for space.
Cypress Manor 0764B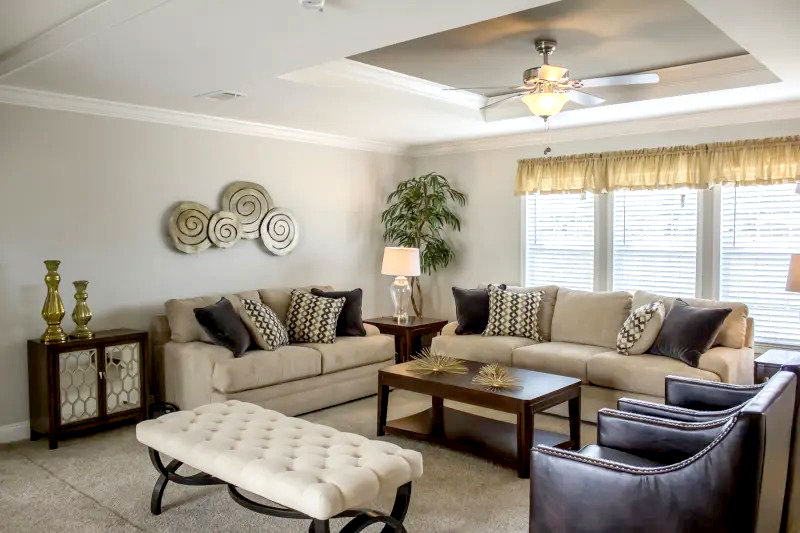 Next, let's explore Cypress Manor 0764B. This double-wide delight spans an impressive 2305 square feet, offering four bedrooms and two bathrooms. It's a bit like owning a mini-mansion – grand, elegant, and perfect for those who love a touch of luxury.
Prime 2876H53P01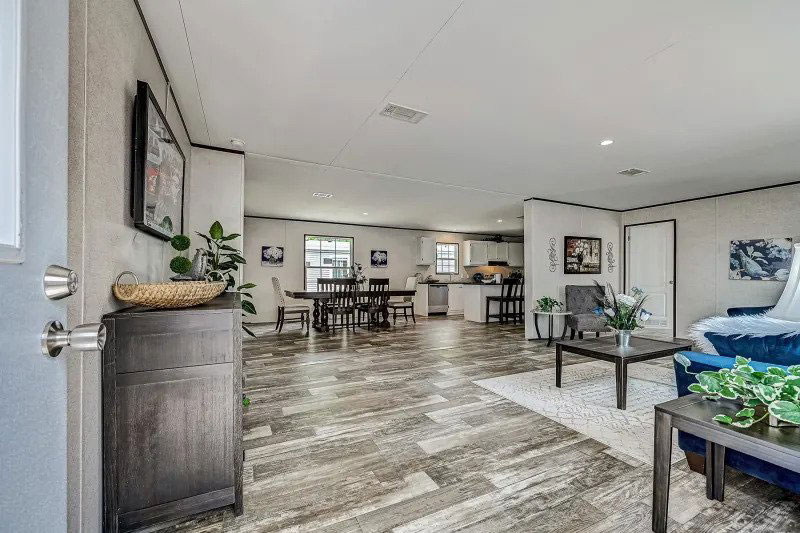 And finally, we have the Prime 2876H53P01. This multi-section showstopper covers 2027 square feet and has five bedrooms and three bathrooms. It's like the penthouse suite of mobile homes, providing space, comfort, and an extra wow factor.
Each floor plan from Homes of Merit is a testament to their commitment to quality, variety, and customer satisfaction. Whether you're after a cozy cottage or a spacious retreat, Homes of Merit has a blueprint for your dream home. Now, isn't that a lovely thought?
2. Palm Harbor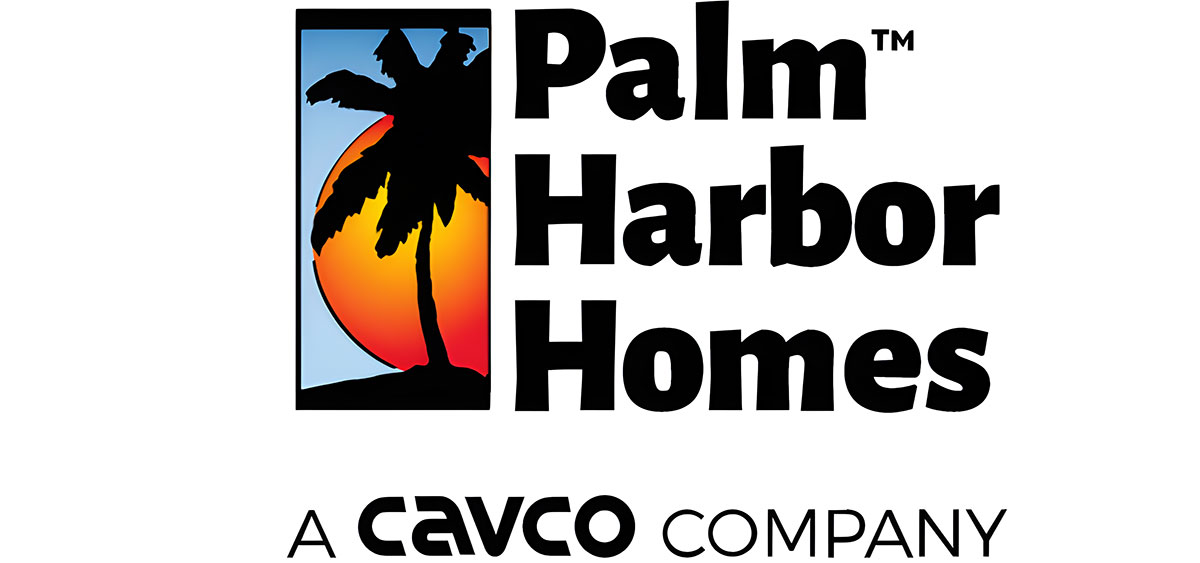 Swinging into our spotlight next in Palm Harbor. Established in 1977, Palm Harbor built a reputation around its commitment to customer satisfaction and quality construction. Their story took an exciting twist in 2011 when they became a part of the Cavco family of builders. Like adding an extra scoop of gelato to your sundae, this alliance sweetened the deal, bolstering Palm Harbor's already impressive offerings.
Palm Harbor serves up a mouth-watering menu of mobile home options. Whether you dream of a quaint single-section dwelling or a spacious multi-section residence, they have the blueprint for your dreams. And with their commitment to quality construction and innovative design, you know you're getting the best.
Now, on to the juicy bits! What sets Palm Harbor apart in the crowded mobile home market? It's their winning combo of design flexibility and exceptional build quality. Picture personalized floor plans, energy-efficient designs, and hurricane-resistant features. Plus, their homes are surprisingly affordable. It's like finding a designer piece at a thrift store price!
Let's take a peek at some of the standout models that Palm Harbor has to offer. Picture opening a catalog and having each page unfold into a beautiful home – now that's magic.
Jenkins 28522A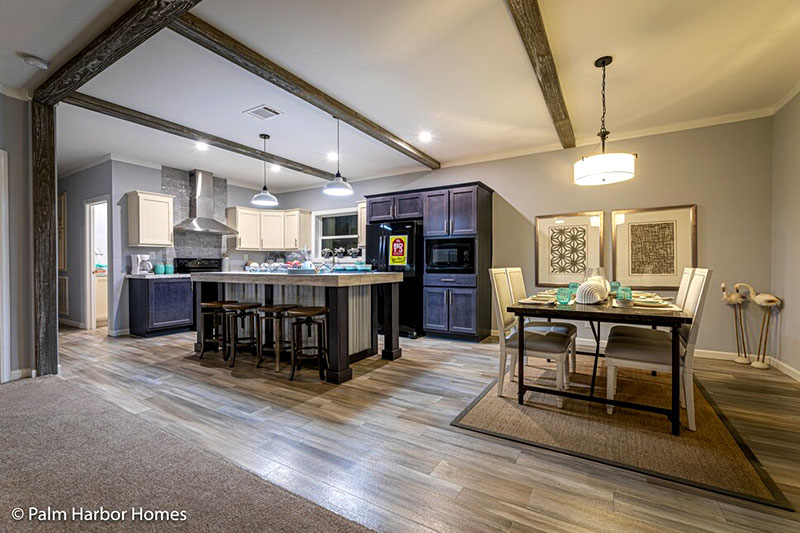 Starting, we have The Jenkins 28522A. With 1,393 square feet of thoughtfully designed space, it's like the coziest cashmere wrap in home form. The Jenkins offers two bedrooms and two bathrooms, but that's not all. There's also a roomy home office, perfect for the new normal. It's the kind of home that makes you sigh with contentment.
Easton Farmhouse 30683A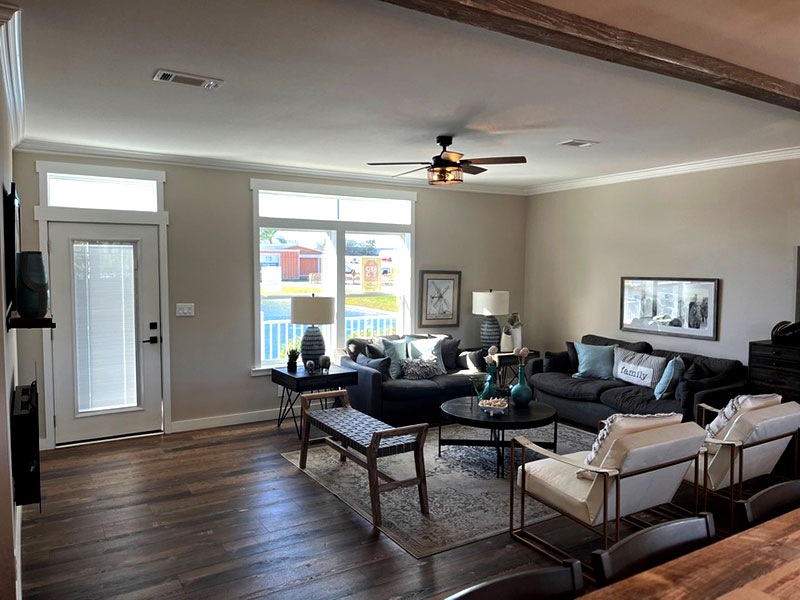 Next up is The Easton Farmhouse 30683A. It offers a 2,240-square-foot sunlit space just waiting for you to make memories. Imagine a home with three bedrooms and two bathrooms; each corner bathed in the soft glow of the setting sun. Sunset Bay is all about modern comfort in a beautiful package.
Barbados III 30643D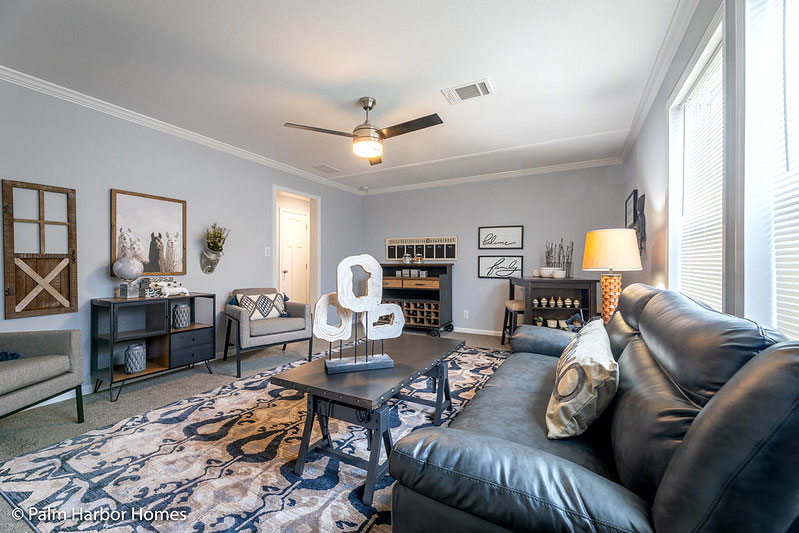 Finally, let's talk about The Barbados III 30643D. With 1,920 square feet of pure luxury, this home is a dream come true. Think three bedrooms, two bathrooms, and a design that balances luxury and practicality with a masterful touch. The Lago Mira is like a boutique hotel; you never have to leave.
So, that's Palm Harbor Village – outstanding value, supreme flexibility, and homes that can weather any storm. It's no wonder they're a favorite in the Sunshine State!
3. Skyline

Let's soar into the clouds with our following manufacturer, Skyline Homette. A long-standing player in the game, Skyline began its journey back in 1951. Picture this: a company committed to creating quality homes as sturdy as the homes themselves.
In terms of variety, Skyline is a smorgasbord. Single-section homes? They've got them. Multi-section homes? You bet. They've got something for everyone, whether you're after a cozy nest or a spacious pad for your growing brood.
Now, what sets Skyline apart? I'll tell you: It's their meticulous attention to detail. Their homes are like well-tailored suits: custom fit, well-made, and downright good-looking. We're talking about energy-efficient designs, durable materials, and a promise of quality that's as solid as their foundations.
Let's unwrap some of the prized offerings from Skyline Homes. Think of this as a guided tour through a neighborhood of dreams, where each stop reveals a home more enchanting than the last.
Palm Bay 2641B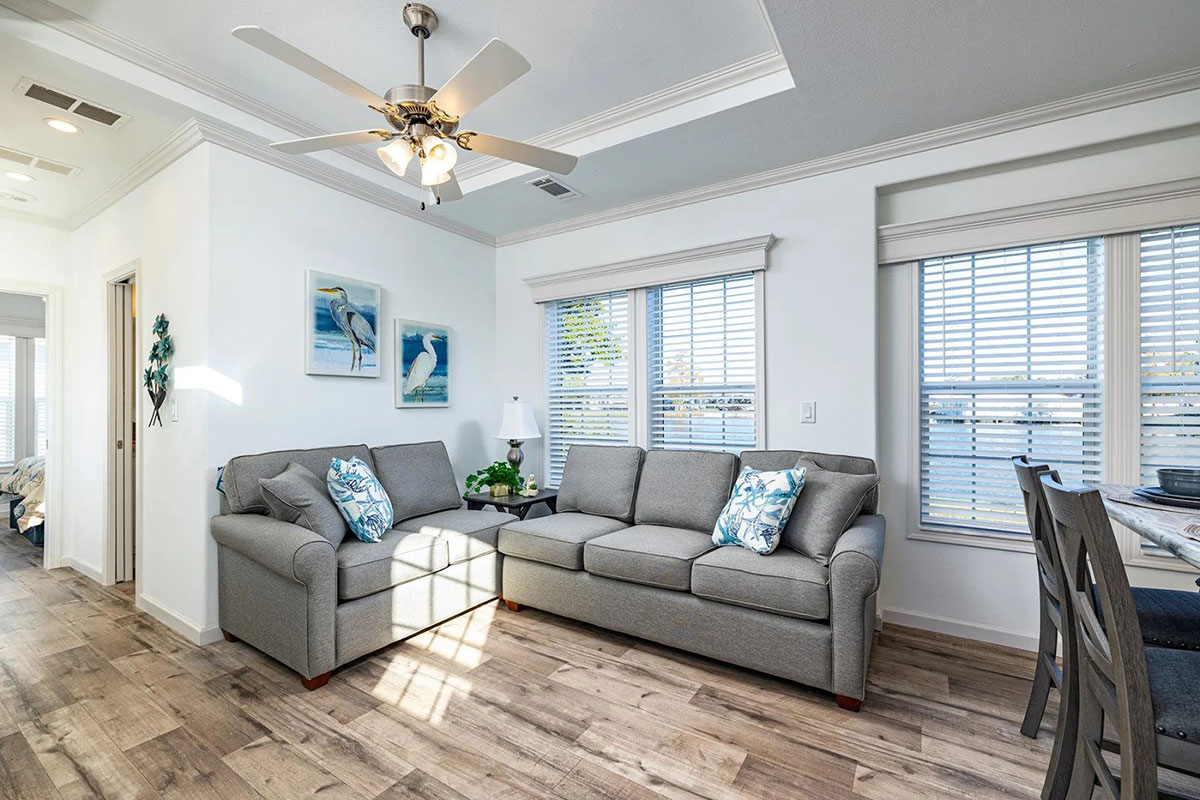 First off, we have the Palm Bay 2641B. This single-wide gem packs 492 square feet of carefully curated space into one neat package. With one bedroom and one bathroom, it's like the perfect little hideaway you've always dreamed of. Think of it as the cozy bungalow at the end of the lane, where life is simple, peaceful, and oh-so-sweet.
Silver Springs 5027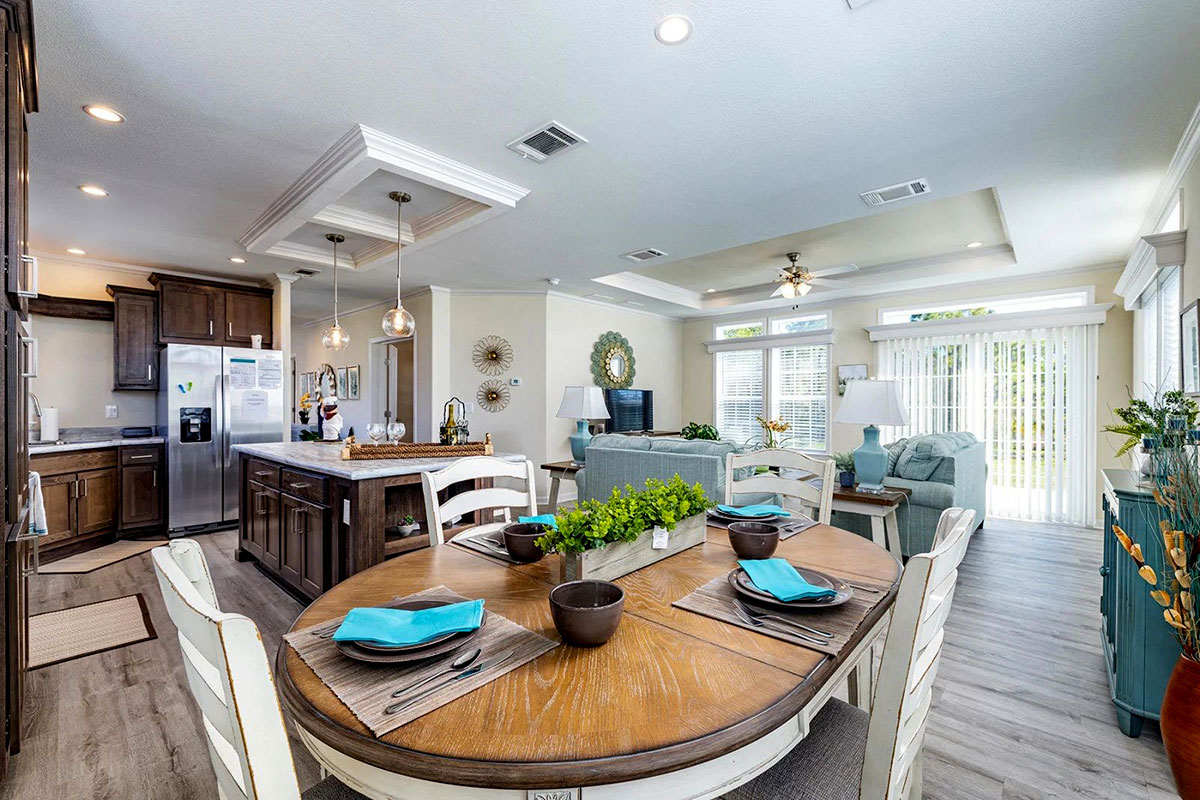 Next up is Silver Springs 5027, fondly known as The Oak. It's a double-wide treasure spread across 1,451 square feet. With two bedrooms and two bathrooms, it's the perfect place to make a lifetime of memories. The Oak is like a charming country cottage, offering space, comfort, and rustic charm.
Silver Springs 5361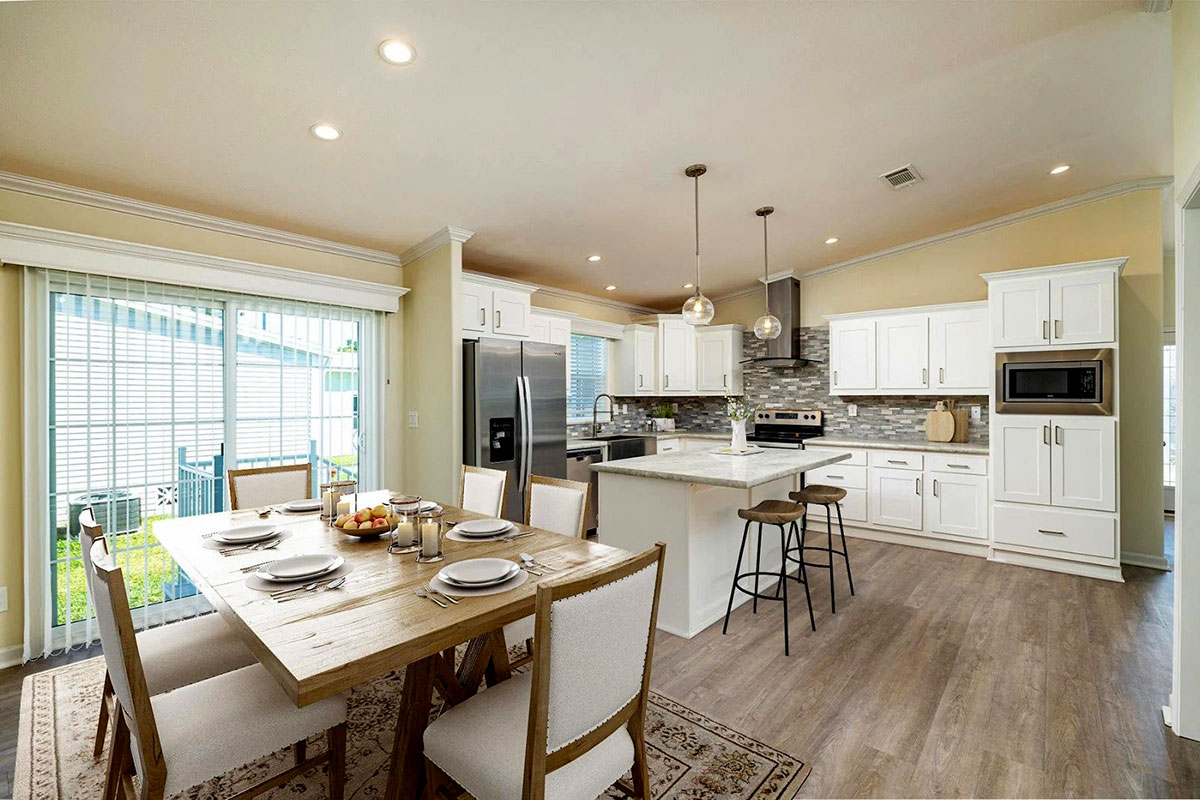 Finally, we have the Silver Springs 5361. This multi-section marvel offers a spacious 1,500 square feet with three bedrooms and two bathrooms. It's like a big family home, with room for everyone and then some.
Each Skyline model is a beautiful blend of thoughtful design, quality construction, and timeless appeal. No matter what you're looking for, Skyline is here to help you find a home that feels just right.
4. Chariot Eagle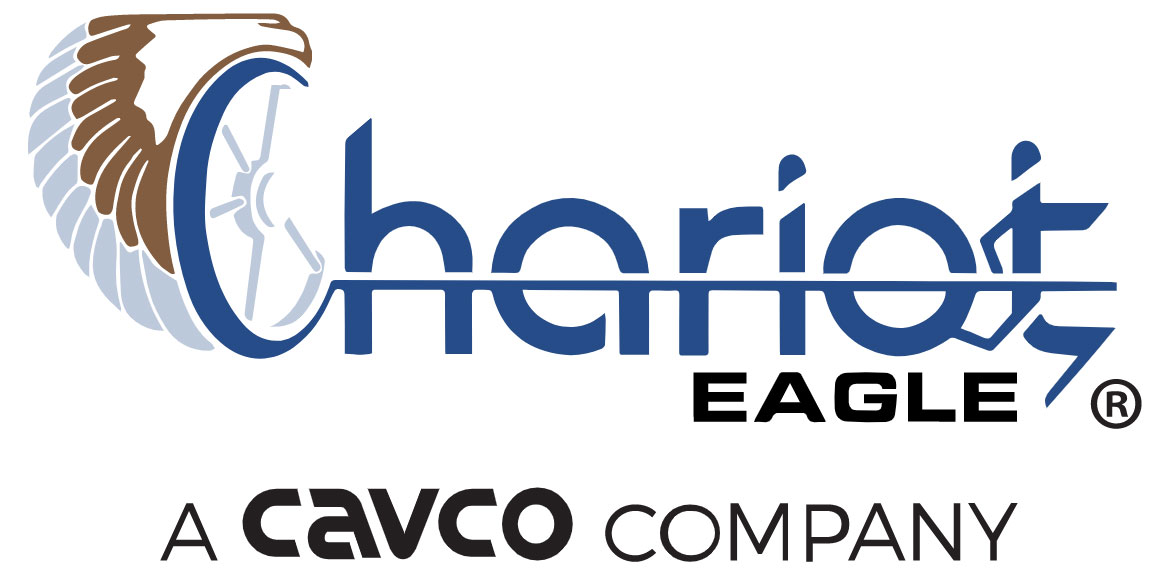 The Chariot Eagle is next in our fabulous Florida lineup, a company that has dazzled the mobile home market since 1984. They're a bit like the cool, edgy cousin in the family of home manufacturers. Then, in 2015, the game changed. Cavco Industries, Inc., a national leader in the design and production of manufactured homes, acquired Chariot Eagle. This was a powerhouse pairing, boosting Chariot Eagle's already sterling reputation.
Regarding mobile home offerings, Chariot Eagle indeed spreads its wings. They create various homes, from cozy park models to luxury vacation cottages. You'll find a design to love whether you fancy a snug getaway or a spacious family retreat. These homes say, "kick back, relax, and stay awhile."
Now, let's chat about what makes Chariot Eagle unique. They're big on quality and innovation. They blend cutting-edge design with the traditional craftsmanship we all love. Imagine state-of-the-art appliances mixed with classic finishes. And their homes are designed to withstand the harshest of weather conditions. Let's turn the spotlight to their featured models.
Eagle 12341A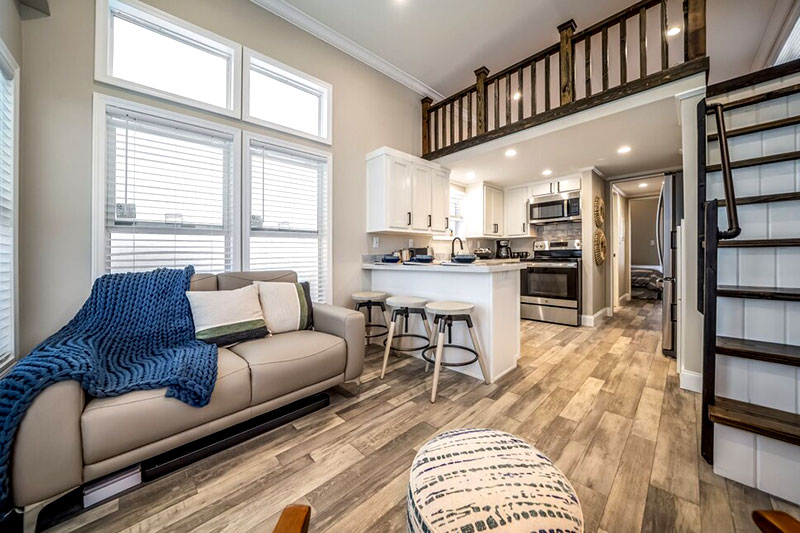 First, we have the Eagle 12341A, a single-wide model that fits coziness and charm into just 399 square feet. One bedroom and a bathroom are ideal for a minimalist lifestyle or a blissful retreat. Think of it as a charming tiny home where every corner is a testament to the art of living well in smaller spaces.
Hawk Elite 13381B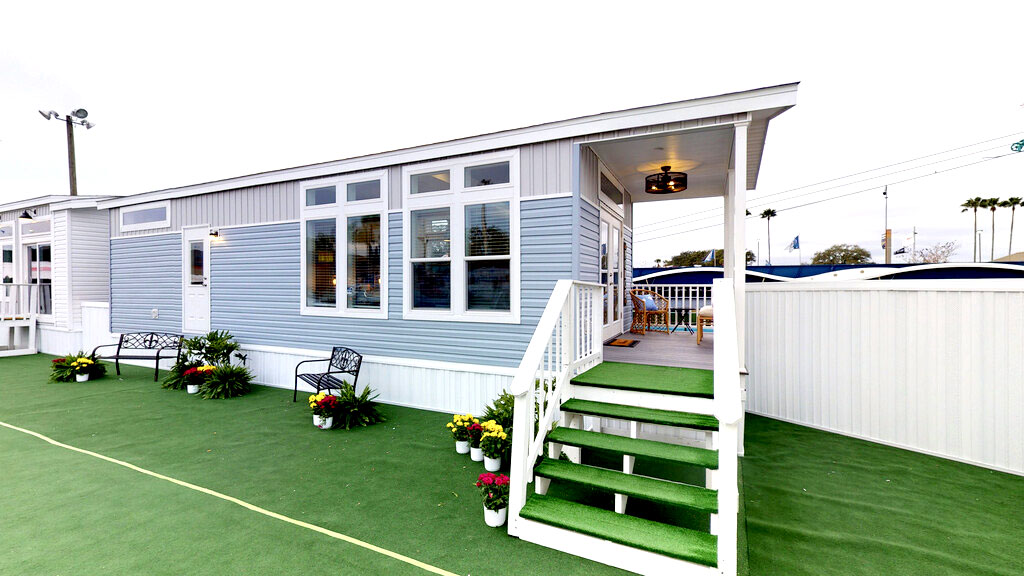 Next, let's talk about the Hawk Elite 13381B. This single-wide model offers 499 square feet of carefully designed living space. It has one bedroom and one bathroom, making it perfect for those who love cozy, compact living. Picture a tranquil, well-organized space that's all yours – that's the Hawk Elite.
Lake Charles 13371A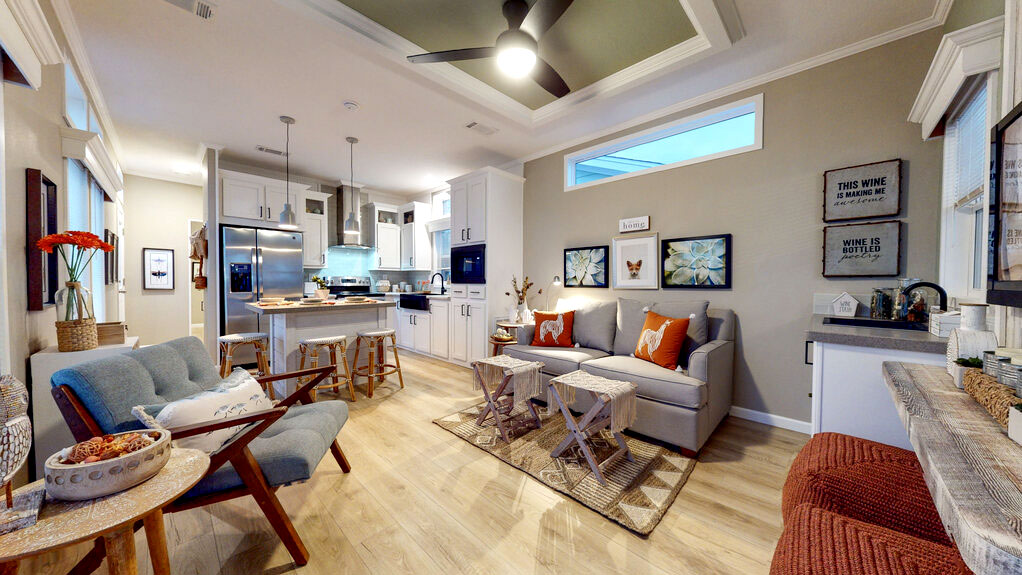 Finally, there's the Lake Charles 13371A. With its 494 square feet, this single-wide home offers a perfect blend of elegance and practicality. It includes one bedroom and one bathroom, promising a comfortable, carefree lifestyle. Imagine a little sanctuary that's all about you and your comfort – that's Lake Charles for you.
So there you have it, Chariot Eagle: where traditional craftsmanship meets modern innovation to create homes you'll be proud to call your own. Sounds pretty amazing, doesn't it?
5. Jacobsen Homes

Next on our tour de force of Florida's finest is Jacobsen Homes. Established in 1959, this company has been doing its thing for over six decades. That's six decades of innovation, experience, and delivering on the promise of quality. Jacobsen Homes are like the seasoned chef in a gourmet kitchen – they know what they're doing, and they do it well.
When it comes to mobile homes, Jacobsen serves a varied menu. Compact single-section homes? Check. Expansive multi-section homes? Double check. They understand that one size doesn't fit all and offer homes that cater to diverse needs, tastes, and budgets.
Let's discover their standout models, where each one promises a unique blend of comfort, style, and functionality.
Imperial Limited IMLTSW-4522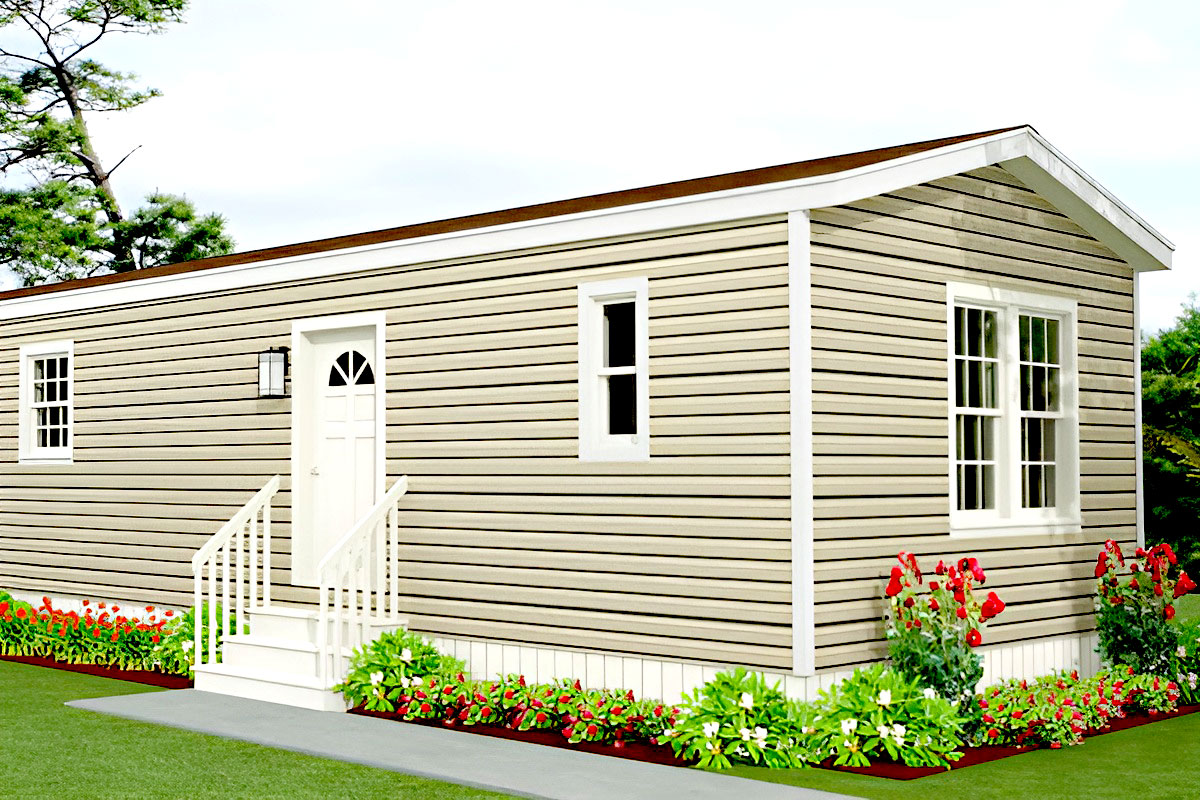 First on our radar is the Imperial Limited IMLTSW-4522. This charming single-wide model strikes a delicate balance between coziness and spaciousness. An open floor plan links the dining and living room, creating a warm and inviting space for entertaining. Imagine lively dinner parties that stretch into the night, filled with laughter, great food, and even better company. And it doesn't stop there. This model features two bedrooms, each with its own closet. The primary suite, adjacent to the home's bathroom, offers ample privacy and a little luxury. It's like your own personal retreat right there in your home.
Imperial Limited IMLT-3449A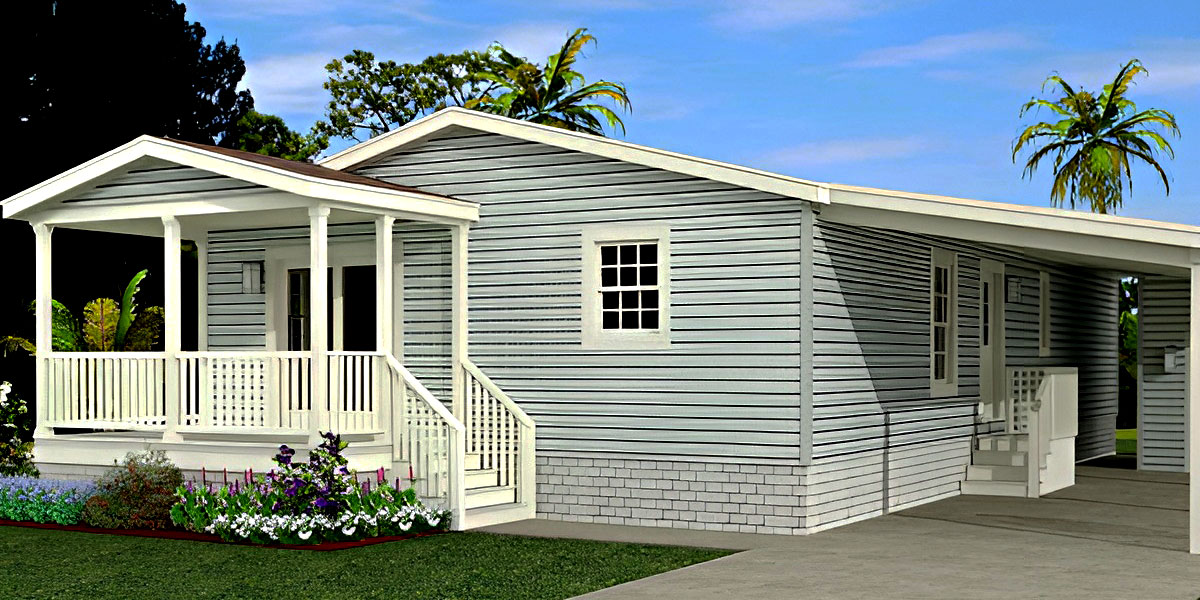 Next, we take a look at the Imperial Limited IMLT-3449A. This double-wide model is a dream for anyone seeking a little extra space. Both bedrooms boast spacious closets – just think of all the clothes, shoes, and accessories you could neatly organize! The master bedroom is a spacious sanctuary measuring 12′ 0″ x 16′ 0″ feet, complete with a large ensuite full bath and not one but two closets. Now that's what I call living in style! And with an optional front porch and carport, you've got the perfect space for outdoor entertaining or simply savoring your surroundings.
The Signature TNR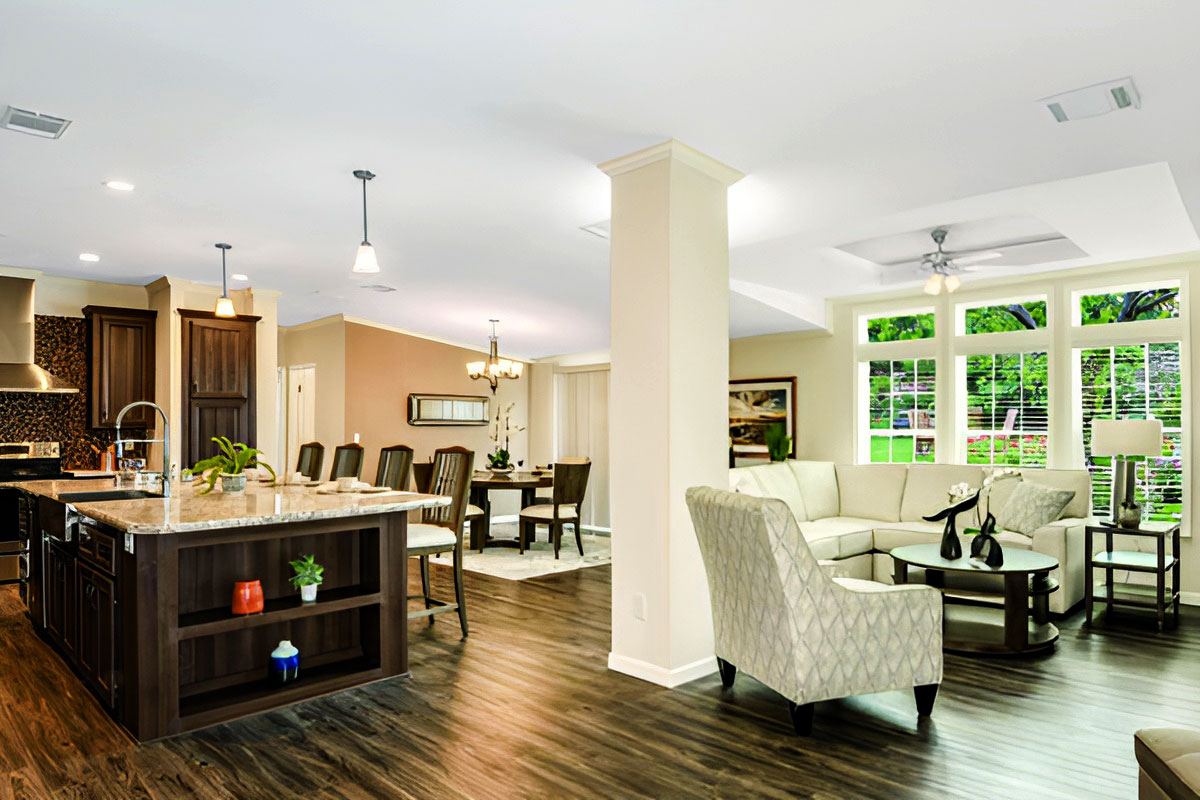 Finally, let's check out The Signature TNR. This model has 2497 square feet of living space, four bedrooms, and two bathrooms. The exterior dimensions are 42′ X 64′, offering plenty of space for a garden. It's the perfect model for anyone dreaming of a large family home, with space for everyone and then some.
6. TownHomes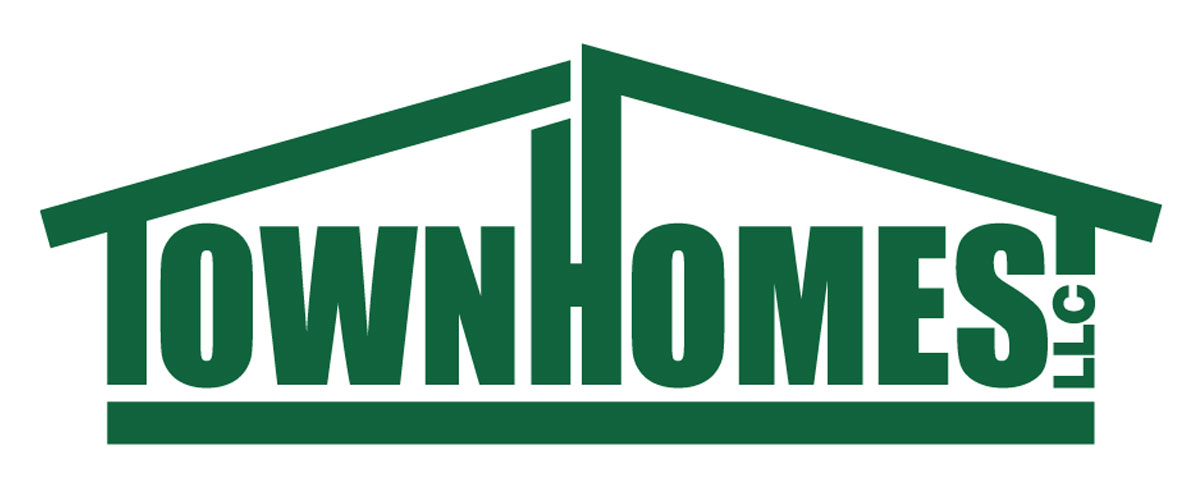 Lastly, let's spotlight TownHomes, another gem in the Florida mobile home landscape. Established in 1984, TownHomes has been setting trends and breaking boundaries for over three decades. It's like the bold, boundary-pushing artist of the mobile home world.
Speaking of homes, TownHomes offers an inviting array of options. Cozy single-section abodes? They've got it. Sprawling multi-section homes? They've got that too. They've crafted a diverse palette of homes, ensuring a perfect match for everyone.
Let's explore a few featured models from TownHomes that have been thoughtfully crafted to offer a perfect blend of style and comfort.
Siesta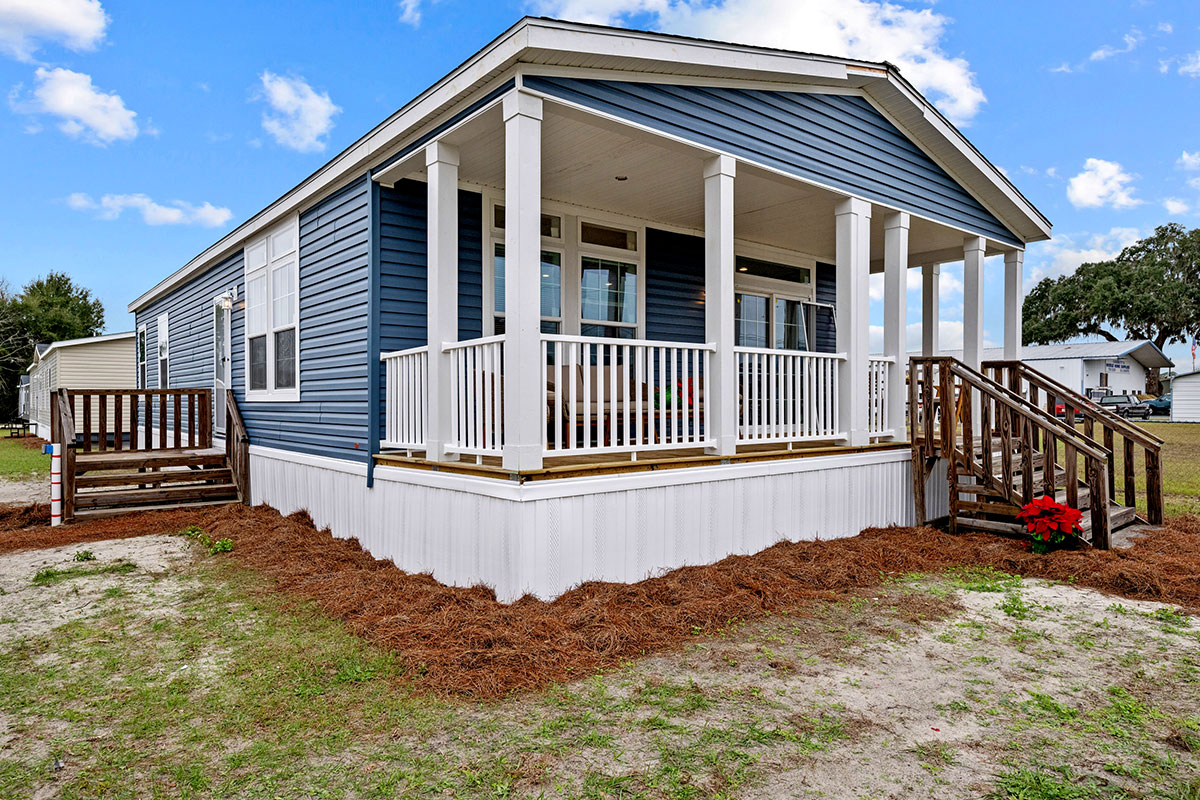 Starting the tour, we have the Siesta. This model is about laid-back elegance with its three bedrooms and two bathrooms spread over a comfortable 1,227 square feet. It's the perfect pick for anyone who enjoys relaxed and easy living. Picture yourself enjoying a lazy Sunday morning in this cozy abode, with sunlight streaming through the windows.
Key Largo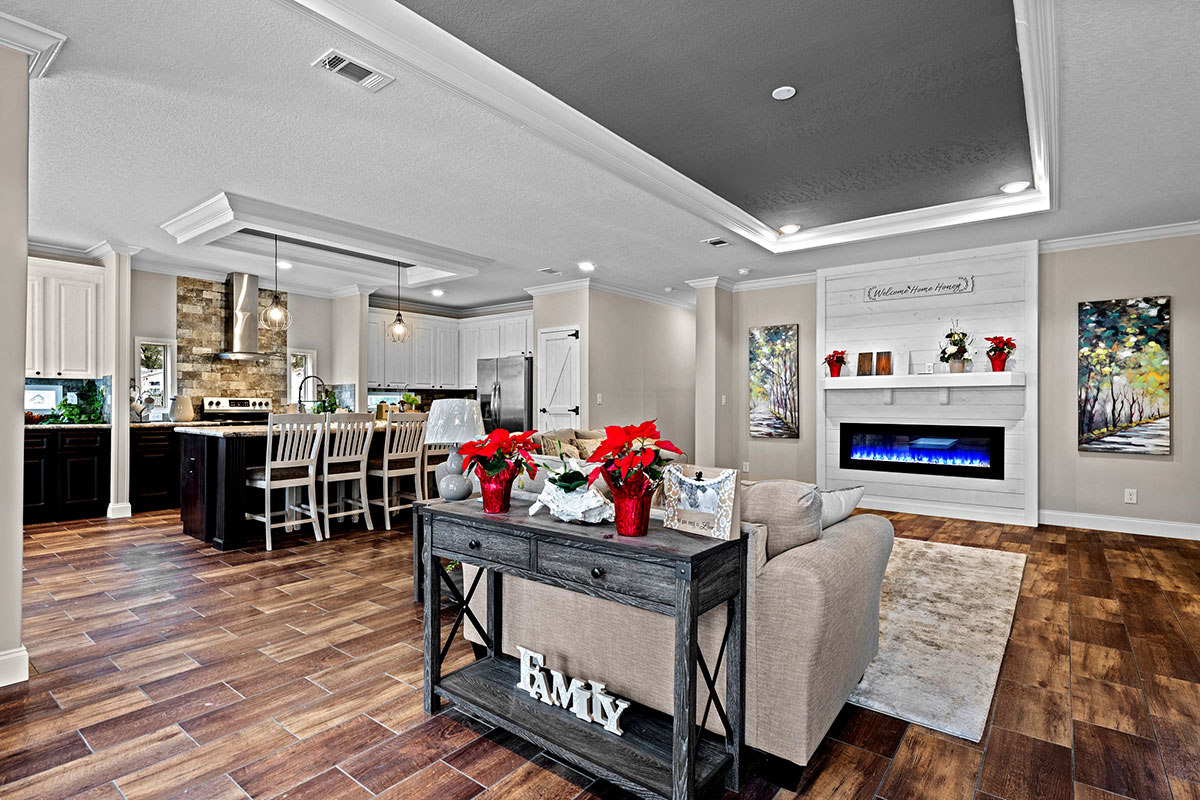 Next up, let's step into the Key Largo. This spacious four-bedroom, two-bathroom home offers 2,612 square feet of living space. It's the perfect setting for a bustling family life filled with love, laughter, and precious moments. Envision hosting holiday meals in this generous space, with room for everyone at the table.
Keaton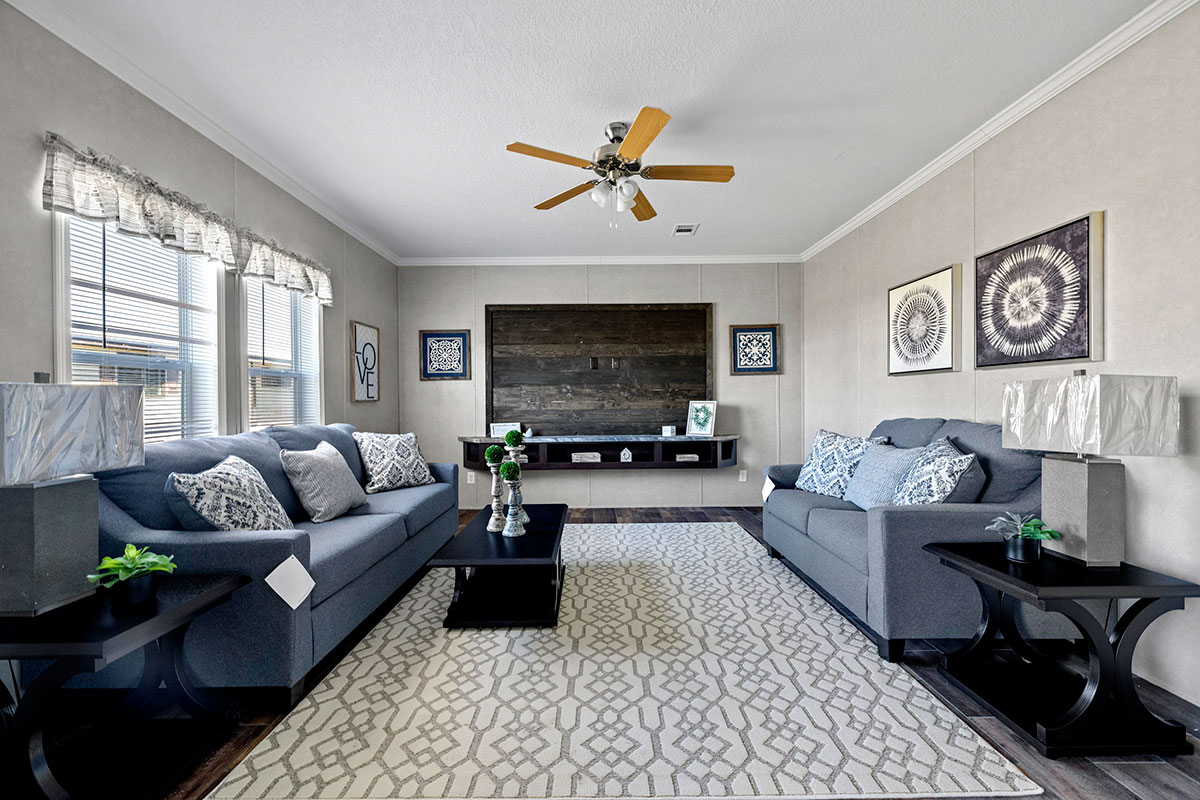 Last but not least, we have the Keaton. With its five bedrooms and three bathrooms, this grand home sprawls over a roomy 2,305 square feet. The perfect space for a growing family, the Keaton offers room for everyone and everything. Imagine a home where each member has a private sanctuary. Yet, there's plenty of communal space for those treasured family moments.
Each TownHome model is thoughtfully designed with modern living in mind. So, whether you're a young couple setting up your first home or a growing family needing more space, TownHomes offers the perfect canvas for your dream home.
Conclusion
These mobile home manufacturers in Florida don't just build houses; they shape dreams, one home at a time. Whether you crave the simplicity of a single-wide home, the generous space of a double-wide, or the versatility of a multi-section home, there's a model with your name on it.