Senior Mobile Home Parks: 55+ Communities in Florida
Have you ever considered a senior mobile home park for your golden years? It's not just an option—it's a thriving lifestyle choice. These communities offer much more than meets the eye. Rich in history, brimming with character, and designed with seniors in mind. They serve as beacons for those desiring a combination of independence and community in retirement.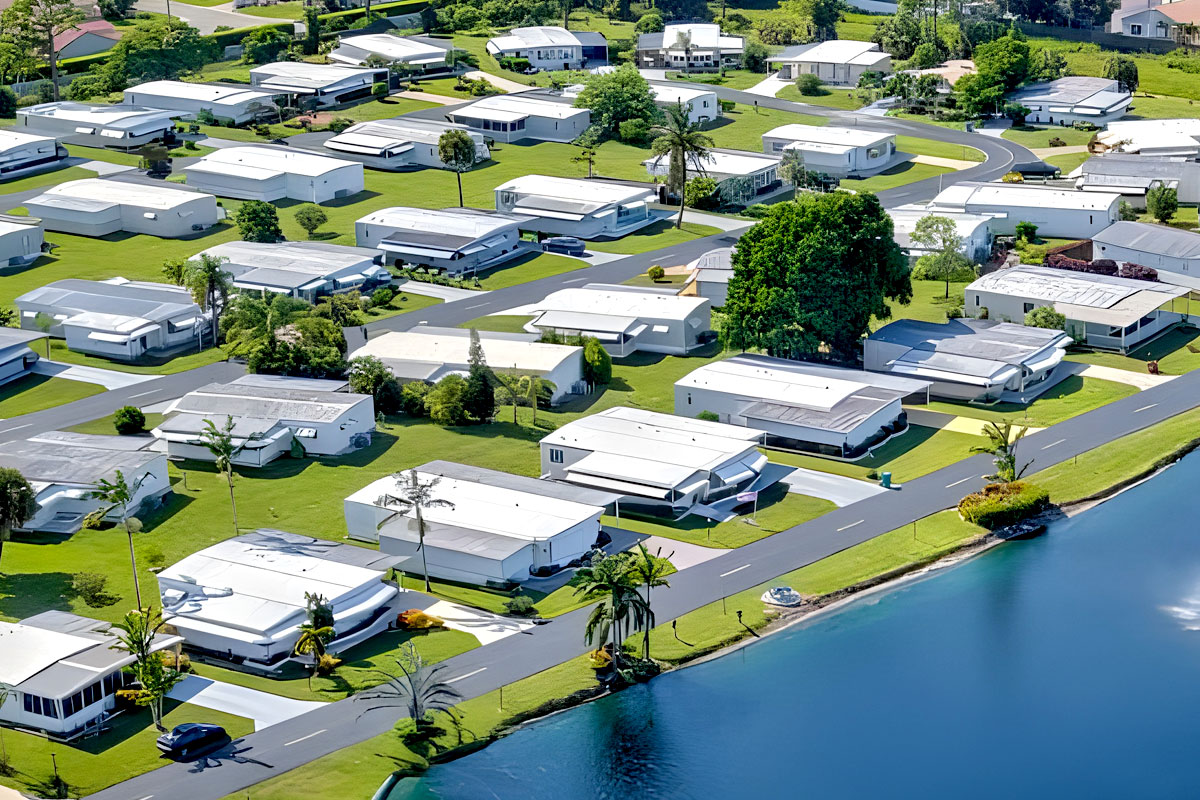 What is a Senior Mobile Home Park?
Ever wonder what a senior mobile home park is all about? Well, let's pull back the curtain on this unique living option that's gaining momentum among today's retirees.
First, a senior mobile home park isn't just any mobile home park. It's specifically for folks aged 55 and up. Now, that doesn't mean you'll find only octogenarians there. In fact, many residents are active, lively, and enjoying the prime of their retirement years.
So, what's the layout? Imagine a welcoming neighborhood of mobile homes—your house, your neighbor's house, all arranged nicely, with walking paths, community spaces, and maybe even a pool or clubhouse. Each house sits on its own lot, but don't worry about mowing that lawn or shoveling snow. Most parks include maintenance in their fees.
Within these parks, you'll find various homes to suit different needs. Some are compact and cozy, perfect for the minimalist at heart. Others are more spacious, with room for visiting family or a home office. And many come with fun features like a porch for those lazy afternoon reads or a carport for your vehicle.
But a senior mobile home park isn't just about the houses—it's about the people and the community. Picture potluck dinners, morning walks with neighbors, and weekend bingo nights. Imagine knowing your neighbors by name and having a group of friends ready for an impromptu coffee chat or a planned movie night. That's the kind of camaraderie you'll find in these parks.
In essence, a senior mobile home park combines the best of both worlds: the independence and privacy of having your own home with the support and friendship of a close-knit community.
The Benefits of Living in a Senior Mobile Home Park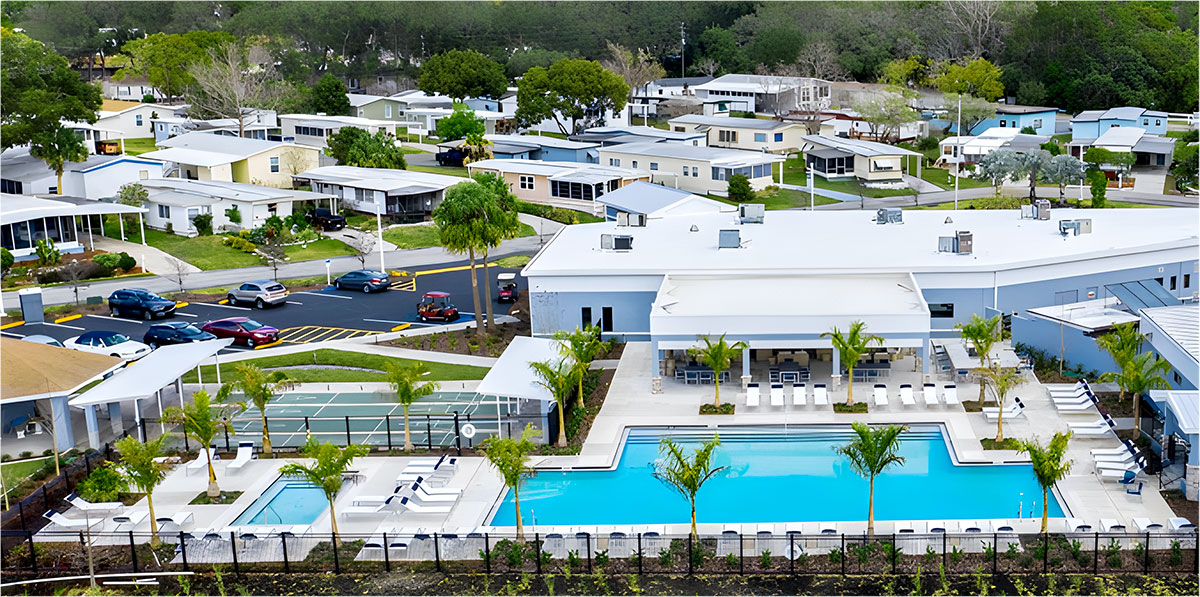 Now that we've got a handle on what a senior mobile home park is let's talk about why you might want to live in one. Grab a cup of tea or coffee because things get interesting here!
Let's start with affordability. Many folks eyeing retirement living options might balk at the sky-high prices of traditional retirement communities. But in a mobile home park, your dollar stretches further. You get a comfortable, attractive home for a fraction of the cost of a typical house or condo. And let's not forget the lower property taxes, utilities, and maintenance costs. It's like a retirement discount—without skimping on lifestyle.
Next up, we have the magic word: community. Living in a senior mobile home park is like joining a club where everyone's on the same wavelength. You'll find like-minded folks who value their independence and appreciate shared activities' joys, from potluck dinners to book clubs. You might move in for the house but stay for the friendships.
Accessibility and Convenience
Accessibility is another feather in the cap of mobile home parks. Most parks are thoughtfully designed with seniors in mind, with nearby amenities and services. Think on-site laundry facilities, fitness centers, and sometimes healthcare services. Plus, many parks are near towns and cities, so you're just a short hop from shopping, dining, and cultural events.
One of the most attractive features is the flexibility of the mobile lifestyle. Want to swap your three-bedroom for a cozier one-bedroom home? It's doable. Need to move closer to family? You can often move your mobile home to a park in a different location.
On-site Amenities and Services
Last but not least, we have to mention the amenities. Many parks offer on-site features like swimming pools, golf courses, walking trails, and more. It's like having your very own resort right at your doorstep!
In a nutshell, senior mobile home parks are a bundle of benefits: affordable, friendly, convenient, flexible, and fun. They offer a unique retirement lifestyle worth considering, even if it's a bit off the beaten path.
Potential Drawbacks of Senior Mobile Home Parks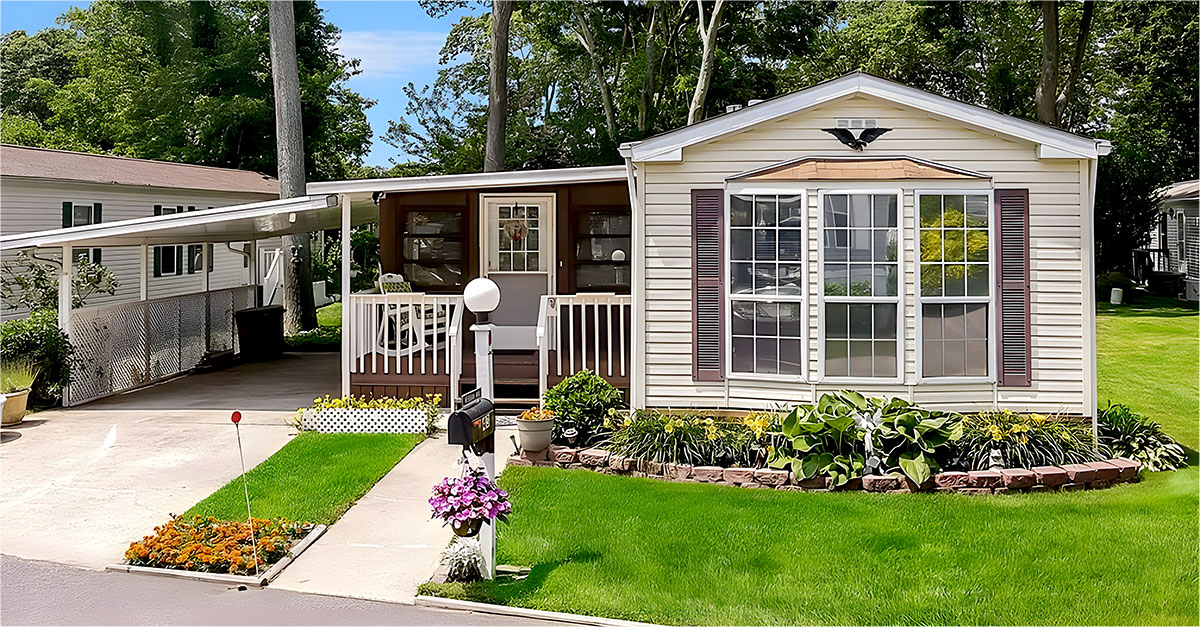 Let's be honest. No place is perfect, and mobile home parks are no exception. Just like any housing option, they come with their own set of potential drawbacks. It's crucial to weigh these against the benefits to make an informed decision. So, let's dive into the less rosy side of mobile home park living.
The biggie here is the potential for increasing lot rents. Remember how we mentioned land-lease parks where you own the home but rent the land? Well, sometimes, that lot rent can creep up over time. It's something to be aware of as you budget for retirement.
Limited Appreciation of Home Value
Another concern is the limited appreciation of home value. Unlike traditional homes, mobile homes may not increase in value over time. In some cases, they might even depreciate. If you plan to stay put, this might not be an issue, but it's worth considering if you're looking at your home as an investment.
Then, there are the possible rules and restrictions. Mobile home parks often have rules about pets, parking, and paint colors. For some folks, these rules help maintain the look and feel of the community. But if you're free-spirited, you might find them a tad restrictive.
Now, before you get cold feet, let's consider these drawbacks. Yes, they're real, but they're also manageable. It's all about finding a park that's a good fit for you—one with reasonable lot rents, a good track record of home value, and rules that align with your lifestyle. And remember, every housing option comes with its trade-offs.
How to Choose A Senior Mobile Home Park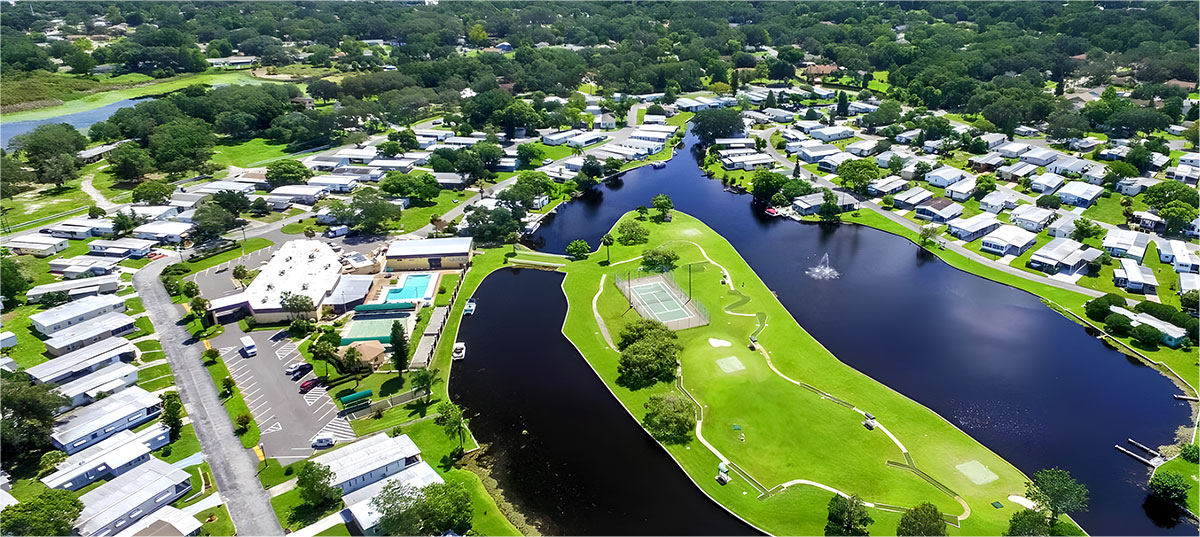 Source: Summerlochgreen
Alright, so you're intrigued by the idea of living in a senior mobile home park. Now comes the fun part—finding the park that fits you like a glove. Just as in real estate, it's all about location, location, location—and a few other important factors!
First up, you'll want to consider the location. Are you a beach bum, a mountain enthusiast, or a city lover? Your preferred setting will guide your search. Also, consider proximity to family, healthcare facilities, shopping centers, and other amenities. Remember, your home isn't just your house—it's also the town or city where it's located.
Park Rules and Regulations
Now, let's talk about the park rules. Every park has its own set of guidelines, and you'll want to ensure they gel with your lifestyle. Are pets allowed? What about visitors? How about those late-night music sessions you love so much? Make sure to get a copy of the park's rules and review them carefully.
Amenities and Services Offered
Next up: the amenities. Take a good look at what each park offers. Some parks have clubhouses, swimming pools, fitness centers, and golf courses. Others might offer community gardens, walking paths, or arts and crafts rooms. Consider what amenities matter to you, and prioritize parks that offer them.
Assessing Community Culture
Community culture is also crucial. If possible, visit the park to get a feel for the vibe. Are neighbors friendly? Is there a sense of community? Do people seem active and engaged? You might even chat with some residents to get their insider's perspective.
Lastly, don't forget about security. Check if the park has security measures like gated access, security patrols, or a neighborhood watch program. After all, you want to feel safe and secure in your new home.
Choosing a suitable park is more than just ticking boxes—it's about finding a place that feels like home and a community where you can thrive in retirement. So, take your time, research, and trust your gut. The right park is out there, waiting for you to call it home.
Legal Aspects of Mobile Home Park Living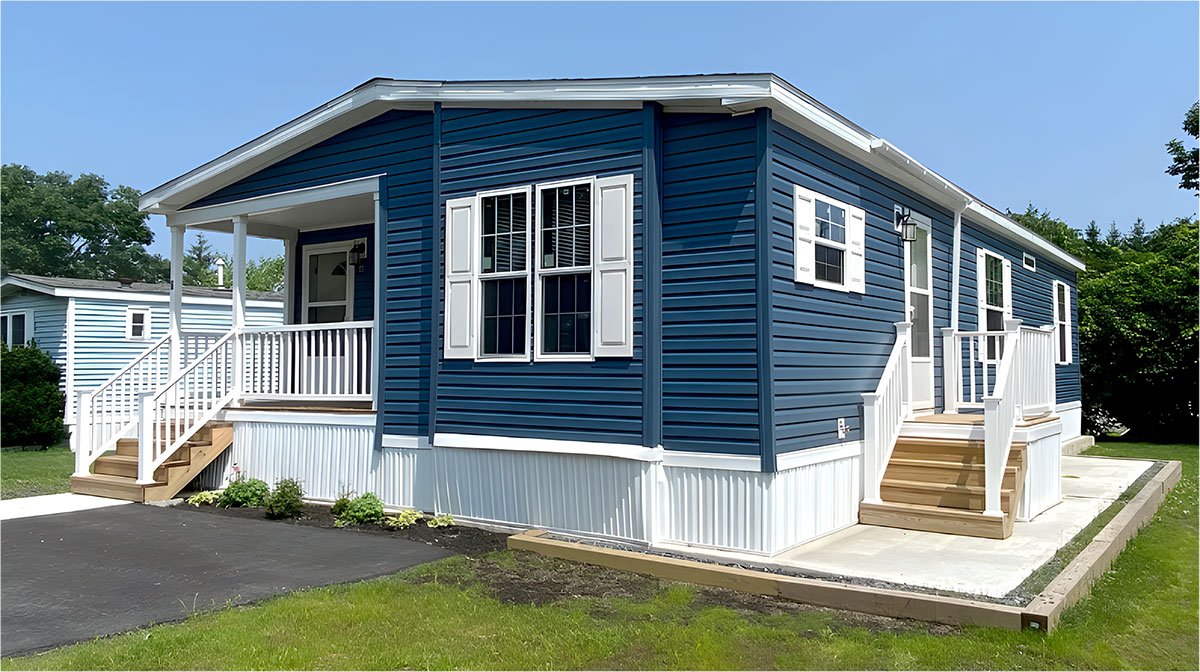 Hold onto your hats, folks, because we're about to dive into the thrilling world of legalese. Okay, legal jargon may not be everyone's cup of tea. Still, a little legal knowledge regarding mobile home park living can go a long way.
First, let's talk ownership. With a mobile home, you own the house—but you might not own the land it sits on. That's the case in what's called a "land-lease" community. This arrangement means you pay monthly rent for your lot. While this can make the initial cost of moving in more affordable, it also means you'll want to pay close attention to the terms of your lease agreement.
Speaking of lease agreements, you'll want to read it with a fine-toothed comb. It will outline important details like rent increases, utility costs, and the park's rules and regulations. Don't be shy about asking questions if something isn't clear. After all, this document will play a significant role in your day-to-day life in the park.
Now, let's touch on the laws that protect mobile home owners. While these can vary from state to state, many places have laws protecting mobile home park residents. These might cover issues like eviction, rent increases, and park closures. A local attorney or housing counselor can help you understand the laws in your area.
Lastly, remember that buying a mobile home might involve different legal steps than buying a traditional home. For example, you might purchase from a dealer rather than a previous homeowner. Your home might be considered personal property rather than real estate. It's essential to understand these differences as you navigate the buying process.
The Process of Buying a Mobile Home in a Senior Park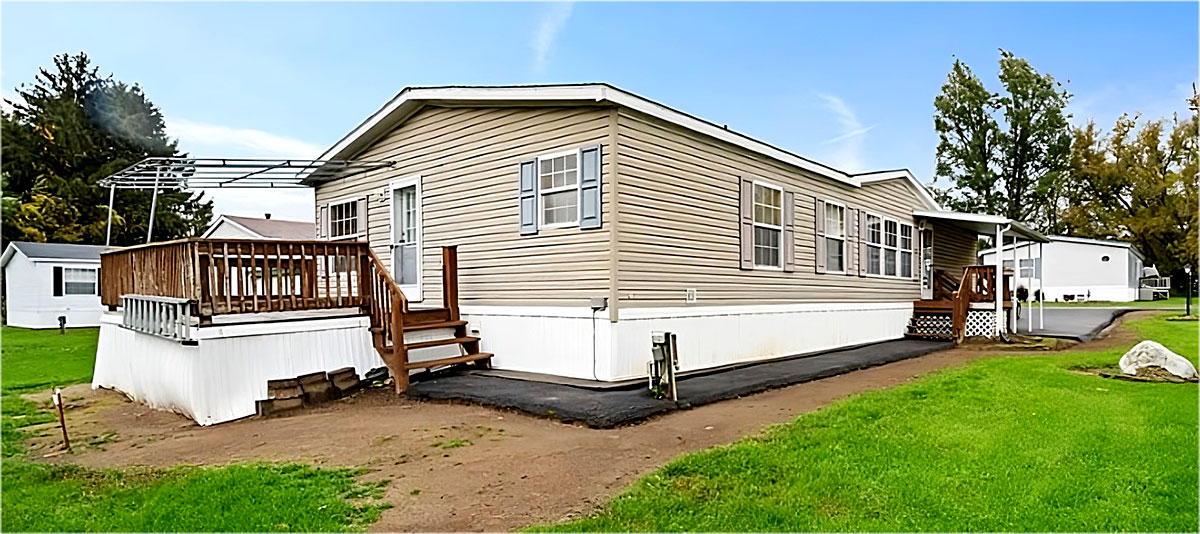 Let's embark on an exciting journey through the process of buying a mobile home in a senior park. It's a trip filled with budgets, tours, negotiations, and, yes, even some paperwork.
The first stop on this journey is budget-ville. Here, you'll want to think beyond the home's initial price. Consider ongoing costs—lot rent, utilities, maintenance, insurance, and taxes. These all add up, so make sure they fit comfortably within your financial picture.
Choose a mobile home model
Next, we venture into the diverse world of mobile homes. Single-wide, double-wide, even triple-wide, each offers a unique blend of space, comfort, and affordability. Consider what you want in your home. An ensuite bathroom? A roomy kitchen? Maybe a porch for those lazy afternoon siestas?
After that, it's time to hit the road—literally! Tour homes within one park or several. Bring along your sharp eye and your sharper questions. Check out the fixtures, inquire about the roof's age, and ask what's included in the sale.
Once you find "the one," you're ready to negotiate. It's just like buying a traditional home. Make an offer, arrange an inspection, and review any park rules before sealing the deal.
But wait, another crucial stop is getting approved by the park management. They'll want to meet you, understand your background, and often conduct a check on your credit and rental history, possibly even criminal records. It's their way of keeping the community safe and harmonious. While it may feel like a hoop to jump through, it's a sign of a well-managed park. This step can take some time, so be prepared to wait while the park management does their due diligence.
Finally, once you've navigated all these steps, you've arrived at the most exciting destination: move-in day! Now, you can start living the dream in your new home.
Mobile Home Park Costs

What's the actual cost of living in a senior mobile home park? Especially in a sunny spot like Florida? Let's dive into the nitty-gritty of it all. We'll break down everything from home prices to amenity costs, so grab your calculator and let's get started!
First up, the mobile homes themselves. You'll find two main types: single-wide and double-wide.
Perfectly compact, single-wide homes are the epitome of cozy living. In Florida, you can expect to pay between $20,000 to $100,000 for one of these snug abodes. The range is wide, depending on the home's age, condition, and location within the park.
Need more room to stretch out? Double-wide homes offer more space and feel more like a traditional home. In Florida, these bigger options will set you back anywhere between $50,000 to $200,000, depending on similar factors as the single-wide homes.
Now, let's chat about lot rent. This is a monthly cost, and it covers your right to occupy the plot of land where your mobile home sits. Depending on the park's location and amenities, this can vary widely in Florida, from $300 to over $1,000 monthly.
Speaking of amenities, they're a big part of what makes mobile home park living so appealing. But remember, more luxury often means more dough. For example, in a park offering basic amenities like a community center and a swimming pool, your lot rent will likely be lower. But suppose you're dreaming of shuffleboard courts, golf courses, fitness centers, and private beach access. You'll likely look at a higher monthly lot rent in that case.
And don't forget about the little extras. Think about utility costs, which can vary based on the size of your home, and maintenance costs, which can add up, especially as your home ages.
55+ Mobile Home Communities in Florida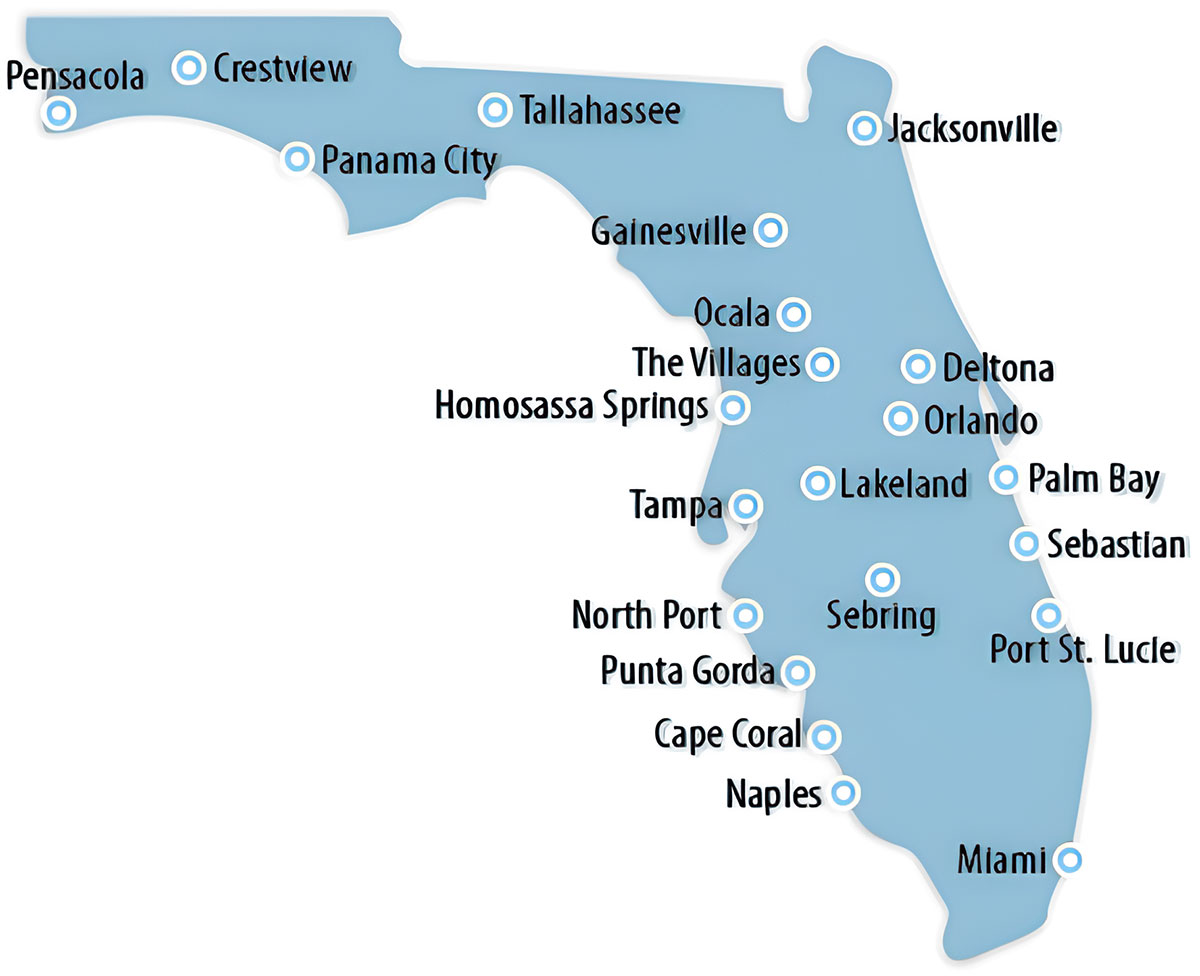 Imagine this: sipping your morning coffee as you watch the sunrise over palm trees. You're steps away from the beach and never far from a friendly golf game. Florida's mobile home parks are as diverse as its wildlife—there's a perfect spot for every retiree. Here is the list of 55 plus manufactured/mobile home communities in Florida:
| | | |
| --- | --- | --- |
| | | |
| | 2600 Harden Blvd, Lakeland, FL 33803 | |
| | 4290 Royal Manor Blvd. Boynton Beach, FL 33436 | |
| | 200 South Banana River Drive, Merritt Island, Florida 32952 | |
| | 999 Mango Dr Casselberry, FL 32707 | |
| | 19709 US Highway 19 N, Clearwater, FL 33764 | |
| | 11222 Crescent Lake Dr, Riverview, FL 33578 | |
| | 8001 Jeffrey Drive - Sarasota, FL 34238 | |
| | 6200 99th Street, Sebastian, FL 32958 | |
| | 12100 Seminole Blvd. Largo, FL 33778 | |
| | 2419 Gulf To Bay Blvd - Lot# 208 Clearwater, FL 33765 | |
| | 1500 County Road 1, Dunedin, Florida 34698 | |
| | 10808 U.S. 98 • Dade City, FL 33525 | |
| | 28 Colby Court, Naples, Florida | |
| | 39248 US 19 North, Tarpon Springs, FL 34689 | |
| | 750 12th Street, Lot #85, Vero Beach, Florida 32960 | |
| | 500 Lantern Blvd Melbourne FL 32934 | |
| | 15235 S Tamiami Trail, Fort Myers, FL 33908 | |
| | 4337 Hamlin Way, Wimauma, FL 33598 | |
| | 4658 Whispering Pines Blvd, Kissimmee, FL 34758 | |
| | 3651 US HWY 27 South, Sebring, Florida 33870 | |
| | 5700 Camelot Lakes Pkwy, Sarasota, FL 34233 | |
| | 15711 Shoreline Blvd, North Fort Myers, FL 33917 | |
| | 4700 Foxwood Blvd., Lakeland, FL 33810 | |
| | 7020 Captain Kidd Avenue - Sarasota, FL 34231 | |
| | 3301 Alt. 19N, Lot 119 Dunedin, FL 34698 | |
| | 4820 West Oakridge Road, Orlando, FL 32809 | |
| | 2550 Florida 580Clearwater, FL 33761 | |
| | 825 Sunbird Terrace, Sebring, FL 33872 | |
| | 215 Rio Villa Drive, Punta Gorda, Florida 33950 | |
| | 3318 Orange Street, Hollywood, FL 33021 | |
| | 3223 N. Lockwood Ridge Road, Sarasota, FL 34234 | |
| | 5200 28th Street North St. Petersburg, FL 3371 | |
| | 16711 McGregor Blvd, Fort Myers, FL 33908 | |
| | 5644 Regency Blvd. Port Orange, FL 32127 | |
| | 200 Bass Circle Winter Haven, FL 33881 | |
| | 3100 North Road Naples, FL 34104 | |
| | 6200 99th Street, Sebastian, FL 32958 | |
| | 50 Lake Charlotte Drive W. Winter Haven, FL 33880 | |
| | 16A Lake Breeze Drive, Tavares, FL 32778 | |
| | 7306 Osteen Road, New Port Richey, FL 34653 | |
| | 38210 Vinson Avenue • Zephyrhills, FL 33542 | |
| | 4747 North Road 33, Lakeland, FL 33805 | |
| | 2934 Griffinview Drive, Lady Lake, FL 32159 | |
| | 29081 US Highway 19 N, Clearwater, FL 33761 | |
| | 505 Anclote Blvd, Tarpon Springs, FL 34689 | |
| | 1213 W Bohland St, Avon Park, FL 33825 | |
| | 20518 Tahitian Blvd, Estero, FL 33928 | |
| | 1901 SE 58th Ave, Ocala, FL 34480 | |
| | 2730 South A1A Melbourne Beach, FL 32951 | |
| | 154 Hacienda Dr Winter Springs, FL 32708 | |
| | 4505 Old Goldenrod Rd.Orlando, FL 32822 | |
| | 14253 W Colonial Drive, Winter Garden, FL 34787 | |
| | 5112 Travelers Tree Drive New Port Richey, Fl 34653 | |
| | 300 El Prado, North Port, FL 34287 | |
| | 620 57th Avenue West, Bradenton, FL 34207 | |
| | 2101 NE Savanna Road, Jensen Beach, FL 34957 | |
| | 2551 Tohope BlvdKissimmee, FL 34741 | |
| | 1 Imperial Drive, Lakeland, Florida 33815 | |
| | 33399 Water View Lane, Leesburg, FL. 34788 | |
| | 201 Cape Ave, Cocoa, FL 32926 | |
| | 9200 Littleton Rd. North Fort Myers, FL 33903 | |
| | 2380 Chretien Drive, Ormond Beach, Florida 32174 | |
| | 890 Village Drive, Sebring, FL 33872 | |
| | 27110 Jones Loop Road, Punta Gorda, FL 33982 | |
| | 612 53rd Ave West, Bradenton, FL 34207 | |
| | 7111 Gall Boulevard, Zephyrhills, FL 33541 | |
| | 2692 FL-70, Arcadia, FL 34266 | |
| | 701 Aqui Esta Drive, Punta Gorda, Florida 33950 | |
Conclusion
Where you decide to retire, which mobile home park you choose, and the lifestyle you adopt are all pieces of the unique puzzle of your retirement. Ultimately, the most important thing is that your retirement years be filled with joy, peace, and fulfillment. And a 55+ mobile home park could provide the setting for this new, exciting chapter of your life. So, here's to new beginnings and finding the perfect place to call home. Until next time, happy planning!