10 Top Double Wide Mobile Home Front Porch Designs
Adding a front porch to your double-wide mobile home provides more than an outdoor oasis. It's a game-changer. First, let's talk about curb appeal. A porch adds character and charm, transforming your home into the neighborhood's eye candy. It's like dressing your home in its Sunday best every day of the week!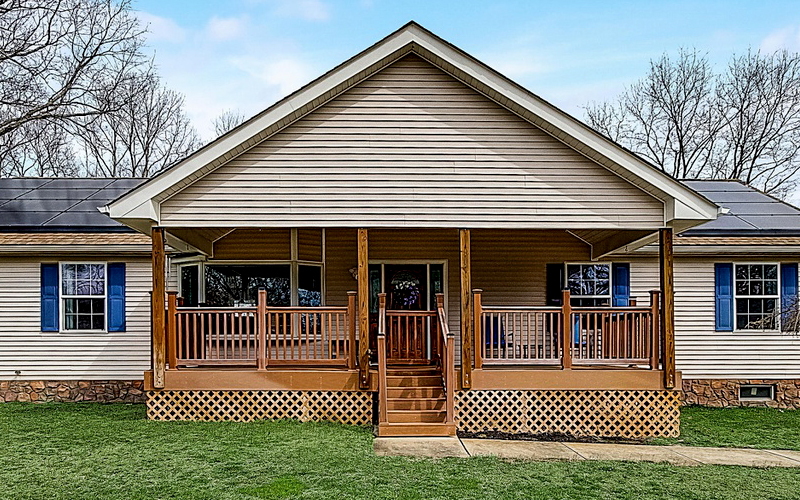 But it's not just about looks. This porch of yours? It's about to become the go-to spot for family gatherings and summer barbecues. It's where memories are made, from lazy afternoons with a good book to evenings under the stars. So, are you ready to transform your mobile home with a front porch? Let's dive in!
10 Front Porch Designs for Double-Wide Mobile Homes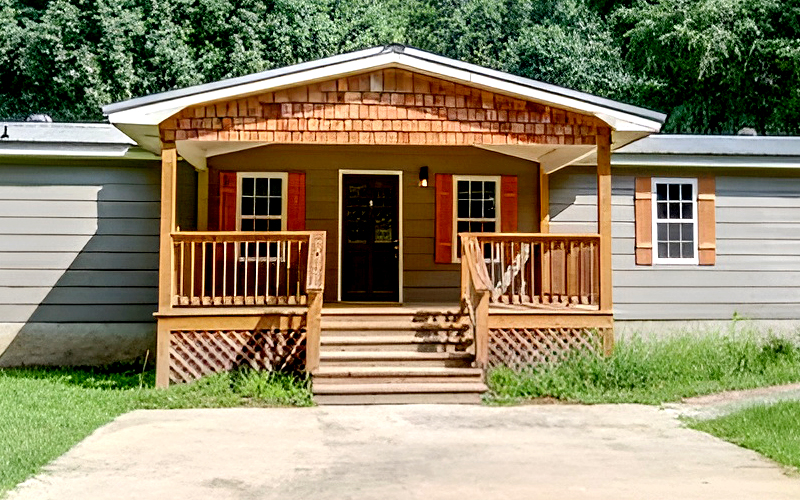 As the name suggests, double-wide mobile homes are typically twice as wide as single mobile homes. With the added square footage, these homes often have room for enhancements like a front porch. The porch itself can take on a variety of designs. It can be a simple, open-air structure for enjoying nice weather or a more complex design. Here are a few design ideas:
1. Traditional Covered Porch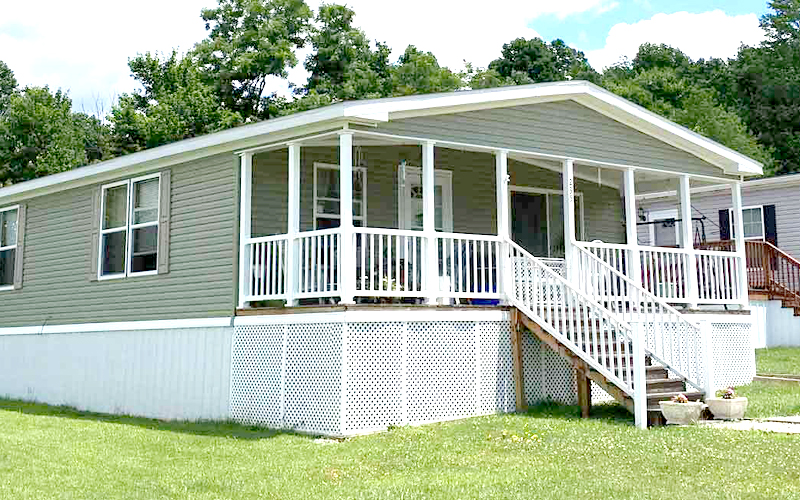 Ready to take a walk down the classic lane? The Traditional Covered Porch is a timeless pick, and it's easy to see why. Let's dive right in!
Picture this: Your double-wide mobile home boasting a porch stretching from one end to another. That's the beauty of a traditional covered porch – it spans the whole width. It's like adding an extra room to your home but with a refreshing breeze and a front-row seat to the sunrise.
But it's not just about looks. It's about function, too. The roof? It does more than shield you from summer heatwaves or spontaneous showers. It adds a cozy touch, making your porch the go-to spot for morning coffees or evening reads. Plus, it protects your front door from weather damage. Talk about a win-win!
Now, let's talk materials. You'll want something sturdy and durable, like pressure-treated lumber. Whether holding up your porch or dealing with the elements, it's up for the task. For the roof, match it with your mobile home's roof – it's all about that seamless look. And don't forget the railings. Wood, vinyl, metal – choose what sings to your style.
2. Farmhouse-Style Porch
A farmhouse-style porch can bring that rustic charm to your double-wide mobile home. Also, it spans your home's width and might even wrap around the sides. Picture yourself enjoying a sunset from various angles – now that's luxury!
Functionality meets style in this design. It's more than just a porch; it's an outdoor living room. It's your canvas for rocking chairs, a porch swing, or even a farmhouse-style table for outdoor dinners.
For materials, pressure-treated lumber is your best friend. It's sturdy and gives that authentic farmhouse feel. And the roof? Consider going metal for that rustic touch. Your railings could be simple wooden, or get creative with planter boxes or a half-wall
Design tips: This porch is all about the rustic aesthetic. Think natural wood finishes, barn-style lights, and vintage signs. You can almost smell the fresh country air already, can't you?
3. Wrap-Around Porch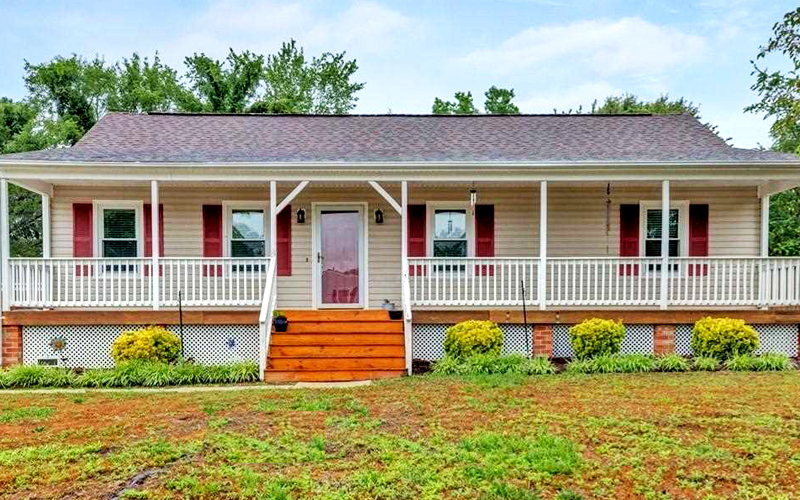 With a wrap-around porch, you get a 360-degree view of your surroundings. Sunrise in the front, sunset on the side – you won't miss a moment of nature's beauty. It's like having front-row seats to the best show in town at your doorstep.
But a wrap-around porch isn't just a pretty face. It's a versatile space, ready for anything you throw at it. Morning yoga sessions? Check. Weekend BBQs? Absolutely. Quiet nights under the stars? You bet.
Design tips: Go sleek and modern with minimalist furniture and metal railings. Or embrace a country vibe with wooden rocking chairs and potted plants. It's your porch – make it uniquely yours!
4. Screened-In Porch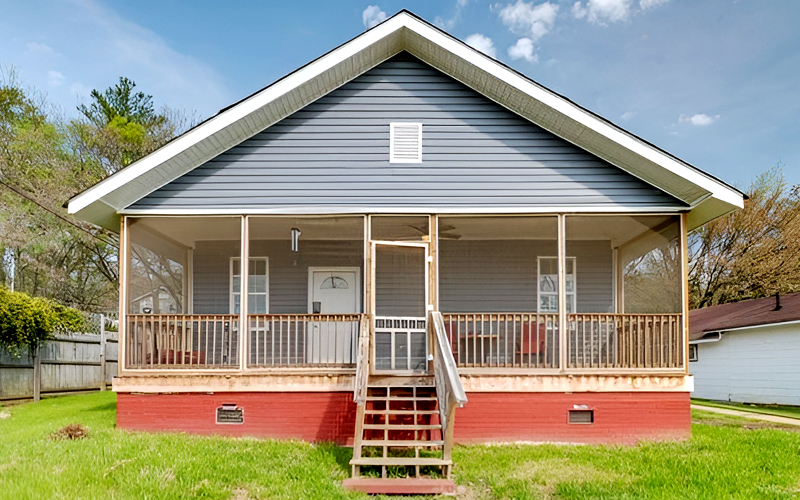 Have you ever wished for a magic shield against bugs during your outdoor time? A screened-in porch might be your answer! It's the perfect way to enjoy the outdoors, minus the pesky insects. Let's dive into the specifics.
The screened-in porch is a beauty. Imagine your mobile home sporting a porch covered and lined with screens. It's your little fortress, letting in the breeze but keeping out the bugs. Smart, right?
The perks don't stop there. With a screened-in porch, you're always ready to enjoy the outdoors, rain or shine. It's the perfect place for a comfy reading nook, a cozy dining area, or even a small play area for the kids. All with a great view and zero bug bites.
When it comes to materials, you're going to need sturdy screens, along with pressure-treated lumber for the deck and framework. As for the roof, keep it in line with the rest of your mobile home for a seamless look. And don't forget about the door – you'll need an easy way to get in and out!
Design tips: A screened-in porch can match your style, whether modern, rustic, or anything in between. You can dress it up with comfy outdoor furniture, hang up fairy lights, or even install a ceiling fan for those extra-hot days.
5. Pergola-Covered Porch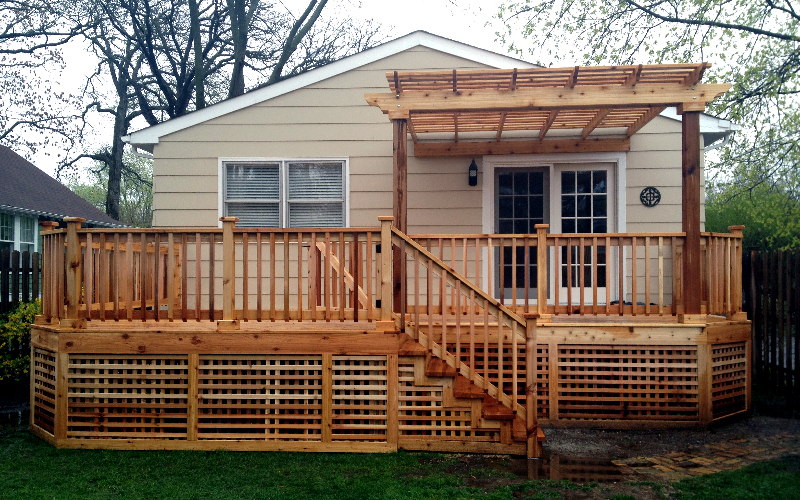 Ready for a dash of Mediterranean vibes on your double-wide mobile home? Let's introduce you to the Pergola-Covered Porch. It's not just a porch. It's a statement.
First off, let's paint a picture. Imagine stepping out of your home onto a wooden deck, looking up, and seeing a beautiful wooden structure overhead. That's your pergola – an open-roof framework that adds an architectural wow factor to your outdoor space.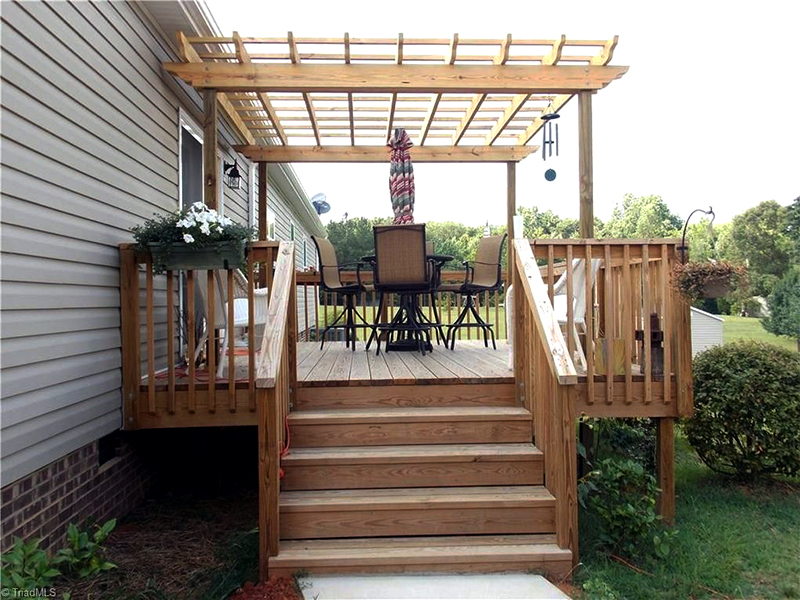 The beauty of a pergola-covered porch is that it's as functional as stylish. It offers partial shade, making it the perfect spot for a sunny but comfortable outdoor brunch or evening gatherings under the twinkling stars. And with some climbing plants? You'll have your very own secret garden.
Design tips: Think Mediterranean meets modern. Fresh white paint on the pergola, some comfy outdoor furniture, maybe a hammock or two. Add hanging planters or fairy lights to create a chic outdoor space.
6. Multi-Level Porch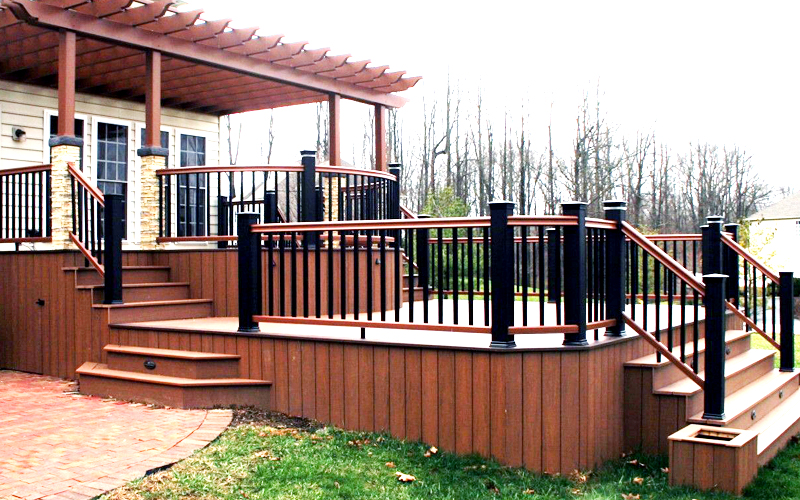 Ready to level up your porch game? Literally! Let's talk about a multi-level porch. It's not just a porch – it's a two (or even three!) tiered outdoor extravaganza.
Imagine this – you step outside your mobile home onto a beautiful deck. Then, you notice another set of steps leading up to a second deck, giving you a raised view of your surroundings. Sounds like a dream, right?
A multi-level porch isn't just about the wow factor. It's also a smart way to maximize your outdoor space. The lower level could be a cozy lounge area, while the upper deck could be your dining or BBQ spot. It's like having multiple rooms with fresh air and endless sky.
Design tips: The possibilities are endless. Each level can have a theme – maybe a tropical vibe on the lower deck and a rustic retreat on the upper one. And don't forget the railings for each level. They're not just safety features – they're design opportunities!
7. Contemporary Minimalist Porch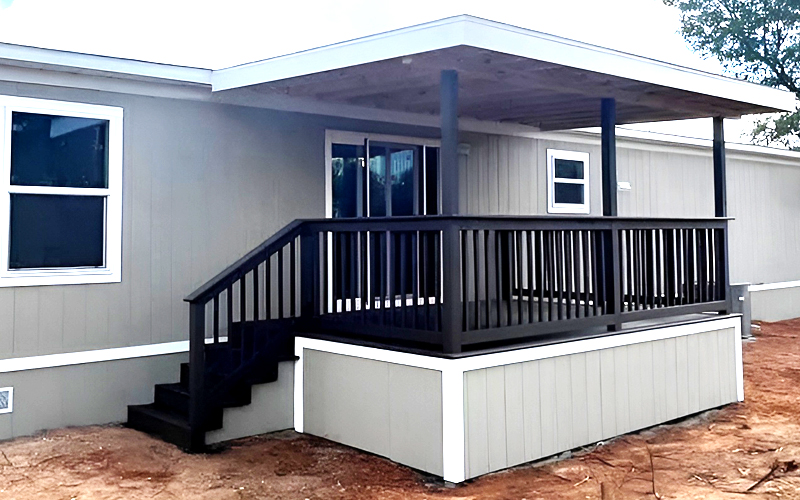 Do you dream of clean lines, muted colors, and an uncluttered space? Let's make that dream a reality with a Contemporary Minimalist Porch. It's more than a porch; it's a testament to the beauty of simplicity.
Visualize stepping out of your mobile home onto a sleek, clutter-free deck. The design is streamlined, the colors are neutral, and everything is in place. Ah, the serenity of minimalism!
A minimalist porch isn't just a design choice but a lifestyle. It's about creating a serene space that invites relaxation and calm. It's the perfect spot for a quiet morning coffee, a peaceful afternoon read, or a tranquil evening under the stars.
Design tips: Less is more. Think sleek, modern furniture with simple lines. A neutral color palette – think whites, grays, and natural wood tones. A few well-chosen plants for a touch of green. And remember, clutter is a no-no. Each piece should be functional and intentional.
8. Garden Porch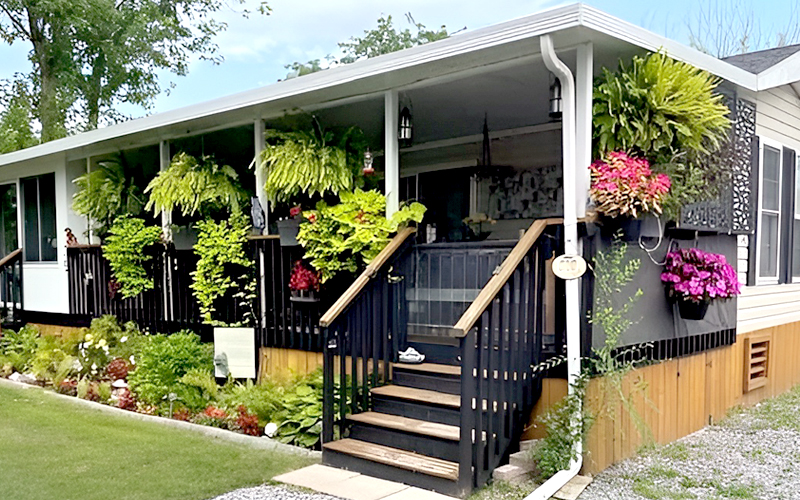 Are you a nature lover at heart? Do you dream of being surrounded by lush greenery and colorful blooms? Let's make your dream come true with a Garden Porch. It's not just a porch; it's your personal Eden.
Imagine this – you step out of your mobile home onto a wooden deck, and a riot of colors greets you. Plants of all shapes and sizes line the porch, their leaves rustling in the breeze. It's like stepping into a garden, but it's your porch!
A garden porch isn't just pretty; it's a haven. It's your private retreat where you can enjoy the beauty of nature without stepping out of your home. It's perfect for a peaceful morning tea, a quiet afternoon read, or an evening under the starlit sky amidst your floral friends.
Design tips: A garden porch is all about the plants. You can opt for a wild, cottage-garden style with overflowing planters. Or go for a sleek, modern look with structured plant beds. You could even add a trellis for climbing plants or incorporate a small water feature for that extra touch of tranquility.
9. Sunroom Porch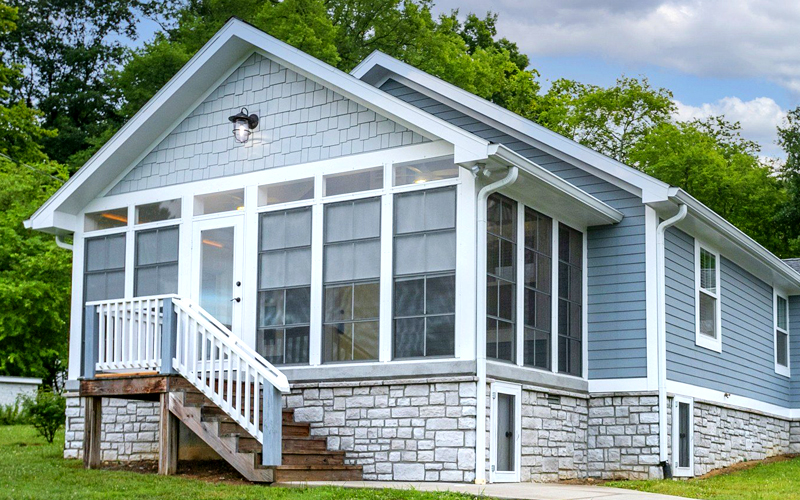 Have you ever dreamed of a space where you can enjoy the outdoors without being outside? Well, dream no more. Let's introduce you to the Sunroom Porch. It's not just a porch. It's a year-round paradise.
Imagine stepping out of your mobile home into a room bathed in natural light. You're surrounded by windows, giving you a panoramic view of your surroundings. It's as if you're outside, minus the bugs and weather changes. Pretty impressive, right?
A sunroom porch isn't just a fancy addition but your four-season haven. It's the perfect spot to enjoy a sunlit breakfast in the summer, watch the leaves change in the fall, stay cozy in the winter, and welcome the blossoming flowers in the spring.
Design tips: Consider your sunroom porch an extension of your living space. Comfortable furniture, a cozy rug, and indoor plants will make it feel welcoming. You can choose a modern look with large, clear windows or a more traditional style with small panes.
10. Bungalow Style Porch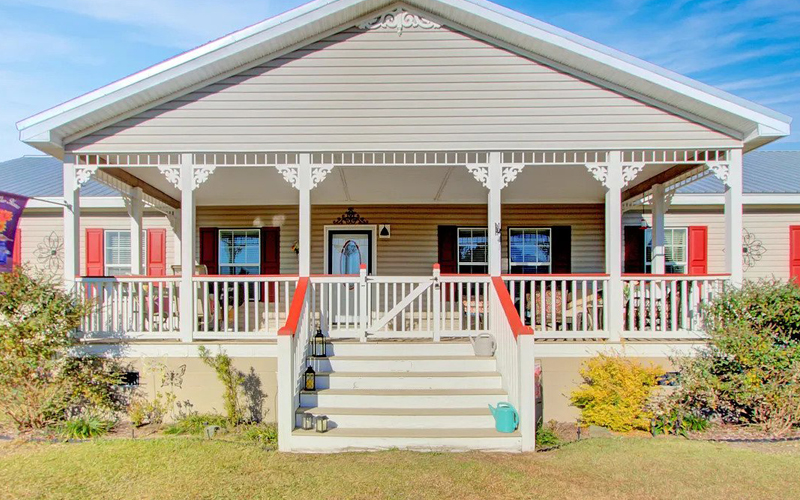 The Bungalow Style Porch is not just a porch but a throwback to simpler, cozier times. It looks like you step out of your mobile home onto a wide, welcoming porch. There's a sturdy wooden railing, a pitched roof overhead, and maybe even a swing or two. It's quaint, it's cozy, and it's straight out of a storybook.
A bungalow-style porch isn't just a design statement but a lifestyle choice. It's about embracing the charm and comfort of yesteryears and creating a space perfect for relaxation, conversation, and enjoying the slower pace of life.
Design tips: A bungalow porch is all about simplicity and comfort. Think sturdy wooden railings, comfortable outdoor furniture, and warm, inviting colors. The roof should match the style and color of your mobile home, creating a seamless look.
Things to Consider Before Building a Front Porch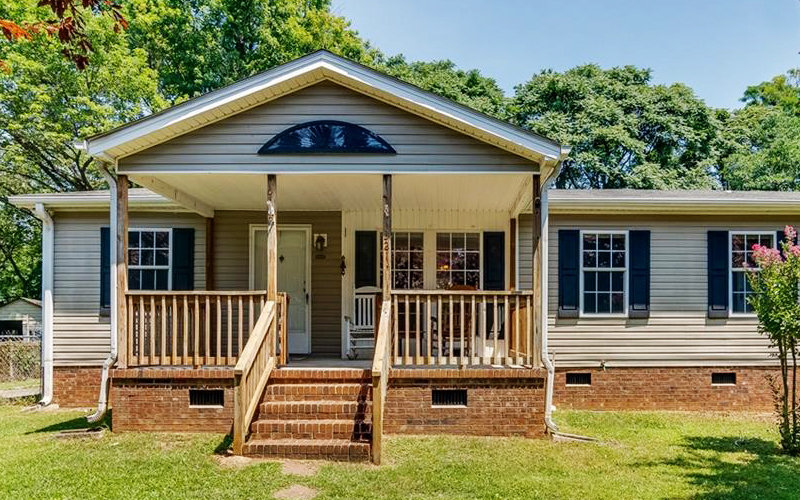 When building a front porch on your double-wide mobile home, you need to consider a few things:
First off, let's talk about the big P – permits. Yes, it's not the most exciting part, but it's essential. You'll need to check with your local building department to see what permits are required. Different areas have different codes and regulations, so getting this step right is crucial. Trust us; you don't want to build a beautiful porch only to find out it's not up to code.
Next up, consider your budget. Remember, a porch isn't just about the cost of materials. You'll also need to factor in labor costs if hiring a contractor. And don't forget about those hidden costs – like tools and screws.
Now, let's get to the fun part – design! What do you want your porch to look like? Do you dream of a cozy bungalow-style porch or a sleek, modern sunroom? Your design will influence the materials you need and the overall cost. It's also a good idea to consider how you want to use your porch. A quiet reading nook might require different design elements than an outdoor dining space.
Don't forget about the materials. They need to be durable to withstand the elements and match the style of your mobile home. Pressure-treated lumber? Composite decking? The choices can be overwhelming, but think about what will work best for your design and climate.
Lastly, consider the construction process. If you're a DIY whiz, you might be ready to roll up your sleeves and get to work. But if power tools aren't your thing, you might want to hire a contractor. Either way, ensure you have a solid plan in place before you start building.
How to Build a Front Porch on a Double-Wide Mobile Home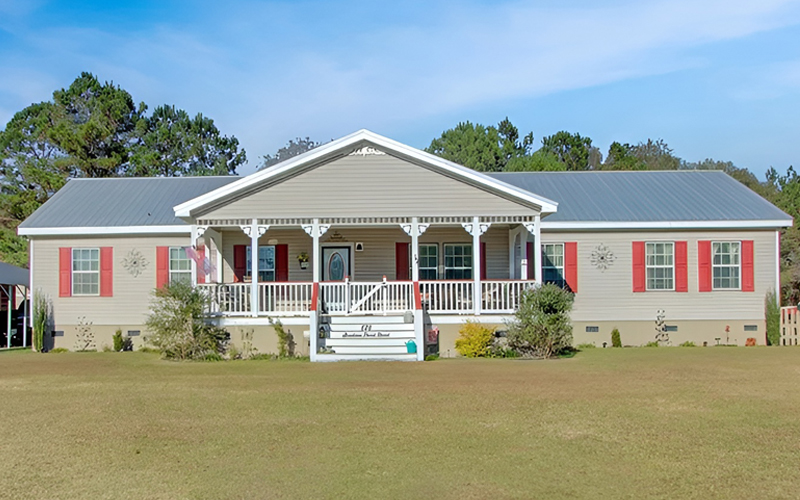 Building a front porch on a double-wide mobile home involves several steps. Here's an essential step-by-step guide to help you understand the process:
Tools and Materials
Gather all the necessary tools and materials. You'll need measuring tape, hammer, saw, drill, screws, nails, lumber, concrete, and paint or stain.
Step 1: Plan Your Porch
Start with a clear plan. Determine the size, shape, and location of your porch. Decide on materials and create a detailed blueprint. Consider factors like aesthetics, functionality, and safety.
Step 2: Prepare the Construction Site
Clear where you plan to build your porch. Remove any debris and make sure the ground is level. Mark out the dimensions of your porch on the ground using stakes and string.
Step 3: Build the Porch Foundation
Dig holes for the footings at the corners of your porch area and fill them with concrete. Once the concrete is set, install your support posts. Attach a ledger board to the side of your mobile home and build a beam that rests on your support posts.
Step 4: Construct the Front Porch Frame
Install joists from the ledger board to the beam using joist hangers. Add blocking between the joists for extra support. Lay your deck boards perpendicular to the joists, starting from home and working outwards.
Step 5: Add Railings and Stairs
Secure posts to the corners of your deck for the railings, then attach the top and bottom rails. For the stairs, install stringers, then add treads and risers.
Step 6: Finish the Front Porch
Depending on your design, you might add a roof to your porch. You'll also want to paint or stain your porch to protect it from the elements and give it a finished look.
Step 7: Inspect Your Work
Once everything is built, do a final inspection to ensure everything is secure and stable. Ensure all screws and nails are correctly installed, and the porch is level and sturdy.
Remember, this is a general guide. Depending on your specific design, local building codes, and the specifics of your site, the process may vary.
Conclusion
Adding a front porch to your double-wide mobile home is more than a home improvement project. It's about creating a truly your space where you can kick back, relax, and enjoy the great outdoors from the comfort of your home. So whether you dream of a quaint garden porch or a sprawling wrap-around, the sky's the limit. Take the time to plan it right, and choose the suitable materials. Lastly, don't forget the permits and regulations. Thank you for reading!