5 Best Exterior Paints for Mobile Home Aluminum Siding
Imagine pulling up to your mobile home, the aluminum siding gleaming in the sunlight, freshly painted in a color that reflects your style and personality. Exciting, right? But getting that perfect finish isn't just about color choice but also the type of paint you use. Aluminum siding can be tricky to work with, and using the wrong paint could leave you with a lackluster look that chips and fades far too soon. Fear not! We've taken the guesswork out of this project for you.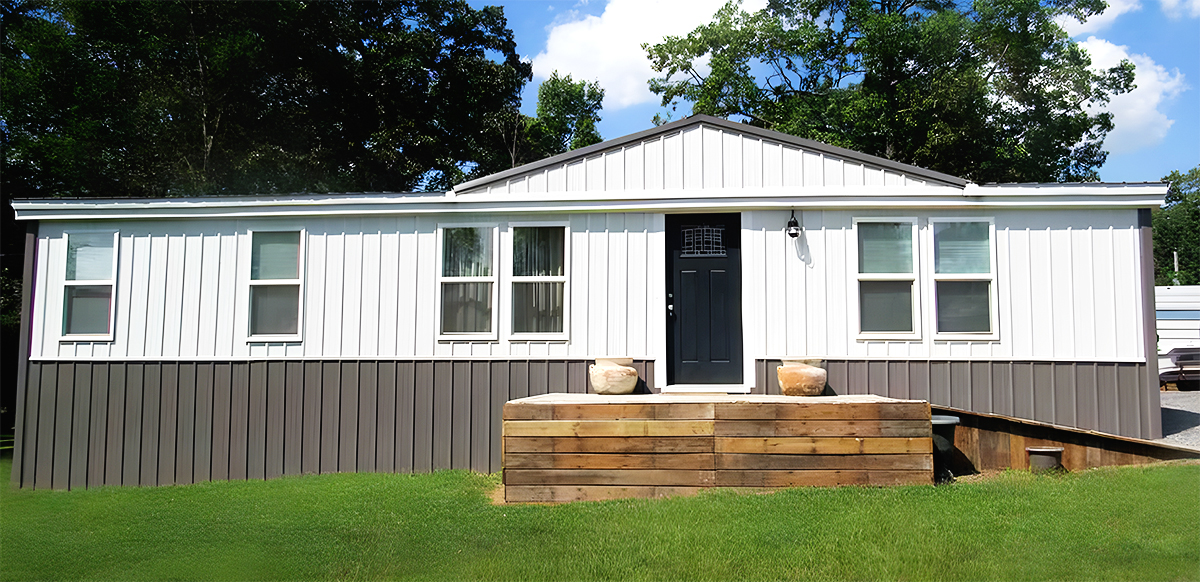 5 Best Exterior Paints for Mobile Home Aluminum Siding
We've carefully researched and selected the top five paints that will give your mobile home's aluminum siding a stunning, durable, and long-lasting finish. So, let's dive in and get that transformation started!
1. Montage Signature Exterior Eco-Friendly Paint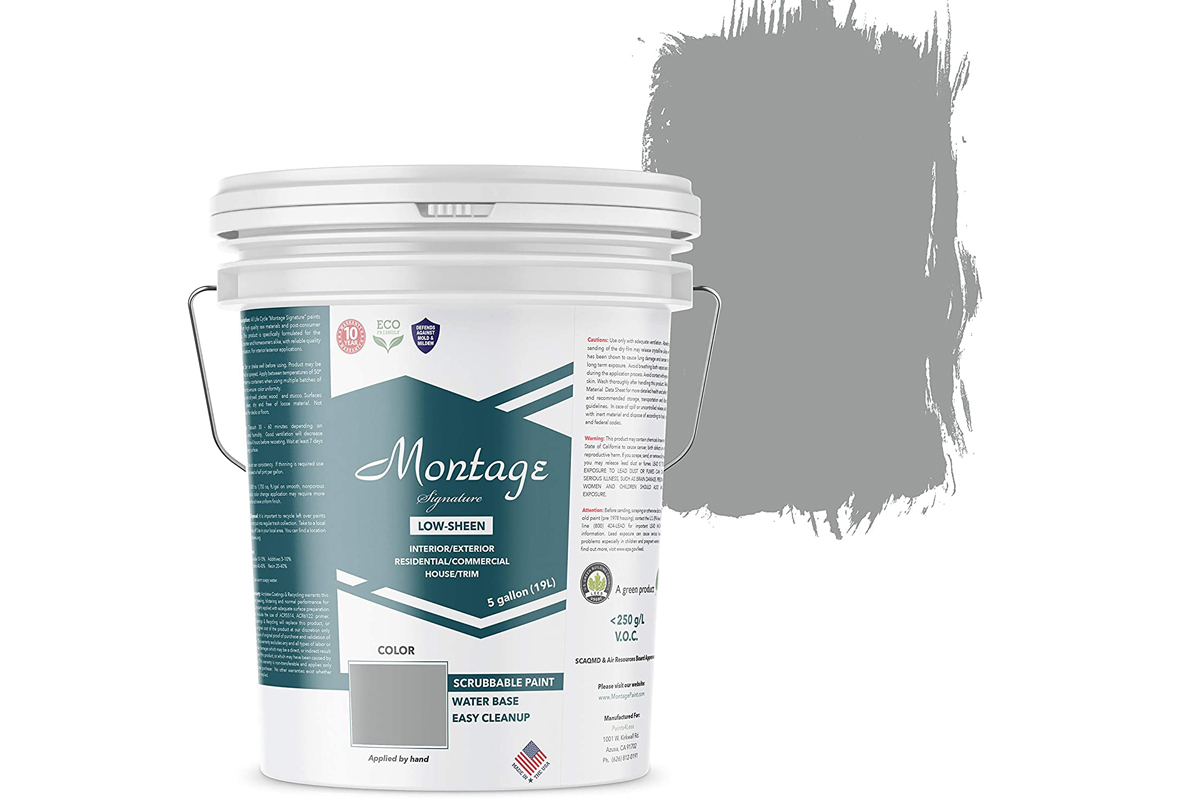 First up on our list is the Montage Signature Exterior Eco-Friendly Paint, a paint that's as good for your home as it is for the environment. This USA-made beauty comes in a whopping 24+ color options. We're talking everything from a soothing beige for a classic look to a vibrant green for those feeling more adventurous. Plus, you can choose from three different finishes – low-sheen, eggshell, and semi-gloss. So, whatever your design vibe, Montage has you covered!
It isn't just a pretty face, though. This paint is a water-based, upcycled paint that stands up to mold and mildew. Perfect for those wet, rainy seasons! But don't worry about cleaning; removing marks from everyday wear is super easy. Your paint job will look as fresh as the day you did it!
The coverage? Oh, it's impressive! One gallon can cover up to 300 sq. ft. You can apply it using a brush, a roller, or a sprayer, depending on what suits you best. And did we mention the 10-year warranty? That's right! Montage stands by the quality of its paint with a decade-long warranty. Now that's what we call confidence in a product!
So, whether you're painting interior walls or exterior aluminum siding, residential or commercial, Montage Signature Paint has covered you and your mobile home (literally!). With this paint, you're not just updating the color of your home. You're also choosing a quality, eco-friendly product that you can trust. Now, isn't that something to feel good about?
2. BEHR PREMIUM Direct-To-Metal Semi-Gloss Paint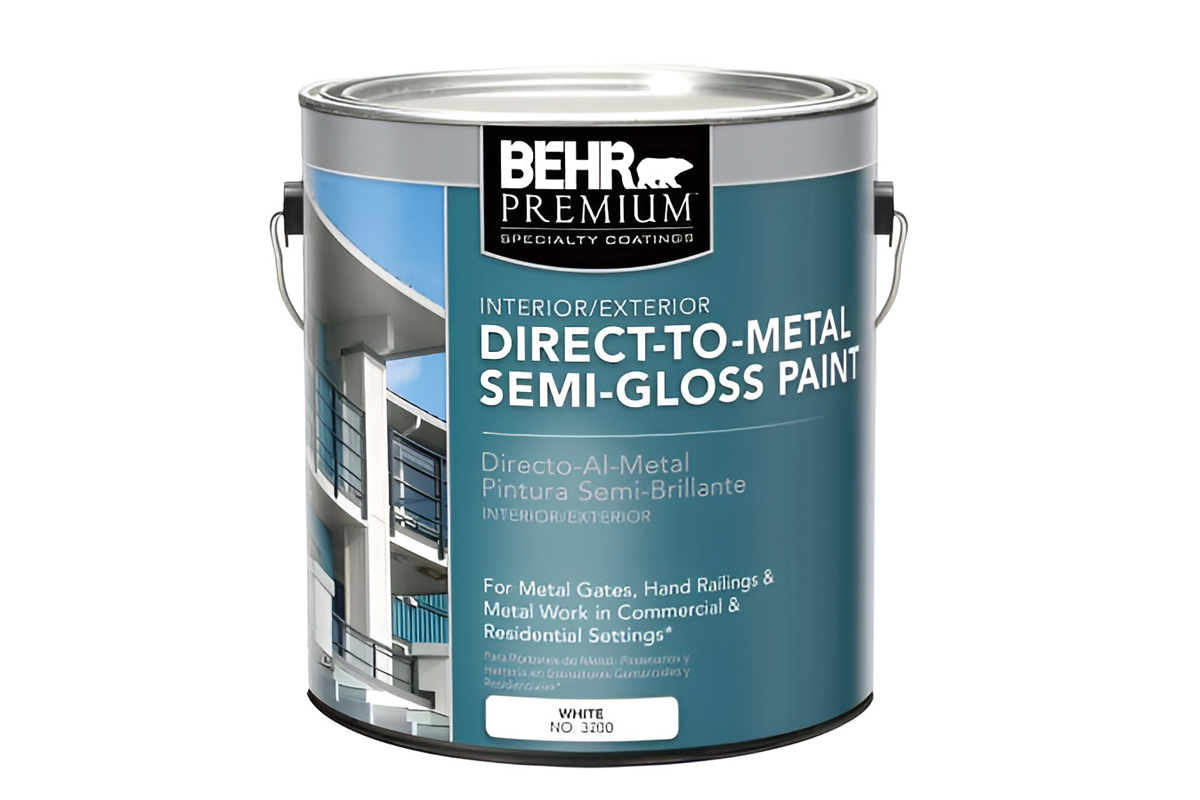 Next up, let's talk about the BEHR PREMIUM Direct-To-Metal Semi-Gloss Paint. This one is all about resilience. As the name suggests, this paint is perfect for going straight onto metal surfaces. So if you're all about efficiency, this could be the one for you!
Now, let's chat about its composition. This paint is 100% acrylic, which, in layman's terms, means it will provide excellent protection against rust and corrosion. We're talking about a sturdy defense against the elements. It's as if this paint is a protective shield for your home!
One of the great things about this paint is its adhesion. It sticks to various adequately prepared or primed surfaces like a charm, whether residential or light commercial metal surfaces. You won't have to worry about it peeling off or looking patchy. It's all about that sleek, uniform finish.
And speaking of finish, this BEHR PREMIUM paint provides a gorgeous semi-gloss finish. It adds a subtle shine that just screams sophistication. Imagine your home gleaming in the afternoon sun – pretty cool, right?
Plus, it's easy to apply! Whether you're more comfortable with a brush, roller, or airless sprayer, this paint goes smoothly. Depending on color and surface porosity, it covers up to 400 sq. ft. per gallon. Remember to apply it when air and surface temperatures are between 40°F – 90°F for the best results. And clean up after your painting adventure? A breeze! Just use soap and water, and you're good to go.
So, suppose you're looking for a paint that's as tough as attractive. The BEHR Paint might be perfect for your mobile home's aluminum siding.
3. Rust-Oleum Stops Rust Protective Enamel Paint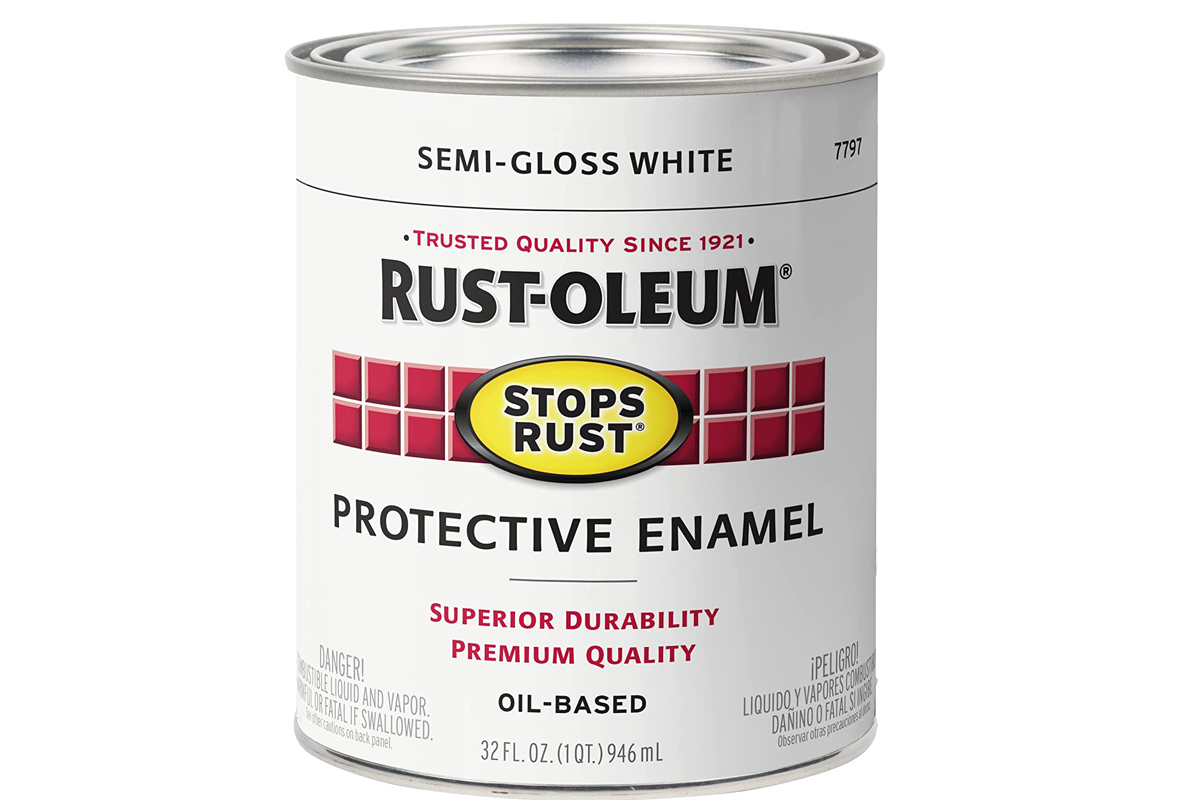 Moving on to number three, we have the Rust-Oleum Stops Rust Protective Enamel Paint. Rust-Oleum, as you can probably guess from the name, is all about stopping rust in its tracks. This protective enamel paint is a powerhouse for protecting your home against weather and corrosion. So if you live in an area with harsh weather conditions or are just concerned about the longevity of your paint job, Rust-Oleum has got you covered!
One of the stand-out features of this paint is its oil-based formula. It isn't just your average paint, folks. The oil base provides an ultra-durable protective coating, giving your mobile home's siding the armor it needs to withstand whatever comes it's way. Plus, it dries to the touch in 2-4 hours and covers up to 100 sq. ft., which is pretty impressive!
But it's not all about practicality with Rust-Oleum. This paint also knows how to show off with its semi-gloss finish, adding a subtle shine to your surfaces. And you won't have to worry about the finish wearing off soon. This paint offers excellent resistance to chipping and fading. No need to fret over losing that fresh-from-the-paint-can look!
And let's talk durability. Rust-Oleum isn't a one-hit wonder. It provides superior coverage and durability that lasts. It's like that reliable friend who's always there for you through thick and thin!
In short, if you want to paint as tough as it is glossy, Rust-Oleum Paint is a solid contender. It provides essential protection while ensuring your mobile home siding looks its best. That's a win-win in our books!
4. Rodda Exterior All Seasons Paint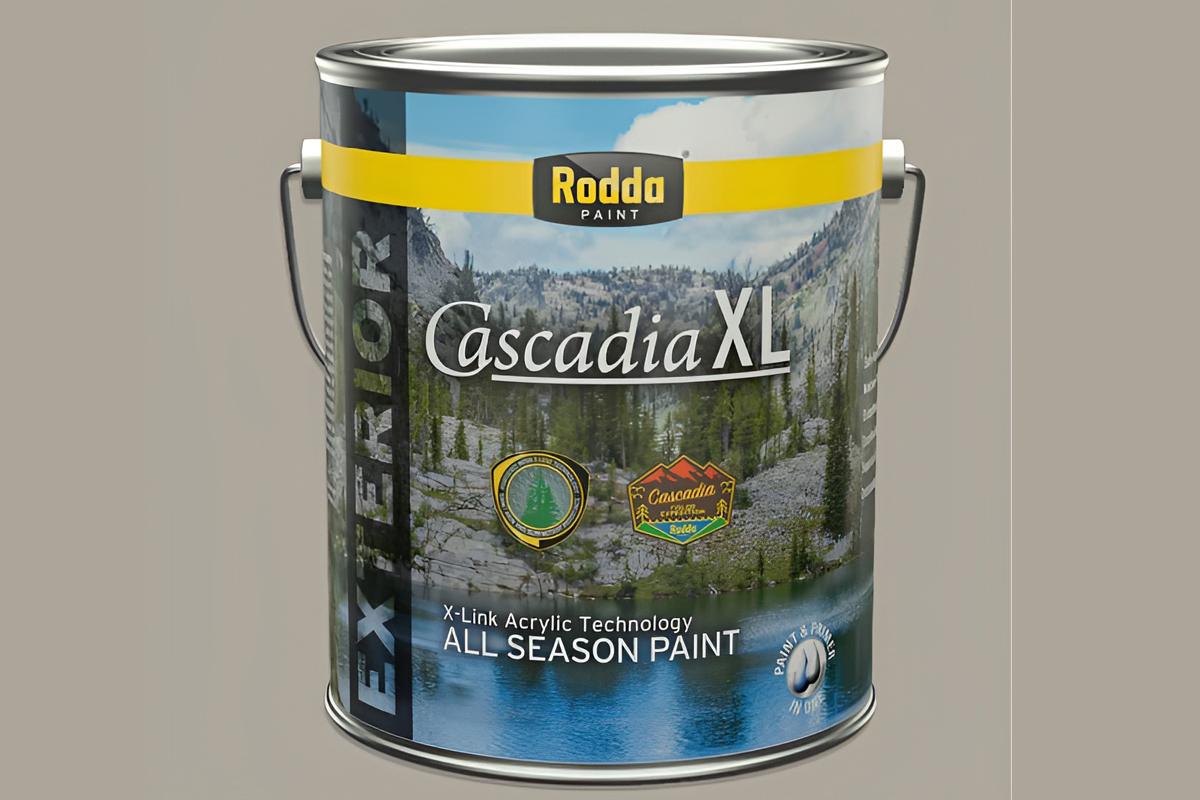 Let's delve into our fourth pick, the Rodda Exterior All Seasons Paint. Now, this is a painting that genuinely embraces the term 'all seasons.' No matter the time of year, Rodda Paint is ready to rise to the occasion.
The secret behind its versatility lies in its innovative formulation. This paint is a 100% Acrylic Latex Paint & Primer-in-One, so you won't need to worry about purchasing a separate primer. It's a real time-saver, trust us!
But the benefits don't stop there. This all-season paint also boasts advanced technology for early rain resistance. No more anxiously staring out the window, worrying that a sudden downpour will ruin your fresh paint job. It's all about peace of mind with Rodda.
And let's talk about the finish. It's top-notch, delivering exceptional hide and coverage, durability, and color retention. It also doesn't shy away from moisture and handles mildew like a pro. Rodda Paint has truly thought of everything!
This paint comes in a range of nature-inspired and timeless colors. So, whether you're a fan of earthy tones or prefer something a little more classic, you'll find your perfect match. And you know what else? It's available in two sheens and covers up to 400 sq. ft. per gallon.
When it comes to application, this paint is a real all-rounder. It's perfect for exterior walls, wood, trim, siding, masonry, brick, concrete, stucco, vinyl, pre-painted aluminum siding, and even primed metal surfaces like gutters and downspouts. Versatility is its middle name!
5. Diamond Brite Oil Base Enamel Paint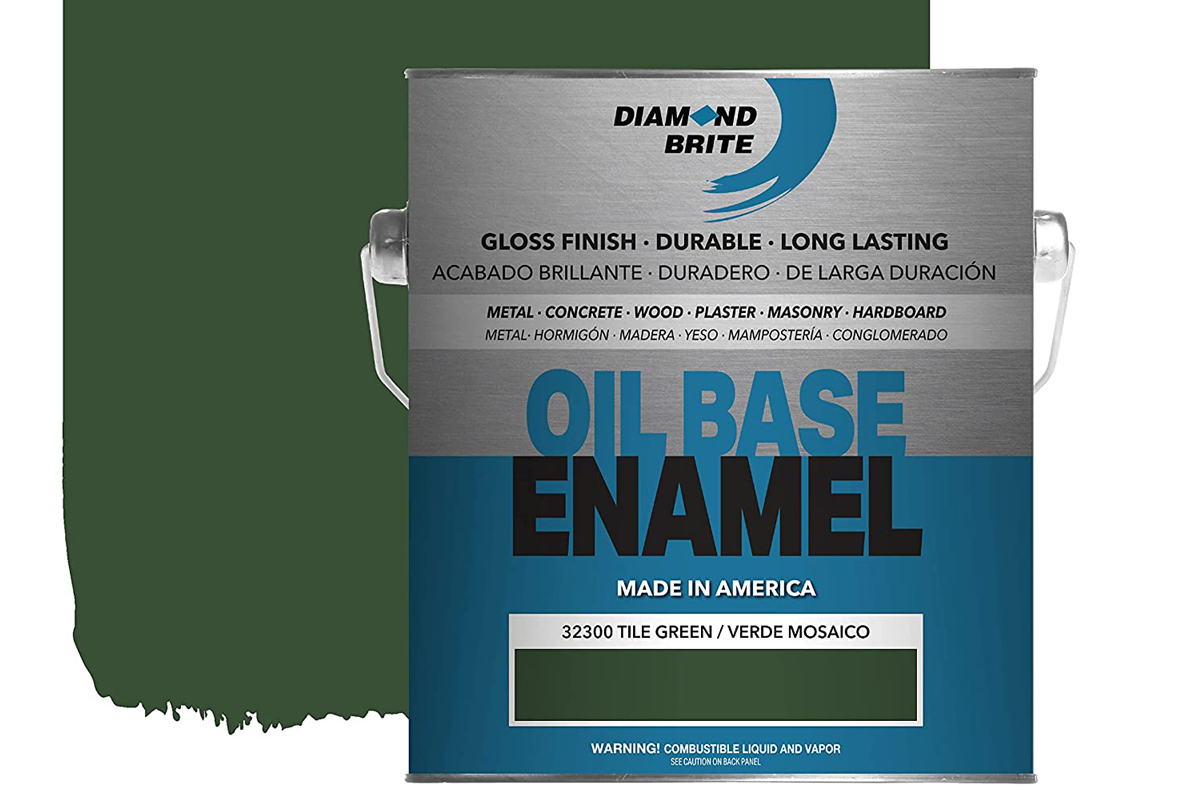 Our top five are the Diamond Brite Oil Base Enamel Paint, a gem for high-quality, durable paint options. It isn't just any old paint – an oil-based enamel that offers a glossy finish, sure to make your mobile home shine like a diamond!
The beauty of Diamond Brite is its professional quality. This high-hide, alkyd finish paint offers superb stain removal. And it doesn't just look good – it's also mighty tough. It stands up to repeated abrasion, rust, and various household chemicals, perfect for high-traffic areas.
Its ability to handle a wide range of surfaces sets Diamond Brite apart. We're talking wood, drywall, plaster, masonry, metal, wallpaper, brick, stucco, aluminum, and cinder block. With this paint, no surface is off-limits!
But let's get down to the nitty-gritty. How does it apply? Well, the Diamond Paint covers up to 300 sq. ft. per gallon. And it's a breeze to use, whether you prefer a brush, roller, or sprayer.
The dry time? It's 10-12 hours, so you'll want to plan your painting project accordingly. The ideal painting conditions are when air and surface temperatures are between 60°F-90°F.
In a nutshell, if you're after a paint that offers both beauty and durability, the Diamond Brite is a fantastic choice. With this paint in your toolkit, your mobile home's aluminum siding is set to shine!
How to Choose an Aluminum Siding Paint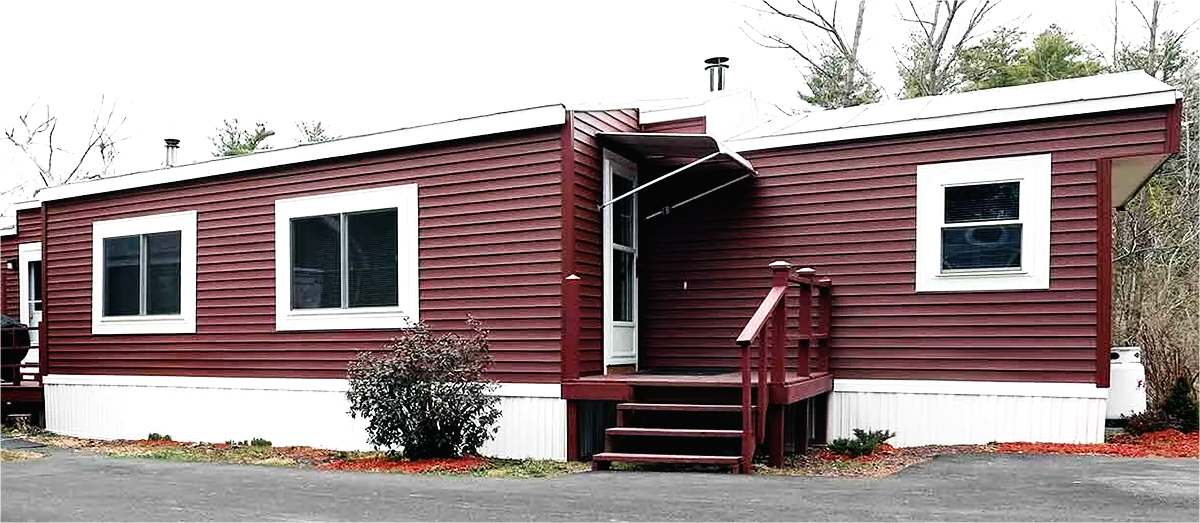 Okay, friends, it's decision time. Choosing paint for your mobile home's aluminum siding isn't as scary as it sounds. It just takes a bit of thought and a sense of your home's style. Here are some steps to follow:
Not all paints work well on aluminum siding. Ensure that the paint you select is suitable for aluminum surfaces. Some paints might specify that they're for "metal surfaces," which typically includes aluminum.
If you live in an area with harsh weather conditions, look for paint that offers superior protection against such elements. Paints that resist mold, mildew, and corrosion might be best.
Look at the paint's characteristics.
Consider the paint's features. Is it water or oil-based? Water-based paints are easier to clean up and have less odor, while oil-based paints are often more durable. Does the paint also act as a primer, or will you need to purchase a primer separately?
Paints come in different finishes, from matte to high-gloss. The finish you choose will depend on the look you're going for. Semi-gloss or gloss finishes are often recommended for exterior surfaces because they're more durable and easier to clean.
The color of the paint is, of course, critical. Think about what suits your style and the overall look of your home. Lighter colors can make your home appear larger and reflect heat, while darker colors can make it appear smaller and absorb heat.
You might be tempted to save a few bucks and pay for cheaper paint, but remember, you often get what you pay for. Investing in higher-quality paint can produce a more professional finish and longer-lasting results.
Pay attention to the paint's coverage. It's typically measured in square feet per gallon. Depending on the size of your home and the number of coats you're planning, this can help you determine how much paint you'll need.
If you're environmentally conscious, you might want to choose eco-friendly paint. Some paints have lower VOC levels or are made from upcycled materials.
Lastly, check the warranty. Some paint brands offer a product warranty, which can be an excellent added assurance.
How to Painting Mobile Home Aluminum Siding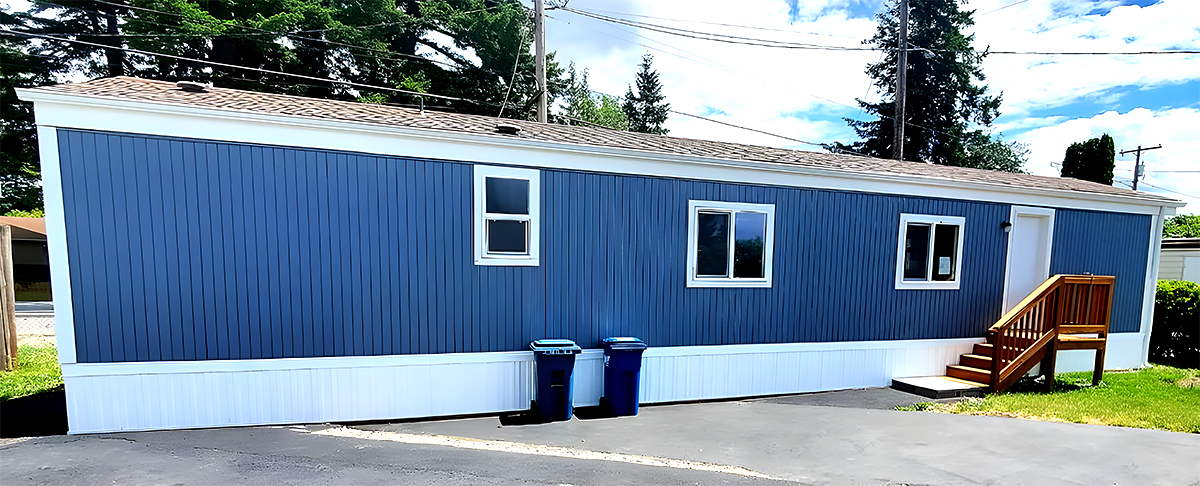 Let's dive right in, shall we? Painting your mobile home's aluminum siding isn't rocket science but requires a game plan. So, let's gear up and talk about how to make your home's exterior truly shine!
Tools
Your main arsenal is a good quality paintbrush, roller, or sprayer (a 60 mesh filter and a .013-.017 tip size). A brush can get into all those nooks and crannies if your siding has a textured or grooved pattern. A roller or sprayer, on the other hand, can make the job quicker.
Step-by-Step Guide
Here's the step-by-step guide on how to paint your mobile home aluminum siding:
1. Prepare Your Workspace
Just like any good project, start by getting organized. Move any obstacles, such as furniture or planters, away from your work area. Cover anything you don't want to get paint on with a drop cloth or plastic sheeting.
2. Clean the Siding
Cleanliness is vital when it comes to painting. Use a power washer or a simple mix of warm water and mild detergent to clean the siding. Scrub off any dirt, grease, or mildew. Rinse thoroughly and allow the siding to dry completely before moving on to the next step.
3. Repair and Prime (if needed)
Inspect the siding for any damage. If you find any loose panels, secure them. For small holes or dents, use an exterior-grade patching compound to fill them in. If your chosen paint does not include a primer, apply a primer specifically made for aluminum siding. Let it dry according to the manufacturer's instructions.
4. Start Painting
Start at the top of your mobile home and work your way down. It prevents drips from ruining your already-painted surfaces. Apply the paint in even strokes. If you're using a sprayer, keep a consistent distance to ensure an even coat.
5. Apply a Second Coat (if necessary)
Once the first coat has dried completely, decide if a second coat is needed. Some paints will provide full coverage in one coat, but others may require two or three coats for the best result.
6. Clean Up
Once you're done painting, it's time to clean up. Remove any drop cloths or plastic sheeting you laid down. Clean your tools with appropriate cleaner: soap and water for latex-based paints or mineral spirits for oil-based paints.
7. Maintenance
Keep an eye on your newly painted siding. If you notice any chips or cracks, do a touch-up right away. Proper maintenance can keep your mobile home looking fresh and vibrant for a long time.
Conclusion
And just like that, we've navigated the exciting world of paints for aluminum siding together! From eco-friendly options to direct-to-metal choices, we've looked at some fantastic paints that can give your mobile home a fresh, new face. Remember, the right choice isn't just about color but also durability, coverage, and how well it meshes with your aluminum siding. Thank you for reading!