There is nothing really special about a mobile home kitchen except the fact that it is usually smaller than the average kitchen. While they are technically smaller due to the limited spaces, they can be decorated the same way as regular kitchens. We will share some mobile home kitchen remodel tricks. Think about the fixtures in the room. Due to the restrained space, you might have a hard time organizing all units placed in there. Actually, the functionality of a mobile kitchen will be reduced as more items are included. It is better to keep it spacious by limiting the number of storage units instead of letting them overstuff the room. It is never good to see a room squeezed with too many pieces.
Mobile home kitchen remodel tips
First thing first, take out all unnecessary items. Keep only the ones you use daily. A countertop is definitely paramount. The same goes for cabinets in which you usually store cooking utensils and foodstuffs. Some electronic devices, such as the refrigerator and the oven need to stay. Where should you bring all those unnecessary pieces? Well, you can always hand them to a warehouse for some quick cash or donate them through Craigslist if you do not need the money. Once you have managed to free up some space, consider applying a new color scheme to the room. Was it dark before? A room should never be painted with a dark color scheme especially when it is already small.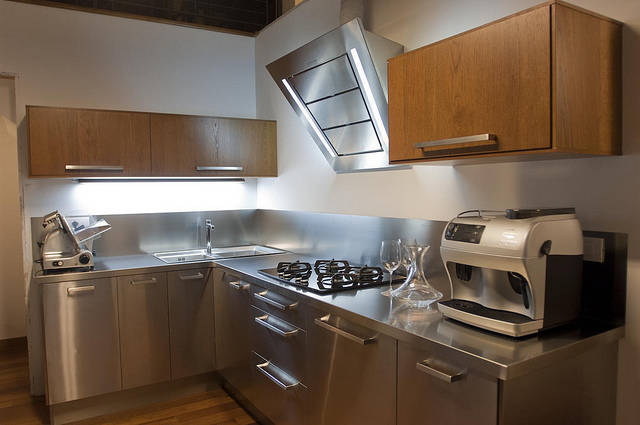 Mobile home kitchen remodel ideas
Make it more inviting with some vibrant colors. There are countless wonderful shades to choose from. You can paint them on the walls, floor, and storage units. Here is a guideline to a successful painting project. First, you can start with the main color. There are actually two types of colors when it comes to painting a room. The first one is the main color. It sets the tone for the entire room. It makes or breaks, so be careful. White is nice, but it is really overused, anyway. If you do not want to be associated with the safe choice, go for ivory which is actually close to white, but not that pure. Pale yellow is another option.
Here are more mobile home kitchen remodel ideas. It is customary for a manufactured home to have plastic laminate cupboards. If you want to repaint one, make sure to rub grit sandpaper over its surface first. It will make it rough, so that paint can stick on better. Without it, the cupboard won't probably change color since a smooth surface can not catch paint. The walls need some new colors, too. We said that the use of dark tones should be limited, but not completely avoided. We still think that dark tones can be downright gorgeous when they are used properly.
The walls should have interesting shades, like red or blue. Do not skip neutral colors because they tone down these shades. The ceiling can also have a new color scheme although it is not a necessity. White is a default option for that part. It is the best at giving a area the illusion of a bigger space. Another that comes to mind instantly is ivory, one of its finest derivatives.
18 Photos of the "Mobile Home Kitchen Remodel Tips"