10 Mobile Home Carport Privacy Panel Ideas
Carports, especially those attached to mobile homes, are often wide open. That's where privacy panels come in. They're your first defense against wind, dust, rain, or excessive sunlight. You can turn your carport into a more versatile space with the right panel. And let's not forget about the added security. A well-placed privacy panel makes seeing and accessing your precious belongings harder for folks. Now, who's ready to start exploring some options?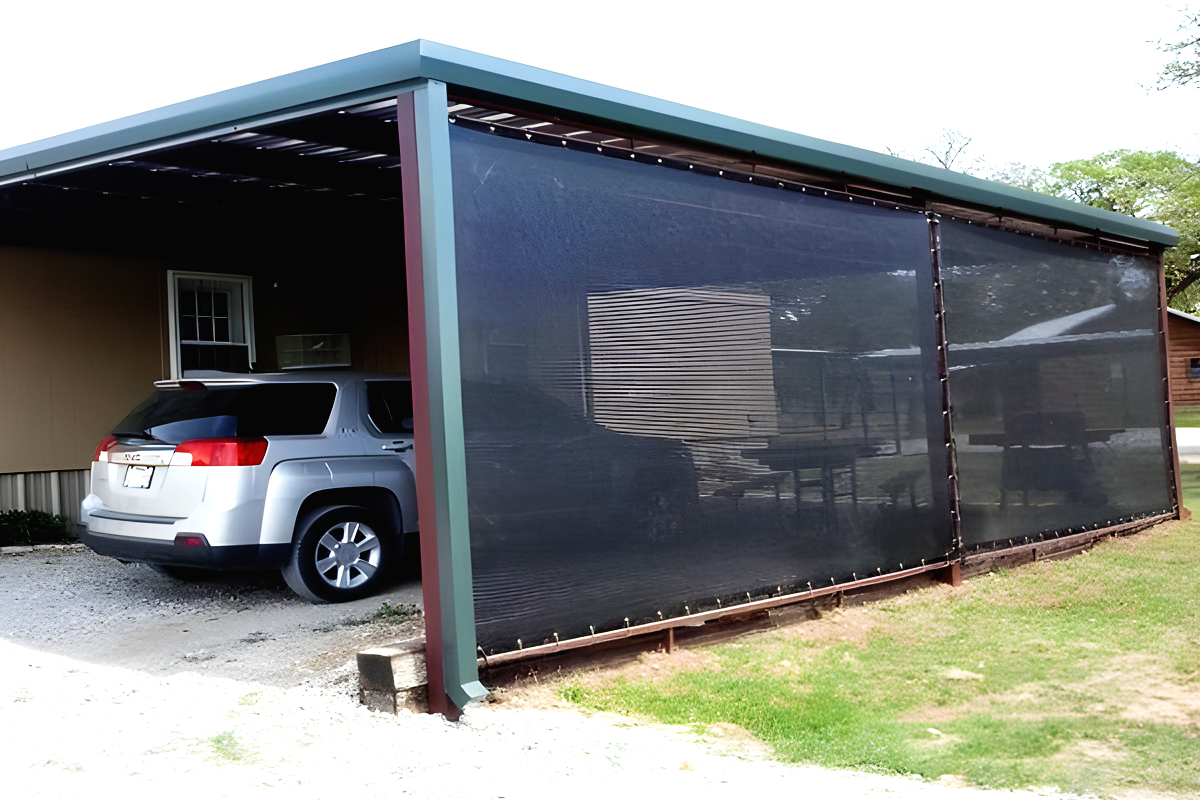 11 Mobile Home Carport Privacy Panel Ideas
Here are some ideas for mobile home carport privacy panels. They do not only serve to ensure privacy but also add a touch of elegance and charm to your property:
1. Wood Slat Panels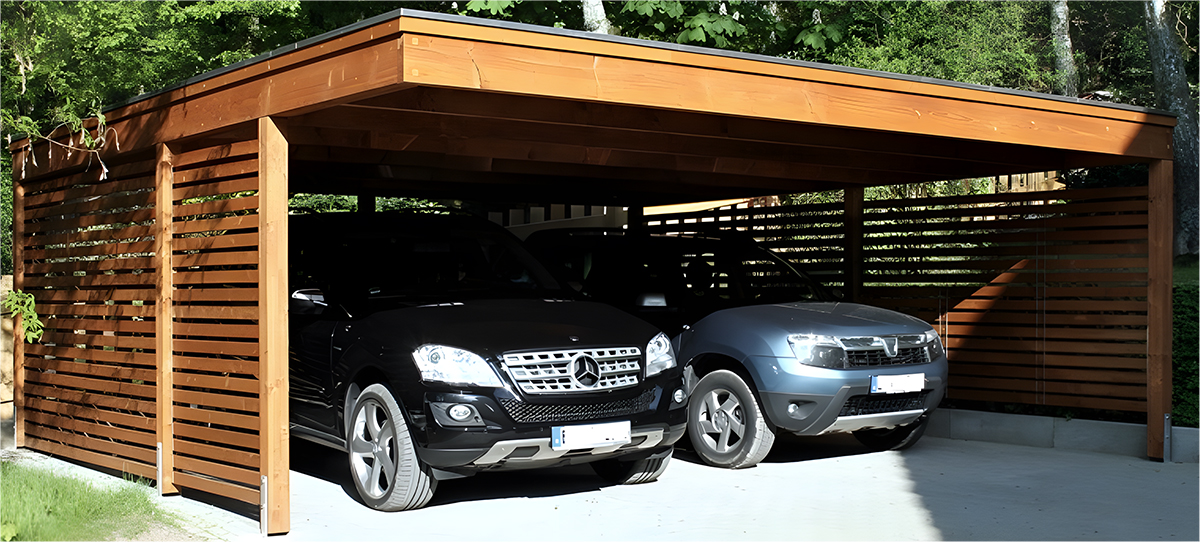 Let's dive into the world of wood slat panels. Imagine a privacy panel that's both chic and down-to-earth. That's what you get with these babies.
First things first, wood slat panels are super versatile. We're talking classic yet modern, simple yet stylish. You can arrange them horizontally for that sleek, contemporary look. Or go vertical if you're more into traditional vibes. And the best part? They play well with just about any exterior decor. It's like having a chameleon in your carport!
But looks aren't everything, right? Well, wood slat panels have more to offer. They're like a perfectly balanced smoothie of privacy and light. The spaces between the slats allow some natural light to filter while keeping your carport activities out of sight. So, you enjoy your privacy without feeling like you are in a cave. Not bad, huh?
Now, if you're a DIY enthusiast, you're in for a treat. Installing wood slat panels is a fun project you can tackle over a weekend. Just grab some planks, screws, and that power drill you've been itching to use. Just make sure your measurements are accurate before starting – precision is key!
Let's touch on maintenance. Sure, wood requires a little TLC. But staining or sealing every couple of years can keep your panels looking fresh. Plus, these protective layers make the wood more resilient against the elements.
2. Bamboo Screens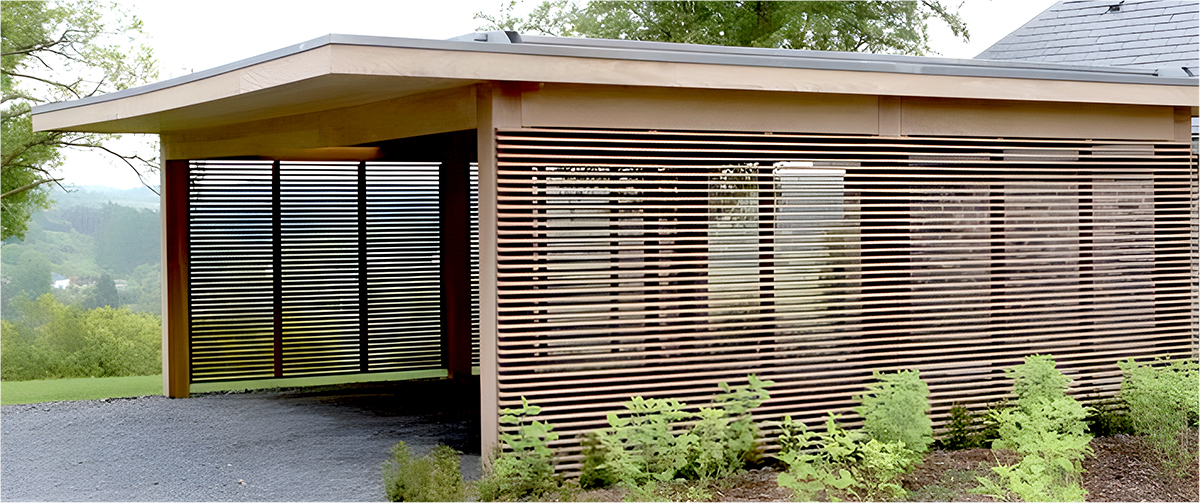 Next up on our privacy panel ideas, let's jet off to the tropical, breezy world of bamboo screens. Think about sipping a cool drink while working in the carport, shaded by your bamboo hideaway. Pretty cool, right?
First off, let's talk about the look. Bamboo screens bring a beachy, laid-back vibe to your carport. They're like a vacation without leaving your home. The natural color and texture can warm your space and blend well with any style.
Now, don't be fooled by their light and airy look. Bamboo is one tough cookie. It's naturally strong and durable so it can withstand plenty of use. Not to mention, it's also eco-friendly. So you're not just adding privacy; you're also doing your part for the planet.
Another great thing about bamboo screens? They can go with the flow. You can roll them up or down to suit your needs. Want a little more light? Roll them up. Need some privacy? Roll them down. It's as easy as that.
On the maintenance front, bamboo screens are pretty low-key. They can handle various weather conditions, although you might want to treat them occasionally with a protective sealant to keep them looking their best.
3. Frosted Glass Panels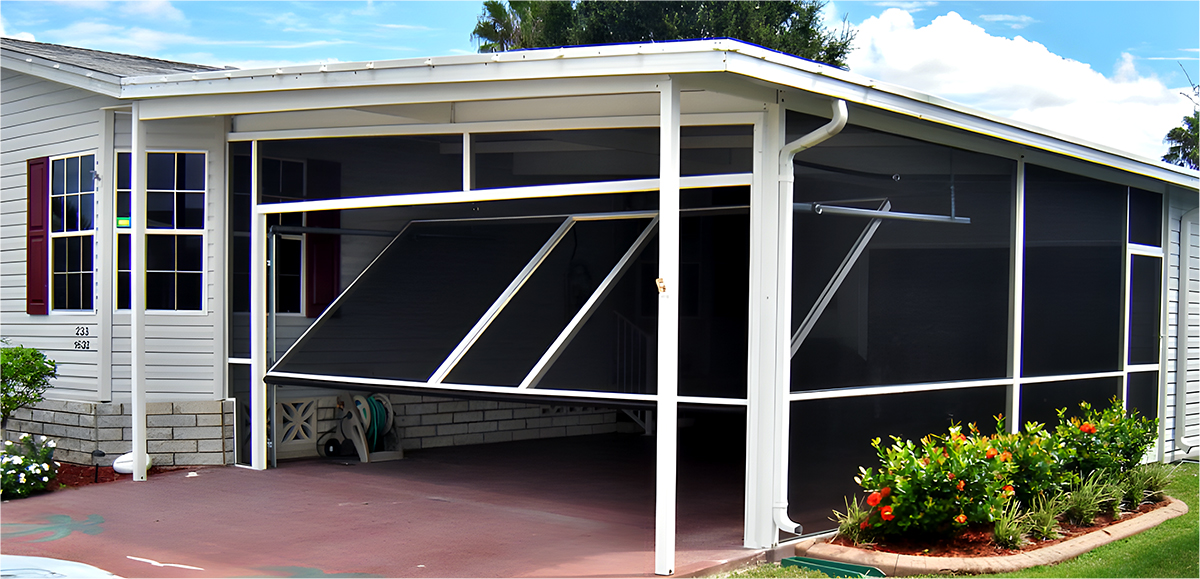 Moving right along, let's talk about a privacy panel that's straight out of a high-end design magazine: frosted glass panels. Picture this: you're in your carport, light is filtering through, but you're completely hidden from the outside world. It sounds like a dream, doesn't it? That's the magic of frosted glass panels.
They're sleek, they're modern, and they pack a punch in the style department. Whether your home is a chic, minimalist haven or a charming, rustic abode, these panels can fit right in. They add that touch of class like the perfect piece of jewelry to complete an outfit.
Now, let's talk light. Frosted glass panels aren't just pretty; they're practical, too. They allow natural light to filter in while keeping your activities private. So, you can work on that DIY project or park your shiny new car without prying eyes getting a peek.
One of the best things about frosted glass panels is their durability. They're made to withstand the elements, so rain, shine, or snow, these panels can handle it all. That means less worrying for you and more time to enjoy your carport.
4. Decorative Metal Screens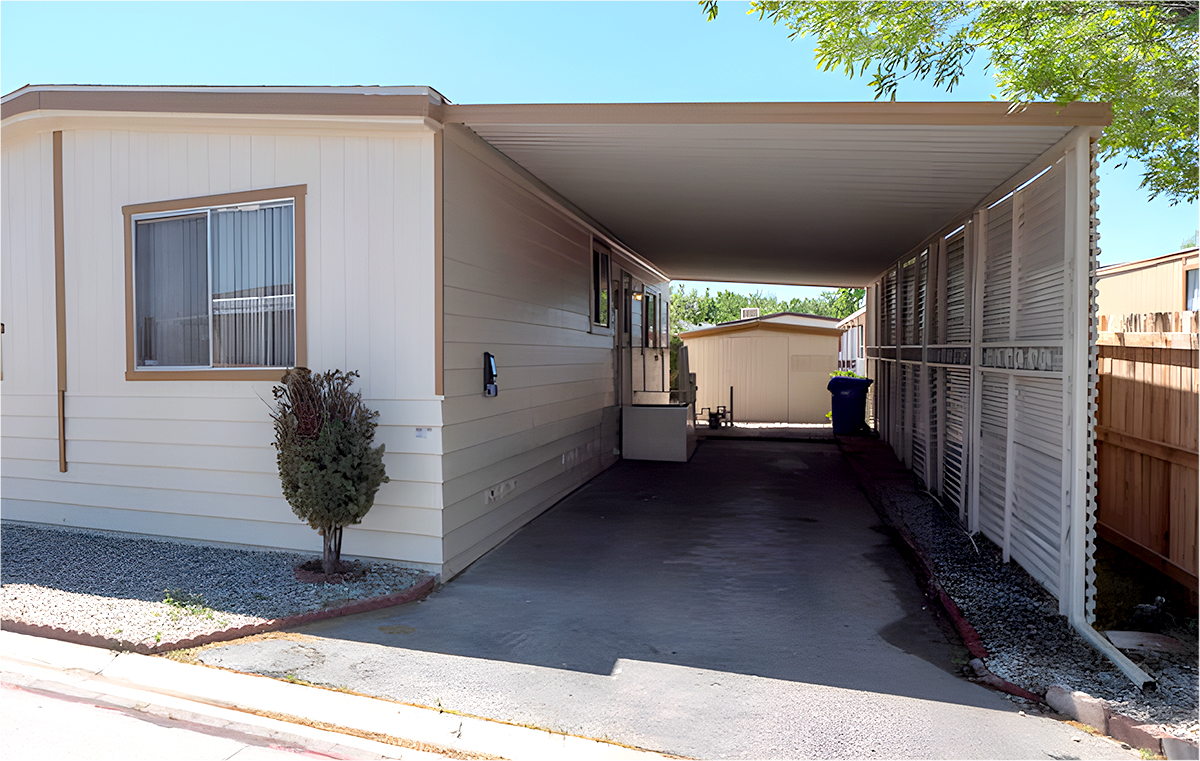 Decorative metal screens are like the couture gowns of privacy panels. They come in various designs, from floral patterns to geometric shapes and everything in between. It's like having your very own art exhibit right in your carport.
But don't let their elegant designs fool you. These screens are made of metal, making them tough and durable. They can stand up to wind, rain, and sun without sweat. So, you can have your style and durability too.
These screens aren't just a pretty face, though. They also provide privacy while letting in light and air. The cut-out designs create a lovely play of shadows, adding another layer of artistry to your carport.
Now, onto maintenance. You'll be glad to know that these screens are pretty low-maintenance. Depending on the type of metal, they can be rust-resistant, and a simple wipe-down is usually all they need to keep them shining.
5. Trellis with Climbing Plants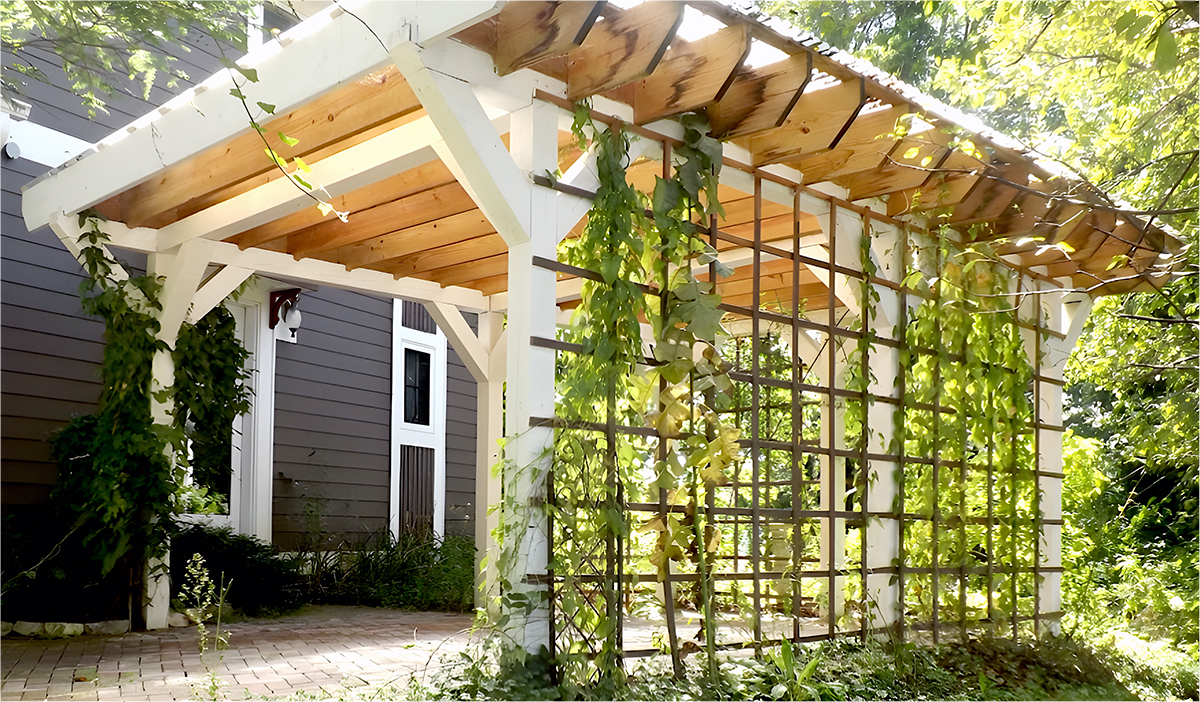 A trellis with climbing plants is like a living, breathing art installation for your carport. You've got the architectural beauty of the trellis interwoven with the natural charm of climbing plants. It's a style statement and a mini garden rolled into one.
But these panels aren't just about looks. They're a practical choice, too. Climbing plants can provide a thick cover for privacy. Plus, they can offer a lovely, cool shade during the summer.
The great thing about trellises is that you get to choose your plants. Love the fragrant smell of jasmine? Go for it. Prefer the classic beauty of roses? Why not? Or how about some hardy ivy for year-round coverage? The choice is yours.
Of course, a living privacy panel does require some maintenance. You'll need to water and prune your plants to keep them looking their best. And depending on your plant choice, you may need to protect them during colder months.
6. Lattice Panels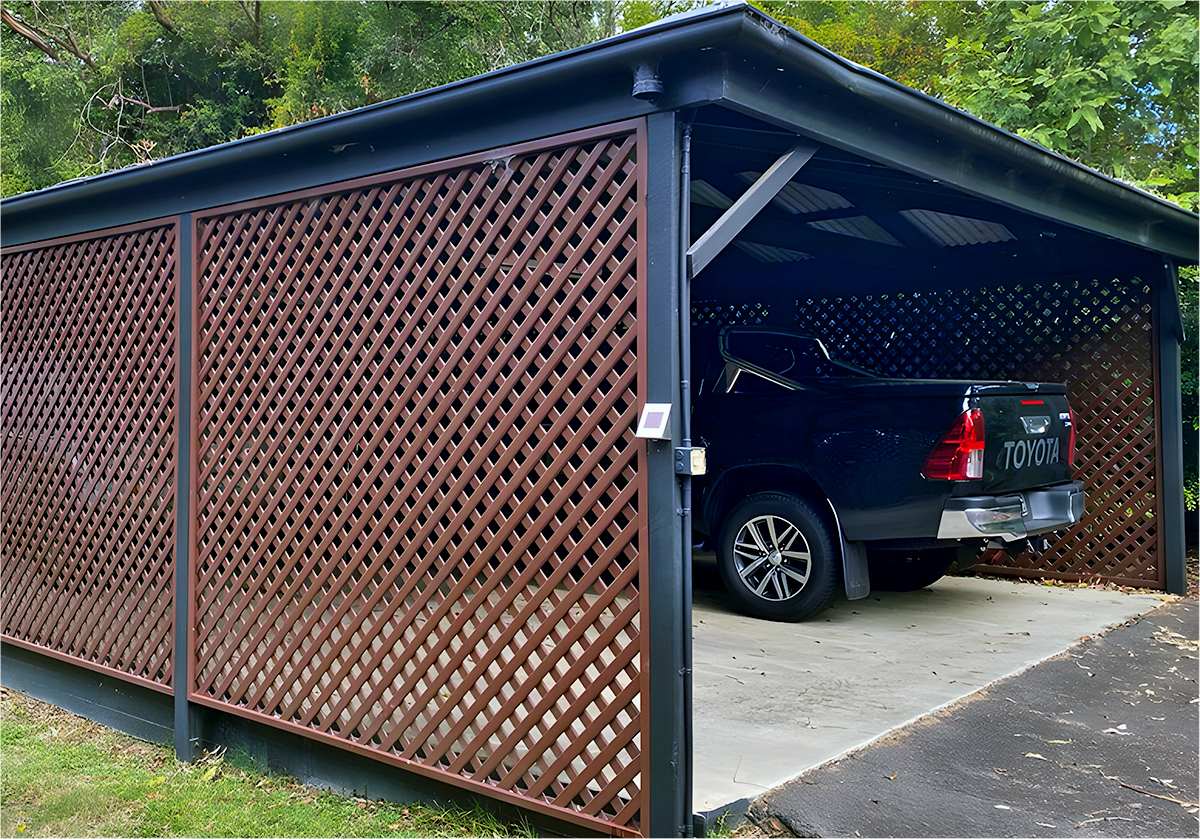 And now, let's step into the world of lattice panels, where classic charm meets modern functionality in perfect harmony. Picture this: crisscross patterns casting playful shadows on your carport floor, creating a privacy screen that's as visually appealing as practical. That's the beauty of lattice panels.
But they're not just eye candy. Lattice panels are a smart choice for privacy, too. The interlocking patterns allow light and breezes through while blocking the direct view into your carport.
On the style front, lattice panels are super versatile. They can swing traditional or modern depending on how you use them. Pair them with climbing plants for a cottage feel or vinyl lattice panels for a sleek, contemporary look.
Durability? Check. Whether you choose wood, vinyl, or even metal lattice panels, you're investing in a sturdy material built to withstand the elements.
As for maintenance, it's pretty straightforward. Vinyl or metal options can be cleaned with a simple hose down. In comparison, wooden lattice panels might need a new coat of paint or sealant to keep them looking their best.
7. PVC Vinyl Panels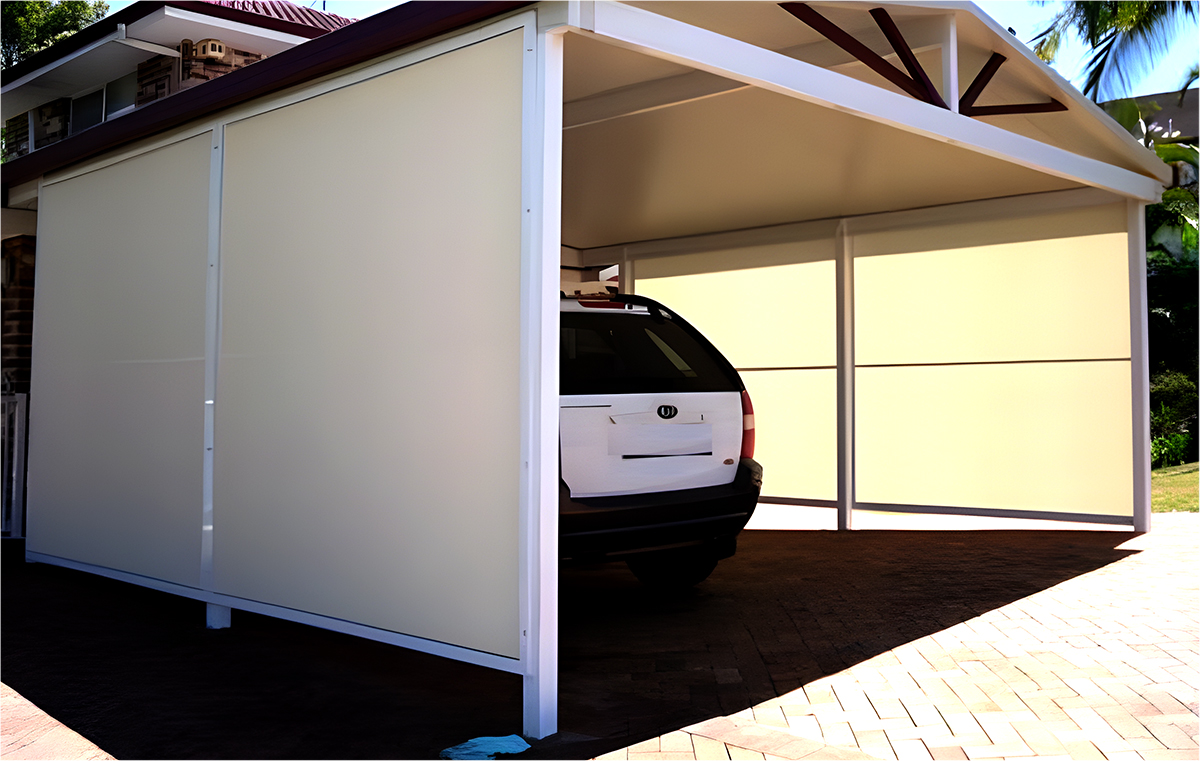 PVC vinyl panels may not be glamorous, but they are far from dull. They come in various designs and colors, so you can find one that suits your carport's look. You can even find options that mimic the look of wood or stone if you're after a more natural vibe.
But where PVC vinyl panels shine is in their durability. Rain, shine, snow, or wind – these panels can take a beating and still look fresh as a daisy. That's because PVC vinyl is designed to resist weathering, rotting, and insect damage. It's the superhero of privacy panels.
Now, onto one of my favorite things about PVC vinyl panels – they're virtually maintenance-free. No need for painting, staining, or sealing. Just give them a good clean with some soap and water every once in a while, and they'll keep looking spick and span.
8. Hedge Walls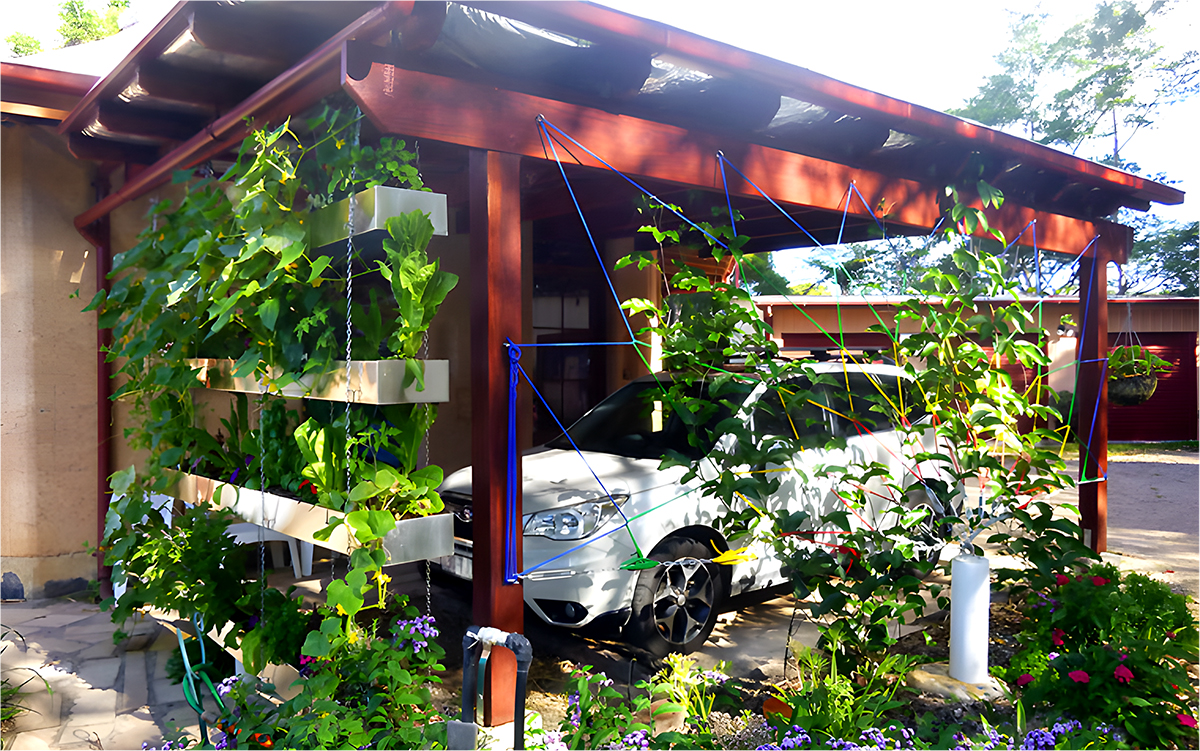 Hedge walls are the epitome of natural elegance. Depending on your plant choice and trimming style, they can range from manicured and formal to wild and whimsical. Plus, they offer year-round greenery, which can add a touch of color to your carport even in the depths of winter.
But hedge walls aren't just for show. They're hardworking privacy screens, too. A dense hedge can provide a solid barrier that keeps prying eyes out. And unlike a static panel, hedge walls can grow and change over time, creating an evolving privacy screen that grows with you.
But here's the catch: hedge walls require some upkeep. You'll need to water, trim, and care for your plants to keep your hedge looking its best. It might be a bit more work, but the payoff of having a living, breathing privacy screen is worth it for many.
9. Composite Panels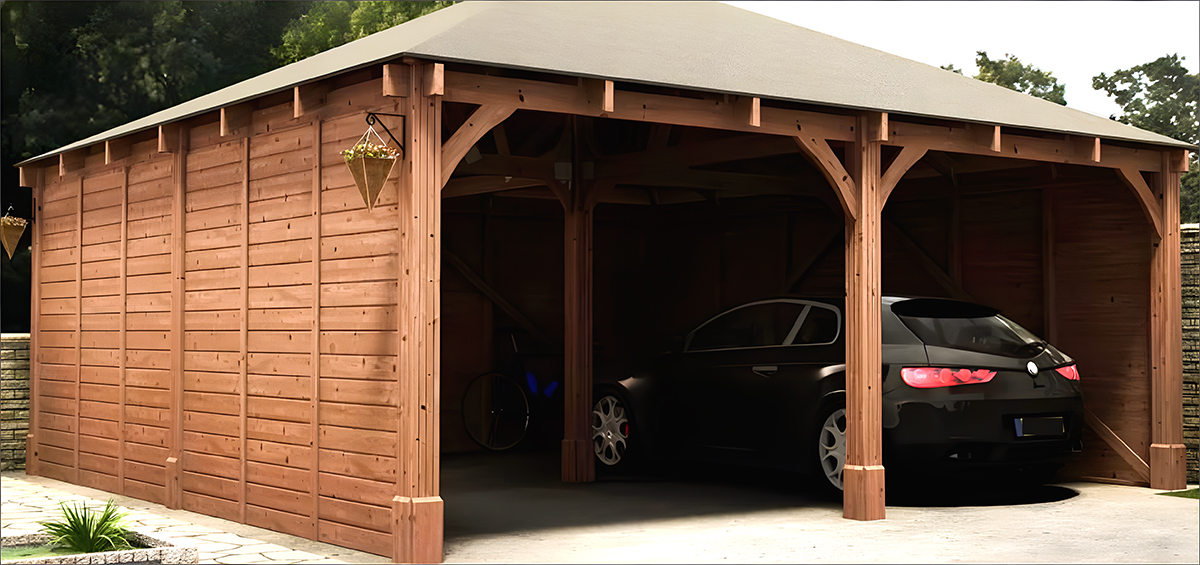 Composite panels bring a versatile charm to the table. They mimic natural wood's look and texture, so you get that warm, rustic vibe without downsides. Plus, they come in various colors and finishes to customize your heart's content.
But don't let their good looks fool you. Composite panels are also tough cookies. They withstand the elements, resisting fading, staining, and weathering. So no matter what Mother Nature throws their way, they keep looking great.
Now, for one of the best parts: maintenance. With composite panels, you get to say goodbye to regular staining or painting. These panels are made for longevity, and a quick clean with soap and water is usually all they need to stay looking fresh.
10. Roll-Up Blinds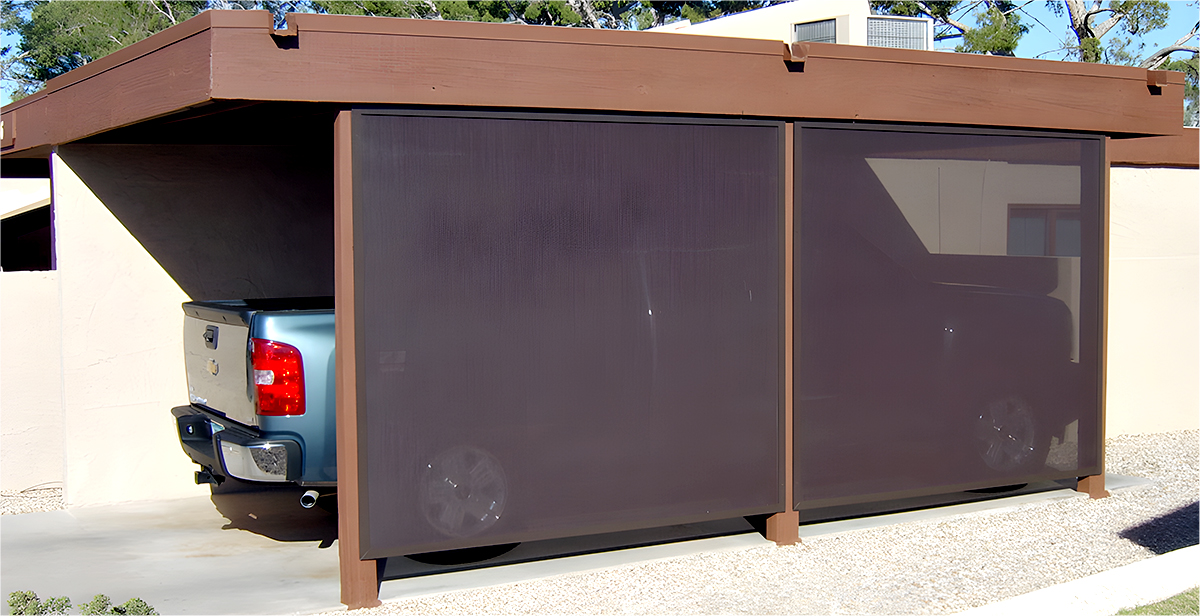 Alright, time to roll out the red carpet for our final stop on this privacy panel tour: roll-up blinds. Imagine your carport transformed into a chic, flexible oasis with the simple pull of a cord. That's the magic of roll-up blinds.
In terms of style, roll-up blinds pack a punch. They bring a clean, streamlined look that fits beautifully in various aesthetics. Whether you go for natural bamboo blinds for a tropical vibe or sleek vinyl ones for a more modern feel, there's a style to match your taste.
But let's get real – the true star of the roll-up blinds show is their flexibility. You can adjust the blinds with a quick pull to let in the perfect amount of light or privacy. It's like having custom lighting at your fingertips.
Durability-wise, roll-up blinds can be surprisingly sturdy. Opt for outdoor-rated blinds; they can hold their own against sun, rain, and wind. That means you enjoy your privacy and style, rain or shine.
How to Choose a Carport Privacy Panel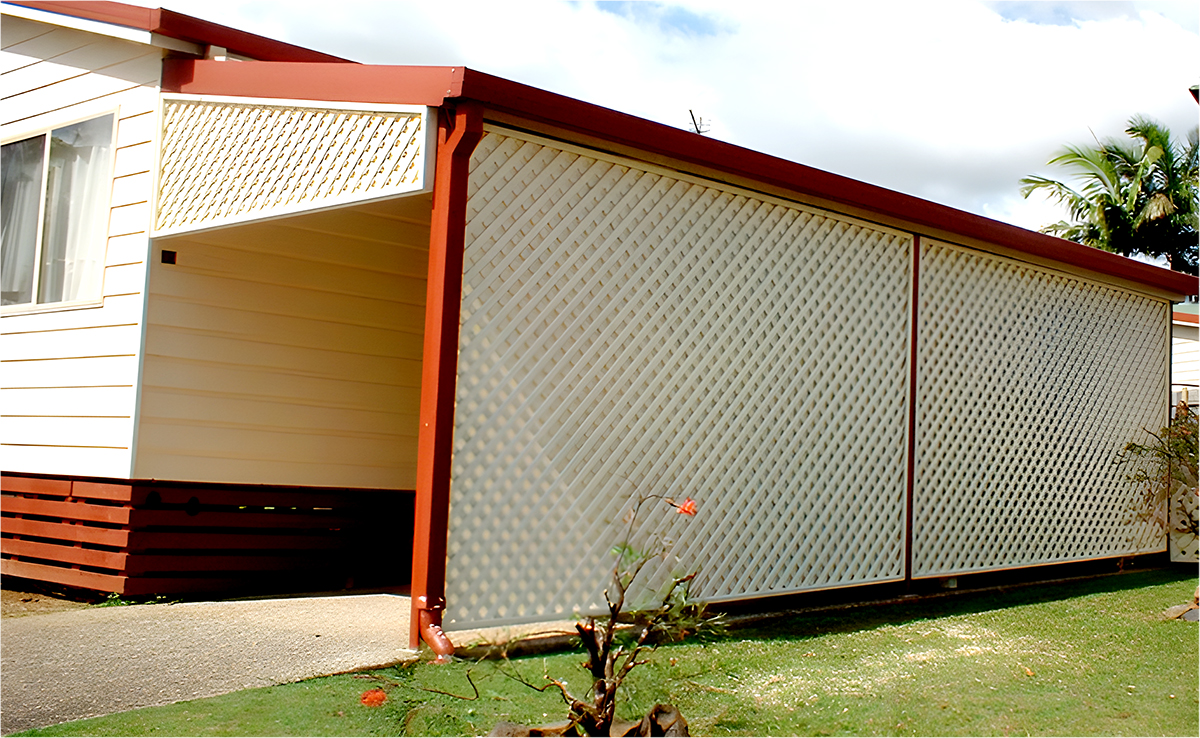 Ready to pick out a privacy panel for your carport? Hold on, my friend, there are three big things we need to chat about first: style, maintenance, and climate. They're like the three musketeers of privacy panel planning – you can't leave any of them out.
Let's kick things off with style. Now, we all have our vibes. Maybe you're a minimalist who loves sleek lines and neutral colors. Or perhaps you're a boho queen, and nothing but a bamboo screen will do. Either way, your privacy panel needs to reflect YOU. Remember, it's not just about blocking out the neighbors – it's about expressing your personality, too.
Next up, let's talk maintenance. How much time do you want to spend upkeeping your privacy panel? If you're all for easy living, you might want to avoid options that need regular painting or treating, like wood. Instead, think about durable and low-maintenance materials, like PVC vinyl panels. But if you've got a green thumb and love the idea of intertwining vines on a trellis, then maintenance might be a labor of love for you. It's all about what suits your lifestyle.
And last but certainly not least, we need to consider the climate. Not all materials can handle the same weather conditions. Live in a windy area? A solid wooden panel might get knocked around. But a metal screen with cut-out patterns? That could work. Or, if you're somewhere sunny, a lattice panel might let in too much light, while a roll-up blind could offer adjustable shade.
Conclusion
So there you have it—the style, maintenance, and climate. You must invite The three best friends to your privacy panel planning party. They'll help ensure that whatever you choose is functional and a fabulous fit for your mobile home carport.